It's about cutting to the bone so you only have the things that you really love to use over and over again left in your wardrobe.
/ This is actually not something I've mentioned that often, but defining your own style is really important in order for you to succeed with a minimal/pared down wardrobe. As I also mention in the video below, you can in fact have a minimalist wardrobe, even though your style may be more colorful and playful than mine. It's about cutting to the bone so you only have the things that you really love to use over and over again left in your wardrobe. And before you can do this you should start out by getting to know yourself and your style! Watch my video below or read the different steps right here to get started.
Det er faktisk ikke noget jeg har nævnt så tit, men det at definere din egen stil er virkelig essentielt for, at du kan få succes med en minimalistisk garderobe. Som jeg også nævner i videoen nedenfor, så kan du sagtens have en minimalistisk garderobe, også selvom din stil måske er mere farverig og legesyg end min. Det handler om, at skære ind til benet så du kun har de ting tilbage, som du virkelig elsker at bruge igen og igen. Og før du kan det – ja, så bør du i mine øjne først og fremmest lære dig selv og din stil bedre at kende! Se min video nedenfor eller læs dig igennem de forskellige trin her, for at komme godt igang.
/ Your lifestyle forms the frame of your style; therefore, the things you do both at work and in your freetime are of great importance to what you have and what makes most sense to have in your closet. To give an example, I will describe my current lifestyle for you right here:
Weekdays. At the moment I work part-time as a design assistant. I an therefore at the office twice a week. The other 3 days I work independently as an influencer/youtuber/content creator – or whatever you like to call it – here at Use Less. I have just signed a contract with the Danish Youtube network Splay, so I hope I can keep working this way for a long time. I really enjoy having one foot in labour and one foot in my own "business". It gives me a lot of freedom while at the same time gaining experience, a more stable and safe income, and it's also really nice to get a break from my own project sometimes.
When I'm at  the office, I like to dress up a little more than if I work at home. I like to to put on all my favorite jewelry and play a little more with different layers and details. Not that I'm running around in sweats all day when I work at home! I still like to get up and get ready as I would otherwise, but the clothes I wear when I sit at my homeoffice are a bit more relaxed. It may be a pair of boyfriend jeans and a t-shirt or sweater. Then if I for example go grocerie shopping, I can easily throw on a leather jacket or blaze, and I'm still looking decent even though I feel very relaxed.
Weeknights/weekends. On everyday evenings and on weekends, I relax with my husband, our dog and our little cat Luna. We dont have children (yet) so therefore we have a lot of time just to enjoy each other and take care of our beautiful home. Our garden is most of all just a lawn, but when you have a house there is of course some maintenance that needs to be done. I therefore have a shelf with more practical clothes, for when we are just in the garden/maintaining the house, or for when we go to dog training or in the woods with Oskar.
I workout 3-4 times a week – you can read more about that HERE. I therefore have a collection of workout wear and loungewear to put on after exercising or on Sundays when I just want to throw my hair in a bun and relax all day.
I also like to hang out with friends and family. Maybe I'm eating brunch, going to the movies or attending a party once in a while. For the most part my occasional wear are really everyday clothes spiced up with accessories, stilettos or a little more makeup than usual, but I also have a little handful nicer tops that I can always count on if I'm going to attend a more fancy event. Read more about my mini capsule with occasional wear right HERE.
It gives me roughly 4 different categories of clothing:
Everyday clothes and shoes (capsule wardrobe – incl. accessories)
 Practical clothes
Workout- and loungewear
Occasional wear (including stilettos and accessories)
Of course there are also underwear, socks and basic tanks that I wear under my shirts, sweaters, etc. In addition to that, I have my collection of stored clothes from previous seasons that I look through when a new season starts.
Din livsstil danner rammen om din tøjstil; de ting du foretager dig både jobmæssigt og i din fritid har derfor stor betydning for, hvad du har og hvad der giver bedst mening at have i dit skab. For at give et eksempel, vil jeg her beskrive min nuværende livsstil:
Hverdage. P.t. arbejder jeg på deltid som designassistent. Jeg møder derfor op på kontoret to gange i ugen. De andre 3 dage arbejder jeg selvstændigt som influencer/youtuber/content creator – eller hvad man nu vil kalde det – herinde på Use Less. Jeg har netop skrevet kontrakt med det danske Youtube netværk Splay, så jeg håber jeg kan blive ved med at arbejde på denne måde i lang tid. Jeg trives rigtigt godt med, at have ét ben på arbejdsmarkedet og ét ben i min egen "virksomhed". Det giver mig en masse frihed samtidig med, at jeg får erfaring, en mere stabil og sikker indkomst og så er det faktisk rigtig rart, at få en pause fra mit eget projekt engang imellem.
Når jeg skal møde ind på kontoret kan jeg godt lide, at klæde mig lidt mere pænt på, end hvis jeg arbejder herhjemme. Så tager jeg gerne alle mine favoritsmykker på og leger lidt mere med forskellige lag. Ikke dermed sagt, at jeg render rundt i joggingtøj hele dagen når jeg arbejder hjemme! Jeg kan stadig godt lide, at stå op og gøre mig klar som jeg ellers ville, men det tøj jeg ifører mig når jeg sidder på hjemmekontoret er gerne lidt mere afslappet. Det kan være et par boyfriend jeans og en t-shirt eller sweater. Hvis jeg så fx skal ud og handle så kan jeg nemt smide en læderjakke eller blazer udover, og så ser jeg stadig anstændig ud selvom jeg føler mig meget afslappet.
Aften/weekend. På hverdagsaftner og i weekenderne slapper jeg af med min mand, vores hund og vores lille kat Luna. Vi har ikke børn (endnu) så derfor har vi rigtig meget tid til bare at nyde hinanden og gå og passe vores skønne hjem. Vores have er mest af alt bare en græsplæne der skal slås, men når man har hus er der selvfølgelig en del vedligehold der skal passes. Jeg har derfor en hylde med mere praktisk tøj, til når vi netop er i haven/ordner hus, eller går til hundetræning eller i skoven med Oskar.
Jeg træner 3-4 gange om ugen – det kan du læse mere om HER. Jeg har derfor en samling træningstøj og joggingtøj til at tage på efter træning eller om søndagen, når jeg gerne bare vil smide håret op i en knold og slappe af hele dagen.
Jeg hænger også gerne ud med venner/veninder og øvrig familie. Måske spiser jeg brunch, tager i biffen eller går i byen engang imellem. For det meste er mit "pæne" tøj egentlig hverdagstøj peppet op med accessories, stiletter eller lidt mere makeup end normalt, men jeg har også en lille håndfuld pænere toppe, som jeg altid kan regne med hvis jeg skal deltage i et mere fancy event. Læs mere om min mini-capsule med gå-i-byen-tøj lige HER.
Det giver mig groft sagt 4 forskellige kategorier af tøj:
Hverdagstøj og sko (capsule wardrobe – inkl. accessories)
Praktisk tøj
Sports- og joggingtøj
Gå-i-byen tøj (inkl. stiletter og accessories)
Hertil kommer selvfølgelig undertøj, strømper og basistoppe som jeg har på indenunder mine skjorter, striktrøjer osv. Udover det har jeg mine poser med tøj fra tidligere sæsoner, som jeg kigger igennem når en ny sæson påbegyndes.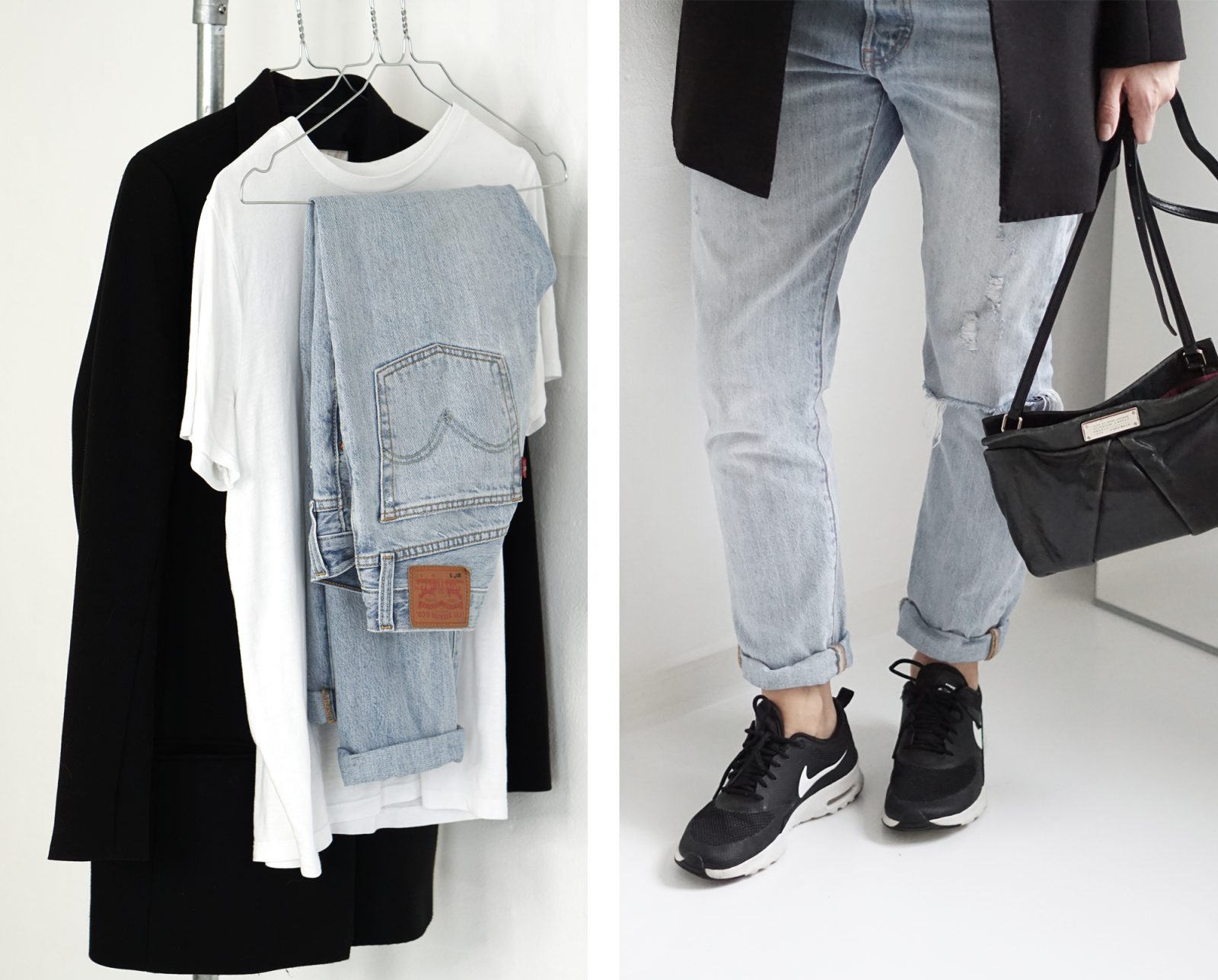 / After defining your overall lifestyle, you are now ready to define some outfits. The focus here is primarily on your everyday wardrobe – what I call my capsule wardrobe. It is very individual how many looks you can define, but I focus primarily on the outfits that I can always count on. The outfits I dont really think about, but which are still true to my style, make me feel comfortable and at the same time look very well put together. I have about 4 go-to looks that I reach for every week when I'm not even in the mood to think too much about what I put together.
Jeans, t-shirt, leather jacket, sneakers/boots
Jeans, sweater, boots
Simple dress, leather jacket, sneakers/boots
Tailored pants, striped top, sneakers
These are my so-called "no-brainers", but of course, it's not just those outfits I wear. Occasionally I like being a little more "creative" with my style. It should be a balance, I think.
Efter at have opridset din generelle livsstil, er du nu klar til, at definere nogle deciderede outfits. Her har jeg primært fokus på din hverdagsgarderobe – det som jeg kalder min capsule wardrobe – de andre kategorier (sports- og joggingtøj og praktisk tøj) giver lidt sig selv. Det er meget individuelt, hvor mange looks du definerer, men jeg fokuserer her primært på de outfits, som jeg altid kan regne med. De outfits jeg ikke rigtig tænker over, men som alligevel er tro mod min stil, gør at jeg føler mig velklædt og samtidig er behagelige. Jeg har på stående fod ca. 4 go-to looks, som jeg hver uge smider sammen når jeg ikke lige er i humør til, at skulle tænke for meget over hvad jeg sætter sammen.
Jeans, t-shirt, læderjakke, sneakers/støvler
Jeans, sweater, støvler
Simpel kjole, læderjakke, sneakers/støvler
Tailored bukser, stribet top, sneakers
Dette er mine såkaldte "no-brainers", men selvfølgelig er det ikke kun disse outfits jeg går i. Indimellem kan jeg godt lide, at være lidt mere "kreativ" med min stil. Det skal være en balancegang, synes jeg.
Define your favourite colours
/ Most of you know that I'm somewhat scared of too many colours. I love the black/grey/white/ navy/denim color scheme and it's been that way for years. Over time, I've found out that I get tired of a particular color or pattern more quickly than I do of the more classic colors. Often a color is very seasonal/trend-based and is therefore designed to "go out of fashion" at some point. If I nevertheless choose to bet on a certain color one season, it would be a bit more of a classic color – like the red color I have added to my summer capsule this year. I have a red/white striped top and a red sweater in my wardrobe right now. It's just enough for me to feel my wardrobe becomes a bit more summery and fresh.
Here it is also very good to consider whether you like patterns or not. Personally, I stick to the more simple "patterns" like stripes or dots – but remember, it's very individual. It is fully allowed to be happy both with colours and patterns! Just make sure you can combine it all together if you want to have success with a "minimal" (pared down) wardrobe.
De fleste af jer ved, at jeg er noget farveforskrækket. Jeg elsker farveskalaen sort/grå/hvid/navy/denim og det har jeg gjort i årevis. Jeg har med tiden fundet ud af, at jeg hurtigere bliver træt af en bestemt farve eller et bestemt mønster, end jeg gør af de mere klassiske farver. Ofte er en farve jo meget sæson-/trendbaseret og er derfor designet til at "gå af mode". Hvis jeg alligevel vælger at satse på en farve en sæson, så er det gerne en lidt mere klassisk farve – som den røde farve jeg har tilføjet til min sommer capsule i år. Jeg har en rød/hvid stribet top og en rød striktrøje i min garderobe lige nu. Det er akkurat lige nok til, at jeg føler min garderobe bliver lidt mere sommerlig og frisk.
Her er det også rigtig godt at overveje, om du er glad for mønstre eller ej. Personligt holder jeg mig til de mere simple "mønstre" som striber eller prikker – men husk, det er meget individuelt. Det er fuldt ud tilladt, at være glad for både farver og mønstre! Du skal blot sikre dig, at du kan kombinere det hele på kryds og tværs, hvis du vil have succes med en "minimal" garderobe.
Consider what is most flattering on your body
/ As I also express in the video, I dont want to be the judge of what is nice on a particular type of body – nor to focus on whether one body type is more ideal than another. We are all different and beautiful in our own ways! I think you should wear the clothes that emphasize the best in you! And you will only achieve this when your wear something you feel comfortable in.
Most people like to wear clothes that emphasize one's best features and therefore have a preference on what fit they prefer. I'm not very tall and dont have the most curvy body so the fact that I prefer a more casual loose-fitted expression in my outfits is guaranteed a huge mistake, haha! But I'm a fan of breaking the "rules" a little. Again, the most important thing is that you feel comfortable.
A simple trick is to think about the balance. For example, if you have wide shoulders and a narrow waist and hip, you can avoid shoulder pads or other clothes that mark your shoulders even more. It's quite simply about creating a good harmony. Here are a few tips for different body types:
 Apple shape: Breast – stomach – narrow hips – slender legs. Create more harmony: dresses and tops in A-lines/empire cut, tight jeans/leggings that emphasize your beautiful, slender legs. Avoid tight tops.
Pear shape: slender/petite upper body – larger bum and thighs. Create more harmony: a sharp blazer with shoulder pads will create good harmony with your wider lower body, dresses that are tight on the upper body and waist but looser at the bottom, jeans that are fitted around the bum but have a more straight or "trumpet" fit in the leg.
V-shape: wide shoulders – narrow hips – slim legs. Create more harmony: tops that are fitted around the shoulder section (V-necks are especially good for you), skinny jeans and leggings, dresses that are fitted on the upper body but are more straight/have more volume from the waist or hip down. Avoid shoulder pads and tops with thin shoulder straps.
Straight shape: slim/petite upper body – narrow waist and hip – small bum. Create more harmony: tops that somehow highlight your waistline, as well as dresses that mark your waist, maybe with a small belt. Avoid A-line dresses and wearing the same color pants/top as it can sort of "wash out" your body.
Hourglass shape: larger breasts – slim waist – wide hips and bum. Create more harmony: avoid loose clothing since it will make your beautiful curves disappear. Tight clothes – both dresses, tops and underparts look very nice on you.
Tip – Pinterest (link) is a gift if you want to explore your shape even more and get more tips!
Som jeg også udtrykker i videoen, så er jeg ikke så vild med, at skulle være dommer for hvad der er pænt på en bestemt type krop – ej heller at fokusere på, om én kropstype er mere idéel end en anden. Vi er allesammen forskellige og smukke på hver vores måde! Jeg synes man skal gå i det tøj, der får det bedste frem i éns udstråling! Og det gør kun det tøj, som du føler dig godt tilpas i.
De fleste vil rigtig gerne gå i det tøj, der fremhæver éns bedste træk og har derfor en præference på hvilket fit de foretrækker. Jeg er ikke særlig høj og har heller ikke de mest markerede former, så det at jeg foretrækker et mere casual loose-fitted udtryk i mine outfits er garanteret en kæmpefejl, haha! Men som sagt er jeg fan af, at man bryder "reglerne" lidt. Igen er det vigtigste altså, at du føler dig godt tilpas.
Et simpelt trick er, at tænke på balancen. Hvis du har brede skuldre og en smal talje og hofte, så kan du fx undgå skulderpuder eller andet tøj, der markerer dine skuldre endnu mere. Det handler egentlig bare om, at skabe en god harmoni. Her er et par tips til forskellige kropstyper:
Æblefacon: Bryster – mave – smalle hofter – slanke ben. Det kan du gå efter, for at skabe mere harmoni: kjoler og toppe i A-snit/empire snit, stramme jeans/leggings der fremhæver dine flotte, slanke ben. Undgå tætsiddende toppe.
Pærefacon: Slank/petit overkrop – større numse og lår. Det kan du gå efter, for at skabe mere harmoni: en skarp blazer med skulderpuder vil skabe god harmoni i forhold til din bredere underkrop, kjoler der sidder til på overkrop og i talje men går ud forneden, jeans der sidder til omkring numsen men har et mere lige eller "trompet" fit i benet.
V-facon: brede skuldre – smalle hofter – lille numse – slanke ben. Det kan du gå efter, for at skabe mere harmoni: overdele der sidder til omkring skulderparti (gerne med v-hals), skinny jeans og leggings, kjoler der sidder til på overkroppen men er mere lige/går ud fra taljen/hoften. Undgå skulderpuder, toppe med skulderdetaljer og strop-toppe.
Søjlefacon: slank/petit overkrop – smal talje og hofte – lille numse. Det kan du gå efter, for at skabe mere harmoni: toppe der på én eller anden måde fremhæver din talje, ligeledes kjoler der markerer din talje, måske med et lille bælte. Undgå A-snit og at iføre dig samme farve bukser/top, da det kan få din krop til at 'flyde sammen'.
Timeglas facon: Større bryster – slank talje – brede hofter og numse. Det kan du gå efter, for at skabe mere harmoni: undgå løstsiddende tøj, om vil får dine former til at drukne. Tætsiddende tøj – både kjoler, toppe og underdele er rigtig flot til dig.
Tip – Pinterest (link) er en gave, hvis du gerne vil udforske din facon endnu mere og få flere tips!
/ Last but not least; be true to yourself and your style! I like to experiment, but I try as much as possible to experiment with things I already have in my wardrobe. Of course I like to add a more trendy product or from season to season add a few new fresh products to my wardrobe, but be careful not to let the trend-bases products take over! It will simply set you back to the messy wardrobe where you feel you have nothing to wear and you make it unnecessarily difficult for yourself to put great looks together in your busy everyday life. Should you fall in love with a particular really hyped product one season (this season the straw bags are EVERYWHERE on social media for example) but are pretty sure you will not use this products again when the hype is over, try to focus on whether you already have something that you can create a similar look with. I myself have really liked the straw bags this year, but have so far chosen not to invest in one. Instead, I have reached for a natural white/beige tote that I got at a hotel when I was in Paris with my work in February. It's not the same as the straw bag – I know, but it still gives my outfits that same summery feeling which I think the straw bag is doing so well. It's about daring to limit yourself and play around with what you already have.
Sidst men ikke mindst; vær tro mod dig selv og din stil! Jeg kan godt lide at eksperimentere, men jeg forsøger så vidt muligt, at eksperimentere med ting jeg allerede har i min garderobe. Selvfølgelig kan jeg godt lide, at tilføje et enkelt trendy produkt eller fra sæson til sæson tilføje et par nye friske produkter til min garderobe, men pas på trend-delen ikke får overtaget! Det vil blot sætte dig tilbage til den der uoverskuelige garderobe, hvor du føler du ikke har noget at tage på, og du gør det unødvendigt svært for dig selv, at sammensætte looks i en travl hverdag. Forelsker du dig i et bestemt virkelig hypet produkt en sæson (denne sæson er flet-tasker fx OVERALT på de sociale medier) men er ret sikker på, at du ikke vil komme til at bruge den igen når hypen er ovre, så fokusér i stedet på, om du allerede er i besiddelse af noget, som du kan skabe et lignende look med. Jeg har selv været rigtig vild med de førnævnte flettasker, men har indtil nu valgt ikke at investere i én. I stedet har jeg hevet et naturhvidt/creme stofnet frem fra gemmerne, som jeg fik på et hotel da jeg i februar var i Paris med mit arbejde. Den giver ikke det samme som flettasken, men alligevel giver den mine outfits den dér sommerstemning, som jeg synes flettasken gør så fint. Det handler om, at turde begrænse sig og være tilfreds med det man har.
53