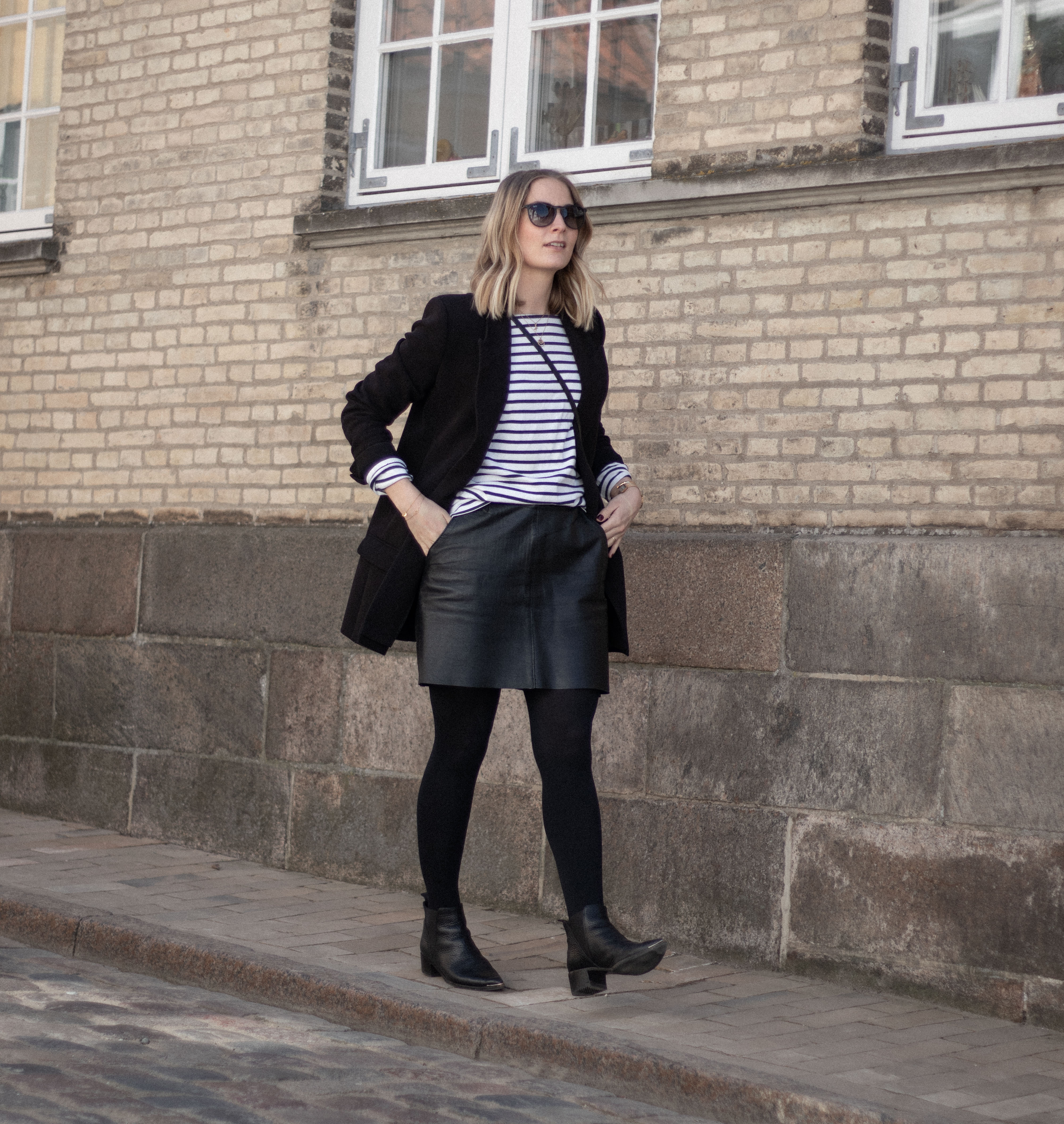 Post contains affiliate links denoted by a *
Before we get into the subject of today's post, let's dwell on the phrase "I should become better at wearing…" for a moment. Or like I told myself at the beginning of this week; I should really become better at reaching for other bottoms than always just my jeans. I the end personal style is about what you feel most amazing in so when you give yourself a challenge like that, maybe you should start with a little why. Why do you want to become better at wearing dresses? Why do you want to wear more colours and prints? Or what I'd also ask myself: why do you want to wear other bottoms than jeans more often?
… So why did I give myself that challenge at all? First of all it should come as no surprise to you how much I LOVE my jeans. I know that when I'm wearing jeans, a tee and a blazer I'll always feel like the best version of myself. This is probably also the type of outfit I'm seen in most days. But I do also love my wide leg pants from Arket* or my vintage leather skirt. So this week was meant as a challenge for me to break out of the habit of always reaching for my jeans, and make a little more room for the other bottoms I've got in my wardrobe. Get them into the game a little bit more, also in the future. Like Johanne from the Danish blog Better Fashion says, a wasteful approach to fashion includes all those things you already have in your wardrobe but never wear. And it's such a shame, especially when we're talking pieces of clothing you actually really like but just tend to forget about because they require a little more effort in terms of styling. 
In my opinion there are of course situations, where the sentence "I should become better at wearing…" doesn't make any sense at all. If we're talking fashion items or trends that you don't see yourself wearing at all, or items that simply don't fit your current lifestyle; forget all about them. Don't let yourself get under the pressure of what certain fashionistas or magazines might dictate you have to wear this season or not. But giving yourself a little challenge to help your creativity get going again and to rediscover forgotten items from your wardrobe can be quite rewarding. At least that's how I feel.
…
Lad os lige snakke lidt om sætningen "jeg skal blive bedre til at gå i…", før vi går yderligere ind i temaet til dagens indlæg. Eller som jeg sagde til mig selv for en uge siden; jeg burde blive bedre til, at gå i andre underdele end jeans. I sidste ende er personlig stil dét som du føler dig allerbedst tilpas i, så når du giver dig selv denne løftede pegefinger, så skal du måske starte med at spørge hvorfor. Hvorfor vil du gerne gå lidt mere i kjoler? Hvorfor vil du gerne iføre dig farver og prints lidt oftere? Eller rettet mod mig selv: hvorfor vil du gerne gå i andre underdele end jeans?
.. Og hvorfor gav jeg så mig selv den udfordring, at undgå mine jeans fuldstændig i en uge? For det første så ELSKER jeg mine jeans, hvilket ikke bør komme som en overraskelse for nogen af jer. Jeg véd, at når jeg fx ifører mig jeans, en t-shirt og en blazer så føler jeg mig altid godt tilpas, og det er nok dén type outfit jeg som oftest bliver set i. Men jeg er også vild med mine sorte bukser med brede ben fra Arket* eller min vintage nederdel i skind. Og i stedet for at lade dem hænge i garderoben og samle støv (det meste af tiden ihvertfald), så ville jeg give udfordringen et forsøg, fordi den så måske kunne medvirke til, at jeg fremover også husker at bruge disse underdele. Som Johanne fra Bedremode så fint siger, så er tøjspild jo principielt alt dét tøj du ikke bruger. Og det er ærgerligt når vi snakker om tøj du jo faktisk rigtig godt kan lide, men bare glemmer at bruge. Eller måske bare ikke har sat dig ordentligt ind i, hvordan du kan style.
I min optik er der også helt bestemt situationer, hvor jeg ikke synes den førstnævnte sætning giver mening: "Jeg skal blive bedre til at gå i…". Hvis vi snakker tøj eller trends generelt, som du slet ikke kan forene dig med eller som ganske enkelt ikke passer til dit liv eller den stil du foretrækker; så glem dem. Lad være med at lade dig presse af, hvad omverdenen synes du bør iføre dig denne sæson. Men at give dig selv en lille udfordring, som kan hjælpe dig med at udvide din kreative horisont, kan nu være ganske lærerigt. Dét har jeg ihvertfald fundet ud af.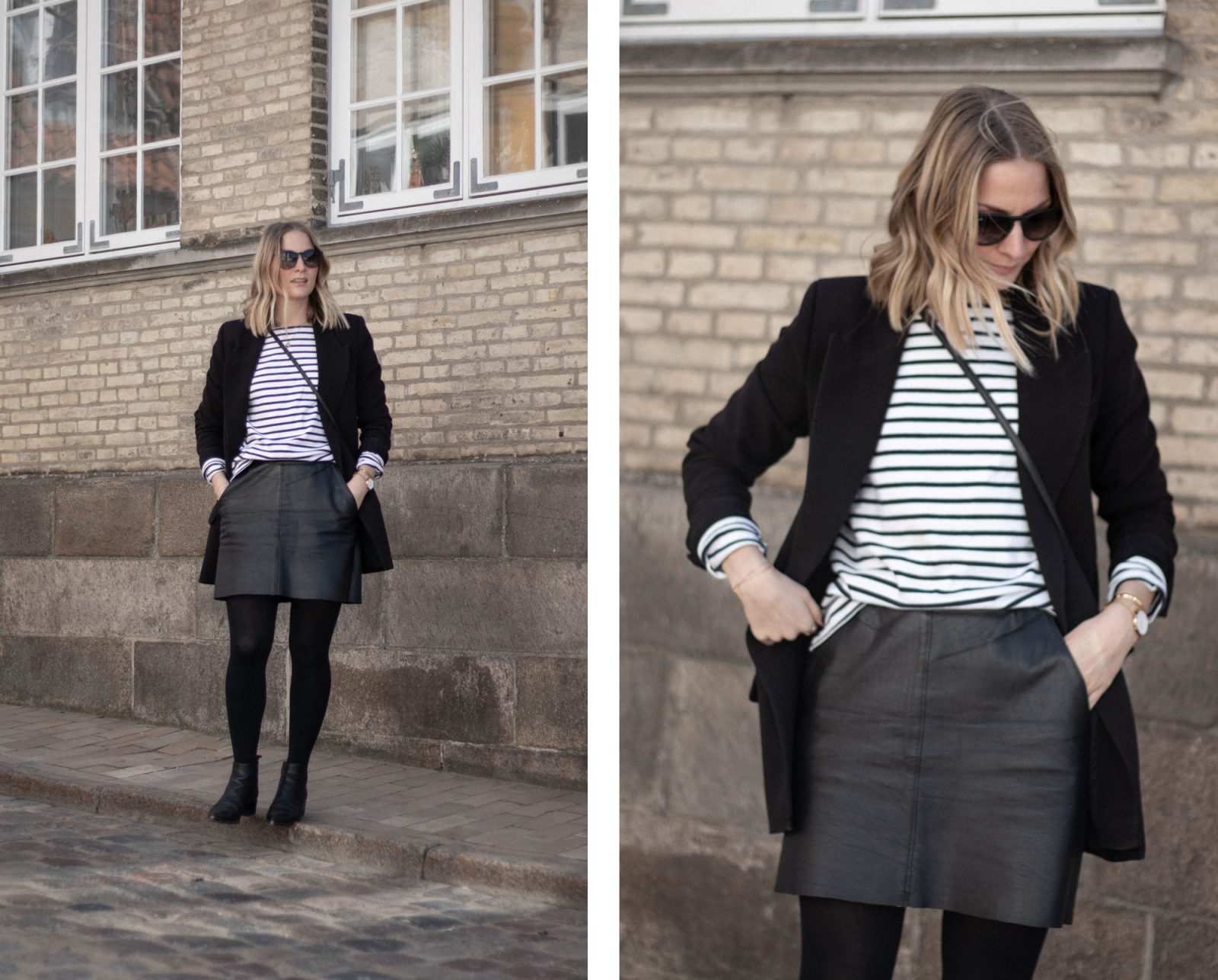 Denim is more than jeans
It was hard for me to let go of denim completely during this little challenge, but then it's quite amazing that I have other denim staples in my basic wardrobe than jeans; an older denim jacket which is perfect for spring, and also a denim shirt. Again these are older items that I sometimes tend to forget amongst my biker jackets and white tees, but I've worn both throughout this challenge to inject a little bit of denim into my looks still. Two birds with one stone. It was such a cool and effortless way of staying true to my love for denim.
…
Det var svært for mig at give fuldstændig slip på denim gennem denne lille udfordring, men så er det jo godt at jeg har andre uundværlige denim-basics end jeans i min garderobe; fx en ældre denimjakke der jo er perfekt til foråret, og så en superfin denimskjorte. Igen har vi at gøre med to ældre favoritter fra min basis garderobe, som jeg somme tider lader falde lidt i baggrunden til fordel for andre jakker eller overdele (biker jakker og t-shirts fx), men begge har været i brug under denne udfordring. To fluer med et smæk. Og så var det en cool måde at forblive tro mod min kærlighed til denim på.
Not too "nice"
Nothing against the very feminine type of style or those who prefer just that; it's just not for me. So whenever I want to wear a dress or a skirt, I feel best if I apply a few contrasts to the look. Something that can elevate the look and make it more casual or edgy somehow. A pair of cool boots or sneakers are always great with a dress or a skirt I think. I tend to feel the same with those very classic and clean looks. I mean; I love them – but again, I feel more like me if these types of looks are given some form of contrasts. This week I wore my good old tailored dress pants and then also the before mentioned pants with wide legs from Arket*. Both of these pants are so classic and quite "nice" so to draw them in a more casual and edgy direction, I loved pairing these pants with biker jackets and sneakers. If I were to style a classic suit, I would pair it with a white men's tee and a pair of sneakers instead of for example going all out on the classic look, by adding a slim shirt and a pair of heels. Again, nothing against the ladder which is so elegant and cute if that's your jam or maybe if that's what the dresscode on your job is. In that case I'd still try to stay as true to myself as possible by going for looks similar to THESE, from my "workwear" inspiration board on Pinterest. It's about playing a little with the proportions and contrasts, so that you both keep within the dresscode on your job but stay true to yourself at the same time. But maybe I should do a separate post or video on this subject soon?
…
Absolut intet imod yderst feminin stil eller dem som foretrækker dette; det er bare ikke rigtig mig. Så når jeg fx skal iføre mig nederdel eller kjole, så har jeg det bedst hvis der bliver tilføjet et par kontraster, der kan trække det hele i en lidt mere afslappet eller rå retning. Et par grove støvler eller sneakers er fx altid cool med kjole eller nederdel, synes jeg. Jeg har det lidt på samme måde med de dér meget klassiske looks. Altså, jeg elsker dem – men føler mig samtidig oftest bedst tilpas hvis et sådan look lige får lidt kant. Denne uge gik jeg meget i mine gamle herre-inspirerede bukser og så mine førnævnte, lignende bukser med med brede ben fra Arket*. Begge er jo ret klassiske og "pæne" bukser så for at trække dem i en lidt mere afslappet og rå retning, så var mine biker jakker og sneakers uundværlige items for mig, de dage jeg var iført et par af disse bukser. Skulle jeg fx iføre mig et klassisk suit, så ville jeg hoppe i en hvid herre t-shirt og et par cool sneakers fremfor, at parre dette look med en tætsiddende skjorte og et par stiletter. Igen, sidstnævnte er super pænt og elegant hvis det er dét man er til, eller dét dresscoden foreskriver på éns job. I sådan et tilfælde ville jeg dog stadig gå efter looks ala DISSE fra mit "workwear" board på Pinterest. Det handler lidt om, at lege med proportioner og kontraster så man både overholder en eventuel dresscode, men samtidig forbliver tro mod sin stil. Men måske skal jeg lave et helt indlæg eller en video dedikeret til netop dette snarest?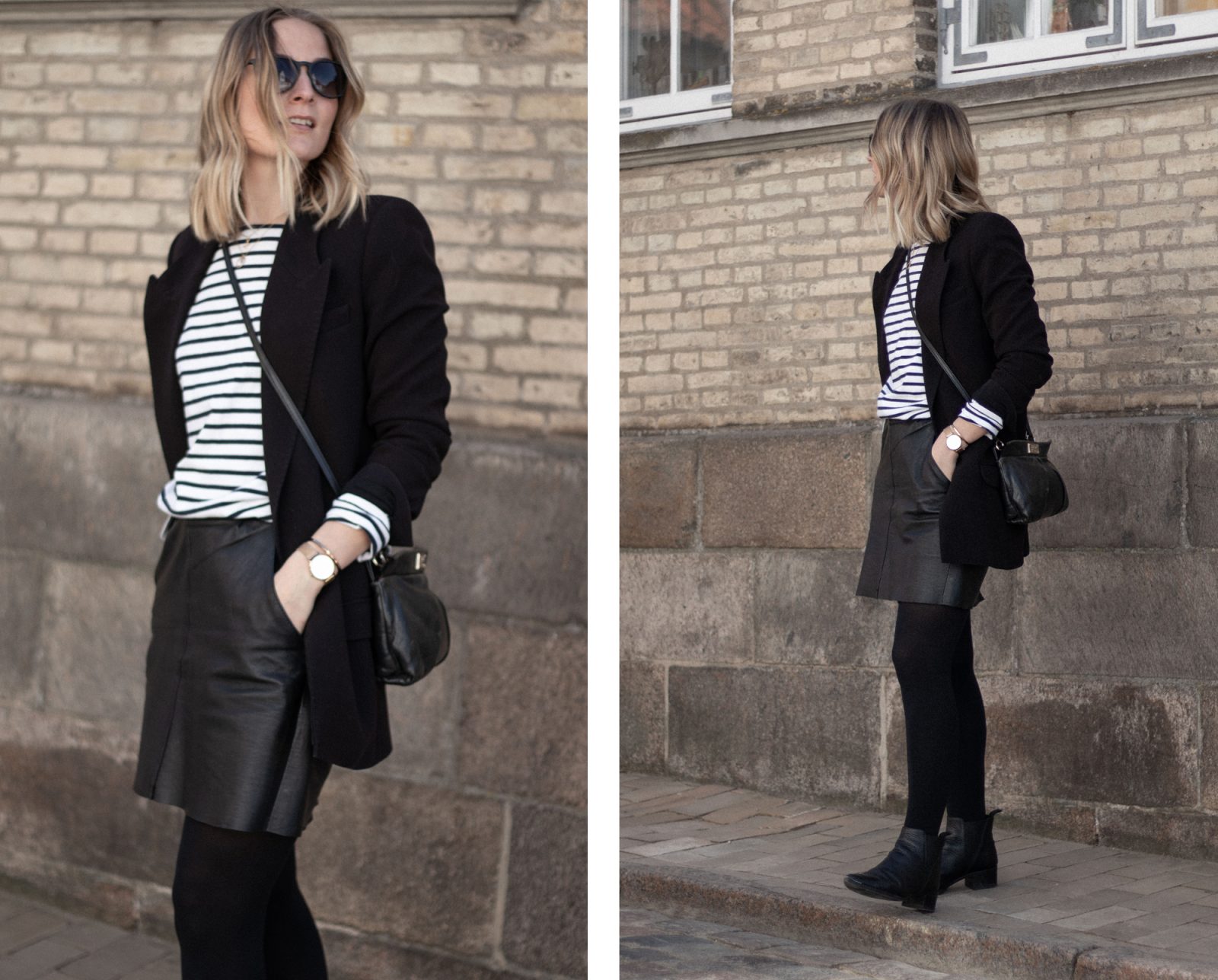 The old flame is rekindled
Okay, maybe slightly exaggerated when it is just clothes we're speaking about. But this challenge has surprised me positively in any case! Working so concentrated with something I've been wanting to get into for a while has shown to be quite a learning experience for me. Not one time during this challenge did I feel uncomfortable, even though I didn't wear my beloved jeans. I've rekindled the old flame towards some of my old favourites, and I hope you guys feel inspired to try out a similar challenge for yourselves. Maybe you wear dresspants a lot of the time but would love to wear jeans more often, or maybe it's certain tops or jackets you want to wear more than you do, but just tend to forget because they might require a little more effort in your day-to-day life.
…
Okay, det er måske en lidt overdrevet titel når vi snakker tøj. Med ihvertfald så har denne lille udfordring overrasket mig positivt! At arbejde så koncentreret med noget som jeg længe gerne har ville dykke ned i, har vist sig at være en yderst lærerig proces for mig. Der var ikke én eneste dag i løbet af ugen hvor jeg ikke følte mig godt tilpas, på trods af jeg ikke var iført mine elskede jeans! Jeg har i dén grad genopdaget gamle garderobe favoritter i løbet af denne udfordring, og jeg håber I føler jer inspirerede til, at springe ud i en lignende udfordring. Måske går I mere i pæne bukser og vil gerne blive bedre til at gå i jeans, eller måske drejer det sig mere om bestemte overdele eller jakker som I egentlig elsker, men glemmer at bruge.
Start with an inspiration board
I started this challenge with a good old moodboard on Pinterest right HERE, just so I had a starting point for the whole thing. Something to get inspired by. It's been a very helpful tool for me, especially again because the reason why I tend not to reach for these bottoms is because they require more effort of me styling-wise. I needed to figure out how to style several looks with these other bottoms in a way where I'd still feel like myself. You could of course also make a mini-capsule in the wardrobe app Cladwell. Maybe make a copy of your existing wardrobe and then just delete all the jeans. Just to see what kind of loks the app would suggest for you. Besides our reusable lint remover was a lifesaver for me this week (we have this set). Maybe that's another reason why I sometimes tend to avoid these types of bottoms; because they collect small hairs and lint like nothing else. If you can look beyond that and if you do invest in a good reusable lint remover, then you'll be A-okay. 
No matter what, this wardrobe challenge is something I could very well be doing again at some point, just with other hidden gems from my wardrobe. In many ways I feel like I've rediscovered my wardrobe! You can see all the 6 looks I ended up wearing this week in the video below.
…
Jeg startede først og fremmest udfordringen med, at gemme favorit looks på DETTE inspirations board, bare så jeg havde noget at pejle efter. Det har været en kæmpe hjælp, især fordi jeg jo netop føler det kræver lidt mere af mig at style disse underdele på en måde, som ikke bliver for pæn og hvor jeg er tro mod min stil. Man kunne også lave en mini-capsule i garderobe app'en Cladwell. Måske lave en tro kopi af sin eksisterende garderobe, og så bare fjerne alle sine jeans. Bare for at se hvilke outfits app'en foreslår med de tilbageværende underdele. Desuden skulle vores genanvendelige fnugfjerne vise sig, at være fuldstændig uundværlig for mig denne uge (vi har dette sæt). Måske det er endnu én af grundene til, jeg nogle gange undlader denne form for underdele; fordi de tiltrækker fnuller som bare pokker. Ser man bort fra det og investerer man i en god fnugfjerner ala førnævnte, så går det altså så fint.
Uanset hvad er denne garderobe udfordring noget jeg sagtens kunne forestille mig at lave igen, bare med andre glemte garderobe favoritter. Jeg føler ihvertfald på mange måder, at jeg har genopdaget min garderobe påny! Se alle mine 6 forskellige looks i videoen nedenfor.

24