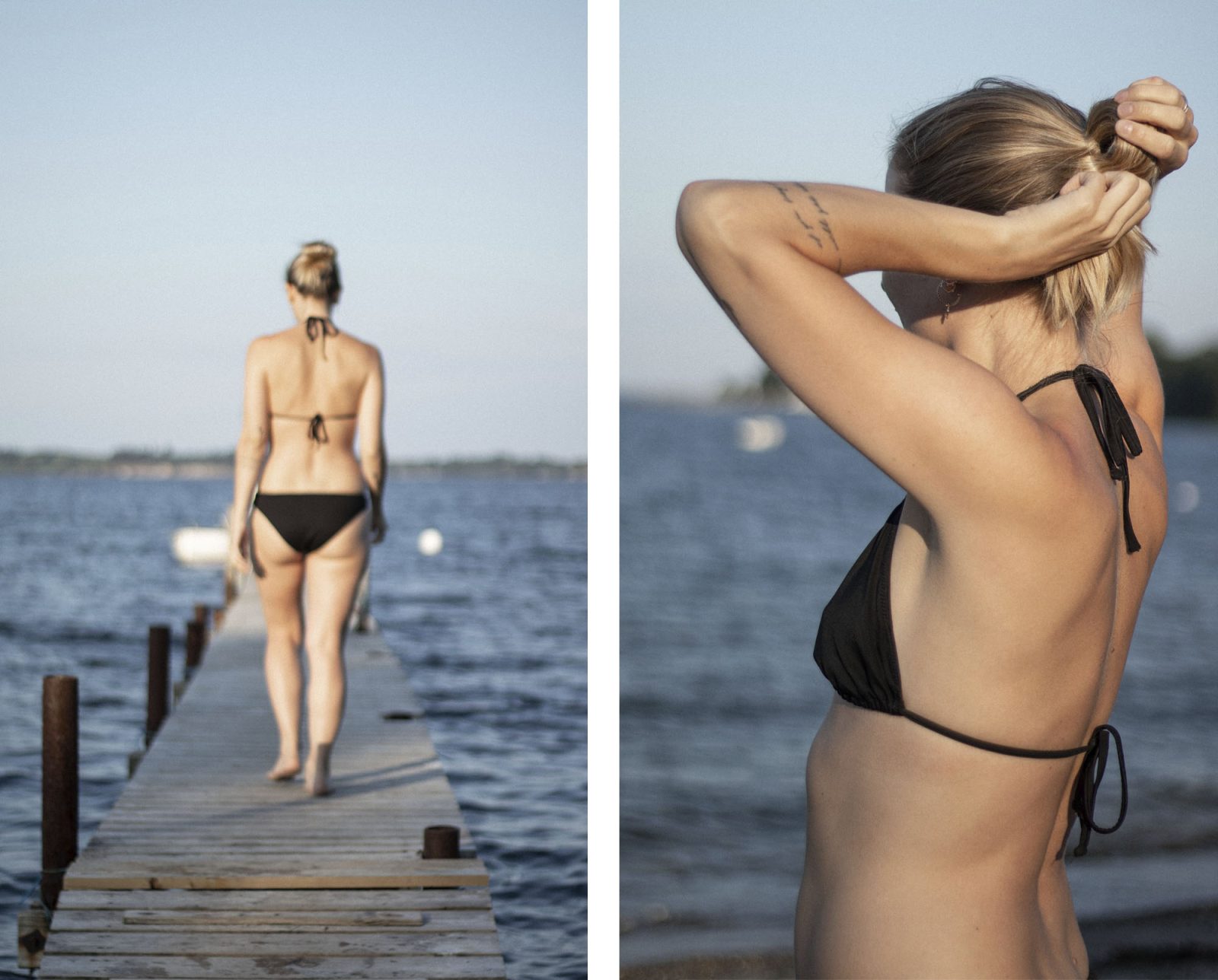 Even though our summer holiday has come to an end that doesn't mean that summer is completely over! Therefore I didn't think a post all about swimsuits was too late either. It's not something I've been speaking a lot about here on the blog, to be honest mostly because it's not really something I'm that passionate about. I've got a few, pretty simple (and also rather old) go-to bikinis in my collection and I rarely feel the need to buy a new one. That's also why the one you see on these images are a rather old one from H&M. I'm pretty sure I got the top from an acquaintance once, because we were a bunch of people who spontaneously wanted to go for an evening swim, and I didn't bring my bathing suit. The girl didn't fit the top herself anymore, so she passed it on to me and I've had it ever since. I've got another black bikini as well with a slightly different design, so I can kind of mix and match as I like. Like with my basic wardrobe, I like the idea of the whole mix and match concept also when it comes to bikinis. That way you can refresh the look of your bikini without actually buying a new one each time. My best tip is to go for colours that go well together. I've got this black bikini I'm wearing in these pictures and then I've got two completely different bikinis, each with a different pattern. One is pink/black leopard (something I'd never buy today, but that says a little bit about the age of this bikini, haha! Still love to wear it though) and the other one is a blue/white/black abstract pattern. But the fact that the black colour repeats itself throughout all of them makes them easy to combine.
…
Selvom vores sommerferie har nået sin ende, så er sommeren i dén grad ikke forbi og det er jo bare skønt! Derfor synes jeg heller ikke det var for sent med et indlæg om badetøj. Det er ikke noget jeg har talt ret meget om her på bloggen, ærligt mest af alt fordi det ikke er noget jeg som sådan har en kæmpe passion for. Jeg har et par enkelte, ret simple (og efterhånden også ret gamle) bikinier i min samling, og brænder sjældent for, at skulle have ny bikini. Derfor er den I ser på billederne her altså også bare en virkelig gammel sag fra H&M. Jeg mener faktisk at overdelen var én jeg engang fik af en bekendt, fordi vi var en gruppe der spontant ville ud og bade en aften, og jeg havde ikke fået badetøj med. Hun kunne ikke selv passe den længere, så derfor fik jeg den. Jeg har en anden sort bikini top også i et lidt anderledes design, så jeg kan skifte lidt mellem dem som jeg synes. Så lidt som med min basis garderobe, så synes jeg det fungerer rigtig godt at investere i nogle enkle dele, som man kan kombinere på kryds og tværs hvis man trænger til lidt forandring; uden rent faktisk at gå ud og købe ny bikini. Mit bedste tip er at gå efter farver der ser fine ud sammen. Fx har jeg denne helt sorte bikini og så har jeg to andre som er mønstret. Den ene i lyserød/sort leopard mønster, den anden i et lidt mere abstrakt blå/hvid/sort mønster. Men dét at den sorte farve går igen gør netop, at jeg kan kombinere det hele lidt med hinanden.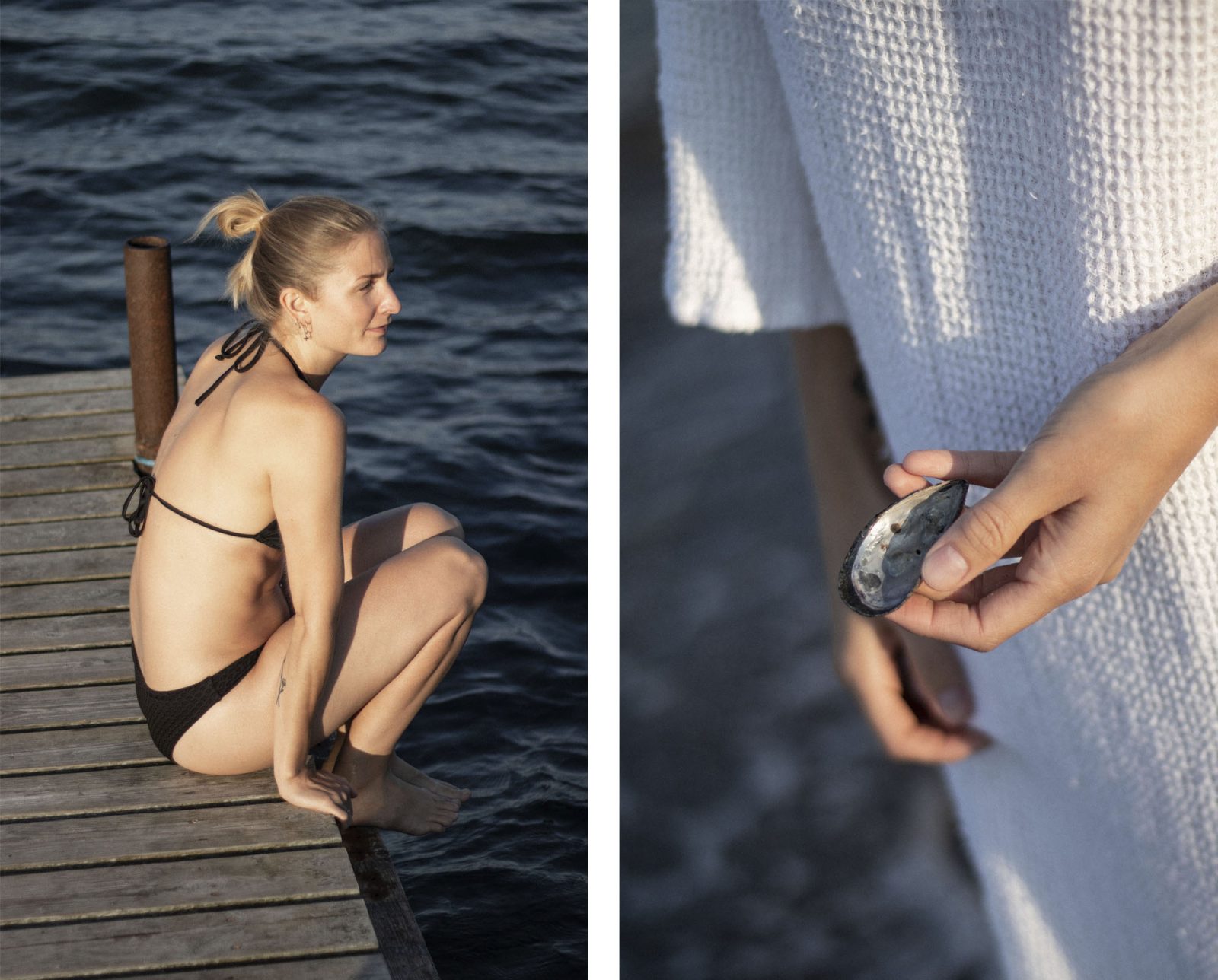 Because my bikinis are kind of old and from way before I started to get into sustainable fashion, they are like I mentioned before not from any particularly sustainable brands. But I've already got them, I like them and I'll use them until they're done. Still I wanted to mention a couple sustainable brands and initiatives for you guys. Just because I'm not looking a new bikini myself, doesn't mean you guys aren't! A couple brands that have been on my radar for a while is the Danish brand Woron who makes swimwear in recycled materials. Their swimsuits are classic and timeless without any fuss, which I really like. Underprotection is another sustainable Danish brand which I also really like, but still haven't tried yet. Both of these brands make really cute lingerie and loungewear too! Underprotection have a little more designs to choose from – both the simple kinds but also those that are a little more colourful and quirky for those of you who like that. Besides that Asos has quite a selection of sustainable swimwear in their Eco Edit* as well. (*adlink) To mention a few brands there's Peak & Beau and Tigerlily which I've linked som faves from down below, along with some cool swimwear from Reformation. The robe I'm wearing here is a gift from the Danish brand called White Dreams, and it's just lovely! I just wanted to mention that it does cause quite a bit of pilling to start of with, so I actually washed and tumble dried mine before I started using it. Just make sure you don't have anything else in the machines, since the pilling can transfer heavily on to other garments. But that did the trick for me. It's so nice to throw over when you've been in the water, and I like the fact that it's completely closed, rather than having an open front like a traditional robe. That way you can easily ride your bike back to your holiday cottage or where ever you might be!
…
Fordi mine bikinier netop er lidt gamle, og de er fra før jeg sådan rigtig begyndte at interessere mig for bæredygtig mode, så er de som sagt ikke fra nogen specielt bæredygtige mærker. Men jeg har dem, jeg er glad for dem og jeg bruger dem til de ikke kan mere. Dog ville jeg rigtig gerne nævne et par bæredygtige mærker og initiativer til ære for jer derude, for selvom jeg ikke selv står og skal have ny bikini kan det jo godt være at én af jer trænger til en update på den front, ikke? Et par mærker jeg har haft et godt øje til i noget tid er danske Woron, der laver badetøj i genanvendte materialer. De er simple og klassiske, hvilket jeg personligt ret godt kan lide. Underprotection er et andet bæredygtigt dansk mærke, som jeg også rigtig godt kan lide, men endnu ikke selv har prøvet. Begge mærker laver iøvrigt også super fint undertøj og nattøj! Der er lidt flere bikini styles at vælge imellem hos Underprotection – både de simple men også de mere farverige og mønstrede, til dem der kan lide det. Udover det har Asos et ret stort udvalg af bæredygtige bikinier i deres Eco Edit – blandt andet mærkerne Peek & Beau og Tigerlily, som jeg har linket nogle favoritter fra nedenfor, sammen med et par favoritter fra Reformation også. Badekåben i hør som jeg har på her er en gave fra danske White Dreams, og den er så skøn! Det skal lige nævnes at den fnuldrer en del til at starte med, så jeg gjorde det at jeg vaskede den på et let program (vigtigt at du ikke vasker den sammen med andre ting, da fnuldret let sidder fast i andre tekstiler), og så gav jeg den faktisk en tur i tørretumbleren for at få bugt med det sidste. Den er så rar at smide over sig efter et køligt dyp i vandet, og så kan jeg ret godt lide at den er helt lukket. Så kan du let springe på cyklen tilbage til sommerhuset, hvis det er dér du befinder dig!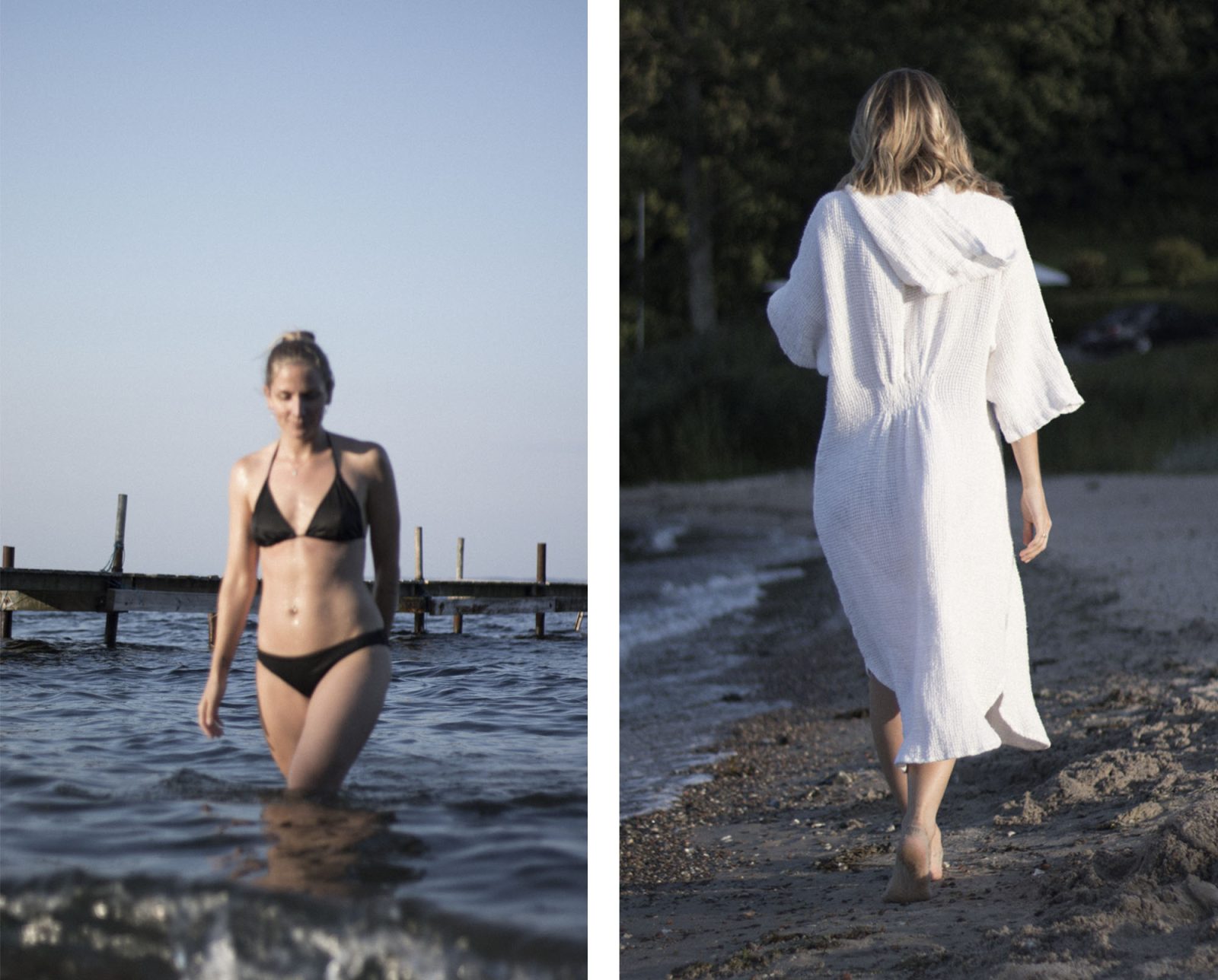 This summer we've been swimming a lot more in the ocean than we ever have before I think. Not several hours at a time, just a quick dive an early morning or during the evening. It still takes a bit of courage to get in (some days I need to count to 10 more than once lol), but I've started to like it more and more for each time and I'm kind of playing with the idea of doing winter swims too this year. If I'm brave enough you know. I don't want to promise myself too much, haha! We've been swimming at the beach in Aabenraa but most days we actually drive to Sandskær which I wrote about HERE recently. It's a lovely little gem where we often have the beach to ourselves, and then Oskar can run around a little more carefree as well. He's gotten so fond of the water too! Normally he's not really that much into water, but maybe it's because Morten and I have been swimming so much that he's realized it's not all that scary but actually rather fun. Dogs that love swimming are just too cute! We've all enjoyed getting cooled down during these hot summer days. I'm so grateful to be living so close to the ocean, and I couldn't imagine not to.
…
Denne sommer har vi badet mere i havet end jeg nogensinde tror jeg har gjort før. Ikke flere timer af gangen, men bare et dyp en tidlig morgen eller om aftenen. Jeg skal stadig tage mod til mig, bevares (og nogle dage skal jeg tælle til 10 mere end én gang lol), men jeg bliver mere og mere glad for det og faktisk også lidt lun på idéen om, at prøve vinterbadning i år. Hvis jeg tør, I ved. Vil ikke love mig selv alt for meget, haha! Vi har været nede og bade på Aabenraa strand der ligger 10 min. væk på cyklen, men faktisk kører vi oftere til Sandskær som jeg har skrevet om lige HER. Der har vi ofte stranden for os selv, og så kan Oskar komme med os ud og bade lidt mere uforstyrret. Han er simpelthen blevet så glad for at svømme, det lille myr! Normalt er han ikke meget for det, men det hænger nok sammen med både Morten og jeg har været mere i vandet i år, og så har vi fået overbevist ham om det faktisk slet ikke er så farligt, tværtimod ret sjovt. En lille vandhund er han ihvertfald blevet og det er bare så cute med hunde der elsker vand! Især her i sommervarmen har vi alle nydt, at blive kølet af. Jeg er så taknemmelig for at bo så tæt på vandet, og kunne ikke forestille mig ikke at gøre det, faktisk.
8