Efter at have delt denne video med jer på min Youtube kanal, var der nogen som skrev om jeg ikke ville dele min hudpleje rutine med jer. Og selvfølgelig vil jeg det! Min hud er langt fra perfekt – jeg døjer med rødme, store porer og også de sædvanlige breakouts efter en bytur. Sidste år var jeg på en ret skrap og kontroversiel pillekur mod cytisk akne, da min hud over de seneste par år virkelig var blevet slem. Jeg havde "indgroede" knolde under huden, og ja – jeg var bare dødtræt af min teenage hud, og ingen creme, kosttilskud eller andet kunne få bugt med det! Så jeg hoppede, trods skepsis, på kuren og det hjalp SÅ meget. Min hud fedter stadig i løbet af dagen, men antallet og størrelsen af mine udbrud er nærmest ikke-eksisterende. Så hurra for det! Hvis I vil høre mere om mit forløb, så spørg endelig.
Jeg har netop ryddet gevaldigt ud i alt mit beauty grej (creme, makeup, neglelak og hår produkter), for ikke nok med at jeg har døjet med akne, så er min hud samtidig vanvittigt sensitiv. Den bliver meget nemt rød og irriteret. Det kan være på grund af temperatursvingninger, stress, hvis jeg får et glas vin eller på en eller anden måde bliver følelsesmæssig påvirket. Det er SÅ irriterende, men sådan er det altså. Jeg bruger derfor så få produkter som muligt, som passer til min meget følsomme hud, sådan at der ikke er for meget der kan gå ind og forstyrre den, og få den til at blusse endnu mere op i det daglige. Desuden er jeg vild med tanken om, at forenkle mine daglige selvplejerutiner, ligesom jeg med stor succes har gjort det med min garderobe. Det simple liv gror mere og mere på mig. Her kommer hvertfald de produkter jeg bruger til dagligt (nedenfor).
/ I've been requested to share my skincare routine with you guys, so here it comes. My skin is far from perfect. I've got the occasional breakouts and I have a tendency to get very red an irritated skin. So my skin is a mix between oily and super sensitive! My skin gets very easy red, weather it's because of the temperatures, if I get a glass of wine, if I'm stressed out or  feeling emotional. Last year I was on accutane because my skin was so bad, and I had a lot of cystic acne that i couldn't get rid of no matter what I did. The pills helped me SO much! I only get small breakouts every now and then, and I can live with that. But the redness is something I have to accept, and find other ways to calm down.
The simple life is really growing on me, so recently I got rid of a lot of beauty stuff too. I'm trying to minimalize and narrow my daily beauty routines down, because it makes me feel much more calm and casual, and nothing really beats that state of mind in a busy everyday life, if you ask me. Also, given the very sensitive skin I have, I don't really want to put to much on it, that can disturb it or irritate it even more. Here comes the products I am using on my face right now.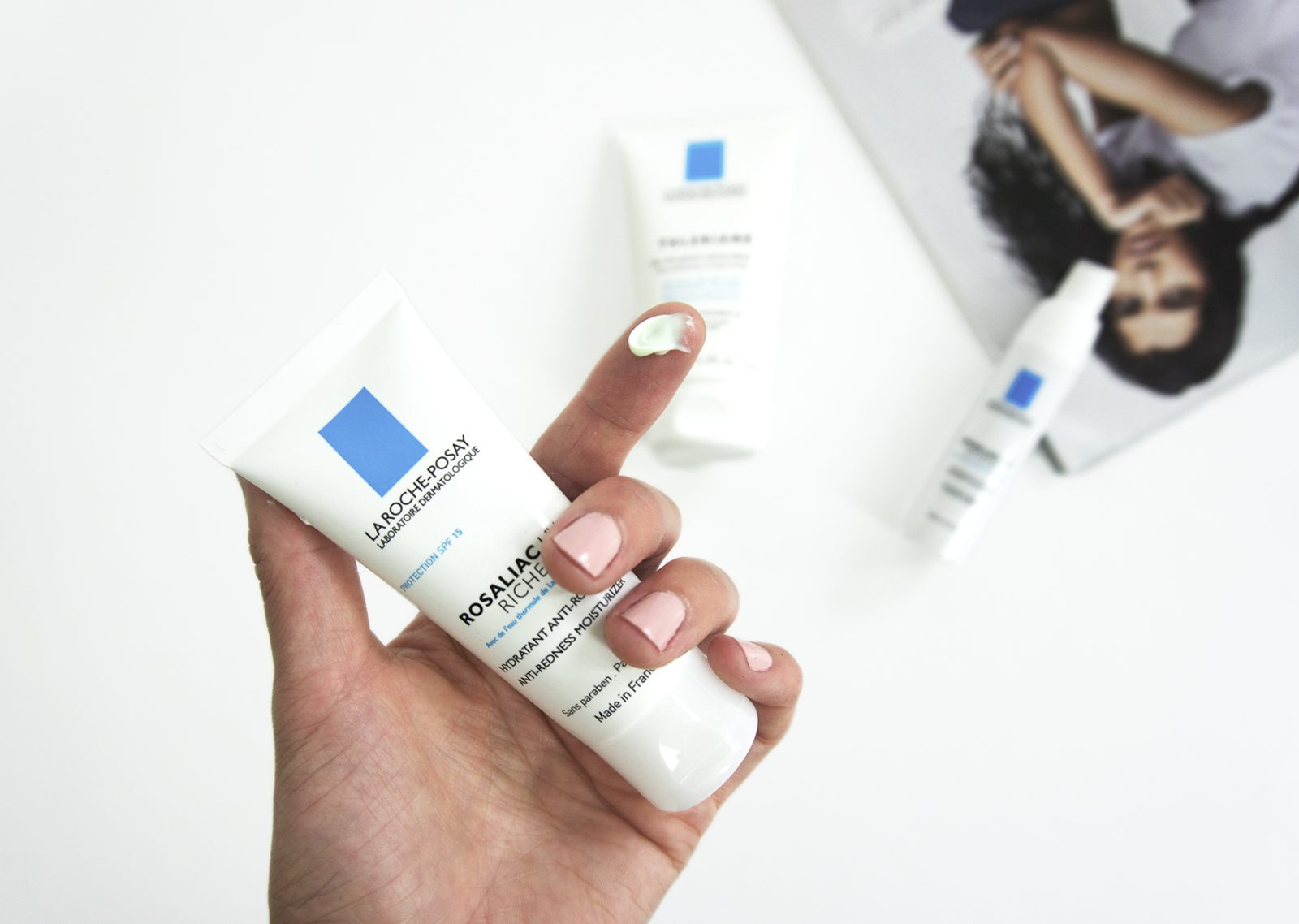 La Roche-posay produkter
Rosaliac AR Intense – anti redness serum
Rosalic AR Intense – anti redness moisturizer
Toleriane foaming gel cleanser
Dét der primært tiltaler mig ved disse produkter er, at de ikke indeholder parfume. Jeg kan bedst lide, at holde duft-niveauet minimalt og neutralt og så irriterer det nok i virkeligheden også huden mindre, at der ikke er parfume i. Disse produkter er alle udarbejdet specielt til følsom hud med tendens til at blusse op, og de er bare rigtig gode. Jeg vasker mit ansigt med sæben om aftenen, hvorefter jeg lægger et lag serum efterfulgt af cremen. Om morgenen nøjes jeg med at skylle mit ansigt, og påføre et lag serum før jeg lægger min makeup. Som man måske kan ane på billedet er fugtighedscremen en anelse grøn, hvilket umiddelbart efter påføring skulle neutralisere røde områder i huden.
/ What I like most about these products is, that they don't contain perfume. Not that I'm allergic to perfume, but I just like to keep perfume out of certain products, also not to irritate my skin even further. I wash my face with the soap every evening, and then a put on a layer of serum and then a layer of moisturizer. In the morning I only rinse my face with water and then I put on serum before applying my makeup. I don't know if you can tell in the picture, but the moisturizer is a bit green, which should neutralize redness in the skin after applying it.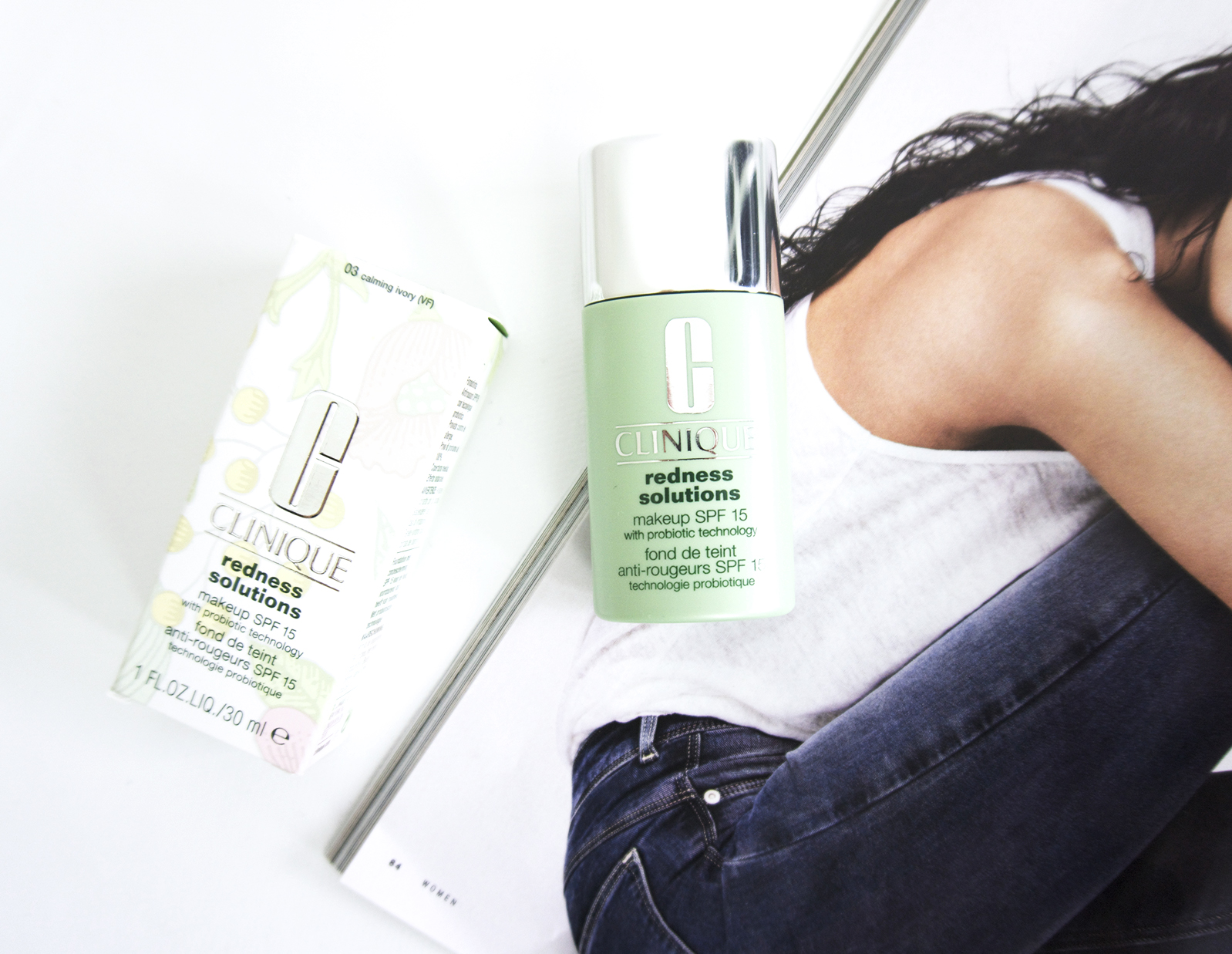 Clinique redness solutions
Foundation makeup SPF 15
Jeg har længe været på udkig efter en foundation, som har en god men naturlig dækkeevne, som holder sig pæn hele dagen og som ikke fedter eller tilstopper mine porrer. Samtidig med den selvfølgelig respekterer min følsomme hud. Sikke mange kriterier 😉 Det nemmeste i verden ville være ikke at tage det på, men når man er så bevidst omkring sin (problem)hud som jeg har været, så vil jeg hellere give min hud en pause i weekenderne. Til hverdag kan jeg simpelthen ikke leve uden, at lægge en base som får min hud til at se mere ensartet ud! Denne foundation fra Clinique gør jobbet så godt, og selvom jeg ikke har brugt den så længe, så er den allerede blevet en favorit. Det gode ved den er (igen) at den tager hensyn til hud med tendens til rødme, og så er den oliefri. Efter jeg har lagt min foundation lægger jeg et let lag af denne pudder, som jeg i øvrigt også altid har med i tasken, så jeg kan friske min hud lidt op i t-zonen i løbet af dagen.
/ I've been looking for a foundation with a good but natural coverage, that lasts all day and won't clog my pores or make my skin look shiny. All while not irritating my sensitive and red skin – so many criteria, I know 😉 The easiest thing in the world would be not to wear any makeup at all, but having been so self conscious about my (problem prone) skin for so many years, I just can't live without products that helps me even out my skin on an everyday basis! In the weekends, I usually give my skin a break from all that though. I've only been using this foundation from Clinique for a little while, but I am very pleased with it. The good thing about it is, that it (like many of my other skin care products) is meant to neutralize redness in the skin, and it doesn't contain oil. After applying it, I set i with a bit of this powder which I always carry with me, so that I can freshen up my t-zone during the day.
1