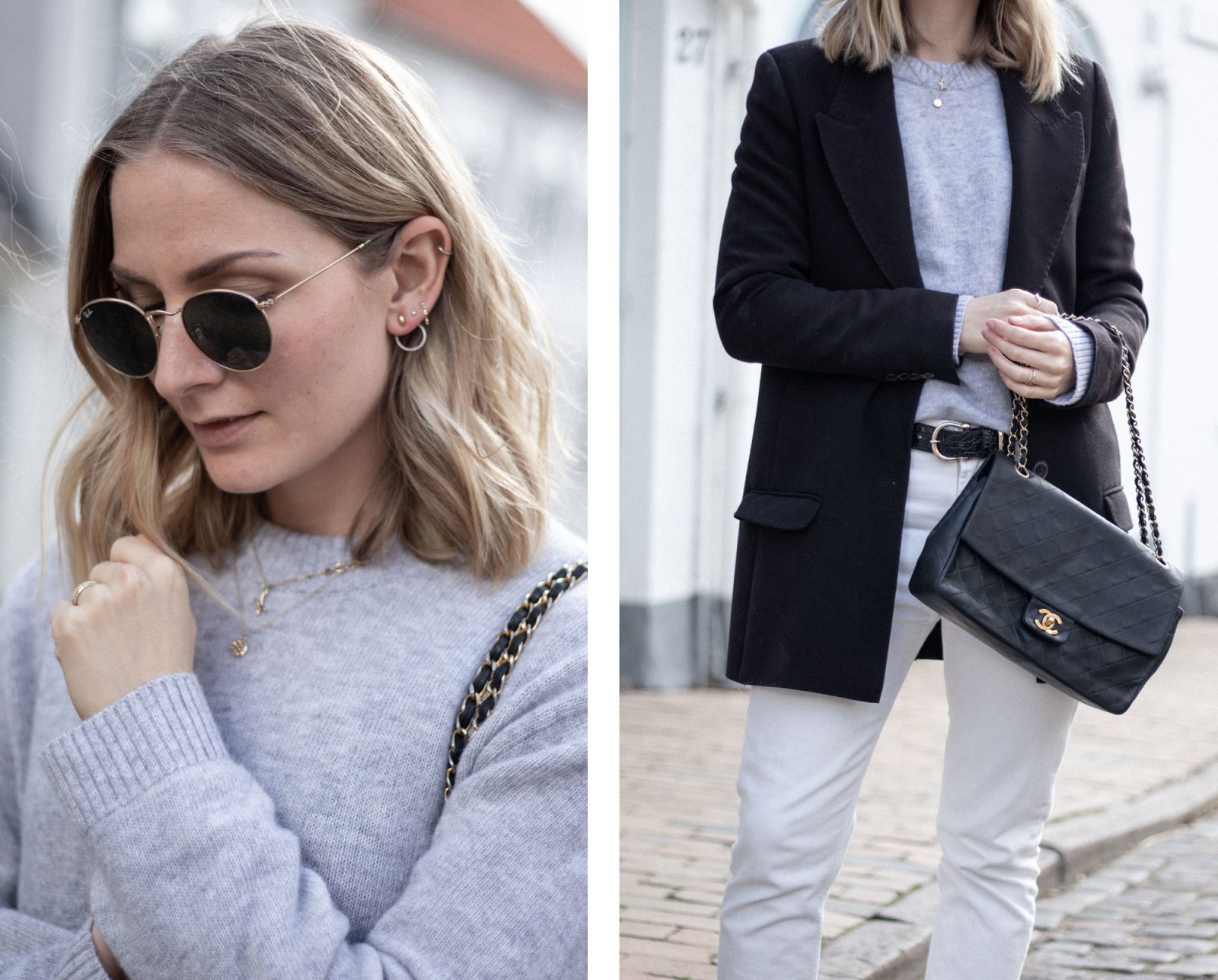 There's no doubt, that I'm a real sucker for basic AF outfits. It's a style that I've been drawn to ever since my late teen years, when I really started getting into personal style and fashion. It's the sort of outfits I tend to save on Instagram or Pinterest over and over again (often even the same type of outfit just from different angles on different people), and last but not least it's the kind of style I feel truly great in. A jumper and a pair of jeans is a great example of my basic uniform, the canvas which I can easily spice up with a handful of great accessories. I love the little details for both day and night, and to me it makes such a huge different for this rather clean slate. To me it's not without importance what kind of accessories I go for though. So today I thought I would share my top 5 accessories, that can make any basic outfit look just a bit more chic.
…
Der er ingen tvivl om at jeg er en sucker for basic outfits. Det er en stilart, som jeg har følt mig draget af siden mine sene teenage år, da jeg i første omgang begyndte at interessere mig sådan rigtig for mode. Det er den type outfits jeg tager mig selv i at gemme på Instagram eller Pinterest igen og igen (ofte det helt samme look i forskellige afskygninger), og sidst men ikke mindst er den den stil jeg selv føler mig bedst tilpas i. En striktrøje og et par jeans er et godt eksempel på den uniform eller ramme som danner outfittet, og ved at tilføje et par enkle, lækre accessories får det hele lige et løft. Jeg elsker de små detaljer både til hverdag og fest, og jeg synes det gør en kæmpe forskel for et ellers helt rent "canvas". For mig er det dog ikke helt ligegyldigt eller tilfældigt, hvilken type accessories jeg går efter. Så i dag tænkte jeg, at jeg ville gennemgå min top 5 over accessories, som kan gøre et hvert outfit lidt mere spændende.
*Jumper gifted by sustainable knitwear brand Navygrey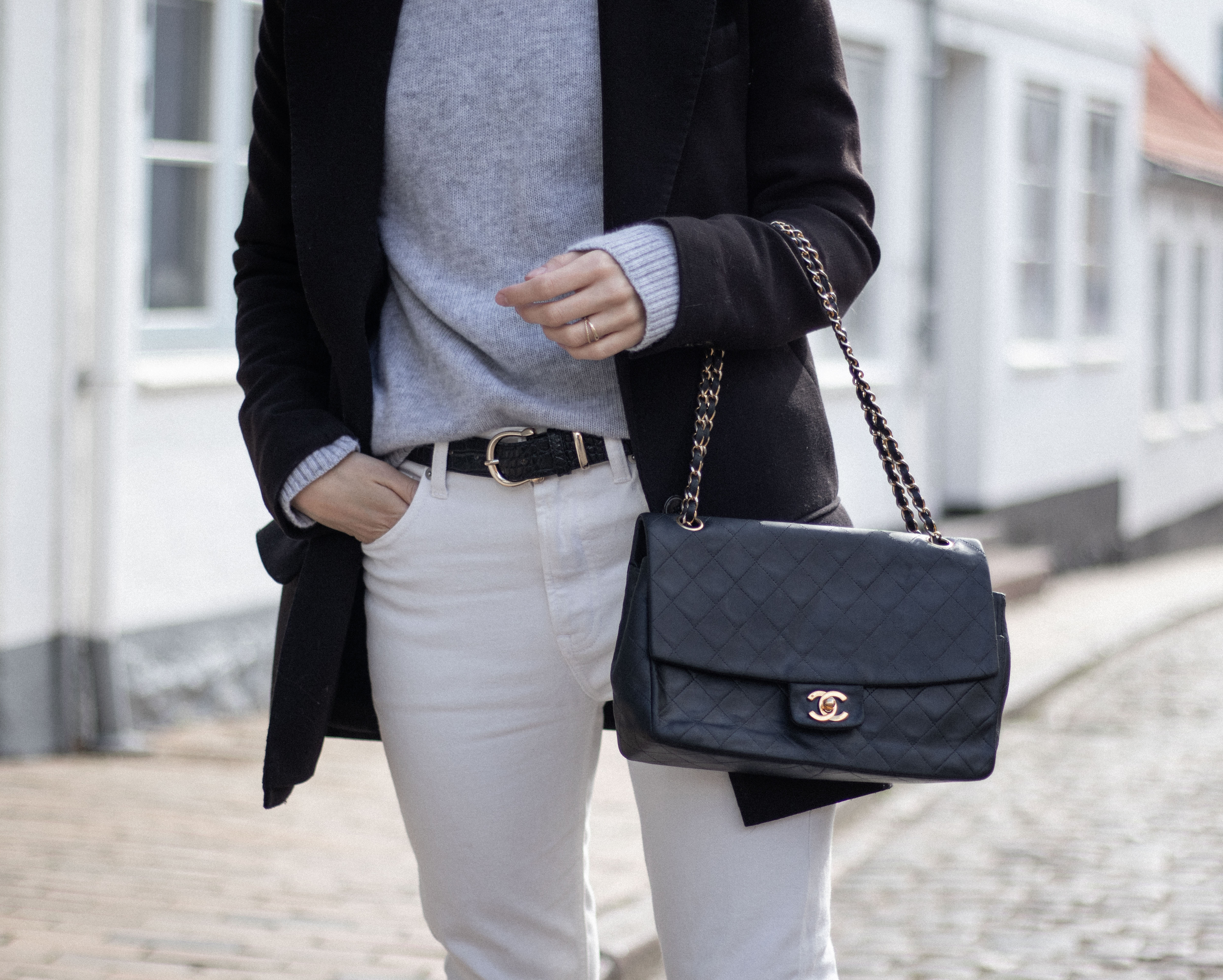 Blazer+shoes – Inwear (old) / Jumper – Navygrey (gift) / Jeans – Everlane / Belt – & Other Stories /
Bag – vintage / Jewelry – my own designs (here) / sunglasses – Preloved Ray Bans
A good jewelry capsule
In January I launched my own jewelry collection – Scandinavia Bound* – and I fall more and more in love with it every day. Right now we're, like I've also mentioned in a recent post, developing the extension pieces I've designed for the collection, and I really feel like it becomes more and more complete. I love dainty and minimal jewelry which you can combine in layers and materials, so that it ends up looking more statement in the end anyway. In general the whole layering trend is a fave for me when it comes to jewelry, whether that being necklaces in different lengths, earrings (which of course requires several piercings), bracelets or rings. When speaking of earrings I love combining hoops in different sizes, and therefore I'm so excited to be sharing one of my newest designs from Scandinavia Bound with you all in a month. The perfect balance when layering jewelry is to me achieved, when you mix something a bit more chunky with more dainty and minimal jewelry.
No matter what, the quality is also super important to me – especially when talking jewelry. My jewelry collection is made in solid, recycled gold and sterling silver. It's not only more sustainable in the long run, I also find that it looks much better. Of course you can get really nice jewelry that are gold-plated too, which with the right care can last for a long time and we all have different budgets, so don't get me wrong here. But that's one of the reasons why I'm so happy about the affordable prices we are able to offer especially the silver pieces in, so that you're still offered a little luxury (which is ethically made and will last for many years) even with a tighter budget. I always avoid the very cheap, mass produced kind of metal jewelry. They not only put you at risk for developing nickel allergy, they also tend to lose their silver/gold look really fast. I'd much rather advice you to go for preloved jewelry instead, if you have a very tight budget. Just so you invest your money a bit more wisely. Special jewelry have a tendency to make you feel special too; a feeling I think is quite important when speaking long-term fashion.
…
I Januar lancerede jeg min egen smykke kollektion – Scandinavia Bound* – og jeg bliver mere og mere forelsket i den for hver dag der går. Nu arbejder vi, som nævnt i et af mine andre indlæg for nyligt, på at bygge flere smykker på kollektionen og jeg føler virkelig den bliver mere og mere komplet. Jeg elsker minimalistiske smykker som man kan kombinere i både materiale og lag, så udtrykket alligevel bliver lidt mere statement i sidste ende. I det hele taget er lag-på-lag trenden en klar favorit når det kommer til smykker, hvad enten vi snakker halskæder i forskellige længer, øreringe (hvilket selvfølgelig kræver flere huller i ørene), armbånd eller ringe. Af øreringe er jeg især glad for at kombinere hoops i forskellige størrelser, og derfor glæder jeg mig endnu mere til at dele ét af mine nye designs med jer her om en måneds tid. Jeg synes generelt den perfekte balance er, når der både er noget lidt mere chunky blandet med noget let og feminint.
Uanset hvad, så er kvalitet super vigtigt for mig – især når vi snakker smykker. Min smykke kollektion er lavet i solidt, genanvendt guld og i ren sterling sølv. Det er ikke blot mere bæredygtigt i længden, men jeg synes også det ser meget mere lækkert ud. Man kan naturligvis få rigtig fine guldbelagte smykker også, der med den rette pleje og forsigtighed sagtens kan holde en god portion år. Vi har jo allesammen forskellige budgetter, så I må ikke misforstå mig her. Men netop derfor er jeg også super glad for de rimelige priser især sølvsmykkerne fra min kollektion tilbydes i, sådan at de fleste kan være med på lidt hverdagsluksus, som er fremstillet ordentligt og som holder i mange år. Generelt går jeg udenom de helt billige, masseproducerede smykker fremstillet i metal. De kan ikke blot være nikkelallergi fremkaldende, de mister også deres sølv- eller guldlignende overflade rigtig hurtigt. Så vil jeg næsten hellere anbefale dig, at købe dine smykker brugt, hvis du har et lidt stramt budget. Bare så du kan investere dine penge bedre. Specielle smykker får dig også til at føle dig speciel; en følelse man generelt ikke skal kimse af, når man snakker langtidsholdbart tøj, synes jeg.
A great bag
Which material is the most sustainable kind when speaking bags? There's not one correct answer to this, but in general I like to buy my leather shoes, bags and jackets preloved. I like the quality, feeling and longevity of real leather. It's a rich and heavy kind of material, but also a rather controversial material. The meat industry is a huge sinner when speaking sustainability (and ethics), and because we've chosen to cut down on the consumption of our own meat and dairy, it makes sense for me to go for preloved leather goods whenever I can. In fact, most of the leather items I have in my wardrobe are bought secondhand, so it's definitely doable a lot of the time. You can read more thoughts in THIS post, where I'm also sharing a few brands who challenge the production of new leather. 
My "new" bag is one that I've dreamt about for many years now: it's a vintage Chanel flap bag, which I've bought on Vestiaire Collective. It's so beautiful, and it suits my wardrobe seamlessly! It really gives my outfits that last little touch of something, when I walk out the door. The chain is almost like a piece of chunky jewelry in itself, and it's one of the things I love most about this bag. You can see and feel that it's a high quality bag, even though it's quite and old bag. It's sturdy and the leather still looks great, even after all these years. In general these two elements are something I value a lot, when looking for a new bag – but it doesn't have to be a designer bag at all. Up until now I've been using my good old, beloved Marc Jacobs bag with a detachable gold chain though (this one), to get sort of the same look, which is definitely also a cute and more affordable option. You could basically do the same to any leather crossbody bag you might have, just to add a little extra bling. The Chanel bag is a statement piece to me, and it's a piece of design history. And it's so stunning. I don't think I need to defend choice any further 😉 
…
Hvilket materiale er mest bæredygtigt når vi snakker tasker? Der er ikke et 100% entydigt svar her, men jeg køber som udgangspunkt gerne mine lædersko, tasker og jakker brugt. Jeg kan godt lide kvaliteten, følelsen og holdbarheden af ægte læder. Det er et rigt og tungt materiale, men også et – med rette – noget omdiskuteret materiale. Kødindustrien er jo én af de helt store syndere når det kommer til miljø (og etik), og da vi har skåret drastisk ned på mængden af vores eget kød indtag, så giver det for mig rigtig god mening, at gå efter brugt læder dér hvor jeg kan. Faktisk er stort set alle de lædervarer jeg har i min garderobe købt brugt, så det kan lade sig gøre lang hen ad vejen. Du kan læse flere tanker i DETTE indlæg, og også få nogle tips til seje brands der netop udfordrer produktionen af nyt læder.
Min "nye" taske er én jeg har drømt om de sidste mange år: det er en vintage Chanel flap bag, som jeg har købt på Vestiaire Collective. Den er simpelthen så smuk, og den passer perfekt ind i min garderobe! Den giver virkelig det dér sidste pift, inden jeg går ud af døren. Kæden fungerer nærmest som et chunky smykke i sig selv, og er noget af det jeg elsker allermest ved denne taske. Man kan se og mærke på den, at den er i høj kvalitet, på trods af dens mange år på bagen. Den er kraftigt og læderet er super velholdt. Det er i det hele taget to elementer, som jeg lægger stor vægt på, når jeg kigger efter ny taske – men en designer taske er ikke et absolut must. Indtil nu har jeg brugt min gode, gamle Marc Jacobs taske med en aftagelig guldkæde rem (denne) for at opnå lidt af det samme look, og jeg synes stadig det er et super fint og lidt mere budgetvenligt alternativ. Det kan man jo gøre stort set med hvilken som helst taske man måtte ligge inde med, for at give den et ekstra pift af noget bling. Chanel tasken er et statement i sig selv synes jeg, og den er et ægte stykke design-historie. Og så er den smuk. Mere forklaring behøves vidst ikke 😉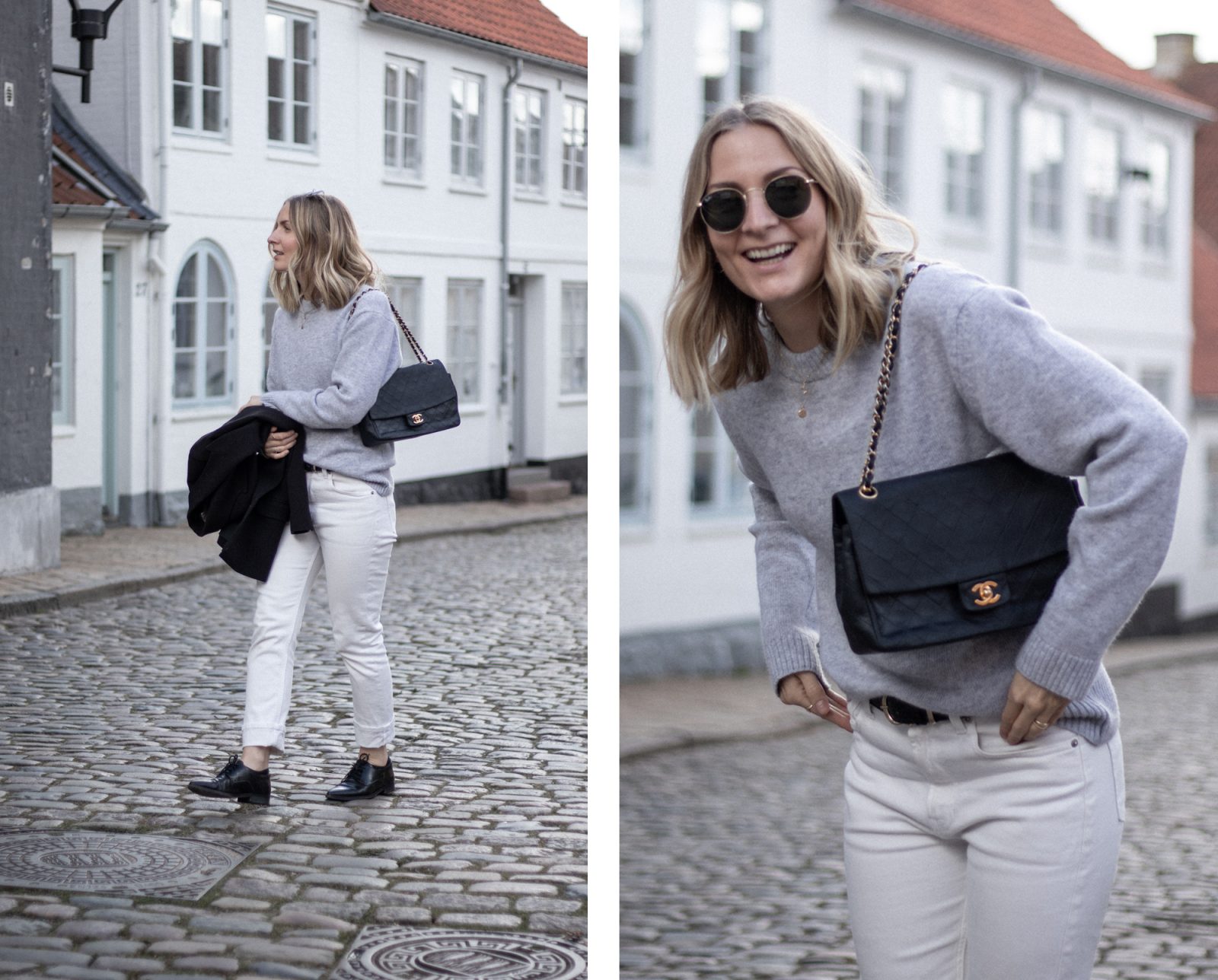 Sunglasses
I love sunglasses all year round. In fact, I tend to wear them even when it's overcast but that's primarily because I have really sensitive eyes (with a prescription on -6 on both of my eyes, I'm actually blind as a bat so that's probably why my eyes are so sensitive). Sunglasses are one of those details that have a huge impact even for the most low key outfit. I've got two pairs of Ray Ban sunglasses I keep in heavy rotation, well, that is when I'm not stealing my husbands classic Wayfarer* sunglasses. The ladder is a really cool unisex option, and a good pair to go for if you like sharing.
The sunglassesI'm wearing in these photos are bought preloved on Trendsales, and it's the model "round metal" with a gold frame. I just think they look so lux, and when I'm in the mood for a little extra bling these are often my choice. Otherwise I still use my good old Erika* sunglasses that my husband gave me for my birthday 6 years ago. I think the most important thing is to choose a pair that you feel comfortable with. And of course a pair that protects your eyes.
…
Jeg elsker solbriller hele året rundt. Faktisk går jeg gerne med solbriller selv når det er overskyet, men det er faktisk primært fordi jeg har enormt lysfølsomme øjne (med -6 på begge øjne er jeg næsten blind som en muldvarp, så det er nok også derfor mine øjne er så følsomme). Solbriller er selvfølgelig også én af de der små ting, som kan gøre en kæmpe forskel for selv det mest low key outfit. Jeg har to par Ray Ban solbriller jeg typisk bruger, når jeg altså ikke stjæler min mands Wayfarer* solbriller. De er nemlig også super cool, og kan jo let bæres af både mænd og kvinder. En lille dele-solbrille om I vil, haha.
Solbrillerne jeg har på her er købt brugt på Trendsales, og det er modellen "round metal" i guld. Synes de ser så "lux" ud, og når jeg er i humør til lidt ekstra bling så er det dem valget falder på. Ellers er det ofte mine gode gamle Erika* jeg griber ud efter som jeg fik i fødselsdagsgave af min mand for 6 år siden. Det vigtigste er bare at vælge en model, som man føler sig tilpas i tror jeg. Og så selvfølgelig én, som giver tilpas mængde beskyttelse fra solen.
A cool belt
I don't use it often, but sometimes I do like adding my good old belt from & Other Stories* to my looks too. Belts don't have to be worn only for practical reasons… I bought this belt 4 years ago, and my choice was this particular one because I like the look of it, it has the right amount of bling and it's rather timeless at the same time. The croco-effect is so cool, and I actually think the quality of this belt is quite amazing. I don't know any sustainable belt companies (hit me up if you know any), but otherwise secondhand is always an alternative.
I've also got a few waist belts in my accessories drawer, which I've had for years. I haven't worn them for ages, but I can't seem to let them go – I do think it looks quite cool wearing a belt on a blazer, but I've just not been bold enough to try it out myself yet. Maybe I will some day, which is probably why I can't seem to let go of them.
…
Jeg bruger det ikke så ofte, men indimellem kan jeg godt lide at tage mit gode, gamle bælte fra & Other Stories* på også. Bælter behøver jo ikke kun være til praktise formål… jeg købte bæltet her for 4 år siden og valget faldt på lige netop dette, fordi det har den perfekte mængde bling og samtidig er det ret tidløst. Synes croco effekten er super fin og rå, og kvaliteten af det er altså også virkelig god. Nu kender jeg ikke lige nogen deciderede bæredygtige alternativer (tip modtages som altid med kyshånd), men ellers er genbrug jo igen altid en mulighed.
Jeg har også et par taljebælter liggende, som jeg har haft i mange år efterhånden. Jeg har ikke brugt dem længe, man kan alligevel ikke helt give slip på dem – synes nemlig det kan se ret cool ud uden på en blazer, men jeg har bare ikke haft modet til at springe ud i sådan et look endnu. Måske kommer det en dag, og det er nok derfor jeg ikke har lyst til, at give slip på dem.
Light scarves
Last but not least I'd like to share my love for scarves. Both the heavy wool scarves during winter, but in general also the lighter kind in silk for example, which seem to be everywhere right now. They're stunning tied around your neck, as a hairband or tied to your favourite bag. I'm sure there are a ton of silk scarves in many thrift shops around the world, just waiting to be found. I'm going to keep an eye out for one myself in any case. I've got a few paisley scarves myself (or bandanas, similar to this* in organic cotton) in my collection, which I'd say is the more edgy, rock chic alternative to the classy and feminine silk scarf. Nonetheless it's just as timeless as the silk scarf, and it can be used exactly the same way. 
Do you guys have other accessories you cannot live without, to spice up all your basic outfits?
…
Sidst men ikke mindst vil jeg gerne slå et slag for tørklæder. Både de tunge uldtørklæder om vinteren, men generelt også de lettere tørklæder i silke, som ses overalt i øjeblikket. De er smukke rundt om halsen, som hårband eller bundet på din favorit taske. Er sikker på man kan finde mange, fine silketørklæder i diverse genbrugsbutikker rundt omkring. Jeg har ihvertfald tænkt mig, at holde et vågent øje selv. Jeg har et par paisley (eller bandana ala dette* i økologisk bomuld) tørklæder liggende, som er den mere rå udgave af silketørklædet, men ikke desto mindre også en virkelig tidløs klassiker, som kan bruges på helt samme manér.
Har I andre bud på tidløse, uundværlige accessories som kan pifte selv det mest "kedelige" outfit op?

20