You guys may remember this post, that I wrote back in february this year and now that 2018 is almost here, I thought it was about time to do a lookback. At the time I wrote that post I was rethinking my worksituation as a designassistent, and a little more than a month after writing the post I ended up quitting that job. Already when I wrote that post, I dreamt of a more sustainable lifestyle in all possible ways: both when it came to doing something good for our environment, but also to be better a better version of myself. T live a life that makes you happy is in a way also sustainable – it gives you strength to carry on even through rough times. So did I reach my 5 goals for this year? Let's have a look!
I husker måske dette indlæg, som jeg skrev tilbage i februar i år, og nu da vi snart skriver 2018, så tænkte jeg det var på tide med en opsamling. Jeg var på det tidspunkt i store overvejelser omkring min daværende jobsituation som designassistent, og lidt over en måned senere endte jeg faktisk også med, at sige op. Allerede da jeg skrev indlægget, drømte jeg om at forfølge en mere bæredygtig livsstil, på alle tænkelige måder: bæredygtighed i den forstand at jeg vil gøre noget godt for miljøet, men også at gøre noget godt for mig. At leve et liv der virkelig gør én glad er på en måde også bæredygtigt – det giver dig lyst til at fortsætte, selv igennem de svære perioder vi alle har. Så nåede jeg de 5 mål som jeg satte mig? Lad os tage et kig!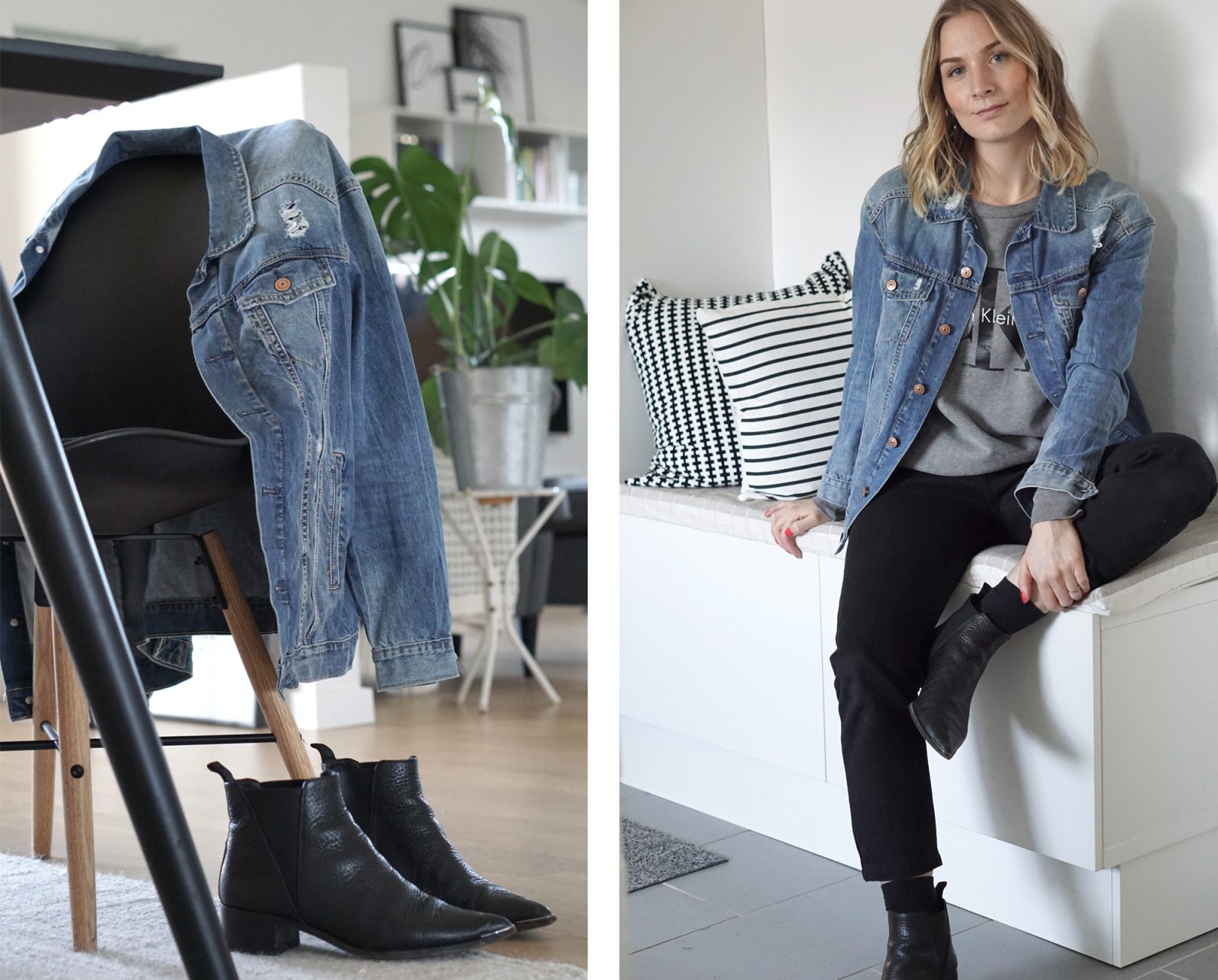 1. Change my conventional beauty products to more eco-friendly ones
Statues: achieved! This goal is really something I've achieved this year! 2017 has been dedicated to actively change my consumption habits to the better, especially when it comes to beauty and the bathroom in general. I've already written multiple posts on the subject here, and recently I wrote a review on the natural and plastic-free makeup collection from Miild (read it here). It's not that I feel like I've completed this goal, because it's an ongoing proces finding more eco-friendly alternatives in the bathroom. It's about finding out what works, what doesn't and what makes sense both economically and sustainably. In general I try to avoid plastics and harsh chemicals (which can be quite tricky in today's society, it's almost only possible through online shopping where I live), use single products that can be used for more than one purpose and use less in general and also quit the disposables. Now I feel ready to start this journey in the kitchen as well, especially when it comes to quitting disposables like plastic straws and single-use baking sheets.
Status: opnået! Dette mål er i dén grad noget, som jeg har opnået i år! 2017 har været dedikeret til aktivt, at ændre mine forbrugsvaner på badeværelset. Det har jeg allerede skrevet op til flere indlæg om bl.a. her, og senest skrev jeg en anmeldelse af Miild's plastfrie og naturlige makeup produkter her. Det er ikke sådan at jeg føler mig "færdig" med, at finde alternative produkter på badeværelset; det er en proces, hvor det handler om at finde de alternativer der både økonomisk og bæredygtigt giver mening, men som selvfølgelig også fungerer for dig. Jeg lægger stor vægt på generelt at bruge mindre, bruge ét produkt til flere formål, købe plastfrit dér hvor jeg kan (i dagens Danmark er dét næsten kun muligt via online shopping), kvitte engangsprodukterne og ikke mindst gå efter de naturlige produkter, som er gode for mig og miljøet. Nu føler jeg mig også mere rustet til, at gennemgå vores forbrugsvaner i x køkkenet, og udskifte engangsprodukter med produkter der kan bruges igen og igen, som fx stålsugerør der kan genanvendes, genanvendeligt bagepapir osv.
2. Choose sustainable alternatives whenever I have to shop for basic clothes
Status: achieved! It makes me so happy and proud to be able to tell you, that I've been buying most of my clothes 2ndhand  in 2017, whenever I've felt like adding something new to my wardrobe. Shopping 2ndhand is one of the most sustainable ways you can enjoy fashion, because you aren't putting the environment under extra pressure since the items you buy have already been produced. I've even been so lucky to be able to work with People Tree this year, which is one of the coolest sustainable fashion brands in the entire world, and I'm convinced that I'm gonna be purchasing and supporting People Tree in the future as well. I've also gotten really hooked on Everlane this year, which is my alltime favourite basics brand who care a lot about the ethics around their production.
Status: opnået! Det gør mig så glad og stolt, at kunne fortælle, at jeg i det meste af 2017 har købt brugt tøj, når jeg har tilføjet nyt til min garderobe. At købe genbrug er én af de mest bæredygtige måder hvorpå du kan forbruge tøj, da miljøet ikke sættes under ekstra pres i forhold til produktion – det du køber er jo allerede produceret. Jeg har desuden været så heldig at arbejde sammen med People Tree i år, som er ét af de sejeste bæredygtige mærker i verden, og de sendte mig derfor nogle produkter til test, som jeg har været super glad for – og som har overbevist mig om, at købe People Tree i fremtiden. Jeg har også for alvor fået øjnene op for Everlane, som er et mærke der går ind for gode og langtidsholdbare items og desuden går forrest med ordentlig og gennemsigtig produktion.
3. Have meat-free days during the week, and buy more eco-friendly food
Status: achieved but still in progress. It's kind of funny to look back at this goal, because originally I just wanted to have a couple days during the week where e didnøt eat meat, but today I hardly ever eat meat and the same goes for my husband! We started out lightly, and now it's just become such a natural part of our daily lives. My body quickly started changing after I reduced my consumption of meat. I've lost around 2 kilos (not that I needed that at all, but anyway), my stomach feels more balanced, flat and less bloated even though I actually eat a bit more carbs now that I've cut away the meat. That's crazy! 2017 was therefore the year of reinventing our weekly foodplans and to learn something about what you should eat when you've decided to cut away meat, to make sure you get all the vitamins and proteins you need. I don't label myself as a vegetarian or vegan, because on rare occasions I do still eat meat if it's being served in a social situation, but I just crave it less and less in general. When it comes to grocery shopping I think around 80% of the things we bring home is organic, så that's  another area we've really improved. Sure, we use more money on food now but we also save a little since we (almost) no longer buy meat. An area I really want to prove next year though, it when it comes to packaging. I want to buy more of the groceries package-free and in bulk. It's so hard here where I live, but I want to try. You can read more about why right here. 
Status: opnået, men stadig en proces. Det er lidt sjovt at se tilbage på dette punkt, fordi jeg oprindeligt gerne ville have bare et par kød-fri dage om ugen, men i dag faktisk stort set ikke spiser kød – og det gælder både mig og min mand! Vi startede i det små og nu er det blevet en naturlig del af vores hverdag. Min krop begyndte hurtigt at ændre sig, efter jeg nedbragte mit indtag af kød. Jeg har tabt mig ca. 2 kilo (ikke at jeg overhovedet havde brug for det, men anyway), min mave er kommet mere i balance, er blevet mere flad og jeg er mindre oppustet på trods af, at jeg jo faktisk spiser lidt flere kulhydrater nu, hvor jeg ikke længere har noget kød på min tallerken. Det synes jeg er vildt! 2017 er derfor blevet brugt på, at udvikle nye madvaner og ugentlige madplaner, og at sætte sig ind i hvad man bør spise, når man vælger at sige nej tak til kød. Det er stadig en proces, men jeg er så glad for mit valg! Jeg kalder mig hverken vegetar eller veganer, da jeg en sjælden gang imellem godt kan finde på, at spise noget kød hvis det bliver serveret, men som sagt får jeg mindre og mindre lyst til det. Når det kommer til indkøb køber vi nok 80% økologisk i dag, så dér har vi også virkelig forbedret vores købsvaner. Vi bruger flere penge på mad af den årsag, men samtidig sparer vi også lidt fordi vi har skåret kødet væk i næsten alle vores måltider. Ét sted jeg virkelig gerne vil forbedre mig i 2018 er dog, at købe emballage-frit dér hvor jeg kan. Det er svært her hvor jeg bor, men jeg vil gerne give det et forsøg! Det kan du læse mere om her.
4. Get more system into our house and get rid of excess clutter
Status: achieved! Not long after writing the post with all my goals for 2017, my husband and I went on with decluttering our entire home after the Konmari method – it took a couple days, and you can learn about how we did it here. We have been better at keeping the house neat and tidy, especially when is comes to things like receipts; these will be refused at the shop or thrown away immediately instead of piling up in some drawer. Our pantry does need another round of decluttering though, it needs new structure in general so I'm gonna sort that out soon. But other than that I really think we've become great at keeping the house tidy on also we've become better at not dragging all sorts of unnecessary things into our home, that we don't need. So this was the start of a more sustainable lifestyle, because I truly believe you need to declutter your life and your home when you start this journey, in order to have success and be able to reach your goals. Sort of start from scratch, you know. 
Status: opnået! Ikke ret lang tid efter jeg skrev mit indlæg i starten af året, så gik jeg sammen med min mand igang med, at rydde hele huset grundigt op efter Konmari metoden – læs mere her. Vi har været gode til at holde huset ordentligt de fleste steder – især når det kommer til fx kvitteringer; de bliver smidt ud med det samme (eller sagt nej tak til), og ender ikke i en kæmpe bunke i én eller anden skuffe. Dog trænger vores spisekammer virkelig til en ordentlig overhaling, så det skal jeg have styr på snart. Men ellers synes jeg som sagt, at vi er blevet rigtig gode til, at holde orden i huset og ikke mindst er vi blevet bedre til ikke, at slæbe alt muligt med hjem vi ikke har brug for. Dette var starten på en mere bæredygtig livsstil, for jeg mener helt klart, at man skal have ryddet grundigt op i sit liv og sit hjem, hvis man for alvor vil have succes med den her livsstil og nå alle de mål man sætter sig. Ligesom starte fra scratch, I ved.
5. In general learn more about supply chains, sustainability etc.
Status: still in progress. 2017 has been such a instructive year for me in so many ways! Not only when it comes to sustainable fashion, but in general also when it comes to living a sustainable and balanced lifestyle. I said goodbye to my days as a fashion designer in September, and now I work on a more freelance basis optimizng social media for a Danish womenswear brand, and the rest of the time I'm so privileged to be able to live from creating my online content in here. It's a constant process learning about sustainability and I carry a long list of documentaries and books I need to explore. This year I've learned about the zero waste movement and I've discovered how much plastic we consume on a daily basis, which is brining so much harm on our environment and ourselves in the end too. I've been trying out different techniques and products to create less (plastic and chemical) waste, and it's still and ongoing process. It goes against the norm of today's society, and that's why it's not always easy peasy to pursue : at least I don't think so. But there's a lot you CAN do, and so in 2018 I want to do more. Both when it comes to learning about this but also actively change more of my habits. I've also become a Fashion Revolution Friend, which is a title I've been offered by the non-profit organisation Fashion Revolution, who (like me) is trying to change the game of the whole fashion industry to the better. So when it comes to supply chains I expect to become a lot wiser in 2018 through this collab with Fashio Revolution, and of course I'm gonna bring you guys along with me.
I'm not the type who truly believes in new years resolutions, but setting yourself some goals that you are truly passionate about achieving is a great way to kickstart  new lifestyle with new, better habits. And I'm so proud of how far I've come this year! My goal with my blog has been all along, to lead the way towards using less of the unnecessary (which is where my name use less comes from: use less of the useless), but without removing all the factors that makes fashion and lifestyle fun and I really think I've come out with that message this year. With that being said, I just want to thanks to all of you who have been following me both in here, on Youtube, Instagram and Pinterest. I have learned so much from you, and the support and warmth you give me every single day is indescribable. Thank you so much guys, I hope you stick around in 2018 as well!
Status: stadig en proces. 2017 har været et super lærerigt år for mig, på så mange måder! Ikke blot når det kommer til bæredygtig mode, men også generelt en mere bæredygtig og balanceret livsstil. Jeg sagde endeligt farvel til min tid som designer i september, og arbejder nu på mere freelance basis med optimering af sociale medier for en anden dansk tøjvirksomhed, og resten af tiden er jeg i dag så priviligeret, at jeg kan leve af det jeg laver her på bloggen. Det er en konstant proces, at lære mere om bæredygtighed og jeg holder konstant en liste med diverse dokumentarer og bøger jeg gerne vil udforske om emnet. I år har jeg lært fænomenet zero waste at kende, ligesom jeg har fået øjnene op for vores urimelige overforbrug af plastik, der forvolder stor skade på både os selv og naturen. Jeg har testet diverse produkter og teknikker af indenfor dette område, og det er stadig en proces, der jo må siges at gå imod normen, og derfor er det ikke noget man bare lige forfølger uden videre: det synes jeg ihvertfald ikke. Men man kan virkelig gøre meget, og i 2018 vil jeg gøre endnu mere. Både når det kommer til viden men bestemt også aktivt ændre flere af mine nuværende indkøbsvaner. Jeg er imellemtiden også blevet Fashion revolution friend, hvilket er en titel jeg som influencer er blevet tilbudt af non-profit organisationen Fashion Revolution, der (ligesom jeg) forsøger at ændre modebranchens hæsblæsende forretningsmodel til det bedre. Så i forhold til forsyningskæder i tøjproduktionen forventer jeg, at komme til at lære endnu mere i 2018 blot igennem dette samarbejde – og den viden vil jeg selvfølgelig fra tid til anden dele med jer.
Jeg er ikke typen der tror på nytårsfortsæt som sådan, men at sætte sig nogle mål man virkelig brænder for som jeg gjorde i starten af 2017, er en god måde at kickstarte en ny livsstil med nye, bedre vaner. Og jeg er virkelig stolt over, hvor langt jeg er nået i år! Mit mål med bloggen har hele tiden været, at vise vejen til at forbruge mindre af det som i bund og grund er unødvendigt for os (det er iøvrigt dér mit navn til bloggen kommer fra; use less of the useless), men på en måde hvorpå man ikke fjerner alt det der gør mode og livsstil sjovt, og dét synes jeg virkelig er kommet til udtryk i år. Med det vil jeg bare sige tusind tak til alle jer, som har fulgt mig både herinde, på Youtube, Instagram og Pinterest. Jeg har lært så meget af jer, og den opbakning og varme i giver mig er ubeskrivelig. Tak for jer – jeg håber også I vil læse med i 2018!


2