Doing what you like is freedom
Those of you who have been following me since the beginning of last year may remember this post, about me quitting my job as a design assistent to bet on my blog and youtube channel and a life of working more freelance. I didn't really have a plan, I just had faith in the fact that I had an important message that I wanted to spread to the world. I wanted to get away from the traditional nine-to-five, and I had faith in me succeeding doing something. I started earning money on my youtube channel, I landed some interesting collabs and because my passion for sustainable fashion and lifestyle had been something I wanted to work even more with for a long time, I jumped into the project head first – and I haven't regretted a single minute of that decision! By the way, this post may come of as a little stuck-up (really not my intention), but I really want to share this experience with you all.
Not very long after quitting my fulltime job, I was sort of headhunted for a position as a social media manager (parttime) for another danish women's wear label. I've been working there for a little over six months and it's amazing being able to combine the experiences I getthere with what I'm doing on my own. I'm working my butt off – probably more than ever before – but the freedom I get in return is so rewarding, I can't even explain it. I'm generally happier, healthier and stronger than ever and I finally feel like I found my way into the labour market. A journey that has been quite a struggle for me and that has caused quite a bit of stress and low self-esteem in the years after being finished with my education.
…
De af jer der har fulgt med herinde siden begyndelsen af sidste år husker nok at jeg skrev dette indlæg, der handlede om, at jeg netop havde opsagt min daværende fuldtidsstilling som designassistent, til fordel for freelance-livet. Uden nogen egentlig plan, men bare med troen på, at jeg skulle videre ud i verden med mit budskab. Væk fra det traditionelle 8-16 job, og at det nok skulle lykkes. Min youtube kanal begyndte at give anledning til indtjening, jeg begyndte at hive nogle interessante samarbejder i hus og fordi bæredygtig mode og livsstil var noget der længe havde ligget mit hjerte nært, så hoppede jeg ud i projektet med begge ben – og jeg har ikke fortrudt det én eneste gang! Det har været en rutsjebanetur fuld af op- og nedture, og det er så vildt hvad der er sket på blot ét enkelt år. Forresten er der fare for, at dette indlæg bliver sådan lidt "ananas-i-egen-juice" agtigt, men hey – jeg vil virkelig gerne dele mine erfaringer med jer!
Ikke ret lang tid efter jeg opsagde min fuldtidsstilling, så blev jeg vel hvad man kan kalde headhuntet til en stilling (på deltid), som social media manager for et andet dansk tøjmærke. Der har jeg arbejdet i lidt over et halvt år, og det er fantastisk at kunne kombinere den erfaring jeg får dér, med de ting jeg laver ved siden af. Jeg arbejder hårdt – nok endnu hårdere og mere end jeg gjorde før – men den frihed man får til, at kunne lave dét man elsker, er en kæmpe belønning. Jeg er generelt gladere og stærkere end nogensinde før, og jeg føler langt om længe, at jeg har fundet min vej ind på arbejdsmarkedet. En vej som ellers har været noget kringlet, og som har bidraget med en del stress og lav selvtillid i årene efter af være blevet færdiguddannet.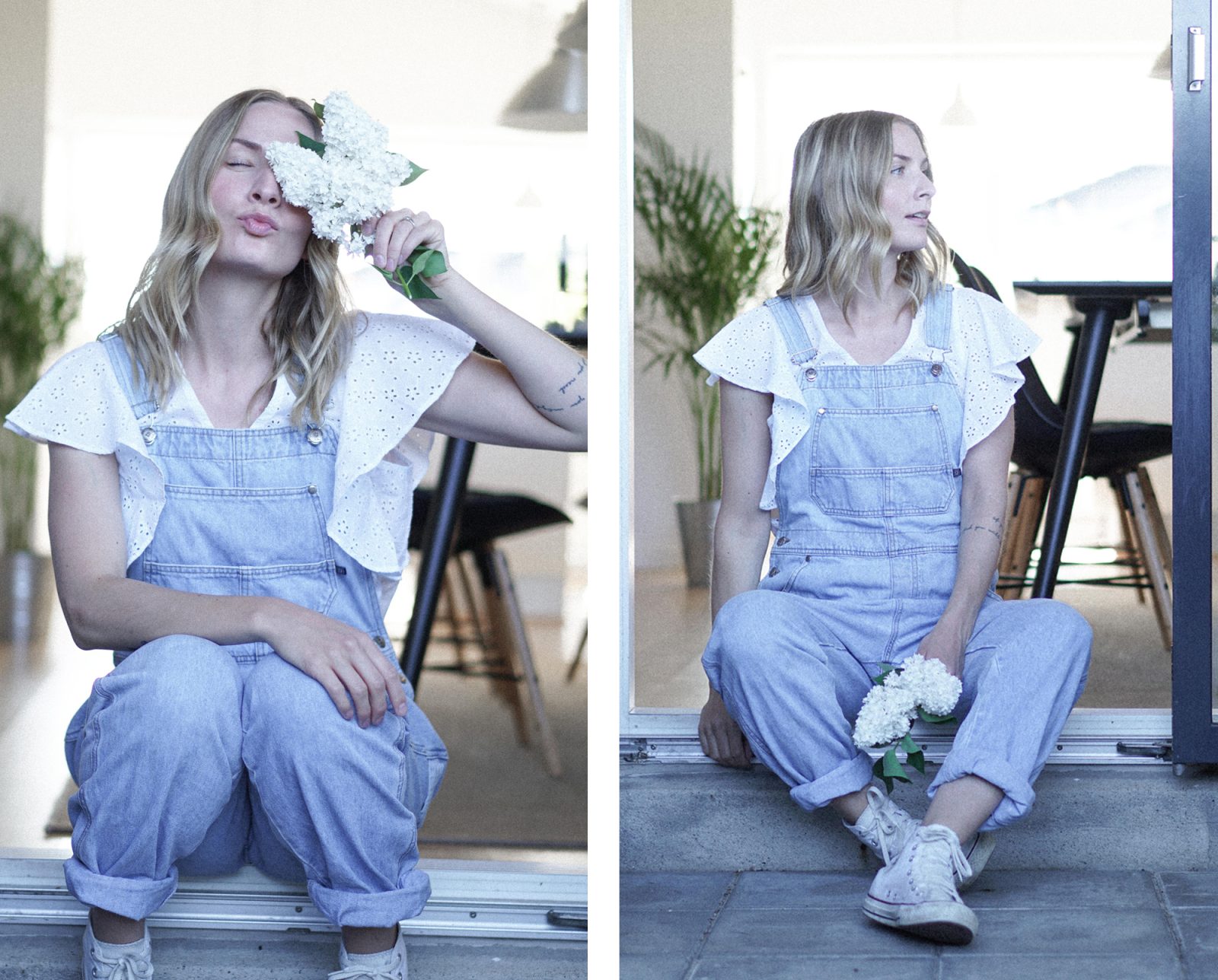 dungarees – secondhand via Asos Marketplace / top – People Tree / shoes – Converse
Work/life balance
One of the hardest things to joggle is the balance between work and life. The thing is that when you do something ou really love – something that is basically your hobby – it's just harder to draw that line. Where does the working day end and where does family life begin? Along the way I've evolved some routines, that is meant to make it easier for me to draw the line. It's so important to give yourself some space and time to just be, even though it can be incredibly hard sometimes. I make both monthly and weekly content plans and I write down ideas in my notebook, that I basically carry with my wherever I go. That makes it easier for me to stay focused, instead of having a mind that wanders all over the place. Besides that I "go to work" even when I'm working from home. I get out of bed, eat my breakfast and get ready as I would any other day when I'm working at the office at my parttime job. I turn on my computer and then I'm at work! I have a lunch break and try as far as possible to stop working when my husband gets home around 4 o'clock, so we can go for a walk with the dog together. It's hard and I don't always succeed – but the routines are there, and they are so important! Another important experience I've made is, that just because it's your job being online most of the day, you don't always have to be. I often put away my phone and turn off any sounds, and do a little digital-detox as needed here and there. It's not healthy to be online all the time (more a bad habit, really – read more thoughts HERE), and therefore I've set myself some boundaries and made up some specifik days where I handle emails, comments etc. Again – I don't always succeed, but then I just need to pick myself up and try again so I can become better at balancing it out. And the days where I do overcome this just feels amazing! As an example I like to schedule maybe 2 hours on sundays, to handle emails and comments on all my social platforms. Then I'm ready to start the new week with a clean slate and I don't have to listen to that urge to check my phone. I can just wait until the scheduled time. 
I've always been good at working on my own and I'm quite disciplined, If I may say so myself. And you need to be when you work as much from home as I do. And you also need to be cool with being alone a lot. I enjoy my own company and the break I get from being social, when I work from home. But at the same time it's nice that I do get out of the house a couple times during the week, when I'm working at the office at my parttime job, so I can leave that creative bubble I'm in when I'm working from home and learn something from my colleagues. 
…
Noget af dét som har været sværest, og som stadig er det i dag, er at opretholde en balance mellem arbejde og fritid. Sagen er den, at når man laver noget man elsker – noget som dybest set også er éns hobby, så er det sværere at trække linjerne op. Hvor slutter arbejdsdagen, og hvor starter fritiden i dén ligning? Henad vejen har jeg udarbejdet mig nogle rutiner, som gør det lettere for mig, at trække grænsen. Det er så vigtigt at give sig selv luft, og tid til bare at være til, selvom det kan være svært somme tider. Jeg laver både månedlige og ugentlige planer, og så skriver jeg mine idéer ned i min notesbog, der stort set er med mig over alt. Så kan jeg ligesom får styr på mine tanker, og holde fokus i de andre ting dagen bringer. Udover det forsøger jeg så vidt muligt at "møde ind" på arbejde når jeg arbejder hjemme. Jeg står op, spiser morgenmad og gør mig klar præcis som jeg gør på de dage jeg møder ind på mit deltidsjob. Går ind på mit kontor, tænder computeren og så er jeg på arbejde! Jeg holder frokost og forsøger så vidt muligt at lægge dagens arbejde fra mig kl. 16 når min mand kommer hjem, så vi sammen kan gå eftermiddagstur med vores lille hund. Det er svært og lykkes ikke altid, men rutinerne er der – og de er vigtige! Og så er en anden vigtig erfaring jeg har gjort mig altså, at man ikke behøver være online hele tiden, bare fordi man lever af at være det. Jeg lægger ofte min telefon fra mig (læs mere HER), og tager en digital detox når jeg har brug for det. Det er ikke sundt for hjernen konstant at være på, og derfor har jeg også sat mig selv nogle grænser, og faste tidspunkter, hvor jeg svarer på mails, kommentarer etc. Igen – indimellem glipper det og så må jeg lige hanke op i mig selv, men jeg øver mig i, at blive endnu bedre til det. Og de dage hvor det virkelig lykkes, er det bare SÅ rart! Fx sætter jeg gerne 2 timer af om søndagen, til at svare på mails og kommentarer på mine platforme. Så er jeg klar til, at starte den nye uge på en frisk og behøver ikke gå med en konstant følelse af, at jeg er nødt til at tjekke min telefon. Det kan jeg gøre i det tidsrum jeg sætter af til det.
Jeg har altid været god til, at arbejde selvstændigt og er enormt disciplineret, hvis jeg selv skal sige det. Og det er man også nødt til at være, når man arbejder så meget hjemmefra, som jeg gør. Og så skal man være til dét der med, at være så meget alene. Jeg elsker mit eget selskab og det pusterum jeg får, når jeg arbejder hjemmefra. Men samtidig er det også dejligt, at jeg alligevel har en anden arbejdsgiver jeg skal møde ind hos et par gange om ugen, så jeg kan komme lidt ud af min kreative boble herhjemme, og lære nogle ting af mine kollegaer.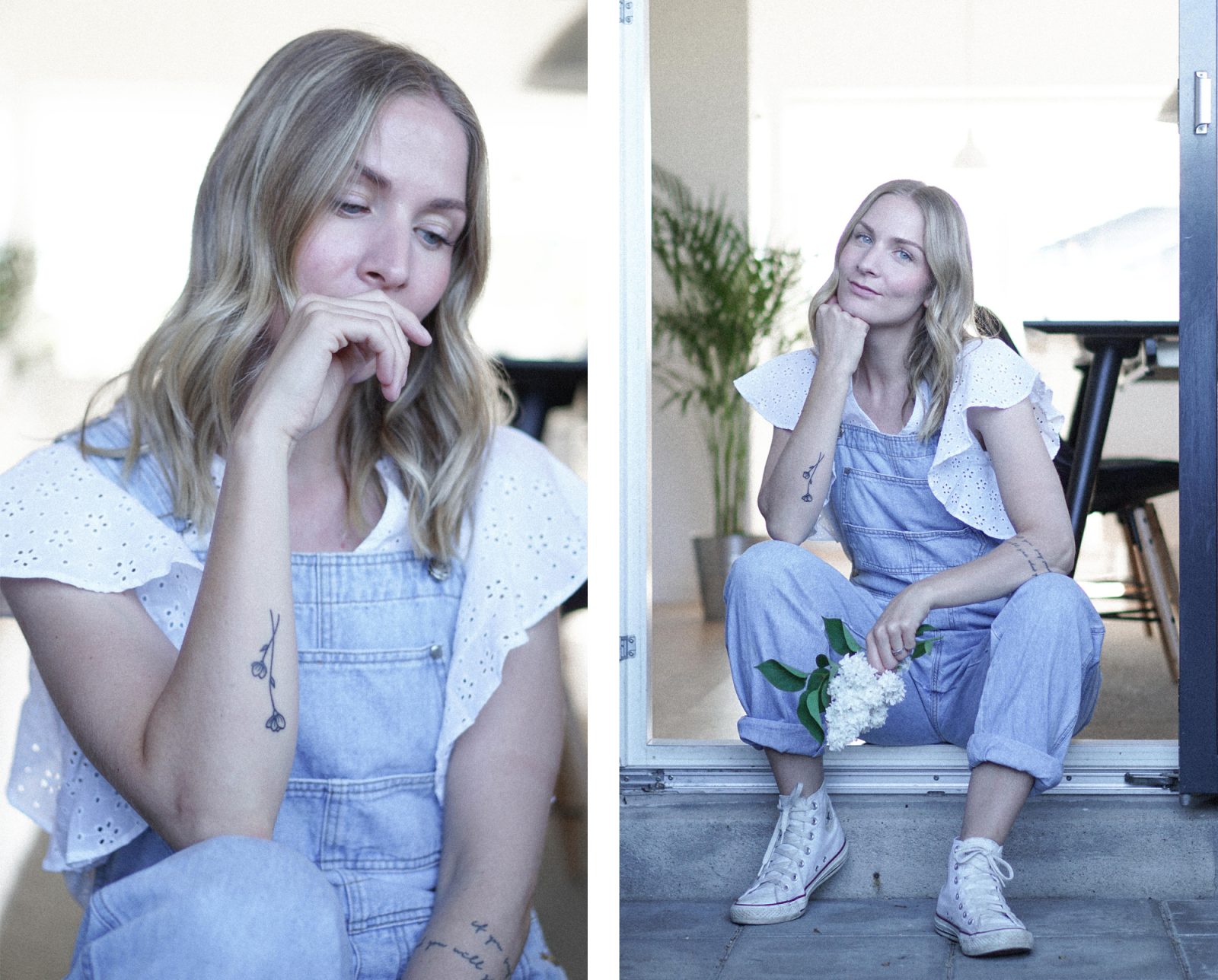 Not always rainbows and butterflies
There's still some formalities I need to figure out when it comes to being self-employed, and boy did I feel that when I received the financial accounting from the past year a couple months ago. That was a tough one to swallow, let's just put it that way! Luckily I'm married to a guy who's got great excel skills, is great at making a budget and is way more patient than I am about this stuff, so he's helping me as much as he can. There are things I still need to figure out, but it's a learning-by-doing kind of proces, and it's important. You gotta face the boring stuff too you know, even though you'd much rather spend time doing all the fun things, haha! And then of course there's the sustainable journey that is what all my content is about, which is a constant trial and error proces in itself too. Through time (and to this day) I've had to learn not to compare myself and what I do with others. Not only in the world of influencers, but also out in the real world. In the beginning, I didn't tell my story and the fact that I was now a "youtuber" with pride, I'll tell you that… I was so afraid what people would think of me. But then my project grew and I've slowly become more proud and filled with confident towards the community I've built together with all my followers.
Youtube as a platform is a tough one too. Not only in terms of comments and the freedom of speech being taken a little too far sometimes (luckily I have amazing followers, and I've not gotten that many hate comments.. yet, haha!), but also when it comes to beating the algorithm which in itself can be really frustrating. Why are my views suddenly dropping on all my channels? How long can I keep doing this? What if I can't? Is this even considered a real job? Where will it take me? Can I expand my project somehow? These are all thoughts that lies within my subconscious mind. I try not to think too much about it all, and focus more on doing my thing and be myself as I have been from the start. Make the content I like and that my followers ask for too. It will either work out or it wont, right?
I have so much respect for the people who face their traditional jobs every single day with joy, and maybe I'll get back into the 9 to five game myself one day, I don't know. And I hope that even if our way of working couldn't be further away from each other, you can still find some inspiration in the way I structure my weekly routines and live more balanced. Because that is probably the single most important thing I've learned the passed year as working freelance; that healthy routines and habits are so important, and that goes for anyone no matter the job. You can read more about my weekly routines here, here and here. You're the creator of your own everyday (and happiness), even though it can be hard to face this when you're feeling low. This is another really important lesson I've learned during my first year of being partly self-employed.
…
Jeg har stadig ikke 100% styr på alt det formelle der ligger omkring dét, at være selvstændig hvilket også kunne mærkes ved årsskiftet, da skatteopgørelsen fra sidste år kom. Gisp. Den var svær at sluge, skal vi sige det sådan! Heldigvis har jeg en mand som er skide god til excel, at lægge budgetter og som har meget mere tålmodighed end jeg, så han hjælper mig alt det han kan. Der er stadig nogle ting jeg skal have styr på, men det er en enormt lærerig (og vigtig) proces der skal ses i øjnene, også selvom jeg meget hellere bare vil have lov til at lave alt det sjove. Man skal jo tage det sure med det søde, som man siger! Og så er der hele den "rigtige" proces det er, at forsøge at leve mere bæredygtigt, hvilket jo i sidste ende er dét jeg dokumenterer på alle mine kanaler. Det er dét, det hele handler om, og det giver i sig selv anledning til mange erkendelser, succesoplevelser og ikke mindst fejltrin. Med tiden (og den dag i dag) har jeg skulle lære, at holde op med at sammenligne mig selv og dét som JEG gør, med andre. Ikke kun indenfor influencer-verdenen, men også i den virkelige verden. I starten var det bestemt ikke med stolthed i stemmen, at jeg fortalte folk om mit projekt og det, at jeg var sprunget ud som "youtuber"… Jeg var så bange for, hvad folk skulle tænke. Men i takt med at projektet er vokset, så er jeg blevet mere og mere stolt og selvsikker på det community, som jeg sammen med mine følgere har opbygget.
Og så er Youtube altså bare en benhårdt medie. Ikke blot i forhold til kommentarfeltet og freedom of speech (jeg har heldigvis skønne følgere, og har ikke fået så mange knubs her.. endnu, haha!), men også i forhold til algoritmer og generel visningstid, som begge dele går op og ned og kan være virkelig frustrerende nogle gange. Hvorfor får jeg pludselig færre views og besøgende på mine kanaler? Hvor længe kan jeg blive ved med, at arbejde på denne måde? Hvad skal jeg gøre hvis jeg ikke kan? Er det holdbart i længden? Hvor fører projektet mig hen? Kan jeg bygge videre på det på én eller anden måde? Dette er altsammen tanker der kan forstyrre mit fokus, og som egentlig mere eller mindre ligger konstant i min underbevidsthed. Jeg prøver på ikke at tænke så meget over disse ting i det daglige, men forsøger at fokusere på, at lave det indhold jeg kan lide og som mine følgere efterspørger. Prøver bare på at være mig selv og gøre min ting, præcist som jeg har gjort fra starten. Så må det briste eller bære, ikke?
Jeg har den dybeste respekt for de mennesker, der med glæde og overskud kan møde ind på et almindeligt 8-16 hver eneste dag, og måske kommer jeg selv til det igen en dag. Det ved man jo aldrig. Og jeg håber, at selv hvis vores arbejdsdage på ingen måder ligner hinanden, så vil du kunne bruge mine erfaringer til, at leve mere balanceret. Opretholdelsen af sunde vaner og rutiner, er nok det vigtigste jeg har lært det sidste års tid, og det vil jeg vove at påstå, er vigtigt for alle mennesker – uanset erhverv. Du kan læse mere om mine sunde hverdagsrutiner her, her og her. Du er herre over din egen hverdag (og lykke), selvom det kan være svært at nå til dén erkendelse, når du er allerlængst nede. Det er nok en anden virkelig vigtig ting jeg har lært, her på mit første år som delvist selvstændig.