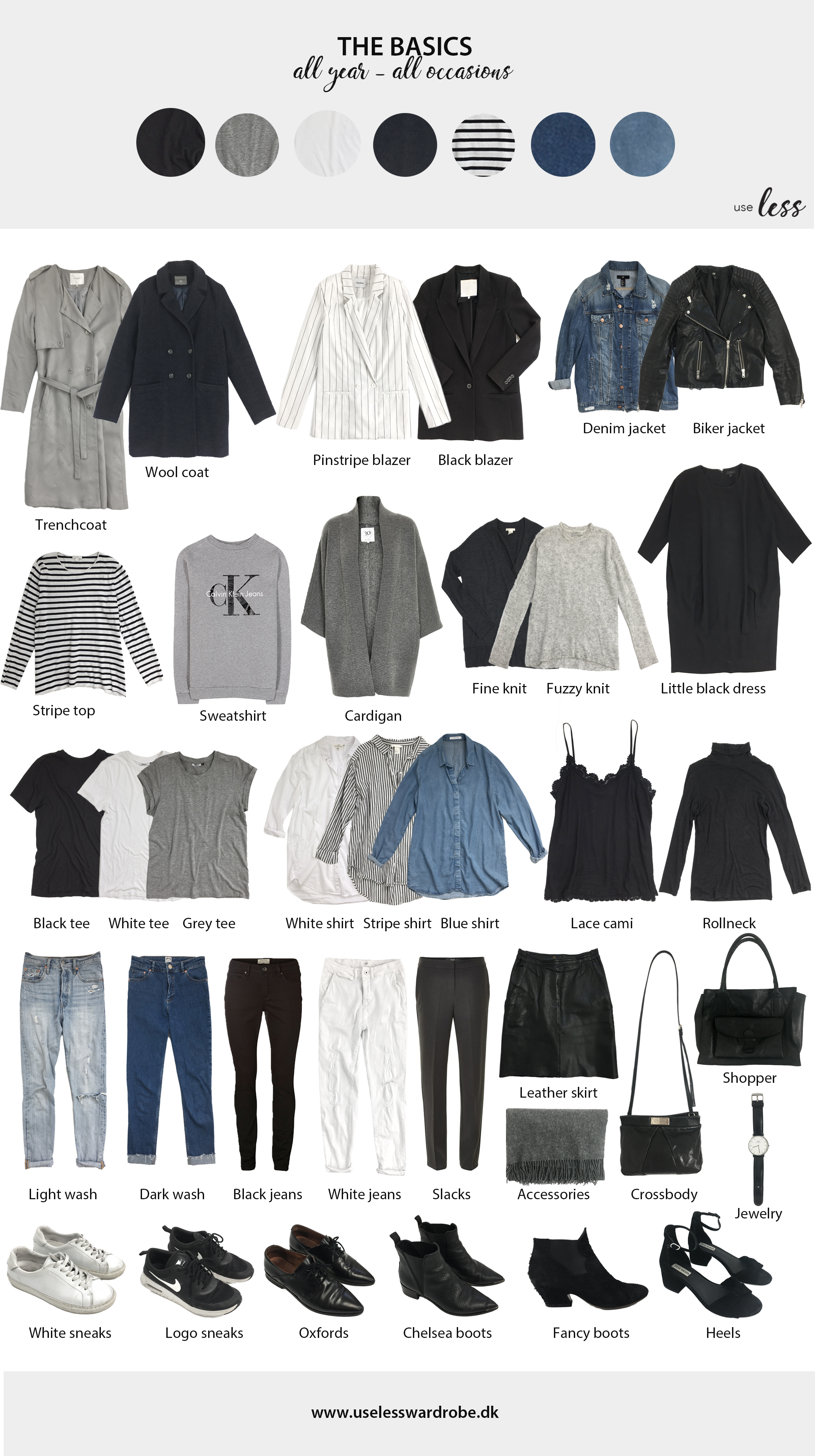 Jeg startede med capsule-eksperimentet vinteren 2015, og nu er det ikke længere et eksperiment; nu er det en sjov og anderledes måde, at opbygge min garderobe på hver sæson. En fremgangsmåde som har lært mig at definere min egen stil, stoppe impulskøbene og få mere harmoni i min garderobe. Mit tilgang til systemet er ikke statisk; jeg begår stadig fejl indimellem, og som mit liv ændrer sig, så justerer jeg også somme tider hist og her. Jeg har opnået virkelig at finde min egen stil og stå ved den, lægge impulskøbene på hylden, tænke i kvalitet frem for kvantitet – og i det hele taget opnået større frirum for andre, vigtige ting i livet, efter jeg startede dette eksperiment. Faktisk synes jeg også, at det er blevet sjovere at klæde mig på om morgenen. Lyder det som noget for dig, så læs med her!
/ I started with the capsule-experiment in the winter of 2015, and now it is no longer an experiment; now it is a fun and different way to build my wardrobe every season. A procedure that has helped me defining my true style, stop impulse buys and in general get more harmony into my wardrobe. My approach to the system is not static; I still make mistakes sometimes, and when my life changes I adjust the system so it fits. I have truly found my own style and have learned to stick with it, stopped buying things out of impulse, learned to think quality above quantity, and in general gained more space for other important things in my life, after I started this experiment. And actually, it's become much more fun getting dressed in the morning. Sounds like something for you? Then continue reading!
What?
En caspule-wardrobe er groft sagt en form for basis garderobe (ihvertfald i sin oprindelige betegnelse), som indeholder en mængde items der "aldrig" går af mode. Det er en lille kollektion med tøj og sko, som du bare ELSKER. Disse kan du så justere fra sæson til sæson, så du altid kun har det tøj hængende i din garderobe, som du rent faktisk bruger. Om vinteren går man f.eks. med flere striktrøjer og omvendt går man med flere shorts og kjoler om sommeren. Disse items pakker man ned, gemmer væk og finder man så først frem igen når den pågældende sæson igen indtræffer. Der er ingen grund til, at skulle forholde sig til disse når du alligevel ikke kan iføre dig dem. Så igen, på den måde har man altid kun tøj i sin garderobe, som man rent faktisk bruger. Det er meget individuelt hvor mange items man har i sin garderobe, og antallet er langt fra det vigtigste. Det er meget vigtigere, at du har tøj i din garderobe som du bruger, og som du er virkelig glad for at bruge. Personligt ender jeg som oftest ud med ca. 35-40 stykker tøj og sko.
Følgende tæller ikke med i en capsule wardrobe: basis tanktops, undertøj & strømper, tasker, accessories (fx tørklæder), smykker, træningstøj, praktisk tøj (som du fx maler eller går i haven i). Alt andet tæller – jakker, bukser, sko, skjorter, bluser, kjoler, nederdele osv.
It is a little "collection" (or capsule as the name refers to) with clothes and shoes, that you can adjust from season to season and that you LOVE to wear.
/ A capsule wardrobe is a type of basic wardrobe (in its original sense anyway) containing a certain amount of items, that "never" go out of style. It is a little "collection" (or capsule as the name refers to) with clothes and shoes, that you can adjust from season to season and that you LOVE to wear. During winter you wear more knits and in summertime you wear more shorts and dresses. You pack away the items that don't fit the season you're in, so you only have items you actually wear in your wardrobe. It is very individual how many items you end up with, and the specific amount is not the most important thing; it is way more important that you have the right clothes in your wardrobe. Things you love to wear. Personally is usually end up with around 35-40 products.
The following does NOT count as capsule wardrobe items: basic tanktops, underwear & socks, bags, accessories (like scarfs), jewelry, workout clothes, practical clothes (what you wear when you are gardening for example). Everything beside that counts – jackets, trousers, jeans, shoes, shirts, blouses, dresses, skirts etc.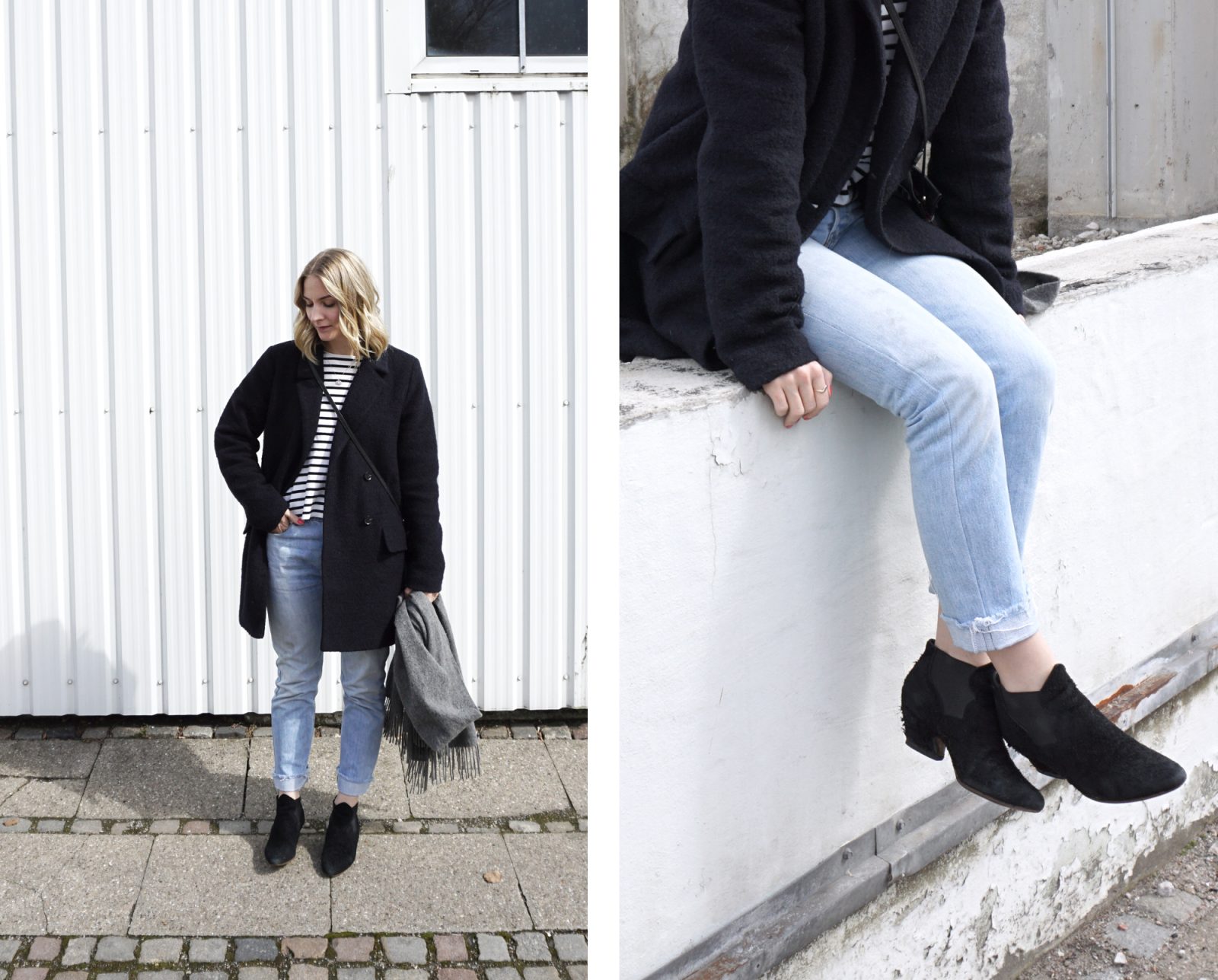 Why?
For mig startede det hele, fordi jeg var træt af den der følelse af aldrig at have noget tøj. Det rene pjat, når jeg jo kunne se mit skab bugnede. Impulskøb var dét der prægede min tilgang til beklædning, og derfor var der ikke den store sammenhæng i min garderobe. Jeg brugte shopping som en form for terapi, men det endte med at give bagslag hver eneste morgen når jeg skulle klæde mig på. Så snart nyhedsværdien af et stykke tøj gik tabt, så var jeg på jagt igen. En ond cirkel! En dag så jeg dokumentaren "The True Cost" og den fejede virkelig benene væk under mig. Jeg blev virkelig chokeret over, hvor styr en miljømæssig synder tøjproduktion er. En blanding af dårlig samvittighed, en lyst til at gøre en forskel både for mig selv og for andre og en god sjat inspiration fra andre capsule wardrobe bloggere (bl.a. un-fancy og project 333) gjorde, at jeg selv hoppede ud i eksperimentet. Jeg er ikke aktivist eller ekspert, men jeg er nysgerrig og ivrig efter hele tiden at udvikle min viden om, hvordan vi kan have det sjovt med mode og stil uden at ødelægge miljøet. Jeg er nok hvad jeg vil kategorisere som en nysgerrig og kritisk forbruger. Vores høje forbrug er en kæmpe del af problemet, så derfor var det her jeg tog fat, da jeg skrev mit allerførste blogindlæg tilbage i april 2015. Men den bæredygtige tilgang til livet generelt, er noget jeg har fået mere og mere ind under huden efter jeg ryddede ud i min garderobe.
For me it all started because I was tired of that feeling of never having anything to wear. Nonsense when I could see my closet overflowing.
/ For me it all started because I was tired of that feeling of never having anything to wear. Nonsense when I could see my closet overflowing. Impulse buys was what marked my approach to clothing, and therefore there was not much consistency in my wardrobe. I used shopping as a form of therapy, but it ended up backfiring every morning when I had to get dressed. As soon as the news value of a piece of clothing was lost, I was on the hunt again. An evil circle! One day I saw the documentary "The True Cost" and it swept me off my feet. I was shocked to learn how much of a sinner the fashion industry is, when it comes to the pollution of or planet. A mix of guilt, a desire to make a difference both for myself and for others and a good amount of inspiration from other capsule wardrobe bloggers (un-fancy and project 333 mainly) made me jump into the experiment. I am not an activist or an expert, but I'm curious and eager to all the time to develop my knowledge of how to have fun with fashion and style without destroying our planet. I'll call myself a curious and critical consumer more than an expert. Our high level of consumption is a huge part of the problem, so that's why I felt an urge to start there when I started my blog in april 2015. That being said living more intentionally and with a sustainable approach in general, is something I've been getting more and more into along the way.
How?
For beginners
Brug lidt tid på, at visualisere dine yndlings- og/eller drømme outfits. Her er Pinterest virkelig en god makker, som jeg personligt bruger flittigt til stil-inspiration. Se bare HER. Du kan evt. skrive nogle stikord ned: stilarter, yndlingsbrands, farver, sammensætninger, stoftyper, produkter osv. Eksempler på stilarter: casual, feminin, rå, klassisk, sporty. Læs hele min guide til, hvordan du finder din stil lige HER, eller se videoen nedenfor. Du skal også tage et kig på klimaet i det land du nu befinder dig i. Jeg bor i Danmark, så jeg har opdelt min capsule i 4 sæsoner: forår, sommer, efterår og vinter. Gennemsnitstemperaturen her er 10-15 grader og det regner en stor del af året. Derfor er lag på lag ret essentielt for de fleste. Dine yndlingsoutfits -og produkter vil derfor selvfølgelig variere, alt efter om du befinder dig i et et varm, koldt eller blandet klima.
/ Take some time to visualize your favorite and/or dreams outfits. Pinterest is really a good tool in this case. I personally use it frequently for style inspiration. Just have a look HERE. You can also use some time to write down some words on it: type of style, favorite brands, types of fabric, favorite products etc.Style examples: casual, feminine, edge, classic, sporty. Read my entire guide on how to find your style right HERE, or watch the video below. You'll also need to have a look at the climate in the country you live in. I live in Denmark so my capsule is divided in four seasons: spring, summer, fall and winter. The average temperature is around 10-15 degrees and we have a lot of rain during the year. Layering is therefore essential for most people in Denmark! Your favourite products and outfits are therefore going to be very individual, weather you are located in a hot, cold or mixed climate.
Jep, det hele skal ud af skabet. ALT.
/ Yep, everything has to be taken out of your closet. EVERYTHING.
3. Divide you clothes into piles
Du skal nu dele dit tøj op i 5 forskellige bunker:
1: Elsker. Denne bunke taler for sig selv – den er alle de ting som du elsker, og som du ville hoppe i nu, hvis du skulle være.
2: Måske. Ting du ikke har brugt et stykke tid, men som du gerne vil gemme. Måske er der noget i blandt der skal repareres, og det er derfor du ikke lige får det brugt. Saml evt. sådan nogle ting ét sted, så du løbende kan få det ordnet og igen tage det i brug.
3: Sæson/trend. Der er ingen grund til, at have shorts hængende i skabet, hvis du kun bruger dem om sommeren. De produkter du ikke kan bruge lige nu på grund af årstiden lægger du i denne bunke. Heri lægger du også din leopardjakke (eller andre produkter som du ikke ville betegne som basis – se mit bud på basisprodukter HER), hvis du ikke synes du er så hooked på denne trend i øjeblikket. Måske bliver du det igen på et andet tidspunkt.
4: Festtøj. Kjoler du har på til bryllup, fine toppe, stiletter og lignende, som du kun bruger til fest.
5: Nej. Alt det du ikke bruger. Måske er det blevet fnulret, forvasket, kradser, passer ikke ordentligt eller lignende. Smid det til genbrug eller helt ud hvis det er ubrugeligt.
Alt dette tæller IKKE i capsule systemet, og kan komme tilbage i skabet med det samme: accessories (tørklæder, tasker, handsker, huer osv.), smykker, undertøj, strømper, sportstøj, basic tanktoppe, praktisk tøj (dét du ordner haven i).
Alt dette TÆLLER: sko/støvler, skjorter, bluser, strik, jakker, frakker, bukser, jeans, nederdele, kjoler, t-shirts osv.
Og husk igen – dette er blot en template. Har du fx ikke brug for en bunke med festtøj, fordi du godt kan lide at gå i dit pæne tøj til hverdag, så indret det efter dine præferencer. Det er vigtigt, at du tilpasser disse trin, så det stemmer overéns med dit eget liv.
/ Divide your clothes into 5 piles.
1: Love it. This pile speaks for itself – it's all the things that you love and you would wear right now.
2: Maybe. Things you haven't used for a while, but you would like to save. This could very well be things that need to be fixed, maybe something has a missing button or the like. Gather these things in one place, and fix them along the way so you can start using them again as you like.
3: Seasonal/trend. There is no reason to have shorts hanging in the closet, if you only use them in the summer. The products you can not use right now because of the season goes in that pile as well. Here you also throw in your leopard jacket (or other products that you would not describe as basics – see my idea of a basic wardrobe HERE) if you do not think you're so hooked on this trend at the moment. Maybe you will be so again at another time.
4: Formal. Dresses you wear when you attend a wedding, fine tops, stilettos and other things you only use for special occasions.
5: No. Everything you don't use. Maybe the fabric is peeling, faded, scratchy, or it doesn't fit quite right Give it to charity or throw it out if it is completely worn out.
All this does NOT count as capsule products and can be put into the closet again: accessories (scarves, bags, gloves, hats, etc.), Jewelry, underwear, socks, sportswear, basic tank tops, practical clothes (what you take care of the garden in).
All this COUNTS: shoes/boots, shirts, blouses, knitwear, jackets, coats, pants, jeans, skirts, dresses, t-shirts etc.
And remember, these steps are just a template. If you like to wear fancy clothes on a daily basis and not only for special occasions, that's fine! It's important that you build up your wardrobe to fit your life and preferences.
4. Get your basics sorted
Se videoen nedenfor, hvis du er i tvivl om hvad mine favorit basics er. Det er individuelt, men er du på bar bund kan min tilgang til basis garderoben måske hjælpe dig lidt på vej. Har man først styr på sin basisgarderobe, som kan bruges året rundt – så er det altså ganske simpelt, at opretholde harmonien i sit klædeskab. Spørg dig selv, hvilke produkter du gang på gang griber ud efter, køber igen og igen og hvad du er "mest til". Er du fx mest til cardigans eller blazere eller måske begge dele? Kan du bedst lide monokrome farver eller er du til en mere farverig palette? Kan du bedst lide helfarvede produkter, prints eller striber? Hvilken type bunde kan du bedst lide? Hvilket fit foretrækker du – tætsiddende eller løst eller måske et mix? Hvilke kvaliteter foretrækker du – nogle med tekstur eller nogle lidt finere kvaliteter som fx silke? Find gerne selv på flere spørgsmål!
/ See my idea of the basic wardrobe in the video. Maybe it can help you getting your basics sorted. If you have your basics sorted, it gets so much easier to maintain good harmony in your closet.Ask yourself what kind of products you always reach, always repurchase and represents your overall preference. Do you like cardigans or blazers more, og maybe both? Do you like monochrome colours or do you prefer a more colourful wardrobe? Do you like solid coloured products, prints or stripes? What type of bottoms do you prefer? What do you wear more – trousers or dresses? What fit do you prefer: tight or relaxed fit? What fabrics do you like – textured ones or more fine ones like for exampel silk? Feel free to come up withmore questions!
5. Get your seasonal products sorted
Find dine shorts frem hvis det er sommer, og grib leopard jakken hvis det er denne trend du satser på denne sæson. Igen skal det siges, at dette blot er den måde jeg har bygget min capsule op på. Hvis du hellere vil have alle produkter i én stor capsule (i stedet for opdelt i basis og trend/sæson), så skal du bare gøre det. Nogle mennesker kedes hurtigere, så hvis du er bange for du ville blive alt for hurtig træt af din helårs garderobe og at det ikke giver din garderobe nok nyt liv med de enkelte sæsonbaserede produkter, så kan én stor capsule måske være en bedre løsning for dig. Mit tip er her, at tænke lidt i både tema og farve fra sæson til sæson. Og som altid, så anbefaler jeg, at man forsøger at finde brugte produkter eller køber fra de bæredygtige mærker, når man gerne vil tilføje nyt til garderoben. Følg evt. med i min serie "find the trends secondhand" på youtube, hvor jeg hver sæson giver mit bud på den kommende sæsons trends, og giver jer tips om fede secondhand produkter der passer ind i denne trend.
/ Grab your shorts if it is summer, and pull out your leopard jacket if this is the trend you are going for this season. Again, this is just the way I have built my capsule. If you prefer to have all the products in one large capsule (instead of divided into all-year basics and trend/seasonals), then do that. Some people get bored easier so if you're afraid you'll be too tired of your all-year basics and that it doesn't give your wardrobe enough of a "news value" with the few season-based products, then one big capsule might be a better solution for you . My tip here is to maybe build your wardrobe around a theme and color from season to season. And as always, I recommend trying to find preowned products or purchase new items from the sustainable brands when you want to add new things to your closet. You could follow my series "find the trends secondhand" on Youtube. Every season I make sort of a trend forecast of the coming season, and giving you tips on where to find awesome secondhand products that fit that trend.
6. Put your clothes back in to the closet and store the rest
Nu skulle du gerne have en bunke med "elsker" skrevet henover sig. Dine yndlingsbasics, de ekstra produkter der passer til sæsonen og måske et par trendprodukter, som giver din garderobe et friskt pust. Denne bunke skal selvfølgelig tilbage i skabet og hænge. Alt andet gemmer du væk til næste sæson eller sender til genbrug. Alt i alt skulle du gerne ende et sted omkring 30-40 produkter (se hvilke produkter der tæller i punkt 3), men find det tal der passer til dig! Det vigtige er ikke hvor meget eller hvor lidt du har, men at du har de rigtige ting i dit skab; ting du virkelig elsker at bruge.
Jeg ender altid med ca. 40 produkter (plus/minus). For begyndere vil jeg anbefale, at man følger et bestemt antal, og det første halve til hele år lægger man sig fast på dette tal. Når man er blevet lidt mere rutineret, og meget klogere på sin stil og sine købevaner (for du kommer til at lære SÅ meget det første års tid!), så kan man begynde, at følge en lidt mere flydende tilgang til systemet, som jeg selv gør nu efter flere år med det oprindelige mere statiske system. Du kan læse mere om "the fluid capsule wardrobe" HER. Sæsonerne for dine capsules er:
Forår – marts/april/maj
Sommer – juni/juli/august
Efterår – sep/okt/nov
Vinter – dec/jan/fab
/ Now you should have a pile of clothing with "love it" written across it. Your favorite basics, the additional products to suit the season and maybe a few trend products that gives your wardrobe a fresh look. This pile is getting straight back into your closet. Everything else gets stored for next season or given away to charity. All in all you want to end up with around 30-37 products but find the number that suits you! The number is not as important, as having the right things in your closet – things you love wearing.
I always end up with about 40 products (plus / minus). I recommend you, if you are just staring out with the capsule wardrobe system, to stick with a number and be pretty strict with the rules the first year or so. After you have learned more about your own style (which you will the first year – more than you know!) you can start playing around with a more fluid system that suits you and your lifestyle a little better. You can read more about how to manage a more fluid way of maintaining your capsule wardrobes HERE. The seasons for your capsules go like this:
Spring: March/April/May
Summer: June/July/August
Fall: Sep/Oct/Nov
Winter – Dec/Jan/Feb
Mangler der et eller andet? Noget i din basis garderobe? Et trendprodukt du har forelsket dig i? Skriv en liste, og hold dig så vidt muligt til den. Husk at de nye produkter skal kunne bæres med din resterende garderobe. Og prøv at forstille dig selv være iført det pågældende produkt 20-30 gange før du køber det. Får du det ikke brugt? Så streg det fra listen. Undgå shop-amok og impuls køb, og hold generelt antallet af nye køb på et minimum.
Jeg har personligt besluttet mig for, at forsøge at købe flere af de trendbaserede ting fra genbrug, og så vil jeg så vidt muligt gerne støtte mere og mere op om øko og fairtrade mærkerne, dér hvor det giver mening, når jeg skal købe nyt. Det er ikke altid at jeg vil gå på kompromis, hvis jeg bedre kan lide designet eller pasformen på et produkt fra et mere konventionelt mærke (det er jo vigtigt jeg får det brugt!), men jeg vil gøre mit bedste for, at bakke mere op om disse mærker. Mine favoritter indenfor fairtrade og økologisk mode er p.t. People Tree og Everlane.
/ Feel like something is missing? Maybe something among your basics? A trend item you have fallen in love with? Make a list and try to stick with it. Remember that the new products has to fit with the rest of your wardrobe. Try imagining yourself wearing the new product for 20-30 times before buying it. Not so tempting anymore? Then take it off your list. Avoid huge shopping-sessions and impulse buys, and try to keep the number of new things on a minimum.
I have personally decided to try to buy more of the trend-based things secondhand, and as far as possible I would like to support the eco and fairtrade brands more and more, where it makes sense when I buy new clothes. It's not always that I want to compromise if I like the design or the fit of a product from a more conventional brand better (it's important that it will be put into use you know!), but I will do my best to support these brands much more. My favourite fairtrade brands at the moment are People Tree and Everlane.
When a new season starts
1. Take a look at your current capsule
Hvilken sæson står vi overfor? Hvad i din garderobe fungerede/hvad gjorde ikke? Er der noget du har manglet den foregående sæson?
/ Which season are we facing? What worked and what didn't? Do you feel like you have been missing something?
2. Add/replace seasonal items
Find dine poser eller kasser frem, som indeholder de produkter du gemte væk da du ryddede ud i dit skab. Kig dem igennem og se om der er noget du vil tilføje og/eller udskifte nogle af de ting du har i din garderobe med nu.
/ Take out the bags or boxes, which contains the products you stored away since you cleaned out your closet. Look through them and see if there is anything you want to add and/or replace some of the things you have in your wardrobe with now.
3. Make a shoppinglist or note down things that need to be repaired
Lav endnu engang en shoppingliste med ting, som du synes du mangler eller saml de ting som skal repareres inden de kan tages i brug igen. That's it!
/ Once again, make a shoppinglist with things you feel like you need to make your wardrobe better this season, or note down things that need to be repaired before they can be put into use again. That's it!