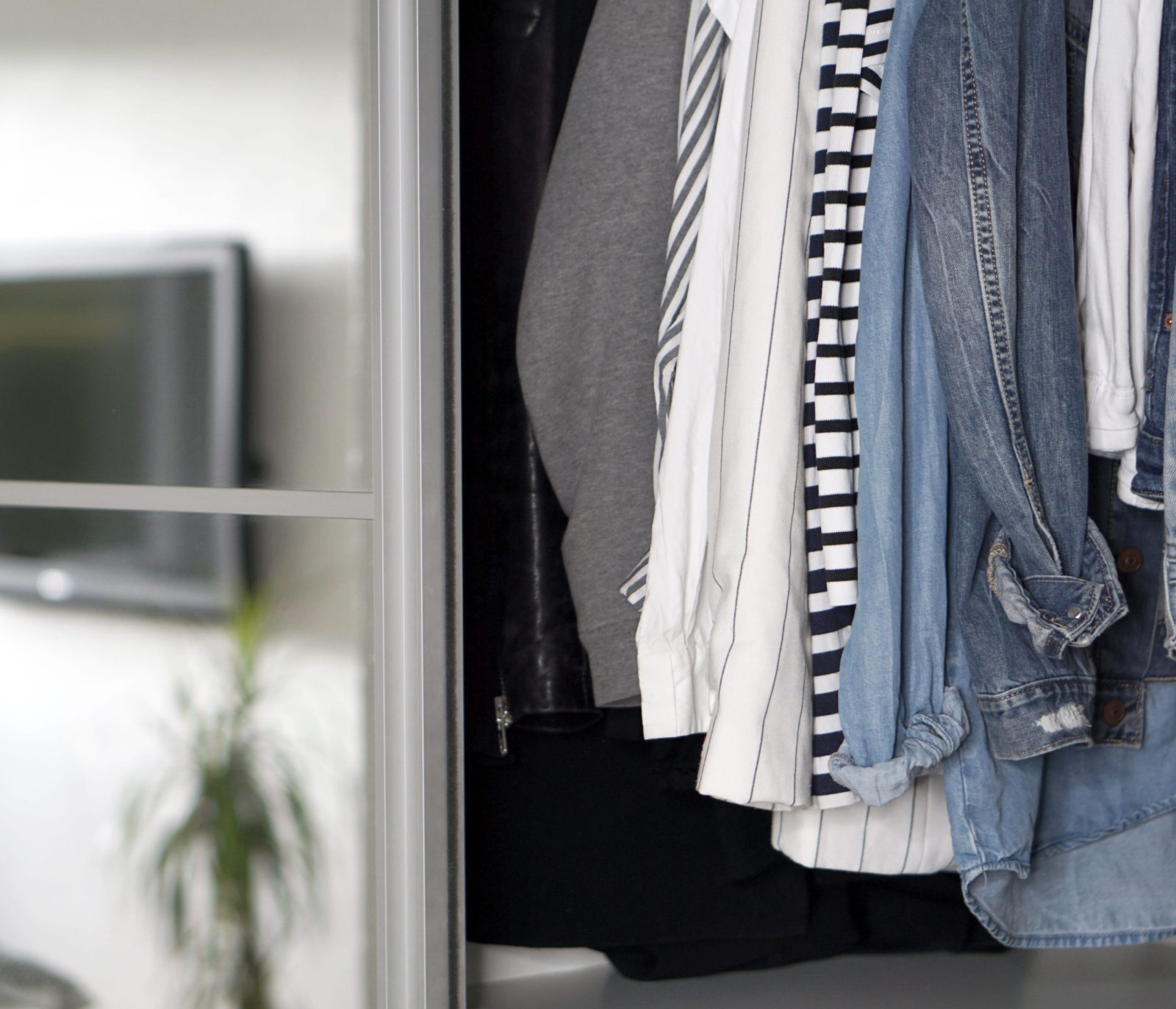 My version of an effortless, sustainable capsule wardrobe
80% all-year basics: the biggest part of my wardrobe, which more or less always stays the same. It's simple, effortless and easy to style up/down. 
20% seasonal capsule: this is the small part of my wardrobe I play around with from season to season, to keep everything fresh and up-to-date.
Mini-capsules: loungewear, special occasions & practical wear is divided in each of their own little sections.
New purchases: preferably secondhand or straight from a sustainable brand.
---
Jeg startede med capsule-eksperimentet vinteren 2015, og nu er det ikke længere et eksperiment; nu er det en sjov og anderledes måde, at opbygge min garderobe på hver sæson. En fremgangsmåde som har lært mig at definere min egen stil, stoppe impulskøbene og få mere harmoni i min garderobe. Mit tilgang til systemet er ikke statisk; jeg begår stadig fejl indimellem, og som mit liv ændrer sig, så justerer jeg også somme tider hist og her. Jeg har opnået virkelig at finde min egen stil og stå ved den, lægge impulskøbene på hylden, tænke i kvalitet frem for kvantitet – og i det hele taget opnået større frirum for andre, vigtige ting i livet, efter jeg startede dette eksperiment. Faktisk synes jeg også, at det er blevet sjovere at klæde mig på om morgenen. Lyder det som noget for dig, så læs med her!
/ I started with the capsule-experiment in the winter of 2015, and now it is no longer an experiment; now it is a fun and different way to build my wardrobe every season. A procedure that has helped me defining my true style, stop impulse buys and in general get more harmony into my wardrobe. My approach to the system is not static; I still make mistakes sometimes, and when my life changes I adjust the system so it fits. I have truly found my own style and have learned to stick with it, stopped buying things out of impulse, learned to think quality above quantity, and in general gained more space for other important things in my life, after I started this experiment. And actually, it's become much more fun getting dressed in the morning. Sounds like something for you? Then continue reading!
What?
En capsule wardrobe er groft sagt en form for basis garderobe (ihvertfald i sin oprindelige betegnelse), som indeholder en mængde items der "aldrig" går af mode. Det er en lille kollektion med tøj og sko, som du bare ELSKER. Disse kan du så justere fra sæson til sæson, så du altid kun har det tøj hængende i din garderobe, som du rent faktisk bruger. Om vinteren går man f.eks. med flere striktrøjer og omvendt går man med flere shorts og kjoler om sommeren. Disse items pakker man ned, gemmer væk og finder man så først frem igen når den pågældende sæson igen indtræffer. Der er ingen grund til, at skulle forholde sig til disse når du alligevel ikke kan iføre dig dem. Så igen, på den måde har man altid kun tøj i sin garderobe, som man rent faktisk bruger. Det er meget individuelt hvor mange items man har i sin garderobe, og antallet er langt fra det vigtigste. Det er meget vigtigere, at du har tøj i din garderobe som du bruger, og som du er virkelig glad for at bruge. Personligt ender jeg som oftest ud med ca. 35-40 stykker tøj og sko. Eftersigende stammer konceptet fra 70'erne, hvor en dame ved navn Susie Faux havde en butik i London der kørte med det her koncept. I butikken tilbød hun nemlig tidløse designs, som aldrig gik af mode – og hun tilføjede kun enkelte, sæson betonede items til sit sortiment fra sæson til sæson.
Følgende tæller ikke med i en capsule wardrobe: basis tanktops, undertøj & strømper, tasker, accessories (fx tørklæder), smykker, træningstøj, praktisk tøj (som du fx maler eller går i haven i). Alt andet tæller – jakker, bukser, sko, skjorter, bluser, kjoler, nederdele osv.
It is a little "collection" (or capsule as the name refers to) with clothes and shoes, that you can adjust from season to season and that you LOVE to wear. It's a way to structure your wardrobe, so that you feel like wearing it again and again, season after season – therefore also a very sustainable way of working around fashion.
/ A capsule wardrobe is a type of basic wardrobe (in its original sense anyway) containing a certain amount of items, that "never" go out of style. It is a little "collection" (or capsule as the name refers to) with clothes and shoes, that you can adjust from season to season and that you LOVE to wear. During winter you wear more knits and in summertime you wear more shorts and dresses. You pack away the items that don't fit the season you're in, so you only have items you actually wear in your wardrobe. It is very individual how many items you end up with, and the specific amount is not the most important thing; it is way more important that you have the right clothes in your wardrobe. Things you love to wear. Personally is usually end up with around 35-40 products. The concept should come from the 70s in London, where a woman named Susie Faux had a shop with this concept. She would offer timeless designs that never went out of style, and would only add a few new designs  from season to season to keep the rest fresh.
The following does NOT count as capsule wardrobe items: basic tanktops, underwear & socks, bags, accessories (like scarfs), jewelry, workout clothes, practical clothes (what you wear when you are gardening for example). Everything beside that counts – jackets, trousers, jeans, shoes, shirts, blouses, dresses, skirts etc.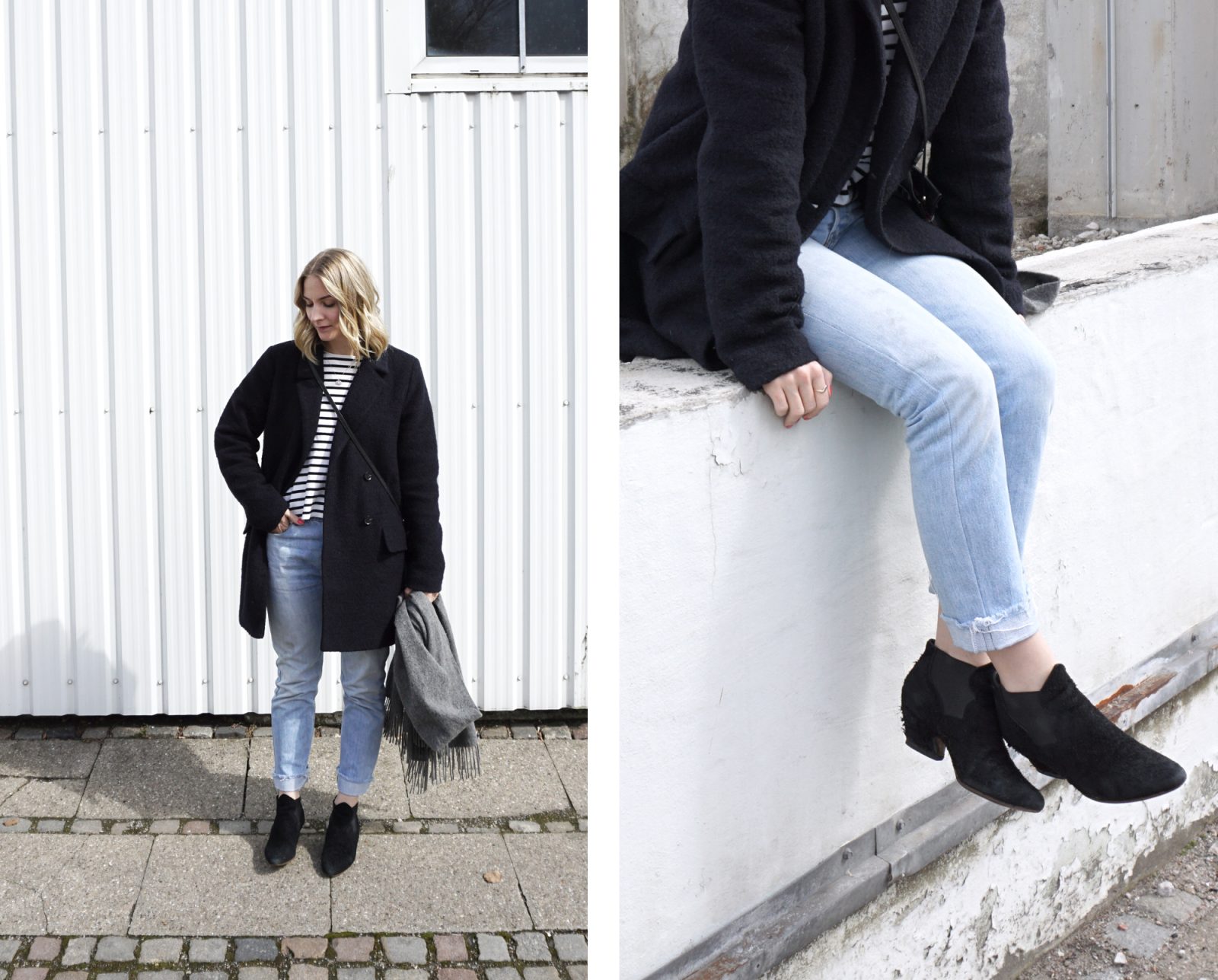 Why?
WATCH THE TRAILER TO THE DOCUMENTARY THAT STARTED IT ALL FOR ME HERE
For mig startede det hele, fordi jeg var træt af den der følelse af aldrig at have noget tøj. Det rene pjat, når jeg jo kunne se mit skab bugnede. Impulskøb var dét der prægede min tilgang til beklædning, og derfor var der ikke den store sammenhæng i min garderobe. Jeg brugte shopping som en form for terapi, men det endte med at give bagslag hver eneste morgen når jeg skulle klæde mig på. Så snart nyhedsværdien af et stykke tøj gik tabt, så var jeg på jagt igen. En ond cirkel! En dag så jeg dokumentaren "The True Cost" og den fejede virkelig benene væk under mig. Jeg blev virkelig chokeret over, hvor styr en miljømæssig synder tøjproduktion er. En blanding af dårlig samvittighed, en lyst til at gøre en forskel både for mig selv og for andre og en god sjat inspiration fra andre capsule wardrobe bloggere (bl.a. un-fancy og project 333) gjorde, at jeg selv hoppede ud i eksperimentet. Jeg er ikke aktivist eller ekspert, men jeg er nysgerrig og ivrig efter hele tiden at udvikle min viden om, hvordan vi kan have det sjovt med mode og stil uden at ødelægge miljøet. Jeg er nok hvad jeg vil kategorisere som en nysgerrig og kritisk forbruger. Vores høje forbrug er en kæmpe del af problemet, så derfor var det her jeg tog fat, da jeg skrev mit allerførste blogindlæg tilbage i april 2015. Men den bæredygtige tilgang til livet generelt, er noget jeg har fået mere og mere ind under huden efter jeg ryddede ud i min garderobe.
For me it all started because I was tired of that feeling of never having anything to wear. Nonsense when I could see my closet overflowing.
/ For me it all started because I was tired of that feeling of never having anything to wear. Nonsense when I could see my closet overflowing. Impulse buys was what marked my approach to clothing, and therefore there was not much consistency in my wardrobe. I used shopping as a form of therapy, but it ended up backfiring every morning when I had to get dressed. As soon as the news value of a piece of clothing was lost, I was on the hunt again. An evil circle! One day I saw the documentary "The True Cost" and it swept me off my feet. I was shocked to learn how much of a sinner the fashion industry is, when it comes to the pollution of or planet. A mix of guilt, a desire to make a difference both for myself and for others and a good amount of inspiration from other capsule wardrobe bloggers (un-fancy and project 333 mainly) made me jump into the experiment. I am not an activist or an expert, but I'm curious and eager to all the time to develop my knowledge of how to have fun with fashion and style without destroying our planet. I'll call myself a curious and critical consumer more than an expert. Our high level of consumption is a huge part of the problem, so that's why I felt an urge to start there when I started my blog in april 2015. That being said living more intentionally and with a sustainable approach in general, is something I've been getting more and more into along the way.
I'm a certified stylecoach, and I'm here to help you!
Join my online conscious style course and start building your very own, personal capsule wardrobe today.
A sustainable, longlasting kind that will bring you years of joy! Read more HERE.