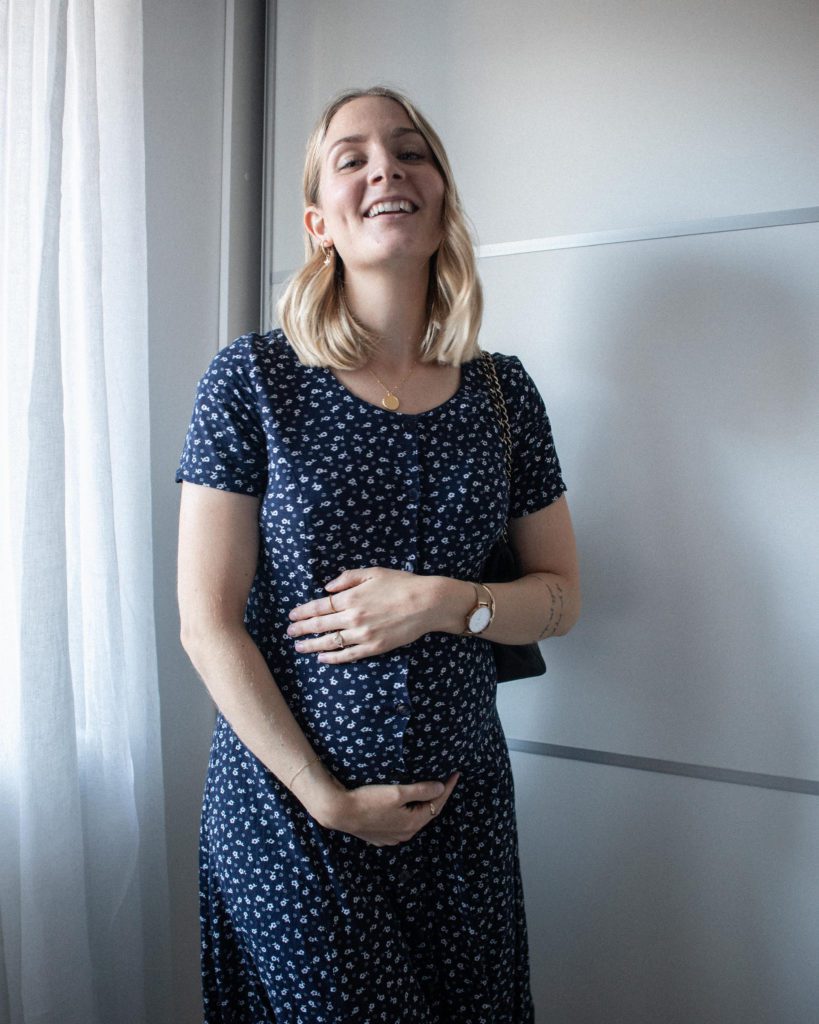 I'm sure most of you have already seen it on either Youtube or Instagram, but in any case this is an adventure too big to not also announce on my blog somehow. My blog is the first place I started sharing content back in 2015, so it's followed my life for a long time now. Morten and I are becoming parents in October 2020! We're so so excited for this new chapter of our lives. That's probably the best way I can describe how I feel right now haha! A lot of things have happened since I published THIS post last year, regarding being just so confused and worried about when (and if!) we should have children. How I kind of found my way back and slowly started letting go of this fear is something I talk a lot more about in the video below, where I'm also answering a lot of other questions from you guys regarding my pregnancy and the new life we're about to be thrown into.
In short, I am of course expecting that I'll be sharing a few snippets here and there as life as a mum, exactly the same way I sometimes share pictures of Morten, Oskar, friends or family. But it's not something that takes over my content entirely whatsoever, and I intend to keep it that way once the baby comes too. My online platforms are sort of my creative sanctuary, where we can talk all things style, sustainability, minimalism and hygge and I intend to keep things that way. That being said, sharing a dedicated mum-life Q&A here and there sometimes or giving maternity style tips is also something I'd love to do, and I hope that for those of you this is not of interest at all, you can simply skip it and stick around for the usual stuff instead. But again, much more about that in the video below! It has to be a good balance, not just for me as the creator (and the person who is sharing her personal life), but also for you guys, my audience. And I'm sure we'll come up with a great balance! <3
…
Er sikker på de fleste af jer allerede har fanget det på både Youtube og Instagram, men uanset hvad er det en begivenhed der er så stor, at jeg også synes den skal foreviges her på bloggen. Bloggen har jo immervæk fulgt mig i allerlængst tid, siden jeg startede den tilbage i 2015. Vi skal nemlig være forældre til oktober, Morten og jeg!! Vi er SÅ spændte på det her nye kapitel af vores liv. Det er nok den primære følelse jeg kan beskrive lige nu haha! Der er sket noget siden sidste år da jeg udgav DETTE indlæg om faktisk, at være fuldstændig forvirret og i tvivl om hvornår (hvis overhovedet), man skal have børn. Hvad der ligesom lå til grund for, at jeg fandt tilbage og ikke længere oplevelse den her uro i forbindelse med den store beslutning det er, at sætte et barn i verden, kan I høre i videoen længere nede. Der svarer jeg nemlig på en helt masse spørgsmål fra jer, omhandlende det her nye kapitel af vores liv.
Helt kort vil jeg sige, at jeg selvfølgelig forvententer at komme til at dele små hverdagsglimt af livet som mor, præcis lige som jeg nogle gange deler billeder af Morten, Oskar, venner og familie. Men det er ikke noget der tager over, og sådan skal det heller ikke være når baby engang kommer. Mine online platformer er mit kreative fristed, hvor vi kan snakke om stil, bæredygtighed og hygge og sådan skal det blive ved med at være. Men der skulle ikke være noget i vejen for, at dele en enkelt dedikeret mum-life Q&A video en gang imellem eller dele diverse stil-tips til den vordende mor, som de af jer det slet ikke har interesse for, blot kan skippe. Igen, meget mere om det i videoen nedenfor! Det skal være en god balance, ikke kun for mig som kreatør (og som den person der jo deler sit privatliv), men også for jer. Og det er jeg sikker på vi nok skal løse! <3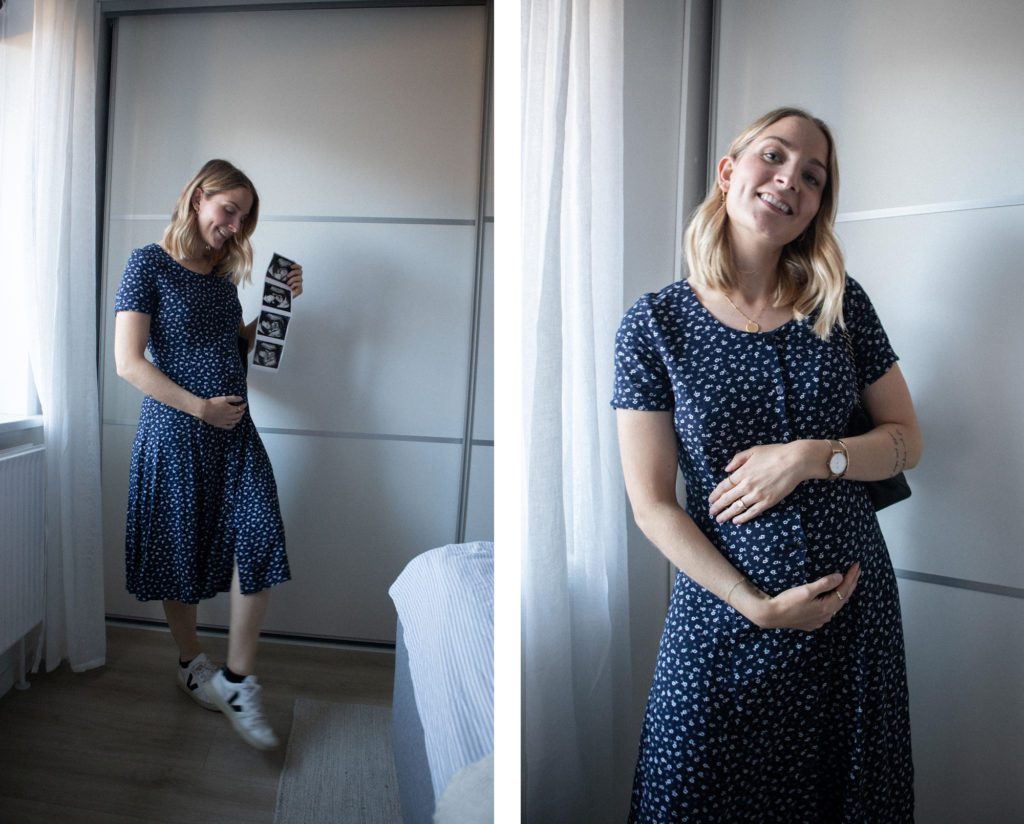 Besides the amazing event of having a baby growing inside of my belly, our livingroom is being finished as we speak! We hired some local painters to finish up the rest of the work for us (of course, while sticking to all the safety precautions regarding the virus), so right now we're actually just patiently waiting in the bedroom for them to be done, so we can get on with cleaning and then move in tonight! It's going to be so exciting to finally be able to use our livingroom, and it's a massive weight of our minds. Then we can relax a little more over the summer, before remaking the nursery sometime during fall.
…
Udover den fantastiske begivenhed det er, at jeg har en lille blyp boende inde i maven, så er vores stue i skrivende stund ved at være færdig. Vi har haft malere til, at gøre det sidste færdige for os og lige nu sidder vi faktisk bare i soveværelset og venter på, at den sidste maler pakker alt afdækning væk, så vi kan komme igang med rengøringen og så rykke derind i aften! Det bliver simpelthen SÅ skønt at få adgang til vores nye stue, og det er en kæmpe sten der letter fra vores skuldre. Så kan vi ligesom slappe af sommeren over, inden vi engang i efteråret giver os i kast med babyværelset.
It's been a beautiful couple of weeks with lots of sunshine, which has been nice while Denmark has been on lockdown anyway. It's slowly started to loosen up now though, for those of you who might not know. It seems as though the government has achieved more than they wanted, in regards to "flattening the curve" for now which is great. We're so grateful to have a garden though, because there are still not many possibilities to actually go out and do stuff – so although our garden definitely also needs some TLC it's better than nothing for sure!
I managed to send out my 30th birthday invites just before the lockdown (my birthday is in May), but it's still very uncertain if we will have to cancel or not. We will know after the 10th of May, when the government will present the next round of COVID19 restrictions. Should we be forced to cancel Morten and I have agreed that we will just wait with the big family gathering until next year, when we will throw a wedding party. It's 3 years ago since we got married in Vegas, and we've been promising friends, family (and ourselves) a great, big party in the name of love ever since.
Some rather sporadic updates from me to you guys – I hope you're all doing well no matter where you might be!
…
Det har også været nogle uger med masser af solskin, hvilket har været skønt mens Danmark var helt under lockdown. Nu er det jo ligeså stille begyndt at åbne op igen rundt omkring. Vi priser os lykkelige for vores have, omend den trænger til en kærlig hånd (det bliver nok ikke før næste år engang, let's face it), men det er ligemeget. Så længe vi kan sidde derude og nyde solen, nu hvor det er begrænset hvad vi ellers kan give os til, så er alt godt.
Jeg nåede at sende invitationer ud til familien i forbindelse med min 30års fødselsdag her i maj lige inden lockdown, men det er endnu usikkert om det kan blive til noget. Det finder vi jo først ud af 10. maj, når regeringen kommer med et nyt udspil, selvfølgelig baseret på udviklingen af virussen. Hvis vi er nødt til at aflyse er Morten og jeg enige om, at vi tager revanche næste år, når vi holder vores længeventede bryllupsfest. Det er nemlig snart 3 år siden vi blev gift i Vegas, så vi skylder både venner, familie og os selv at få holdt den kærlighedsfest.
Lidt sporadiske opdateringer herfra – jeg håber I har det godt hvorend I befinder jer!


49