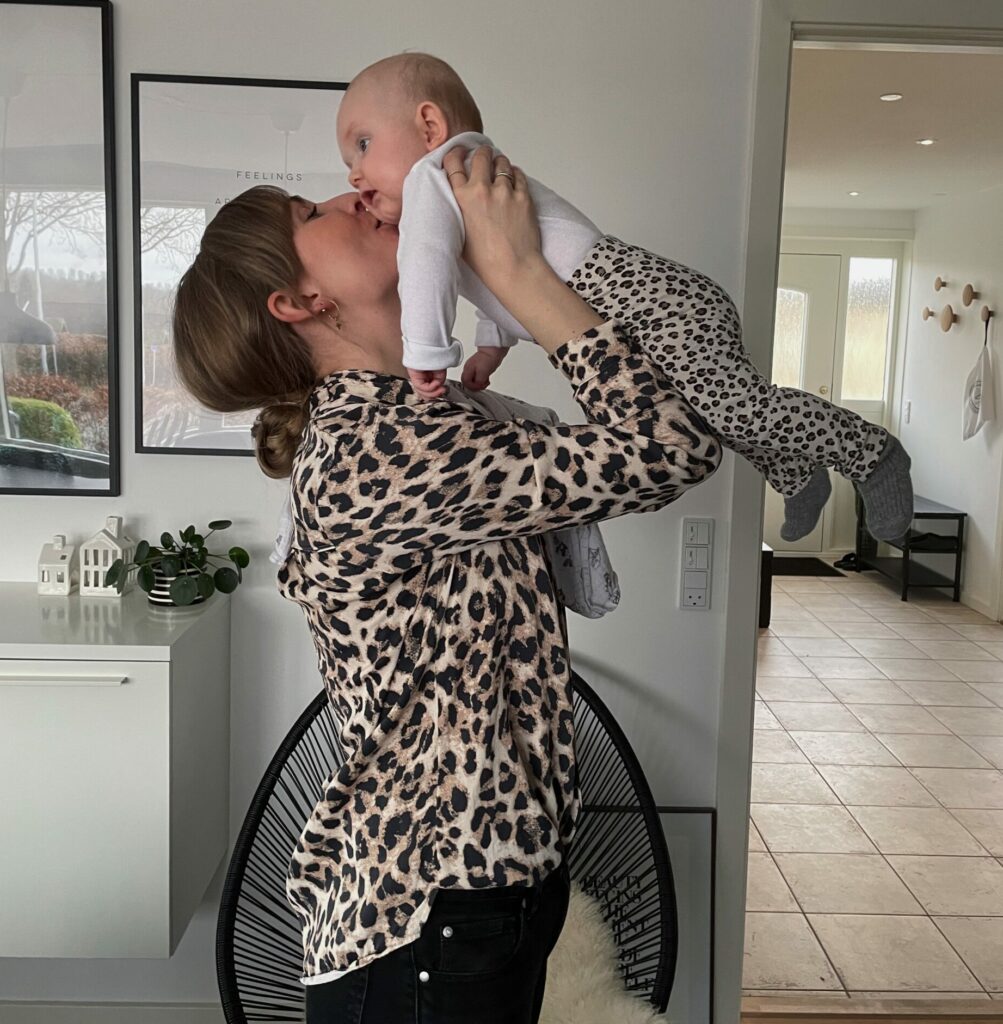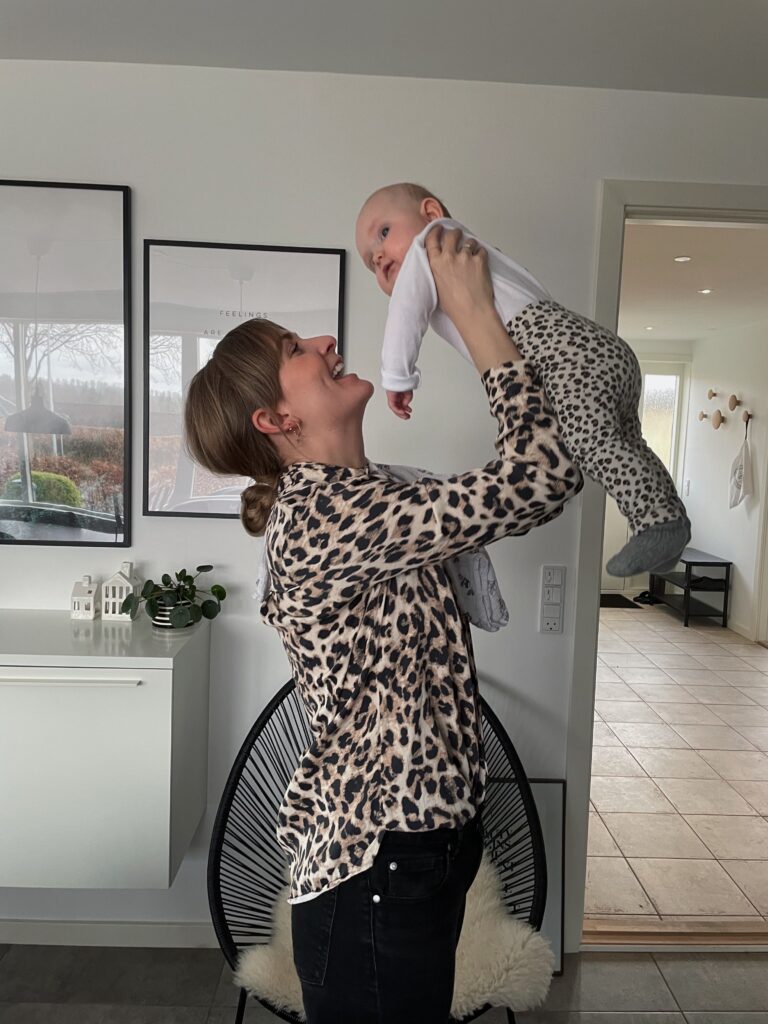 Det her indlæg har været nogle uger undervejs, især fordi det er en anelse informations-tungt! MEN, jeg har her samlet (og svaret på) nogle af de spørgsmål I ofte smider i min retning p.t., efter vi blev forældre i Oktober sidste år.
Indlægget her er ikke alles kop te, jeg ved de fleste af mine følgere primært er her for tips til en bedre og grønnere garderobe – men der er altså også en håndfuld af jer, som er meget interesseret i personen bag alle disse skriblerier og tips, og jeg har altid nydt at give mit indhold et lidt mere personligt twist indimellem alt det andet. Lære jer at kende, men bestemt også lade jer komme lidt med ind bag kulissen som selvstændig, og nu også mor. Og det er lige netop det indlægget her skal handle om; nemlig hvordan min mand og jeg får det hele til, at gå op i en højere enhed som forældre til en skøn lille pige på 4 måneder, renoverer hus, gerne vil leve så bæredygtigt som muligt og det faktum, at jeg jo altså også stadig holder min selvstændige business åben, samtidig med jeg er på barsel. Jeg har simpelthen fået så mange af de samme spørgsmål om vores nye liv som forældre (også nogle enkelte som kobler sig på tøj og stil, faktisk) på det seneste, at jeg tænkte det nemmeste var at smække dem op i det her indlæg. Så kan jeg altid henvise jer hertil (måske endda løbende opdatere det), og som sagt så deler jeg altså glædeligt ud af mine personlige livserfaringer. Vi kan lære så meget af hinanden, og jeg synes især i forhold til debatten om bæredygtig livsstil at det er vigtigt, at være ærlig omkring de områder, hvor det kan være udfordrende. Så here goes!
ENG.: This post has been a few weeks in the making, especially since it's a bit information-heavy! BUT, I ve now gathered some of the questions you often throw me at the moment (as well as my answer to them), after we became parents in October last year.
This post is not everyone's cup of tea, I know most of my followers are primarily here for tips for a better and greener wardrobe – but there are also a handful of you who are very interested in the person behind all these scribbles and tips I put out there, and I have always enjoyed giving my content a slightly more personal twist in between everything else. Get to know you guys, but definitely also let you get a little behind the scenes of my life as a self-employed woman, and now also a mother. And that's exactly what this post is about; how my husband and I manage life as parents to a beautiful little girl of 4 months while renovating a house, living simply and sustainably and the fact that I also still work while I am on maternity leave. I've been getting so many of the same questions about our new lives as parents (even a few fashion and style related ones, actually) lately that I thought the easiest thing was to gather them up in this post. Then I can always refer you to this (maybe even continuously update it), and as I said, I am happy to share my personal life experiences every once in a while. We can learn so much from each other, and I think especially in relation to the debate on sustainable living it is important to be open and honest about the areas where it can be challenging. So here goes!
FREEQUENTLY ASKED QUESTIONS
At være på barsel er helt klart et privilegie, som jeg værdsætter utroligt højt. Jeg nyder det virkelig helt ind i hjertet, det meste af tiden. Jeg må dog også indrømme, at som førstegangs-mor (well, forældre i det hele taget) har det også været ret hårdt, at holde barsel under corona nedlukningen. Jeg har været enormt socialt isoleret, og det er altså noget der i længden skubber rigtig meget til min angst. Det skubber til alle menneskers mentale trivsel, når man ikke kan få lov til, at bevæge sig frit og se de mennesker man normalt omgås. Og at blive forældre er jo i sig selv en KÆMPE stor omvæltning, og det er på en måde noget der skal bearbejdes; det er jo et helt nyt liv man træder ind i og et andet liv man på mange måder siger farvel til. Det hele værd uden tvivl (!), men stadig en big deal. Mødregruppe, baby rytmik, baby svømning, besøg hos og af familie; alle de ting og oplevelser jeg havde set frem til at få med min lille pige, er blevet aflyst eller udskudt. Så lige dér har jeg været ret udfordret nogle dage, især hvis lillepigen har været midt i et udviklingsspring, hvor vores daglige rutiner pludseligt bliver vendt på hovedet, og man er på på en helt anden måde, fordi hun kræver ekstra omsorg i disse perioder. Der har jeg virkelig manglet social sparring og menneskelig kontakt. Det er blandt andet én af grundene til, at jeg for nyligt tog en længere pause fra arbejde og de sociale medier – komme væk fra de dårlige nyheder for en stund og ud af mit hovede ikke mindst. Nu er vi dog så småt startet op i mødegruppen igen, og min mor har fx netop fået tilbudt sin første vaccine fordi hun er i risikogruppe, så tingene begynder langsomt at lysne. Jeg håber hvertfald på en sommer med lidt mere frihed, det er stensikkert. 
Anyway, det var dét for nu! Som sagt kan det sagtens være jeg går tilbage og opdaterer det her indlæg løbende, hvis jeg får flere spørgsmål (eller laver en version 2), men jeg håber I kunne bruge det til noget. Sender alle jer forældre derude en ekstra kærlig tanke i disse tider! <3
ENG.: Being on maternity leave is definitely a privilege that I value incredibly highly. I enjoy it wholeheartedly, most of the time. However, I must admit that as a first-time mom (well, parents in general) it has also been pretty hard, being on maternity leave ind the midst of  lockdown. Being socially isolated for so long is something that really sets my anxiety off. It has a negative impact on mental well-being of all people when we can't move freely and spend time with other people. Becoming parents in general is a huge deal, and in many ways it's something you have to process, because you are entering a whole new (amazing for sure) life, but you are also saying goodbye to life as you knew it before. It's absolutely worth it all, don't get me wrong – but that's how it feels for many first-time parents. Mothers group, baby gym, baby swim, visits to and by family; all the things and experiences I had been looking forward to having with my little girl have been canceled or postponed. So in that sense I've been quite challenged some days, especially if E has been in the middle of a milestone in her development, where our daily routines are suddenly turned upside down and nothing is predictable anymore because she requires extra care and comfort during these periods. I could have done with some more help and human contact during times like that. Among other things, feeling that way is one of the reasons why I recently took a longer break from work and social media – I just needed to get away from the bad news for a while and get out of my head. I've now slowly begun to spend time with my mothers group again though, and my own mum has, for example, just been offered her first covid vaccine – so things are slowly starting to brighten up. At least I'm hopeful for a summer with a little more freedom, that's for sure.
Anyway, that was it for now! As I said, I may go back and update this post regularly if I get more questions (or perhaps even make a part 2), but I hope this was useful. Sending all you parents out there some extra love in these difficult times! <3
21