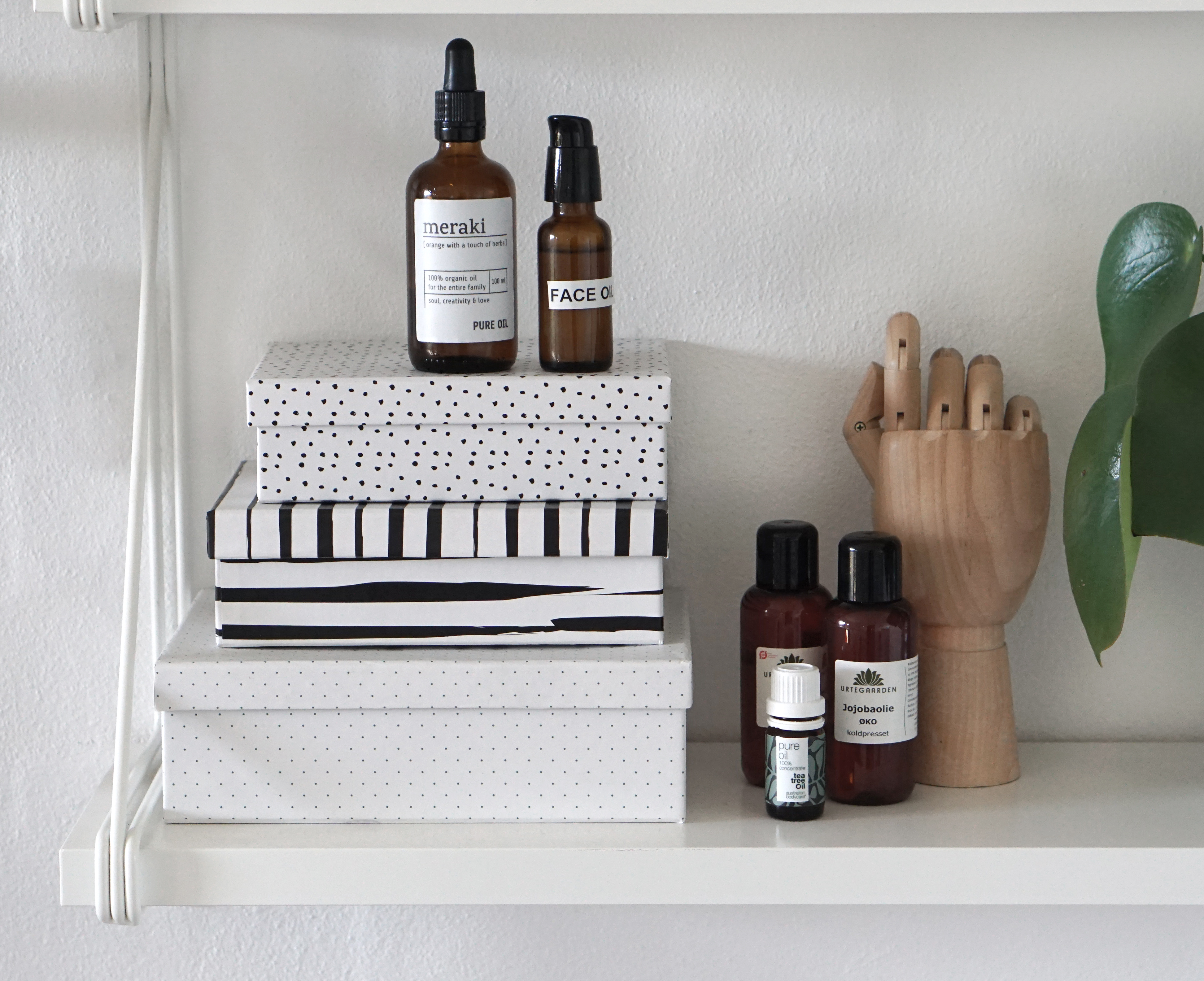 / I almost don't even have to to introduce the Meraki oil, as it has been mentioned quite a few times on all my social platforms, haha! Basically, you can also any body oil (also of the homemade kind if you like) for nourishing your body. I love to use this oil because it can be used for so many purposes and yet it has lasted for approx. 6 months and there is still a lot left even though I use it almost daily. A little goes a long way when you use oils to nourish your skin. Back in spring I quit buying various bodylotions and face creams and then started using oils instead – both on my face and body. I think many people are a little "scared" of using oils because they mistakenly think that you'll get very greasy. There is also a tiny risk of that (at least until the oil is 100% absorbed) – but if you take the oil with you into the shower, massage it into your skin while it's still wet and then dap your skin with a towel afterwards, you'll avoid that greasy feeling. The oil is not only easier to apply because it is mixed with the water you have left on your skin, but your skin absorbs the oil faster too. I especially use this trick when I have just shaved my legs – I tell you, you get the softest legs! The oil I use on my face is first applied once I'm out of the shower though.
Jeg behøver nærmest ikke introducere min olie fra Meraki længere, da den efterhånden har fået så meget spalteplads herinde, haha! I bund og grund kan du også bruge en hvilken som helst body oil (også af den hjemmeblandede slags, hvis du synes) til dette tip. Jeg elsker at bruge denne olie, igen fordi den kan bruges til så mange formål og alligevel har den holdt i ca. 6 måneder og der er stadig en del tilbage selvom jeg bruger den stort set dagligt. Olie er utrolig drøjt i brug, så derfor opbruges produktet ikke så hurtigt som man måske tror. Jeg droppede tilbage i foråret, at købe diverse bodylotion og cremer og gik altså over til, at bruge olie – både i ansigtet og på kroppen. Jeg tror mange er lidt "bange" for, at bruge olie fordi de fejlagtigt tror, at man bliver helt vildt skinnende og klistret af det. Det er der da også risiko for, at man bliver (ihvertfald indtil olien er 100% absorberet) – men hvis du tager olien med dig ind i brusekabinen, masserer den ind i huden mens den stadig er våd og dupper dig tør med håndklædet bagefter, så undgår du den der klistrede fornemmelse. Olien bliver ikke blot nemmere at fordele fordi den bliver blandet med lidt vand, men den trænger også hurtigere ind i huden. Jeg bruger især dette trick når jeg har barberet ben – jeg siger dig, du får de blødeste stænger! Olien jeg bruger i ansigtet kommer jeg dog først på efter badet.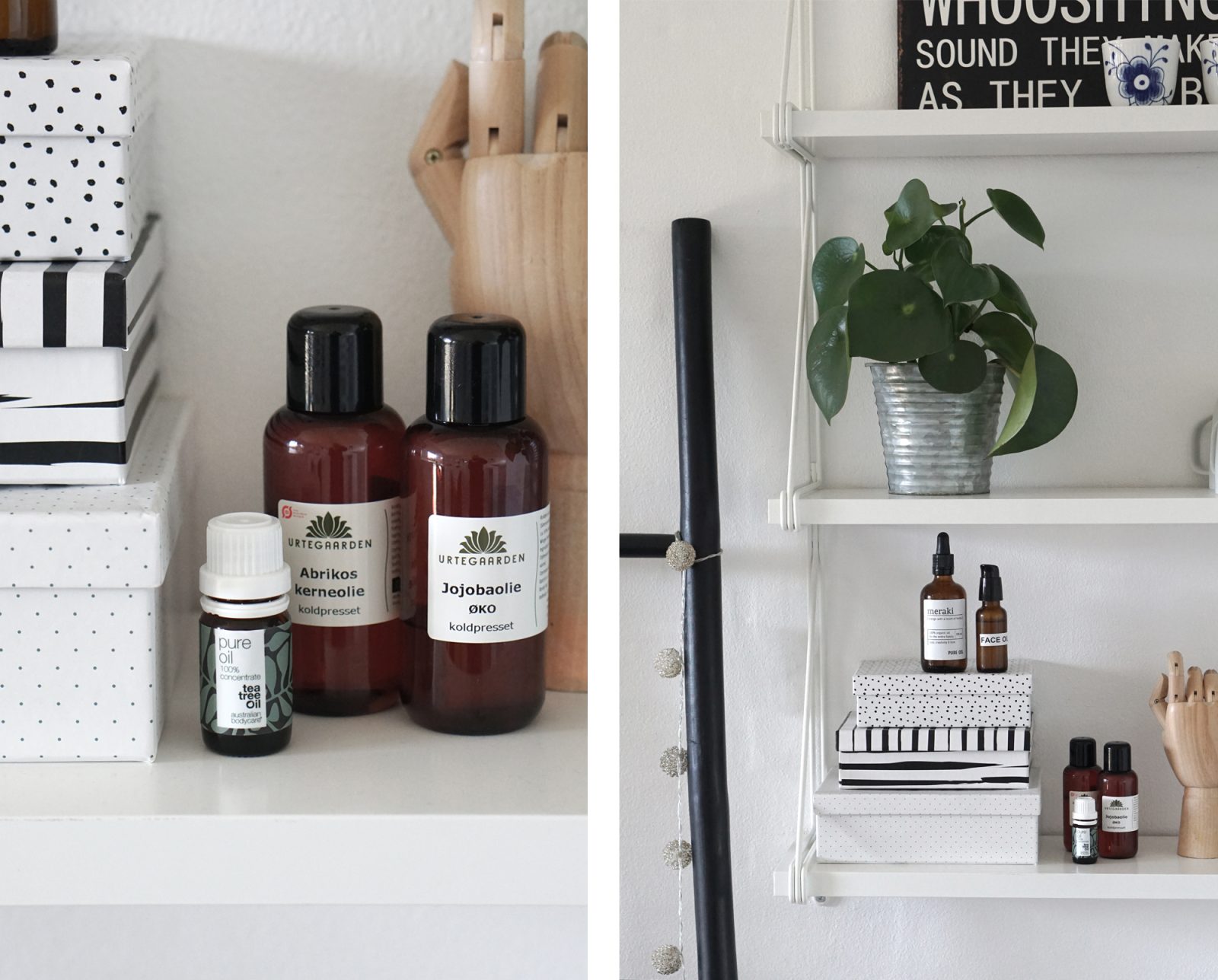 Face oil recipe for normal/combination skin
20 ml Jojoba oil
10 ml Apricot kernel oil
10 drops of Tea Tree oil (essential oil)
/ I've been  struggling with acne for many years, I even had cystic acne a few years back that I needed to get medical treatment to get fully rid of. My skin is not flawless, and I still get minor breakouts from time to time. But I've learned to accept the fact that real sin has texture, it has pores and it's not perfect. At some point I may even begin to get wrinkles, and that's okay. It's natural. I don't know if it's just me growing up, but I feel more and more comfortable in my own skin, and I've also realized that nobody is perfect and we don't have to try to be either.  Personally I think the most interesting and warm people are those who embrace their flaws and are true to their natural self. The people who have both feet on the ground. Flaws are part of being a human being, and they actually leave room for you to embrace the things you love about yourself. Even when I look back at pictures of myself just 2 years ago, there's been a lot of change in the way I use makeup for example, and it fits really well into this whole thing about me letting go of the pressure of trying to be "perfect".
Jeg har i mange år kæmpet med akne, for nogle år tilbage endda cystisk akne, som jeg først for alvor blev fri for efter en pillekur jeg kom på igennem en hudlæge. Min hud er ikke fejlfri, og jeg får stadig mindre udbrud af bumser. Men jeg har lært at acceptere, at min hud har tekstur, den har porrer og den er ikke perfekt. På ét eller andet tidspunkt får jeg nok også nogle rynker, og det er okay. Jeg ved ikke om det bare hører med til, at blive voksen – men jeg hviler ligesom mere i mig selv og den måde jeg ser ud, og er med tiden blevet mere og mere forelsket i konceptet om, at ingen er perfekte og vi behøver heller ikke prøve på at være det. Jeg synes personligt, at de mest interessante mennesker jeg møder på min vej er dem, som omfavner deres "fejl" og står ved sit naturlige jeg. Dem der har begge ben på jorden og hviler i sig selv. Fejl er en del af os som mennesker, de giver os karakter og de giver på en måde også plads til at vi kan fremhæve det bedste ved os selv. Når jeg kigger tilbage på billeder af mig selv for blot 2 år siden, så er der sket en drastisk ændring i forhold til mit forbrug af makeup fx, og det kommer egentlig godt i forlængelse af, at jeg har lettet presset på mig selv om det her med, at skulle være "perfekt".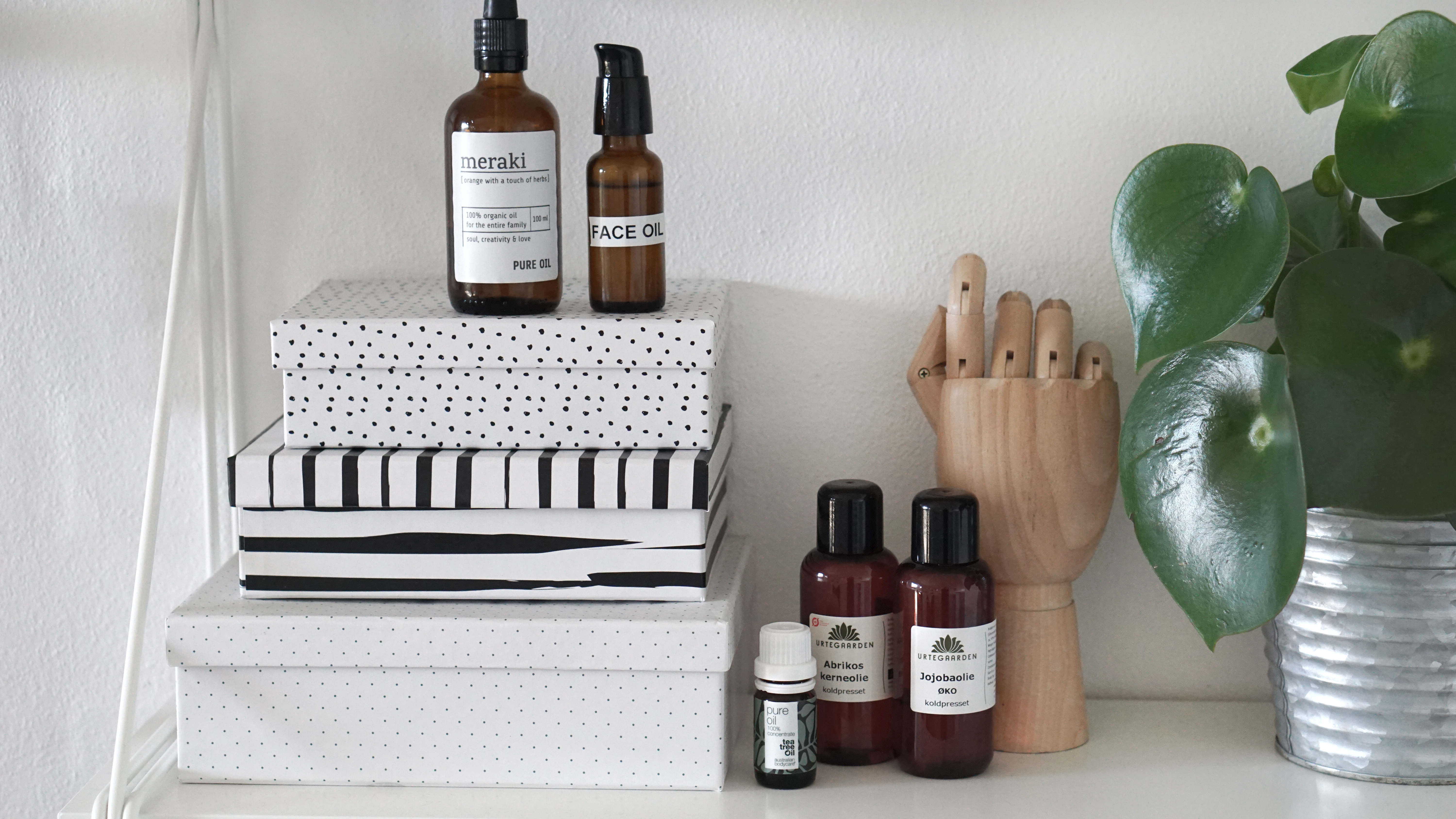 / Anyway, back to the face oil! It's a really nice base to apply makeup on once it's absorbed on your skin, and it keeps my skin dewy and fresh all day. And back to the whole greasy and shiny skin scenario; it does feel a little tacky right after you've applied it, but that disappears once it's absorbed. It's a huge misunderstanding that if you have oily skin, you need to use face creams that sort of deprives your skin that grease. This can cause even more production of oil, and then you'll have a new problem which is dry and flaky skin! I've been suffering a lot from an oily t-zone myself, but I must say that now 1,5 months after I've started using this face oil, it seems as though my skin has gotten more and more smooth and it just looks fresh and dewy. I love the fact that its a pure product without any harsh chemicals. The skin is the biggest organ of your body, and everything you put on to it will sink into your bloodstream somehow. So there's reason to worry about what you apply to your skin! I can highly recommend you, to start experimenting with making an oil that suits your skin – if you need inspiration for what type of oil that fits your skin type, you should watch THIS video. My face oil is a mix between jojoba oil (good for all skintypes), apricot kernel oil (has an anti-inflammatory effect which is great for treating acne) and tea tree oil which again has an anti-inflammatory effect and is also anti-bacterial. My face oil is the only thing I use on my face to nourish it; no wonder creams or serums has ever worked anyway, and like I said I love the fact that you get a pure product which is 100% organic and free from harsh chemicals all while actually having a positive impact on the look of my skin. Win! Lastly I just want to mention that I exfoliate my face every day with a soft face brush for that purpose, because my skin has trouble getting rid of dead skin cells naturally, and in the end these can clog up my pores and cause breakouts. In that way, I keep the amount of new breakouts to a minimum. I also use my dermaroller 2-3 times a week. Also, don't pick on your skin with your dirty fingers no matter how hard it is not too! You'll end up spreading a lot of bacteria on the skin. Water and healthy, clean food is of course also an important factor, in order to stay healthy from the inside and out.
Anyway, det var jo olien vi kom fra! Den ligger en rigtig god base til den lille mængde makeup jeg nu engang påfører om morgenen, og den holder min hud frisk og fugtet. Og tilbage til det der med, om man bliver helt vildt fedtet af den; det gør man måske lige efter man har taget den på, men det er faktisk en kæmpe misforståelse dét der med, at man skal bruge "anti-shine" cremer når man har fedtet hud. At frarøve huden fugt bare fordi den har tendens til at skinne, er faktisk endnu værre! Du risikerer at huden kompenserer for den fugt du egentlig frarøver den, og på den måde kan du måske ende med, at se endnu mere fedtet ud. Du risikerer på den anden side også at tørre din hud ud, og så står du med et nyt problem og oveni købet har en udtørret hud større tendens til, at få rynker eller se rynket ud! Jeg har selv lidt rigtig meget af fedtet hud, men efter ca. 1,5 måned med min hjemmelavede olie, så er det faktisk som om den er blevet meget mere glat og mere frisk end fedtet. Jeg elsker den fordi den er fri for alt muligt unødigt kemi og så er den 100% økologisk. Huden er kroppens største organ, og kroppen optager alt hvad du påfører den. Derfor er der altså rigtig god grund til, at bekymre dig om, hvad du putter på din krop. Jeg kan virkelig anbefale dig, at prøve og lave din egen olie – hvis du mangler inspiration til, hvilke typer af olier der vil passe godt til lige netop din hud, så se DENNE video. Min er en blanding af jojoba olie (som er god til alle hudtyper), abrikoskerneolie (som virker anti-inflammatorisk og derfor er god til uren hud) og tea tree oil, som igen virker anti-inflammatorisk og har en anti-bakteriel virkning på huden. Min ansigtsolie er det eneste pleje jeg bruger i mit ansigt; ingen mirakel-cremer eller serumer har nogensinde virket anyway, og som sagt er jeg vild med, at den er 100% økologisk, fri for kemi og faktisk har haft en synligt gavnlig effekt på min hud. Win! Til sidst skal det nævnes at jeg dagligt exfolierer min hud med en blød ansigtsbørste da min hud har svært ved at komme af med de døde hudceller, der jo så i sidste ende kan stoppe porrerne til og altså resultere i bumser. På den måde holder jeg mængden af nye udbrud nede, samtidig med jeg 2-3 gange i ugen bruger min dermaroller. Og lad være med at pille i huden med dine beskidte fingre, uanset hvor svært det kan være ikke at gøre det. Du risikerer at sprede endnu flere bakterier på huden. Og så er masser af vand og sund kost jo også vigtige elementer, for at opnå en smuk hud indefra!
Adlinks

6