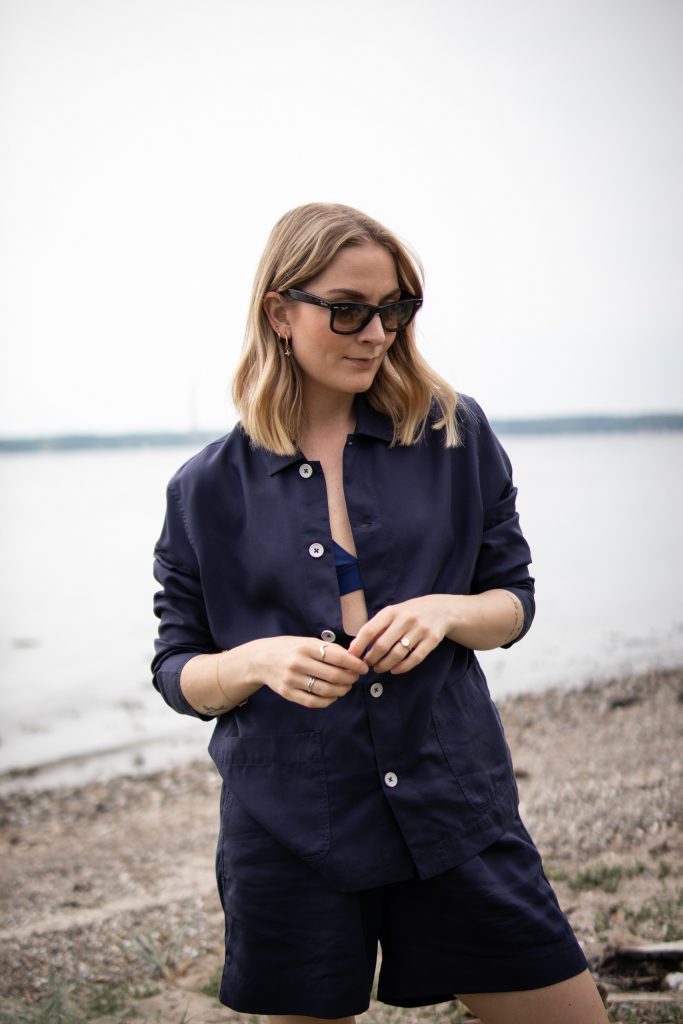 [AD/gift: Lounge set + bikini from Organic Basics]
Når man arbejder med online indhold som jeg gør, så kan arbejde og privatliv unægteligt glide sammen. Jeg skriver kan, for det behøver bestemt ikke være sådan. Men det er det der er fedt ved, at skabe indhold synes jeg. Man kan skabe lige netop dét, som man synes er fantastisk. I takt med, at flere og flere mennesker hægter sig på dit online univers, så hører det sig (desværre) også med, at man indimellem får noget ukonstruktivt kritik med på vejen. Trolls, online bullies, cyber mobning, kald det hvad du vil – de er der ude, og selvom jeg har været okay forskånet (jeg har verdens dejligste community!!!), så kan selv én kommentar som disse gøre ondt. Jeg har længe lavet indhold om personlig stil og capsule wardrobes, og har altid nydt også at tilbyde indhold af den mere personlige slags ved siden af. Jeg synes selv det er vildt hyggeligt at læse personlige blogindlæg, livsberetninger og se hverdags-vlogs. Inspirere andre og dele livets op- og nedture med ligesindede. Især med 1,5 års corona og lockdowns, så synes jeg det har været så befriende stadig at kunne gå tilbage, og se gamle vlogs fra mine favoritter, ja selv mine egne, bare for ligesom at finde tilbage til én eller anden form for normal hverdag. Minde sig selv om, at den var der engang og venter derude igen.
Sidste år valgte jeg, at holde en pause fra vlogs (video dagbøger) på min offentlige kanal på YouTube, og flytte dem til et mere lukket forum på Patreon. Det gav mening for en stund, synes jeg, og det kom sig både af førnævnte lockdowns, corona og at være super følsom og fuld af hormoner grundet min graviditet. Jeg ville bare gerne passe på mig selv. I efteråret fødte jeg så vores datter, og har derfor holdt delvist pause fra arbejde. Også vlogs, pånær et par enkelte når jeg lige har haft energien til det. Jeg har hele tiden vidst, jeg gerne ville dele nogle små glimt fra vores hverdag (det gør jeg iøvrigt dagligt på Instagram), men mistede ligesom fodfæstet med YouTube i 2020 og har siden lige skulle finde ud af, i hvilken grad jeg ønsker at fortsætte. Jeg ved godt, at mine loyale følgere slet ikke har behov for denne forklaring, I har simpelthen været så fantastiske og bakket mig op hele vejen igennem.
Men jeg vil nu alligevel godt give et par ord med på vejen, om ikke andet for at lette mit eget hjerte og komme videre. For et par måneder siden delte jeg nemlig en vlog, som jeg endte med at tage ned blot et par dage efter jeg offentliggjorde den – ikke fordi jeg ikke kunne tage den konstruktive kritik jeg fik på videoen, og heller ikke fordi jeg er bange for at indrømme når jeg tager fejl. Men simpelthen fordi jeg oplevede et direkte angreb på mig som person, og jeg fik bare nok lige dér.
ENG.: When working with online content like I do, work and privacy may undeniably merge. I say may, because it certainly does not have to be that way. But that's what's great about creating content, I think. You can create exactly what you want. As the amount of people following you rises, unfortunately so does un-constructive criticism. Trolls, cyber bullies, call it what you want – they're out there, and even though I haven't experienced heaps of it (I have the nicest community in the world !!!), even one comment like these can hurt. I have made content about personal style and capsule wardrobes from day one, and have always enjoyed also offering content of the more personal kind on the side. I find it enjoyable to read personal blog posts, life updates and watch everyday vlogs too. Inspire others and share the ups and downs of life with like-minded people. Especially with 1,5 years of covid and lockdowns, I think it's been so liberating to still be able to go back and watch old vlogs from my favorite creators, even my own vlogs, just to be reminded of some kind of normality.
Last year, I chose to take a break from vlogs (video diaries) on my public channel on YouTube, and moved them to a more closed forum on Patreon. It made sense for a while, and the decision came both from the aforementioned lockdowns, covid that made everything difficult and being super sensitive and full of hormones due to my pregnancy. I just needed to take care of myself. In autumn 2020 I gave birth to our daughter, and have therefore been on a partial leave from work. I also took a break from making vlogs, except a few when I had the energy for it. I always knew I wanted to share a few glimpses of our everyday lives (I do that daily on Instagram, by the way), but lost my foot with it on YouTube in 2020 and have since just had to figure out to what extent I wish to continue. I know that my loyal followers don't even need this explanation at all, you have simply all been so amazing and supportive.
But, having said that I do wish to get this off my chest in order to move forward. A few months ago I shared a vlog, which I ended up taking down just a few days after I published it – not because I couldn't take the constructive criticism I got on the video, or because I'm afraid to admit when I've made a mistake. But simply because I experienced a direct attack on me as a person and I just got fed up with it.
Som jeg også nævnte i én af mine seneste videoer, så ser jeg lige nu en coach, som primært hjælper mig med at videreudvikle min forretning professionelt. Stole lidt mere på mig selv og de ting jeg kan. Og én af de ting vi blandt andet taler om somme tider, er det her med at forene min forretning med mit privatliv. For en stor del af min forretning er jo mit privatliv, og det er en del af mit job som jeg holder meget af. Men det er klart at jeg 100% selv bestemmer hvor meget jeg vil invitere omverdenen indenfor – blandt andet laver jeg jo hverken vlogs hver dag eller hver uge for den sags skyld, og så synes jeg jo selv at mit mere personlige indhold er autentisk, selvom jeg kun inviterer jer med ind bag kulissen i en ydmyg grad.
Én ting er, at få en kommentar på en video hvor der står noget i retningen af, at de der bukser er pisse grimme og ikke klæder mig. Det kan jeg leve med, dem kan jeg let ignorere. Og konstruktiv kritik skal der helt klart være plads til, for som sagt begår jeg også fejl nogle gange og jeg kan have godt af, at lære noget nyt. Men der skal være en grænse.
Jeg vil gerne dele glimt af min hverdag, og jeg er nået et sted hvor jeg har besluttet mig for, at de få online bullies der er derude ikke skal sætte en stopper for noget, som jeg ved langt størstedelen af mine følgere sætter pris på og som jeg elsker at lave. Det er JER jeg laver indhold for, og ikke dem! Mental helbred er det vigtigste her i livet, og man skal passe på sig selv! Især nu hvor jeg er blevet mor, så er der altså bare andre ting som er vigtigere. Livet er så kort og sårbart, og man skal bruge sin energi varsomt. 
ENG.: As I also mentioned in one of my latest videos, right now I'm seeing a coach who primarily helps me develop my business further professionally. Helps me gain some confidence in what I have to offer. And one of the things we talk about sometimes, among other things, is uniting my business with my private life. After all, a large part of my business is sharing my private life too, and it's a part of my job I love. But it is clear that I 100% get to decide how much I want to include the outside world  – I don't make vlogs every single day or week for example, and I try to curate my more personal content in a way that is authentic and only invites the viewer inside my daily life to a certain degree.
One thing is to get a comment on a video where it says something along the lines that "those pants are ugly and they don't suit you", I can live with that and I can ignore those easily. Criticism of the constructive kind is always welcome though, because as I said, I also make mistakes sometimes and I can benefit from learning something from you guys too. But there has to be some boundaries.
I do want to share glimpses of my everyday life and I have reached a point where I have decided that those few online bullies out there shouldn't get to put an end to something that I know the vast majority of my followers appreciate and which I love to make. It's YOU I create content for, not them! Mental health is the most important thing in life and you have to take care of yourself! Especially now that I have become a mother, there are just other things that are more important. Life is so short and vulnerable and you have to use your energy carefully.
YouTube som platform er uden tvivl der hvor jeg oplever mest negativitet, og det ved jeg at mange af mine med-kreatører også oplever. Jeg følger selv folk, som helt har forladt platformen af samme årsag. Du har nemlig ingen kontrol over, hvem der skriver til dig – andet end du selvfølgelig kan slette kommentarer og skjule visse brugere fra kommentarsporet. Jeg sætter stor pris på jeres feedback og jeg synes folk har ret til at debattere i kommentarsporet, men når det kommer til mit private liv er jeg nødt til at sætte nogle grænser så vidt det er muligt, bl.a. ved indimellem at slå kommentarer fra. Så ved jeg godt jeg ikke kan kontrollere, hvad folk skriver eller siger om mig af andre omveje, men that's life og det må jeg arbejde på at slutte fred med så længe jeg laver det jeg gør… Og hvis man ikke synes det er i orden, så er et simpelt unfollow det nemmeste i verden. Ærligt, jeg ønsker dig det bedste i livet – kom videre, brug din gode energi på noget andet og mere meningsfyldt, så vil jeg gøre det samme.
Uanset hvad der sker og hvor vi er henne om en måned, et år, tre år og om jeg stadig vlogger til den tid eller ej – så håber jeg det gav jer stof til eftertanke, især i forhold til hvordan vi behandler hinanden på nettet, men også generelt bare at indrømme når man har begået fejl (og give hinanden plads til at begå fejl ikke mindst!) men i dén grad også, at sætte grænser for sig selv.
Og så bare tak! Tak for jeres støtte, forståelse og tålmodighed. Det betyder rigtig meget for mig!
Kærlig hilsen,
Signe
ENG.: YouTube as a platform is without a doubt where I experience most negativity, and I know that many of my co-creators also experience this. I even follow people who have completely left the platform for the same reason. You have no control over who writes to you – other than you can of course delete comments and hide certain users. I think people have a right to have a conversation in the comments section don't get me wrong (I mean, I do put myself out there), I just have to set some boundaries by sometimes turning off comments. I know I can't control what people might write or say about me elsewhere, and that's something I have to learn to live with as long as I'm doing what I do, I guess… if you're not okay with boundaries, then a simple unfollow should be easy. Honestly, I wish you the best in life – move on, spend your good energy on something else and more meaningful, then I will do the same. 
No matter what happens and where we are in a month, a year, three years and if I am still vlogging by then or not – I hope it gave you food for thought, especially in relation to how we treat each other online, but also just in terms of setting boundaries, standing up for yourself and admitting when you're wrong (and acknowledging that we're all human and we all make mistakes too!). 
With that, just a huge thank you! Thank you for your support, understanding and patience. It means a lot to me!
Love,
Signe
79