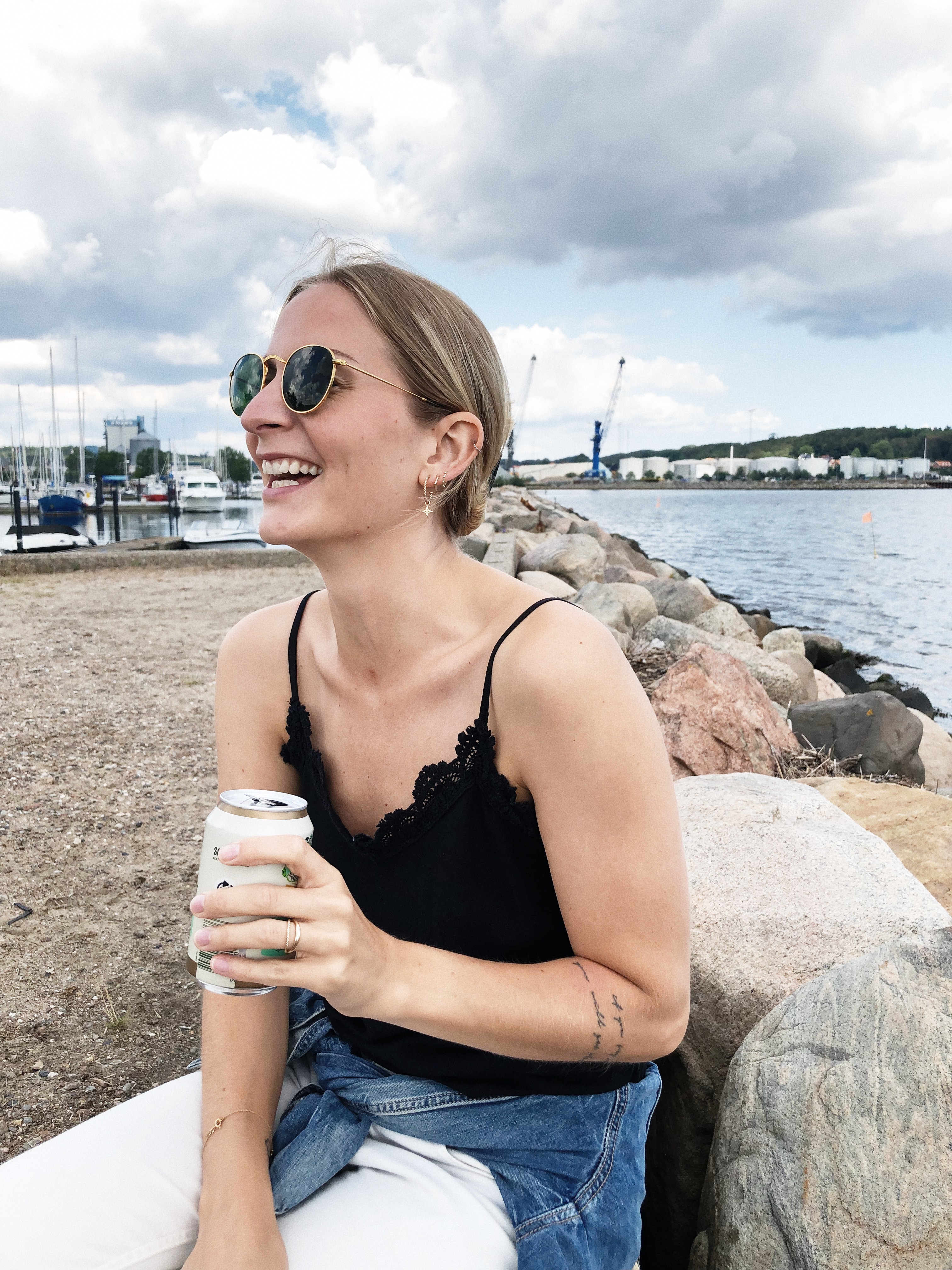 I know most of you guys prefer content on either Instagram or Youtube, and that the blogging platform (at least mine) is often more used as a library to look up posts with a longer expiration dates or guides more than "this is what I've been up to today"-kinds of posts. I still enjoy reading these types of posts from time to time myself though, and fully enjoy creating them too. Instagram and Youtube is ever-changing and it can be hard keeping up with algorithms sometimes. But my blog will always be mine and mine only. There's noone else but me to decide which posts will be at the top of my feed in here, and should the before mentioned platforms die out (which they wont, but roll with me) I'll always have my blog. Does that make sense? Anyway, that's not what todays post is about.
It's almost 10 AM on a Saturday morning, I'm still in my jammies and I'm sitting in the bed looking out at the rain poring down outside. Morten is away for the weekend with his friends, so it's just me and the furbabies today. Oskar woke me up with kisses and belly cuddles (for him not me lol) at 7 this morning, so we got out of bed, went for a walk and drove off to the local bakery for fresh bread. I haven't done that in such a long time but I was in the mood for a "Skagenslap" (Danish morning bun) with cheese this morning, haha! If you'd like to know what else I've been up to lately then just keep on reading.
…
Jeg ved godt langt de fleste af jer foretrækker indhold på Instagram og Youtube, og at blogmediet (ihvertfald mit) oftere bliver brugt som opslagsværk til indlæg med længere levetid end "det har jeg lavet i dag"-agtigt indhold. Alligevel synes jeg selv denne type indlæg er vildt hyggelige, ikke kun at læse men også at skrive. Instagram og Youtube ændrer sig hele tiden og det kan være svært nogle gange, at hamle op med algoritmerne. Men bloggen vil altid være min platform, og kun min. Her er der ikke andre end mig der bestemmer hvilke posts der skal ligge øverst i mit feed, og skulle de førnævnte platforme engang dø ud (det sker jo nok ikke, men altså roll with me) så vil jeg altid have min blog. Giver det mening? Anyway, det er egentlig ikke så meget dét dagens indlæg skal handle om.
Klokken er næsten 10 lørdag morgen, jeg har stadig nattøj på og jeg sidder i sengen og kigger på regnen der siler ned udenfor. Morten er på drengeweekend, så det er bare mig og vores to pelsede babyer i dag. Oskar vækkede mig med kys og ville nusses på maven i morges allerede kl 7, så vi stod op, gik tur og kørte til bageren efter rundstykker. Noget jeg iøvrigt ikke har gjort længe, men havde virkelig lyst til at Skagenslap med ost, haha! Hvis du har lyst til at se hvad jeg ellers har lavet på det seneste, så læs med her.
Lately I have….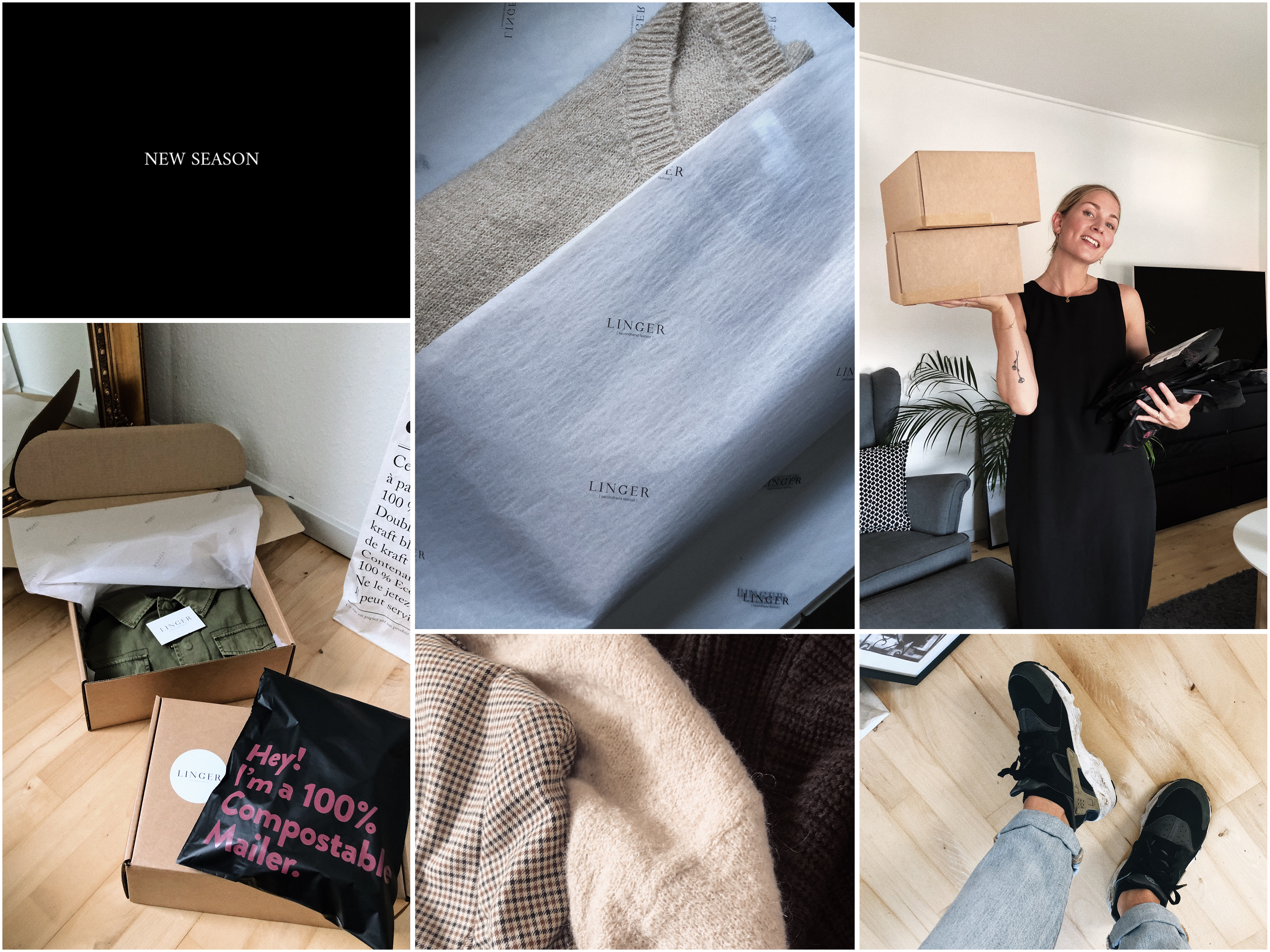 … been busy making my shop ready for fall, and I've also gotten some new, compostable mailers and custom silk tissues (gift from Noissue that makes sustainable packaging). I've also never had so many orders in such a short amount of time as these past few weeks, which is incredible.
…
… haft travlt med at gøre shoppen klar til efterår, og også fået nye, komposterbare mailers og silkepapir med logo (gave/sendt til test af Noissue der laver bæredygtig indpakning). Har iøvrigt aldrig fået så mange ordrer på så kort tid som de sidste par uger, hvilket er ret fantastisk.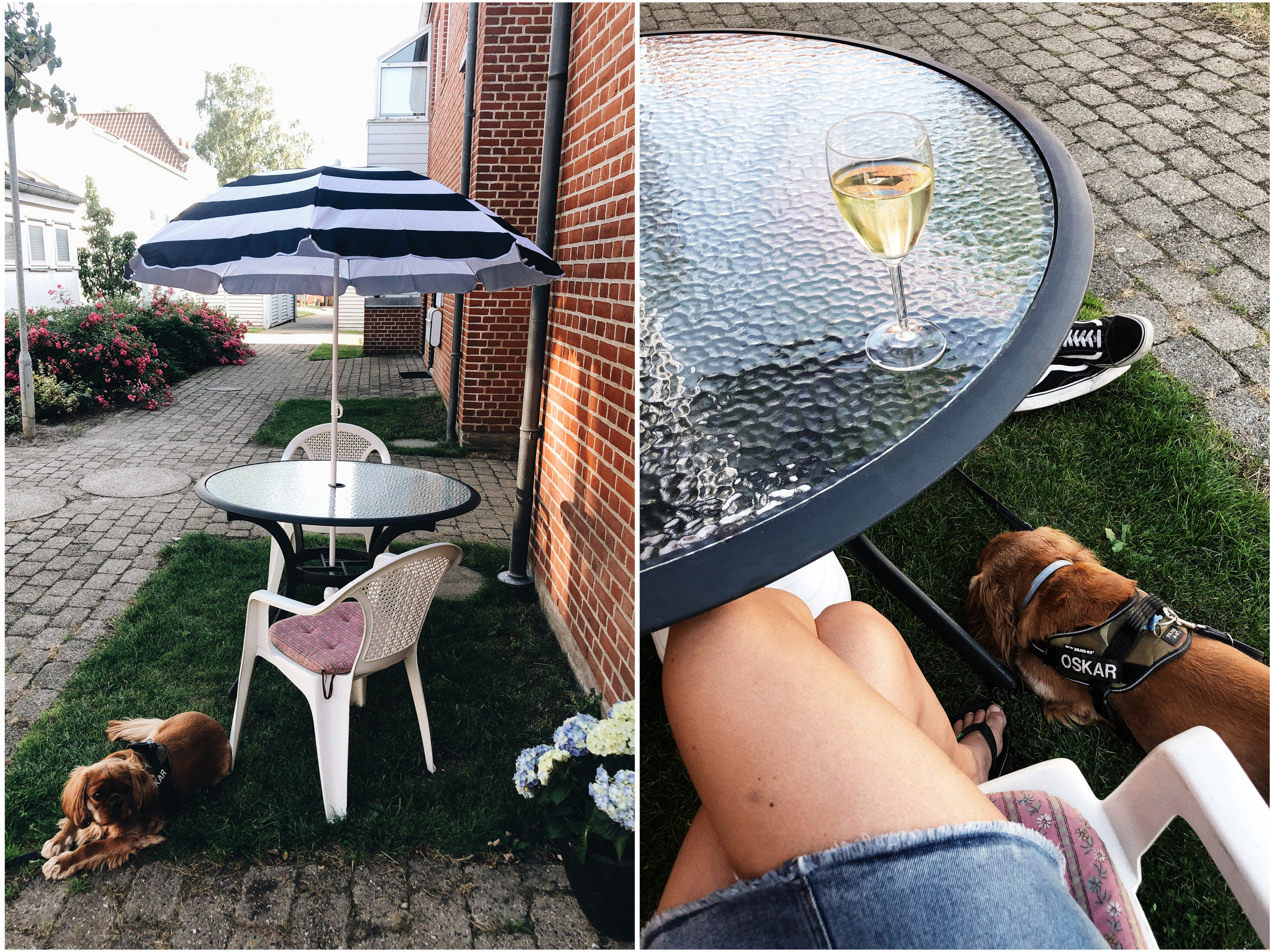 … been thrift hunting with my husband. We've been allowed to use this little spot of grass right outside the apartment as our "garden" if we mow the tiny lawn ourselves. I think we can manage, haha! We found these things in a local secondhand store (except the parasol). Since summer has disappeared and it won't stop raining, we've not been able to sit out there for a while though, which is such a shame.
…
… været på genbrugsjagt med manden. Vi har fået lov til, at holde "have" på denne lille græsplet lige udenfor lejligheden, mod at vi selv sørger for at klippe græsset. Det tror jeg lige vi kan klare, haha! Havesættet fandt vi iøvrigt i genbrug (på nær parasollen). Nu har sommeren dog taget en gevaldig drejning (det regner konstant jo), så de sidste uger har vi desværre slet ikke kunne bruge det.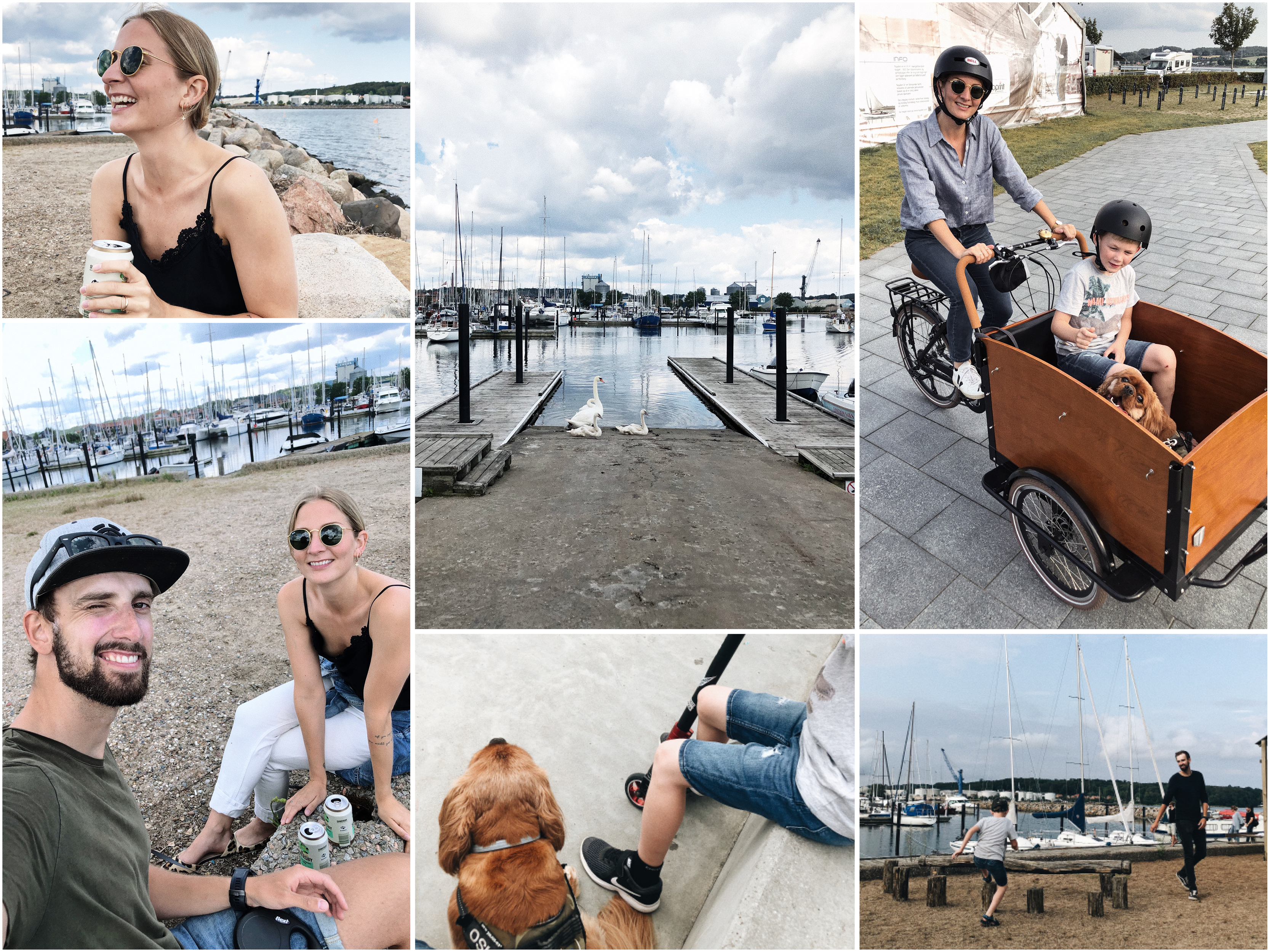 … we've been babysitting my nephew and been allover the city on our new cargo bike. We've been wanting one of these for ages so we can leave the car behind a little more often – whether it's for grocery shopping or going to the beach or the forest. It's so much fun and Oskar (and my nephew) loves riding that bike.
…
… passet min nevø og kørt byen tynd på vores nye ladcykel. Vi har længe ønsket os lige netop en ladcykel, så vi kan lade bilen stå noget oftere – hvad enten vi skal ud og handle eller en tur på stranden eller i skoven. Det er simpelthen så hyggeligt og Oskar (og min nevø) elsker at køre i den.
… hiding indoors because of the before mentioned rain, that's taken over the last bits of summer. Movie nights and danish pick'n'mix candy in bed, it wont be more hygge than that right?
…
… søgt ly (og hygge) indendøre på grund af den førnævnte regn, der har overtaget det sidste af sommeren. Film og bland-selv slik i sengen, så bliver det ikke ret meget bedre vel?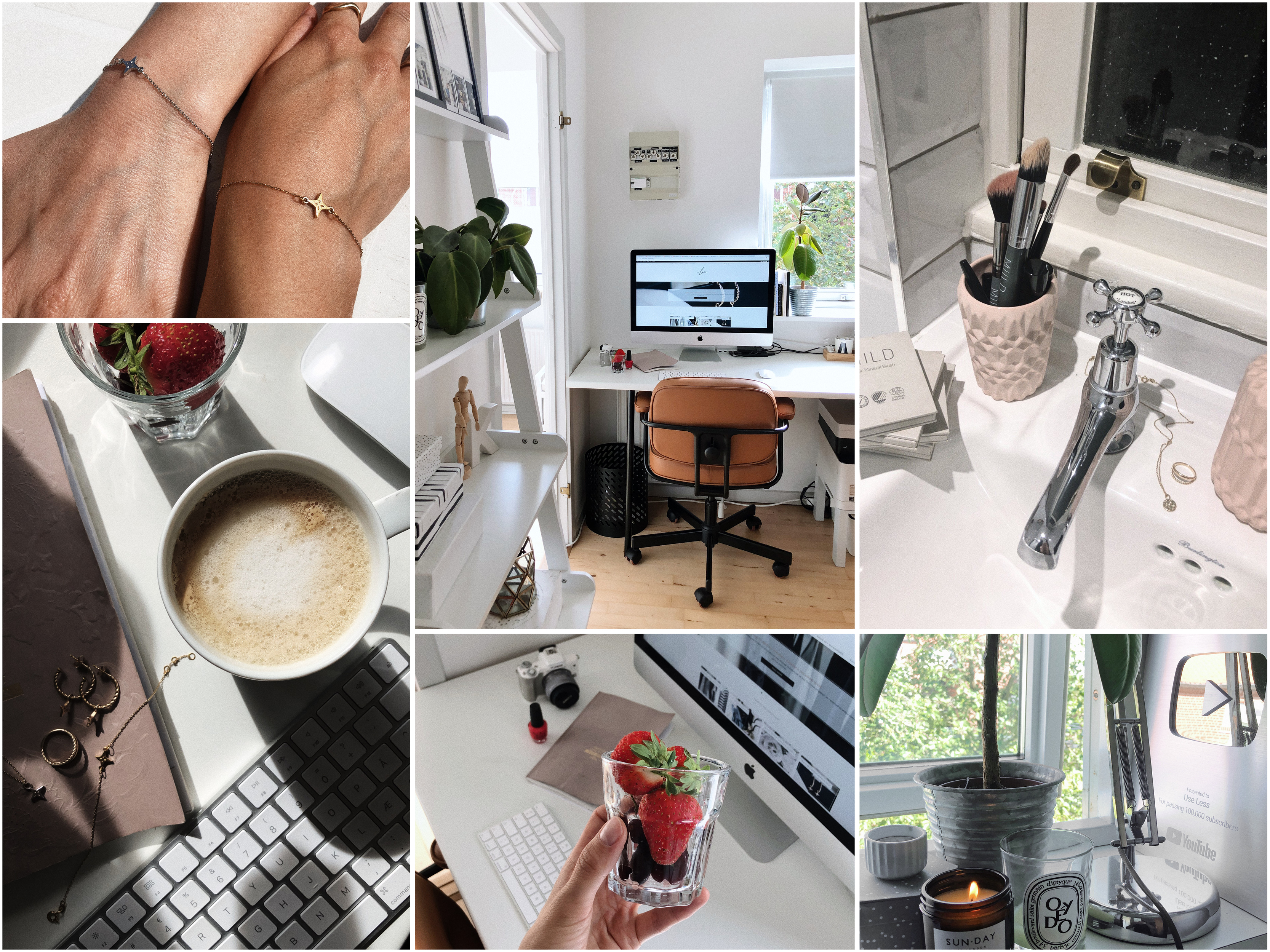 … been busy developing my jewelry brand Use Less Jewelry further. Both the existing collection, future designs and optimising/creating new layout for the webshop are some of the things we've been working on and I'm so excited! I've also made an Instagram profile for my jewelry, which is meant to not only inspire and showcase the designs, but in general it's a way for you guys to tune in on the entire universe that defines my collection. Find the profile HERE.
…
… haft travlt med, at videreudvikle på mit smykkebrand Use Less Jewelry. Både nuværende kollektion, fremtidige designs og optimering/nyt layout af webshop er blevet gennemgået og jeg er super spændt på det hele! Og så har jeg iøvrigt lavet en instagram profil kun til mine smykker, som skal inspirere, showcase smykkerne og i det hele taget bare invitere jer med ind i det univers, som definerer smykkerne. Find den HER.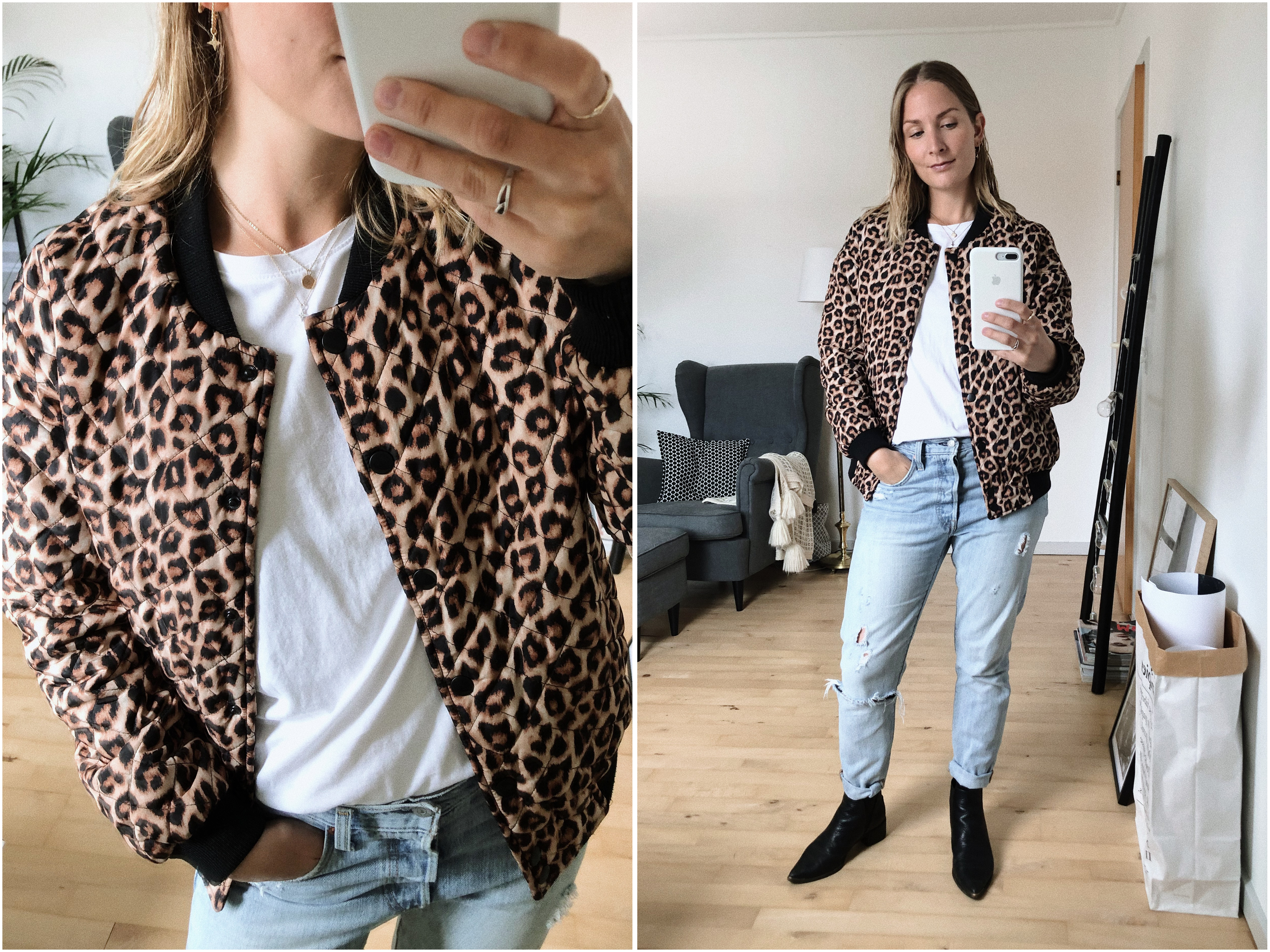 … found the coolest leopard bomber in a secondhand shop in Copenhagen recently. With that I'm slowly starting to get excited for the autumn season, not to mention building my autumn capsule. You can have a look at some of my autumn musthave staples right HERE.
…
… fundet den sejeste leopard bomber i en genbrug i København for nyligt. Med den er jeg også så småt begyndt at glæde mig til efteråret, og ikke mindst; at bygge min efterårs capsule. Få desuden mit bud på uundværlige (og tidløse) musthaves til efteråret lige HER.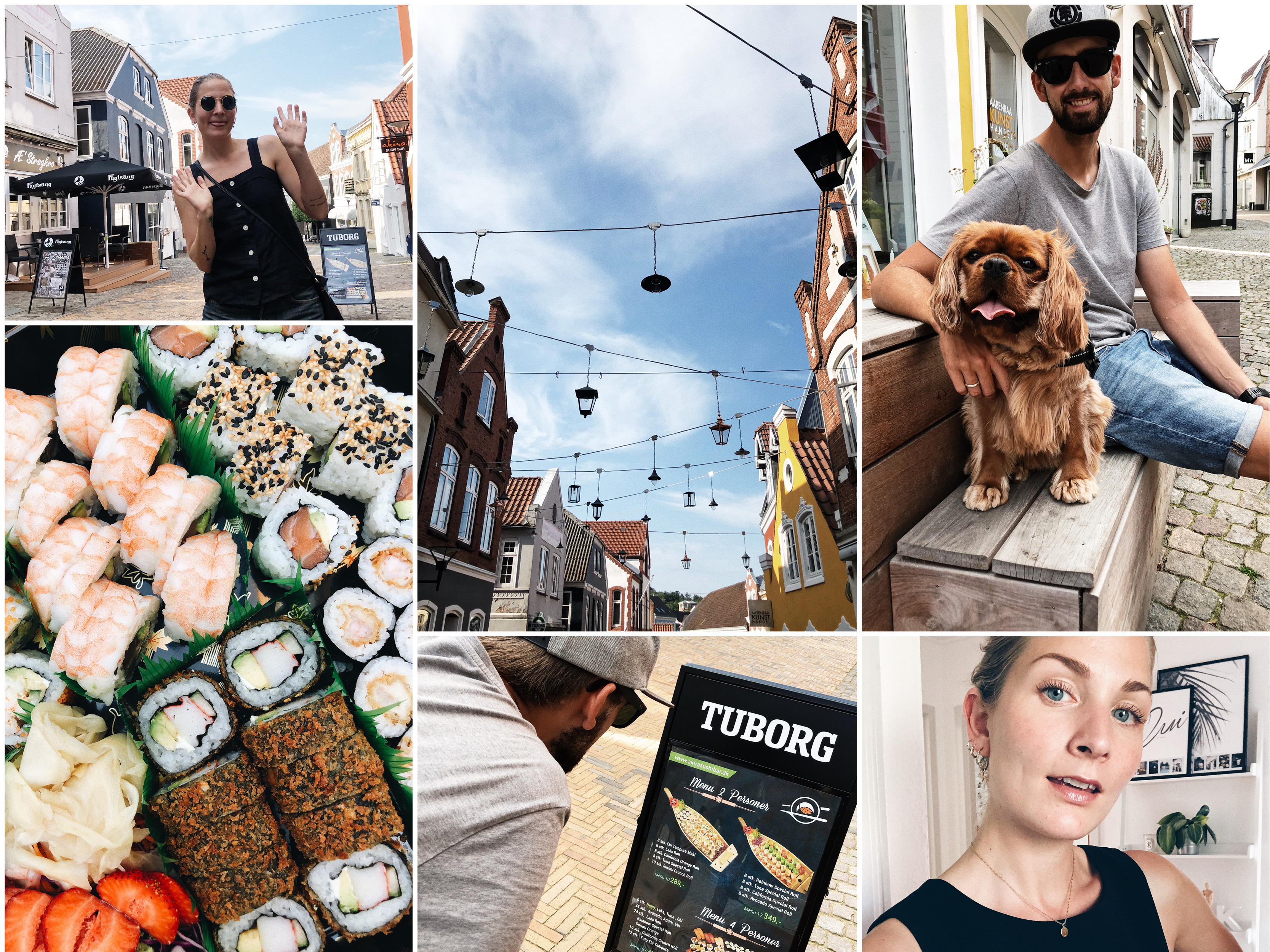 … been enjoying Aabenraa city and had sushi at the new sushi place Akira. We don't eat sushi that often but when we do – we do it well! Akira Sushi is so good, and I bet it won't be our last visit there.
Let me know if you guys would like more of these cozy throwbacks to what I've been up to lately. I sure enjoyed putting it together. There's no doubt that there's been a lot of time to relax and chill out, but lately my body has also been telling me to wind down even further more often – I've had several nights with lack of sleep (which is SO unlike me!). So I'm really working on reminding myself of all the little things I can do to wind down every day. Doing yoga, set my phone to silent and put it far away from me, breathing deeper, get some fresh air, spend time with friends and family. All those things that force me to put away my work for a while, something you have to learn to master when you're self-employed. The house hunt is also indeed still on, and it's really heavy right now because we've been so close a couple times, but ended up being disappointed. Searching for a house in the city sure is something else, and you have to move fast if something comes up. Don't get me wrong, we're happy and grateful that we have the apartment but to be honest we miss having our own place, a little more privacy and air around us, and a little more silence than what you have when you live right in the center of the city. I'm keeping my finger's crossed that the current house we're looking at will be ours! I'll keep you guys updated.
…
… nydt Aabenraa by og spist sushi på den nye sushi restaurant Akira. Vi spiser ikke sushi ret ofte, men når vi gør – så skal det gøres ordentligt! Akira Sushi er virkelig godt, og det bliver helt sikkert ikke vores sidste måltid der.
Lad mig endelig høre om I kunne tænke jer flere af disse små hyggelige indblik i min hverdag. Jeg synes ihvertfald det er ganske hyggeligt at se tilbage på. Der er ingen tvivl om at der har været masser af tid til afslapning og hygge, men min krop har også den seneste tid forsøgt at fortælle mig, at jeg skal huske at slappe lidt af – blandt andet har jeg haft flere nætter hvor jeg ikke har sovet så godt (hvilket er meget ulig mig). Så lige nu prøver jeg virkelig på at minde mig selv om ting som at dyrke yoga mere regelmæssigt, lægge min telefon langt væk på lydløs, huske at trække vejret, komme ud og få frisk luft så ofte som muligt, være sammen med venner/familie osv. Alle de der ting der gør at jeg slapper af, lægger arbejdet fra mig og får et pusterum for en stund, og noget man er nødt til konstant at øve sig i når man er selvstændig. Husjagten er også stadig igang, og den fylder rigtig meget lige p.t., fordi vi har været virkelig tæt på at få en handel igennem et par gange, men så er blevet skuffede. At kigge på hus i byen er noget helt andet, for det går sindssygt stærkt (selv i en mindre by som Aabenraa) og man skal generelt være lidt hurtigere på aftrækkeren. Vi er glade og taknemmelige for at vi har lejligheden, men ærligt så savner vi vores eget og generelt at have lidt mere privatliv og stilhed end hvad man har i en lejlighed midt i byen. Krydser fingre for, at det hus vi har i kikkerten lige nu bliver vores! Jeg skal ihvertfald nok holde jer opdaterede.
8