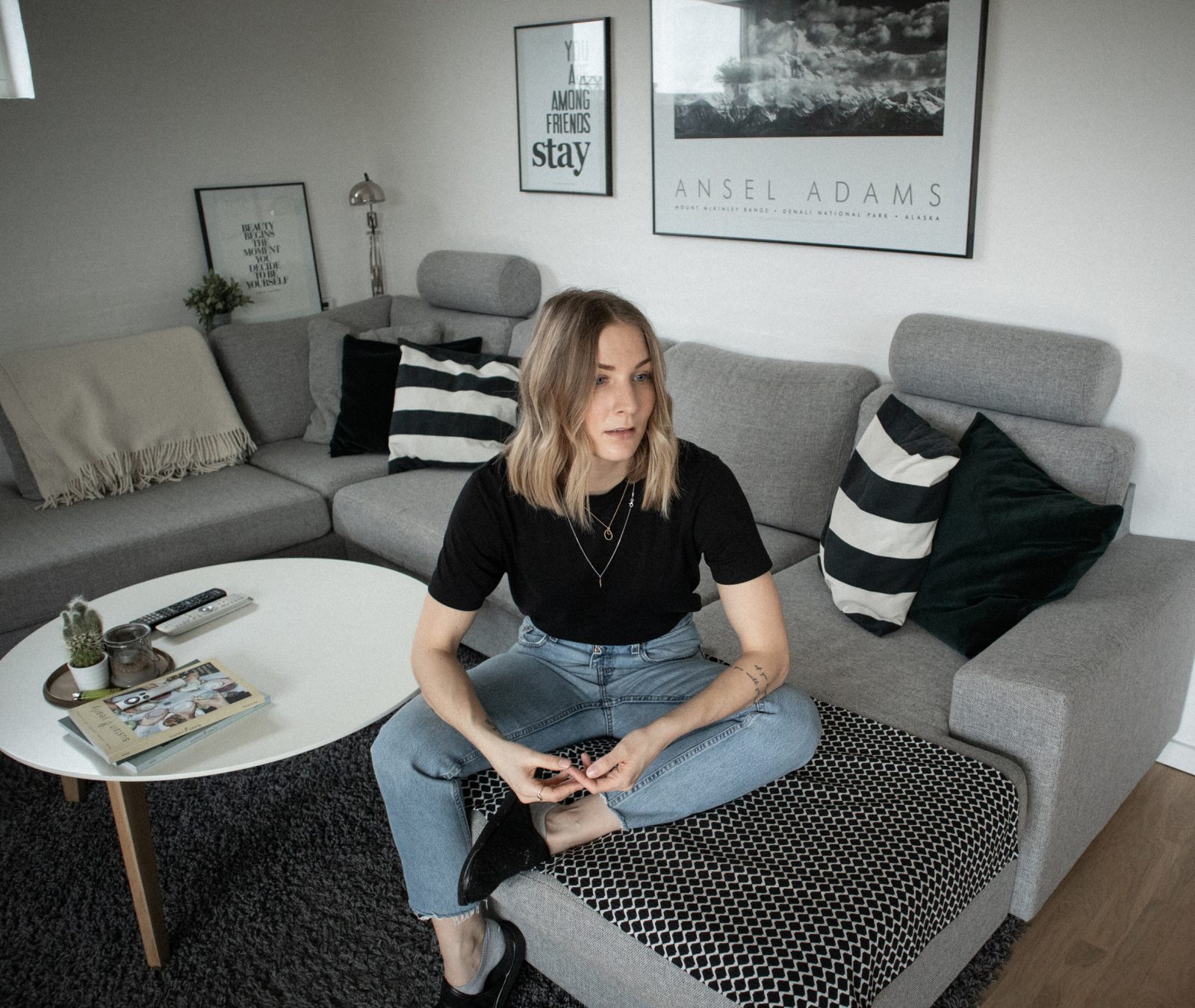 I don't hope you're already sick of all this talk about our upcoming move, but it's inevitably something my life evolves around right now. We sold our house just a couple weeks ago now, after having it for sale for about 4 months. The new owners will already be handed in the keys at May 1st, which from now is only a 1,5 months away. So we've had many things on the plate lately, all on top of different types of admin I've had to deal with becoming self-employed an all. Fortunately it's all starting to slow down now, so I thought I wanted to sit down and give you guys a little update on everything. Also share some thoughts on what it feels like having to compromise on slow living, a way of life I'm truly an advocate for, while everything has been so hectic. There's not been much slow living around here lately, I have to admit. I've been happy but super stressed out. I'm actually considering putting together a post with some of our most important experiences, now that we've bought and sold our first house just within four years. I have a feeling many of you guys would benefit from these experiences too, if you're thinking about buying your own first home too. 
Many of us are so busy, that we forget we actually have a choice in regards to how busy we want to be. We are in control of what we fill our lives with. This whole way of thinking is something I'm a huge advocate for. And it's also with this in mind, that I try to live as balanced a life as possible. My calendar should not be fully booked at all times, I can't function if it is. I like the thought of being able to drink a cup of coffee with a friend already tomorrow if I get the invitation. Or that I can easily suggest a date if there's someone I'd like to see or visit. I like being available, because I don't book things in months and months beforehand. So in a way I've been stressed out by being so stressed out. Does that make sense? I haven't had any air-holes in my calendar. Or maybe I have, but I haven't been able to benefit from them because I've been so filled up by other stuff mentally, that I haven't been able to fully relax.
…
Jeg håber ikke I er trætte af alt den her flyttesnak, men det er unægteligt noget som mit liv er rigtig præget af lige nu. Vi solgte vores hus for blot et par uger siden, efter at have haft det til salg i ca. 4 måneder. De nye ejere overtager det allerede den 1. maj, hvilket på nuværende tidspunk kun er halvanden måned væk. Så vi har virkelig skulle have mange bold i luften de sidste par uger, oveni at jeg også har skulle ordne alle mulige administrative sager i forbindelse med mit selvstændige arbejde. Heldigvis begynder det at stilne af nu det hele, så derfor tænkte jeg, at jeg lige ville give jer en lille update, og ikke mindst dele nogle tanker om, hvordan det føles at skulle give afkald på én af dine største livsværdier – slow living – mens det hele har stået så hektisk på. For der har sgu ikke været meget slow living over den her på det sidste, må jeg indrømme. Jeg har været glad, men jeg har også været super stresset. Faktisk overvejer jeg også at udgive et indlæg på et tidpunkt, med nogle af de vigtigste erfaringer vi har gjort os her efter at have købt og solgt vores første hus indenfor blot 4 år. Jeg tænker der sidder andre derude, som kunne drage rigtig meget nytte af det, måske inden de selv køber deres første hus eller lejlighed.
De fleste af os har så travlt, at vi glemmer vi selv kan bestemme hvor travlt vi egentlig gerne vil have. At vi faktisk har et valg, og selv kan bestemme hvad vi fylder vores liv med. Hele den tankegang er jeg så stor tilhænger af. Og det er også sådan jeg forsøger at indrette min hverdag det meste af tiden. Min kalender skal ikke være propfuld af aftaler eller to-do's konstant. Jeg kan godt lide tanken om for det meste, at være til rådighed hvis en veninde spørger, om vi skal drikke en kop kaffe i morgen. Eller at jeg med det samme kan foreslå en dato, hvis der er nogen jeg gerne vil se. Så på en måde har jeg også stresset over netop at være så stresset. Giver det mening? Jeg har slet ikke haft de der pusterum i min kalender. Eller det har jeg måske, men der har ligget så mange uforløste sager og rodet rundt i min underbevidsthed, at jeg slet ikke har kunnet slappe rigtigt af.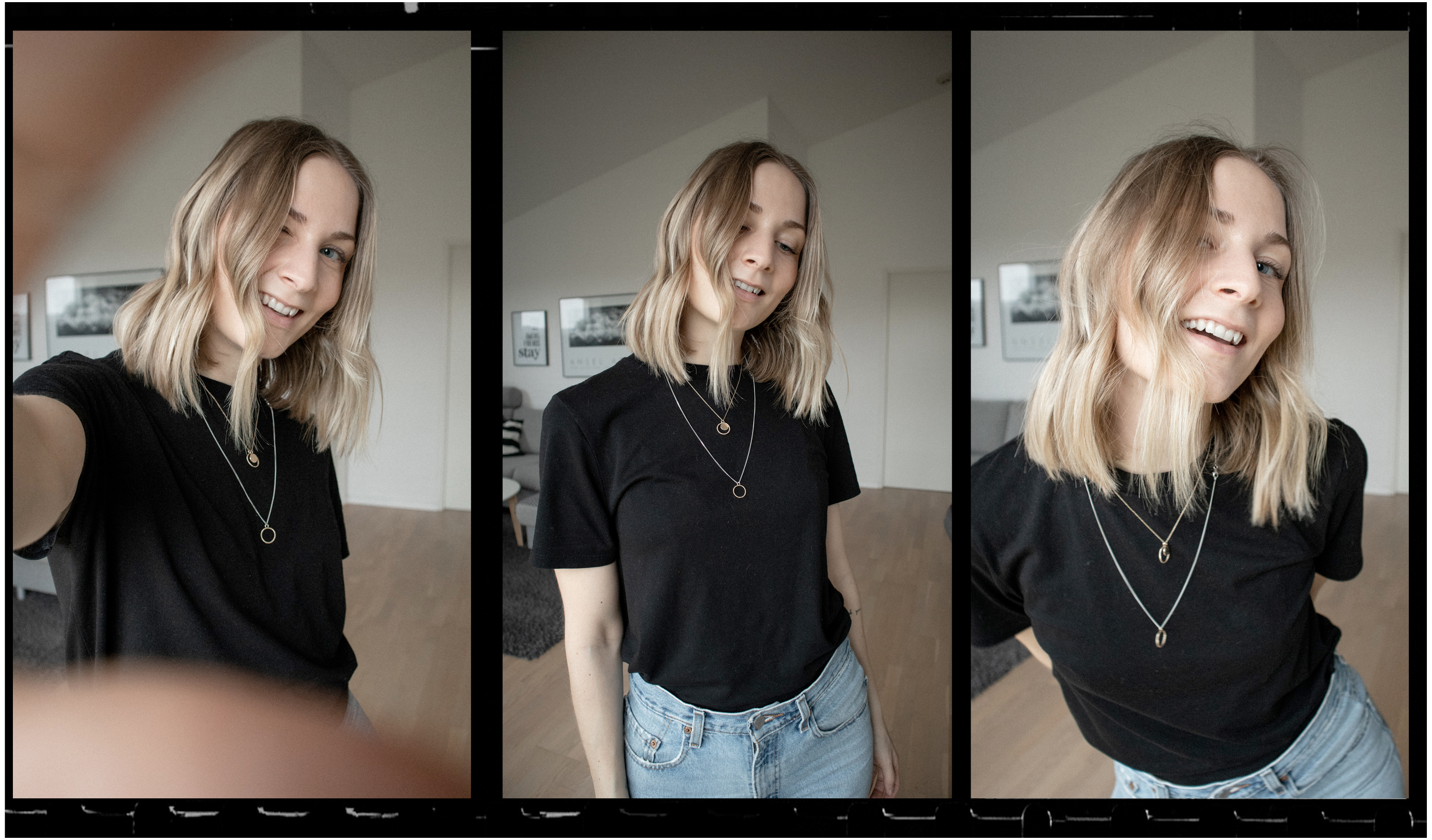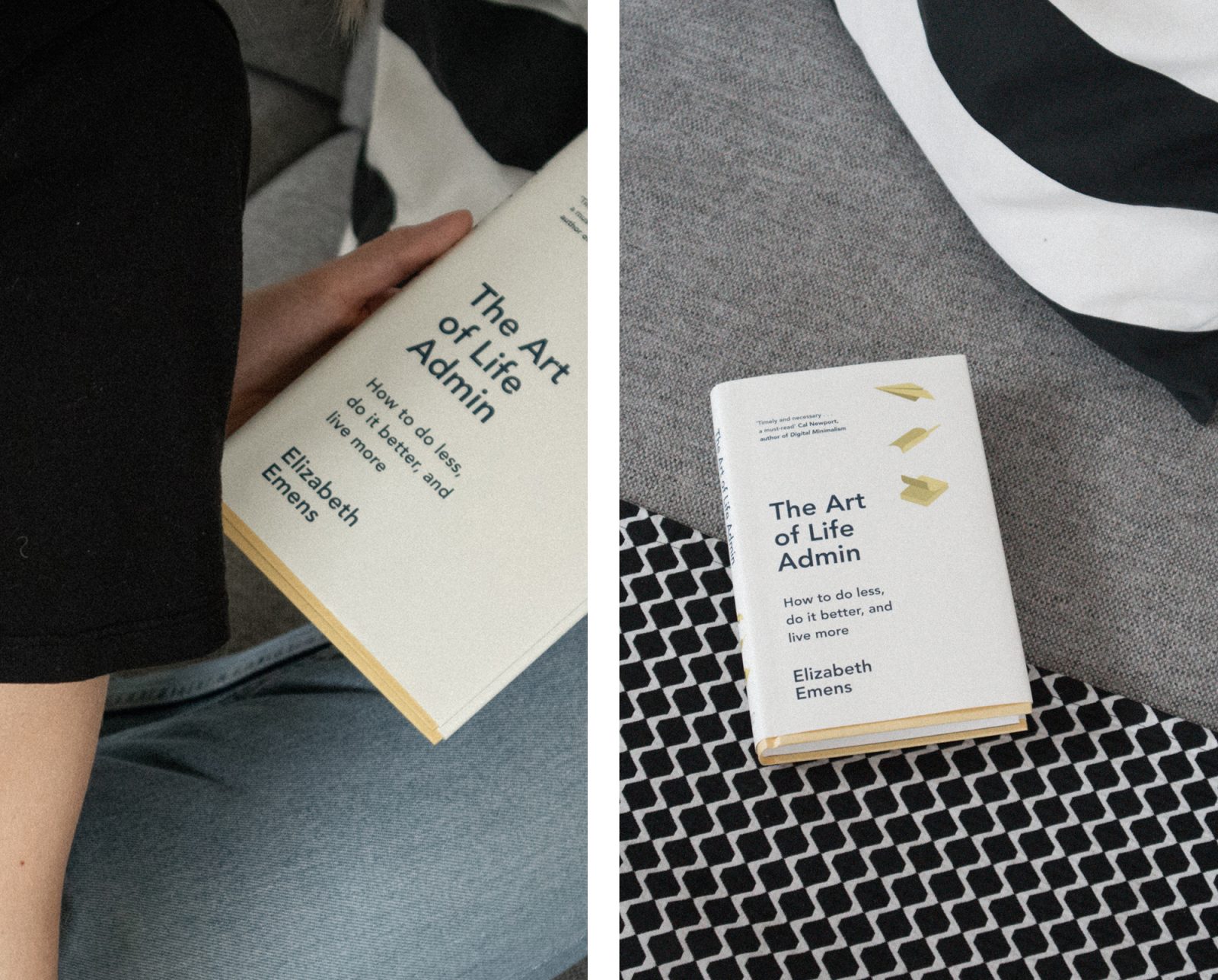 Currently reading (quite suitable for my life right now too): The art of life admin by Elizabeth Emens
Regarding our living situation, it's finally beginning to settle for now. We've been offered an apartment in our hometown Aabenraa just 30 mins north of the German border, which is also where we have been looking for a house. We knew that we would probably have to go back to living in an apartment temporarily, because we still haven't found the house and we don't want to make any rushed decisions. It has to be right this time. Alone the time it takes before you can typically takeover a house is usually around 2-3 months in Denmark, and if you think about the fact that we have to be out of our current house in only 1,5 months it figures that we won't be able to find a new house in that short amount of time. So an apartment was necessary. Luckily the apartment that we've been offered seems to be exactly what we need for now. It's 88 sqm which is of course much less than the 170 we come from. I have my own webshop and work from home a lot of the time, so I do need space. Fortunately for me I can rent a small office just around the corner from the apartment basically (if I even need it), and quite affordably too so I'll be alright. 88 is still a fair amount of space for an apartment, don't get me wrong – and it is utilized quite well too. We're also able to have both of our furbabies there, and they will have easy access to quiet, green areas from our own private stairwell. So it seems as though we can pick up on our life exactly the way we've been used to all along when we move, without having to compromise a whole lot. And that's such a comforting thought, because it's going to be something else moving from a house to an apartment for sure.
We're actually starting to get excited about the move now. We've been feeling a bit overwhelmed about it lately, because after all this has been our home for the past 4 years. We thought we were going to live here for many years to come, but then we simply found out that the location was way off for us. If we could just bring the house back to the city we would, because that's the part that makes it so tough. All the memories we have here now, which takes a long time to regain in a new place. All the memories made within these four walls, that make a home feel like home. But we're trying to focus on the fact that we'll actually be more or less back in the city within just a couple of weeks. We will get the keys to the apartment already by the 1st of April, which is kind of crazy to think about. This also means that we can take the moving of all our stuff rather slowly, because there's an entire month between getting the keys to the new place handed over and when we have to be out of the house. So we can take a few boxes with us here and there whenever we drive down to the city anyway, and we have lots of time to figure out which of our furniture we'll have room for and which we have to store (and where), until we've found the right house. Maybe we can even spend a night on a mattress in the new place and eat takeaway from the floor. How cozy would that be? Reminds me of when you had to move away from home the first time, haha! Speaking of packing, we're not too worried about that. As you know we did a rather thorough Konmari on our entire home a couple years ago, so most of our belongings should be really easy to pack. Not much needed to declutter really. 
…
I forhold til vores boligsituation, så er der endelig ved at komme lidt ro på lige foreløbigt. Vi har nemlig søgt, og også fået tildelt en lejlighed i vores hjemby Aabenraa, hvor vi også søger efter et nyt hus. Vi vidste godt, at vi nok skulle tilbage i en lejlighed midlertidigt, for vi har stadig ikke fundet huset og vi vil ikke forhaste os. Det skal være det helt rigtige denne gang. Alene overtagelses-tid på et hus tager typisk minimum 2-3 måneder, og hvis man har i mente at vi skal være ude herfra om 1,5 måned, ja så giver det sig selv. Heldigvis kunne den lejlighed vi har fået tilbudt ikke (umiddelbart) være mere perfekt. Den er 88 kvm, hvilket selvfølgelig er en del mindre end de 170 vi bor i i dag. Nu driver jeg jo selvstændig virksomhed, og har brug for plads især til min webshop så det bliver en udfordring. Men jeg kan heldigvis leje et billigt iværksætterlokale lige rundt om hjørnet, så er sikker på det hele nok skal gå lige i dén forbindelse. Lejligheden har stadig en pæn størrelse, pladsen er fint udnyttet, og vi må have begge dyr boende, der let kan komme til grønne områder fra lejligheden gennem vores egen lille trappeopgang. Så det lader til, at trods mindre plads så vil vi kunne fortsætte vores liv som vi plejer. Vi kommer ikke til at skulle gå helt vildt meget på kompromis. Og det er dejligt at vide, for det er da noget af en omvæltning at skulle gå fra sit eget hus tilbage til en lejlighed igen.
Faktisk begynder vi lidt at glæde os til, at skulle flytte nu. Vi har begge haft lidt ondt i maven over det, for det her har jo været vores hjem i 4 år. Vi troede vi skulle bo her i mange år, men fandt bare ud af beliggenheden var helt off for os. Hvis vi kunne tage huset med os så gjorde vi det, for det er helt klart dén del, som gør ondt. Alle de dejlige stunder vi har haft her, og alle minderne som det tager lang tid, at genopbygge i et nyt hjem. Og som skal være der før det nye hjem også føles som hjem. Men vi prøver at fokusere på, at vi faktisk kommer tilbage til byen allerede om blot et par uger, og vi får dermed alle de ting vi har savnet her hvor vi bor nu, tilbage lige om lidt. Den lejlighed vi har fået tildelt er med overtagelse allerede 1. april, hvilket kun er et par uger væk! Det er helt crazy at tænke på. Det betyder også at vi kan tage flytningen rimelig stille og roligt, da de nye ejere af huset jo først officielt overtager det den 1. maj. Så vi kan begynde at pakke huset ned, og køre ned med kasser løbende når vi alligevel skal til ned byen. Finde ud af hvilke møbler der er plads til og hvilke der skal opbevares (og hvor), indtil vi har fundet det rigtige hus. Måske tage en nat på en madras i den nye lejlighed og spise pizza på gulvet. Det kunne jo være sygt hyggeligt, og det tager mig lidt tilbage til første gang man flyttede hjemmefra, haha! Apropros det med at pakke, så er vi ikke så nervøse for det. Som I husker lavede vi en ordentlig omgang Konmari på huset for et par år siden, og det meste skulle være lige til at pakke ned. Det er begrænset hvad der sådan skal ryddes op i.
Once we're settled in the apartment it will also become way easier for us, to pick back up on the house hunt in a more mindful way. We wont have to worry about not having a place to live soon (and get influenced by that), and we won't have to spend lots of extra time driving back and forth just to see a house. We'll be right in the area already. We can stay in the apartment as long as needed, until the right house is found. Of course it's already now kind of stressful, knowing that we're moving now only to move again sometime within the next year, but we'll take one day at a time now. Make the new place feel cozy and homy, and also enjoy the fact that just for an amount of time we don't have to worry about the garden, cleaning the windows or other stuff you need to be fully in charge of when you are a homeowner… 😉 We can be a bit more chill about it all, maybe save up some more money and just get our shizz together again. Enjoy the fact that we'll be back in the city which is initially the first and most important step anyway. The city is still small btw – it's not a huge city like London at all, but it has everything you need there which is way more than you can say about the city we live in now. Plus many of our friends are there too. The house hunt is in itself super tiring (exciting too of course), but all the papers you need to sign and review, the contact with the bank, lawyer, real estate agents…  it's going to be nice to get some of that type of admin out of the way for now (speaking of that book mentioned before). Well, all that is connected to the takeover of our current house anyway, but getting all that done and overwith will also take some stress away from looking for the next house.
I actually also wanted to ask you guys, if you'd like me to do more self-employed related content? It's all a process and I know I "only" have a couple years experience as partly self-employed/partly employed by a company, but I'd love to share my ups and downs with you, along with giving you my best tips and experiences along the way. Maybe we could dedicate an entire category called "life as self-employed" in here, where we can discuss these things. Let me know what you think!
…
Når vi er landet i lejligheden så bliver det også nemmere for os, at tage husjagten stille og roligt. Så har vi tag over hovedet og vi bor i samme by, som vi leder efter hus i og skal derfor ikke bruge en masse tid på kørsel frem og tilbage. Og vi behøver ikke lade os påvirke af, at vi lige om lidt ikke har noget sted at bo, som nu. For lejligheden, den kan vi jo bo i så længe vi vil. Det er selvfølgelig lidt hårdt at tænke på, at vi så højst sandsynligt skal flytte igen inden for det næste års tid, men nu må vi tage en dag af gangen. Gøre det så hyggeligt vi kan det nye sted, og nyde at vi for en rum tid ikke selv skal passe haven, pudse vinduer, renser fliser eller nogle af de andre ting man jo helt selv står for når man bor i hus… 😉 Vi kan tage det lidt mere stille og roligt, få sparet nogle penge op og ja – få lidt styr på gemytterne igen. Nyde at vi i første omgang ihvertfald er tilbage i byen, og det er første skridt. Husjagten i sig selv er enormt drænende (også spændende selvfølgelig), men selve processen både i forbindelse med køb og salg er også virkelig tung at komme igennem. Alle de papirer der skal læses, underskrives og tages stilling til, kontakt med bank og advokat, tilstandsrapporter, mæglere…. det bliver altså rart, at få den type admin lidt på afstand (apropros den bog jeg er ved at læse). Altså ihvertfald selve overdragelsen af vores hus og så flytningen vil jo gøre den fortløbende husjagt lidt lettere, tænker jeg.
Jeg ville faktisk også gerne spørge, om I kunne tænke jer flere gode råd omkring dét, at være selvstændig/iværksætter? Det er jo en proces altsammen og jeg har "kun" et par års erfaring som halvt selvstændig/halvt ansat, men jeg deler gerne mine op- og nedture og deler også gerne ud af de erfaringer jeg gør mig hen ad vejen. Måske vi kunne lave en "life as self-employed" kategori herinde, hvor vi kan diskutere de her ting. Lad mig endelig vide hvad I tænker!
17