I've been wanting to write this post for quite a while, but I just didn't really want to publish it before everything was settled. My husband and I are selling our house, to move back to the city. It's been so tough making this decision, because we absolutely love everything about the house we live in now. We love the neighbourhood and we feel safe in this place where we've lived for the past 3,5 years. We live in a small suburb to the Danish city Haderslev just above the German border, and before that we had a couple years together in the beautiful Danish city Aarhus. The last few years many of our friends have started to come back to our hometown Aabenraa, which is even closer to the German border than where we live now, after finishing their studies like us. We've known all along that we would probably leave Aarhus at some point, to move closer to our family and friends down here though, and when we stumbled upon the house we live in now we just knew this was the place for us. So we didn't move completely back home, because the suburb we live in is a nearly 30 minute drive back to our hometown and there's not really anything to do here for young people. We knew at the time, that it was gonna require some getting used to – especially the fact that we wouldn't be able to just hop on our bikes and drive own to a nearby café to get brunch or a cup of coffee; one of life's little pleasures for us. We have everything we need in terms of daily grocery shopping, but then that's pretty much it. At the time we didn't think this habituation would become any problem for us, because we were so fed up with our old tiny 44 squaremeter apartment and we just wanted to get out of there. We were pretty sure that we wouldn't miss the city noise and pulse because hey, we were gonna live in our dream house!
…
Dette indlæg har været længe undervejs, men jeg har bare ikke villet fortælle jer om det før det var endeligt besluttet. Min mand og jeg har sat vores hus til salg, og vil flytte tilbage til byen. Det har været så svær en beslutning at tage, da vi elsker alt ved det hus vi bor i nu. Vi er glade for nabolaget og føler os trygge og godt tilpas her hvor vi nu har boet de sidste 3,5 år. Vi bor i en lille forstad til den Sønderjyske by Haderslev, og forinden da boede vi nogle år i dejlige Århus. Vi kommer begge oprindeligt nede fra Aabenraa området (ca. 20 km nord for den tyske grænse), og de sidste par år er mange af vores venner begyndt at flytte hjem igen, efter at have været bosat i de større byer for at læse. Vi vidste begge to da vi boede i Århus, at vi på et eller andet tidspunkt ville flytte "hjem" igen når vi var færdige med at læse, og da vi begyndte at kigge på hus og altså siden faldt over det hus vi bor i nu, så var vi bare solgt. Så helt hjem flyttede vi ikke, for det hus vi forelskede os i ligger bare lidt længere ude på landet og lidt mere afskærmet fra den by vi kommer fra. Vi vidste godt allerede dengang, at det ville kræve noget tilvænning det dér med, at bo lidt længere ude på landet. Vi ville ikke længere bare kunne cykle ned i byen og drikke en kop kaffe eller mødes med vores venner (én af livets små glæder for os), men ville skulle starte bilen og køre minimum 20-30 minutter hvis vi ville noget i den retning, fordi der bare ikke rigtig er nogen form for byliv her. Der er hvad man skal bruge her af indkøbsmuligheder i hverdagen, men heller ikke ret meget mere. På daværende tidspunkt var vi dog begge stensikre på, at den tilvænning ikke ville blive noget problem. Vi var trætte af at bo i vores lille 44 kvm2 lejlighed i Århus V og ville bare væk fra støjen og balladen. Vi var stensikre på vi godt kunne undvære bylivets summen, for hey – nu ville vi jo flytte ind i vores drømmehus!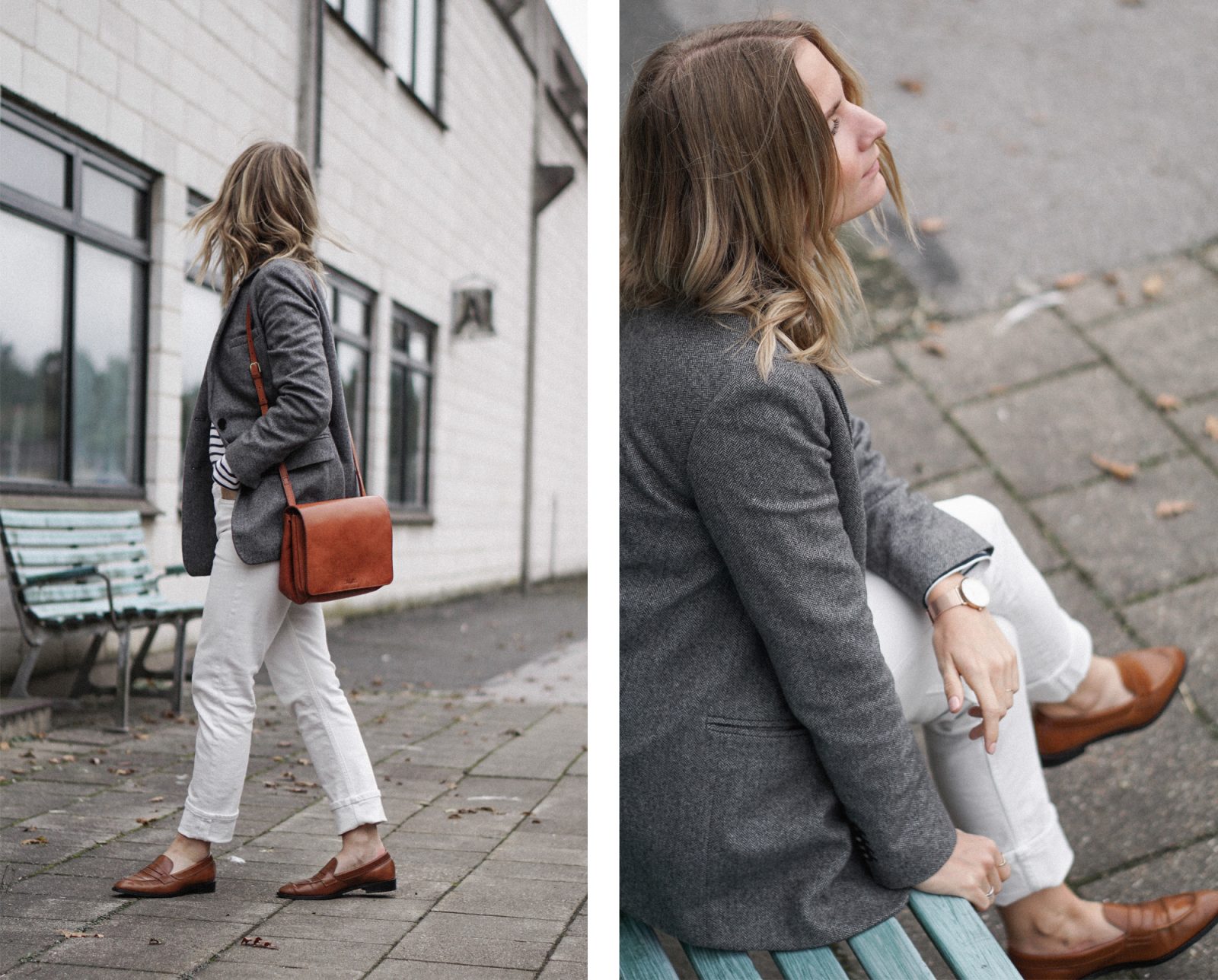 (contains adlinks) / blazer, top, jeans & shoes – Everlane / bag – Omybag Amsterdam / watch – Nordgreen
So back in spring during our Easter break, it hit me how much I miss the city life. We had a lovely long Easter break, you know one of those breaks where we didn't plan a single thing at all, which was nice to begin with. But it also made me realize how shielded I've felt the years wev'e been living here. I was sad and lazy all throughout that break and to begin with I didn't really understand why. So this depressive mood I was in naturally caused some conversations that we didn't have before. So we started talking about maybe selling the house and move back home to ou home town, but also in general just growing up. I don't know about you guys but personally I get struckby a feeling of panic in terms of growing up sometimes. Probably what you'd call a mid/late 20s crisis, which many women especially seems to get struck by at some point. All this pressure about having a plan, get an education, a wellpaid job and have kids all in a natural order and before you hit 30 can really stress you out. And even for someone like me who is actually pretty fond of peace and quiet, I've just come to the conclusion that where we live now is maybe a bit too quiet. And during that particular Easter break I mentioned before, the restlessness just got too much for me.
I've changed so much during the 3 years we've lived here – I've become self-employed, become more clarified about who I am and in generel I've just developed so much more courage to explore life and take some chances. In reality this is probably just what it feels like to grow up and become what you'd consider an "adult", but not matter what it's made me realize that I no longer have the need or desire to live somewhere far away in hiding. Sometimes we've even talked about the possibility of moving to a foreign country even just for a short period (fx London or Amsterdam) but for now, it remains a dream. But it says something about how far I've come personally these past few years. I have more courage and I'm more open to life's possibilities; especially the possibilities my blog and my Youtube channel has brought me the past few years. 
…
I påskeferien i år gik det dog pludselig op for mig, hvor meget jeg alligevel savner bylivet. Vi havde en dejlig lang påske, men også én af den slags hvor vi slet ikke havde nogle planer. De mange dage herhjemme fik mig pludselig til at indse, hvor afskærmet jeg har følt mig i de år vi har boet her. Jeg var ked af det hele den ferie og i lang tid efter gik jeg og grublede over, hvad det var der gik mig på. Min lille nedtur gjorde at vi fik åbnet op for nogle ting, som vi måske slet ikke havde tænkt over og fået talt om. Ikke kun scenariet om måske at sælge huset og flytte tilbage til vores hjemby, men også bare alt det her med at blive "voksen". Jeg ved ikke med jer, men personligt kan jeg godt blive ramt af en smule panik til tider. Nok en form for midt/sen 20'er krise, som flere især unge kvinder rammes af. Presset om at skulle have en plan, få sig en uddannelse, et fast job og få børn, altsammen i en bestemt rækkefølge og helst inden man bliver 30. Men selv for sådan én som mig der elsker fred og ro, så har jeg bare måttet erkende at vores nuværende bopæl bliver mig en tand for stille. Og i lige netop dén påskeferie flød bægeret bare over af rastløshed.
Jeg har ændret mig meget bare på de 3 år vi har boet her – jeg er blevet selvstændig, er blevet mere afklaret med mig selv og den jeg er, og har generelt bare fået mere mod på livet. I bund og grund er jeg vel blevet mere voksen, men i hvertfald har det bevirket, at jeg ikke længere har behovet for at bo ude på landet og "gemme" mig. Somme tider har vi da også talt om muligheden for, at flytte til udlandet (fx London eller Amsterdam) og bo en periode, men jeg tror det bliver ved drømmen for nu. Men det sætter ihvertfald tingene lidt i perspektiv, og det fortæller lidt om hvor meget jeg har rykket mig de sidste par år. Jeg er blevet mere modig, og åben overfor mine muligheder; især de muligheder der de sidste par år har budt sig, i takt med at min blog og min Youtube kanal er vokset så meget.
Now our hometown Aabenraa is no way near as being as cool as London, Amsterdam or Aarhus even – and if you're not from around, you probably wonder why we want to live there. It's not a "hip" city but it is where we come from and we feel at home there. The city has lots of possibilities, cafés, shops (and soon maybe even street food, I've heard), a beach and forests, schools and different educations – everything that makes sense to have within reach especially if you have kids. And then it's close to Europe as our real estate agent likes to say. Kinda corny but still true. I love European holidays, and this summer we even dove to Italy ourselves. So in that sense the city has a perfect placement, because I'd love for us to go on even more Eurotrips in the future!
I've already talked to some of my friends about starting a few traditions when we move back. Things like getting together every year before Christmas or just in general during yearly activities held in the city. Suburban life that can actually be pretty fun (and probably sounds really dull if you're not from around, haha!), because you run into people you went to school with or just used to hang out with. I totally get that feeling of wanting to just get away, and I still have this urge sometimes. Again, I even dream about moving to another country sometimes too. But I've also realized that there's quite the amount of value in just feeling at home. Life in the country has shown not to be the thing for me in any case! The real house is important sure, but being able to get out and be surrounded by life and possibilities has just shown to be more important for us. So if that means having to compromise a bit for an older and maybe even smaller house, then that's fine. There's just too much more to life!
…
Nu er Aabenraa langt fra hverken London, Amsterdam eller Århus for den sags skyld – og hvis man ikke kommer fra byen kan jeg sagtens forstå folk rynker på næsen, og undrer sig over hvad vi dog vil lave dér. Det er ikke som sådan en "hip" by, men det er der vi kommer fra og det er der vi føler os hjemme. Der er caféer, gågade (og måske endda snart street food, har jeg hørt), både strand og skov, uddannelsesmuligheder for både børn og voksne – og alt hvad der giver mening at have inden for rækkevidde hvis man har børn, af institutioner og aktiviteter. Og så er det dejlig tæt på Europa, som vores ejendomsmægler også siger. Lidt plat, men også bare sandt. Jeg er kæmpe fan af ferie i de Europæiske storbyer, og i sommers kørte vi da også selv til Italien. Så lige på dét punkt ligger byen altså helt perfekt, for det kunne jeg sagtens se os gøre endnu oftere!
Jeg har allerede talt med et par veninder om, hvor dejligt det kunne være at starte nogle traditioner, når vi flytter tilbage til byen. Sådan nogle ting, som at mødes hvert år i forbindelse med byfester eller julefrokoster. Sådan noget rigtig provins-agtigt noget, som bare er mega hyggeligt og sjovt (og sikkert vildt nederen hvis man kommer udefra og ikke kender nogen, haha!), fordi man render ind i mange af éns helt gamle venner og veninder og ligesom kan genopleve en tidslomme, som ellers bare går i glemmebogen. Jeg rammes selv nogle gange af denne trang til at komme væk, og igen så drømmer jeg nogle gange om, at prøve at bo i udlandet en periode. Men der er virkelig også bare meget værdi i, bare at føle sig hjemme det sted hvor man nu engang bor. Livet for langt ude på landet er ihvertfald ikke noget for mig, så meget klogere er jeg blevet! Det rigtige hus er vigtigt ja, men værdien i at kunne komme ud og opleve noget har vist sig, at være endnu vigtigere for os. Så hvis det betyder at vi er nødt til at finde os et lidt ældre og måske endda mindre hus, så er det sådan det er. Der er bare mere i livet end dét!

1