White tee & underwear gifted by Organic Basics. Post contains adlinks denoted by a *
A while back I made this guide, with tips on styling up your loungewear with everyday wear. So hands-on styling tips on how to rock your loungewear and be all comfy at home, but at the same time be able to run errands and still look chic. But I never came around to making an actual overview, and I know you guys do like a good, visual overview (as do I). It's based upon the loungewear essentials I have in my own wardrobe, but it's also meant as inspiration on a generally good place to start, if you're building one yourself.
You guys know that most of my outfits are based upon my all-year basic wardrobe in one way or the other, so I have all these little sections (or capsules) circling around that. In that way I have a more fluid approach to the whole capsule wardrobe system, but at the same time I keep the amount of new purchases (especially those that won't serve me or that I'll only wear once) on a minimum, and the overall structure in my wardrobe is easy to keep up with. You can learn more about how I've structured my closet into these small sections in one of my wardrobe tours here or here (the ladder is specifically great for those of you with smaller closets).
…
For noget tid siden lavede jeg denne guide, med tips til "hverdags-agtigt" hyggetøj. Så konkrete styling tips i forhold til det her med, at kombinere dit loungewear med hverdagstøj, sådan at du både kan hygge rundt derhjemme i det men også smutte en tur ud i byen, uden at ligne én der lige er stået ud af sengen. Men jeg fik aldrig delt en decideret oversigt over mine basisfavoritter. Både de favoritter jeg har i min egen loungewear capsule, men også de favoritter jeg generelt mener, er et godt sted at starte.
I ved at de fleste af mine outfits udspringer af min helårs basis garderobe, og rundt om den har jeg så disse små sektioner (eller capsules). Det gør at jeg kan bevæge mig lidt mere frit i min garderobe, men samtidig holder jeg mængden af nye køb på et lavt niveau (især den type som viser sig slet ikke at være mig, og som jeg derfor kun går i én gang) og jeg synes strukturen i min garderobe er nem at opretholde. Du kan lære mere om hvordan jeg har delt min garderobe op rent fysisk i disse sektioner, i én af mine wardrobe tours her eller her (sidstnævnte er især idéel til dig med trang skabsplads).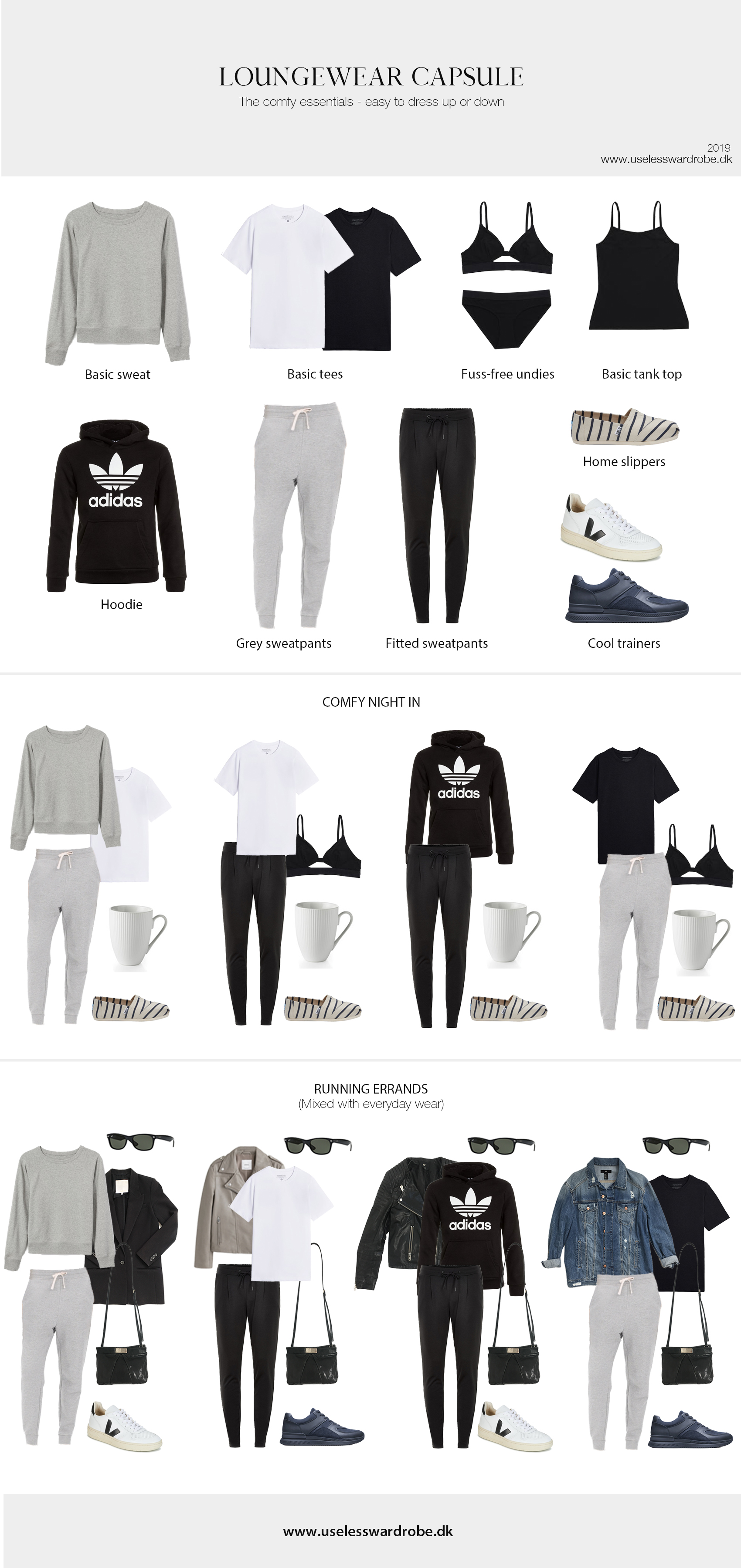 Similar options (adlinks)
hoodie / grey crewneck sweater / tee / undies / tanktop / grey sweatpants / fitted sweatpants
/ white sneaks / navy blue sneaks / striped homeslippers
Good quality that's easy to maintain
The way I add items to my loungewear capsule is often by downgrading everyday wear. So if there's something from my basic wardrobe I tend to not really use anymore (specifically soft tees, jumpers or tops), and if it's stained or has holes that can't be mended, I'll then downgrade it further into practical wear. You know, those kinds of clothes you do garden work or paint in. But sometimes I do like adding a new, fresh piece of loungewear to my wardrobe. When that is the case I like to go for something in great quality, both so it lasts well especially after many washes (and countless nights on the couch), but also so I can easily pop on a pair of sneaks and a biker jacket for a quick step outside of the house. When it comes to the quality I like materials as soft cotton, and I tend to avoid wool. Mostly because I'm a rather "warm" person who is often more sweaty than cold, and I also find wool to be harder to maintain and keep looking nice.
…
Måden jeg tilføjer items til min loungewear capsule er faktisk tit sådan, at der måske er noget tøj fra min hverdagsgarderobe jeg ikke bruger så tit længere (særligt bløde t-shirts, striktrøjer eller toppe), og hvis det er plettet, nusset eller hullet, så nedgraderer jeg det ofte til "praktisk tøj". I ved den der slags tøj man går i haven eller maler i. Men somme tider køber jeg også noget nyt hygge-tøj, og når det sker skal det helst være i god kvalitet, både så det holder længe og ser pænt ud vask efter vask (og efter mange aftner på sofaen). Bare så man har muligheden for, at hoppe i et par sneaks og en læderjakke hvis man lige hurtig skal et smut ud i byen. Når det kommer til kvalitet kan jeg bedst lide materialer som super blødt bomuld, og undgår helst uld. Mest fordi jeg er en ret "varm" person og jeg får det let ret varmt, og jeg synes også tit det er lidt mere sart og svært at holde pænt i overfladen.
Nice but comfy fits
Of course comfort is the most important factor when we're speaking loungewear, but again – a good fit never hurt anyone, and it makes this type of clothing a little more versatile too. At least that's how I feel. I bought my grey sweatpants from Everlane* a couple months back, and I actually expected them to be a bit more fitted, especially around the ol' bum. I could easily have gone down a size (mine are a Small). I just fold over the elastic band one time to make them fit a bit more snug, and I'm also considering taking them in a bit down each leg. Again,  just to make them fit a bit more nicely around the legs, and not so baggy. Otherwise I do have a pair of rather old black sweatpants in my wardrobe, that fill those needs perfectly. The white tee I'm wearing here is from Organic Basics* and it's actually from the men's section. I've been wanting to try out the men's tee for a while, just because I often like the fit of men's tees more than women's. It has the perfect crew neck and a great, slouchy fit – which makes it suitable both for everyday wear underneath a blazer, or for a comfy night in because the fabric is sooo soft. I've said it before, but there's no other sustainable brand quite like Organic Basics, that offers such well-made t-shirts. That being said I wanted to offer you guys the discount code SIGNEOBC which 10% on your next purchase from their shop. You're welcome!
…
Selvfølgelig er komfort det allervigtigste når det kommer til denne type tøj, men igen – det må altså også gerne sidde lidt godt på kroppen. Sådan har jeg det ihvertfald. Mine grå sweatpants fra Everlane* købte jeg for nogle måneder tilbage, og havde faktisk håbet de sad lidt mere tæt, især rundt om bagdelen. Jeg kunne nemt have gået ned i en XS ihvertfald, for at opnå dette fit (dem jeg har på her er en størrelse S). Lige nu bukker jeg elastikken ned engang, for at de bliver trukket lidt mere på plads og så kunne jeg også godt finde på, at sy dem en anelse ind ned langs benene. Bare så de sidder lidt bedre. Men ellers har jeg et par sorte sweatpants af ældre dato, der opfylder dette kriterie rigtig fint. Den hvide tee jeg har på er fra Organic Basics*, og den er faktisk fra deres herre linje. Jeg har længe tænkt på at prøve deres herre t-shirts, fordi jeg ofte bedre kan lide pasformen og den runde hals på lige netop herre t-shirts. Denne er en størrelse small, men en medium ville også kunne gå an. Den giver det der perfekte slouchy fit, som er godt både under en blazer til hverdag eller en hygge-aften på sofaen, og så er materialet altså bare så blødt. Har nævnt det før, men der er i min optik ingen andre bæredygtige mærker, der laver t-shirts der er ligeså gode som dem fra Organic Basics. Lige nu får I desuden 10% rabat på jeres næste køb med koden SIGNEOBC. Velbekomme!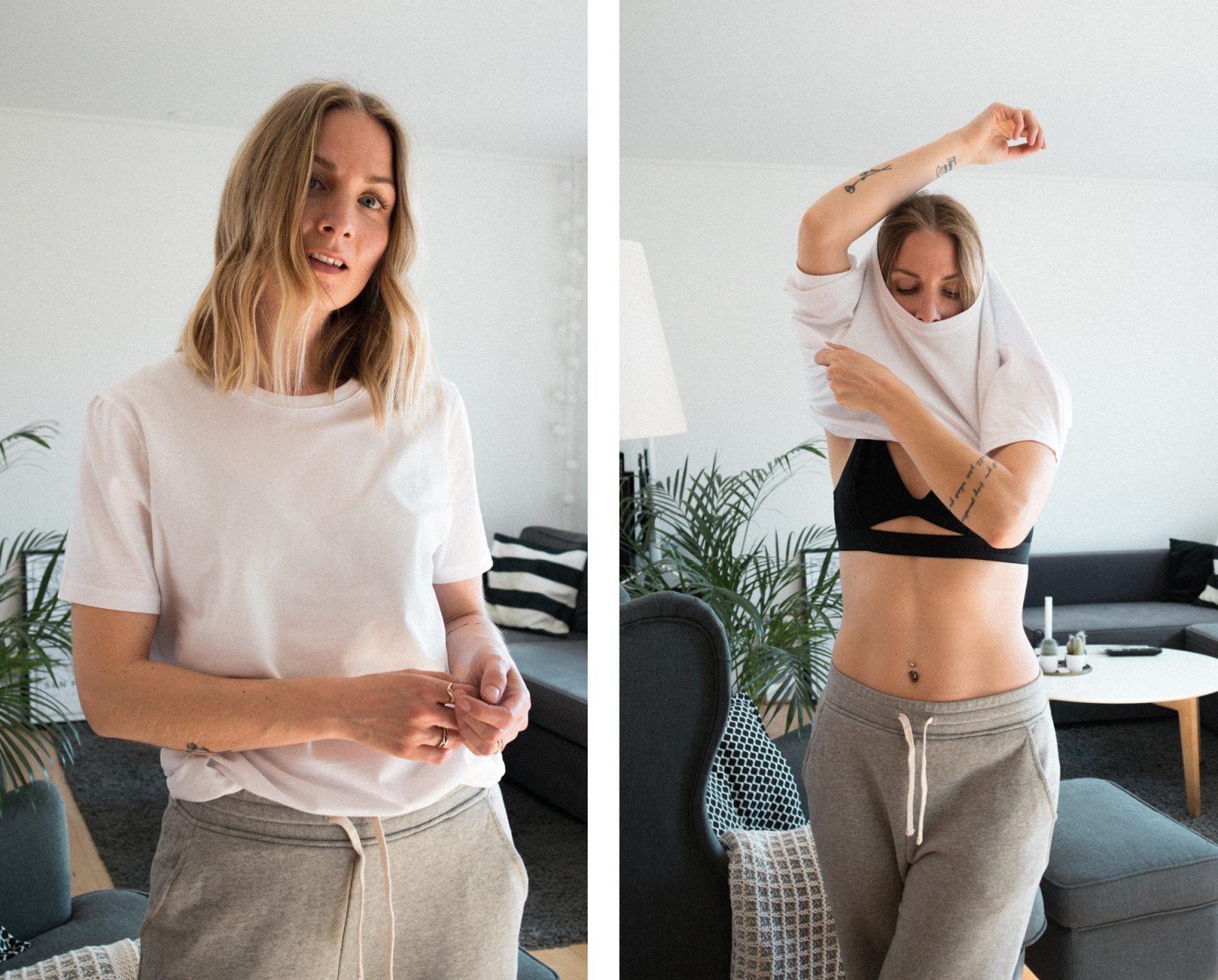 Yes – I've kept a piece of my teen years with that belly ring I know. Cant' get myself to take it out, haha!
Fuss-free undies
And speaking of Organic Basics, I've also been given the opportunity to test out their new Soft Touch* underwear, which is made the highly sustainable Tencel fibres. Normally I wouldn't count undies as a part of my capsules (just because, well – they are a bit more essential), but I still wanted to emphasize my love for amazing, soft underwear that holds everything in place while being super comfortable at the same time. I've got a rather small bust, so maybe I'm "lucky" I can pull these types of bras off – but in any case these are what I've ditched the regular wire bras for years ago! And they are not just perfect for a night on the couch of course; you can use it every single day. And how I love the cut-out detail at the elastic!
You can learn more about my loungewear capsule in the video below, where I'm also sharing a few more thoughts behind each item I have on this overview. When all this is said, I'd like to emphasize that I do sometimes find myself bundled up in one of my husbands old sweaters with chocolate stains on my pants too. If that's the case, I might change my outfit before stepping outside – or hide underneath my hoodie a bit more 😉
…
Og nu vi snakker om lige netop Organic Basics, så har jeg fået lov at teste deres nye Soft Touch* undertøj, der er lavet i den super bæredygtige fiber Tencel. Normalt tæller jeg ikke undertøj med som en reel del af mine capsules (bare fordi det er lidt mere essentielt), men jeg ville alligevel slå et slag for lækkert, blødt undertøj, som ikke strammer de forkerte steder og alligevel holder alting på plads. Nu har jeg en ret lille barm, så måske er jeg "heldig" at denne type undertøj passer mig, men jeg droppede ståltråds BH'erne for flere år siden efterhånden, til fordel for denne mere komfortable type. Og de er ikke kun perfekte til en aften på sofaen, hvor komfort er i høj kurs; de er også perfekte til hverdag. Jeg elsker iøvrigt detaljen med cut-out over elastikken!
At home vs. running errands
Nu har jeg været lidt inde på det der med, at min hygge-tøj gerne må være lidt "pænt" og sidde godt. På den måde kan jeg nemlig lynhurtigt (som nævnt tidligere i dette indlæg) hoppe i en læderjakke og et par sneakers, hvis jeg skal en tur ud med hunden eller ud at handle. Man behøver ikke ligne én, der har sovet hele dagen (selvom man måske har), og være bange for man render ind i nogen man kender. Faktisk synes jeg det er et ganske cool look – altså, jeg ville jo ikke tage det på hvis jeg skulle møde op på arbejde på et kontor, men til hurtige ærinder eller en casual søndag synes jeg faktisk det er super fint. I påsken var jeg fx iført læderjakke, hoodie, hverdagsjeans og sneaks de fleste dage (se her), hvilket er endnu et fantastisk eksempel på sammensmeltningen af hverdags- og loungewear.
Du kan høre lidt flere tanker om min loungewear capsule i videoen nedenfor, og også lidt mere forklaring bag de enkelte items jeg har med på denne oversigt. Når alt dette er sagt, så tro ikke at jeg også indimellem er at finde på sofaen med én af mine mands aflagte sweatre, og med chokolade på bukserne. I dét tilfælde skifter jeg nok helst tøj, hvis jeg skal ud – eller trækker hætten lidt længere ned over hovedet 😉
58