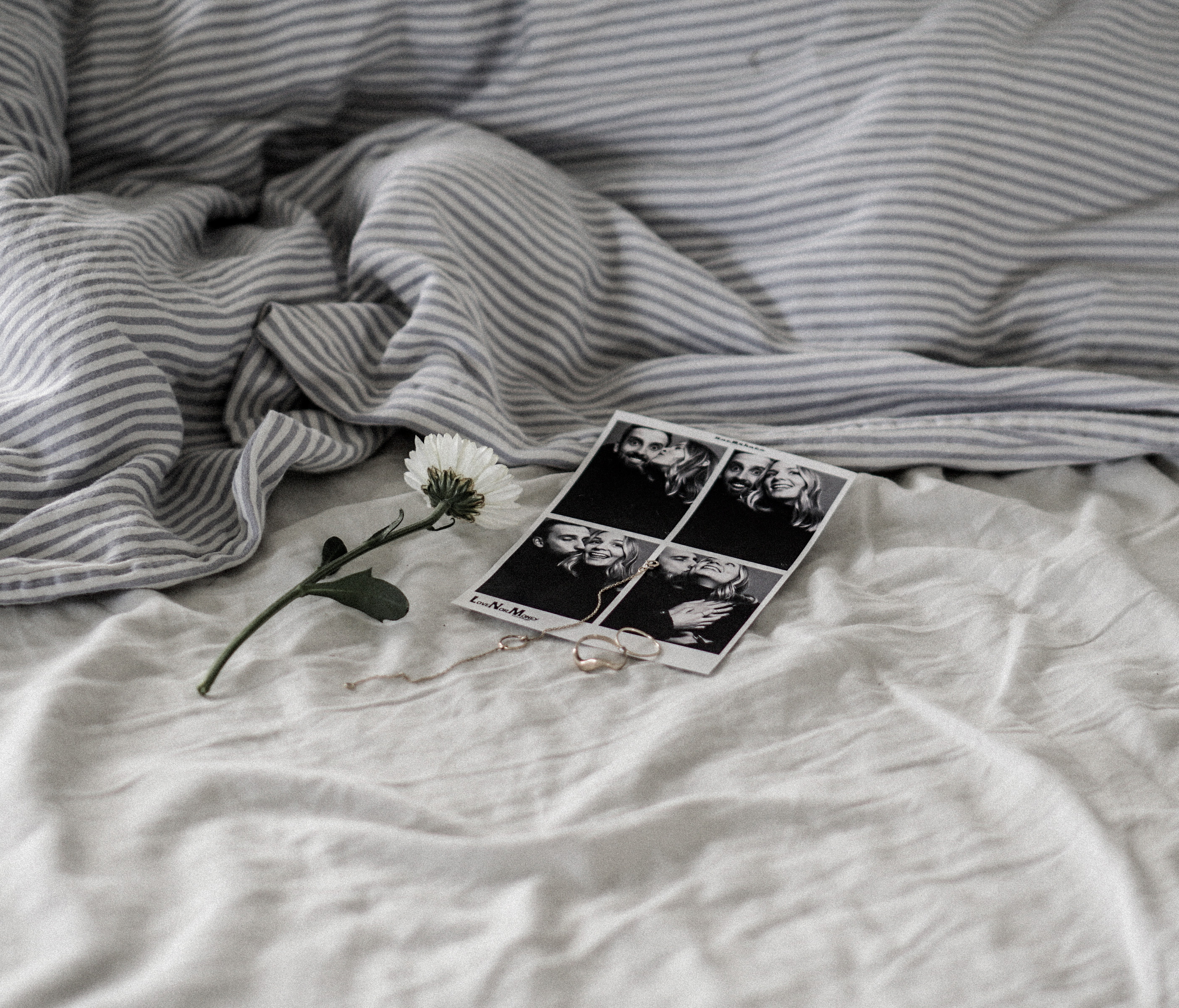 A few months back I made short random rambles over on Youtube which was dedicated to my thoughts on, what makes a relationship work. Not generally speaking because we're all different and I am by no means an expert – but in a time where we seem to hunt individual happiness as never before and we often choose to focus on a more evasive kind of happiness, I do believe that we have some rather qualified theories concerning a lasting relationship, nonetheless what has worked for us.
We met when we where 18 and 19 years old so in reality we were just kids when we met. We bonded rather quickly and we moved in together already after just 6 months. I think one of the reasons why we had such a strong connection to each other so early, is because our background is very similar in so many ways. We've not had the best start to our lives and we have both grown up outside of our biological homes, so in an early age we were both put in foster families. We've both dealt with personal challenges and it's been one of the strengths of our relationship, that we have experienced so many similar things and we recognise each others feelings. Sometimes it can be hard to put into words what you are feeling, so having someone by your side who sometimes know these words before you even do is amazing. At least someone who understands why you are feeling the way you do.
…
For nogle måneder tilbage lavede jeg en lille kort video på min youtube kanal, som var dedikeret til en snak om, hvad der får et forhold til at fungere. Ikke sådan generelt set, for vi er jo alle forskellige og jeg er på ingen måde en ekspert – men i en tid hvor mange mennesker jagter den individuelle lykke og vælger de faste rammer og forhold fra til fordel for noget der ofte er mere flygtigt, så synes jeg nu alligevel min mand og jeg har nogle ret kvalificerede bud på, hvad det er der ihvertfald har fået vores forhold til at holde i nu snart 10 år.
Vi mødte hinanden da vi var 18 og 19 år gamle, så vi var jo i bund og grund bare et par voksne teenagere. Vi knyttede os lynhurtigt til hinanden, og flyttede faktisk sammen allerede efter blot et halvt år. Jeg tror én af grundene til, at vi knyttede så stærkt et bånd til hinanden på så kort tid, er fordi vores opvækst på mange måder ligner hinanden. Vi har ikke haft den fedeste start på livet og er iøvrigt begge vokset op udenfor vores biologiske hjem og blev i en ret tidlig alder anbragt i plejefamilie. Vi har begge gået i gennem en del personlige udfordringer, og det har helt klart været en styrke det her med, at vi har oplevet mange af de samme ting og kan genkende mange af de samme følelser. Nogle gange kan det være svært selv at sætte ord på det man går igennem, og så er det bare dejligt at have en person der nærmest kan sætte ord på dine følelser for dig – eller ihvertfald forstår dig langt hen af vejen som ingen anden.
We think of each other as somewhat of a team. Of course we have each of our own interests that has nothing to do with our better half – it's important to make room for each other like that – but we move and grow in the same direction, if that makes sense. Theres a huge potentiel risk of growing apart when you meet at such a young age as we did, again we were just kids. We might have looked at ourselves as grown ups, but boy have we evolved over the past 10 years since we met. So again, there's been a potential and quite natural risk that we would grow apart at some point. It happens, even with friendships, that you simply grow apart somehow. Maybe you don't share the same ideas and values about life anymore. Maybe you just don't talk as you used to. Or maybe you get stuck in the relationship, because you don't make enough space for each other. My husband and I have also gone through a few periods where we weren't sure, that we were meant to be together for the rest of our lives. We've had our ups and downs like everyone else, so we are by no means perfect. But to forgive is to love, and our downs have made us stronger. I think it's pretty inevitable to step back and have a second look at your life sometimes, especially when you meet at such a young age. There are so many possibilities today, and so many things you'd like to do and try. There's no shame in that.
I've been feeling kind of guilty lately, after putting our house up for sale – not because I've forced my husband to get onboard with it at all, but just because it was my idea to begin with. I'm the one who suddenly realised how limited I feel, living in a small town like this. My husband has dealt with it in such an amazing way, he's given me lots of space and understanding and in general he's just been preparing himself for the conversion we're standing before, now that the house is finally for sale. No-one is placing any guilt, we're just trying to be open and honest about our possibilities and how we want our lives to be. Kind of a "I don't care where we end up, as long as we end up there together" way of thinking.
As I mentioned in one of my previous posts, I've been going through some rough patches personally, in terms of growing up and having kids. Not because I'm in doubt whether I want to have kids with my husband or not. But I love our relationship as it is, and even though I can get so eager to have kids that I just want to drop everything and just do it already some days, it also terrifies me because I don't want things to change. We are living our best lives already, and even though I see myself as way more of a family-person than a career-person my freedom means the world to me right now, especially when looking at my job. But also the freedom my husband and I have right now to travel, go out for dinner, to the movies, festivals, on long drives on a sunday or whatever the heck we want is something that is so valuable to me. It makes me happy to the bone, to even just think of doing these things together. The way to build a family is no longer black/white and I think you need to make the decisions that make sense for you, even though it seems selfish to others. We've decided to wait a little while with the kids and to prioritise us and our freedom. In reality we are probably just scared, that when our time comes we're gonna be on our own a lot of the way. We don't have two full sets of grandparents plus parents that we can call when we need a helping hand. We've got close family relations and we get lots of support, don't get me wrong! But everyone has their own daily life and their own battles to fight, and that's just how it is. I'm not blaming anyone or holding any grudges, because I've chosen to simply accept that's how it is for us.  I know that a baby is gonna be the biggest adventures of all, and I'm just not sure I'm ready for that adventure yet. You know what I mean? I feel like we've only just started with our own adventure, even though we are both close to turning 30. I don't know, I'm always kind of torn when it comes to having kids, but maybe it's normal finding yourself somewhere in between when you reach a certain age, and then finally you just do it?
…
Vi ser os selv lidt som et team, min mand og jeg. Selvfølgelig har vi hver vores interesser som den anden ikke tager del i – det er vigtigt at gøre plads til hinanden – men vi bevæger os stadig i samme retning hvis det giver mening. Der kan jo være en stor risiko forbundet med, at man møder hinanden i så ung en alder for vi var jo slet ikke voksne endnu på det tidspunkt. Det troede vi måske, men der er sket så sindssygt meget med os begge to i løbet af de 10 år vi har været sammen. Så igen har der været en overhængende risiko for, at vi ville vokse i to vidt forskellige retninger. Det sker jo, også med venskaber, at man ganske enkelt vokser fra hinanden på en eller anden måde. Måske har man ikke længere de samme holdninger, værdier og ønsker med livet som man engang havde. Måske taler man bare ikke rigtig sammen længere, som man gjorde engang. Eller måske kvæles man i forholdet, fordi man glemmer at give plads til hinanden. Min mand og jeg har da også haft enkelte perioder hvor vi ikke var sikre på, at det skulle være os resten af livet. Vi har haft vores op- og nedture ligesom de fleste andre forhold, så vi er bestemt ikke perfekte. Men at tilgive er som bekendt at elske, og vores nedture har kun gjort vores forhold endnu stærkere. Jeg tror det ret naturligt at træde tilbage og revurdere sit liv somme tider, især hvis man møder hinanden så unge som vi gjorde. Der er så mange muligheder i dag, og der er så mange ting man gerne vil opleve. Det er der ingen skam i.
Jeg har været plaget en del af dårlig samvittighed over alt det her med, at vi har sat huset til salg – ikke fordi at jeg på nogen måde har tvunget idéen ned i halsen på min mand, men fordi det i første omgang var min idé. Det var mig der pludselig indså, hvor begrænset og understimuleret jeg føler mig her hvor vi bor nu. Min mand har håndteret det helt fantastisk, for dér har han bare givet mig masser af plads og forståelse og har generelt været super åben ovenfor den omstilling vi nu står overfor, efter endelig at have sat huset til salg. Der er ingen der bebrejder nogen noget men igen er der bare masser af åbenhed og forståelse for, hvad den anden nu engang føler. Sådan lidt en "jeg er ligeglad med hvor vi ender, bare vi ender der sammen" følelse.
Som jeg også nævnte i ét af mine forrige indlæg så har jeg personligt også været igennem nogle små kriser (og er det stadig somme tider), i forhold til alt det her med at blive voksen og få børn. Ikke fordi jeg er i tvivl om, om min mand og jeg skal have børn sammen. Men jeg elsker vores forhold som det er nu, og selvom jeg sagtens kan blive skruk og nogle dage bare har lyst til at smide alt hvad jeg har i hænderne og udvide vores familie så skræmmer det mig også, igen fordi jeg ikke vil have vores liv og forhold ændrer sig. Vi har det dejligt som vi har det, og selvom jeg ser mig selv mere som familiemenneske end karrieremenneske, så betyder min frihed ekstra meget for mig lige nu, især på jobfronten. Men også den frihed min mand og jeg har til at rejse, tage ud og spise sammen, tage til festivaller, køre lange søndagsture, gå til koncerter og hvad vi nu ellers finder på er virkelig noget jeg værdsætter. Det er noget der gør mig glad helt ind i hjertet! Måden at bygge en familie op på er ikke sort/hvid og jeg synes man skal træffe de valg der giver bedst mening for én selv, også selvom det kan virke egoistisk set med andre briller. Vi har valgt at vente lidt med børnene og prioritere os selv og de ting vi godt kan lide. I bund og grund er vi nok også lidt bange for, at når vores tid kommer, så bliver vi meget alene om opgaven. Vi har ikke to hold bedsteforældre eller to hold forældre for den sags skyld, som vi bare lige kan ringe til hvis det brænder på. Vi har nære relationer og dejlige familier der støtter os, forstå mig ret! Men alle har ligesom deres at se til, og sådan er det jo. Det er slet ikke noget jeg er direkte ked af eller bebrejder nogen for, fordi jeg har valgt at acceptere at det er sådan det ér. Desuden ved jeg allerede nu, at en baby bliver det største eventyr nogensinde – jeg er bare ikke sikker på, at jeg er klar til det eventyr endnu. Forstår I hvad jeg mener? Jeg synes næsten kun lige vores eget eventyr er begyndt, på trods af at vi begge nærmer os 30 år med hastige skridt. Jeg ved det ikke, synes jeg er lidt på vippen i forhold til det med de kære små rollinger, men måske er det meget normalt at man svinger lidt på skal/skal ikke inden man på et eller andet tidspunkt bare tager springet?
In many ways we're still the big kids we've always been, I don't think that will every change. We're goof around, hug, hold hands while walking the dog, cook together while dancing around in the kitchen, make hot cocoa when it's raining and we tease each other like we've always done. One of the things I fell for was my husband's humor and his ability to make others (especially me) laugh. I love that he is the only one alive who can get the real silly Signe to come out, and who makes me laugh completely whole-heartedly. He makes me feel proud of who I am, and he even thanks me for having chosen a completely different patch career-wise and don't give a damn about what others might think. He knows that it makes me happier to do things on my own terms, and he tells me everyday how exciting he thinks this whole thing is, and it's only made me want to have him be part of the journey even more. All this combined is also what makes me sure that we will be amazing parents one day. Both as a team but also each in our own way.
It may sound like I'm trying to paint a pretty picture. But I think what I'm tying to say is, that I feel SO grateful for everything we have taught each other, everything we've gone through together and that we've held on to each other even when things were hard. No relationship is perfect and the evasive feeling of being in love will fade and turn into a love that is more deep and basic – something you need to prioritise and not take for granted. I hope you know that! I'm proud that we've come this far through all these years, and I can't wait for all the adventures that awaits us.
…
På mange måder er vi stadig et par store legebørn, og det tror jeg aldrig ændrer sig. Vi elsker at fjolle, putte og kramme, vi holder i hånd når vi går tur med hunden, laver mad og danser rundt i køkkenet, hygger og laver varm kakao når det regner og driller hinanden ligesom vi altid har gjort. Én af de ting jeg faldt for ved min mand var hans humor og hans evne til, at få andre (især mig) til at grine. Jeg elsker at han er den eneste der kan få den rigtige fjollede Signe frem og få mig til at grine sådan rigtigt, helt ned i maven. Hende som jeg i virkeligheden føler mig som. Han får mig til at føle mig stolt over den jeg er – og han takker mig endda for at have styrken og modet til, at have valgt, at gå andre veje rent jobmæssigt og være ligeglad med hvad andre tænker. Han ved det har gjort mig gladere og stærkere og han fortæller mig hver dag, hvor spændende han synes det hele er, hvilket kun giver mig endnu mere styrke og lyst til, at lade ham være en del af rejsen. Det er også alt dette sammenlagt der gør mig helt sikker på, at vi bliver fantastiske forældre – én eller anden dag. Både sammen som team og på hver vores måde.
Det kan lyde enormt påtaget og som om jeg prøver på at fremstille vores forhold som et glansbillede. Men jeg tror egentlig at det jeg prøver på at komme frem til er, at jeg føler mig SÅ taknemmelig for alt det vi har lært hinanden, alt det vi har gået igennem sammen og at vi har hængt i selv når det så allermest sort ud. Ingen forhold er perfekte og den flygtige forelskelse man oplever i starten vil ebbe ud og kærligheden vil blive mere dyb og grundlæggende – noget man skal arbejde lidt mere for og ikke tage for givet. Det håber jeg I ved! Jeg er stolt over, at vi har formået at holde fast i hinanden gennem alle disse år og jeg er så spændt på alle de ting vi skal opleve sammen i fremtiden.
5