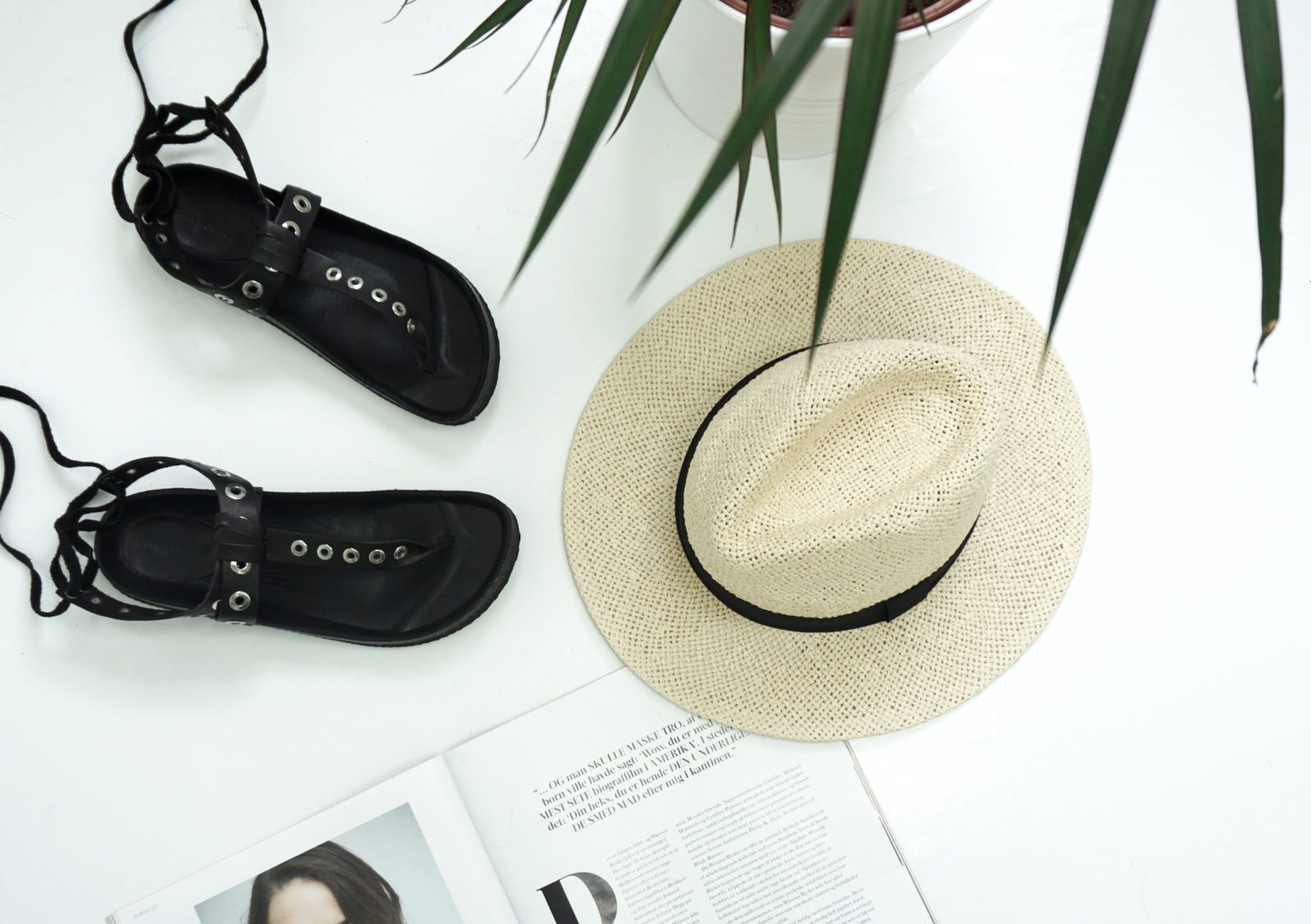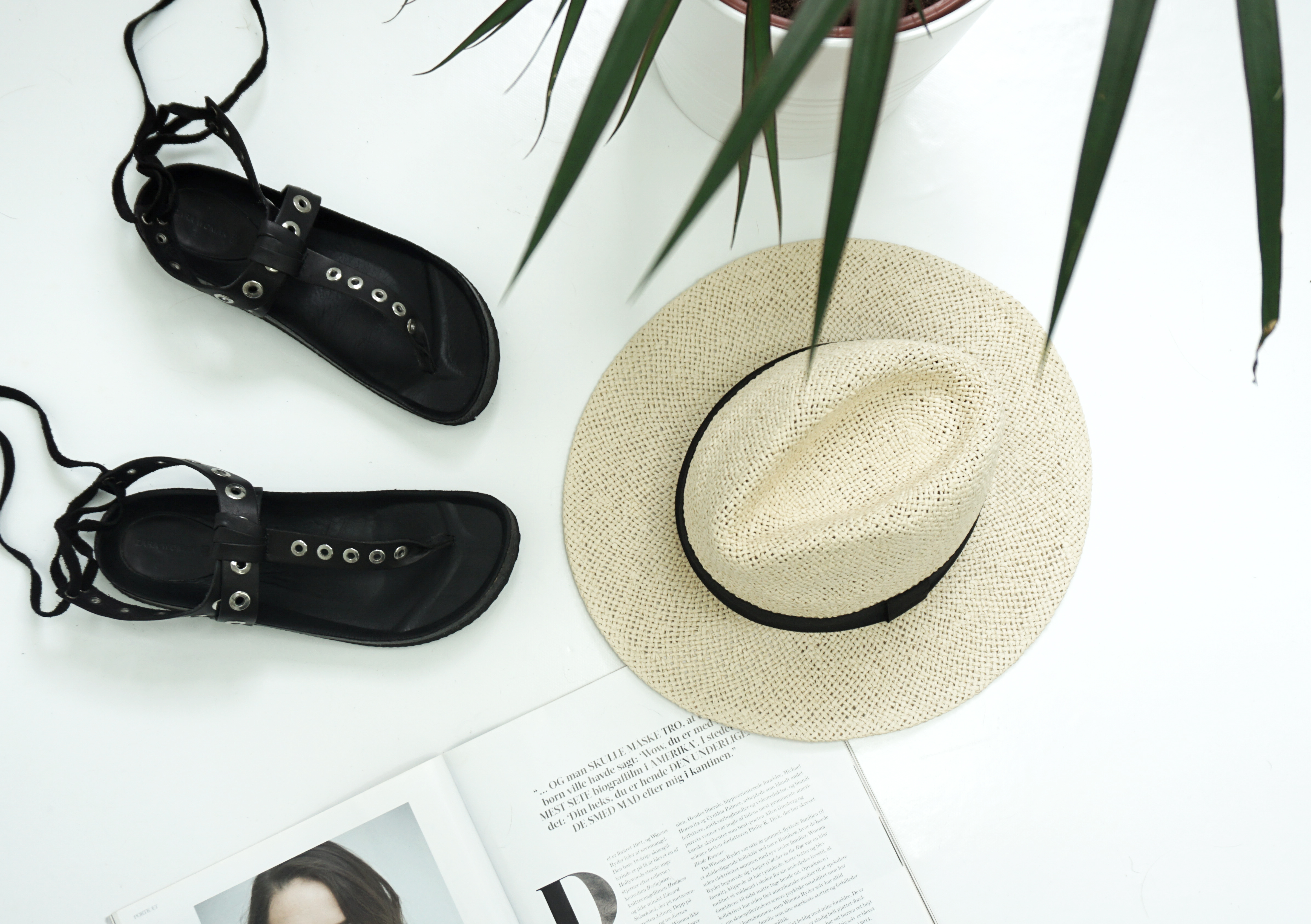 Selvom det danske vejr gik fra perfekt sommer vejr den sidste weekend i maj, til sit sædvanlige ustadige gråvejr, så er jeg virkelig kommet i sommerstemning! Jeg har glædet mig rigtig meget til, at bygge min sommer capsule. Ligesom jeg plejer, så har jeg været i gemmerne, hevet mit opbevarede tøj fra forrige sæsoner frem, og skiftet det ud med de ting jeg valgte ud til forårssæsonen.
Denne gang er jeg blevet nyforelsket i en hel del ældre produkter, som jeg har haft gemt i lang tid. Det fede ved, at gemme produkter væk, som man rent faktisk er rigtig glad for er, at man netop kan nyforelske sig i dem på denne måde! På den måde føles det lidt som at shoppe nyt, men det er bare dit eget skab du shopper. Så som sædvanligt består ca. 80-90% af min garderobe af min helårs basis garderobe (se nederst på siden) og resten er de mere sæsonbaserede produkter, som holder min garderobe frisk og passende til en given sæson. Det giver som regel et sted mellem 35-45 produkter i alt (inkl. sko!). De ting der ikke tæller med er sportstøj, slappe-tøj, arbejdstøj osv.
/ Even though the Danish weather went from perfect summer weather the last weekend in May, to its usual grayish weather, I am really in a great summer-mood! I've been looking forward to building my summer capsule. Just as per usual, I have looked through my stored clothes from previous seasons and swtitched it with the things I chose for the spring season.
This timeI I found myself becoming in love allover again with a bunch of rather old products, which I've had for a long time. In that way, it feels a bit like shopping, but it's just your own closet you get to shop, so it wont cost you (or the environment) anything. What's not to love about that? As usual, approx. 80-90% of my wardrobe is my all year basic wardrobe (see the bottom of this page) and the rest are the more seasonal products that keep my wardrobe fresh and appropriate for a given season. This usually provides a place between 35-45 products in total (including shoes!). The things that do not count are sportswear, swimwear, work clothes, etc.
Jeg har blandt andet fundet disse finer sandaler frem, som jeg købte for ca. 4 år siden. De er fra Zara og fås desværre ikke længere (jeg har dog fundet et alternativ nederst på siden). De kræver lidt at få på grundet snørerne, men den birkenstock-agtige sål gør dem simpelthen SÅ behagelige! Jeg kan huske jeg havde dem på sidst vi var på storbyferie i Amsterdam, og jeg kunne sagtens holde ud at gå i dem hele dagen. Desuden kunne de jo ikke være mere on trend med eyelet-detaljerne, hvilket understreger at trends altså går i ring, og det derfor godt kan betale sig, at gemme sådanne items og hive dem frem igen.
Som jeg siger i videoen nedenfor, så kunne jeg rigtig godt tænke mig, at tilføje lidt rødt til min sommergarderobe i år. Den røde farve er klassisk, og vil passe super godt sammen med resten af min klassiske farvepalette, der som altid er holdt i sort/hvid/grå/navy/denimblå/beige. Jeg er derfor på udkig efter en fin rød/hvid stribet top med lange ærmer, og vil i første omgang se om jeg kan finde én brugt. Det er lidt et nyt forsøg på, at gøre min garderobe endnu mere bæredygtig; ved altid at kigge efter brugte alternativer, før jeg tilføjer nye ting til mine capsules. Anyway – hold øje min min Youtube kanal, hvor jeg vil lægge flere looks ud henover sommeren, med produkter fra min sommer garderobe!
/ I have among other things rediscovered these nice sandals, which I bought about four years ago. They are from Zara and are unfortunately no longer available (I have found an alternative at the bottom of the page). They require a little work to get on because of the lace up detail, but the birkenstock-like sole makes them  sooo incredibly comfortable! I remember the last time I wore them on a holiday in Amsterdam, and I could easily walk around in this all day. Besides, they could not be more on trend with the eyelet details, which imphasizes that the return of trends season after season, so again – I'm a huge fan of storing items like this.
As I say in the video below, I would like to add a little red to my summer capsule this year. The red color is a classic and will fit super well with the rest of my classic color palette, which is as always kept in black/white/gray/navy/denim blue/beige. I am therefore looking for a nice red/white striped top with long sleeves, and I really want to find one that is preowned. It's a new attempt to make my wardrobe even more sustainable; always checking to see if I can find a preowned/secondhand alternative, before adding new things to my capsules. Anyway – keep an eye on my Youtube channel, where I will upload lots of styling videos with products from my summer capsule!
THE ALL YEAR BASICS

THE SEASONALS