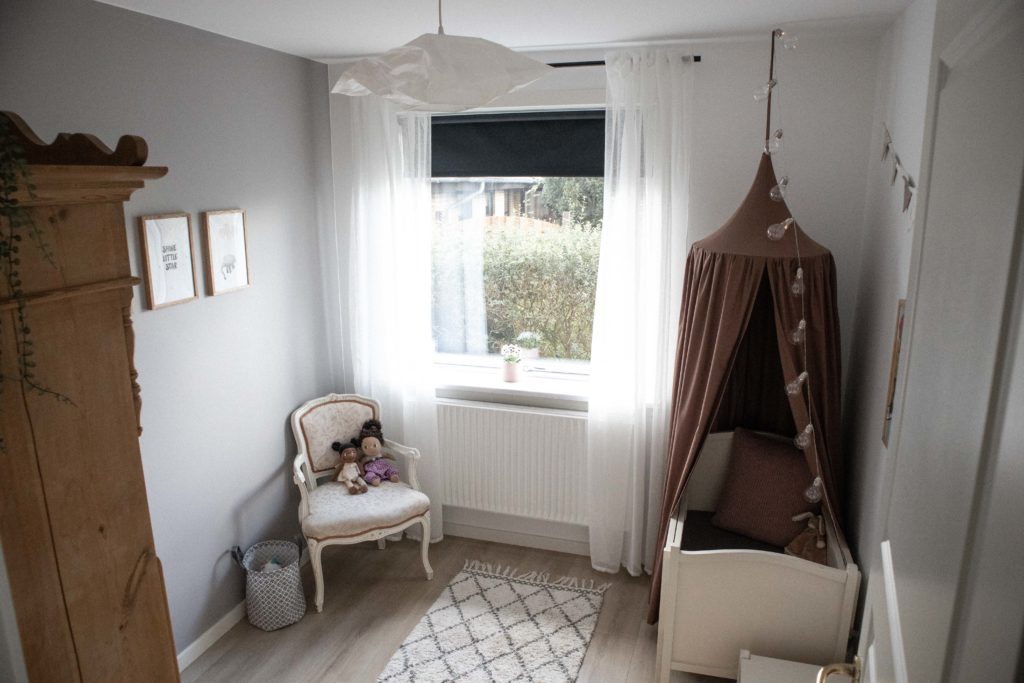 Jeg har glædet mig rigtig meget til, at dele dette indlæg med jer! Jeg skriver det lige nu en uges tid inden min termin, så det er, indrømmet, et planlagt post. Når det ryger i luften – ja, så kan det være vores lille pige er kommet til verden. Who knows… 🙂 Det er helt underligt at tænke på.
Jer der har fulgt med i vores renoverings-projekt siden sidste år da vi købte huset, husker måske dette blå værelse, som ligger lige op af soveværelset. Jeg tror nærmest det var ét af de ældste rum i huset, hvor der stort set ikke var gjort noget ved det siden 70'erne. Det så ihvertfald sådan ud inden vi startede, haha. Vi snakker brunt 70'er tæppe (som faktisk var lidt cool, men bare slidt og ja, nok bare ikke lige passede ind i vores visioner for stilen i huset), blåt sagsmuldstapet, brunt indbygningsskab og et reb langs kanten i loftet. Der følger iøvrigt (selvfølgelig) en video med til dette indlæg, som I kan se nederst. Der kommer jeg også nærmere ind på vores tanker omkring bæredygtighed samt nogle af de ting vi har købt, i alt fra interiør, tøj, legetøj, babyudstyr og plejeprodukter. Så hvis I kunne tænke jer at følge byggeprojektet endnu nærmere, så kig med der!
I have been so excited to share this post with you! As I'm writing it I'm only a week ahead of my due date so it's, admittedly, a scheduled post. When this goes live – well, it may be that our little girl has finally arrived to greet the world. Who knows … 🙂 It's weird to think about it like that.
Those of you who have been following our renovation process since last year when we bought the house, may remember this blue room, which is located right next to the bedroom. I think it was one of the oldest rooms in the house, where pretty much nothing had been done to it since the 70s. At least it looked like that before we started, haha. We're talking brown 70s carpet (which was actually kinda cool, but just worn out and well, just didn't quite fit into our visions for the style of the house), blue sawdust wallpaper, a brown built-in closet and a rope along the edge of the ceiling. You can have a closer look at it in the video at the bottom of the post. In there I also share some more of our thoughts on sustainability as well as some of the things we have bought in general from interiors, clothes, toys, baby equipment and care products. So if you would like to follow the process even closer, make sure you watch the video after reading through this post!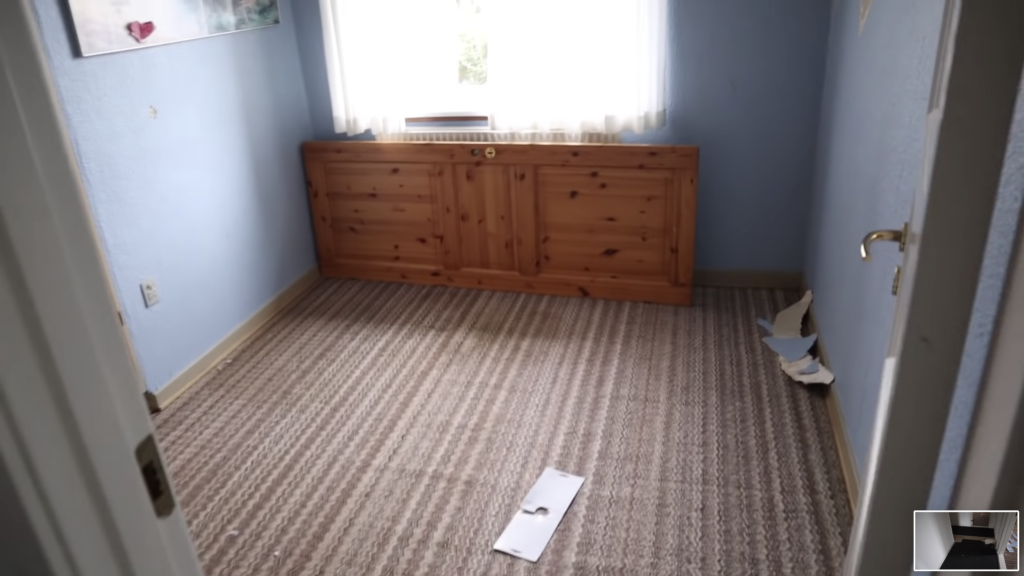 Værelset har fået stort set samme kærlige behandling som soveværelset – det gamle tapet blev pillet ned og erstattet med helt almindelig glasfilt, der er kommet gipsloft op og så er der kommet trægulv ind i stedet for gulvtæppe. Der er ligeledes blevet sat nye lister og stikkontakter op i hele rummet, så i det hele taget fremstår det helt nyt og lækkert nu. Det er selvfølgelig mest af alt Morten, der har været igang med byggeriet da jeg har været gravid under hele processen. Så jeg har hjulpet til med diverse små-projekter som afdækning, rengøring, oprydning osv. Og så er det også mig der har taget hånd om den (ifølge mig) sjoveste del; indretningen. Morten har bygget og jeg har hygget. God arbejdsfordeling, ikke? 😉
Selvom vi egentlig ikke havde planer om, at hendes værelse skulle være færdigt inden min termin, så har det faktisk været et ret dejligt projekt at kunne gå frem og tilbage til. Jeg har ladet mig fortælle, at kroppen især den sidste måneds tid inden termin kan få et forhøjet niveau af kortisol, som er et stress hormon. Det er kroppens måde, at forberede sig til fødslen og babys ankomst. Og det har jeg i dén grad kunnet mærke! Jeg vågner konsekvent hver nat ved 3-4 tiden, både fordi min krop er træt, øm og tung efterhånden – men også fordi tankerne bare kører rundt i mit hovede. Selvom jeg gik mere eller mindre på barsel 4 uger før min termin, har fået hygget og slappet en masse af og sover til middag næsten hver dag, så har jeg simpelthen været så rastløs! Og det har været rart, at have et sted ligesom at putte den rastløshed hen, og have noget at fokusere på. At bygge rede er virkelig en ting… 😉 
We gave the nursery pretty much the same treatment as our bedroom – the old wallpaper was taken down and replaced with a smooth glass tissue, we've added a plain plaster ceiling and we've installed wooden floors instead of the carpet. Of course, it is most of all Morten who has been working on rebuilding the room since I have been pregnant during the whole process. So I have helped with various small things such as prepping, cleaning, tidying up, etc. And then I was also left in charge of the (in my opinion) best part; decorating. Morten has been re-building and I have had fun decorating. Good division of the labor, huh? 😉
Although we didn't really have plans for her room to be finished before my due date, it has actually been a pretty nice project to be able to go back and forth to. I have been told that the body, especially in the last month before giving birth, can work up an elevated level of cortisol, which is a stress hormone. It is the body's way of preparing for the birth and arrival of the baby. And boy have I felt that! I wake up consistently every night at 3 or 4 in the morning, both because my body is tired, sore and heavy – but also because the thoughts just run around in my head. Although I went more or less on maternity leave 4 weeks before my due date, have been taking things quite slow and been napping almost every day, I have been so so restless! And it has been nice to have somewhere to focus some of that restlessness. Nesting is definitely a thing… 😉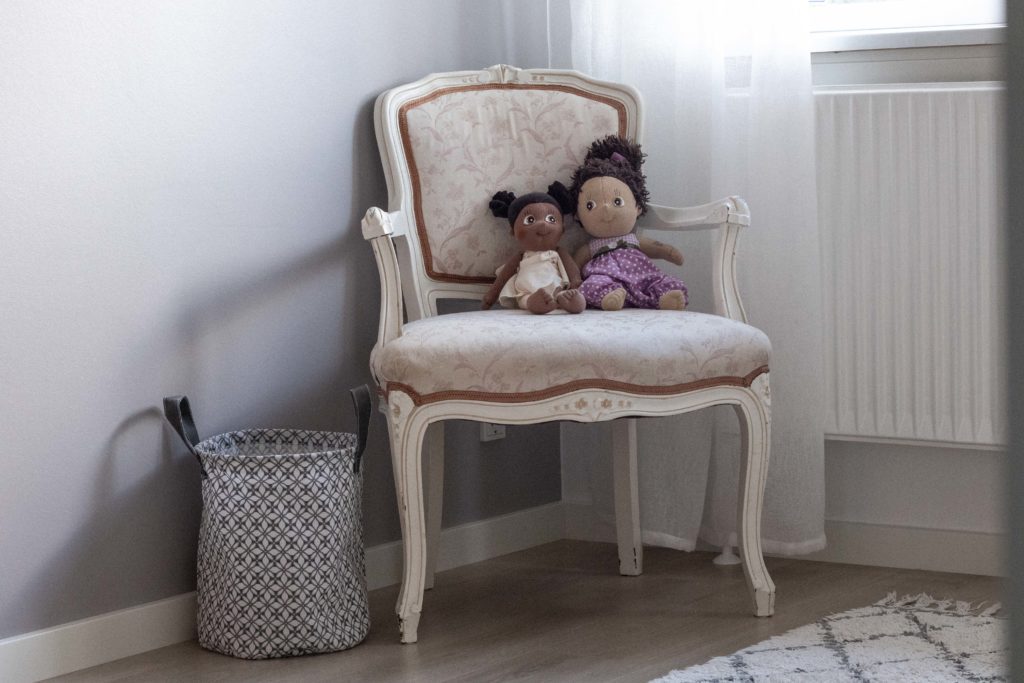 Jeg tror omkring 85% af de ting vi har købt til vores lille pige, er købt brugt. Jeg vidste fra starten af, at det var en måde jeg ligesom ville arbejde rundt om bæredygtighed på. Så vi gik faktisk igang ret tidligt med, at købe ting som tøj, udstyr (barnevogn osv.), legetøj og diverse grej til hendes værelse. Det tager jo unægteligt lidt længere tid, at købe ind på denne måde – men det har også været virkelig hyggeligt. Der er SÅ meget på markedet allerede til babyer og børn. Den app jeg har været gladest for er nok Reshopper. Det er SÅ nemt altså! Fungerer fuldstændig som en webshop, hvor man kan gemme favoritter, putte ting i sin kurv og bestille – men varerne kommer så bare fra private og er brugte. Vi har selvfølgelig sparet en god håndfuld penge ved at gøre det på denne måde, men det har helt klart været bæredygtighedsaspektet, som var det afgørende. Jeg ville virkelig gerne udfordre os begge, og ved I hvad? Det var altså slet ikke så bøvlet. Det er nogle grundlæggende værdier og en respekt for vores ressourcer, som vi virkelig også gerne vil give videre til vores datter. Og det får hun i mere end én forstand med det her værelse, vil jeg mene. Udover Reshopper har vi også brugt DBA og Facebook Marketplace, især til de lidt større ting og møbler.
Sengehimlen har jeg selv syet. Den er lavet ud fra DETTE mønster købt hos Stof & Stil, og selve stoffet har jeg købt i vores lokale Stof2000. Jeg husker ikke navn eller farvekode på stoffet, men det er 100% bomuld (hvis det kan hjælpe) og er i sådan en smuk rosa/brun nuance. Værelset ser lige nu ser yderst smukt og æstetisk ud; og tro mig, jeg er godt klar over det ikke bliver ved med at se sådan ud. Der skal tids nok rykke mere legetøj, dimser og rod derind som hun vokser op – og sådan skal det være. Det er et børneværelse som skal være hyggeligt, og ikke mindst invitere til leg. Men indtil da får vi lov at bestemme… 😉 
I think about 85% of the things we bought for our little girl are bought secondhand. I knew from the start that this was a way I wanted to work around sustainability. So we actually started buying things like clothes, equipment (stroller, etc.), toys and miscellaneous items for her room quite early on. It undeniably takes a little longer to shop this way – but it has also been really nice. There is SO much on the market already for babies and children just waiting for new homes, things that have hardly been used because they use it for such a short amount of time. The app I have been happiest with is probably the Danish Reshopper. I believe the app called Vinted is a good international alternative. But anyway, Reshopper is SO easy to use! Works completely like a webshop, where you can pick favorites, put things in your basket and then place an order – only difference is of course that this is private sellers and everything is preloved. We've not only saved a lot of money by doing it this way, but the sustainability aspect was also crucial to us. I really wanted to challenge us both, and you know what? It wasn't such a hassle doing it this way afterall. These basic values and respect for our resources is something we both really want to pass on to our daughter. And she gets that in more ways than one with this room, I think. In addition to Reshopper, we have also used DBA and Facebook Marketplace, especially for the slightly larger items (again like the stroller) and furniture for her room.
The crib canopy is DIY, I made it myself! It is made from THIS pattern bought at Stof & Stil, and the fabric itself I bought in our local Stof2000. I don't remember the name or color code of the fabric, but it is 100% cotton (if that can help) and it's in this beautiful rose/brown shade. I know the nursery as a whole looks really aesthetically pleasing right now; and believe me, I'm well aware it wont keep looking like this. There will probably be more toys, bits and bobs and clutter in there as she grows up – and that's how it should be. It is a children's room which should be cozy, but more importantly feel like somewhere you want to play and have fun. But until then we're allowed to decide what it looks like, you know… 😉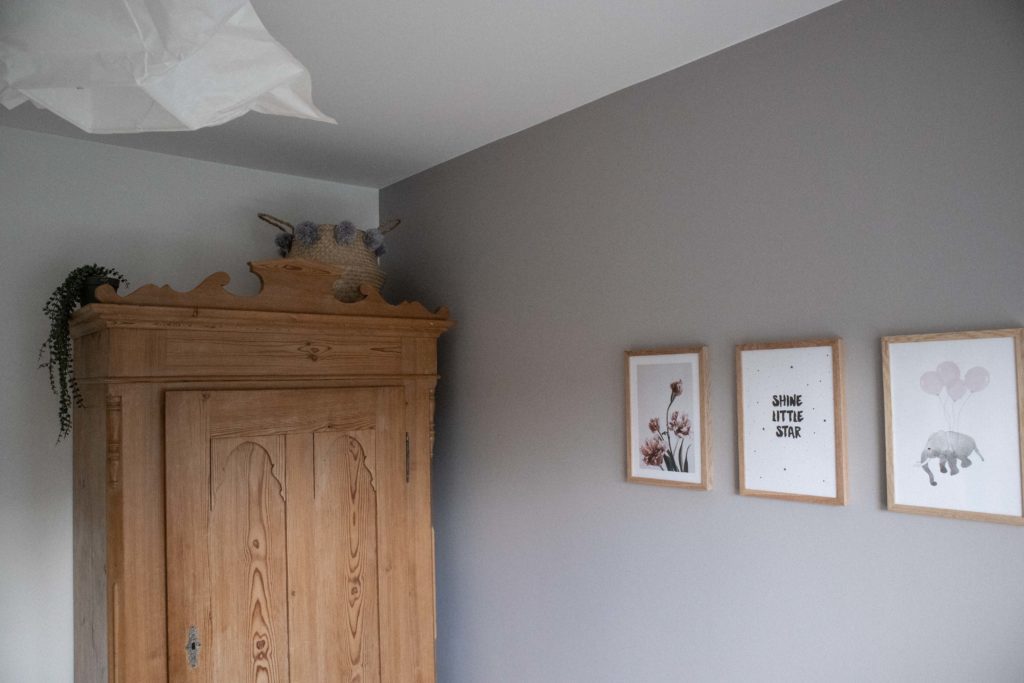 18