I've made a few of these wardrobe tours over the years, mainly because we've moved a couple times since I started my blog. The first wardrobe tour I made was in our first house in Vojens, which we sold after living there for 3 years because we just missed having more city life opportunities close to us. So we moved back home to Aabenraa, first in a temporary apartment with a lot less space than what we had been used to. I made this wardrobe tour while we lived there. We've now moved into our dream house in Aabenraa and we are, as many of you guys know, currently renovating it on the inside. You can read all about how much and what we are doing with the house right HERE, but there will be several before/after posts and videos coming for you in the new year too, as we slowly finish the renovation on the inside. It's hard to say when exactly we'll be done (because it just takes a lot longer than what you might think!), but we hope that some time during spring/summer we'll be done on the inside so we can move forward with the garden. I'll also be sharing lots of thoughts about how we've been trying to make the process as eco-friendly as possible – both when it comes to getting rid of trash and what kinds of materials we've chosen in order to stay as sustainable in the process as possible. In a few weeks I'll start sharing the first bits when I show you our brand new bedroom. But before that here's a post all about our new wardrobe (there's also a video in the bottom of the post)!
…
Jeg har lavet et par garderobe tours et par gange i årenes løb, primært fordi vi er flyttet nogle gange de sidste par år. Den første jeg lavede var da vi boede i vores første hus i Vojens, som vi solgte fordi vi savnede at have noget mere byliv og nogle flere muligheder i nærheden. Efter 3 år dér flyttede vi hjem til Aabenraa, først i en midlertidig lejlighed med en del mindre plads end hvad vi havde været vant til. Det kom der denne garderobe tour ud af. Nu er vi altså så flyttet ind i drømmehuset i hjembyen Aabenraa, hvor vi som mange af jer ved, er godt igang med at renovere en del af huset. Hvor meget og hvad vi har gang i kan du læse meget mere om lige HER, men der kommer også en stak før/efter posts og videoer i løbet af næste år, når vi løbende bliver færdige med det indvendige. Det er svært at sige hvornår vi er færdige (for det tager bare længere tid end man tror!), men vi håber på forår/sommer næste år, så det passer med at vi kan rykke ud og give haven en tur til den tid. Jeg kommer også til at dele meget mere om, hvilke tanker vi har gjort os i forhold til bæredygtighed – bortskaffelse af affald, hvilke materialer og produkter vi har valgt at bruge for at gøre processen så bæredygtig som muligt, og meget mere. Om et par uger deler jeg det første før/efter materiale med jer, når jeg viser jer vores helt nye soveværelse. Men inden da, så kommer altså her et kig ind i vores nye klædeskab (video er nederst i indlægget)!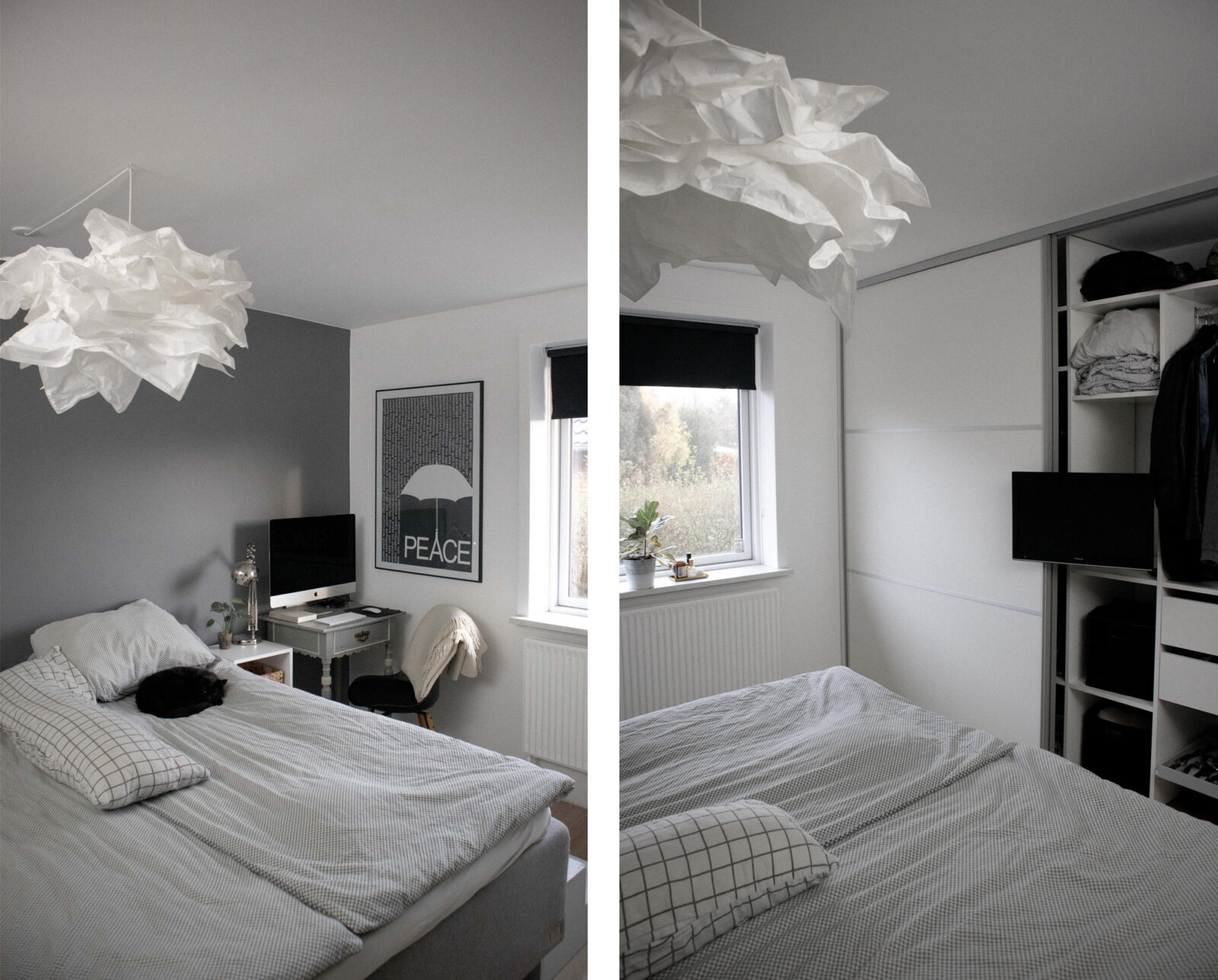 When we bought the house it originally had a very small build-in wardrobe, but we really wanted some more room for all our bits and bobs and also something more modern. So we actually ended up knocking down and entire wall and build a new one, to get a bit more room for a new closet. This of course means that the room next to the bedroom is now a little bit smaller, but it's alright. The closet is bought at Davidsen (a Danish hardware store) and it's from a brand called Organized. It's produced in Denmark in PEFC-certified wood, which means that it comes from sustainable forestry. We've looked at other wardrobes too, both the more expensive ones and also the cheaper alternatives like from Ikea. We knew we wanted something in great, lasting quality and with a lot of flexibility in terms of customization and design, but at the same time we wanted something that didn't break the bank. And we just didn't find anyone who could compete with the wardrobe we choose from Organized! The cost of the wardrobe was around 2200$. It's not super cheap, but for a great and responsibly made wardrobe it's not the most expensive one either (for Danish standards and costs anyway).
We've designed the wardrobe ourselves (which could be done both online or in store), and it is customized so all the measurements fit our bedroom. We choose a closet which goes from floor to ceiling, to get most out of the space. It actually felt a little bit overwhelming having to design everything ourselves, just because there are so many ways to do it. So we choose to use the in-store demo as inspiration and then move on from there in the proces, all while keeping our belongings and what kind of space we would need for that mind. We have less closet space now than we did in our old house but it doesn't feel that way at all, because we've utilized the space inside the wardrobe in a much more clever way, so there's hardly any space wasted. One thing we were able to fit inside of the closet is our TV. We had a bigger TV before, which was hung on the wall but because we couldn't do that in our new bedroom, we were inspired to design some room for that inside of the wardrobe instead, and then hang a smaller one we already had up in there with a bracket. That way we can hide it away when it's not being used, and I'm quite a fan of that…
…
Der var et indbygningsskab i soveværelset før, men vi ville rigtig gerne have et større dobbeltsskab ind, så der var plads til både mit og Mortens tøj og også andre småting som sengetøj, weekendtasker osv. Så faktisk bankede vi hele den oprindelige væg ud og byggede en ny, for at få lidt mere plads til det nye garderobe skab. Det betyder selvfølgelig at værelset ved siden af er blevet en lille smule mindre, men det gør ikke så meget. Selve skabet har vi købt i Davidsen og det er fra et mærke der hedder Organized. Det er dansk producerede skabe i PEFC-certificerede materialer, hvilket betyder at træet kommer fra bæredygtigt skovbrug. Vi har både set på skabe fra Kvik, Vordingborg, Ikea, Jysk – alle de der køkken/garderobe butikker man kan komme i tanke om næsten. Vi vidste vi ville have noget i ordentlig kvalitet og med stor fleksibilitet i forhold til design, men samtidig ikke noget der væltede budgettet. Og der var der bare ikke nogen der kunne konkurrere med de skabe, som de tilbyder i Davidsen! Alt i alt kostede skabet os omkring 15.000 kr. til de nysgerrige. Så det er ikke super billigt, men det ligger heller ikke i den dyre ende af de 20-25.000 kr. sådan nogle skabe koster mange andre steder.
Vi har designet skabet selv (kan gøres online eller i butik med hjælp fra én af de ansatte), og det bliver lavet på mål så det passer til det rum du nu engang vil sætte skabet op i. Vi valgte gulv til loft, for at udnytte pladsen mest muligt. Det var faktisk en lille smule overvældende at skulle vælge hvilken indmad der skulle ind i skabet, fordi at der er så mange muligheder. Så vi valgte at tage udgangspunkt i demomodellen der var i butikken, og så ligesom indrette der fra, med vores ejendele og tøj i tankerne hele tiden. Vi har en del mindre skabsplads nu end vi havde i vores gamle hus, men fordi vi netop har designet skabet som vi har, så har vi udnyttet pladsen meget bedre, og derfor føles det slet ikke mindre! Én af de ting vi lavede plads til inde i selve skabet er vores TV. Før havde vi et større TV hængende på væggen, men det kunne vi ligesom ikke rigtig her. Men så fik vi altså idéen til, at hænge det lille vi i forvejen havde op, inde i skabet med et udtræk. Så kan man gemme det væk når man ikke bruger det, hvilket jeg er ret stor fan af…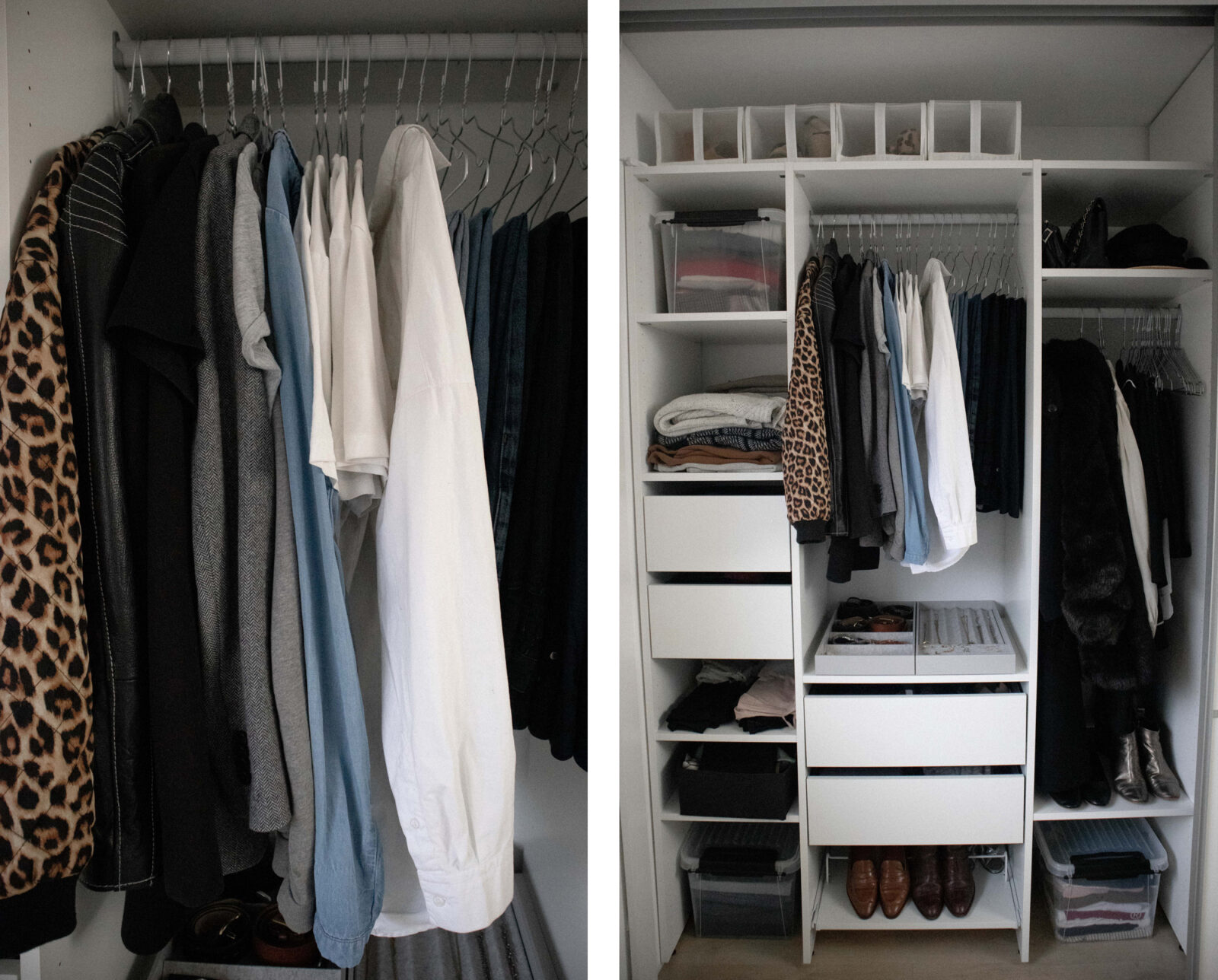 The wardrobe is parted in the middle, so all my stuff is on the left side. There's enough room for all my storage boxes with clothing from previous seasons too (which I'll be going through in the new year btw, before starting my low buy challenge so I know what I have), my shoe boxes with out-of-season shoes and then I even have a few drawers in there too. The two small drawers contain all my sportswear and sports accessories, and the two large drawers in the middle contains socks/undies and night/loungewear. On the shelf underneath the two small drawers I have my basic tank tops and below that is a couple of dividers with accessories such as smaller scarves, and a handheld steamer. On the shelf above the two before mentioned drawers I keep my everyday knitwear which I never hang up.
In the middle of the wardrobe I've hung up almost all my everyday wear – on these pictures I've got my winter capsule out. I've mentioned it before but I'll say it again, I like keeping my clothing on hangers for two reasons: 1) it gives a better overview and is easier to keep neat and tidy and 2) when I wash my clothes I put it on to a hanger so that I can easily hang it into my wardrobe when dry, plus the gravity smooths out the fabric so I eliminate a lot of the need for steaming and ironing afterwards. People like to tell me that the wire hangers I have are bad for my clothes, but to be honest I've used these for almost 5 years without any issues. It's not the best hanger in the world I'll admit that – you could try those velvet ones that prevent your clothing from sliding of the hanger or maybe invest in the more sturdy wooden ones, if you're afraid the hangers will leave marks on your clothing. But do what you find suitable. Again, I never hang heavier items such as knitwear anyway because that won't end well with these wire hangers, let's be real.
Below my everyday wear I have two trays from Ikea. One is for all my watches and belts, the other one is for all my jewelry. Originally I wanted to put them into a drawer, but first of all they didn't fit inside any of the drawers (I forgot that there's a thing called inside measurements, doh), and second of all I wasn't sure what to put on that shelf underneath my everyday wear anyway. So it worked out just as well, because I like the trays there! Underneath the two large drawers I've put in a slide-out shelf for shoes. I keep most of my shoes in the hallway because that's where I put them on when I leave the house, but it's nice with a little extra room for those I don't have in rotation that specific week on this shelf. Next to my everyday wear there's a compartment that is slightly more narrow but also a bit longer. In here I keep my occasion wear capsule, and it's great for longer dresses and coats. I love that I'm able to fully part my everyday wear from my occasion wear this way. On the shelf above my occasion wear I keep accessories like bags and hats, and below there's a shelf for occasion wear shoes.
…
Skabet er delt lige på midten, så jeg har alt mit tøj i venstre side. Der er både plads til mine 3 opbevaringsbokse med tøj fra tidligere sæsoner (som jeg iøvrigt gennemgår fuldstændigt engang i det nye år, når jeg starter min low buy challenge, for at få et overblik over hvad jeg har), mine æsker med sko tillige fra forrige sæsoner, og så har jeg et par skuffer også. De to små skuffer indeholder sportstøj- og tilbehør og de to store i midten indeholder undertøj samt nattøj og hyggetøj. På hylden under de to små skuffer har jeg basis tanktops og under den er der nogle kasser med accessories som små tørklæder samt en lille hånd steamer. På hylden over de to små skuffer ligger mine hverdagsstrik, som jeg aldrig hænger op da striktrøjer som bekendt ikke har godt af at hænge på en bøjle.
I det store hul i midten hænger alt mit hverdagstøj – på disse billeder er det min vinter capsule, som jeg har fremme. Jeg har nævnt det før, men jeg ynder at hænge mit tøj på bøjler af to årsager: 1) det giver et bedre overblik og er nemmere at holde orden i – og 2) jeg hænger tøjet direkte på en bøjle når jeg har vasket det, hvilket glatter det enkelte stykke tøj ud og minimerer behovet for at skulle stryge eller dampe det efterfølgende. Folk påpeger ofte mit valg af bøjler, men nu har jeg haft de her bøjler i snart 5 år uden problemer. Det er ikke den bedste bøjle det indrømmer jeg gerne (dem med velour er praktiske fordi de holder tøjet på plads og forhindrer det i at glide af, og de tykke træ bøjler minimerer risikoen for, at bøjlen efterlader mærker på tøjet). Men som sagt, så fungerer det her udemærket for mig, så der kan man jo gøre som man synes. Igen, jeg hænger aldrig striktrøjer op af samme årsag, for det kan de ikke tåle og slet ikke med de her bøjler.
Under mit hverdagstøj har jeg sat to bakker ind fra Ikea. Den ene er til ure og bælter, den anden til alle mine smykker. Egentlig ville jeg helst have haft dem i en skuffe, men de kunne for det første ikke være i nogen af dem (nogen havde glemt at tage højde for indvendige mål, ahem), og for det andet vidste jeg alligevel ikke rigtig hvad jeg skulle have på den hylde de nu står på. Så de passer faktisk perfekt der! Under skufferne har jeg en speciel hylde med en bøjle til sko. Jeg har de fleste af mine sko i entreen, men det er alligevel rart at have lidt plads her til ekstra sko her. Ved siden af mit hverdagstøj har jeg et lidt smallere men længere rum. Her hænger mit pænere festtøj og længere ting som kjoler og frakker. Jeg kan ret godt lide, at jeg kan dele min hverdags capsule og min fest capsule op på den måde. På hylden over har jeg accessories som tasker og nogle forskellige hatte, og nedenunder står mine festsko.
My storage boxes were meant to go up on the very top shelf underneath the ceiling, but they didn't fit. So now I only have my out-of-season shoes up there. I also needed to move some things around to be able to fit the storage boxes into my wardrobe, which I think turned out great! There's room for everything inside of my wardrobe and it all still looks neat and tidy; just the way I like it, haha.
In Morten's side of the wardrobe there's a little extra room for bedding and things like weekend bags on the top shelf too, so we've utilized the space very well. So there you have it guys, our new wardrobe!  You can get a live preview in the video below if you want. In any case I hope it gave you some inspiration if you're considering re-designing your own wardrobe, or if you're looking to customize a new one. As I said, the design process and choosing how to utilize the space inside the closet was a little overwhelming, because of the endless possibilities. So I hope this gave you something to start with.
…
Mine opbevaringsbokse skulle egentlig stå helt øverst sammen med de sko der er udenfor sæson, som jeg ikke bruger lige nu – men de kunne ikke være der desværre. Så jeg måtte flytte lidt rundt på nogle ting, og så fordele dem i hver sit hjørne af garderoben i stedet. Og det gik jo så fint! Der er plads til det hele, og det ser pænt og ordentligt ud; ligesom jeg kan lide det, haha.
I Mortens side af skabet har vi ekstra ting som sengetøj og weekendtasker oppe på den øverste hylde, så vi har virkelig formået at få udnyttet pladsen optimalt med dette skab. Så der har I vores nye garderobe skab venner! I kan få en live rundvisning i videoen nedenfor, hvis I har lyst. Jeg håber det gav jer lidt inspiration til indretningen af jeres eget skab, eller hvis I selv er på udkig efter et nyt. Som sagt var selve design processen en lille smule overvældende, fordi der var så mange muligheder. Så måske er det meget rart at have et udgangspunkt.