When I finished my education as a designer back in 2012 and my husband finished his education becoming an electrician, we moved to Aarhus (the second largest city in Denmark). We moved there both because my husband got accepted at Aarhus School for Marine and Technical Engineering, where he would study for 3,5 years, but also because the city had more job opportunities for me as well. And Aarhus is also just such a lovely city. It's a bigger city too but of course nothing compared to other big cities in the world. It's not nearly as stressful and crowded there. In any case this whole thing is often something a lot of young people are facing, when they finish high school and they start thinking about where to go to uni or where they want to work. Maybe they want to get away to mature and just get away from the safe space of home for a while which I think is healthy for most people. We were in no rush to get away from Aabenraa where we live now and where we also used to live before moving to Aarhus. I've actually always liked Aabenraa and I've always felt like this was my home. But back then I didn't look at the city the same way I do now, and both Morten and I just wanted to get away for a while and try something else. For a long time we actually discussed staying in Aarhus and finding a permanent home up there. But after 3 years in the city we just started feeling an urge to come home.
…
Da jeg i 2012 blev færdiguddannet som designteknolog og min mand blev færdiguddannet som elektriker, så flyttede vi til Århus. Dels fordi min mand blev optaget på maskinmesterskolen deroppe, men også fordi der var lidt flere muligheder for mig med min uddannelse, og fordi Århus bare er en dejlig by. Det er også en større by – nok hvad man på Dansk jord ville kalde en storby, selvom den ikke virker så stor og stressende som andre storbyer rundt omkring i verden. Ihvertfald er det her jo ofte et valg mange især unge står overfor, når de er færdige med deres ungdomsuddanelse: hvilken storby man skal flytte til efterfølgende. Enten for at læse videre eller måske bare for at komme lidt væk hjemmefra og blive lidt mere moden, hvilket jeg tror er meget sundt for de fleste. Det var på ingen måde fordi vi havde travlt med, at komme væk fra Aabenraa dengang vi flyttede til Århus. Faktisk har jeg altid godt kunne lide Aabenraa, og jeg har altid følt mig hjemme her. Men jeg så helt bestemt ikke på byen med samme øjne dengang som jeg gør i dag, og både Morten og jeg ville gerne bare ud og prøve noget nyt. I lang tid snakkede vi faktisk om på sigt, at blive i Århus og købe hus der. Men efter 3 år trak det bare i os, at flytte hjemad igen.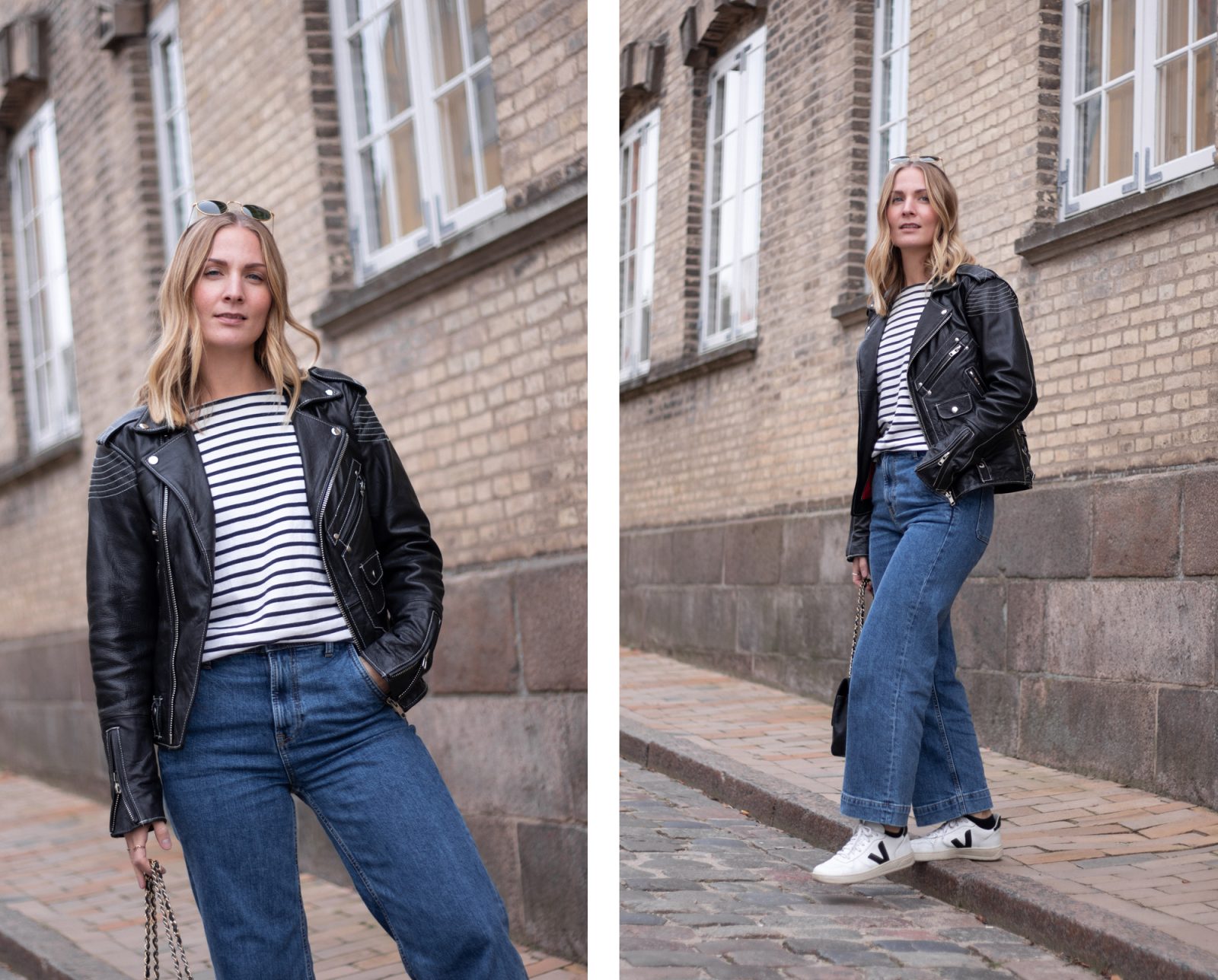 Jeans – AD/gifted Everlane / top – Everlane / Jacket – Pelechecoco / sneakers – Veja / Bag – vintage Chanel
Morten and I both went to high school in Aabenraa, it was where I moved to when I moved away from home and it was also here that we met each other. So there's a lot of lovely memories connected to this city for us and that in itself just give a sense of being home. That's how I feel anyway. Everytime we've visited Aabenraa, even when we didn't live here, I've always felt this inner peace. Kind of a feeling of belonging somewhere, even though most of the people you used to hang out with are no longer here and also even though I haven't lived here my entire life. Some way that's not important, because some of the best memories ever made are still here. So that's also one of the reasons why we choose to sell our old house which was in a tiny suburb to Haderslev, a town located half an hour north from Aabenraa. It just became a bit too quiet up there and we just never fully established that same feeling of being home.
So when we sold the house and moved back to Aabenraa this spring, I also experienced the city in a whole new way than before. And of course it's all natural, it's 10 years ago since we lived here last, we've grown up and the city in itself has changed a bit too. But I appreciate all the little things here way more than I did when I was young, all the cute little streets were here back then too but I just look at the whole city from another perspective now. I love that we get the best of several worlds here: the ocean and the forest and the city center with the alley of shops and cafés, and it's all located in a bicycle friendly distance from our home. There's lots of schools and educations here and the city does offer quite a few different cultural events too. It's never over-crowded here but at the same time the city never goes completely to sleep either. Our shops and cafés are not extravagant but they are quite humble and cozy and I love that. Just having the opportunity to go out and eat just 5 mins away from home is something we really appreciate. Since I've gotten more and more involved and interested in the local business life after moving home, it's become crucial for me to support the local businesses too. Sure, I'd love for more shops to work a little harder on climate change (there's not a lot of shops I actually shop in here), and some of the cafés have been doing the same things safely for a little too long in my opinion, and could do with following along with the trends of time (offering a wider selection of vegetarian or vegan food to mention one thing). But there are definitely new things happening sometimes, and I love the peaceful proces of new initiatives in this city. Like when a new shops opens or something new is being constructed here, the whole city is following the proces with excitement and I like that feeling of community. Even when we're just out walking Oskar in our new hood we sometimes stop and have a chat with our neighbours, sometimes even just strangers who are also out walking their dog and I love it.
…
Morten og jeg har begge gået på gymnasie i Aabenraa, det var her jeg flyttede til da jeg flyttede hjemmefra og det var også hér vi mødte hinanden. Så der er virkelig mange dejlige minder forbundet til byen, og det i sig selv gør bare, at man føler sig hjemme. Sådan har jeg det ihvertfald. Hver gang vi har besøgt byen, også da vi ikke boede her, så har jeg haft sådan en følelse af ro i kroppen. Sådan lidt en følelse af at høre hjemme et sted, også selvom langt de fleste af de mennesker man hang ud med dengang i de yngre dage ikke længere bor her, og også selvom jeg ikke er vokset op her. Det er på én eller anden måde ikke vigtigt, for nogle af de bedste minder man har er her stadig. Så det var også én af grundene til, vi valgte at flytte fra vores gamle hus der lå i en meget lille forstad til Haderslev. Det blev os en tand for stille og vi kunne bare ikke rigtig få etableret den der samme følelse af hjem.
Da vi så fik solgt huset og flyttede tilbage til Aabenraa her i foråret, så oplevede jeg byen på en helt anden måde end hidtil. Og det er selvfølgelig naturligt, det er snart 10 år siden vi sidst var bosat her, så byen i sig selv har jo forandret sig og vi er også blevet mere voksne. Men jeg sætter virkelig pris på alle de små hyggelige gader og stræder der er her, som jo altid har været her, men som jeg bare aldrig rigtig har påskønnet på samme måde før. Jeg elsker at man får det bedste fra flere verdner her; vand og skov og en hyggelig gågade med butikker og caféer, og det hele ligger stort set i cykelafstand fra vores hjem. Der er masser af uddannelsesmuligheder og også en del kulturelle arrangementer og events faktisk. Her er aldrig over-crowded, men byen står heller ikke komplet stille. Vores butikker og spisesteder er ikke ekstravagante men beskedne og hyggelige (og jeg er så taknemmelig for, at vi overhovedet har caféer kun 5 minutter fra vores hjem, hvis man trænger til en hyggelig aften ude), og eftesom jeg er blevet mere involveret og interesseret i forretningslivet i byen, så er det også blevet enormt vigtigt for mig netop at støtte det lokale byliv. Jovist, ville jeg ønske at flere butikker ville arbejde lidt hårdere på den grønne omstilling (der er ikke ret mange butikker her, som jeg rent faktisk shopper i), og der er også nogle af fx caféerne der sidder lidt for trygt og godt fast i den gamle rille, hvor man ville ønske de ville følge lidt mere med tiden. Men der spirer helt sikkert spændende initiativer op her og der og jeg elsker den ro der er over processen. Når der bliver åbnet en ny butik eller bygget ét eller andet nyt her, så følger hele byen spændt med og det kan jeg ret godt lide. Sådan en følelse af fællesskab. Selv når vi er ude og gå med hunden i vores nye villakvarter, så stopper vi op og hilser på naboerne eller andre forbipasserende med deres hunde og jeg nyder det virkelig.
When we moved back here 6 months ago I joined the local Fitness World which is literally just around the corner from our apartment, and I find it so cozy that when you start taking some classes there you slowly get to know the instructor and some of the other fitness members taking these classes too. That doesn't necessarily happen when you live in a big city, where there's a gym on almost every street corner. Again, this sense of community is so lovely. There's a lot of focus on us to go out and explore the world which is really valuable too – I love visiting the European capitals myself (especially London has almost become my other home work-wise for the past year or so), but there is definitely also lots of value in staying local and supporting the community there. Maybe even being able to make a difference in your local community. I know it sounds so mundane and almost boring, but there's just something about that phrase "there's no place like home", right? I'm not trying to paint you guys a pretty picture of Aabenraa as a city, but I do hope that this post will help you find a sense of peace exactly the way moving "home" has done for me. I had a period where I doubted everything as you might remember, just when we moved back here. We weren't tied up by a house anymore and we were free to do whatever we wanted basically, so if we wanted to go out into the world and live somewhere else we could. But now that we've found our new house and we're slowly getting it ready for us to move into, I feel like I'm slowly getting back at my feet and I've just let go of that "fear of missing out" feeling that has been nagging me for so long. And it just feels amazing. The world will still be there, we can always go out and explore it – but on a daily basis I must say I'm quite happy here in my safe, comfortable little spot of the world that makes Aabenraa. 
To finish up this post I'd like to say a huge thank you to those of you who shared your own small-town experiences with me in THIS post! I fully enjoyed reading through your comments and I saw myself in quite a few of them too, so thank you for sharing your stories with me.
…
Da vi flyttede tilbage hertil for et halvt år siden meldte jeg mig også ind i den lokale Fitness World der ligger lige rundt om hjørnet, og jeg synes simpelthen det er så hyggeligt, at når man tager nogle bestemte hold der igen og igen, så lærer man langsomt instruktøren og de andre medlemmer at kende. Det sker altså ikke nødvendigvis i de større byer, hvor der ligger en fitness world på hvert et gadehjørne. Igen, så synes jeg bare den her følelse af samhørighed og fællesskab er så skøn. Der er så meget fokus på, at vi skal ud og opleve verden hvilket der helt sikkert også er meget værdi i – jeg elsker selv at rejse til især de Europæiske storbyer (London er selvfølgelig en klar favorit og er nærmest blevet mit andet hjem sådan work-wise det sidste år), men der er helt sikkert også en kæmpe værdi i, at blive i det lokale og støtte op om livet dér. At kunne være med til, måske at gøre en forskel i sit lokalområde. Det lyder helt vildt leverpostejs-sønderjyde-agtigt, det ved jeg godt… men altså, der er noget om frasen "ude godt men hjemme bedst", ikke? Nu er det ikke fordi jeg vil male et helt vildt lyserødt billede af lige netop Aabenraa, men jeg håber alligevel det her indlæg kan hjælpe jer derude med at finde lidt ro, præcis ligesom det at flytte "hjem" har givet mig. Jeg var i en kort periode lige efter vi havde solgt huset og var flyttet ind i vores lille, midlertidige lejlighed, virkelig meget i tvivl om hvad jeg ville – for nu lå alle kort ligesom åbne. Vi var ikke bundet af et hus, så hvis vi ville ud og opleve verden kunne vi det. Men nu da vi har fundet vores nye hjem, og vi går og er ved at gøre det klar til indflytning, så har jeg langsom fundet mit fodfæste igen og slippet den der "fear of missing out". Og det føles bare så skønt. Verden render ingen steder, den kan vi altid tage ud og udforske – men til hverdag har jeg det nu altså ganske dejligt her i mit lille smørhul; Aabenraa.
Jeg vil lige her til sidst sige kæmpe tak til alle jer small-town-mennesker der delte jeres tanker med mig i DETTE opslag, hvor jeg spurgte jer hvad I bedst kunne lide ved, at bo i en mindre by. Det var simpelthen så hyggeligt, at læse jeres historier og jeg kunne genkende mig selv i mange af jeres erfaringer!


12