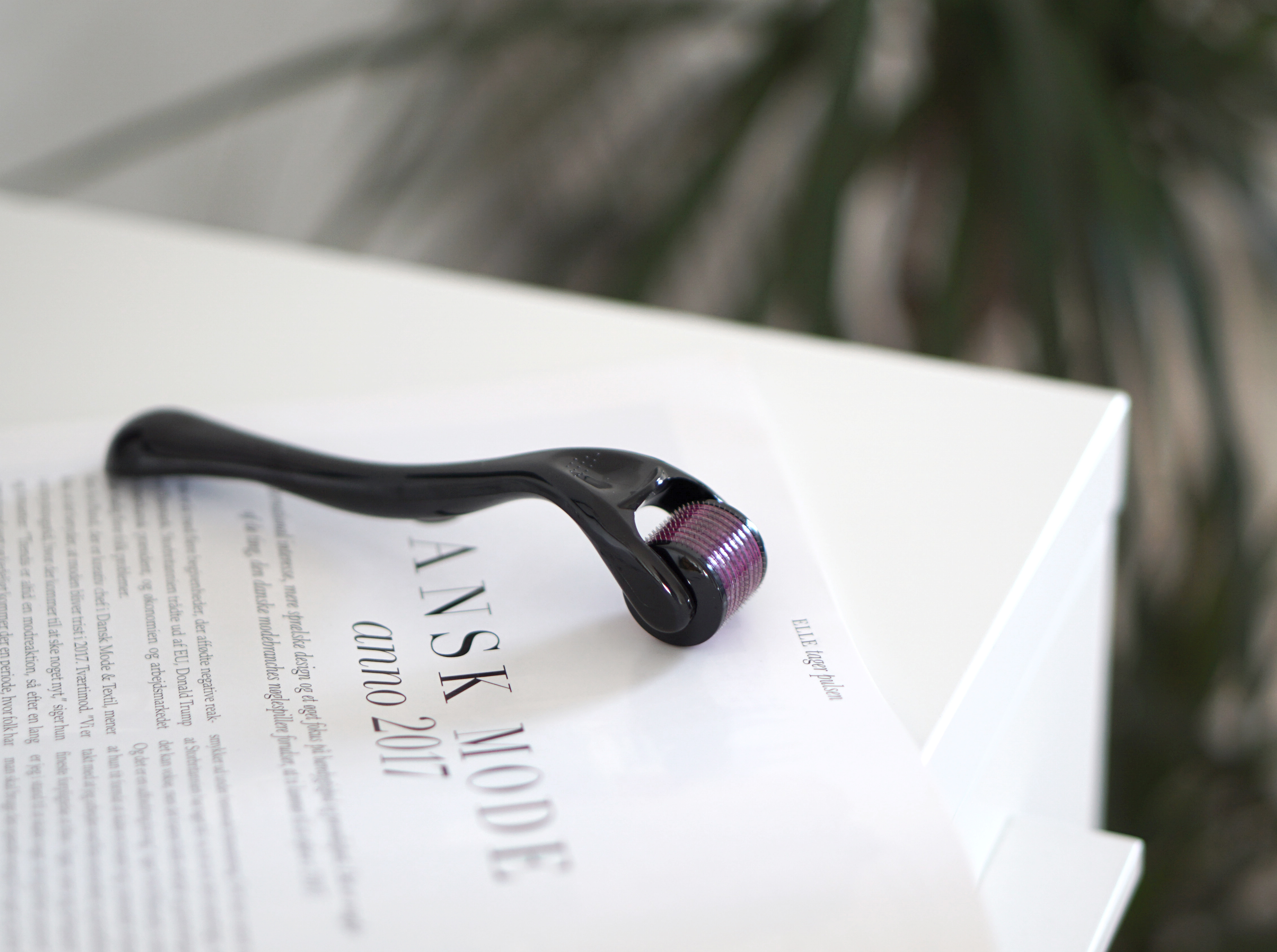 Find a dermaroller HERE (worldwide shipping)
/ The other day I shared on my Instagram that I recently started using my dermaroller again after taking a couple of months break. Actually, I think I stopped using it in the middle of my project "avoiding plastics". And while I still do what I can to avoid plastic (especially those types that can not be recycled), there are some places I find it difficult to compromise. I have tried to find a dermaroller in metal and also think it would be pretty cool if you could get one where you can change the head once in a while when the needles are getting dull. But maybe it's coming someday. I hope so. Until then the head with the needles can be removed and the shaft can be recycled as hard plastic. So far, I have tried using the same roller in about half a year, so how often it really needs to be replaced, I actually don't know.
Some time ago I made the below video where I show exactly how to use the dermaroller. The only difference is that I no longer use either serum or disinfectant spray. Instead, I boil some water in our electric kettle and pour it over the roller after use, and it works just as well. It is very important that you kill any bacteria after use, so it is clean and ready for the next time you need it. I quit using serum a long time ago, because I wanted to settle with a simple skin care routine that works, and at the same time one that requires the least amount of (excess) "miracle" products. And the dermaroller is a fantastic product in itself. The derma roller tricks your skin into regenerating itself when you roll the tiny needles over your skin. It also makes sure your skin absorb the face cream you apply afterwards better – make sure to use one without perfume that is mild on your skin to avoid any irritation. 
Den anden dag delte jeg på min Instagram, at jeg efter et par måneders pause igen er begyndt at bruge min derma roller. Egentlig tror jeg at jeg stoppede med at bruge den midt i projekt "undgå plastik". Og selvom jeg stadig gør hvad jeg kan for netop at undgå plastik (især den slags som ikke kan genanvendes), så er der bare nogle steder, jeg synes det er svært at gå på kompromis. Jeg har forsøgt at finde en i metal, og synes også det kunne være ret cool hvis man kunne få én, hvor man kan nøjes med at skifte hovedet indimellem, når nålene engang bliver sløve. Men måske det kommer en dag. Det håber jeg. Indtil da kan hovedet med nålene tages af, og skaftet kan genanvendes som hård plast. Indtil videre har jeg brugt den samme derma roller i ca. et halvt år, så hvor tit den reelt set skal udskiftes ved jeg faktisk ikke.
For noget tid siden lavede jeg faktisk denne video, hvor jeg viser helt præcist hvordan man skal bruge dermarolleren. Den eneste forskel er, at jeg ikke længere bruger hverken serum eller desinficerings spray. I stedet koger jeg lidt vand i elkedlen og hælder over hovedet efter brug, og det fungerer lige så godt. Det er meget vigtigt, at man får dræbt eventuelle bakterier efter brug nemlig, så den er ren og klar til næste gang du skal bruge den. Serum droppede jeg for lang tid siden, for jeg ville hellere finde mig til rette med en simpel hudpleje rutine som fungerer, men hvor der samtidig er behov for mindst mulige "mirakel" produkter. Og der er dermarolleren et fantastisk produkt i sig selv. Måden den virker på er at snyde huden til at forny sig selv, og den absorberer også den creme du efterfølgende putter på bedre. Sørg for at bruge en parfumeri og ren en, så din hud ikke bliver irriteret.
/ I use my dermaroller once a week and preferably before bedtime as the skin may get red and it's important that you don't put anything on the skin than a nourishing face cream afterwards. I use a day cream without perfume for sensitive skin. You must use it on clean skin, and then roll it with light pressure in vertical, horizontal and oblique directions across the skin, as I show in the video. Many of you have asked if it hurts, but I don't think so. The needles are not so sharp that they make holes in the skin. Of course it does pirckle a bit and afterwards it may feel a bit like you have been slightly sunburned, but it's not that bad. Don't share your dermaroller with others, and also don't roll it over acne that is active as it can transfer bacteria to the rest of the face. Lastly you must disinfect it with boiling water as I mentioned before, once you're done using it.
After I stopped using my dermaroller over the summer, I've had a lot of little pimples on my forehead, especially along the hairline. I have not really tried that before and it's really frustrating to battle with something that reminds you of teenage skin when you're getting close to 30, haha! I then started using it again three weeks ago and I can clearly see the difference. My skin is much more smooth and even in skintone and the number of acne breakouts is really minimal and all the little pimples I was bothered with over the summer is almost gone. The only products I use on an everyday basis is an organic facial wash without perfume and parabens (this one) and the face cream I mentioned before for sensitive skin. That's it. No serum, no miracle products or anything and it works really well! Keep in mind that we all have different skin types, but I'm very glad that I've been able to simplify my skin care routine SO much, just using the dermaroller. So give it a try girls (and boys), it's not as dangerous as it may sound!
Jeg bruger min dermaroller 1 gang i ugen og helst inden sengetid, da huden godt kan blive ret rød, og det er bedst man ikke kommer andet på huden end en plejende creme efterfølgende, så huden kan få lov til at restituere. Jeg bruger en dagcreme uden parfume til sensitiv hud. Man skal bruge den på ren hud, og derefter kører man den med let pres i vertikal, horisontal og skrå retninger henover huden, som jeg viser i videoen. Mange af jer har spurgt om det ikke gør ondt, men det synes jeg ikke det gør. Nålene er ikke så spidse, at de ligefrem prikker hul på huden. Selvfølgelig prikker det lidt og efterfølgende kan det godt føles lidt som om man er let solbrændt, men det er ikke voldsomt. Du må ikke dele din dermaroller med andre, og du må heller ikke køre den henover akne som er i "udbrud", da det kan overføre bakterier til resten af ansigtet. Efterfølgende skal du desinficere den, evt. med kogende vand om jeg nævnte før.
Efter jeg holdt op med at bruge min dermaroller her henover sommeren, har jeg haft rigtig mange små bumser i panden, især langs hårlinjen. Det har jeg ikke rigtig prøvet før, og det er virkelig frustrerende at døje med noget der minder om teenage hud når man snart er 30, haha! Jeg begyndte så for tre uger siden igen at bruge min dermaroller, og jeg kan tydeligt se forskel. Min hud er meget mere glat og ensartet og antallet af akne udbrud er virkelig minimalt og alle de små bumser jeg døjede med henover sommeren er næsten væk. Det eneste jeg bruger til dagligt er en økologisk ansigtsvask uden parfume og parabener (denne) og så den creme jeg nævnte før til sensitiv hud. That's it. Ingen serum, ingen hokus pokus, og det fungerer! Husk på der er forskel på hudtyper, men jeg er super glad for, at jeg har kunnet simplificere min hudpleje rutine SÅ meget, bare ved hjælp af dermarolleren. Så giv den et forsøg piger (og drenge), den er slet ikke så farlig som den lyder!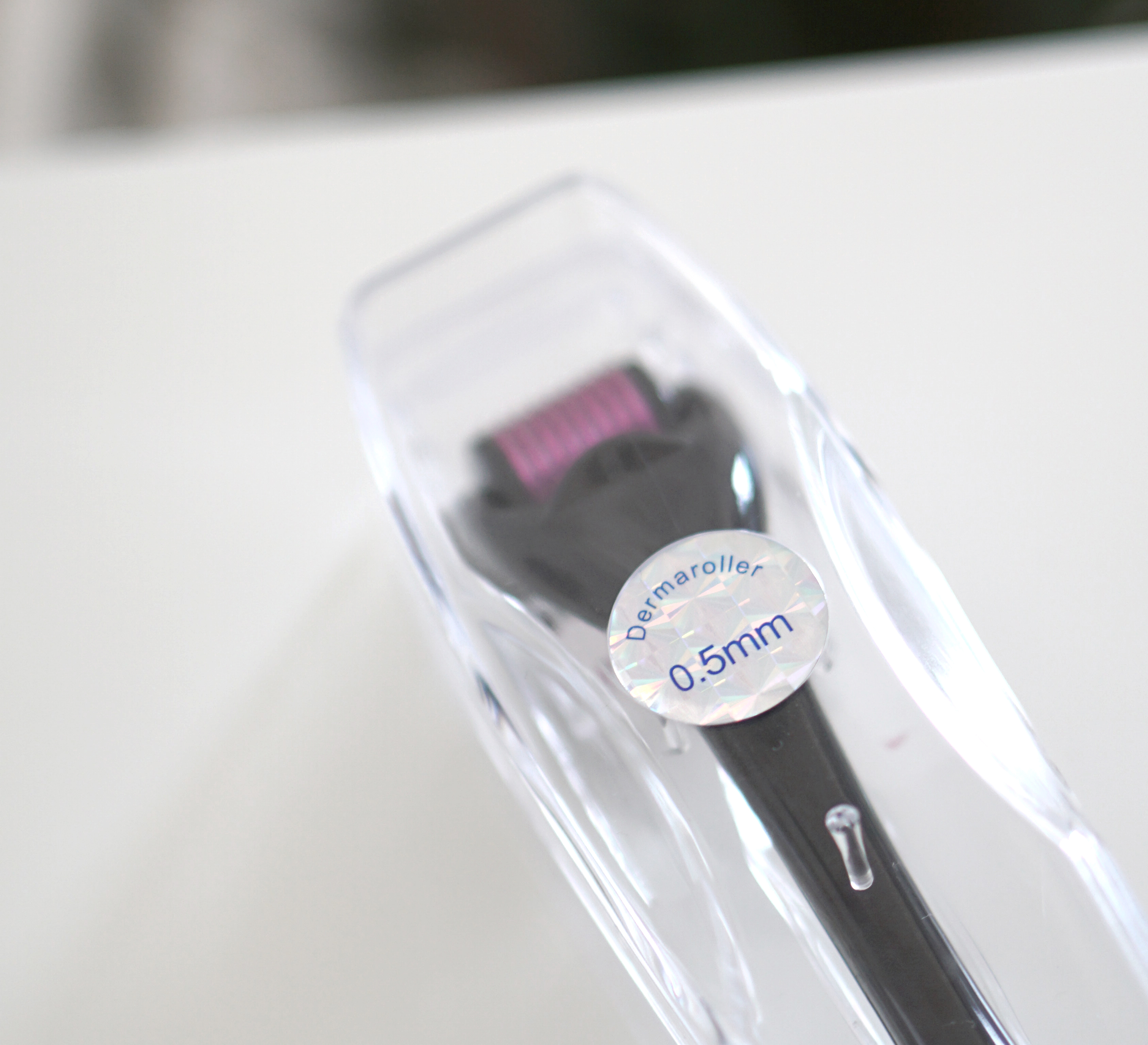 2