Adlink: Get 20% off the black short sleeve shirt with the code USELESS right here
Even though there's snow on the ground in Denmark right now (and lots of it), I've spend the past week working on my spring capsule. I know some people are gonna say it's way to early, and I agree – you should wait until it makes sense to you. Just because the calendar says March 1st which means it is officially spring, you don't have to start before the weather allows you to. But you know what, a capsule wardrobe is entirely yours, and you get to make your own rules. I was just so ready to sprinkle some fresh colours all over my wardrobe! There are some items I can't use yet (my flats for example), but I can pretty much already use everything else using layers to stay warm. The cool thing about my all-year basics is that it suits all temperatures and all seasons, which makes it perfect for these transitional periods between seasons. My knitted jumpers are perfect for a cool summer evening but certainly also right now, since we've had all this unexpected snow just as we were about to greet springtime. 
As always I would like to emphasize that the number of items is very individual – I have 10 items in my seasonal capsule this time around, that I'm gonna use to spice up my all-year basics and give me that real spring feel. If you'd like to learn how I've found inspiration for the final outlook of my capsule this time around you can do that right HERE, and if you are completely new to the capsule wardrobe system you can read my step-by-step guide on how to get started right HERE. Most of the items shown above are from my storage and thus something I've "shopped" in my own closet, and then there are some things I picked up at the Brick Lane vintage market in London.
Selvom der lige nu ligger sne på jorden udenfor (masser af det endda), så har jeg den seneste uge arbejdet på, at gøre min forårsgarderobe klar. Jeg ved nogen vil sige det er tidligt, og jeg synes også helt klart at man skal vente, til man synes det giver mening. Bare fordi kalenderen skriver 1. marts hvilket officielt er den første forårsmåned, så behøver man ikke starte før vejret er med os. Men en capsule wardrobe er din helt egen, og du bestemmer selv, hvornår du vil gøre hvad. Og jeg var bare i humør til, at få noget farve ind i min garderobe! Der er nogle ting jeg selvfølgelig ike kan bruge endnu (fx mine ballerinaer), men det meste kan faktisk allerede tages i brug, fordi jeg kan bruge flere lag til, at holde varmen. Det fantastiske ved min helårs basis garderobe er nemlig, at den netop passer til alle årstider og temperaturer hvilket især gør den god til de her overgangsperioder. Mine striktrøjer fungerer ikke kun godt en kølig sommeraften; de bruges også flittigt lige nu, fordi vi netop har fået så meget uventet sne som vi har.
Som altid vil jeg gerne påpege, at antallet af items er meget individuelt – jeg har denne sæson i alt 10 items i min sæson capsule, som skal peppe min basis garderobe op og give mig den der følelse af forår. Hvis du vil vide hvordan jeg har fundet inspiration til looks og taget beslutning om hvilke items jeg ville have med denne gang kan du lære mere HER, og hvis du starter fra bunden med capsule wardrobe systemet kan du læse min step-by-step guide til at komme igang lige HER. De fleste af de ting I ser ovenfor har jeg hevet frem fra gemmerne og altså "shoppet" i min egen garderobe, og så er der et par ting jeg har købt på Brick Lane vintage market i London.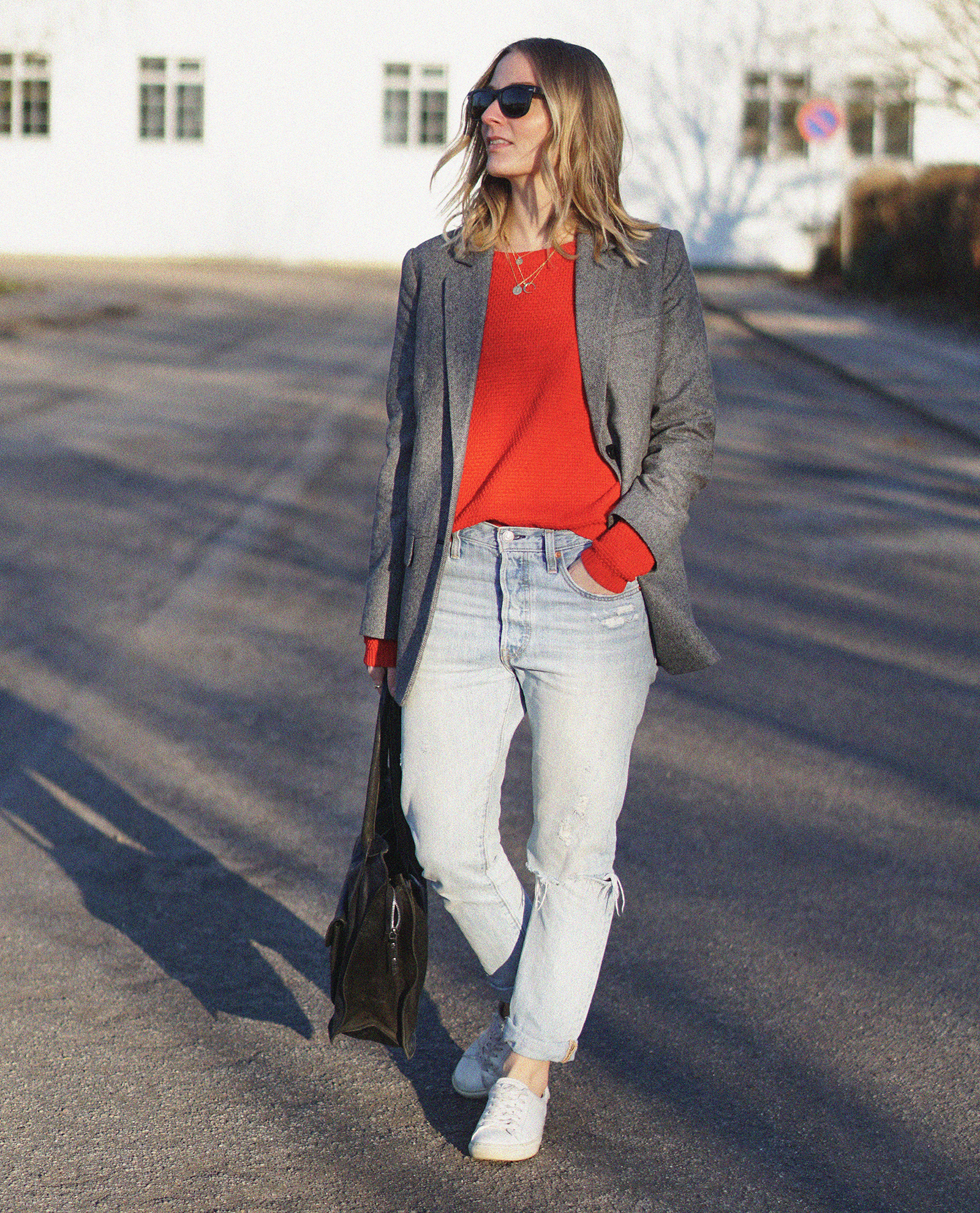 Items from storage. I had a great deal of items from last year, that I was dying to get back out from storage. My polka dot denim shirt is maybe 5 years old, and it fits perfect into my capsule this season. Both because polka dots are supposed to be all the rage this spring and summer, but also because I can't wait to pair it in a denim-on-denim look. Then there is my blush shirt and my red jumper, both which really brightens up my wardrobe this time around! Besides that I've puled back out my beloved leopard flats from last year, and I've really missed those! Leopard print is probably the only print I truly like (besides stripes, but then again that's not really a print). I especially like the leopard print against the red colour. I've also pulled out my blush flats which are a couple years old, and I like how they tie the blush colours together and then I have some different flats to choose between. My vintage kitten heels are actually from my occasional wear capsule, but I wan't to use them as a joker every now and then in my everyday wardrobe, just if I feel like dressing up a bit. The low heel makes them perfect for daily use.
New items. As I also mentioned in my spring capsule inspiration video, I'm all about that sort of French, romantic look this season. I was gifted the short sleeve shirt from the Canadian brand Power Of My People, and they make the most stunning sustainable shirts. Together with a lace bra, jeans and a pair of kitten heels that look just ticks all the poxes when it comes to that romantic look! Besides this brand new shirt I've managed to find the rest of my additions secondhand. I found the beige biker, the dark wash Levi's jeans and the printed tee in a couple of vintage shops on Brick Lane in London a few months back. You can follow me around on my vintage shopping hunt right HERE. I always try to do my best to find secondhand items when I want to add something to my wardrobe, and I had prepared before we took off and made a list of items I wanted to find in the vintage stores. It's so cool to be able to prove to myself over and over again, that it IS actually possible to find what your looking for in the secondhand shops! 
If you want to see how I style these items and just hear some more thoughts about my spring capsule in general, you can do so by watching the video in the bottom of this post. Otherwise remember to follow me on Instagram where I share daily outfits made with my capsule wardrobes!
Ting fra gemmerne. Jeg havde en god håndfuld items fra sidste år, som jeg virkelig har glædet mig til, at kunne hive frem igen. Min prikkede denim skjorte er flere år gammel, og den passer perfekt ind i min capsule denne sæson. Både fordi prikker bliver én af sommerens helt store trends, men også fordi jeg glæder mig til, at sætte den sammen med både lyse og mørke denim jeans. Så er der den rosa skjorte og min røde strik, som virkelig lyser min garderobe op! Udover det så har jeg taget mine leopard ballerinaer fra sidste år frem igen, og dem har jeg godt nok savnet! Leopard print er nok det eneste print jeg virkelig elsker (udover striber, men det er jo ikke sådan rigtig et print). Synes især de står godt sammen med den røde farve. Jeg har også hevet mine rosa ballerinaer frem, som er et par år gamle bare fordi de binder de rosa farver godt sammen, og så har jeg lidt at skifte mellem. Mine vintage kitten heels er oprindeligt fra min gå-i-byen capsule, men jeg kunne godt tænke mig, at hive dem ind i min hverdags garderobe bare en gang imellem, hvis jeg føler for at gøre mig lidt ekstra fin. Den lave hæl gør dem nemlig perfekt til hverdagsbrug.
Nye items. Som jeg også var inde på i min inspirations video til min forårs capsule, så er jeg i år helt forgabt i det her lidt franske, romantiske look. Den kortærmede skjorte har jeg fået i gave af det Canadiske brand Power Of My People, som laver de fineste bæredygtige skjorter. Sammen med en blonde BH, et par jeans og et par kitten heels syns jeg den falder perfekt indenfor dette univers! Udover denne nye skjorte så er resten af de "nye" tilføjelser til min forårs capsule faktisk købt brugt. Jeg fandt både min beige biker jakke, den printede sports t-shirt og de mørkeblå Levi's jeans i vintage butikker da jeg var i London, for ikke så lang tid siden. Du kan følge mig på min shopping tur lige HER. Jeg gør altid en dyd ud af, at undersøge mine muligheder i brugte versioner før jeg køber nyt, og jeg havde derfor forberedt mig hjemmefra og lavet en liste med ting, som jeg ville kigge efter i vintage butikkerne når vi kom til London. Så fedt gang på gang at få bevist overfor sig selv, at man faktisk godt kan finde de ting man forelsker sig i brugt!
Hvis du vil se hvordan jeg styler de enkelte items og høre lidt flere tanker bag min forårs capsule, så kan du netop dette i min video nederst i indlægget. Ellers så husk at følge mig på Instagram, hvor jeg dagligt lægger inspiration op til, hvordan jeg style mine capsules!
Current top secondhand picks (adlinks)