COLOUR CONSULTATIONS
Discover your best colours and feel more confident
GET A TAILORMADE COLOUR PALETTE THAT WORKS FOR YOU ON EVERY LEVEL
COLOUR CONSULTATIONS
3 reasons to get a colour analysis
Colour analysis is a wonderful way to make smarter, longterm wardrobe investments. It's a way to ensure the colours you wear will make you look (and feel!) amazing – and it's a powerful tool that will give you confidence to wear colour because you'll finally know how to do it. Anyone can wear any colour they want. But the version of the colour and how you wear it has a big impact on both your appearance, the way you feel as well as how you're perceived by your surroundings. And that's no matter if you love wearing neutrals or rainbow palettes!
It's important to note that personal preferences play a large role in fashion choices, and color analysis is just one tool to help you make more informed decisions. Ultimately, it's about finding a balance between your preferred styles and colors that enhance your natural features.
01
Enhance your personal style
By understanding your best colours, you can select clothing and makeup that harmonize with your features, making you look more vibrant and boost your confidence.
02
Streamline your wardrobe
By selecting colours that complement each other (and you!), you can create various outfit combinations with a limited number of versatile pieces.
03
mindful spending habits
When you know your best colours and combinations, it can save you time and money wasted on items that end up sitting unworn in your closet.
FINDING YOUR COLOUR TYPE
why colour me beautiful?
The colour me beautiful Tonal System is unique. We moved from the traditional 'seasons' approach many years ago to offer clients more flexibility in the way that we analyse. This doesn't mean that the 'seasons' approach is wrong – or that any other way of doing colour analysis is wrong for that matter – it's just a different, slightly more flexible approach. As well as assessing the look of someone, I also take into account their style personality and profession. This allows me to provide my clients with a palette of colours that work for them on every level of their life and style preferences. And more importantly, I teach them how to wear their colours too.
In its simplest form, the colour me beautiful tonal system is made up of 6 dominant colour types. I then build upon these to find your secondary and tertiary colours through what we call an advanced analysis – and with all the combinations possible we then end up with no less than 24 different colour types! Can you spot your dominant colouring from this post?
SHOWING THE LOVE
what my clients & students say
It's been almost a month since we met and I can't explain how grateful I am that you could give me the clarity I needed. Ever since we met I've been recreating amazing outfits. I feel great. a new me has been born.
Triana
Client, Virtuel wardrobe review
Signe helped me find my way back to the core of my style, and in no time she came up with a lot of new outfits using items from my closet. I have items within my wardrobe that I haven't used for years upon years which have now become my new favorites just by styling them in the right way - I never thought this would be possible!
Arlen Aguilar
Client, in-person wardrobe review
Booking this session was my treat to myself for the new year, and it was worth every penny. As we went through my color type. the light bulb went off and I feel more confident now, as previously I was pretty confused about what colors and combinations work best for me. Defining my style and reviewing my wardrobe has also really given me clarity about how to create outfits I feel both comfortable and chic in. I know this section in particular will really help me dress in a way that truly expresses who I am. Thanks so much Signe!
Hannah Lobb
Client, ivirtual wardrobe review & color analysis
virtual colour consultation
(worldwide bookings – requires access to Zoom – please read below info before booking)
is it really possible to conduct a colour analysis virtually?
Thanks to the flexibility of The Tonal System we use at CMB we can cover part of the analysis even when it takes place online. However, note that a virtual consultation of course has a few limitations and if you have the option, I'd always recommend face-to-face consultations to get the full experience! Having said that, we would be able to define what we call your "dominant" colour type through a virtual consultation. Have a look at this post for a deeper explanation of what that means.
The dominant colours in your palette take up 30 out of up to 42 in total, so even the virtual consultation will be a helpful eyeopener and can get you off to a great start.  For finetuning and adding the final 12 colours, often defined by for example your skin's undertone (or other factors that generally can't just be seen with the naked eye), I'd always advice in-person consultations over virtual ones. We rely heavily on our technical coloured testing drapes when we do the advanced, full analysis on our clients. A person's undertone can be hard to get right just by looking at pictures for example. In case I can easily add those extra 12 colours to the analysis I will of course offer you this*, but please note that the virtual consultation by default doesn't include it.
*The add-on colours are not included in the digital palette and are only available in connection to purchasing the physical swatch wallet
VIRTUAL COLOUR ANALYSIS (1 hour)
€169

(1199,- DKK)

DIGITAL COLOUR PALETTE (DOMINANT COLOUR TYPE, 30 COLOURS)

MAKEUP COLOURS GUIDELINE

PRESENTATION OF YOUR BEST COLOURS: FROM NEUTRALS TO ACCENTS

HOW TO COMBINE/WEAR YOUR COLOURS

HOW TO WEAR COLOURS/ITEMS FROM YOUR WARDROBE (MY IDEAS)

HOW TO BEST WEAR COLOURS YOU ALREADY HAVE (EVEN THE ONES THAT ARE NOT IN YOUR PALETTE)

OPPORTUNITY TO ORDER A TAILORMADE FABRIC SWATCH WALLET (FROM €59)*

ACCESS TO A SECRET PINTEREST BOARD WITH COLOUR INSPIRATION​
express colour analysis
(worldwide bookings!)
why choose the express option?
This solution is perfect for the time-pressed individual! This option is similar to the virtual consultation, though this will be entirely based on email correspondence.
With the express colour analysis you simply send me a few well-lit pictures of yourself (a guide will be included in the confirmation email upon booking), and I will then use those to define your dominant colour type. Within 3-5 days you will receive the result of your analysis including a digital colour palette (30 colours), colour type description and some examples on how to best wear and combine your colours.
This analysis is lightly stripped down compared to my other services, but it offers you lots of valuable information regardless – so you can get off to a good start if you have no idea what your best colours might look like.
EXPRESS COLOUR ANALYSIS
(results within 5 working days)
€129

(959,- DKK)

DIGITAL COLOUR PALETTE (DOMINANT COLOUR TYPE, 30 COLOURS)

MAKEUP COLOURS GUIDELINE

HOW TO COMBINE YOUR COLOURS (DESCRIPTION + A FEW EXAMPLES)

OPPORTUNITY TO ORDER A TAILORMADE FABRIC SWATCH WALLET (FROM €59)*
GROUP OFFER
Book as a group and get 15% off each individual analysis!
For group bookings, please contact me at bookings@uselesswardrobe.dk
(in-person consultations only)
in-person colour consultations
(in my studio in Aabenraa)
Though the virtual consultations are great especially if you are unable to come see me (or any of my Colour Me Beautiful colleagues) in-person, there's no doubt that the absolute best experience with colour analysis will be the face-to-face ones conducted in my studio.
During these consultations you will have all your wonderful colours draped directly underneath your chin, so you can see the impact they have on your face, appearance and wellbeing. This is a great opportunity to discover some new colours you wouldn't have thought about wearing before; in fact, most of my clients leave my studio floating on a little cloud of confidence after an in-person consultation!
COLOUR ANALYSIS (1 hour)
€229

(1699,- DKK)

FIND YOUR COLOUR TYPE

PRESENTATION OF YOUR BEST COLOURS: FROM NEUTRALS TO ACCENTS

HOW TO COMBINE YOUR COLOURS

HOW TO BEST WEAR COLOURS YOU ALREADY HAVE (EVEN THE ONES THAT ARE NOT IN YOUR PALETTE)

TAILORMADE SWATCH WALLET INCLUDED (42 COLOURS – VALUE €69)

ACCESS TO A SECRET PINTEREST BOARD WITH COLOUR INSPIRATION
COLOUR ANALYSIS & MAKEUP SESSION (2 hours)
€259

(1899,- DKK)

FIND YOUR COLOUR TYPE

PRESENTATION OF YOUR BEST COLOURS: FROM NEUTRALS TO ACCENTS

HOW TO COMBINE YOUR COLOURS

HOW TO BEST WEAR COLOURS YOU ALREADY HAVE (EVEN THE ONES THAT ARE NOT IN YOUR PALETTE)

TAILORMADE SWATCH WALLET INCLUDED (42 COLOURS – VALUE €69)

ACCESS TO A SECRET PINTEREST BOARD WITH COLOUR INSPIRATION

MAKEUP* SESSION/APPLICATION IN YOUR BEST COLOURS

OPPORTUNITY TO BUY MAKEUP IN YOUR BEST COLOURS
*I will be using makeup from Colour Me Beautiful's own range. The makeup is produced within Europe and cruelty-free. Some products contain perfume. Read more HERE.
consultation follow-up (virtual)
*Must be booked within 6 months after your first consultation (offer expires hereafter)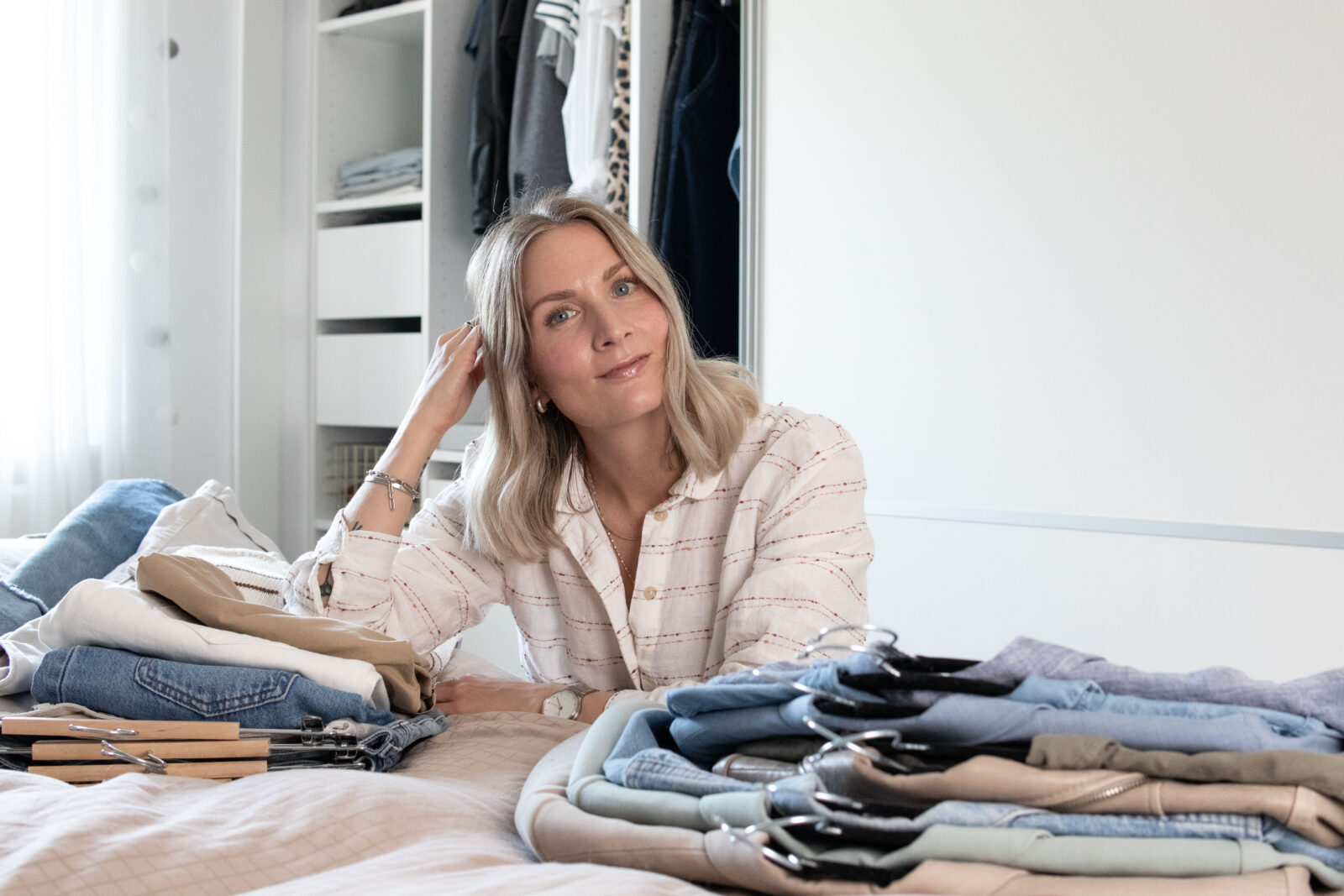 The follow-up consultation is specially made for clients who have had a colour analysis done by me previously. It's only natural that you might run into some unexpected challenges or questions when you start diving into the depths of evolving your style and colour palette; and this session is meant to help you pick back up if you feel a little stuck or simply answer any questions that might have occurred since we last spoke.
FOLLOW-UP CONSULTATION 30 MINS.
€99

(737,- DKK)

Get your questions answered

Outfit/colour combinations feedback

What to do next?
I'M HAVING MY HAIR DYED. WHAT'S YOUR ADVICE?
If you have planned to get your hair dyed a new colour, I would advice you to wait with a consultation until after your trip to the hairdresser, as hair colour has a huge impact on your dominant colour type.
However, I'm also happy to share advice on which hair colour you could go for during the consultation (before going to the hairdresser), and potentially how it would affect your colour palette.
WHY IS THE SWATCH WALLET A GOOD INVESTMENT?
Take the guess work out of shopping with a colour swatch wallet containing 30-42 of the best colours from your colour characteristic (included with in-person consultations). The fabric swatches are presented in a compact wallet that you can keep in your handbag when shopping, to make sure you steer clear of clothes that won't serve you in the long run.
WHAT'S INCLUDED:
Up to 42 different colour swatches (prices from €59-€69)
Colours that will flatter your colour type and increase your style confidence
A brief description of your colour type and how to best combine/wear your colours
HOW DO I PREPARE FOR THE SESSION?
All the info you need for your preparation will be send to you via email once your booking is complete (make sure to check your junk folder too).
For virtual consultations I will need a few pictures of yourself taken in natural daylight, and you will also need to prepare a small handful of clothes in different colours so we can discuss how to best wear what you already have.
WHAT HAPPENS AFTER THE CONSULTATION?
Colour swatch wallets are included with in-person consultations, so if I have all your colours in stock you'll walk out of my studio with a swatch wallet right away. Otherwise I will arrange to order it directly to your doorstep for you, no extra fees charged.
For the virtual consultation you will receive a follow-up email with a PDF including a quick recap of your colours (not suitable for printing as the colours wouldn't show correctly). After the virtual session it's up to you if you wish to order the physical swatch wallet or not, as it's not included in the consultation price. Please be aware that since the wallet is shipped from the UK a small customs fee may apply.
All clients for colour consultations will be offered to join a secret Pinterest board suitable for their dominant colour type, so you can get even more inspiration on colour combinations and how to actually start wearing your best colours.
GET IN TOUCH
have more questions?
Not sure which consultation type will be the right one for you? Send me an email and I'll help you choose which of my services you'll benefit most from investing in.
MEET YOUR STYLE COACH
Hi, I'm Signe!
I'm a former fashion designer turned certified style coach & colour consultant from Denmark. USE LESS is a personal styling service working within the field of slow fashion. Since 2015 I've helped my audience put on the right clothes, say goodbye to fast fashion and hello to lasting style that makes you glow from the inside and out. I embody a slow lifestyle where not being afraid of missing out – but committing to the important things in life – is at the core of everything I do.