År 2016 er ved at have nået sin ende, og i den forbindelse ser jeg tilbage på året der gik. Jeg er blevet klogere på nogle områder, jeg har begået et par fejl som jeg har lært noget af, og jeg har samlet et par ting, som jeg vil gøre bedre næste år.
[pullquote width="300″ float="left"] I've learned some lessons during the year; I've made a couple mistakes that have taught me to be wiser in the future[/pullquote]
/ So the year of 2016 is coming to an end, and therefore I wanted to have a look back at the year that has past. I've learned some lessons during the year; I've made a couple mistakes that have taught me to be wiser in the future, and I have gathered some things I want to do better next year.
[accordion title="Best style moments"]
from my Instagram account
Jeg har samlet lidt af mine hverdagsfavoritter herover, og alle mine yndlingslooks bærer tydeligt præg af, at jeg har det bedst i monochrome farver. Dette er også noget jeg har lært i løbet af året; tilbage i efteråret forsøgte jeg ellers at integrere flere farver ind i min garderobe, farver som jeg også har brugt flittigt – det er slet ikke dét (fx min armygrønne canvas jakke, som jeg elsker!). Men når alt kommer til alt, så har jeg det bare bedst i mine sort/hvide/grå farver, og så har jeg lært, at jeg kan tilføje farver på andre måder, hvis jeg synes de mangler. Fx ved at påføre en rød neglelak eller tilføje en farverig accessorie til mit look. Lige for tiden er jeg dog virkelig forelsket i farven rød – især striktrøjer. Rød er dog i mine øjne også en meget klassisk farve, og det er ikke noget jeg ville være bange for at tilføje i min garderobe. Så jeg har helt klart lært, at farver skal vælges med omhu!
/ I have collected some of my everyday favorites here, and all of my favorite looks are influenced by the fact, that I feel most comfortable in monochrome colors. This is also something I have learned during the year; back in the fall, I tried to integrate more color into my wardrobe. Colors which I have also used – it's not that at all (for example my army green canvas jacket, which I love to wear!). But the truth is, that I simply feel better in colorless outfits, and I have learned that I can add colors in other ways, if I think they are missing. For example, by applying a red nail polish or add a colorful accessorie to my look. At the moment I am very in love with red knitwear or shirts though, but to me red is such a classic color, so I wouldn't be afraid to wear something like that at all. So I have definitely learned, that colors should be chosen wisely!
[/accordion]
[accordion title="My style in 3 words"]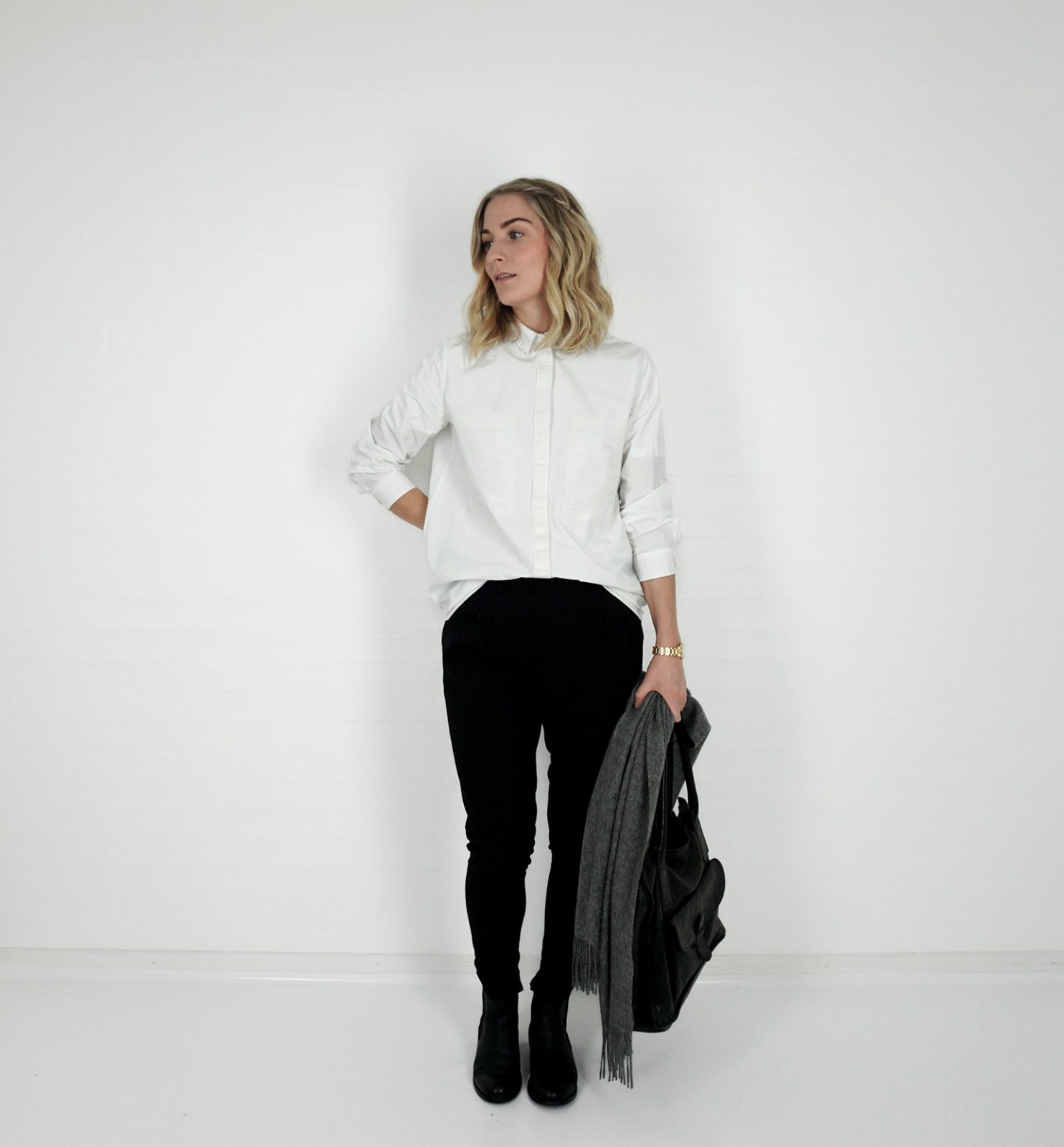 Jeg føler på en eller anden måde, at mine små udsving dette år (som fx mit forsøg med at integrere flere farver ind i garderoben, nævnt i punkt 1) har bragt mig et skridt tættere på min rigtige stil. Jeg har derfor kogt min stil ned i 3 ord, så jeg altid kan læne mig op af disse dem:
Simpel/ren – feminin – rå
Jeg har lært, at jeg elsker et mix af disse 3 stilarter og bruger fx flittigt mine Levi's jeans med rå kanter sammen med feminine skjorter med flæser. Det rene udtryk består selvfølgelig mest af alt i, at de fleste af mine looks er farveløse, men også at jeg generelt holder de detaljer jeg tilføjer simple. Jeg ELSKER et par lyseblå jeans, en hvid t-shirt, røde negle og guldsmykker. Simpelt og gennemført.
/ I feel in some way that my minor setbacks this year (like my attempt to integrate more colors into my wardrobe, mentioned in point 1) has brought me one step closer to my true style. Therefore, I have gathered my style into 3 words, so I can always lean on them:
Clean – feminine – edgy
I've learned that I love a mix of these three styles and I love to pair for example my Levi's jeans with raw hems with feminine shirts with ruffles. The clean expression is mostly brought out in my colorless looks, but also that I generally keep the details I add simple. I LOVE a pair of blue jeans, a white t-shirt, red nails and gold jewelry. Simple and cute. [/accordion]
[accordion title="Style muses"]
Anine Bing – Harper & Harley – Fashion Me now
Jeg har gennem året opdaget, hvor vigtigt det er, at have nogen eller noget man kan lade sig inspirere af, når man gerne vil opbygge den perfekte garderobe. Jeg har flere forskellige stil ikoner jeg dagligt opsuger inspiration fra, men ovennævnte 3 er nok dem, som rammer min personlige stil allerbedst. Jeg synes de alle 3 bevæger sig rigtig meget inden for den ramme af tre ord, der definerer min stil; ren – feminin – rå.
/ Throughout the year I have discovered how important it is to have someone or something you can draw inspiration from when you want to build the perfect wardrobe. I have several different style icons I daily soak inspiration from, but the above three are probably those that affect my personal style mostly. I think all three of them manages to work within the three words that define my own style; clean – feminine – edgy.

[/accordion]
[accordion title="The fluid capsule wardrobe"]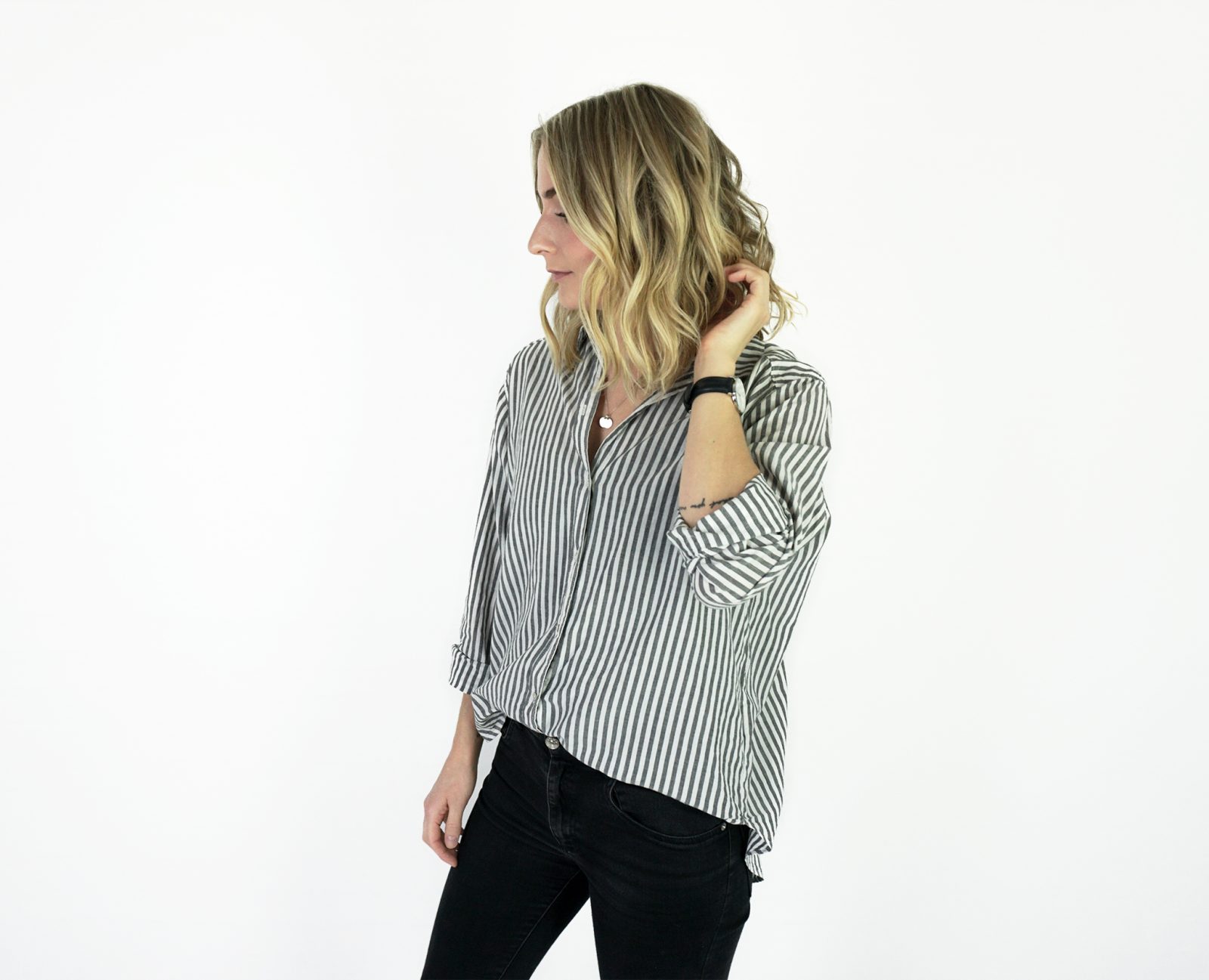 Jeg har dedikeret et helt indlæg om dette, så hvis du gerne vil have uddybet hvad, horfor og hvordan man opbygger en "Fluid capsule wardrobe" så kan du læse min guide lige HER, og se min video om samme emne lige HER. Kort fortalt har jeg i løbet af året opdaget, at jeg savner mere frirum til de perioder af mit liv, hvor jeg er humør til at udfordre mig selv lidt, og lege lidt mere med min stil. Det er en balancegang, for som nævnt under nogle af de andre punkter, har jeg også bare lært mig selv og min stil så godt at kende nu, at jeg ved jeg nogle gange er nødt til, at lade denne lyst passere. Med "The fluid capsule wardrobe" har jeg dog forsøgt at imødekomme denne trang på en systematisk måde, sådan at jeg er sikker på jeg ikke ender på dybt vand!
/ I have dedicated a whole blogpost about this, so if you would like to learn more about what what, why and how to build a "Fluid capsule wardrobe" you can read my guide right HERE, and see my video on the same topic right HERE. I have during the year discovered that I miss more freedom for the periods of my life where I feel like challenging and play a little more with my style. It's a balancing act, because as stated in some of the other points, I know myself and my style so well now that I know I sometimes have to let this feeling of boredom pass through. With "The fluid capsule wardrobe", I have tried to meet this need in a systematic way though, so that I'm sure I won't mess up my entire wardrobe!
[/accordion]
[accordion title="Resolutions for 2017″]
Der er nogle helt konkrete emner jeg gerne vil berøre næste år, men der er også ting i mit private liv, som jeg gerne vil ændre.
Unfollow/unsubscribe personer som jeg ikke længere bliver inspireret af, eller som bidrager til, at jeg tvivler på mig selv og min stil.
Rydde op i vores hjem med elementer fra Konmari metoden. Jeg har netop læst bogen "The life-changing magic of tidying up" af Marie Kondo, og i den forbindelse er jeg blevet meget inspireret til, at rydde ordentligt op herhjemme. Dette vil jeg rigtig gerne lave både en video og et blog post om i starten af det nye år.
Lære at disponere min tid til mit USE LESS projekt bedre og være mere til stede i nuet. Mange af jer ved, at jeg arbejder på fuldtid ved siden af min Youtube kanal og bloggen. Det kan derfor være svært, at disponere min tid til projektet somme tider. Ikke at jeg føler mig stresset, men fordi jeg lægger så meget tid og arbejde i USE LESS når jeg ikke er på arbejde. Det kan nogle gange bevirke, at jeg bliver lidt fraværende overfor fx min kæreste, både mentalt og fysisk. Jeg havde slet ikke forventet, at jeg på blot 6 måneder ville nå op på næsten 500.000 afspilninger på min Youtube kanal! Så selvfølgelig lever min passion for projektet i bedste velgående. Nu er jeg også begyndt at levere indhold til Luxplus' online magasin som beauty-blogger, og det tager selvfølgelig også noget af min tid. SÅ kort sagt skal jeg have lavet en plan for hvor mange indlæg, videoer osv. jeg gerne vil udgive om måneden, og jeg skal have udvalgt nogle faste aftner på ugen, hvor jeg koncentrerer mig om disse ting, så jeg kan være 100% til stede på alle andre tidspunkter af døgnet. Det er faktisk en ganske god mindfullness øvelse i sig selv, at kunne bevæge sig rundt i "hver ting til sin tid"!
Forskellige emner jeg gerne vil berøre i år 2017: hvordan håndterer man forbigående trends? Hvordan opbygger man den perfekte basis garderobe (video)? Udover disse to emner vil jeg også rigtig gerne lave en shopping guide til jer, hvor jeg kommer med tips til hvor jeg personligt synes det er vigtigt at spendere i stedet for at spare (og omvendt), samt komme med nogle tips til bæredygtige kvaliteter og mærker. Jeg vil gerne lave flere videoer under emnet "1 item 3 ways" for at inspirere jer til, at style jeres tøj på flere forskellige måder og for at vise jer, hvor alsidig den rigtig gennemarbejdet garderobe er. Og så kunne jeg rigtig godt tænke mig at lave en ny kategori på Youtube, som skal hedde noget i retningen af "fix it – don't throw it out", hvor jeg vil vise små korte videoer med tips til, at re-designe, reparere eller lave DIY på tøj du ikke længere bruger.
/ There are a few things I would like to do better next year, and also subjects I would like to write posts or make videos about.
Unfollow/unsubscribe to people who create mudder inside my head, or who no longer inspire me.
Declutter our entire home using elements from the Konmari method. I recently read the book ""The life-changing magic of tidying up" by Marie Kondo, and therefore I feel very inspired to declutter our home even more than it already is. I really want to write a blog post and make a video about this.
Be more systematic about the time I spend on my USE LESS project, and in general be more present in every moment of life. Many of you know that I work full time beside my Youtube channel and blog. It can therefore be difficult to dispose my time to the project sometimes. Not that I feel stressed, but because I put so much time and effort into USE LESS when I'm not at work. It can sometimes cause that I get a little absent towards for example my boyfriend, both mentally and physically. I had not expected that I in just six months I would reach almost 500,000 viewings on my Youtube channel! So of course my passion for the project is only getting bigger each day. I also become content creator  for Luxplus' online magazine as beauty blogger, and that also requires time. SO In short, I  need to make a plan for how many posts, videos and so on I want to make each month. I need to pick out some evenings during the week where I'm concentrating on these things, so I can be 100% present at all other times of the day. It's actually quite a good mindfulness exercise in itself, to be more present in the things you do each day.
 [/accordion]