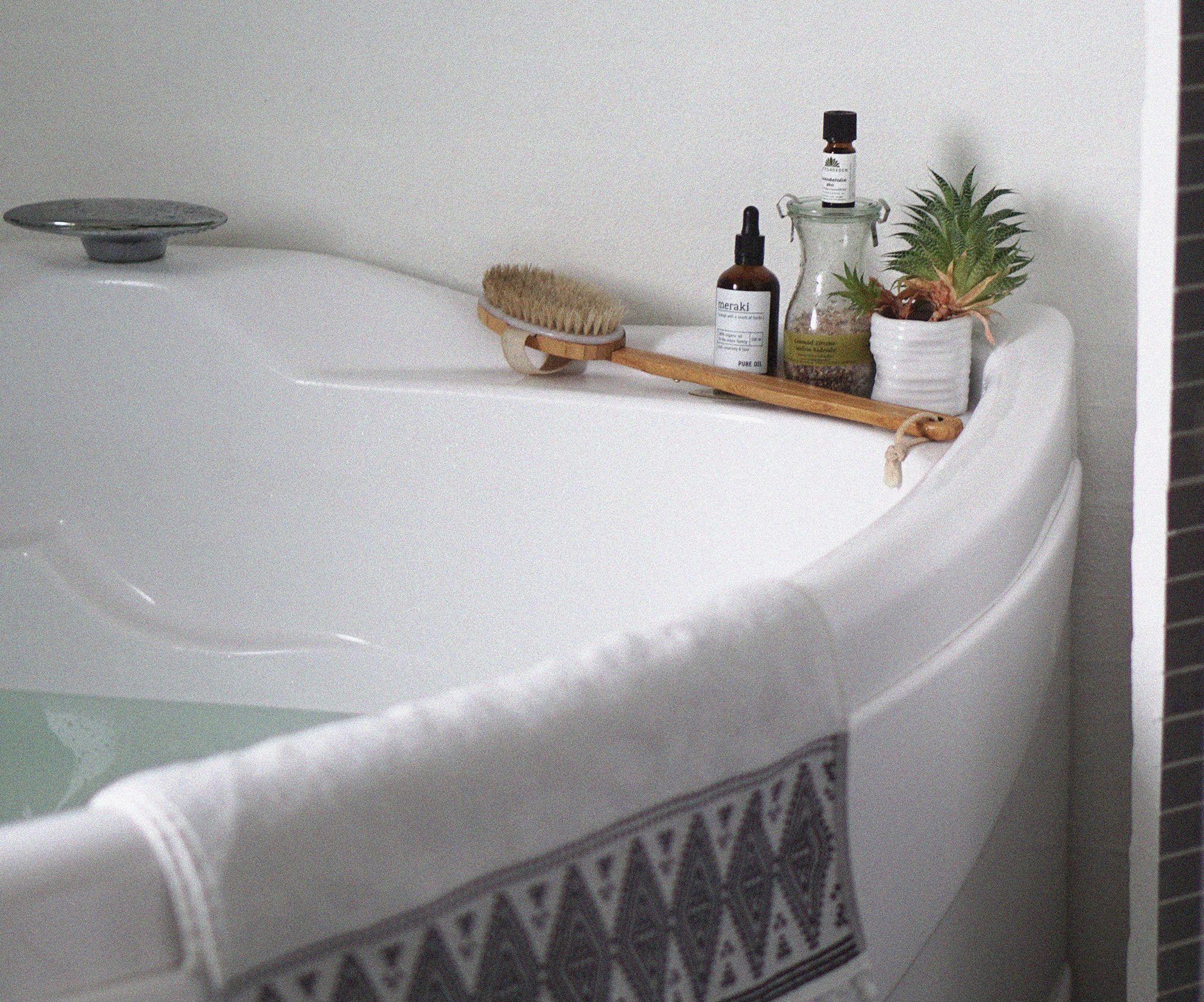 As you know if you follow me on Instagram, I've been sick last week with the flu and fever. I don't remember the last time I was that ill – I actually never think I have even been that for so many days in a row. I'm no longer suffering from fever, but I'm still coughing with a sore throat and a runny nose. As the doctor also said, the flu may be even worse than things like a throat infection, which you may receive penicillin against; it can quickly take up to 14 days before the flu is completely out of your body again, and there's not much else you can do but just wait to get better. I'm trying to return slowly to work, a healthy diet and a bit of exercise (which consists of daily walks with the dog as the only thing right now), and I try to do other good things for body and soul, so I can come back to my normal self again after this tough week of illness. By the way,I was not the only one who was down with the flu – my husband was as ill as me all week!
Besides returning to fresh air, a little light exercise and a healthy diet (we have been unable to eat anything other than Cheerios, yogurt and soup last week) a good round of self-care is also really effective on top of a week in bed. Generally I try to practise this a couple of times a month just to slow down and feel comfortable and well-groomed.I did a video a while back with my eco-friendly pampering routine right HERE, and so the routine I'm sharing with you today may not be very different, besides taking the cold weather into consideration, because that does require some extra care.
–
Som I ved hvis i følger mig ovre på Instagram, så har jeg ligget syg hele sidste uge med influenza og feber. Jeg kan ikke huske hvornår jeg sidst har været så syg – faktisk tror jeg aldrig jeg har været det, så mange dage i træk. Jeg er ikke længere ramt af feber, men døjer stadig med hoste og lidt ondt i halsen samt en næse der konstant løber. Som lægen også sagde så kan en influenza næsten være værre at komme sig over, en fx halsbetændelse som du jo kan få penicillin imod; der kan hurtigt gå op til 14 dage, før influenzaen er helt ude af kroppen igen og du kan ikke rigtig gøre så meget andet, end bare vente på den forsvinder. Ihvertfald så prøver jeg langsom at vende tilbage til mit arbejde, sund kost og let motion (som kun består af de daglige gåture med hunden lige nu), og ikke mindst forsøger jeg at gøre andre gode ting for krop og sjæl, sådan at jeg kan komme tilbage til mit normale jeg igen efter denne her hårde uge med sygdom. Det var iøvrigt ikke kun mig der lå syg – min mand var lige så syg som jeg hele ugen, så vi var altså et par svage stakler, haha!
Udover at vende tilbage til frisk luft, lidt let motion og sund kost (vi har ikke kunnet spise andet end Cheerios, yoghurt og suppe sidste uge) så er en omgang selvpleje også virkelig effektivt ovenpå sådan en omgang. I det hele taget er det noget jeg gør en dyd ud af et par gange om måneden, bare for at komme ned i gear og føle mig godt tilpas og velplejet. Jeg lavede for noget tid siden DENNE lille stemningsvideo om min bæredygtige tilgang til selvpleje rutiner på, og den rutine jeg vil dele med jer her i dag er ikke meget anderledes – bortset fra, at den tager højde for vinterkulde og de udfordringer den bringer med sig.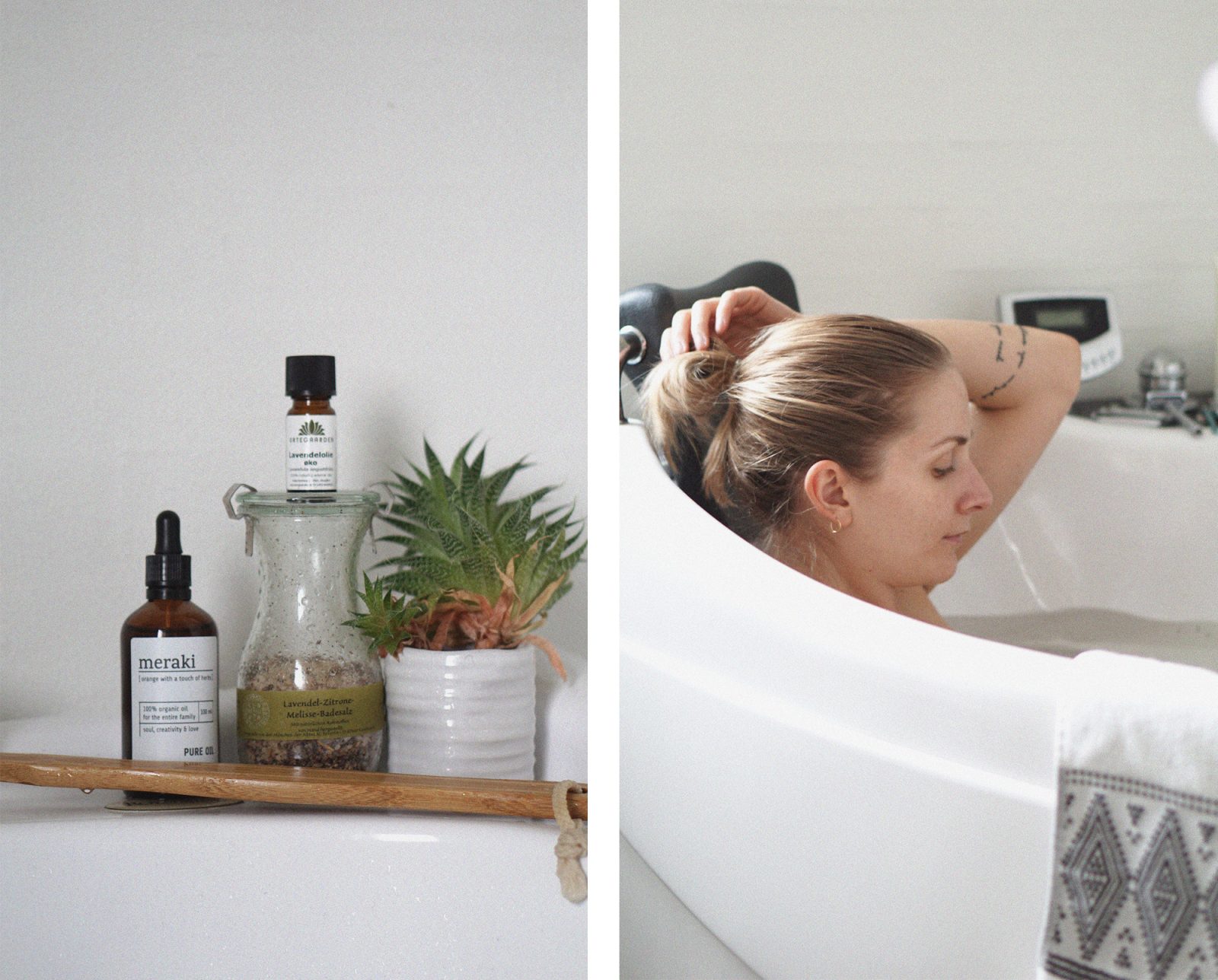 Make yourself a nice bath or foot bath.
There really is nothing as relaxing, like lighting a lot of candles and either filling the bathtub (if you have one) or maybe making a nice foot bath. It's simple and effective relaxation! I like adding a couple drops of organic essentials oils with lavender to the water and also some bathing salt. It doesn't get more "wellness" than that! This is especially effective if you just feel a bit tired or sad.
Exfoliate your skin.
I like scrubbing my skin gently, especially during the winter where my skin gets extra dry. I often just use a damp body brush for that purpose, but shving your legs is in itself also a form of exfoliation. Sometimes I even just use my towel to exfoliate both my body and my face, just a bit more gentle on the latter. After that it is important that you treat your skin a little extra with something that restores the moisture.
–
Tag et varm karbad eller fodbad.
Der er virkelig ikke noget så afslappende, som at tænde en masse stearinlys og enten fylde badekarret (hvis man har sådan ét) eller måske lave et dejligt fodbad. Det er simpel og effektiv afslapning! Jeg kommer gerne et par dråber økologisk æterisk olie med lavendel i vandet, og også gerne lidt badesalt. Så kommer man altså ikke tættere på wellness! Synes især det er effektivt hvis man netop føler sig lidt sløj eller trist.
Exfoliér huden.
Jeg kan godt lide at skrubbe min hud forsigtigt, især om vinteren hvor mange af os jo døjer med tør hud. Til det bruger jeg faktisk oftest en gennemvædet og blød børste, men det at barbere ben fungerer egentlig også som en slags exfoliering i sig selv. Indimellem bruger jeg også bare mit håndklæde, til at exfoliere både min krop og mit ansigt, dog med lidt lettere bevægelser da huden i ansigtet er lidt mere sart. Efter det er det vigtigt at give sin hud lidt ekstra fugt og pleje.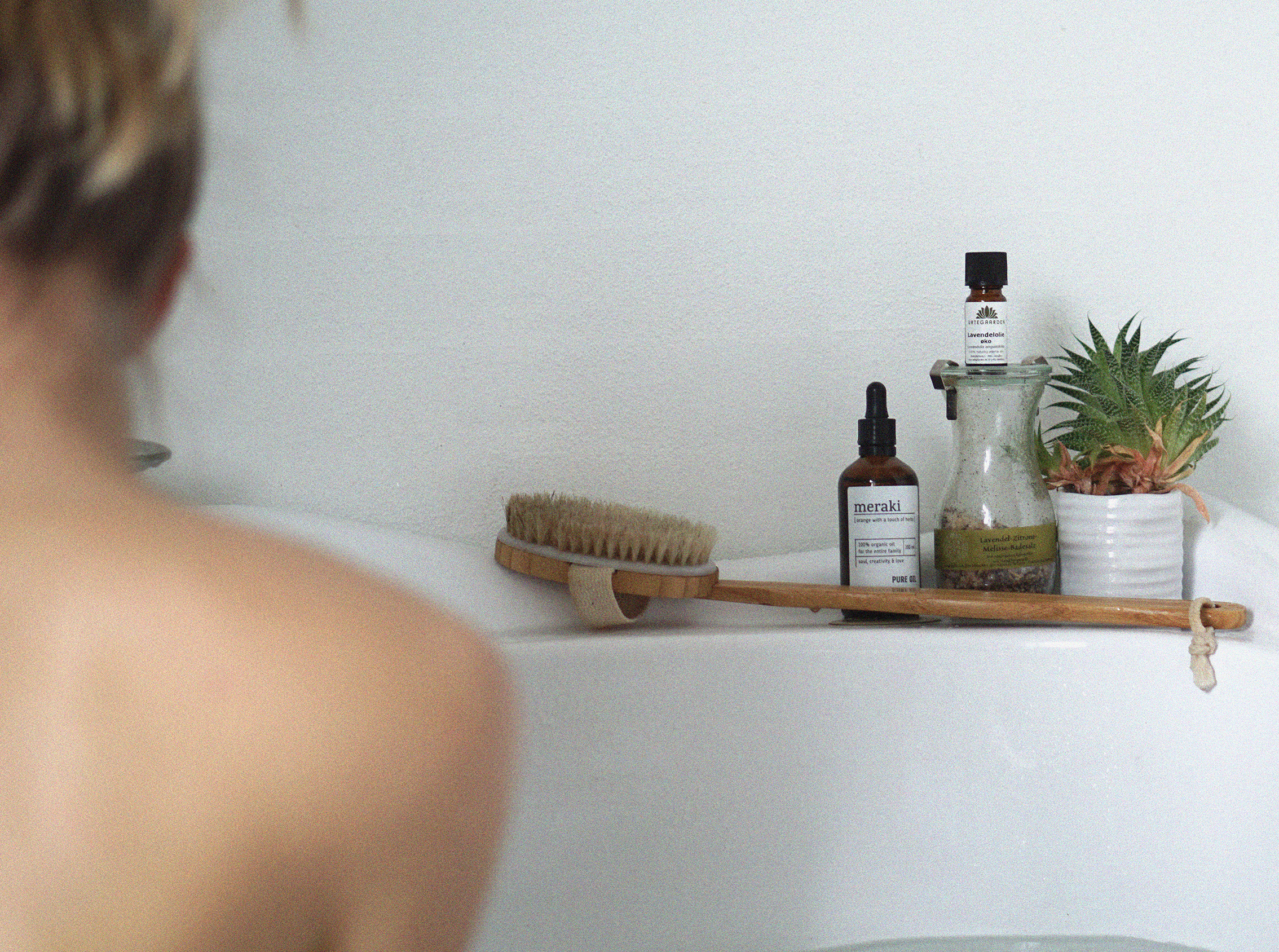 Give your scalp some extra love.
I occasionally tend to get a very dry scalp and have over time tried a few different products to overcome this. Healthy hair starts with a healthy scalp! For some years I have been fond of Decubal's Dry Scalp Treatment, which cools the scalp and removes dandruff already from first use. When we were recently in London, I bought a Superbalm in Lush. It can be a little hard to wash out, as the consistency is like a pomade. You shouldn't apply very much, and then the trick should be, first to let it work it's magic for 20 minutes, then apply shampoo to dry hair. That should make it easier to wash out of the hair, so I have to try that the next time I have to give my scalp some extra care. I was looking for a more sustainable alternative (especially when it comes to plastic-free packaging) but so far I'm not completely convinced and may have to go back to my favourite from Decubal for a while unless the trick with applying a shampoo before making your hair wet works.
Use a good allround oil.
As mentioned, it is important to give your dry winter skin a little extra loving, especially if you have taken a bath and have also exfoliated your skin. I use my beloved Meraki pure oil on my entire body (except the face) and also apply a little to the lengths of my hair. The oil can also be used as cuticle oil and to remove makeup – all you can think of really, haha! I like to apply the oil to wet skin, as I find it easier to distribute and it soaks into the skin faster this way. The oil is a super good and environmentally friendly alternative to the many body lotions available on the market, and I'm a huge fan of ditching the 5-step care rituals and instead just use one product for more than one purpose. Simple and efficient. And it smells amazing too.
–
Plej din hovedbund.
Jeg døjer fra tid til anden med tør hovedbund, og har gennem tiden prøvet lidt forskellige produkter til at få bugt med dette. Sundt hår er som bekendt lig med en sund hovedbund! Jeg har i en del år været glad for Decubal's Dry Scalp Treatment, der køler dejligt og fjerner skæl allerede fra første anvendelse. Da vi for nyligt var i London købte jeg dog en Superbalm i Lush. Den kan være lidt svær at vaske ud, da konsistensen er som en pomade. Man skal ikke bruge ret meget af gangen, og så skulle tricket være, først at lade den virke 20 minutter, og herefter påføre shampoo INDEN man gør håret vådt. Det skulle gøre det nemmere, at vaske den ud af håret, så det må jeg prøve næste gang jeg skal pleje min hovedbund lidt ekstra. Jeg var på udkig efter en lidt mere miljø-venlig én af slagsen (især når det ommer til plast-fri indpakning) men indtil videre er jeg ikke helt overbevist, og må muligvis gå tilbage til min yndlings fra Decubal for en stund, medmindre tricket med at påføre shampoo inden man gør håret vådt virker.
Brug en god allround olie.
Som sagt er det vigtigt at pleje sin hud lidt ekstra om vinteren, især hvis man har taget et karbad og også har exfolieret sin hud. Jeg bruger min elskede olie fra Meraki på hele kroppen (undtagen ansigtet), og påfører også lidt i længderne af mit hår. Olien kan også bruges som neglebåndsolie og til at fjerne makeup med – alt du kan komme i tanke om nærmest, haha! Jeg kan godt lide at påføre olien på våd hud, da jeg synes den er nemmere at fordele og den trænger hurtigere ind i huden. Olien her er et super godt og miljøvenligt alternativ, til de mange body lotions der findes på markedet og så er jeg vild med, at man dropper 5-trins pleje ritualer og i stedet bare har ét produkt man kan bruge til det hele. Simpelt og effektivt. Og så dufter den fantastisk.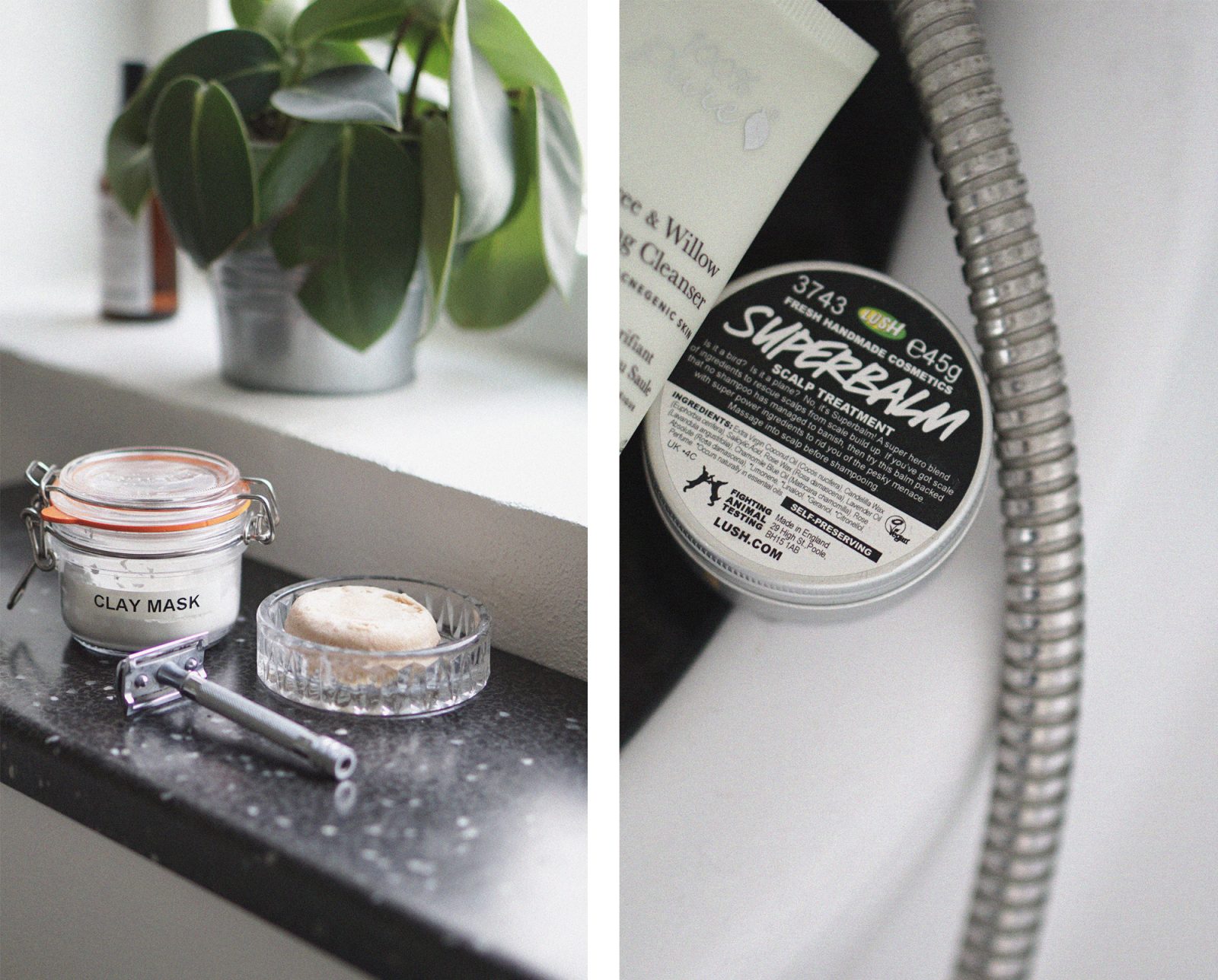 Last but not least a natural face mask can really work wonders on your skin too, especially if you've just been ill or it just looks a bit pale after a long winter. I use one from the Danish Urtegaarden (here's a similar one), that you just have to mix with a bit of water and then brush it onto your skin with a makeup brush. I then finish up with a no-perfume face lotion for sensitive skin (my husband and I just use the same one from a local drugstore). I've been mixing my own face oils for a while, but after I discovered how much it clogged my pores I stopped so I'm back to regular face lotion for a while now. You can read more about that right HERE. Other than that you can read my post about my favourite sustainable self-care products that creates less waste right HERE.
–
Sidst men ikke mindst kan en naturlig ansigtsmaske virkelig også gøre underværker for din hud hvis du lige har været syg, eller den bare ser lidt vinter-mat ud. Jeg bruger én fra Urtegaarden lige nu, som er en lermaske der skal blandes med lidt vand og efterfølgende pensles på huden (jeg bruger bare en makeup pensel). Afslutningsvis slutter jeg af med en creme til sensitiv hud, som min mand og jeg deler (den fra Matas' eget mærke uden parfume). Jeg har i noget tid blandet min egen olie til ansigtet, men det stopper desværre mine porer til og får min akne til at slå helt vildt ud, så jeg har igen sat min lid til almindelig, parfume-fri dagcreme for en periode. Det kan du læse mere om HER. Læs desuden mit indlæg om mine favoritter inden for selvpleje, når det kommer til bæredygtighed og mindre spild lige HER.