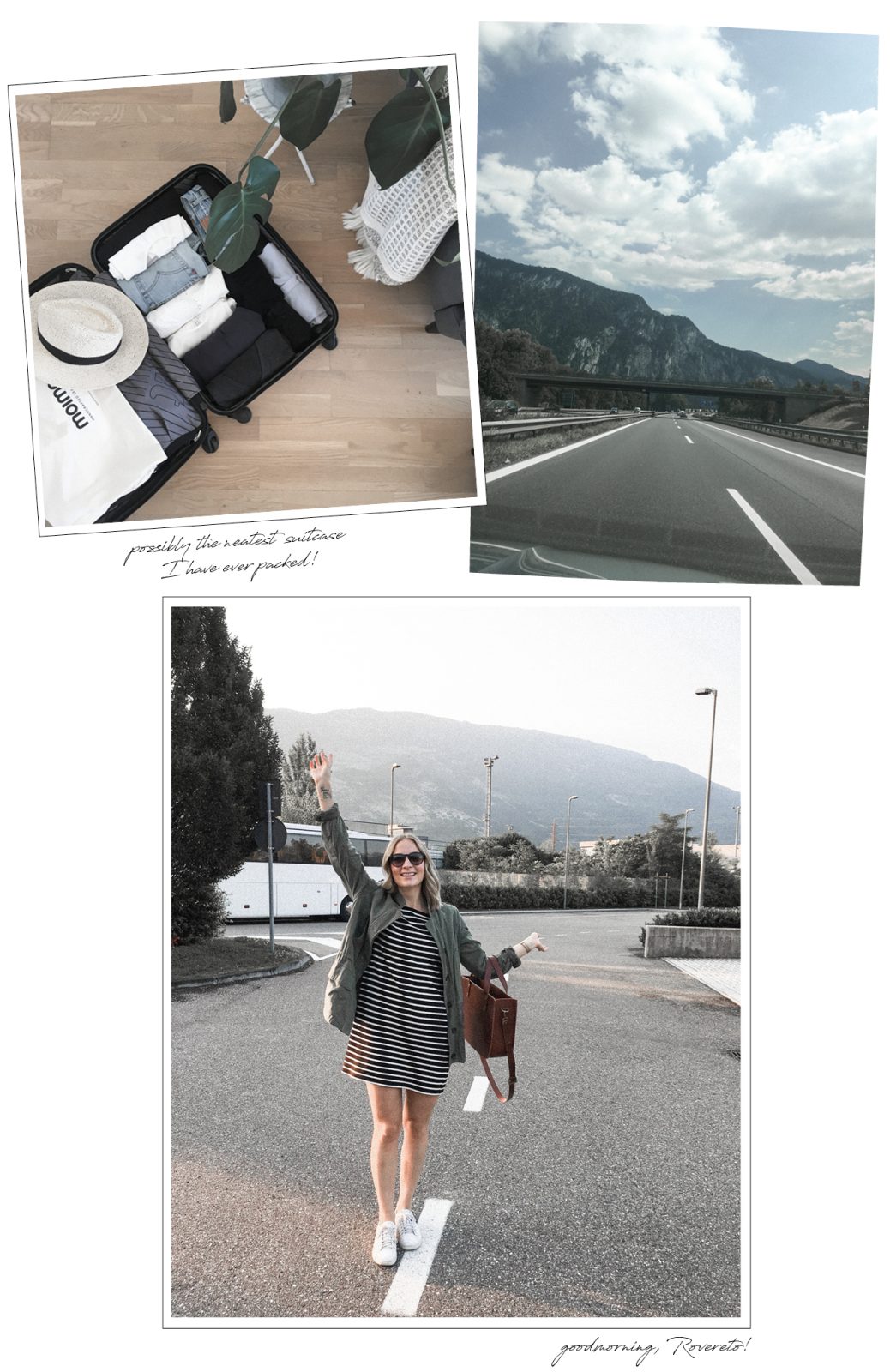 Hey babes! I have been so excited to share this post with you, both because it was nice to have a lookback, but also because I wanted to make something a little bit different for you today in the shape of a photo diary. I've been so inspired by beautiful Emma and lately also Megan to do a post like this and I love this creative way to make a blogpost. All the images (except a few) are taken with my Iphone, and I really love this quite raw finish the images get that way. A lot of us document special occasions like this on our phones, and I just think it holds a lot of charm sharing pictures either from your phone or maybe even a 35mm film camera.
We choose to drive to Italy ourselves, which was quite a long drive (to say the least) from little Denmark. In total it's a 22 hour drive and on top of that comes small breaks and extra traffic. It did go really well though so even though it was far we had such a pleasant time. We spend the night somewhere once during the drive, so in hindsight we probably should have taken more long breaks like that, because it is really exhausting driving for so many hours in a row. But because we only had 11 days, we didn't want to "waste" too much time on our way. If we'd had 3 weeks we would have been able to take more breaks though, and really make them part of our vacation. But then we are aware of that next time! No matter what we're not afraid to do this type of roadtrip again sometime (of course we have no kids to worry about in the back of the car), and the freedom you have to just stop whenever you want to is just amazing. And then you just get another view of Europe than if you're flying. Most of the time we just sat there talking about all the things we drove by! On our way to South Italy just across the Austrian border in northern Italy we stopped in Rovereto. We didn't book any hotels in advance because we wanted to drive as far as possible before stopping – and when we drove through the mountains in Rovereto we decided that we wanted to have a good nights sleep there.
…
Hej mine dejlige læsere! Jeg har glædet mig rigtig meget til, at dele dette indlæg med jer – både fordi det var skønt at se tilbage på, men også fordi jeg tænkte jeg ville lave et lidt anderledes indlæg til jer i dag i form af en lille foto-dagbog. Jeg har hentet inspirationen fra smukke Emma og senest også Megan, og jeg elsker denne mere kreative måde, at udarbejde blogindlæg på. Alle billederne (med få undtagelser) er taget med min Iphone, og jeg er ret vild med det lidt mere rå udtryk billederne får på denne måde. Mange af os dokumenterer jo en stor del af de begivenheder vi oplever på vores telefoner, og jeg synes der er virkelig meget charme i, at dele de her billeder hvad enten de er fra telefonen eller et 35mm kamera.
Vi valgte at køre selv til Italien, hvilket er en enormt lang tur fra lille Danmark. I alt tager køreturen ca. 22 timer, men så kommer der selvfølgelig pauser og ekstra trafik oveni. Det gik dog over al forventning så selvom der var langt, så hyggede vi os virkelig meget. Vi havde kun 1 overnatning på køreturen, og set i bakspejlet så skulle vi nok have holdt ind og overnattet en enkelt gang mere, for det er virkelig udmattende at køre så mange timer af gangen. Men eftersom vores ferie kun varede 11 dage inkl. kørsel, så blev det ikke til mere. Havde vi derimod haft 3 ugers ferie kunne vi snildt have holdt ind flere steder, og virkelig gøre en oplevelse ud af køreturen også. Så det ved vi til næste gang! Uanset hvad er vi ikke blevet skræmt af kør-selv ferie på nogen måde (nu har vi selvfølgelig heller ingen børn på bagsædet at tage hensyn til), og den frihed man har til at stoppe når man vil er virkelig skønt. Og så oplever man bare Europa på en hel anden måde, end hvis man flyver. Størstedelen af tiden sad vi bare og snakkede og pegede på alt det vi kørte forbi! På vejen ned til Syditalien gjorde vi stop for natten i Rovereto. Vi havde ikke booket noget hotel på forhånd, for vi ville bare se hvor langt vi orkede at køre – og da vi kørte gennem bjergpasset i Rovereto lige over grænsen fra Østrig til Italien blev vi hurtigt enige om, at vi da var nødt til at overnatte i dette smukke bjerglandskab.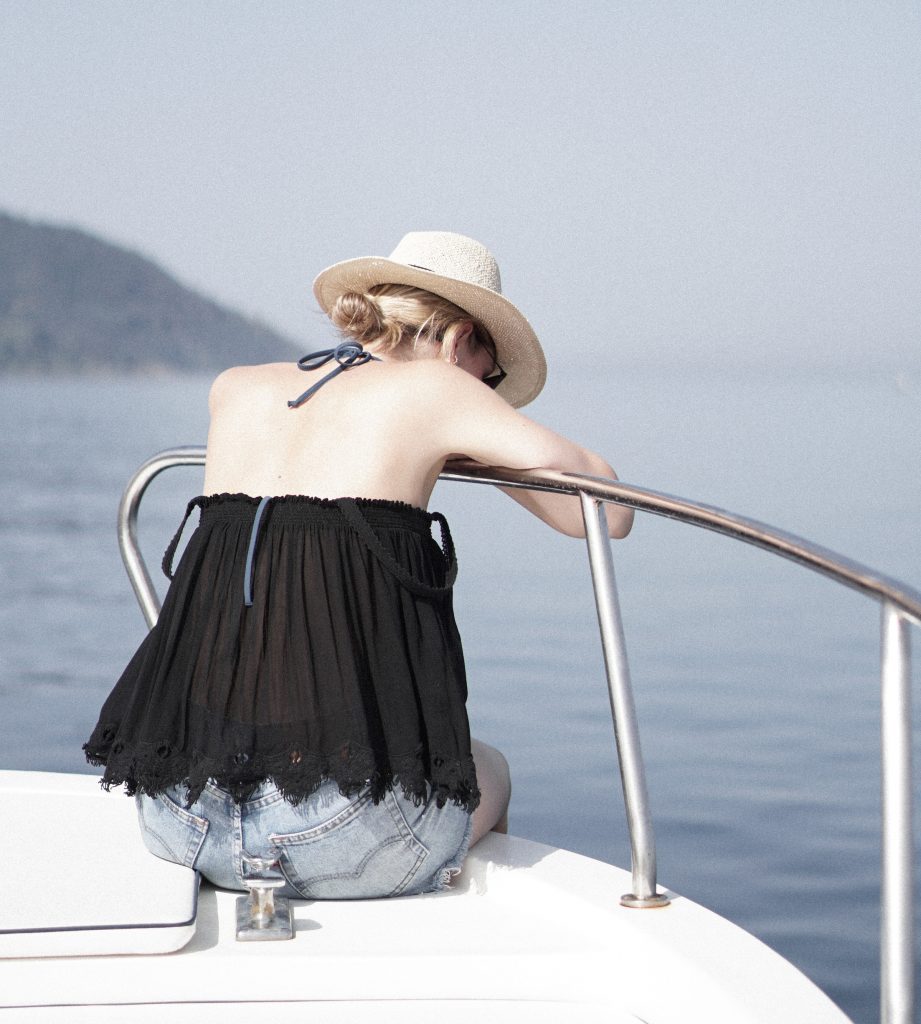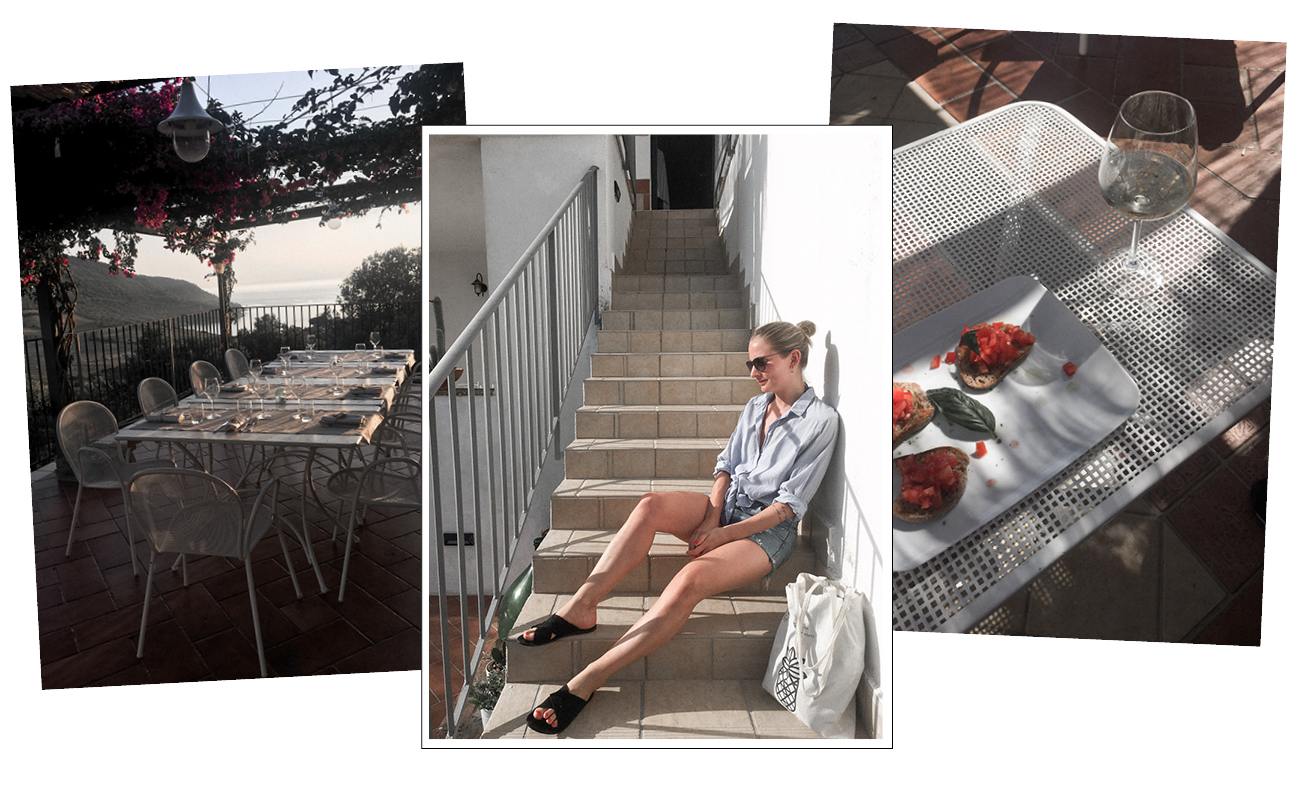 The day after we drove the last 8 hours before arriving in Agropoli which was our first "real" holiday destination. It's around 2 hours south of Napoli, just to give you an idea of the location. A couple months ago I was contacted by Adriana who runs this cute little bed & breakfast (Baia di Trentova) with 5 rooms, and she wanted to invite my husband and I down to Agropoli and experience the area and maybe help spreading the word about the place a little. I obviously couldn't resist that offer! Many tourists are unaware of this area, which is both good and bad – when you're a tourist yourself though it's all good, because this place is just all about slow living. It's not that you're bored in any way either though, and Adriana and her family have many guests visiting every summer who has been doing so for years. The bed & breakfast is placed on the top of a hill so there's the most stunning view of the ocean from there. There's also lots of opportunities to get a little cultural, and Adriana often make excursions for her guests – we went sailing, wine tasting and we also visited the fig lab of Santomiele. She also convinced us to drive by Paestum to see the temples when we left for our next hotel, which was definitely worth the visit too and it's only around 20 minutes away from the bed & breakfast. Because the area has so many hilltops I definitely recommend you to either rent a car at the airport or to drive yourself like we did. Then it's just easier to move around! You can easily walk to the beach but the car became an important tool for us especially because it was so hot to walk (for north living people anyway, haha!). The nature in the area is so beautiful and we had some of the best food we have ever tasted. Adriana's mother- and brother in law and her husband cooked us the most wonderful meals and every morning and evening we got the most delicious plate of homemade food made from locally produced goods. I still crave many of the things we got to try like the homemade pasta wih tomato, baked zucchini flowers and hot croissants in the morning… ooh, yummy!
Just like we expected Agropoli truly is such a gem that deserves way more attention that it gets. And 'm not saying this because we lived there "for free". The entire experience was so warm and authentic, and I'd give anything to relive it all once more. I sincerely hope that some day we will be able to book a stay there again, maybe with some friends or family next time and then of course stay there for a little while longer. We were only there for four days before heading to our next destination, and we were both kinda sad that we had to leave because we didn't really want to leave Agropoli! Such a wonderful area, food, experiences and just such sweet and down-to-earth people.
…
Dagen efter tog vi så det sidste stræk på 8 timer, før vi var fremme i Agropoli, som var vores første "rigtige" ferie destination. Det ligger ca. 2 timer syd for Napoli. For et par måneder siden blev jeg kontaktet af Adriana der sammen med sin familie ejer en bed & breakfast (Baia di Trentova) med 5 værelser der, og hun ville gerne invitere min mand og jeg derned uden beregning, så vi kunne opleve området og måske hjælpe med, at få flere til at "opdage" deres lille perle. Og det tilbud kunne jeg selvfølgelig ikke sige nej til! Der er ikke ret mange turister der kender dette område, hvilket jo både er godt og skidt – når man selv er turist er det dog virkelig skønt, for stedet er indbegrebet af slow living. Det er dog på ingen måde fordi man keder sig, og Adriana og hendes familie har mange gæster, som er kommet og har tilbragt sommeren hos dem i mange år. Stedet ligger på en bakketop, så man har en virkelig smuk udsigt ud over vandet. Der er masser af plads til at være kulturel, og Adriana arrangerer jævnligt ekskursioner for sine gæster – vi var både på sejltur, vinsmagning, på besøg på Santomiele's figen laboratorie og så opfordrede hun os også til, at køre forbi templerne ved Paestum da vi skulle videre til vores næste hotel. Det er kun ca. 20 minutters kørsel væk, og var bestemt oplevelsen værd. Eftersom området netop er meget bakket, så vil jeg helt klart anbefale, at man enten lejer en bil i lufthavnen eller kører selv som vi gjorde. Så kan man nemmere komme rundt. Man kan sagtens gå til stranden fra stedet, men bilen var alligevel uundværlig for os, især fordi det var så varmt mens vi var der (for sådan et par nordboere som os ihvertfald, haha!). Området i sig selv er virkelig naturskønt, og så får man simpelthen den lækreste mad jeg nogensinde i mit liv har smagt. Adriana's svigermor, svoger og mand stod for madlavningen og hver morgen og aften fik vi serveret den lækreste, hjemmelavede mad med lokalt producerede råvarer. Jeg craver stadigvæk mange af de ting vi fik smagt som fx den hjemmelavede pasta med tomat, indbagte zucchini blomster og de lune croissanter om morgenen… ååh, mums!
Som vi også fik indtrykket af så er det her virkelig en uopdaget lille perle, som fortjener så meget mere attention. Og det siger jeg ikke bare fordi vi boede der "gratis"! Hele oplevelsen var så varm og autentisk, at jeg ville give min højre arm for, at opleve det hele en gang til. Jeg håber virkelig inderligt, at vi en dag kan booke os ind der igen, måske med nogle venner eller familie og så bo der lidt længere tid. Vi var der kun i 4 dage inden vi drog videre, og vi havde begge helt ondt i maven den morgen vi skulle afsted, for vi havde faktisk slet ikke lyst til at forlade Agropoli! Skønt område, mad, oplevelser og bare virkeligt søde jordnære mennesker. Det var lige præcis dén ferie vi havde brug for!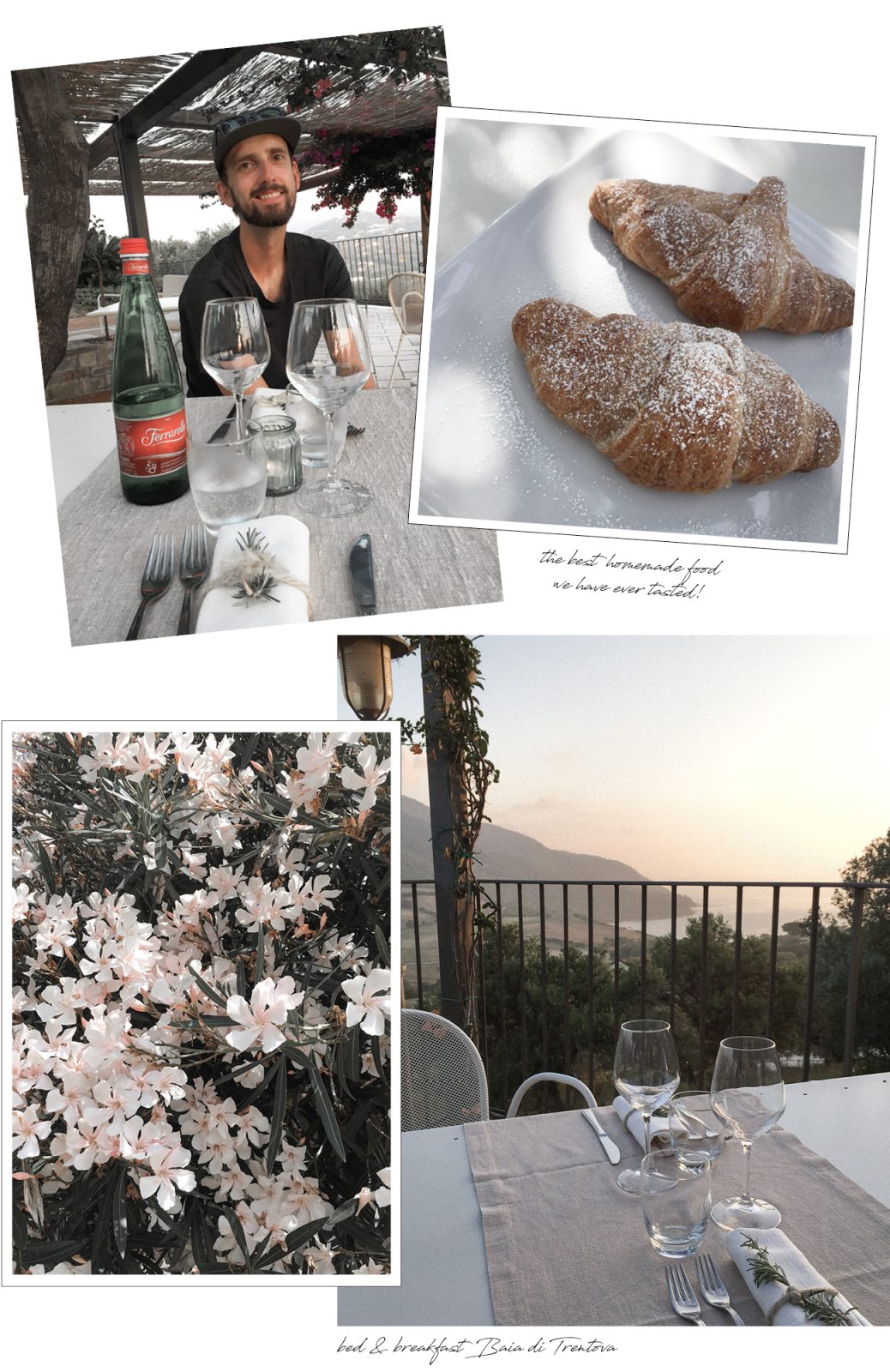 After our visit in Agropoli we drove northwest to Sorrento. I had a colleague recommending this place, because they shot the fall campaign in Massa Lubrense last year, which is pretty close to the city. We booked a hotel by the water so we had this gorgeous view of Sorrento. The entire city is on a cliff so you're kinda up in the air all the time which made me a little dizzy at times. Kinda like "I want to get back to earth". It's probably because Denmark is totally flat as a pancake, so I'm not used to heights, haha! One of the things we looked for when we were booking a hotel in Sorrento was somewhere with a pool so we could spend some time just chillin' too – which we ended up doing quite a lot! Sorrento was so beautiful but also very overtaken by tourists which (when you've just been in Agropoli where you hardly have to share anything with any other tourists) sadly kinda kills the vibe a little. We weren't disappointed in any way because it's so beautiful there and the city has a lot to offer, but still the food and the experiences where just as good as what we just came from. In a way I know you can't really compare the two cities because Agropoli is a small town whereas Sorrento is much bigger and filled with lots of restaurants, bars, shops etc. So obviosuly it depends on what type of holiday you're after!
One day we went to the once lava covered Pompeii which was on our bucketlist of things to see in the area – it's so easy getting there by train from Sorrento, because it stops just outside, it only takes a little less than an hour to get their and the train tickets are cheap. It was quite an experience and is definitely worth checking out! When you spend so much time just chillin' by the pool it's nice that the cultural experiences are so close nearby.
…
Efter vores besøg i Agropoli kørte vi nordvest på til Sorrento. Jeg havde fået anbefalet området af en kollega, fordi de skød efterårskampagnen i Massa Lubrense sidste år, som ligger ret tæt på byen. Vi havde booket et hotel der lå helt ud til vandet så man havde en skøn udsigt over Sorrento. Hele byen ligger på en klippe, så man er hele tiden sådan lidt højt oppe, hvilket godt kunne gøre mig lidt svimmel til tider. Sådan lidt "kan jeg ikke snart komme lidt ned på jorden"-agtig. Det er nok fordi Danmark er flad som en pandekage, så jeg er slet ikke vant til de højder, haha!  Ét af vores krav for det andet hotel var, at der skulle være en pool så vi også bare kunne ligge og dase – hvilket vi gjorde en hel del! Sorrento er en virkelig smuk by, men også meget turistpræget hvilket (når man lige har været i stille og rolige Agropoli, hvor man har alting for sig selv) altså tager lidt af charmen. Vi var ikke skuffede på nogen måde for byen er simpelthen så smuk og der er masser at opleve, men alligevel så syntes vi ikke hverken mad eller oplevelser var helt ligeså godt som det vi kom fra. På en måde kan man heller ikke rigtig sammenligne de to områder, for Agropoli er en lille bitte provinsby hvor Sorrento i sammenligning er en storby fuld af restauranter, barer, butikker osv. Så det kommer selvfølgelig helt an på, hvilken type ferie man er til!
En dag tog vi toget til vulkanbyen Pompeii – det er super nemt at komme dertil fra Sorrento, da toget næsten stopper lige ude foran og det tager kun en lille time og koster nærmest ingenting. Det var virkelig en oplevelse og kan helt klart anbefales! Når man sådan ligger og daser ved poolen hele dagen så er det skønt, at de kulturelle oplevelser er lige indenfor rækkevidde på den måde.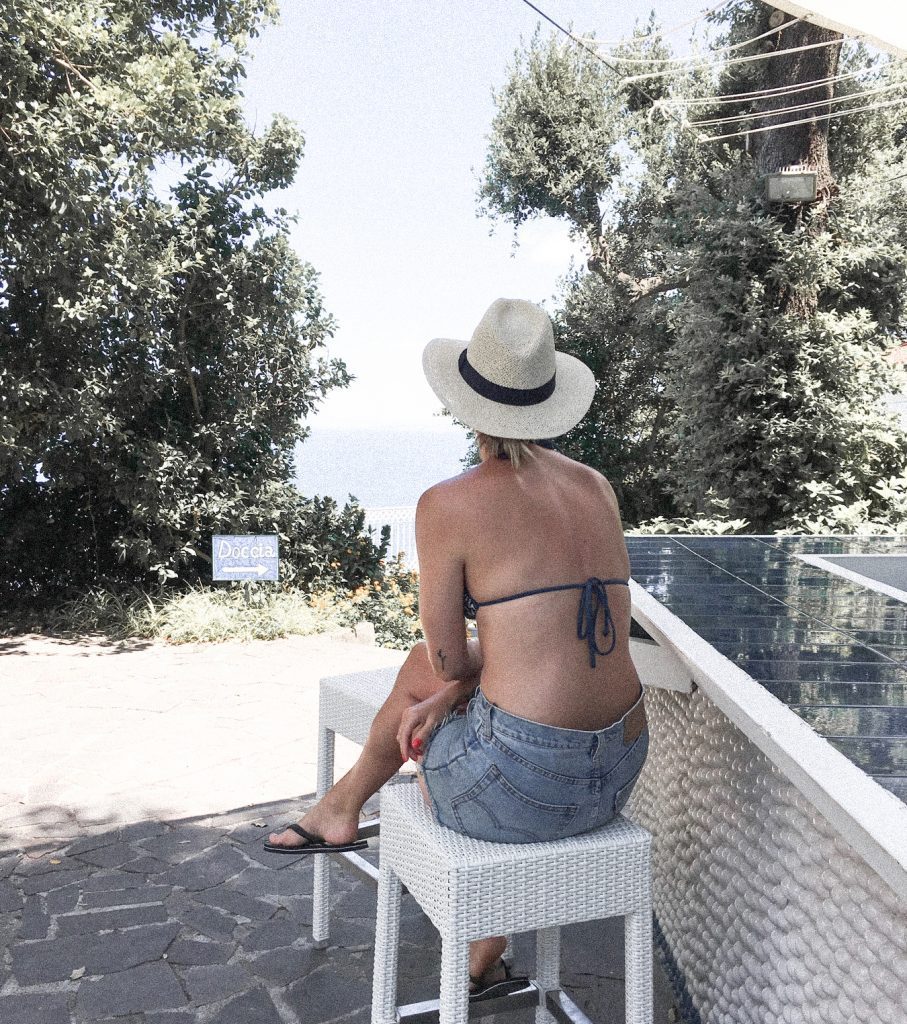 So as you might have guessed most days in Sorrento was spend by the pool relaxing, eating, reading and doing crossword puzzles – just recharging our batteries which we both needed so much. When we reached the end of our vacation we started missing our four legged friends at home, and we reach a point where we were just ready to go home. I don't know if this is the case with any holiday purely because you know you have to leave or if it means you're all done and recharged. No matter what this was one of the best vacations we've ever spend together – and funnily enough since it's a month since we left, I wouldn't mind doing it all again now, haha! It's not our last vacation in Italy, that's for sure!
…
De fleste dage i Sorrento gik med at slappe af, spise en masse mad, læse og løse kryds og tværs ved poolen – så altså ren afslapning og det var virkelig tiltrængt for os begge to. Da vi nåede til enden af ferien begyndte vi begge virkelig at savne vores små 4-benede venner herhjemme, og vi nåede ligesom også bare et punkt hvor vi følte os mættede af byen og klar til at komme hjem. Jeg ved ikke om man helt naturligt bare opnår denne følelse blot fordi man ved man skal hjem, eller om man rent faktisk er "færdig" med at slappe af. Uanset hvad så var det én af de skønneste ferier nogensinde – og sjovt nok nu hvor det er en måned siden vi tog afsted, så kunne jeg da godt liiiiige klare at gøre det hele én gang til, haha! Det er ihvertfald ikke sidste gang vi skal til Italien og holde ferie!