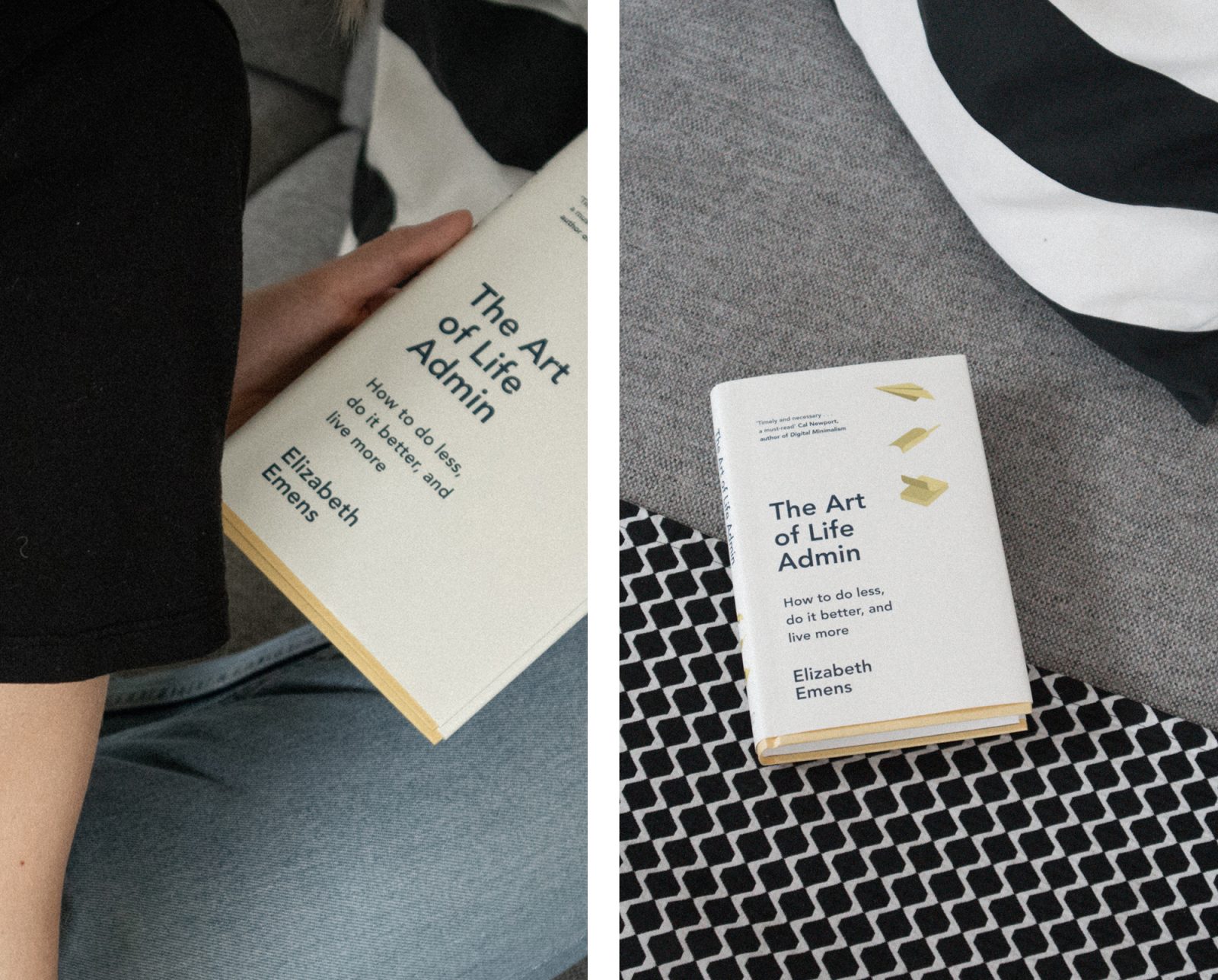 "How to do less, do it better and live more"
The entire world seems to be in Konmari-mode at the moment, probably because of the documentary on Netflix. I haven't watched it myself, but I read the book "The life-changing magic of tidying up" a couple years ago, and I've also made several videos and blogposts sharing the experience of my own Konmari-proces. Both about how my husband and I got started (read more here) and also how it had changed our lives one year after (read more here). In short, this decluttering proces is what initially kickstarted our more sustainable and slow way of living, because it almost became a showdown towards the overconsumption that defines our culture. So even though I was already a super neat and tidy kind of person, I really do recommend you to try out this whole thing and declutter your life once and for all – no matter what method you choose to do it with. Clutter is not only something that exists in its physical form around us; it can potentially fill up your mind too, taking up mental space and leaving you with less energy. And again, seen from a sustainable perspective this lesson is a valuable one learned for many of us, because it can teach us to compromise just a little bit more – become a more intentional consumer instead of one who is driven by impulse and affected by the latest trends a little too much.
I recently read the book "The art of life admin" by Elizabeth Emens, and I highly recommend it! It's a little heavy to get through I must admit, but bear in mind that I'm kind of a slow reader when it comes to books, plus I read it in English instead of Danish (trying improve my English every chance I get). No matter what this "life-decluttering" type of book is unlike any other decluttering-guide I've ever stumbled upon. Where the Konmari method is more about physical decluttering, this one is more about streamlining the admin your everyday life is surrounded by. It embraces the fact that we are all different and a huge part of the book is about the different types of admin-personalities we all are, so you as a reader are invited to relate to whatever personality you see yourself as, and then move on from there. Certain life-decluttering or admin-handling methods might work for some people, but not for others. And it's so important to accept this fact, because otherwise you might end up feeling like a failure who can't get her shiz together, and that's so far from the point. As the author puts it, it's not about projecting your zen on others, or claiming that all you need to do is meditate or simplify your way to the good life. Nor is it about expecting everyone around you to turn into minimalists just like that. These are things that might work for some types of personalities, but not for others. Some people make bullet-journals, others use apps for their to-do lists and it's important that you understand that there's not one right way of structuring your life. The book is based on many focus groups, interviews and lots of research. That way it's not just about one single person's way of doing things, but again more about how we as different individuals can structure our everyday lives in a way that make sense to us, using different kinds of tools that are suitable for your specific admin-personality. And that's why I love this book!
…
Hele verden lader til at være i Konmari-mode p.t., nok primært grundet dokumentarserien på Netflix. Selv har jeg ikke fået set den, men jeg læste bogen "The life-changing magic of tidying up" for et par år tilbage, og har også lavet flere indlæg og videoer med min egen Konmari-process. Både hvordan min mand og jeg greb det hele an (læs mere her), og også hvilken betydning det havde haft for vores hverdag et år efter (læs mere her). Kort sagt var denne oprydning hvad der for alvor kickstartede vores mere bæredygtige livsstil og vores eget opgør mod den køb-og-smid-væk kultur vi lever i, og selvom jeg i forvejen var ordensmenneske, så kan det virkelig anbefales at få ryddet op i dit liv – uanset hvilken metode du bruger til, at få det gjort. Rod er ikke blot noget der eksisterer fysisk omkring dig; det kan også i én eller anden grad optage mental plads og gå ud over dit overskud. Og igen, set fra et bæredygtigt perspektiv så har mange af os rigtig godt af denne øvelse, for den kan lære os at gå lidt mere på kompromis med nogle ting – stå lidt af ræset, og forbruge mere bevidst fremover.
For nyligt læste jeg bogen "The art of life admin" af Elizabeth Emens. Og den kan virkelig anbefales! Den er lidt tung at komme igennem må jeg indrømme, men hav lige in mente at dette kommer fra én som i forvejen ikke kommer super hurtigt igennem bøger generelt, og så læste jeg den også på engelsk. Hvor Konmari metoden handler om at bringe orden i fysisk rod og sige farvel til det der ikke bringer værdi til dit liv, så handler denne bog mere om hvordan du effektiviserer alt den omkringliggende admin din hverdag er påvirket af. Uanset hvad så kan lige netop denne "life-decluttering" bog noget andet end nogen anden guide jeg er stødt på; den omfavner nemlig det faktum, at vi allesammen er forskellige og derfor gør den et stort nummer ud af, at kortlægge forskellige typer af personligheder, som man så kan relatere til på den ene eller anden måde. Oprydnings-metoder der virker for nogle, virker ikke nødvendigvis for andre og det er vigtigt at have i baghovedet altid – ellers ender man bare med at føle sig som en fiasko, og det er jo langt fra meningen. Som forfatteren så fint siger, så er meningen ikke at projicere sin "zen" udover andre ved at påstå, at den eneste løsning er at meditere eller simplificere din vej ud af livet. Eller forvente, at alle omkring én forvandler sig til minimalister uden videre. Disse ting virker for nogle, men ikke for alle.  Nogle laver udførlige bullet-journals i hånden, andre bruger apps til at håndtere deres to-do lister og det er vigtigt at forstå, at der ikke kun er én måde at strukturere sit liv på. Bogen er blevet til ved hjælp af fokusgrupper, interviews og en helt masse research. På den måde bygger den ikke bare på ét andet menneskes erfaringer og gode råd, men igen forsøger den at anerkende at vi allesammen er forskellige, og den kommer til allersidst med nogle værktøjer og øvelser man kan tage at bruge på en måde, som passer bedst muligt til dén man nu engang er. Og det er dét som gør, at jeg elsker denne bog!
Wherever you go, admin can follow you
What is this life-admin even? The book describes admin as the type of "office-work" you have to deal with in your private life. Examples could be your monthly budgetting, phone calls or meetings with you bank or insurance company, filling out certain types of forms and paperwork, signing your kids up for school or planning a party. These are all assignments that can require quite a lot of time from you, and it can affect your energy and mood negatively, if they are not being handled in the (for you) most effective and motivating manner. For some people the solution is taking regular admin-breaks, and then return with newfound energy to handle it better; but for others, the mere thought of this is exhausting because no matter where they go, they will always have that unsolved admin in the back of their minds, so they won't be able to relax no matter how far away they travel. So it's about figuring out what type of admin-personality you are, and then based upon that knowledge you'll be able to figure out how to handle life-admin better in the future.
…
Hvad er admin spørger du? Bogen beskriver admin som den type "kontor-arbejde" du udfører i privaten. Det kan være planlægning af dit månedlige budget, telefonsamtaler eller møder med din bank eller dit forsikringsselskab, udfyldelse af diverse formularer, dine børns indmeldelse i skole eller planlægning af en fest, bare for at nævne et par eksempler. Opgaver der faktisk kræver enormt meget tid af dig, og kan gå ud over dit gode humør og overskud, hvis ikke de håndteres på den mest (for dig) effektive og motiverende måde. For nogle er løsningen at tage en admin-pause, for på dén måde at vende stærkt tilbage og tage sig af den; men for andre vil admin altid ligge i baghovedet og rode, uanset hvor langt man rejser væk fra virkeligheden. Admin er en del af alle menneskers liv, og uanset hvor meget eller hvor lidt den påvirker dig, så vil den følge dig uanset hvad. Så det handler om, at finde ud af hvilken admin-personlighed du er og hvordan du med dén viden kan finde ud af, hvordan du fremadrettet kan håndtere den bedst muligt.
Which admin-personality are you?
According to the book there are 4 main admin-personalities, but they are not fixed. You can easily be a mix between two personalities, and you can also evolve from being one personality to another, if that's what you want and if you work for it of course. Besides the description of these personalities, there's a quiz in the back of the book that you can take if you're still a little unsure of which personality you are. The different personalities have a set of "tools" they tend to use, and by having a look at these it should be easier for you to see which personality you are, but also if there are tools from the other types of personalities that you could use or learn something from. There are 4 different admin-personalities presented in the book: Super-Doer, Reluctant-Doer, Admin-Denier and Admin-Avoider. The point is not to fix yourself upon one single personality or put a label on yourself, but more figuring out how you can deal with life's to-do's in the future in a way that feels comfortable to you. The book has loads of inspiration for this, especially the last part is more hands-on with different practises and ideas to try out.
I found out that I'm probably what you'd call a Super-Doer (someone who is good at handling admin and feels quite good about doing it too) – but the main reason why I am a Super-Doer could then be because I'm also an Admin-Denier (one that likes to simplify and escape certain types of admin because you just can't bother). This is a great example of how two personalities can very well melt together. So actually I've come to realise that the main reason why I am such a structured person that I am, why I like simplifying, and why I actually like doing the life-admin my own life is filled with, is because I've actively chosen not to bother about other types of admin. I intently lower the amount of life-admin I invite into my life, because I know that if there's too much of it, it will affect the Super-Doer side of me negatively. Makes sense?
…
Ifølge bogen findes der 4 forskellige admin personligheder, men de skal ikke forstås helt firkantede. Man kan sagtens være en blanding af to og man kan også sagtens udvikle sig fra at være én type til en anden, hvis man ønsker det og arbejder for det selvfølgelig. Udover beskrivelser af disse personligheder er der også en quiz man kan tage til allersidst i bogen, hvis man stadig er lidt i tvivl om, hvor man skal placere sig selv. De enkelte personligheder har en række "værktøjer" de typisk gør brug af, og man kan på den måde igen nemmere placere sig selv og sin admin-personlighed, men man kan bestemt også lære noget af de andre typer admin-personligheder. Bogen undersøger følgende 4 personligheder: Super-Doer, Reluctant-Doer, Admin-Denier og Admin-Avoider. Meningen med galskaben er ikke nødvendigvis at fastlåse sig selv i én personlighed eller sætte et label på sig selv, men finde ud af hvordan man fremadrettet kan håndtere hverdagens gøremål på en måde man har det godt med. Lige netop dette har bogen også masser af forslag til, især den sidste del af bogen kommer med nogle konkrete øvelser og idéer til, hvad du kan gøre.
Jeg fandt ud af, at jeg nok er det man vil kalde en Super-Doer (én der er god til at håndtere admin, og har det ganske godt i udførelsen af det) – men hovedårsagen til, at jeg vil placere mig selv her er nok i virkeligheden fordi jeg også samtidig er en Admin-Denier (én der simplificerer og helt udelukker typer af admin, ganske enkelt fordi man ikke gider bøvle med det) . Et godt eksempel på, at man ikke behøver høre til én personlighed alene. Så faktisk tror jeg, at jeg er så struktureret som jeg er, og trives med den mængde admin jeg nu engang skal håndtere i hverdagen, fordi jeg samtidig er stået lidt af ræset i forhold til andre ting. Jeg skruer bevidst ned for mængden af admin, fordi jeg véd at uoverskuelige mængder af det, vil gå ind og påvirke mit Super-Doer gen i en negativ retning. Giver det mening?
Admin-tools and examples
One of the tools that an Admin-Denier likes using is, as mentioned before, to simplify. This way you are very aware of the choices you make (or don't make) in life – you are well aware that some choices will make your life more admin-heavy (and therefore more unmanageable) and therefore you simply choose not to let that admin into your life at all. A woman from one of the focus groups from the book describes (and I so relate to the example) that she always considers the amount of admin a new purchase might project into her life. Is it hard to manage this product? What if it breaks? Is it hard to get rid off? As an example she mentions how she and her family have avoided having their own car, simply because they think the admin of it is too much. So they've decided to rent instead. An admin Denier is typically one that has effectively Kondo-ized their life, and feels amazing about living more simple. Again I do see myself as a combination of both the Super-Doer and the Admin-Denier, maybe because I sometimes feel that a 100% minimalistic way of living would be too spare for me. My wardrobe s a great example of how I am a combo of these two personalities, because the main part of my wardrobe is quite minimal and always stay the same (have a look at my basic wardrobe here), and it's only a small part of my wardrobe I like playing around with from season to season (have a look at my spring capsule here). I might have some sort of a minimal way of dealing with fashion because I love effortless style (Admin-Denier), but at the same time I do like being just a little more playful and getting something fresh into my wardrobe too sometimes, even though it requires a bit more effort, especially when you want to do this in the most sustainable way possible (Super-Doer).
…
Ét af de værktøjer der kendetegner en Admin-Denier er som jeg nævnte før, at man simplificerer. Her menes det, at man er meget bevidst om sine valg og fravalg her i livet – man er meget bevidst om, at der findes mange valg man kan tage, som gør mængden af generel life-admin større (og dermed måske mere uoverskueligt) og derfor vælger man det ganske enkelt fra. Som én af personerne fra en fokusgruppe i bogen også beskriver (og det kan jeg virkelig relatere til) så overvejer hun både bevidst og ubevidst ved mange af hendes nye køb, hvor meget ekstra admin de vil påføre hendes liv før hun køber dette produkt. Skal det vedligeholdes og er det besværligt? Hvad hvis det går i stykker? Hvordan skaffer jeg mig af med det? Som eksempel nævnes det bl.a. at de i hendes familie ikke orker den omkringliggende admin der er ved at have deres egen bil, så derfor leaser de i stedet. En Admin-Denier er typisk lige præcis den type mennesker, der har Kondo-iseret sit liv, og stortrives med at leve mere eller mindre minimalistisk. Igen ser jeg dog mig selv som en kombination af Super-Doer og Admin-Denier, måske fordi jeg sommetider føler at en fuldstændig minimalistisk tilgang til livet ville være for sparsom. Min garderobe er et udemærket eksempel på sammensmeltningen af disse to personligheder, fordi størstedelen af det tøj jeg har i mit skab altid forbliver det samme (se min basis garderobe her), og det er dermed kun en ganske lille del jeg fra sæson til sæson pepper garderoben op med (se min forårs capsule her). Jeg har en minimalistisk tilgang til mode fordi jeg elsker den ubesværede stil (Admin-Denier), men samtidig kan jeg også godt lide at have det lidt sjovt og at der sker noget nyt indimellem, selvom det som regel kræver lidt arbejde, især hvis det skal gribes an på en bæredygtig måde (Super-Doer).
Discuss the book with your partner
While I read the book, I actually also realised what admin-personality my husband is. He's more of an Avoider – he has a tendency to delay certain types of admin (if the payment date for this bill is in 3 days, why deal with it now?), and he's also quite good at deflecting admin. That means if someone tries to send admin his way that they could easily figure out themselves, then he would kindly send it back to them. Example: someone writes and asks the avoider for the recipe they shared the other day. Now, instead of spending time going online, finding the webpage, looking up the recipe and then sending back the exact link, an avoider will help you out, simply by replying "I found it on www.food.com, you could try looking it up in there". That way the avoider spares themselves for extra amounts of admin, but they've still helped out a little. And I could so learn from this! Another typical thing for the Avoider is that they are well aware that admin is a thing that exists, and therefore they are extremely grateful if someones handles the admin for them. So in that way we're quite a good match, haha! Not that he doesn't handle any admin (he's in charge of all of our budgetting for example), but he does it because it's necessary and he doesn't get the same kick out of checking off the to-list as I do.
After having read the book, I picked out a couple of things to discuss with my husband, and I also showed him the different personalities so he could dig into them a little bit himself. I wont require of him to read the book as well, but still I'd say that if you live with a partner or roomie, it can be a helpful tool for both of you. I feel like I have a better understanding of my husband's way of life now, and vice versa he understands why I feel the need to completely block out certain types of admin which might be connected to things or activities that he loves himself. To mention a type of admin I absolutely hate doing (and which can potentially bring out the worst of me) it has to be everything that has to do with taxes, loans, retirement savings and insurances. I. HATE.IT. And that's even though I'm self-employed and these are all things I need to handle myself now. I've got everything under control, don't get me wrong – but I owe that to my accountant and my husband. So after having read the book I've gotten some ideas on how to handle this going forward, so I won't get mad and irritated because I jut don't get it. I could schedule some time to deal with it a Friday afternoon (but before I'm too tired), and then make sure I've got some sort of reward ready for when I'm done. Sweets and a good movie is something that speaks highly to my inner child, and would work as a great reward for me.
I've got so many things I'd like to share with you from the book, not to mention all the personalities since I've only explained some of them a little here. But I'd like to encourage you guys to read the book instead! I haven't started doing some of the exercises in the back of the book yet, but I'd say the biggest reward for reading this book is the understanding my husband and I have for each other now. In general a wider understanding and acceptance of the fact that we are all different, actually.
…
Mens jeg læste bogen, så fandt jeg faktisk også ud af hvilken admin-personlighed jeg ville mene min mand er. Han er lidt mere en Avoider – dvs. han har fx tendens til at udskyde visse typer beslutninger og admin-relaterede gøremål(hvis regningen først skal betales om 3 dage, hvorfor så bøvle med den nu?), og han er god til at sende admin tilbage til afsenderen. Får man fx en sms fra én hvor der står "Ej, hvad var det nu for en opskrift du brugte her sidst? Vil du ikke sende den?" , så er Admin-Avoider'en tilbøjelig til måske blot at skrive "jeg fandt den på www.mad.com", i stedet for at bruge tid på at gå ind lede efter opskriften selv, og sende det eksakte link. Det er jo stadig super hjælpsomt og venligt ment, men man skærmer samtidig sig selv lidt for det ekstra arbejde. Og det kunne jeg faktisk godt lære noget af! En typisk ting for en Avoider er også, at de godt er klar over arbejdsbyrden af admin og derfor er de ekstremt taknemmelige, hvis der er nogen der udfører den. Så på den måde er vi jo faktisk et super heldigt match, haha! Ikke at min mand ikke er god til at håndtere admin (han tager sig fx af vores budget og økonomi), men han gør det mest fordi det er uundgåeligt, og nyder ikke at tjekke to-do-listen af i samme grad som jeg.
Efter jeg havde læst bogen, så udvalgte jeg nogle områder af den og diskuterede den med min mand en morgen under morgenmaden, og jeg viste ham også de forskellige typer af personligheder der er i bogen, så han kunne se om jeg havde placeret ham det rigtige sted. Jeg vil ikke forlange af ham at han skal læse den, men jeg vil alligevel sige, at især hvis du bor sammen med en partner eller bare en roomie, så kan bogen hjælpe jer begge. Jeg føler faktisk jeg har fået en større forståelse for min mand, og omvendt forstår han også bedre hvorfor pokker jeg vælger at skære ting i livet fra, som han måske synes er det fedeste i verden. For at nævne et eksempel på en type admin jeg absolut hader (og som får det værste frem i mig), så er det alt hvad der hedder skat, lån, pension og forsikring. Det er bare IKKE min stærke side, på trods af at jeg jo er selvstændig. Jeg har styr på tingene, bevares – men æren skylder jeg min revisor og også i høj grad min mand. Så efter at have læst bogen har jeg fået nogle idéer til, hvordan jeg fremadrettet kan blive bedre til håndtere denne type admin, så jeg ikke bliver sur og irriteret, fordi jeg ikke forstår det. Jeg kunne fx afsætte tid til at ordne min forskudsopgørelse den næst kommende fredag eftermiddag (men inden jeg bliver for træt til det), og så sørge for at have en form for belønning klar til bagefter (en pose bland-selv og en god film virker virkelig godt på mit indre barn, haha).
Jeg har så mange ting jeg gerne ville dele med jer fra bogen, især de forskellige personligheder som jeg jo kun lige beskriver ganske kort her – men jeg synes I skal kaste jer over den selv i stedet! Jeg er endnu ikke kommet igang med øvelserne bagerst i bogen, men alene dét faktum at min mand og jeg har fået en større forståelse for hinandens udgangspunkter, det må siges at have været den største belønning for at læse bogen i første omgang. Generelt en større forståelse for, at vi allesammen er forskellige, faktisk.