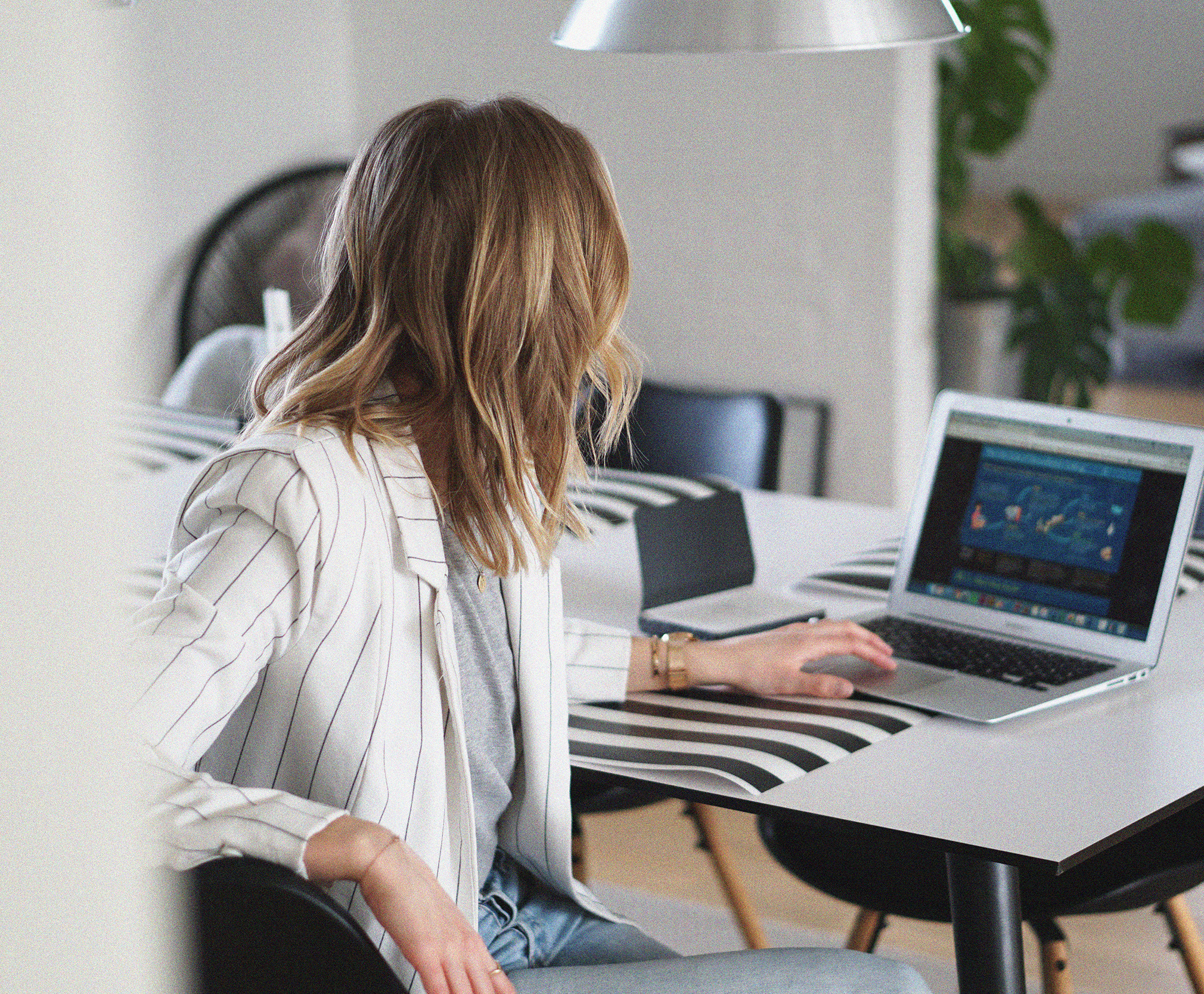 The first month of Spring is approaching us in fast pace – we long for those brighter days and we look forward to be able to go outside without wearing hundred layers of clothing. A lot of shops, webshops and fashion enthusiasts in general have also begun to update their wardrobe so that it's ready for the warmer and brighter days. That goes for me, too. It may be tempting for many people to start the season with a clean slate at this time of the year, and especially in the influencer world "wardrobe clearouts" are quite the thing when a new season is upon us (especially spring is a classic season to start fresh) and this time is no exception. There is nothing wrong with a thorough cleanup in the wardrobe or in the home in general; maybe you want more quality worked into your wardrobe, make better financial choices, really find your style, take more sustainable choices and stop buying clothes and things that don't add any real value to your life. When you clean up your wardrobe in this way, you probably end up with a pile of clothing that doesn't add any real value and therefore there is no reason to hold on to it. Some items may be great for selling because they are of higher quality, but some will probably end in the donation pile.
Kalenderen skriver snart officielt forår; marts måned nærmer sig med hastige skridt, og vi længes efter forår, lysere tider og vi ser frem til at smide nogle af de mange lag tøj, som vinteren påkræver os. Rigtig mange butikker, webshops og modeinteresserede generelt er også begyndt at længes efter, at få opdateret garderoben så den er klar til de lunere og lysere dage. Det gælder også mig. Det kan være fristende for mange, at starte på en frisk på denne tid af året, og især i influencer verdenen er "wardrobe clearouts" det helt store når et stort sæsonskifte er over os (især forår er en klassisk sæson at starte på en frisk), og denne gang er ingen undtagelse. Der er overhovedet ikke noget galt med en grundig oprydning i garderoben eller i hjemmet generelt; måske vil man have mere kvalitet arbejdet ind i sin garderobe, tage bedre økonomiske valg, virkelig finde sin stil, tage flere bæredygtige valg og holde op med, at købe tøj og ting der ikke tilfører nogen rigtig værdi til sit liv. Når man rydder op i sin garderobe på denne måde, så ender man højst sandsynligt med en bunke tøj, der ikke tilfører nogen rigtig værdi, og derfor er der ingen grund til, at holde fast i det. Noget kan måske sælges videre, men en del vil sikkert også ende i donationsbunken.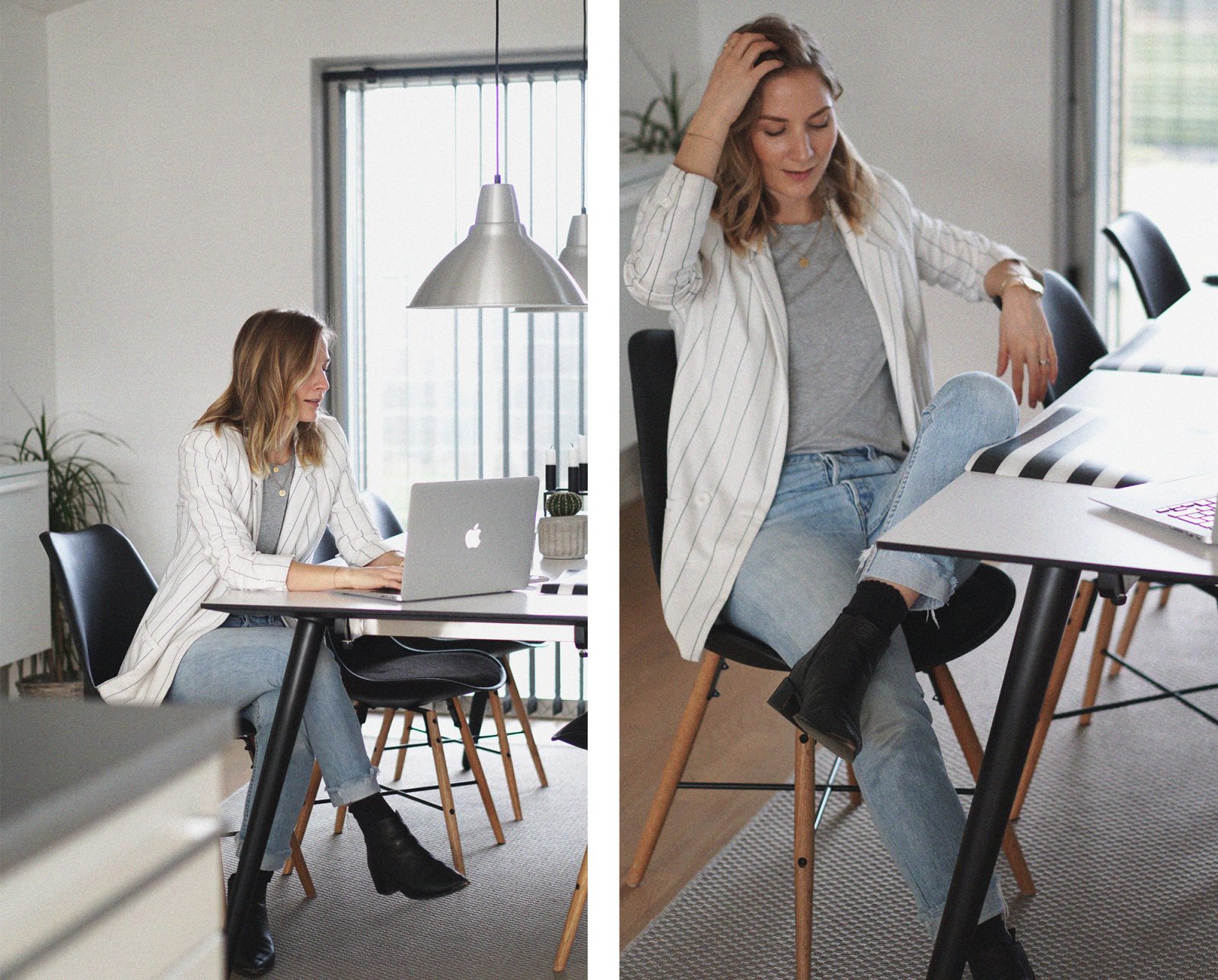 "Closing the loop"
What happens to the clothes we donate? I'm far from being an expert in this field to be able to give the full answer – but if you have seen the documentary The True Cost which evolves around the consequences of the fast-fashion industry, you know that a lot of recycled clothing from the Western world puts out local production, simply because the amount of clothing we donate is too much for the third world countries to be able to keep their own production going too. And we're talking huge piles of clothing, that are just laying there. This article describes how the population's employment in Ghana has fallen by as much as 80% between 1975-2000 as a result of this scenario. In addition, the same article indicates how the recycling system is actually built (it should be said that it is based on recycled clothing from the UK, US and Canada countries). I think many people have som sort of idea that when donating a piece of clothing, it will either be sold in a thrift store or recycled 1:1, such as through H&M's recycle program where you can, as you may know, hand over old clothes and in return, receive a 20% discount card for shopping for new items. "Close the loop" they call the concept. And it can be said that they are largely closing the loop of recycling – they help prevent a lot of clothing from ending in landfill and instead reusing most of it. But again, there is not much transparency about what really happens to the clothes we donate, and that's not just looking at H&M. This also applies to other brands and recycling concepts worldwide. A lot of the clothes we donate end up as filling in pillows, sofas, teddy bears, as blankets, rugs or other textiles. And again, I don't think there is something wrong with this scenario. But your old clothes just may not be recycled 1:1 into new clothes as you would believe; instead, your old clothes becomes a coveted and valuable commodity. And the clothing that is being shipped of to people who lives in poverty is just piling up. Sure, it doesn't end up directly on landfill – but if the locals can't follow the huges amounts of clothing from the Western countries then what is the point exactly?? 
Hvad sker der egentlig med det tøj vi donerer? Det er jeg langt fra ekspert nok på området til, at kunne give de fulde svar på – men hvis man har set dokumentaren The true Cost der netop handler om konsekvenserne af fast fashion branchen så ved man, at meget genbrugstøj fra vesten sætter lokal tøjproduktion ud, simpelthen fordi de mængder tøj vesten donerer er for store til, at det kan betale sig for dem selv at producere. Denne artikel beskriver bl.a. hvordan befolkningens beskæftigelse i Ghana er faldet med hele 80% mellem år 1975-2000 som følge af dette scenarie. Vi snakker stakkevis af uanede mængder tøj, som bare ligger der. Desuden tilkendegiver samme artikel, hvordan genbrugsystemet faktisk er opbygget (det skal dog lige siges, at den tager udgangspunkt i genbrugstøj fra landene UK, USA og Canada). Jeg tror mange mennesker ret uvidende har en forestilling om, at når de donerer et stykke tøj så bliver det enten solgt i en genbrugsbutik eller genanvendt 1:1, som fx gennem H&M's recycle program hvor man som bekendt kan aflevere gammelt tøj og til gengæld modtage et rabatkort på 20% til shopping af nye items. "Close the loop" brander H&M deres koncept på. Og man kan sige at det gør de i høj grad også- lukker genbrugscirklen – de er med til at forhindre rigtig meget tøj i, at ende på lossepladsen og i stedet genanvende det meste af det. Men igen er der ikke ret meget gennemsigtighed omkring, hvad der egentlig sker med det tøj vi donerer, og det gælder ikke kun H&M. Det gælder også andre brands og genbrugskoncepter verden over. Rigtig meget af det tøj vi donerer ender som fyld i puder, sofaer, bamser, som tæpper, klude eller andre tekstiler. Og igen, så synes jeg ikke som sådan der er noget i vejen med dette scenarie. Men det bliver netop ikke genanvendt 1:1 som nyt tøj som mange går og tror; i stedet bliver det til en eftertragtet og værdifuld handelsvare. Johanne fra Bedre Mode har skrevet et meget informativt lignende indlæg, netop omhandlende hvad der sker med det tøj vi donerer lige HER. Og det tøj der så rent faktisk bliver sendt til andre lande med det formål, at sælge det billigere til mennesker der ikke er ligeså velstillede som os i vesten hober sig op. Jo vidst ender det ikke direkte på lossepladsen, men hvis de lokale ikke kan følge med, er det så ikke næsten det samme??

Find the infographic "The life cycle of secondhand clothing" HERE
"Reduce, reuse, recycle"
The above has a little become my mantra. It's quite simple the 3 most important pillars in terms of sustainability, and in my opinion, all 3 words have to be part of the bigger picture if we ever want to close the loop. Unfortunately as consumers, we are far from being encouraged to "reduce". On the contrary, the fashion industry constantly strives to make us feel that we are missing something. In a perfect world, I think the fashion industry could do more in order to help us to exchange old clothes with each other 1:1. Just be more innovative, you know. So we can ease the pressure on both the people in the industry and not least our environment. I refuse to believe that so much of the clothing that is transformed into other fabrics than clothing, has no more life in itself as it already is. How many of us have not tried donating clothes that we may have used only a couple of times? I have at least. Nowadays however, I go more for timeless items of good quality, so that I'm sure I can sell them if I'm doing a wardrobe clearout. In addition, I also think it's a little scary how much clothes are being donated if you look at how common it is to buy secondhand clothes. The truth is that many people (especially in the western world) are so well-offed that it makes more sense to just buy new items. Why in the world would you buy something used when you can get something that's brand new for only a bit more money? Personally secondhand clothes are often my first choice because it doesn't put the environment under extra pressure. I buy something that has already been produced and I support recycling concepts in general, which is something that means a lot to me personally and it just aligns with my own values. But that doesn't mean that I can't easily understand the other way of thinking. I just think it's a shame that so much unused clothing have to be turned into pillows when you think about how many people that are under pressure in the production of them, not to mention our environment. It's just kind of a waste, even though I know the textiles aren't initially being wasted. But still. It's a complex business and I don't know the answers to how we solve it. In all its simplicity, I think that many of the answers are within quality rather than quantity, which is one of the reasons I'm so fond of my capsule wardrobes for example. The more we as consumers are willing to pay for our garments, the more space there would be for fair wages not to mention the general support of more eco-friendly production.
What are your thoughts on this? Did you know in advance where the clothes you donate end up? And are you going to look differently on your consumption and what you donate in the future? Personally it is definitely something I'll think more about in the future, but as the article mentioned earlier in this post says, it is still good that we donate – there just needs to be much more transparency about it.
Ovenstående er lidt blevet mit mantra. Det er ret simpelt de 3 allervigtigste grundpiller i forhold til bæredygtighed, og i min optik er alle 3 ord nødt til at være en del af det store puslespil, hvis vi nogensinde skal "close the loop". Desværre bliver vi jo som forbrugere langt fra opfordret til, at "reduce". Tværtimod får fast fashion industrien os konstant til at føle, at vi mangler noget. I en perfekt verden, så synes jeg modebranchen burde gøre mere for, at vi som forbrugere kunne bytte gammelt tøj med hinanden, eller på andre mere innovative måder virkelig hjælpe os forbrugere med, at genanvende gammelt tøj 1:1, så vi kan lette presset på både menneskerne i industrien og ikke mindst vores miljø. For jeg nægter simpelthen at tro på, at så meget af det tøj der bliver omdannet til andre tekstiler end beklædning, ikke har mere liv tilbage i sig som det allerede er. Hvor mange af os har ikke prøvet, at donere tøj som vi måske kun har brugt et par gange? Jeg har ihvertfald. Nu går jeg dog i højere grad efter tidløse items i god kvalitet, som jeg er sikker på jeg kan sælge videre 1:1. Desuden synes jeg også det er lidt tankevækkende hvor meget tøj der bliver doneret, hvis man sætter det op imod, hvor almindeligt det er, rent faktisk at købe brugt tøj. For sandheden er, at mange mennesker (især i den vestlige verden) er så velstillede, at det ligeså godt kan betale sig, at købe tøjet fra ny. Hvorfor i alverden købe en anden persons aflagte ting, når man kan få noget der er spritnyt? Ret simpelt, så er brugt tøj mit første valg fordi det ikke sætter miljøet under ekstra pres. Jeg køber noget der allerede er produceret, og jeg støtter genbrugskoncepter generelt, hvilket er noget der betyder meget for mig personligt, og det er noget jeg gerne vil være med til, at normalisere. Men det betyder ikke, at jeg ikke sagtens kan forstå den anden tankegang. Jeg synes bare det er ærgerligt at så meget stort set ubrugt tøj, må lade livet som fyld i bl.a. puder, når man tænker på hvor mange mennesker der er under pres i produktionen af det, for slet ikke at tale om vores miljø. Det er en kompleks branche, og jeg kender ikke svarene på, hvordan vi løser den. I alt sin enkelthed så tror jeg, at mange af svarene ligger i kvalitet frem for kvantitet, hvilket er én af grundene til, jeg er så glad for mine capsule wardrobes. Jo mere vi som forbrugere er villige til at betale for vores tøj, des mere rum bliver der til ordentlige arbejdsforhold og generel opbakning af mere bæredygtig produktion.
Hvilke tanker sidder du derude tilbage med? Vidste du på forhånd, hvor det tøj du donerer ender? Og vil du se anderledes på dit forbrug og det du donerer fremadrettet? Personligt er det ihvertfald noget jeg vil tænke mere over i fremtiden, men som artiklen nævnt tidligere i indlægget peger på, så er det stadig grundlæggende godt, at vi donerer. Der skal bare være meget mere transparens.