As I feel like I've been touching this subject times before, I still get many questions about how and when I decide to part with something from my wardrobe. So today I'm doing an entire post and video dedicated to the process of decluttering your wardrobe, and which questions you should ask yourself in this whole process, to make it easier for yourself to nail that declutter once and for all.
As important as I think the weed-out part is, it's only part of the equation to me. The closet declutter part is something that should be looked at as the first step to becoming a better consumer in the future; not something you strive to do several times a year to make room for tons of new clothing. If you do that you'll not only miss out on valuable lessons when it comes to your own personal style and preferences, but you will never learn to value lasting style either.
And why is lasting style so important anyway? Giving the fact that the fashion industry is a big sinner when it comes to both corporate social responsibility and pollution, we all need to take a step back and find new ways to enjoy it if we want to keep doing so. Lasting style means less and better shopping not only for you but also for the environment.
…
Selvom jeg måske føler jeg har nævnt følgende mange gange på mine kanaler, så et det stadig ét af de spørgsmål jeg oftest modtager; hvordan og hvornår (og hvorfor!) beslutter du dig for, at give slip på specifikke items i din garderobe? Så dagens indlæg og tilhørende video skal derfor handle om lige netop denne proces samt hvilke tanker og spørgsmål du kan stille dig selv gennem hele processen, så du én gang for alle kan få den succes med garderobe-oprydningen, som du ønsker.
Selvom jeg synes oprydningen i sig selv er enormt vigtig, så er den kun en lille del af et større billede for mig. Oprydningen skal ses på som en mulighed for, at blive klogere på dig selv, din stil og dine præferencer – men sørme også blive en bedre forbruger! Derfor bør denne oprydning i min optik ikke være noget du ser frem til flere gange om året udelukkende for, at gøre plads til en helt masse nyt tøj. Hvis det er dér du har dit fokus så går du ikke blot glip af mulighederne for virkelig at dykke ned i din egen stil; du kommer heller ikke til at lære, hvad det vil sige at have vedvarende stil.
Og hvorfor er vedvarende stil så overhovedet interessant? Jo, hvis man ser på hvor stor en synder modebranchen er når det kommer til forurening og CSR, så bør vi faktisk alle lige træde et skridt tilbage og genoverveje vores forbrugsvaner. Vedvarende, god stil er i min optik mindre men bedre shopping – godt for miljøet og godt for dig og din pengepung.
1. DO I LIKE THIS ITEM?
If you don't like it sell or donate it, and stay away from anything similar in the future. Use your new-found experience to become a better consumer! If you like, invest in a notebook to take notes – both during the decluttering process but also a the end of a season, just to figure out what works for you and what doesn't. Here's some important questions to ask yourself in this step:
Have I worn this within the past 1-2 years?
Would I buy it again now?
Do I like how it looks and feels on my body?
Do I like the material?
Do I like the overall style?
Can I picture 3-5 outfits with this item (that I'd wear now)?
…
Hvis du ikke kan lide det pågældende item så sælg det eller doner det og hold dig så væk fra denne type i fremtiden. Brug din nyfundne viden til, at blive en bedre forbruger! Hvis du synes kan du investere i en fin lille notesbog, som du skriver alle dine tanker ned i – både gennem oprydningsfasen men også ved slutningen af en sæson. Bare så du får sporet dig ind på hvad der fungerer for dig og hvad der ikke gør. Her er nogle nyttige spørgsmål, du kan stille dig selv når du skal beslutte dig for, om du egentlig kan lide dette stykke tøj eller ej:
Har jeg brug dette stykke tøj de sidste 1-2 år?
Ville jeg købe det igen?
Føles det og sidder det godt på min krop?
Kan jeg lide dette materiale?
Kan jeg lide stilen?
Ville jeg nemt kunne sammensætte 3-5 outfits med dette item (som jeg med glæde ville gå i nu)?
2. CONDITION
Gather things that you like but that needs to be repaired in one pile and deal with them in the nearby future. You could either fix these items yourself or take them to a tailor or cobbler. Then gather up things that are beyond repair in another pile and toss them; preferably at a place where they can be recycled and turned into new materials. Also if I've been wanting to replace one item with another for some time (either because I didn't like the fit of the old one, the material or similar), I will either donate or sell the old item as soon as the replacement is found, so it doesn't take up space in my closet. If it's simply worn-out beyond repair I will toss it.
Toss: anything beyond repair (anything with holes, faded colours, stretched out, etc).
Keep: anything that you (or someone professional) can fix up.
…
Saml det tøj sammen, som skal ordnes før det kan tages i brug i én bunke og tag dig af det i den nærmeste fremtid. Du kan enten ordne det selv, eller aflevere det hos profesionelle som din lokale skomager eller skrædder. Saml så alle de ting der ikke kan repareres og smid dem ud; og helst et sted hvor tøjet kan blive genanvendt til nyt materiale. Hvis jeg står i det scenarie, at jeg længe har ville erstatte et item jeg allerede er i besiddelse af med et nyt (måske fordi det gamle stykke tøj ikke sidder ordentligt, materialet kradser eller lignende), så donerer eller sælger jeg det gamle item så snart jeg tager det nye med hjem, så det ikke tager unødigt plads i mit skab. Hvis det ganske simpelt bare er udtrådt, så smider jeg det ud.
Smid ud: alt dét du ikke kan reparere (strømper med huller, udvaskede farver, ting der er blevet forstrukket, etc.)
Behold: alt dét som kan repareres af enten dig selv eller en professionel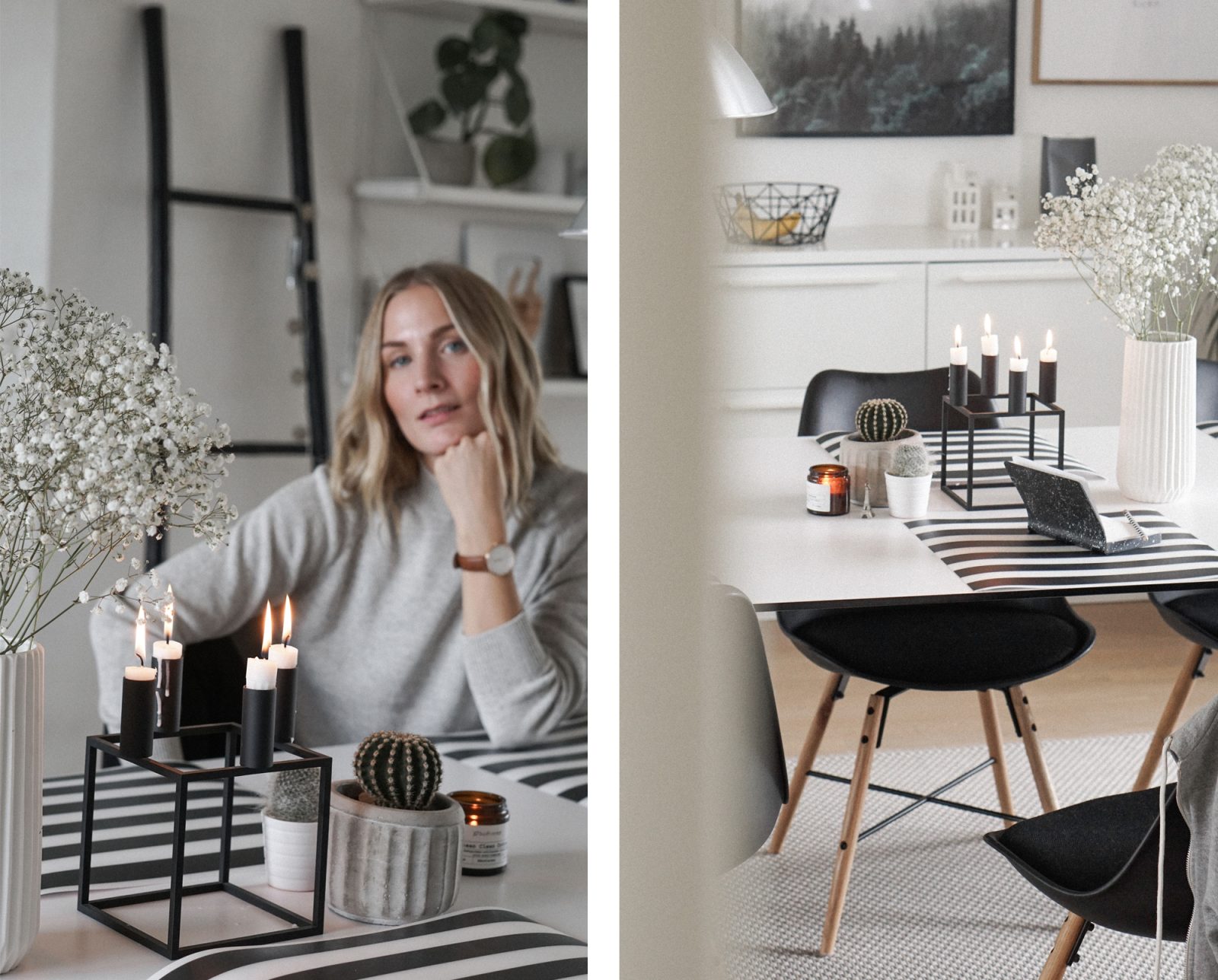 3. STORAGE
Store away items that you still like but you can't wear the coming season. There's no reason to have these extra items taking up space in your closet, and make getting dressed feel like an overwhelming task! You could also store away any "trendy" pieces that you still like, but that you need a break from for now. I do have items in storage that I sometimes haven't worn for maybe 2 years, but then suddenly fall in love with again. If I find out that it still just doesn't work after all that time, that is where I will probably part with it and stay away from it in the future. But many has probably tried the whole "I really regret getting rid of that or selling that piece back then" so if it still resonates with you somehow keep it a little longer in storage and give it another go some other season. Finally store away sentimental items seperately (e.g. you wedding dress or the first sweater for BF ever bought you) and costumes. Personally I keep items like that in the attic. So store away the following:
Seasonal items
Costumes
Sentimental items
…
Pak alt det tøj væk som du stadig elsker, men som du ikke kan bruge den kommende sæson. Der er ingen grund til, at det skal optage ekstra plads i din garderobe og gøre påklædningen til en uoverskuelig opgave! Du kan også gemme de mere "trendy" ting væk, som du egentlig stadig godt kan lide men måske bare har brug for en pause fra. Jeg har selv tøj i min garderobe som jeg måske ikke rigtig har brugt de sidste par år, men som jeg så lige pludselig får lyst til, at hive frem fra gemmerne. Hvis jeg så herefter finder ud af det bare ikke fungerer, så donerer eller sælger jeg det, og så vil jeg sikkert holde mig fra den slags køb i fremtiden. Men mange af os har prøvet det dér med, at man skiller sig af med et stykke tøj, og så et par år efter tænker man "ej, hvor skulle jeg bare have beholdt det". Så det kan altså godt betale sig, at gemme de mere trendy items og så give dem et nyt forsøg en anden sæson. Sidst men ikke mindst så gemmer jeg også items væk, som har sentimental værdi for mig, men som jeg ikke bruger. Så altså, pak som udgangspunkt følgende væk:
Sæsonbaserede items
Kostumer
Items med sentimental værdi
4. STRUCTURING YOUR "NEW" WARDROBE
Once you're done decluttering everything, it's time to put everything you love and can wear the coming season back into your wardrobe. For that I suggest that you come up with a "system" or a structure that makes sense to you and your lifestyle. I like to make capsules (or categories) within my closet. Not only does it make getting dressed a lot easier, my wardrobe also looks really neat, tidy and inspiring. You can learn mere about the way I've structured my wardrobe HERE. There are 4 main capsules I like to part my wardrobe in:
All-year basics
Seasonals
Occasion wear
Sports/loungewear
…
Når du er færdig med oprydningen er det tid til, at lægge/hænge resten tilbage i skabet. Jeg foreslår du finder på en løsning, som passer til dig og din livsstil, når du skal finde ud af hvordan du indretter dit skab bedst muligt. Jeg kan bedst lide at dele min garderobe op i små capsules (eller kategorier). Det gør det ikke kun nemmere at klæde sig på om morgenen, men mit skab ser også bare altid pænt, lækkert og overskueligt ud. Du kan se hvordan jeg har indrettet min garderobe lige HER. De 4 overordnede kategorier jeg deler min garderobe i er:
Helårs-basis
Sæson baserede items
Tøj til særlige lejligheder
Sports/praktisk tøj
5. Use your new-found knowledge
… to become a better and more conscious consumer! Read my best tips on how to become a more eco-conscious fashion consumer right HERE. Also keep in mind that the whole process of decluttering is – well, a process. You might not nail it the first time or after the first year, it may take a while to get to know yourself and your style preferences. It's very individual! And speaking of that, don't look at this as a competition of owning as little as possible. Deprivation has nothing to do with minimalism! This is about you becoming more aware of who you are, and only holding on to the things that truly makes you happy.
…
… bliv en mere bevidst forbruger! Læs mine beste tips til, at blive en mere bæredygtig forbruger af tøj lige HER. Du skal også have i baghovedet, at hele denne oprydningsproces er – nå ja, en proces. Det kan godt være den ikke sidder lige præcist i skabet efter første gang du rydder op, det kan måske tage et helt år eller mere før du føler den er der. Det er en individuel proces! Speaking of, så lad også være med at se på dette som en konkurrence om, hvem der kan eje mindst muligt. Afsavn har intet med minimalisme at gøre! Det her handler om, at blive opmærksom på hvem du selv er og på den måde lære kun at holde fast i de ting, der virkelig tilfører en værdi til dit liv.