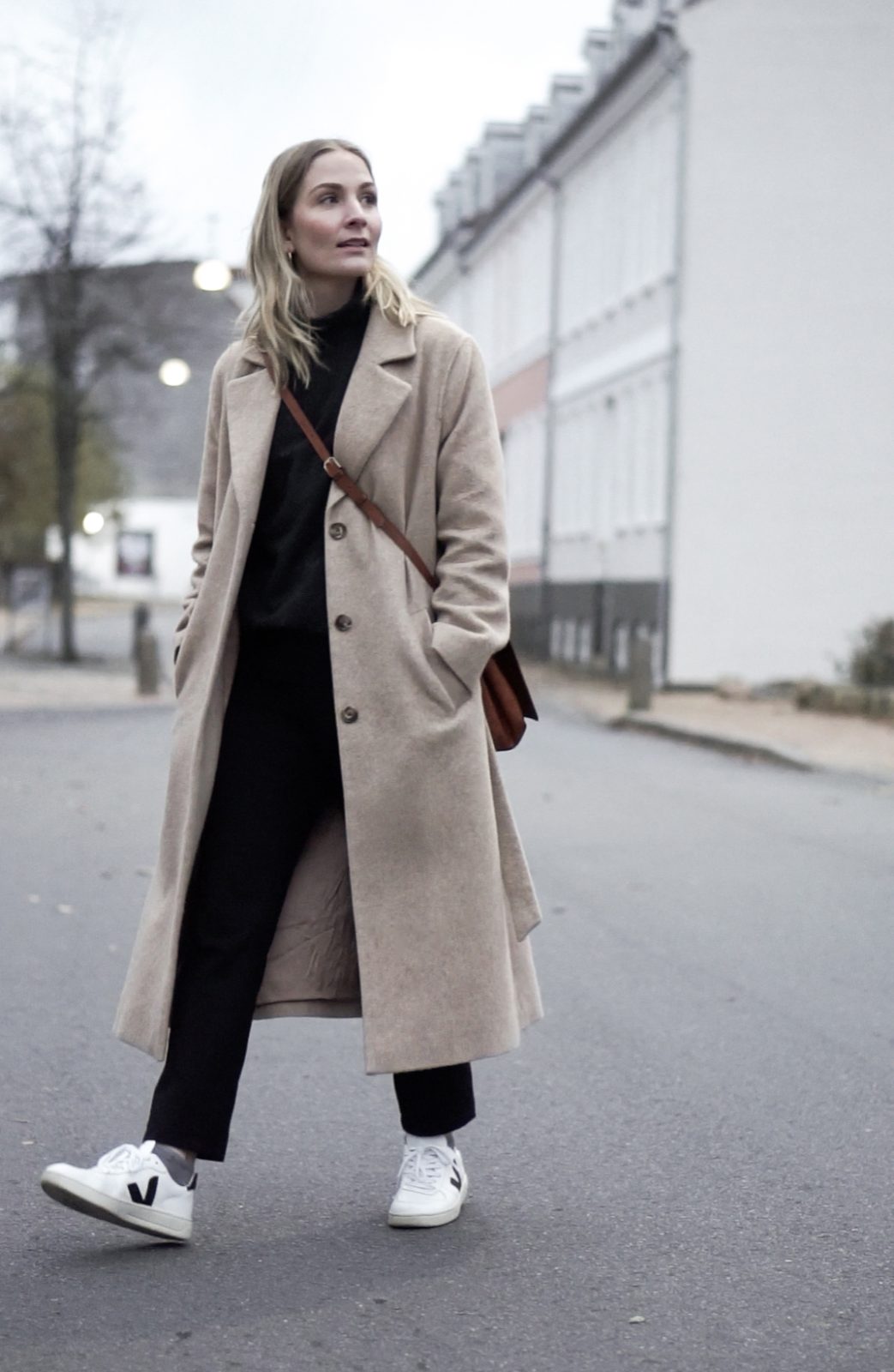 A look back at autumn
So we made to winter! I know it's so cliché but I can't believe how quickly this year has flown by. Well, it makes perfect sense when you're busy all the time though, because time will pass in the blink of an eye. That's why I'm generally a big fan of slow living, but when you've got an entrepreneur hidden inside you trying to break out it's hard to fully live slowly at times 😉 In any case it's time to look towards a new season, go through my wardrobe and spice things (and life) up a bit for the rather long and dark winter season.
I've once again been super happy about the past season's capsule. As far as my all-year basic wardrobe is concerned I'm still so thrilled with it, and despite the fact that I've received a few new items to test out (my white Veja trainers for example) I don't feel at all like I've been missing something. I can always count on my basics, and that's why it's so amazing! This season a lot of us were so lucky that we were able to get the Cladwell app free for life, although the offer was limited so you had to move quickly. I celebrated that with a collaboration together with the team behind the app by hosting a 10-day wardrobe challenge, where I had to let the app pick an outfit for me for 10 days. It was a fun and quite educating experience, because I learned how helpful the app is in terms of making new outfit combos with old items that I wouldn't have thought of myself. 
When looking at the single items from my autumn capsule there are only a few items I didn't really use as much as I had hoped for. Among these were for example my black culottes and a navy shirt. When it comes to the black culottes I might have to part with them to be honest with you, because I can't come to terms with how they look when I wear them. I prefer culottes in kind of a crisp and stiff quality like these. The ones I have are just a little too slouchy for my taste. But if that ever where to happen it wouldn't be before spring anyway, because it's too cold to wear them now. Speaking of spring I'm also packing away my brown loafers for the winter season, but I'll be looking forward to getting them back out when spring arrives in the new year. In my little capsule wardrobe notebook I wrote last winter as an end-of-season thought, that I had way too many jumpers in my capsule. So that's definitely something I'm trying to keep in mind for this year's winter capsule, and a great reminder that I don't really need any new jumpers.
…
Så nåede vi til vinter! Jeg ved det er sindssygt kliché, men jeg kan slet ikke forstå hvor tiden er blevet af. Eller jo, det giver jo god mening at når man har travlt, så forsvinder tiden mellem fingrene på én. Det er derfor jeg generelt er stor tilhænger af slow living, men når man har en iværksætter gemt i maven kan det være svært at efterleve altid 😉 Ihvertfald så er det endnu engang blevet tid til, at vende blikket mod en ny sæson og give min garderobe det løft den (og jeg) har brug for, nu hvor vi for alvor går vinteren i møde.
Jeg har endnu engang været ganske tilfreds med denne sæsons capsule. I forhold til min helårs basis garderobe så er jeg stadig ovenud tilfreds med den, og på trods af jeg har modtaget nogle enkelte produkter i gave (bl.a. mine hvide Veja sneakers) så synes jeg vitterligt ikke jeg har manglet noget. Jeg kan bare regne med den, og det er jo lige netop dét den skal kunne! Dette var også sæsonen hvor mange af os var så heldige, at kunne få fingrene i Cladwell garderobeopbygnings app'en gratis for life, men tilbuddet gjaldt kun i en begrænset periode. Det fejrede jeg i et samarbejde med Cladwell ved at lave en 10-dages garderobe udfordring, hvor jeg hver dag skulle lade den vælge et outfit for mig. Det var en sjov udfordring, som du kan læse mere om lige HER. Kort sagt hjalp app'en mig med at bruge flere items som jeg måske i det daglige glemte lidt, og den er også super god på nye outfit kombinationer, som jeg måske ikke selv ville have fundet på.
Når jeg kigger på de enkelte items i min efterårs capsule, så er der kun et par enkelte ting jeg ikke fik rakt nær så meget ud efter som jeg havde håbet på. Det gjaldt bl.a. mine sorte culottes og en mørkeblå skjorte. I forhold til de sorte culottes så tror jeg, de er én af de items jeg nok bliver nødt til at sælge eller donere, men nu gemmer jeg dem i første omgang bare væk for det kan være jeg ombestemmer mig. Jeg er ikke så vild med den lidt slouchy kvalitet de er lavet i, og ønsker mig nok mere noget i retningen af disse, der er lavet i en mere stiv og crispy kvalitet. Men det bliver måske til foråret, for uanset hvad synes jeg det er for koldt at bære culottes nu. Speaking of, så pakker jeg også mine brune loafers væk, men jeg glæder mig til gensynet med dem til foråret igen.
I min lille capsule wardrobe notesbog kan jeg se, at jeg ved udgangen af vinteren sidste år noterede, at jeg havde alt for mange striktrøjer fremme fra gemmerne, så det vil jeg helt sikkert forsøge at have in mente når jeg for alvor går igang med min vinter capsule i år. Jeg tror også det er en god reminder om, ikke at købe nye striktrøjer i år.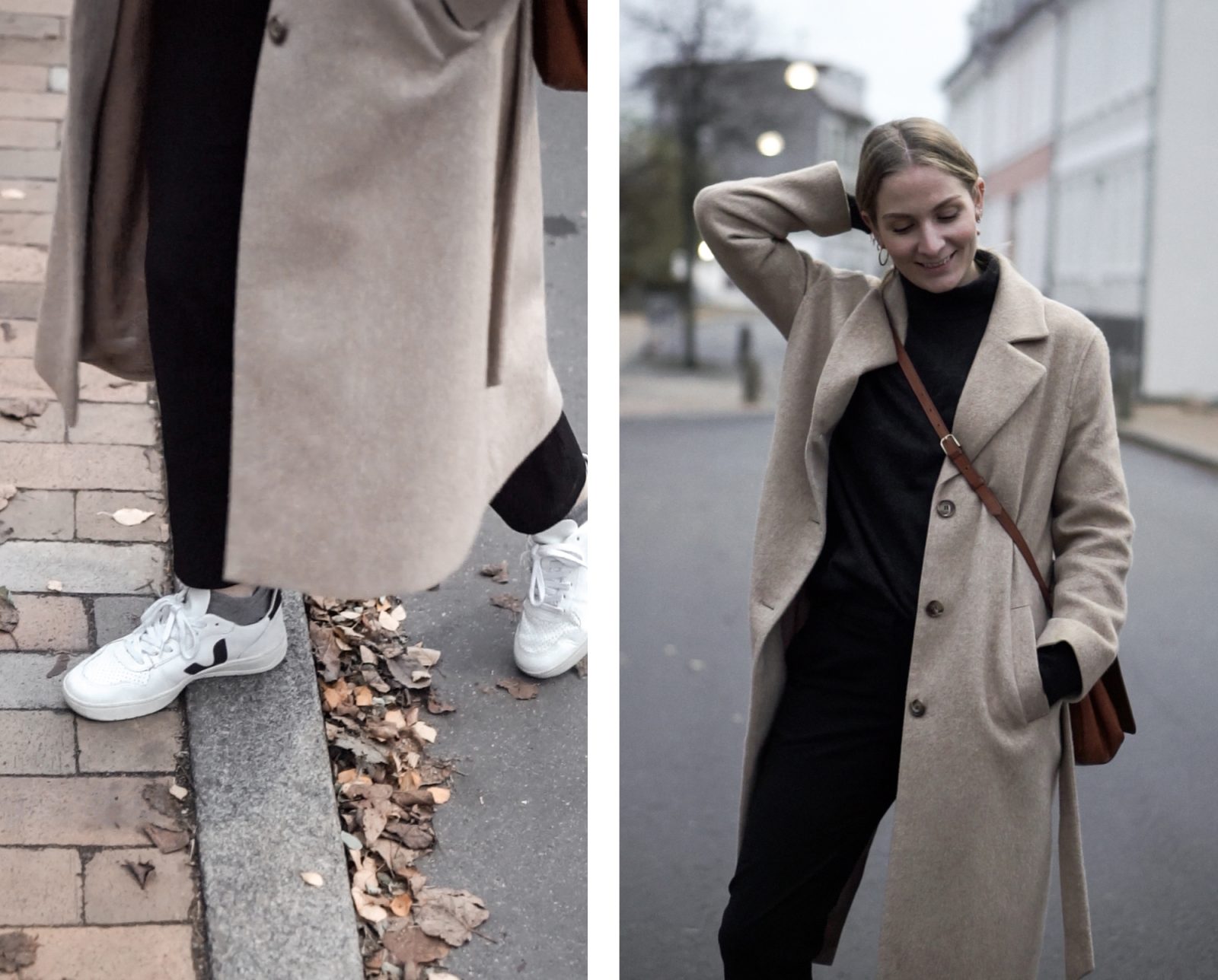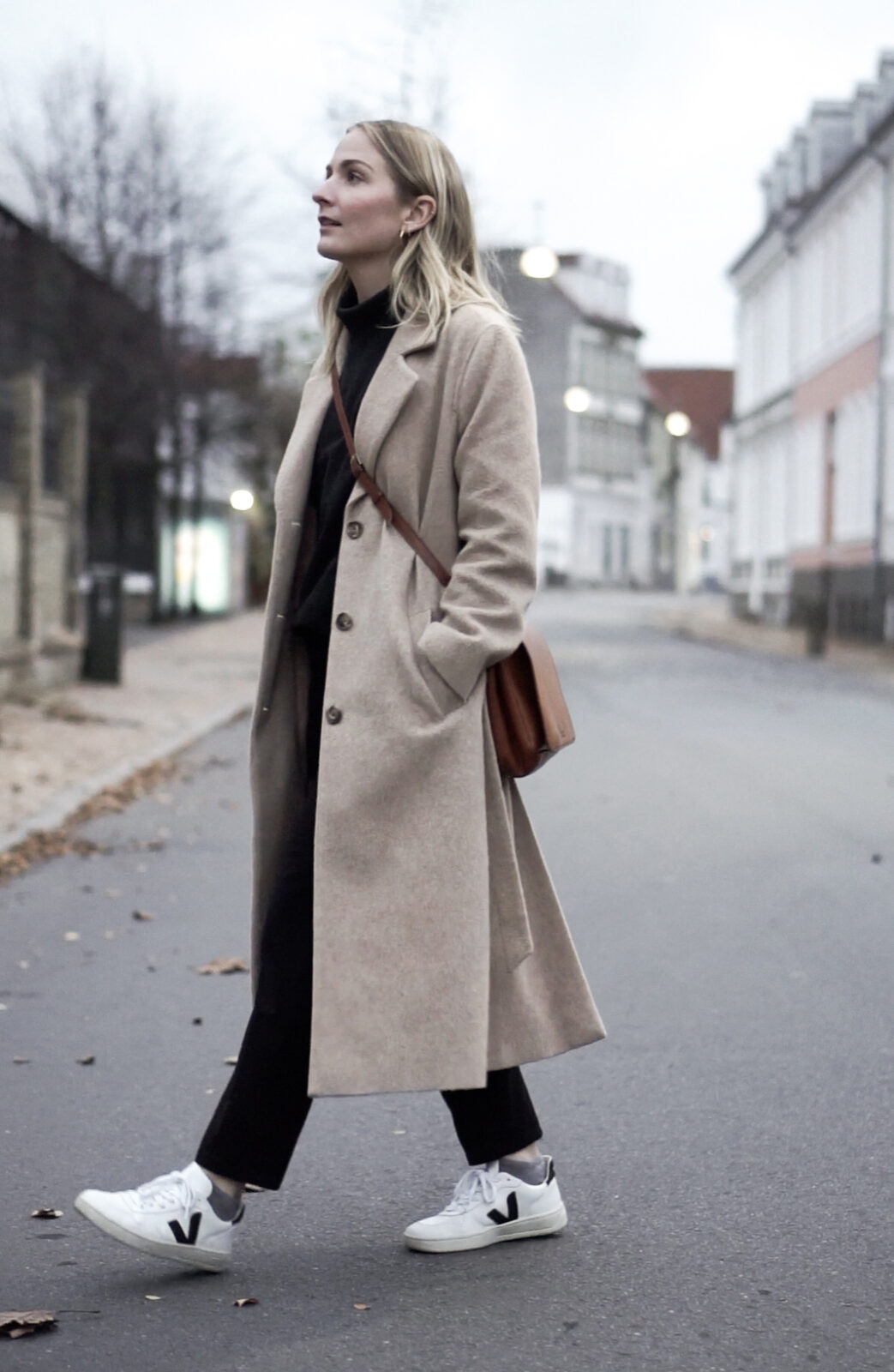 My inspiration for the coming season
I really don't hope you think of me as a big dull dud (major Friend's reference right there for ya), but I don't really see myself changing all that much for my winter capsule. I'm still super hooked on the monochrome colourscale (surprise) mixed with lovely autumn colours and with some red thrown in there too. I've updated my Pinterest board for the season (you'll find it below) along the way, and even though I've been pinning a bunch of new and fresh inspiration images since the beginning of last season, it's not really all that different. 
Autumn and spring are usually the "big" seasons where the biggest shift happens – both weather and fashion wise. Summer and winter are more extensions of the two, and when preparing these two seasons I'll usually just make few rather small changes, that are even more suitable for the weather we're approaching. I've already pulled out my beloved (and super old) down coat, but I think this year will be the year I downgrade it to practical means only. It's getting a bit worn out (especially through countless dog-walks in the forest) and it is starting to show slowly. Speaking of down jackets I've gotten my hands on one of the ReNew puffers from Everlane this season, and I'm gonna wear that as an extra layer underneath my wool coats this season instead. I love wool coats and I just feel more fancy when I wear one of those. You can get more tips on how to beat the winter cold and look chic at the same time in my big winter-layering guide right HERE. I know I've got some jumpers in storage from previous seasons too that I might switch some of those I've got in my autumn capsule with, just to give a breath of fresh air. But other than that I don't think my winter capsule is gonna be THAT different to my winter capsule.
…
Nu håber jeg ikke I synes jeg er mega kedelig, men faktisk så tænker jeg ikke umiddelbart, at der skal ske det helt store med min vinter capsule. Jeg er stadig lige så tændt på den monokrome farveskala (surprise) blandet med fine efterårsfarver og et pift af rød, som jeg var i starten af sæsonen. Jeg har opdateret mit inspirations board (se nedenfor) løbende, og på trods af der har sneget sig en del nye billeder ind på den siden sidst, så er det jo ikke fordi der som sådan sker så meget nyt.
Efterår og forår er typisk de "store" sæsoner hvor det største skift finder sted – både vejrmæssigt, men altså også når det kommer til mine capsules. Sommer og vinter er på en måde forlængelsen af de to, og her spæder jeg typisk til med nogle ekstra stykker tøj og sko, der er mere passende til temperaturerne og vejret som det udvikler sig. Jeg har allerede hevet min gode gamle dunjakke frem fra gemmerne, men jeg tror at i år, så vil jeg mere bruge den i praktiske sammenhænge. Den er ved at være godt brugt (især til hundetræning og gåture i skoven!), og det kan altså efterhånden godt ses på den. Til gengæld har jeg fået fingrene i en let dunjakke, som jeg kan bære under mine uldfrakker hele vinteren. Den er altså en game-changer for mig! Jeg ELSKER mine uldfrakker og føler mig som nævnt før altså bare lidt mere velklædt, når jeg ifører mig én af disse. Du kan få flere tips til hvordan jeg håndterer vinterens kulde, i min store "winter layering guide" lige HER. Jeg ved jeg har nogle striktrøjer liggende fra tidligere sæsoner, som jeg muligvis vil skifte nogle af dem jeg har i min capsule nu ud med, bare for at der sker lidt nyt. Men ellers tror jeg som sagt ikke, at min vinter capsule bliver så meget anderledes end den jeg har kørt her igennem efteråret.

My wishlist
There's a few items on my wishlist this season – one is a bright red beanie and a red checkered shirt from favourite brand Armed Angels, or maybe a vintage alternative instead. Besides that I've fallen completely in love with beige suede boots again this season. I say "again" because I actually used to have a pair from Ash several years ago that I bought preloved, but I ended up selling them again. Why I did that i don't exactly remember but I'm guessing that being a poor student I needed the money or something. In any case I do regret it, and this is living proof why storing away items instead of getting rid of them is a much better solution. I realize they are not the most practical kind of shoe, I mean suede AND in a light colour combined, but they would become a pair of shoes that I'd be a bit more careful with. Just like with my white trainers that I never where any place "dirty" like on walks in the forest for example. No matter what I'm trying to look through various secondhand shops online to see if I can find the same pair I used to have (or at least something really close to). 
I've also been updating my occasion wear capsule with just a few more festive items, but I'll make a whole seperate post and video with these. I've got a few Christmas parties to attend, and then of course there's Christmas and new year's eve as well. I've just been in London to meet up with my new management agency Sixteenth to attend their Christmas party and just meet everybody as well, and it was just SO nice. I have quite a few nice things in my storage that are perfect for this time of year. I love the festive season and I love dressing up for it too!
…
Der har sneget sig et par enkelte ønsker ind på min liste – bl.a. en knaldrød hue og en bestemt rødternet skjorte fra yndlingsmærket Armed Angels, eller måske en vintage model i stedet. Udover det så har jeg atter kastet min kærlighed på beige støvletter. Jeg skriver "atter" fordi jeg for flere år tilbage faktisk købte lige netop et par beige ruskindsstøvletter på Trendsales fra Ash, som jeg dog endte med at sælge videre igen. Hvorfor jeg gjorde det aner jeg ikke (måske var jeg fattig studerende og var i pengenød, haha!), men jeg fortryder det ihvertfald noget så grusomt. Igen et levende bevis på, hvorfor det er smart at gemme gamle items væk i stedet for, at skille sig af med dem. Det er ikke verdens mest praktiske sko, jeg mener ruskind OG en lys farve er ikke den bedste kombi, men så bliver det dén der type støvle som man er lidt mere forsigtig med brugen af. Lidt ligesom mine hvide sneakers, som jeg også passer på ikke at anvende når jeg skal ud og gå i skoven eller andre "beskidte" steder. Uanset hvad så er jeg lige nu igang med at finkæmme på Trendsales, Vestiaire Collective og nu også Tradono for fine beige støvletter. Sidstnævnte er en ny tjeneste jeg ikke har prøvet før, men en sød følger skrev til mig ovre på instagram at hun synes jeg skulle prøve at tjekke deres udvalg af netop beige støvler ud, fordi udvalget er kæmpe stort.
I samme omgang som jeg går min hverdags capsule igennem, så vil jeg også opdatere min occasion wear capsule. Jeg har et par enkelte julefrokoster jeg skal til, og så er der jo også nytårsaften (hvor jeg iøvrigt ikke aner hvad vi skal i år), så jeg kunne ligesom sidste år godt tænke mig at opdatere denne mini-capsule med nogle lidt mere jule- og nytårsagtige items. Jeg har fx lige været i London og møde mit nye management bureau og deltage i deres julefrokost, hvilket var super hyggeligt. Jeg ved jeg har nogle fine ting i gemmerne, som er perfekte til disse festlige lejligheder. Og så elsker jeg bare julemåneden!