Buy the earrings HERE (available in 14 c recycled solid gold or 925 silver)
Summer has arrived to Denmark at last (for now anyway), so I wanted to share some inspiration for all the summer festivities with you guys today. I've shared my version of the perfect all-year occasion wear capsule with you before, and even though it pretty much stays the same all through the year, I do tend to tweak it ever so slightly some times. I don't have a systematic approach to it as with my everyday wear capsule that I change up from season to season. I like to just go along with it, and change up things here and there every once in a while if I feel like it. My love for the monochrome and neutral colour scale is no secret, but as I also write on the overview above, you can easily add a few more colours to the whole thing if you feel like they are missing. I rarely feel like that though, haha! You know better than noone else what you like and feel comfortable in, and what you won't get tired of in no time. To me that has been the neutral colour palette for years, and I don't think that will ever change. And that's the important thing!
…
Sommeren er endelig for alvor kommet til Danmark (for nu ihvertfald), så derfor tænkte jeg det var passende at dele lidt inspiration til alle sommerens festligheder med jer. Jeg har før delt mit bud på den perfekte helårs-fest-capsule med jer, og selvom en stor del af min egen fest-capsule stort set er statisk hele året rundt, så ændrer jeg alligevel lidt på den engang imellem. Jeg har ikke en systematisk, sæson-baseret tilgang til den ligesom med mit hverdagstøj. Jeg justerer den blot lidt hist og her engang imellem, hvis jeg synes. Desuden fremgår min forkærlighed for det neutrale nok tydeligt på oversigten her, men som jeg også skriver ovenfor kan man sagtens tilføje et par farver hvis man mangler det. Det gør jeg dog sjældent, haha! Man véd bedst selv hvad man føler sig bedst tilpas i, og hvad man ikke sådan lige foreløbigt bliver træt af. For mig har det i mange år været den neutrale farve skala og det spår jeg, at det nok bliver ved med. Og det er i sidste ende det vigtigste!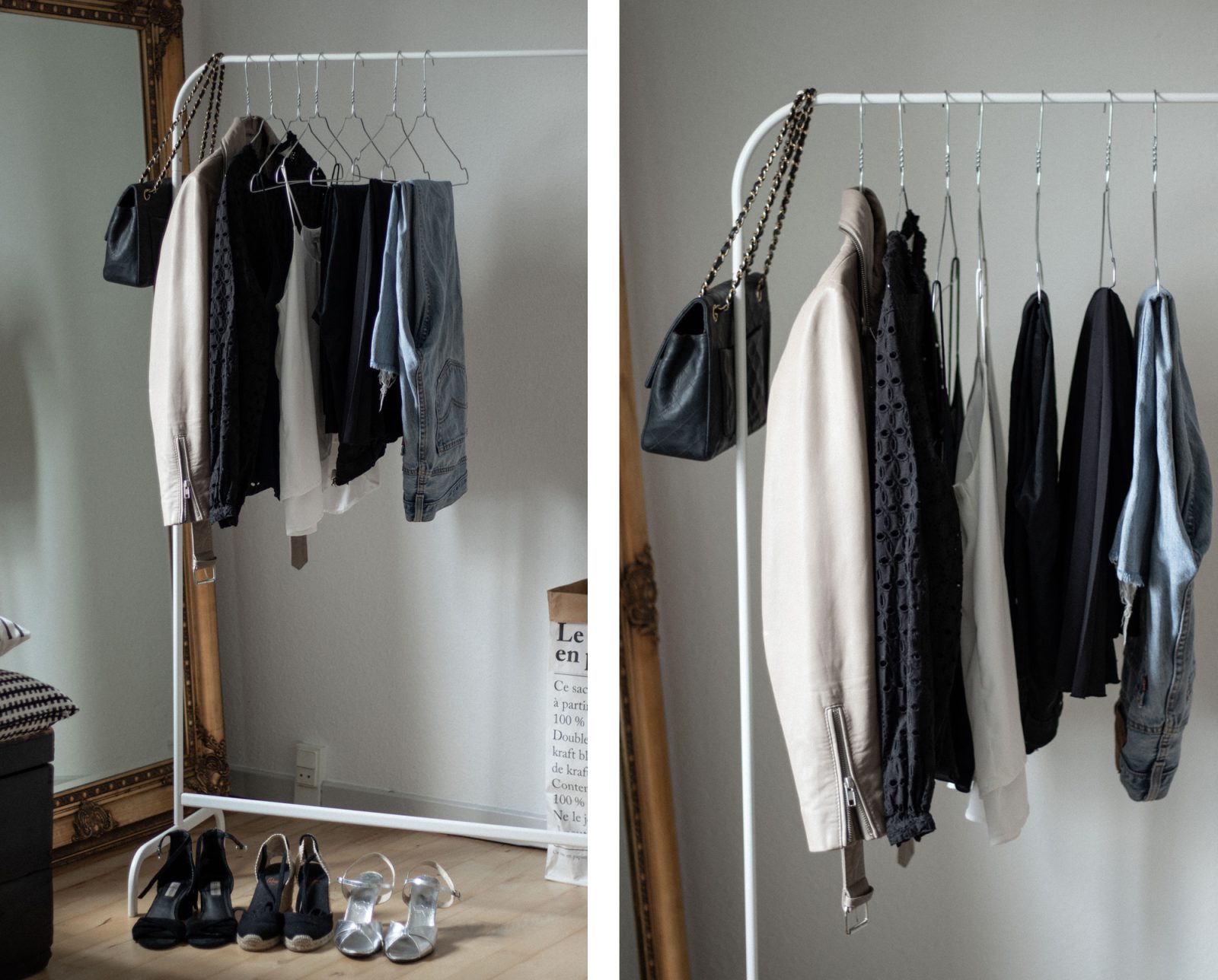 Some of these outfits are probably a bit too warm for those really hot summer days, but I wanted to create a good balance between the looks that are very suitable for hot summer days (camisole and light skirt for example) and those that are more in between. You could add a classic blazer instead of the biker jacket that I've chosen, but I like the mix between the feminine and edgy – even for special occasions. Both jeans and biker jacket are probably kind of non-typical items to choose for special occasions, but I love that about them. Again, I like adding a few items that are a bit more non-typical and adds a personal twist to the looks. Comfort comes first, and as long as I feel amazing it can only be a good night!
…
Nogle af outfits'ne her er nok lige til den varme side, men jeg har forsøgt at skabe en kombi mellem de looks der er særlig egnede til varme sommerdage (camisole og luftig nederdel fx), samt de der passer lidt bedre til dagene indimellem. Man kunne sagtens gå efter en klassisk blazer i stedet for bikerjakken som jeg har valgt at tilføje her, men jeg kan godt lide det rå mixet sammen med det feminine – selv ved særlige lejligheder. Både jeans og biker jakke er nok i virkeligheden lidt atypiske items at tilføje sit "pæne" tøj, men jeg holder lige netop rigtig meget af, at tilføje et par enkelte ting til mine looks, som måske er lidt mere personlige og atypiske. Igen er komfort det allervigtigste for mig, og så længe jeg føler mig godt tilpas så kan det ikke gå helt galt!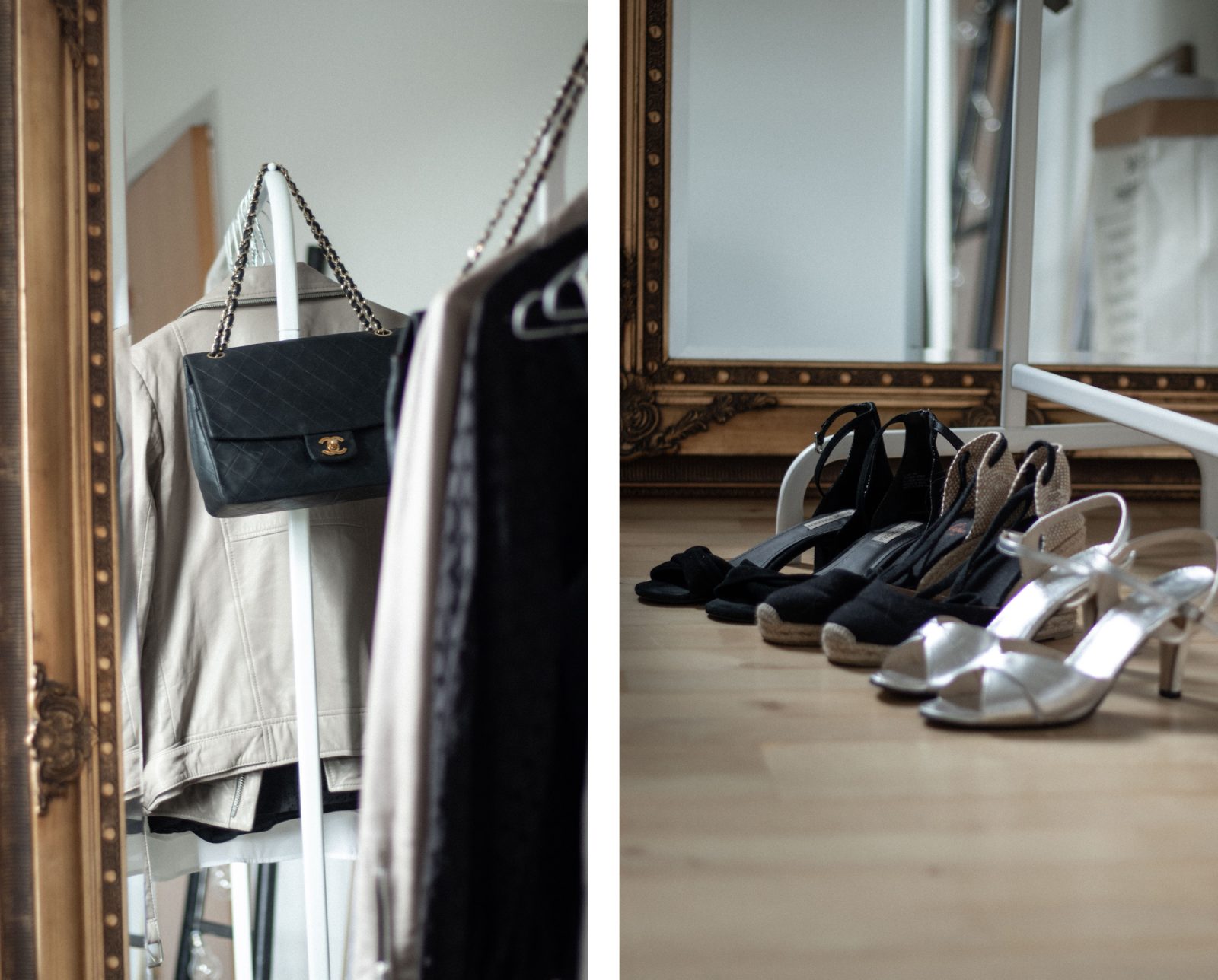 The items in this little mini-capsule are actually a mix between my everyday wear, and then some of the basics from my occasion-wear capsule. Even though I like sectioning my wardrobe into all these little capsules, it's not like I'm not "allowed" to ever mix some of them. You can do that as you like. I think the espadrilles from my summer wardrobe are perfect for both night and day, and I like how they give my occasion wear a more summery twist. The metallic heels are vintage and I orginally bought them for my 2ndhand shop. But after a trip to the local cobbler's I fell so much in love with them that I had to keep them for myself, haha! That happens. The skirt is a newer item, and I got it from a friend of mine who wasn't wearing it. I love it and it fits perfect into my occasion wear capsule. I don't wear skirts or dresses that often, but this one is just spot on. And it goes with everything. 
…
De items der er med i denne lille mini-capsule er faktisk et mix af hverdagstøj, og så nogle af mine basis items fra min fest-capsule. Selvom jeg deler min garderobe op i disse små sektioner, så er systemet aldrig så rigidt at jeg ikke "må" blande det lidt på kryds og tværs. Det kan man gøre som man har lyst til. Jeg synes fx at espadrillerne fra min hverdagsgarderobe denne sommer er super anvendelige både til hverdag og fest, og de giver mit festtøj et mere "sommerligt" twist. Sølvskoene er vintage og oprindeligt købt til min 2ndhand shop, men efter en tur hos skomageren for at blive shinet op, så forelskede jeg mig simpelthen så meget i dem selv, at jeg var nødt til at beholde dem! haha. Det sker somme tider! Nederdelen er nyere og er én som jeg har fået af en veninde, som hun ikke brugte. Jeg synes den er alletiders, og den passer perfekt ind i min fest-capsule. Nu går jeg jo ikke meget i hverken kjole eller nederdele, men lige netop denne type er fantastisk og simpelthen så tidløs. Og så passer den til alt.