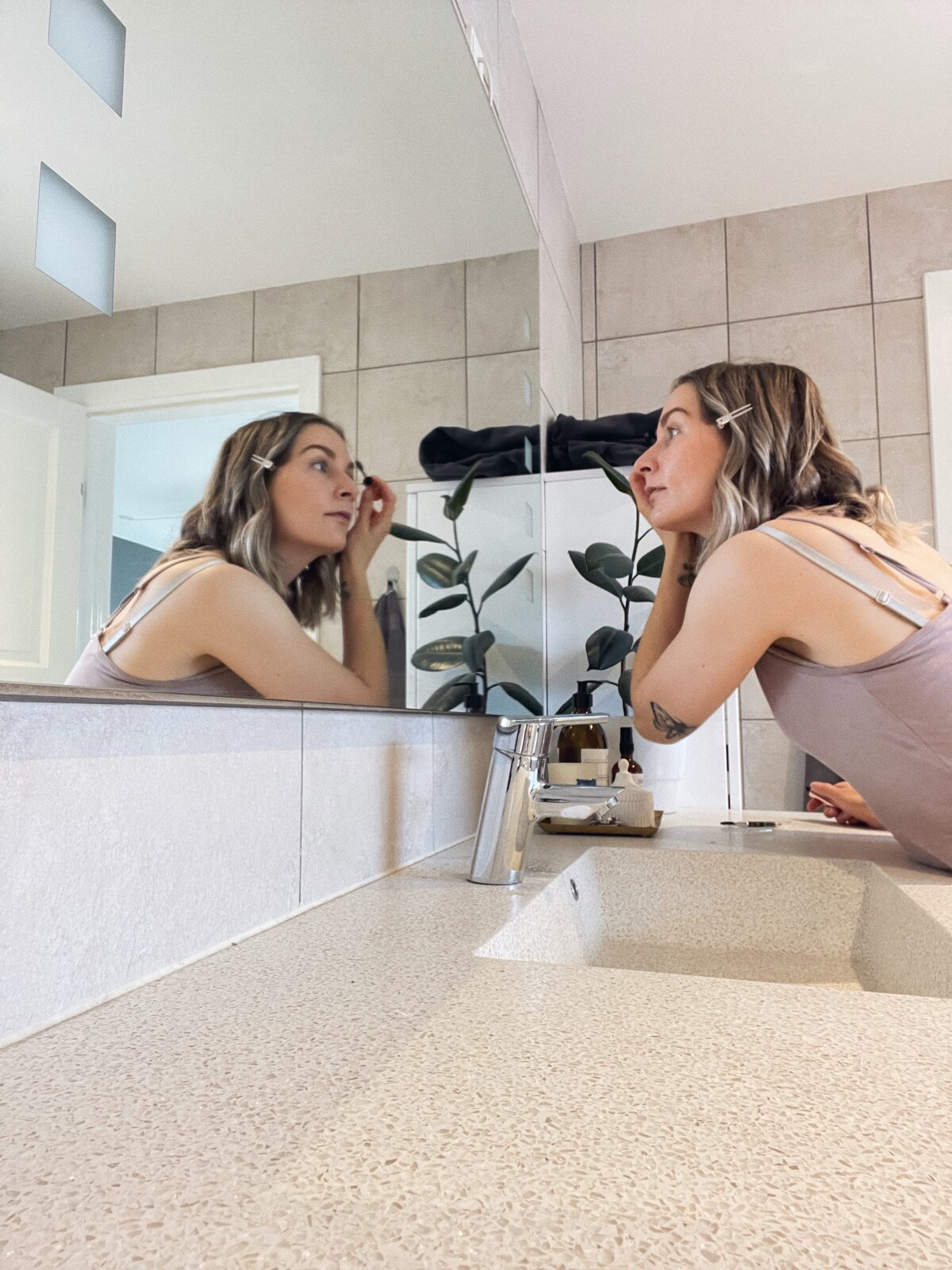 So, I had to re-write this post as my website recently moved and unfortunately the original post disappeared in the process! Anyway, one of the areas in which I've been trained when I became certified colour consultant was help my client find their best makeup colours. We work with 6 dominant colour types in The Tonal System (which you can see HERE).
Once we've got your colour type established, we'll know what makeup looks tend to work best for your colouring, and also which colours work best. For instance, I'm a SOFT/cool & light colour type – so my best makeup look is typically soft and blended (some people like referring to this specific look as "natural" or "the clean girl look"), and by knowing that my undertone is leaning cool the cooler shades of makeup also tends to look more striking on me. Examples of cool toned makeup could be pinks with a blue/cool undertone or neutrals like stone or grey. For brown eyeshadows you'd need to go for shades that are not leaning too warm and golden. If you're a dominant soft but your undertone is leaning more warm, then you'd need to go for a warmer range of colours like peach, salmon and golden browns. Either way the keyword "soft" is important here, so make sure whatever colours you're using a well blended so the look doesn't feel too overpowering on your naturally soft look.
As with anything colour analysis related, it's not about restricting ourselves or killing creativity; you're allowed to make up your own mind. But it gives us direction, especially when we don't know where to begin. And that in itself is immensely helpful, especially when you're trying to keep a curated closet or makeup selection.
DK: Jeg var nødt til at skrive dette indlæg påny da min hjemmeside for nyligt flyttede, og desværre forsvandt det oprindelige indlæg i processen! Men altså, ét af de områder hvor jeg er trænet som certificeret farvekonsulent er, at hjælpe mine klienter med at finde deres bedste makeupfarver. Vi arbejder med 6 dominante farvetyper i The Tonal System (som du kan se HER).
Når vi har etableret din farvetype vil vi vide, hvilke makeup looks der som helhed typisk fungerer bedst til din fremtoning, og også hvilke farver der fungerer bedst. For eksempel er jeg en SOFT/cool & light farvetype – så mit bedste makeup look er typisk blødt og blendet (nogle mennesker refererer til looket som "naturligt" eller "clean girl look"), og fordi jeg ved at min undertone er mere kold, så ser de køligere toner af makeup også mere harmonisk ud på mig. Eksempler på makeup med koldeundertoner kan være lyserød med et blåt/køligt skær eller neutrale farver som beige eller grå. Til brune øjenskygger skal du vælge nuancer, der ikke læner sig for meget mod det varme og gyldne. Hvis du som jeg er en dominant "soft" farvetype, men din undertone læner sig mere varm, skal du vælge en varmere række farver som for eksempel fersken, laks og gylden brune toner. Uanset hvad, så er nøgleordet "blød" (soft) vigtigt her, så sørg for at de farver du bruger er godt blendet ind i huden, så looket ikke fremstår hårdt og tungt på dne bløde fremtoning.
Som med alt farveanalyse-relateret handler det ikke om at begrænse os selv eller dræbe kreativiteten; du har lov til at tage din egen beslutning og bestemme selv. Men det giver os retning især når vi ikke ved, hvor vi skal begynde. Og det i sig selv er utroligt nyttigt, især når målet er at opbygge en "mindre med bedre" garderobe eller makeupsamling.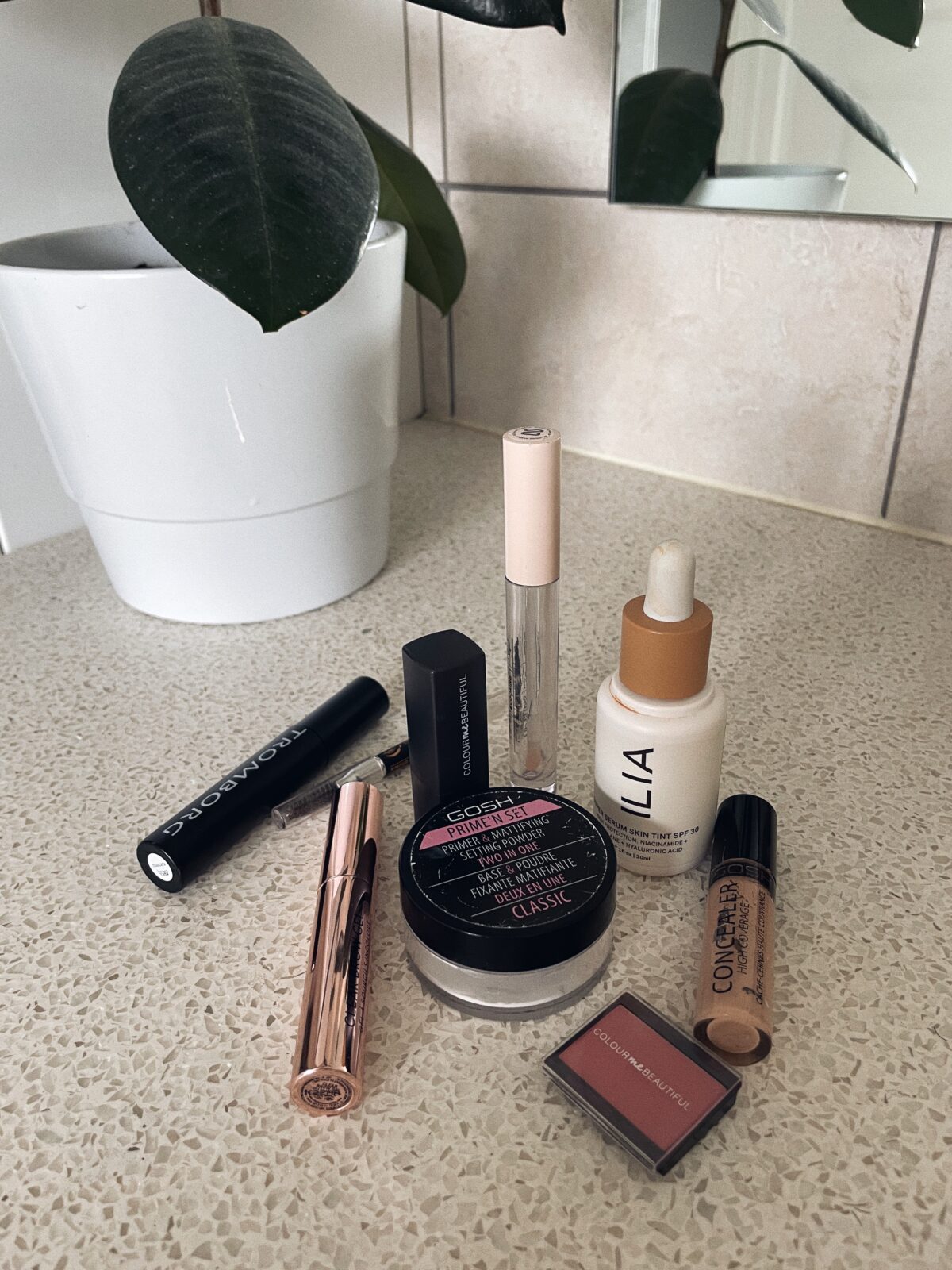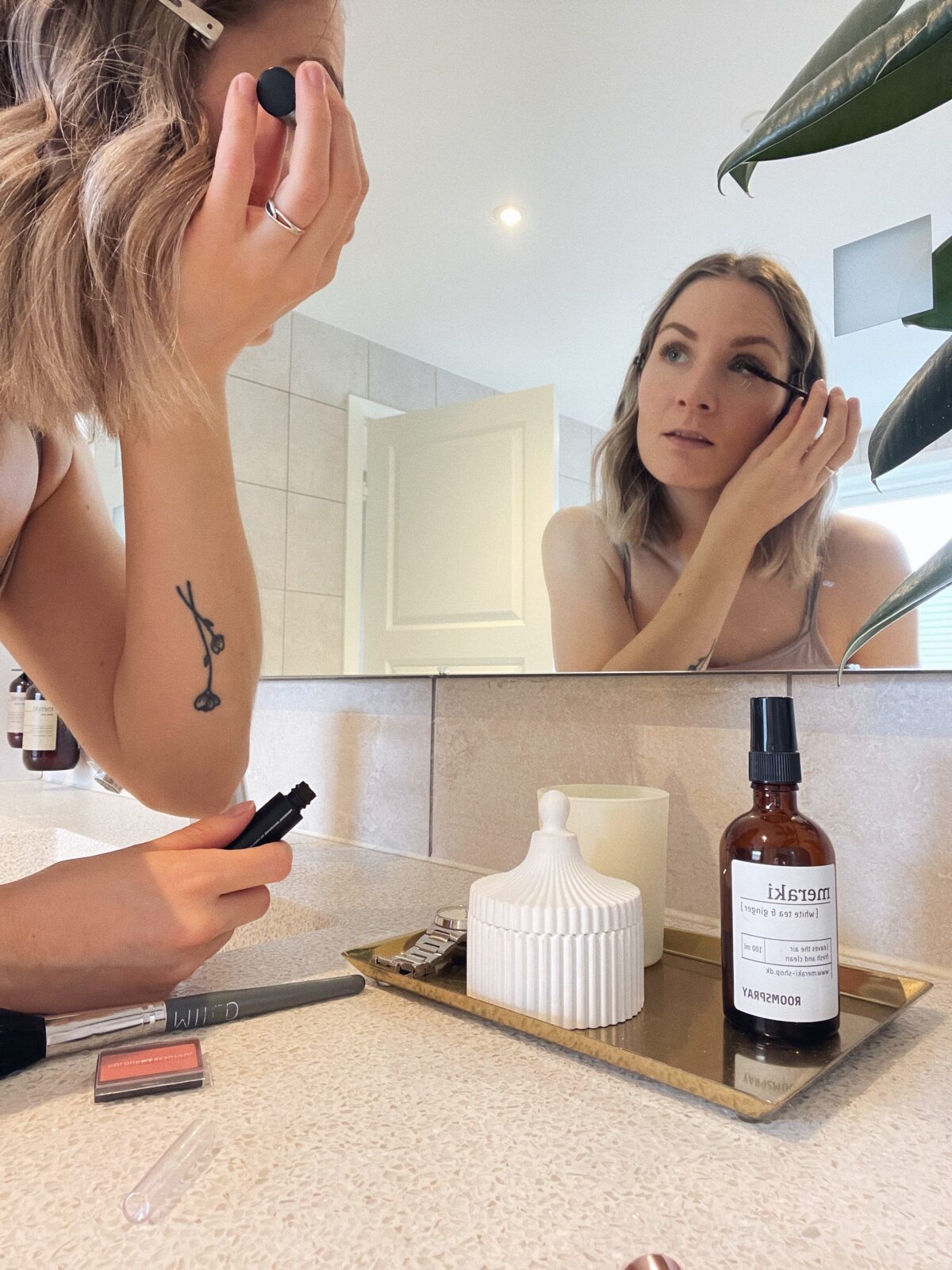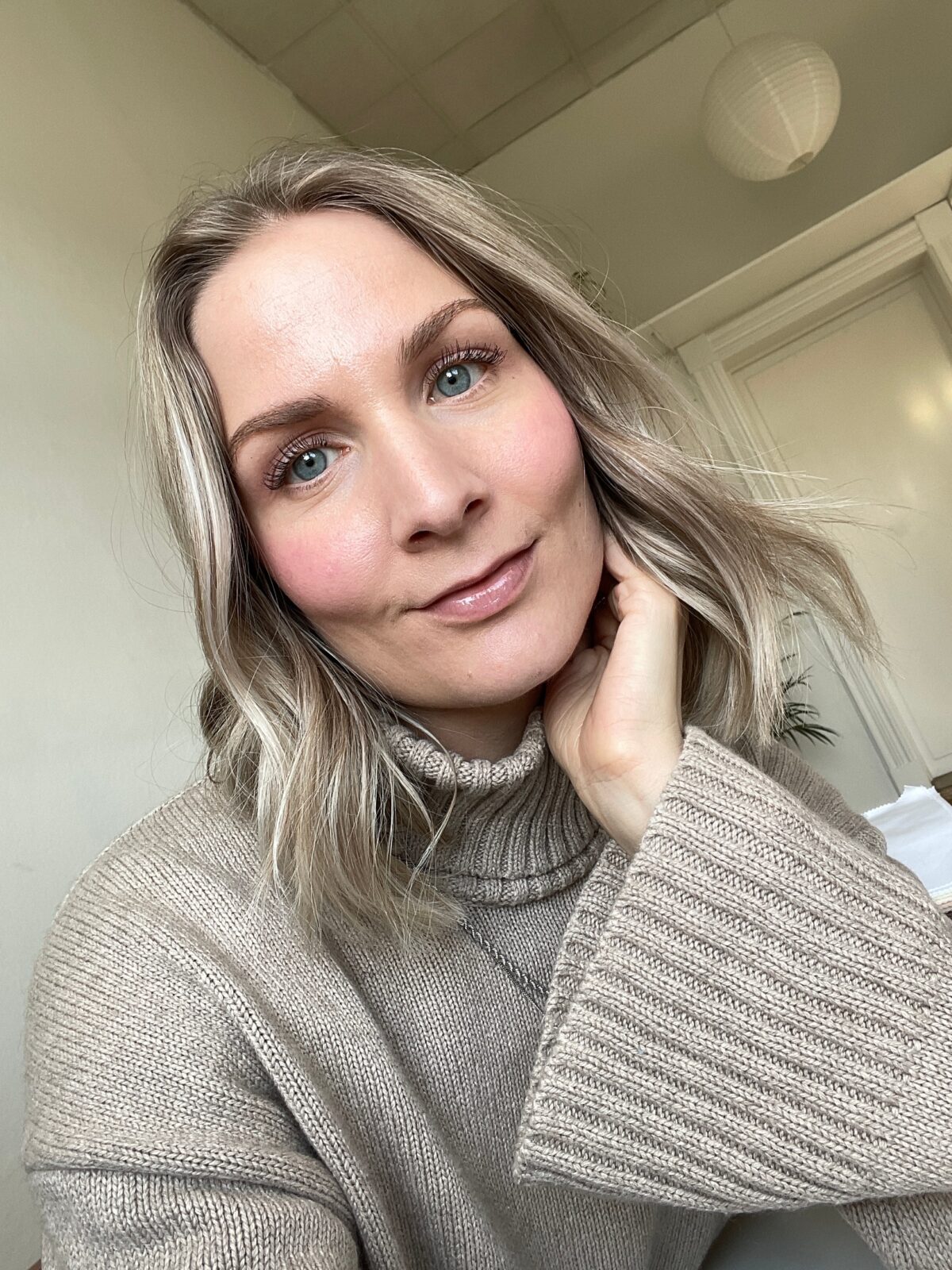 Adlinks are marked with a *
Ilia Super Serum Skin Tint*. Hands down the best foundation I've ever tried. As Ilia is skincare infused makeup it feels lightweight and nourishing on the skin and it also has an SPF 30 in there. I use a neutral/cool colour during winter (ST 3) and a neutral or neutral/warm during summer when my skin has a bit more glow (ST 5 or ST 7). I find that it gives a beautiful, glowy base to my makeup and it evens out my skintone beautifully.


Fluid concealer. I use a tiny bit of concealer under my eyes, around my nose and on my chin, besides of course using it to cover up any small blemishes or imperfections I might have. If you suffer from redness try a green concealer as it will neutralise it. Dap it onto the skin with a beauty blender before applying foundation, and make sure to apply the latter in dapping motions too, so you don't smear off the concealer you just worked into your skin.

Brown mascara. A true game-changer for softs as it will enhance your lashes in a less overpowering and harsh way compared to the classic black mascara. Keeps your look soft yet defined.

Translucent powder*. Just to set everything in place. I use powder sparingly these days, as I don't want it to gather up in the fine lines I've developed now getting closer to 33. So I try to only apply a little bit around my nose, under the eyes, on my chin and with a small brush on any concealed blemishes to set it in place and keep them covered all day.

Brow pencil in an "ashy" tone (cool taupe)*. As a soft/cool colour type, warm makeup will quickly look a little orangey and almost "dirty" on my skin. So keeping the shades either neutral or cool in undertone is key. I like going for a greyish (ashy) brown for eye pencils. I like keeping my brows well-shaped and defined, but again; keyword is soft, so I only go in there with a light hand and make sure to brush up the brows afterwards to blend the colour in a little bit.

Anastasia Beverly Hills Clear brow gel*. The only brow gel I've tried that can truly keep my long brow hairs in place all day. The look I'm going for is groomed but natural, so as well as keeping my brows softly defined I brush them lightly upwards too, to make them appear a little fuller.

Cool toned blush. I love a cream blush and I've been using this one from RMS in colour "demure" the past year or so. I apply it with my fingers or a mini-beauty blender, and then set it in place with a little bit of translucent powder. Sometimes I do also like using a powder blush – marsala from Colour Me Beautiful is a great, cool-toned pink for softs. In my younger days I used to use a lot of bronzer, but as mentioned earlier; as it's rather warm-toned it always made me look a bit orangy, so these days I prefer sticking to blush for more of a natural, fresh look.

Natural lips. Finally, I never leave the house without either a shiny lip balm, gloss or lipstick in a soft/cool shade. For gloss I like switching between a clear or slightly cool toned pink, and for lipstick my fave colour is Chiffon from Colour Me Beautiful. It has more of a neutral undertone and it's perfect for most soft colour types with fairer skin similar to me. If your skin tone is deeper, you might need a slightly darker shade.
DK:
1. Ilia Super Serum Skin Tint*. Uden tvivl den bedste foundation, jeg nogensinde har prøvet. Da Ilia er en hudpleje-baseret makeup, føles den let og nærende på huden, og den har også en SPF 30 i sig. Jeg bruger en neutral/cool farve om vinteren (ST 3) og en neutral eller neutral/varm om sommeren, når min hud har lidt mere glød (ST 5 eller ST 7). Jeg synes, at den giver en smuk, glowy base til min makeup, og den udjævner min hudtone på en smuk måde.
2. Flydende concealer. Jeg bruger en lille smule concealer under mine øjne, rundt om min næse og på min hage, udover selvfølgelig at bruge den til at dække eventuelle små urenheder jeg måtte have. Hvis du lider af rødme kan du prøve en grøn concealer, da den vil neutralisere det. Dup den på huden med en beauty blender inden du påfører foundation, og sørg for også at påføre sidstnævnte med "duppende" bevægelser, så den grønne concealer under ikke bliver tværret helt væk.
3. Brun mascara. Virkelig en game-changer for en soft farve type, da den vil fremhæve dine vipper på en mindre hård måde i forhold til den klassiske sorte mascara. Du får et defineret men samtidig blødt look.
4. Translucent pudder*. Bare for at "sætte" basen på plads og sørge for, at den holder så længe som muligt. Jeg bruger pudder sparsomt i disse dage, da jeg ikke bryder mig om at det "samler" sig i de fine linjer jeg nu engang har fået mig i en alder af 33 år. Så jeg prøver kun at påføre en lille smule rundt om min næse, under øjnene, på min hage og med en lille børste på eventuelle urenheder for at sætte concealeren dér på plads.
5. Øjenbrynsblyant i en askebrun tone (cool taupe)*. Som en soft/cool farvetype kommer makeup i varme nuancer hurtigt se lidt orange og næsten "beskidt" ud på min hud. Så at holde nuancerne enten neutrale eller kølige i undertonen er vigtigt for mig. Jeg går typisk efter en askebrun til øjenblyanter, da den er mere grå end varm brun. Jeg definerer mine bryn men igen; nøgleordet er "blød", så jeg gør det med let hånd og sørger for at børste brynene opad bagefter for at blende farven mere ind i huden.
6. Anastasia Beverly Hills Clear brow gel*. Den eneste øjenbrynsgel jeg har prøvet, der virkelig kan holde mine lange øjenbrynshår på plads hele dagen. Det look jeg går efter er velplejet men naturligt, så udover at holde mine bryn blødt definerede, børster jeg dem også let opad for at få dem til at se lidt fyldigere ud.
7.  Blush med en kold undertone. Jeg elsker en cremeblush og har brugt denne fra RMS i farven "demure" det sidste års tid. Jeg påfører den med mine fingre eller en mini-beauty blender og sætter den derefter på plads med en smule translucent pudder. Nogle gange bruger jeg dog også en pudder blush i stedet – marsala fra Colour Me Beautiful er en god, kold lyserød farve til bløde farve typer. I mine yngre dage brugte jeg meget bronzer, men som nævnt tidligere; da det i sig selv er et produkt med en varmere og mere gylden undertone, så kan det godt få min hud til at se sådan lidt orange ud. Så i dag foretrækker jeg at holde mig til blush for et mere naturligt og friskt look.
8. Naturlige læber. Endelig forlader jeg aldrig huset uden enten en læbepomade, gloss eller læbestift i en blød/kølig tone. Til gloss skifter jeg lidt mellem en klar eller lyserød farve, og til læbestift er min yndlingsfarve Chiffon fra Colour Me Beautiful. Den har mere en neutral undertone og er perfekt til de fleste Softs med en lysere hudtone. Hvis din hudtone er dybere, så er en tilsvarende dybere farve nok mere flatterende.