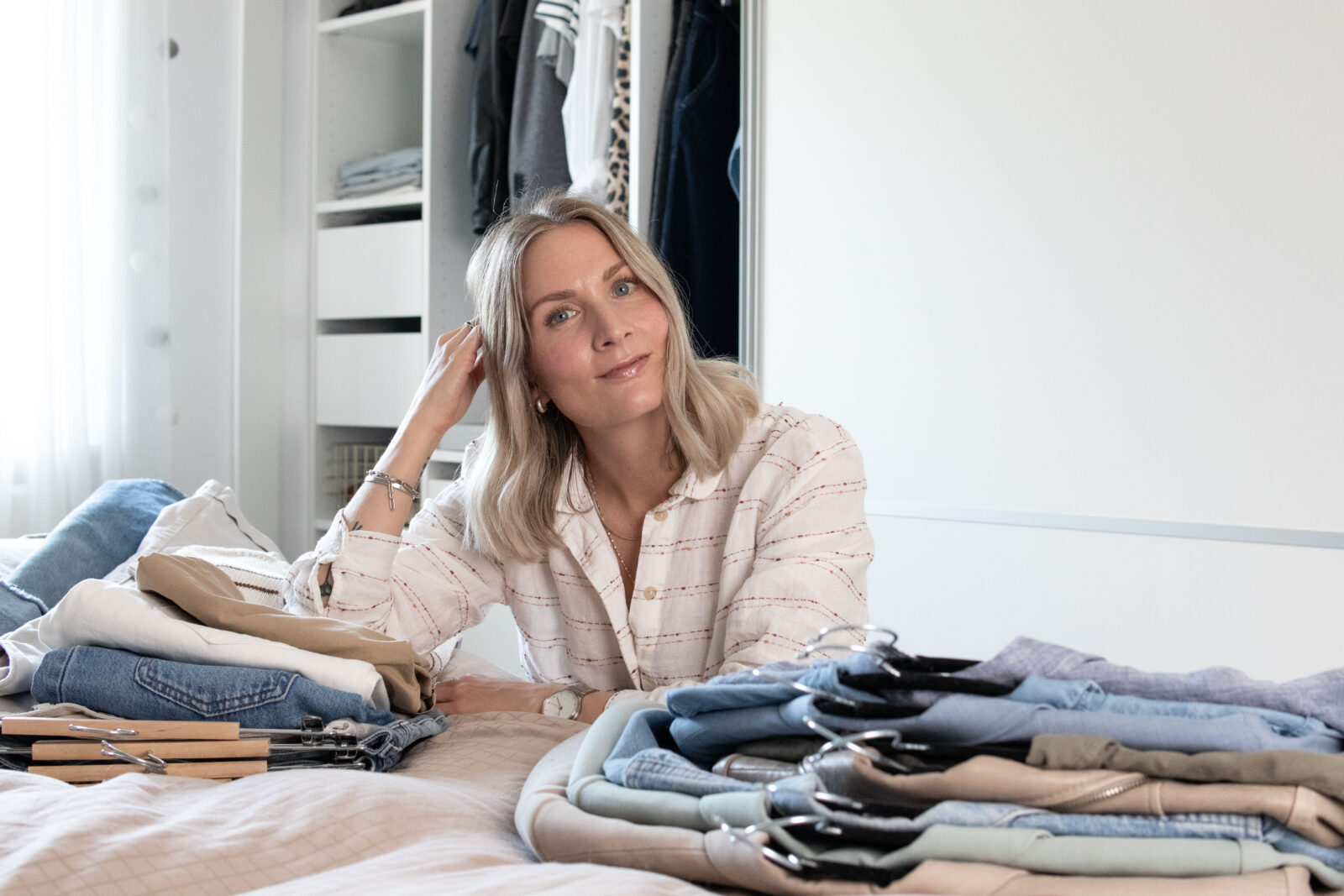 Packing for a holiday can be a little stressful – many of us tend to bring lots of "just in case items" which will only add to the weight of your suitcase, making it overly stuffed, heavy and maybe even more expensive to check in if you're flying. But it doesn't have to be that way at all! 
Besides possibly being charged a lower luggage-fee while you're traveling, packing light is also a way to achieve a higher sense of calm and ease while you're away. Making a well-curated travel capsule consisting of multi-function pieces  is a great way to spark your creativity and create various different outfits, and it's a perfect opportunity to learn how far you can actually get with less. And that's a way of thinking that will not only benefit you for your next vacation; it's a slower mindset you can adopt into your wardrobe and spending habits in general.
DK: At skulle pakke til en ferie kan være lidt stressende – mange af os har en tendens til at medbringe en masse "for en sikkerheds skyld", der kun vil tilføje ekstra vægt til din kuffert, gøre den alt for fyldt, tung og måske endda dyrere at checke ind, hvis du flyver. Men det behøver slet ikke være sådan!
Udover at undgå en høj bagageafgift på din rejse er dét, at pakke let, også en måde at opnå en større følelse af ro og lethed, mens du er væk. Ved at skabe en velkurateret rejsekapsel bestående af multifunktionelt tøj, kan du let sammensætte forskellige outfits og samtidig få mulighed for at lære, hvor langt du faktisk kan komme med færre stykker tøj. Og det er en tankegang der ikke kun vil gavne dig på din næste ferie; det er en mere afslappet mentalitet, du kan integrere i din garderobe og dine generelle forbrugsvaner på længere sigt.
the 5-4-3-2-1 packing method
Besides of course taking the weather, destination, activities and length of your vacation into consideration; factors that may all have an impact on what will be the best items for you to pack, there's another method you can use as a "template" for minimalist packing.
It's called the 5-4-3-2-1 method, and it's perfect for vacations of 1-2 weeks length. The method makes it easier for you to stuff your belongings into a standard carry-on suitcase or even a backpack. Now I can't take credit at all for this no less than brilliant approach to capsule packing: the genius behind it is actually Jen Bosen. All I can say is a huge thank you to Jen for sharing this approach because honestly, I think it's going to take away so many layers of packing stress in the future for me! 
The beauty of the method is, that you can alter it to fit your unique needs too. Have a longer trip coming up? Add another number: 6-5-4-3-2-1. Or a shorter trip? Leave a number out: 4-3-2-1. With that, let's break down the principles of the rule, so you can learn to master the art of packing like a minimalist yourself! Here's what I brought for a 10 day summer holiday in Copenhagen, using the 5-4-3-2-1 packing method.
For the main items or daily outfits which could also be styled up for evening, I brought:
5 tops
4 bottoms
3 pairs of shoes (2 for day, 1 for night)
2 dresses (one was a jumpsuit, but still)
1 jacket
For accessories I decided to go for just a few options to be able to tweak my daily outfits just a little bit, and also be able to dress is up with some jewelry if we're going out for dinner or similar:
2 bags (with interchangeable straps)
2 belts (matching colour to shoes/bags)
1 pair of sunglasses
Jewelry
DK: udover selvfølgelig at tage hensyn til vejret, destinationen, aktiviteterne og længden på din ferie, faktorer der alle kan påvirke hvad der vil være de bedste ting at pakke, er der en anden metode, du kan bruge som en "skabelon" til at pakke minimalistisk og effektivt.
Den kaldes 5-4-3-2-1 metoden, og den er perfekt til ferier af 1-2 ugers længde. Metoden gør det nemmere for dig, at få plads til dine ejendele i en almindelig kabinekuffert eller endda en rygsæk. Jeg kan slet ikke tage æren for denne intet mindre end geniale (!) tilgang: geniet bag er en kvinde som hedder Jen Bosen. Men altså, tusind gange tak til Jen for at dele metoden med verden for ærligt talt tror jeg, at den i fremtiden vil fjerne så mange lag af pakke-stress for mig!
Skønheden ved metoden er, at du kan tilpasse den efter dine unikke behov. Har du en længere rejse i vente? Tilføj endnu et tal: 6-5-4-3-2-1. Eller en kortere rejse? Udelad et tal: 4-3-2-1. Så lad os bryde principperne for reglen ned, så du selv kan lære at mestre kunsten at pakke som en minimalist! Her er hvad jeg tog med på en 10 dages sommerferie i København ved hjælp af 5-4-3-2-1 pakke metoden.
Til mine daglige outfits (der også kunne styles op til aften):
5 toppe
4 bunde
3 par sko (2 til dag, 1 til aften)
2 kjoler (én var en jumpsuit, men stadig)
1 jakke
I forhold til accessories besluttede jeg mig for kun, at tage nogle få muligheder med, så jeg kunne tilpasse mine daglige outfits en smule, og også kunne dresse lidt op med nogle smykker, hvis vi skulle ud at spise eller lignende:
2 tasker (med udskiftelige stropper)
2 bælter (matchende farve til sko/tasker)
1 par solbriller
Smykker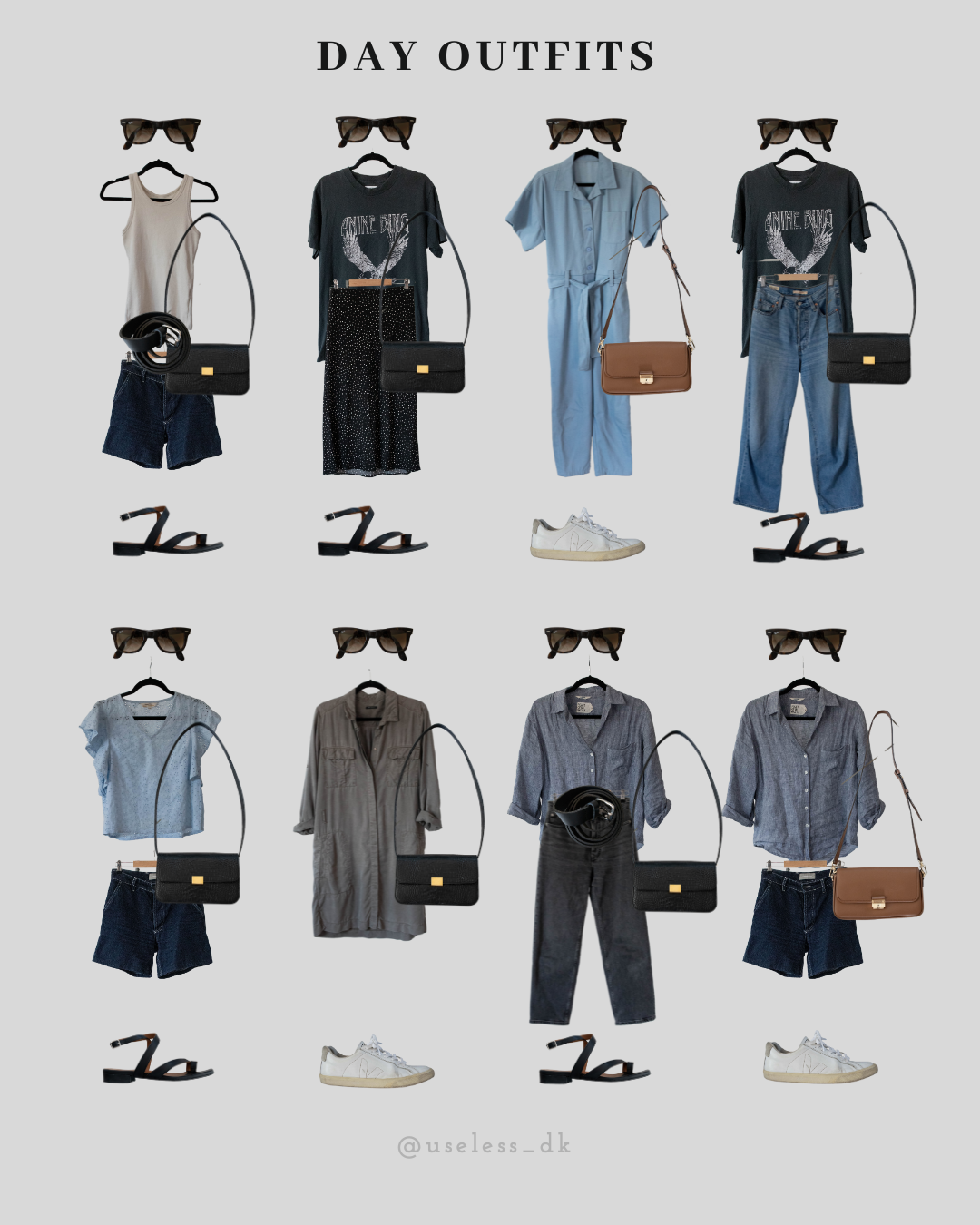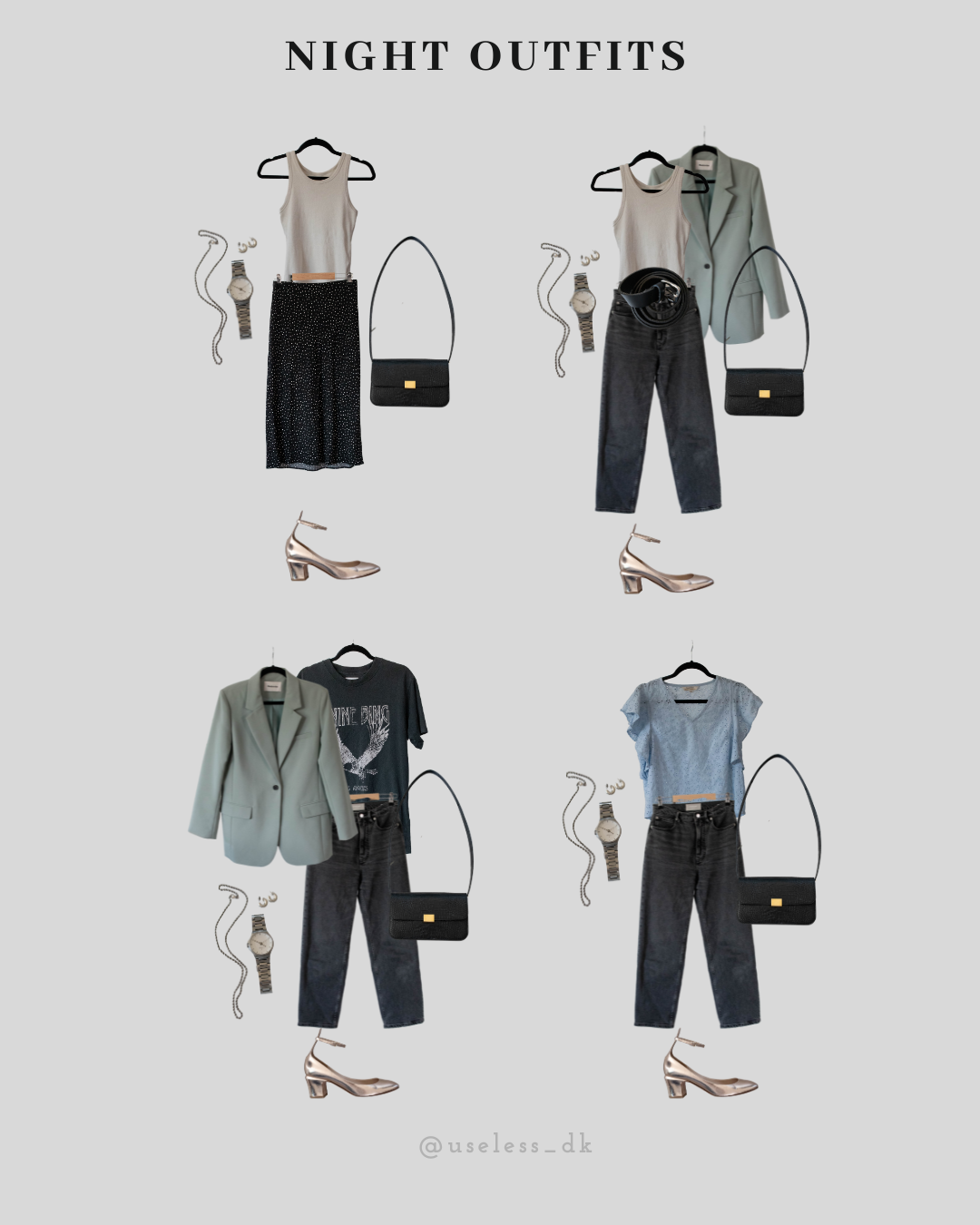 Extras
Now, I did also pack what I call "extras" – the kind of stuff you wear strictly at the hotel or underneath your daily looks for example. So that would be things like:
Workout clothes (bra, top, legging + shorts)
Comfy sneakers (for long walks or workouts)
Fleece jacket
Loungewear
PJ's
Socks/underwear
A bathing suit
Rain coat (because Danish summer)
Although I don't adopt the 5-4-3-2-1 method for the extra items listed here nor for accessories, I do still try to keep things to the bare minimum. Of course I want to make sure I have socks and undies enough for the entire trip, but as I was only away for 10 days, 1 set of PJ's and 1 loungewear set was more than enough. I did also do a light workout for 3 of the days while we were away and it's worth saying we had access to a washing machine so we could wash our clothes halfway. But even if we didn't, I'd wash my clothes by hand or spot clean when needed – I usually do that and it works fine, but of course we're all different there. It's not about following the principles religiously, but use them as a helping hand in the process of packing madness.
DK: Nu pakkede jeg dog også, hvad jeg kalder "ekstra" – den slags ting, du kun har på på hotellet eller under dine daglige sæt, for eksempel. Så det ville være ting som:
Træningstøj (bh, top, tights + shorts)
Behagelige sneakers (til lange gåture eller træning)
Fleece jakke
Hyggetøj
Nattøj
Sokker/undertøj
Badetøj
Regnfrakke (fordi dansk sommer)
Selvom jeg ikke anvender 5-4-3-2-1 metoden til de ekstra ting der er nævnt her, eller til tilbehør, så prøver jeg stadig at holde det hele på et absolut minimum. Selvfølgelig er det vigtigt at have nok rene sokker og undertøj med til hele turen, men da jeg kun var væk i 10 dage så var 1 sæt natbukser og 1 sæt hyggetøj eksempelvis mere end nok. Jeg trænede også let 3 af dagene mens vi var væk, og så er det selvfølgelig værd at nævne, at vi havde adgang til en vaskemaskine så vi kunne vaske vores tøj halvvejs. Men selv hvis vi ikke havde det, så ville jeg vaske mit tøj i hånden eller bare fjerne pletter med en klud når det er nødvendigt – det plejer jeg normalt at gøre og det fungerer fint – men selvfølgelig er vi alle forskellige på dét punkt. Det handler ikke om at følge principperne religiøst, men at bruge dem som en hjælpende hånd i pakke-processen, der ellers godt kan være lidt uoverskuelig.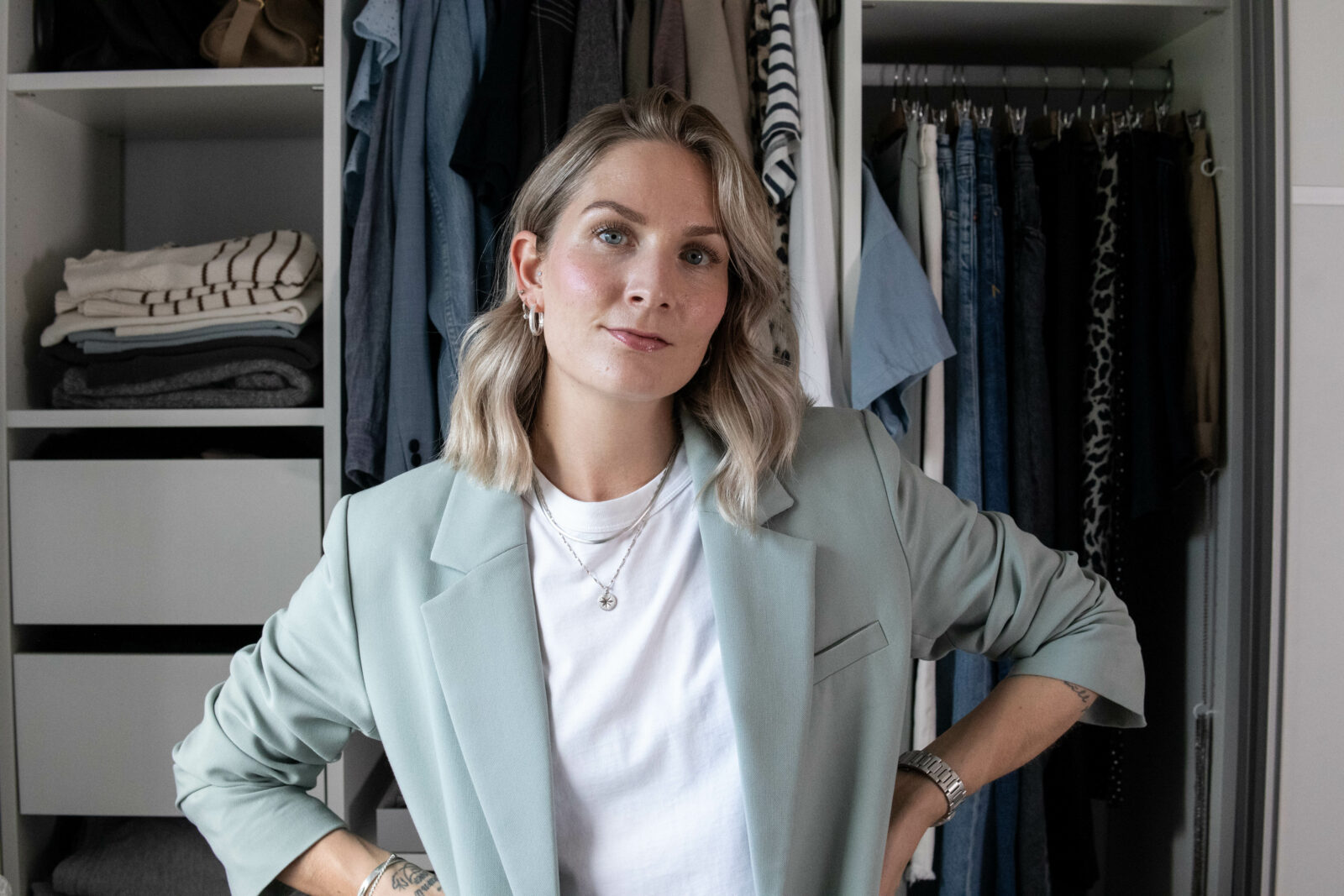 Multi-function clothing

The trick here is to bring multi-function items that are more or less fully interchangable, so that you can create multiple outfits no matter the occasion. For the main outfits, I've got 15 items and I can create at least 12 different outfits with that; 8 day looks which can of course be repeated (wearing the same outfit on different days is allowed, you know!) and 4 evening looks. I prefer packing mainly separates here; I could have packed, let's say 5 dresses and then free tops/bottoms but I lile having the styling possibilities of separates – plus, I'm not much of a dress-person, even during summer. So this shoes how flexible the method really is; you can switch around the categories so it suits you and your style.
When you're only away for 1-2 weeks, it's also easier to predict things such as weather and activities, which makes planning and packing ahead a lot easier. If you want you can even try on all the outfits, take pictures and save them on your phone for quick outfit inspiration while you're away; all this will make it feel like pure bliss when you're getting dressed on your vacation!
Don't forget your style words!
When selecting the specific pieces for your vacation, I do have a few important points for you to consider. One thing is to never forget your style "keywords" (learn more about that HERE), even when you're away. Sure there are destinations where you'd maybe be a little more playful with your style than you would normally, but don't forget to check in with yourself to make sure you're going to feel confident in your outfits.
It's also  key to think about contrasts, again getting back to that multi-functional way of thinking. It could be that there's one keyword that will be more dominant on this trip for you, like "casual" for example. But even then, make sure to bring a few contrasting pieces like classic or romantic, so you have the option to dress up any casual outfits, if you're going out for dinner or something that does require a little bit more effort. The main part of the items I brought for this trip were casual, but then I also brought a pair of heels, a blazer and some nice accessories so I could easily take any outfits from day to night. Shoes and a nice jacket or blouse is such an easy way to achieve a more polished look in no time.
After settling on what to bring, all you have left to do is put it all neatly in your suitcase! This method has been a true game-changer for me, I love a good template or formula like this as a baseline and a place to get started and I really hope it will make packing light a lot more blissful for you too!
DK: tricket her er at medbringe multifunktionelt tøj, der mere eller mindre kan sammensættes fuldstændigt på kryds og tværs, så du kan skabe flere forskellige outfits, uanset lejligheden. Jeg har her 15 stykker tøj/sko, og jeg kan skabe mindst 12 forskellige outfits med disse; 8 daglige looks, der *selvfølgelig* kan tages på igen, og 4 aftenlooks. Jeg foretrækker hovedsageligt at pakke to-delte stykker tøj her; jeg kunne have pakket, lad os sige, 5 kjoler og derefter løse toppe/bunde, men jeg kan bedst lide at have stylingmulighederne med de to-delte stykker – desuden er jeg bare ikke ret meget en kjole-type, selv ikke om sommeren. Men alt det her viser hvor fleksibel metoden virkelig er; du kan skifte rundt på kategorierne, så det passer til dig og din stil.
Hvis du kun er væk i 1-2 uger er det også lettere at forudsige ting som vejr og aktiviteter, hvilket gør planlægning og pakning meget lettere. Hvis du vil, kan du endda prøve alle outfits på hjemmefra, tage billeder og gemme dem på din telefon til hurtig outfit-inspiration, mens du er væk; ren lykke og super nemt, når du klæder dig på på din ferie!
Når du vælger de specifikke stykker tøj til din ferie, har jeg et par vigtige punkter, som jeg synes du skal overveje. En ting er aldrig at glemme dine stil-ord (læs mere om det HER), selv når du er væk hjemmefra. Selvfølgelig er der destinationer, hvor du måske er lidt mere legesyg med din stil end normalt, men glem ikke at tjekke ind med dig selv for at sikre dig, at du vil føle dig selvsikker i dine outfits.
Det er også vigtigt at tænke på kontraster, igen ved at vende tilbage til den multifunktionelle tankegang. Det kan være at der er et bestemt ord der vil være mere dominerende på denne tur for dig, som f.eks. "afslappet". Men selv da bør du sørge for at medbringe tøj i kontrast som klassisk eller romantisk, så du har mulighed for at dresse dine afslappede outfits lidt op, hvis du skal ud at spise eller noget, der kræver lidt mere indsats. Hoveddelen af det tøj jeg havde med på denne tur, var afslappede, men jeg havde også et par høje hæle med, en blazer og nogle fine accessories, så jeg nemt ville kunne peppe op fra dag til aften. Sko og en fin jakke eller bluse er så let en måde, at opnå et mere poleret look.
Når du har besluttet hvad du skal medbringe, så har du kun tilbage at pakke det hele pænt i din kuffert! Denne metode har virkelig været en game-changer for mig; jeg elsker en god skabelon eller formel som denne som en baseline og et sted at starte, og jeg håber virkelig, at den også vil gøre det meget nemmere for dig derude at pakke fremover!