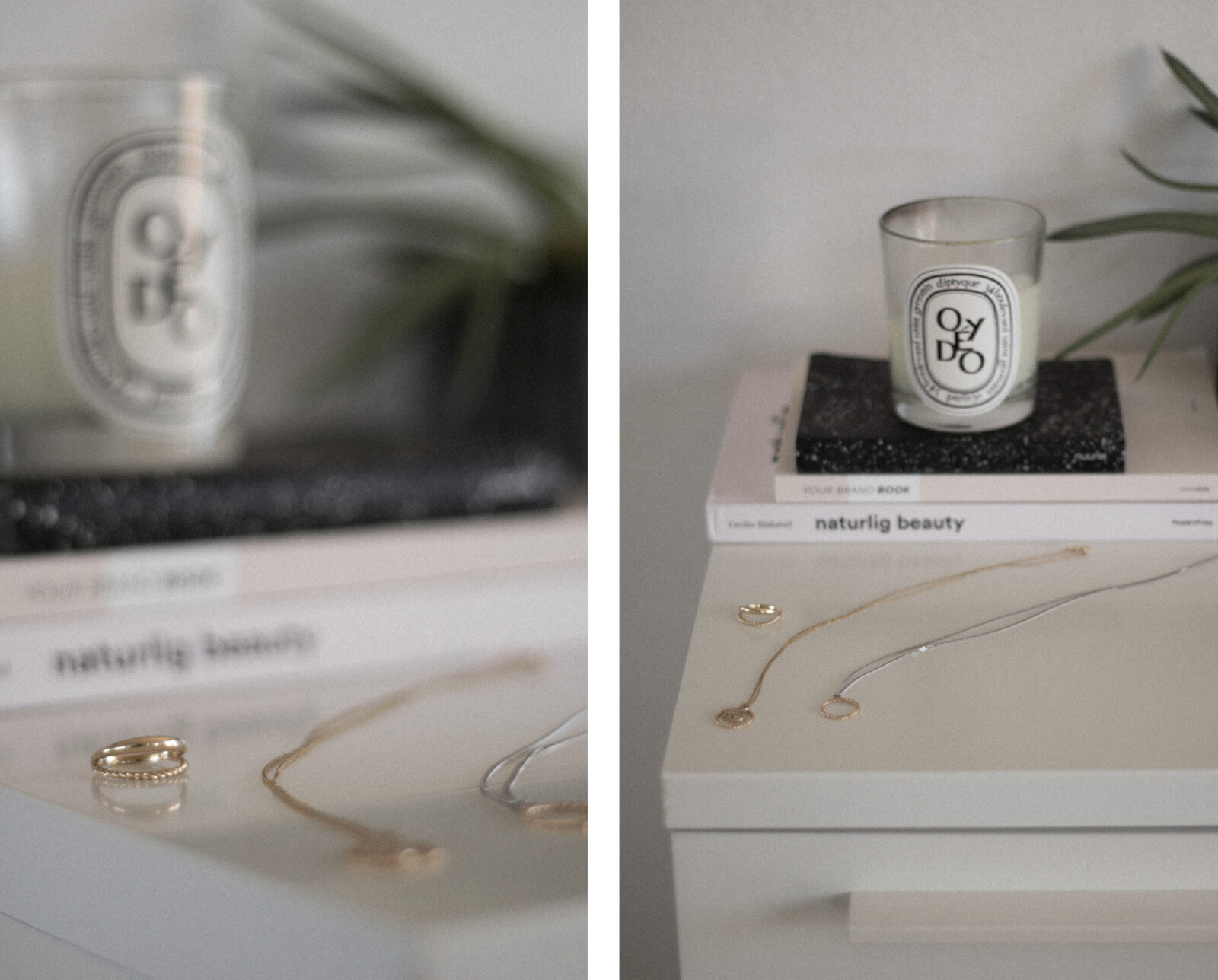 Post contains adlinks, denoted by a *
As you guys know I launched my own sustainable jewelry design called "Scandinavia Bound" back in January, and therefore I thought it would be nice with some inspiration on how to combine the jewelry. The whole idea behind it is "mix & match" and there are many ways in which you can make the look more personal. Right now we're also working on adding a few extension pieces to the collection over the summer, and I'm so excited for this. I'm sure you guys will love the new add-ons too, and they will allow you to make the combination of jewelry even more personal.
…
Som I ved så lancerede jeg tilbage i Januar mit eget bæredygtige smykkedesign "Scandinavia Bound", og jeg tænkte derfor jeg ville give jer lidt inspiration til, hvordan smykkerne kan sammensættes. Idéen bag kollektionen er "mix & match", og der er mange måder man kan gøre sammensætningen personlig på. Lige nu arbejder vi også på, at tilføje nogle enkelte extensions til kollektionen henover sommeren, og jeg er super spændt på det. Jeg er ret sikker på I også vil elske de nye tilføjelser, og de vil give jer mulighed for at gøre kombinationen af smykker endnu mere personlig.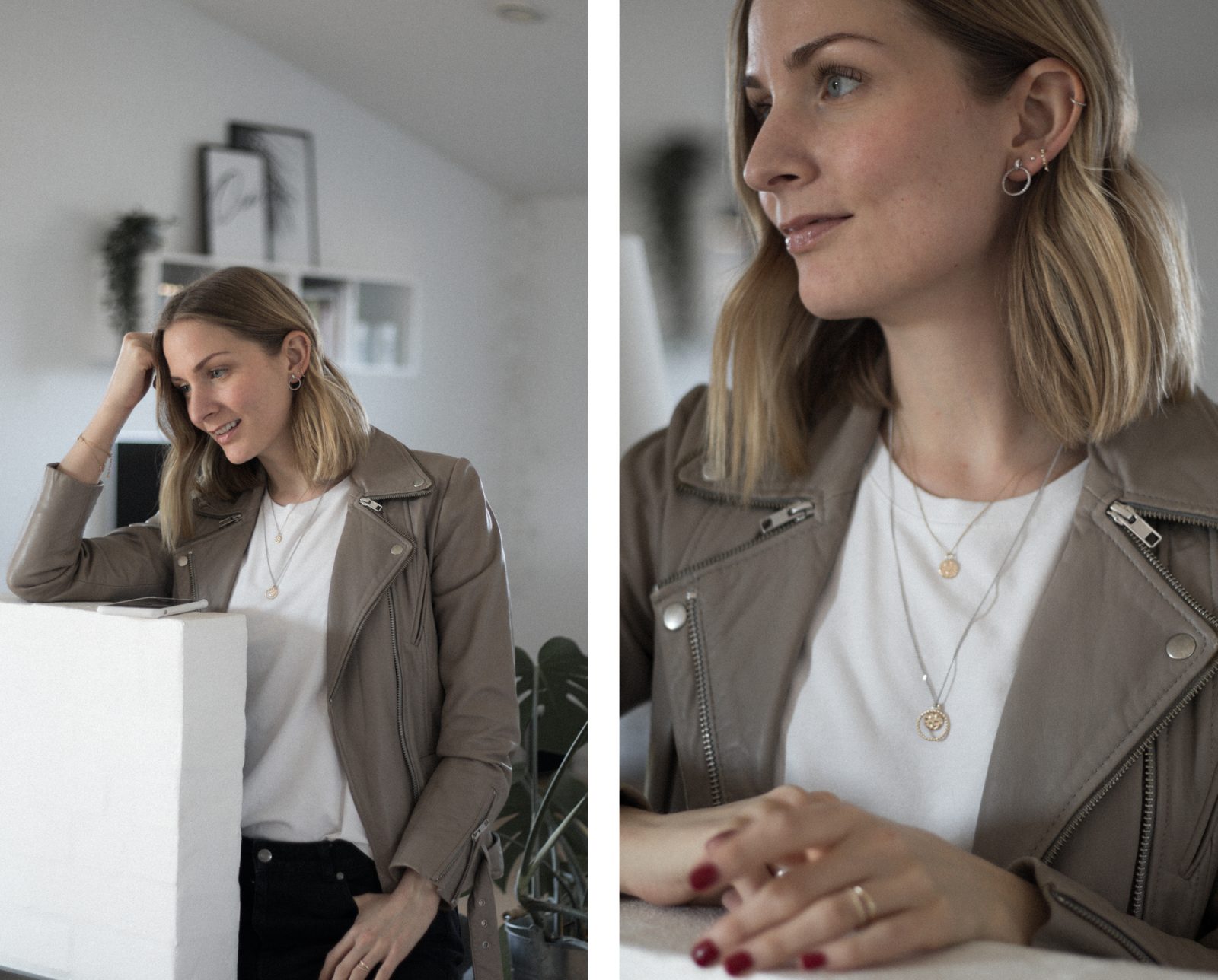 The "all in" combo
You need: Dune pendant & Tide studs set in silver here, Gold Meadow pendant & necklace set here, Dune pendant in gold here, long anchor chain in silver here, Starling ring in gold here.
This is the combination I've been happiest about putting together personally, but of course I have all the pieces in the collection, so it might be a little easier for me to go "all in". I just wanted to show you that even thought the collection is rather minimal, it can be turned into something a bit more statement too. I've been loving putting more than one pendant (the pendants that can be used in both your necklaces our in your ear studs) on my necklaces lately for example. And again the whole idea behind the collection was that you should also be able to combine gold and silver as you like, which I've also done here. Jeg also like to combine my own designs with jewelry I already have in my collection, just to layer up even more and to add more little details to the look.
…
Dette er den kombination jeg har været allergladest for personligt, men nu har jeg også alle de enkelte smykker i min egen samling, så det er måske lidt lettere for mig at gå "all in". Jeg har været helt tosset med, at kombinere de forskellige vedhæng (der som bekendt både kan sættes i kæderne eller i dine ørestikkere) ovenpå hinanden i mine halskæder – jeg synes det er en super fin måde at gøre smykkerne en anelse mere "statement" og personlige, da kollektionen jo ellers er ret minimalistisk. Og igen, så har idéen bag kollektionen også været, at man skulle kunne kombinere guld og sølv som man synes, så det har jeg også gjort her. Jeg blander gerne smykkerne med gamle smykker jeg allerede har i forvejen, når jeg går efter denne kombi for her handler det lidt om så mange fine, små detaljer som muligt.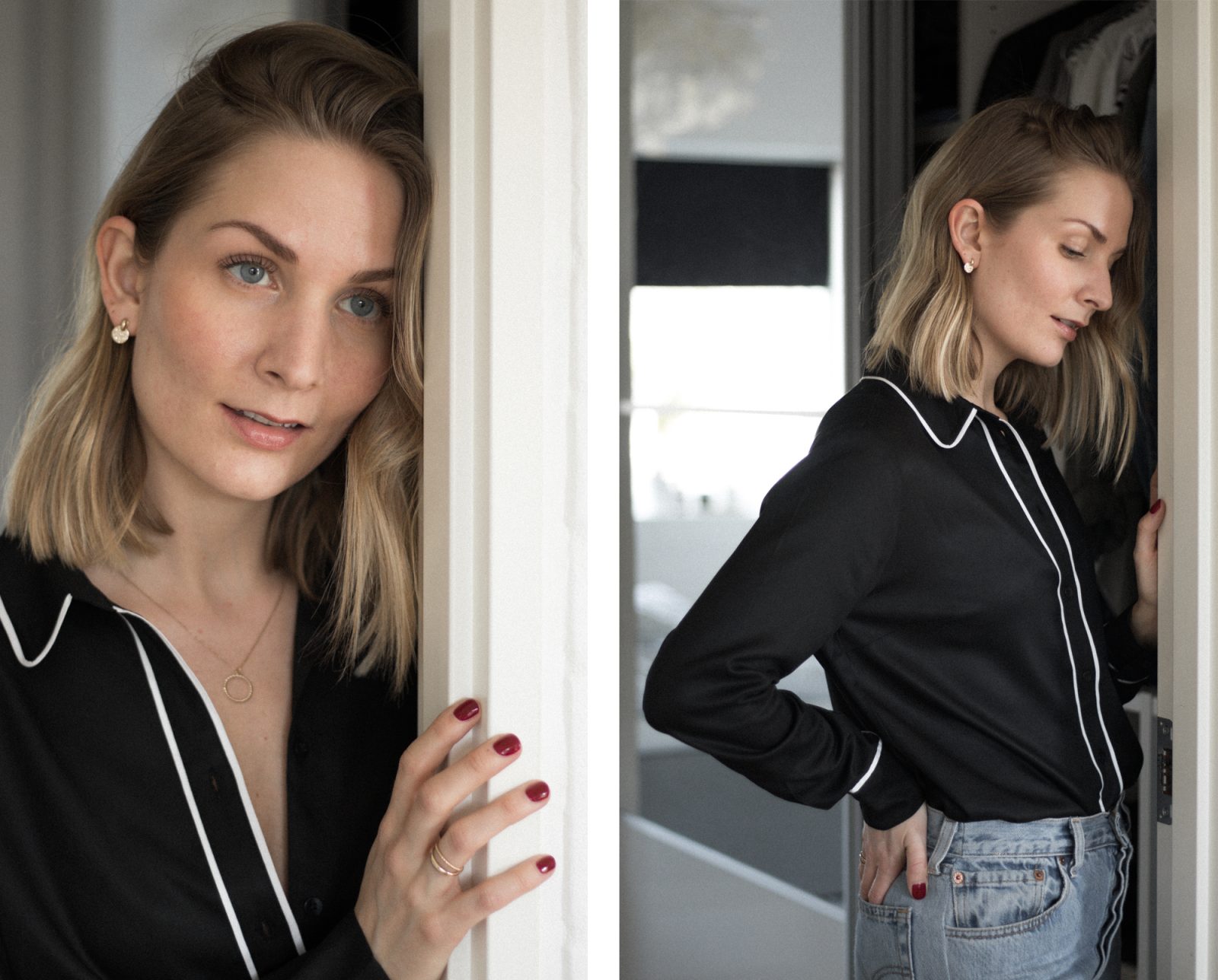 Find my lovely shirt HERE* (gifted)
Simply elegant
You need: Meadow Pendant & Tide studs set in gold here, Dune pendant & necklace set in gold here, Starling ring in gold here.
This combination can of course be recreated in all silver as well if that's more your thing, but the point is that some days I like gold, some days I like silver and some days I like both. This combo is perfect for those days where I'm more into all gold. I think it's an elegant and timeless combination, that is perfect for both everyday and festive events, maybe even with a messy up-do.
…
Denne kombination kan naturligvis laves helt i sølv hvis man hellere vil det, men hovedpointen er her, at nogle dage er jeg mest til guld, andre dage mere til sølv – og nogle dage bliver det begge dele. Denne kombination er perfekt til de dage hvor jeg gerne vil holde det hele lidt mere simpelt og rent i guld. Synes det er en super elegant og tidløs kombination, som er perfekt både til hverdag eller fest, måske med håret sat op.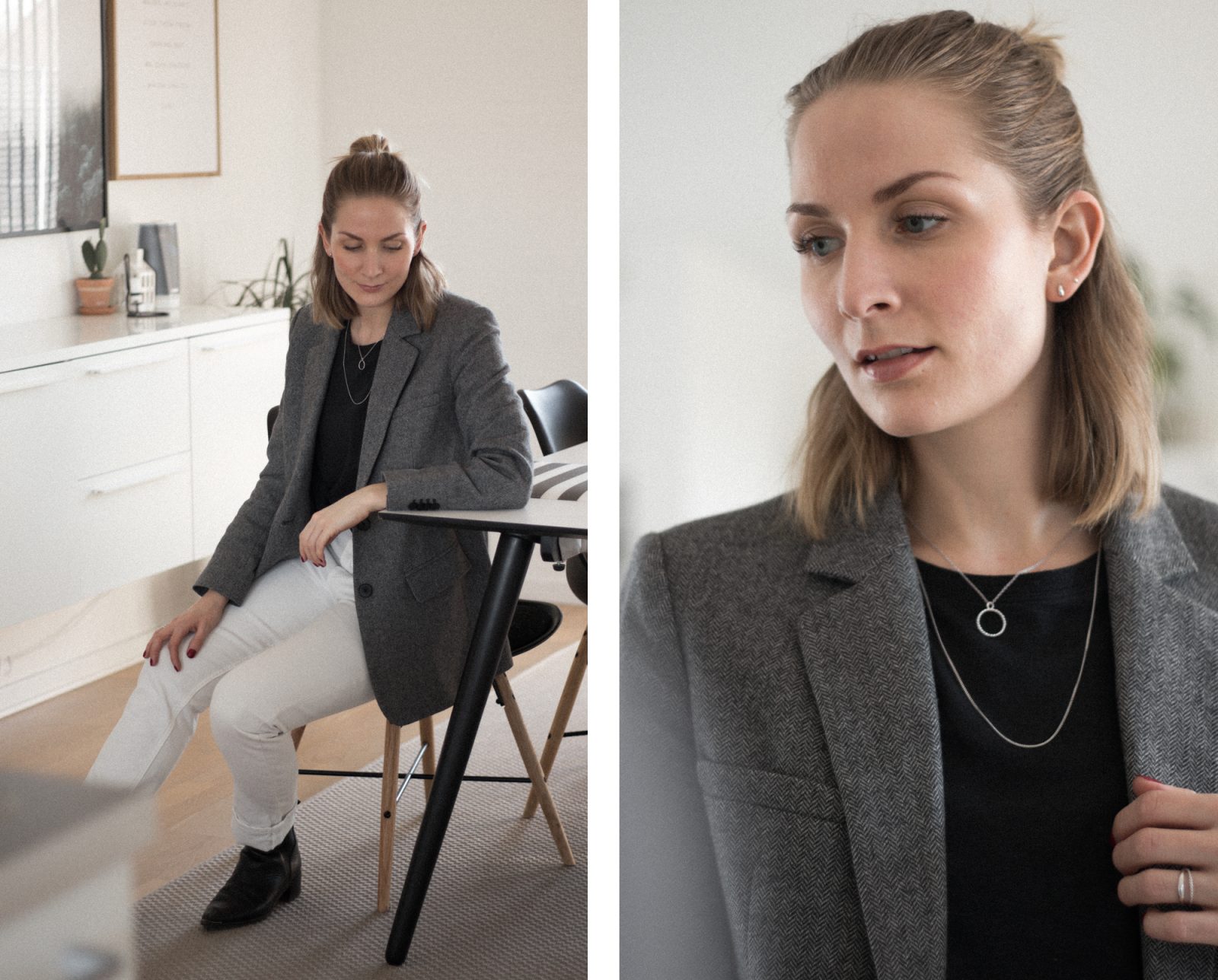 All silver
You need: Tide studs in silver here, Dune necklace set here, long curb chain here, silver Starling ring here.
The combo is really simple, but then again some days that's all I need. I think the long curb chain without any pendants is really nice on its own too, and it's perfect with the short anchor chain. In general I'm loving combining the different types of chains for looks like this, just to add different texture and another kind of balance to the look. You could also add some pendants to the earrings if you like. The Dune pendants can actually be worn both on the earlobe and behind it, so there's a few ways to make them look a bit different from time to time. Just a little tip.
Don't forget to tag me over on Instagram, if you buy some of the pieces and if you feel like showing me how you've combined everything!
…
Denne kombination er også super simpel, men det er så dejligt nogle dage. Jeg synes den lange curb kæde uden vedhæng er rigtig fin i sig selv, og perfekt sammen med den korte anchor kæde. Generelt er jeg vild med, at kombinere kæder med forskellig "tekstur" og længde på denne måde, for jeg synes det giver et lidt mere interessant resultat med lidt mere balance, især når man går efter lag på alt som her. Du kunne selvfølgelig sagtens tilføje et par vedhæng til øreringene her også hvis du havde lyst. Dune vedhængende (de runde, snoede ringe) kan sættes både på selve øreflippen eller bag ved, for at gøre lokket en lille smule anderledes. Bare et lille tip.
Husk at tagge mig ovre på Instagram, hvis I køber nogle af smykkerne og har lyst til, at vise mig hvilke kombinationer I er gået efter!