Some of you might remember this brown/green jumper that I bought some years back now. I fell in love with this exact jumper because it to me was – and still is – the epitome of autumn. These dark, golden colours this time of year are just so beautiful. I'm a huge fan of maintaining a relatively monochromatic colour palette all through the year with a handful of blue denims thrown in there as you know, which you can then easily update for the season with a little handful of colored items. When autumn hits (the northern part of Europe anyway) we all feel like hiding away inside with hot drinks, candles and woolen socks all while being captivated by the trees going from dark green to bronzed brown. Vice versa when we face spring we can't wait for lighter days and for everything to start blooming again. It's funny how this way of moving forward is a natural part of us like that, right? And it's hard not to let yourself influence by the changes of nature every season; both because the temperatures force us to but also because along with the weather changing, you get kind of creatively inspired to mix things up in your wardrobe too.
But change doesn't have to be one that is complete, if that makes sense. Just because the seasons change, you don't need to change your entire wardrobe – at least I don't think you do. It's all about investing in items in timeless colors and materials suitable for the season, that you can then love year upon year – like the jumper I'm wearing in these pictures. And that's the beauty of a good capsule wardrobe; that you can invest in (in some way or the other) timeless items, that you can look forward to be reunited with every year. Whether that is by adding some colored accessories or an actual clothing item in a certain colour, this is a great and simple way to tune in on those autumn vibes.
*This post contains adlinks/advertisement (in the bottom of the post)
…
Nogle af jer kan måske genkende denne brune/mosgrønne strik, som jeg købte for nogle år tilbage. Jeg forelskede mig i lige netop denne, fordi den for mig var – og stadig er – indbegrebet af efterår. De mørke, gyldne farver er simpelthen så smukke, især på denne tid af året. Jeg er kæmpe fan af det her med at have en ret monokrom garderobe med nogle tidløse farver af blå denim, som man så let kan opdatere med enkelt items i farver der passer til sæsonen. Items som stadig passer til min overordnede stil, men som kan give min garderobe lige akkurat det løft jeg er i humør til, når sæsonen skifter. Når efteråret rammer (ihvertfald den nordlige del af Europa) så får vi lyst til, at gå i hi indendøre med varme drikke, stearinlys og uldsokker samtidig med vi bliver ovenud betagede af træerne der går fra mørkegrønne til gyldenbrune. Omvendt så kommer vi frem fra vores gemmesteder om foråret, og glæder os til de lysere dage og til at alting igen begynder at blomstre. Det er sjovt, som man er helt naturligt indrettet med denne form for fremdrift, ikke? Og det er svært ikke at lade sin påklædning påvirke af lige netop naturens gang; både fordi temperaturerne rent praktisk tvinger os til det selvfølgelig, men bestemt også fordi man sideløbende med de ting der ændrer sig i natur og vejr, også bliver inspireret til en lidt mere kreativ forandring i garderoben.
Men forandring behøver ikke at betyde én der er fuldstændig. Bare fordi sæsonen skifter, så behøver man ikke skifte hele sin garderobe ud – det mener jeg ihvertfald ikke. Ligeledes handler det om, at investere i nogle farver og materialer, som du kan elske år efter år – som fx den strik jeg har på, på billederne her. Og det er én af de fantastiske ting ved en solid capsule wardrobe; at du kan investere i et (på den ene eller anden måde) tidløst item, som du kan glæde dig over at blive genforenet med år efter år. Hvad enten du hopper ud i lidt farve blot ved at tilføje et enkelt item eller et par accessories eller du går all in på mange farver, så er det en god måde at komme i stemning til efteråret på en simpel måde.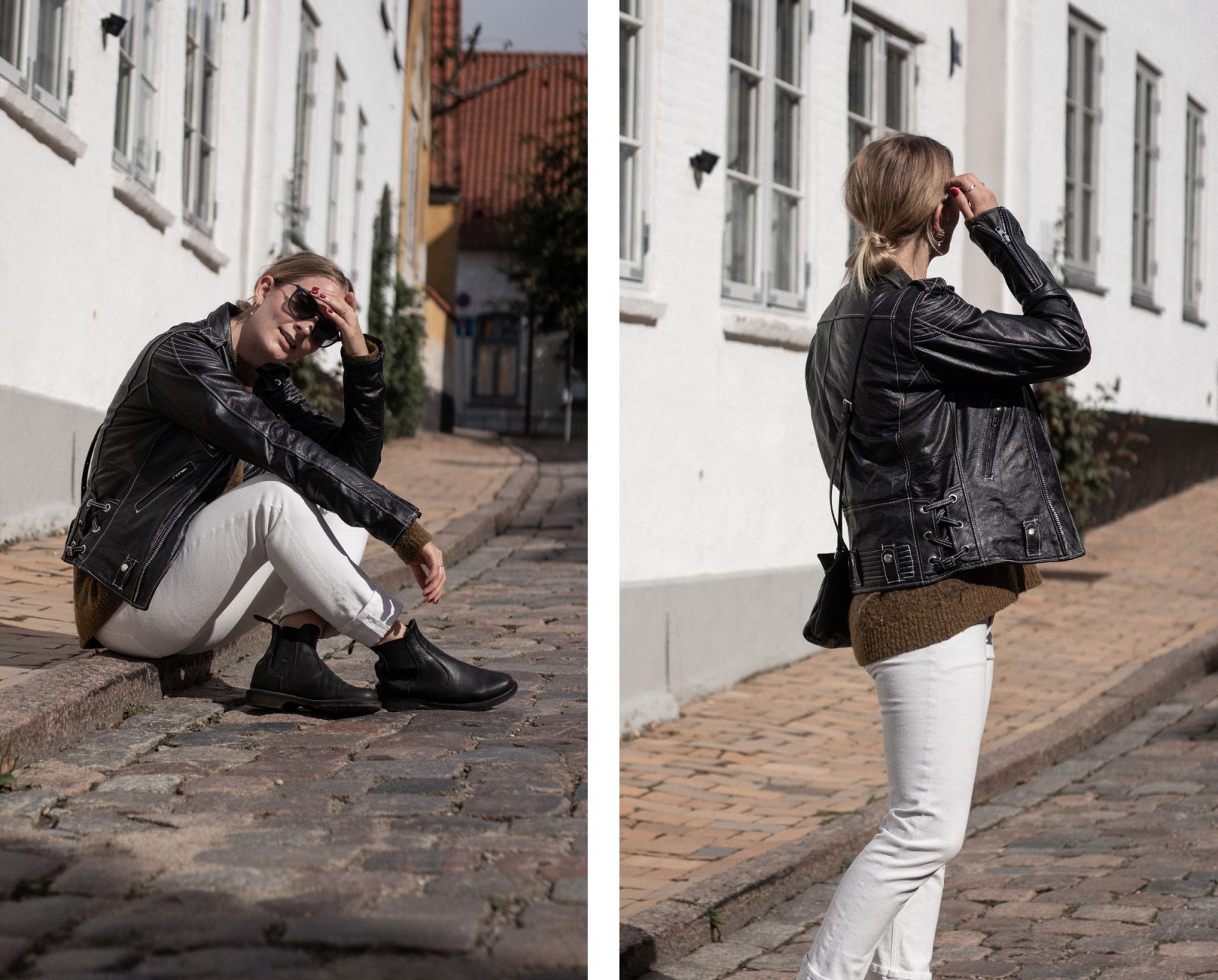 There are 6 colors and tints of these, that I kind of get drawn to every single autumn. To me, these colors are so so timeless. I've worked a couple years in the design industry also as a designer of more commercial fashion – and many of the places I've worked through the years, the way brands tend to pick out colors for a new collection is often the same. So often they will look at older color palettes and then sort of twitch these ground colors ever so slightly. Maybe you could add a totally new trend color to really make everything look fresh and new. But the "ground colors" are often very similar to those of previous years, they've simply been adjusted a little so that the collection also looks great as a whole. So there are definitely colors that return in the fashion scene year upon year because they just work for that specific season, and that you can easily invest in without feeling that they will go off trend next year. If you want to learn more about colors and which colors look good not only with your skin tone but also with each other, I can recommend you guys to check out this fellow capsule wardrobe blogger; Daria. She's super cool and she knows everything about color combinations! Personally I have more of a laissez faire way of thinking when it comes to colors, both because – well, I don't wear that many colors and I like it that way – but also because I tend to think more about what I feel good in rather than following too many rules. That being said though, it's always nice with some more background knowledge especially if you're starting from scratch and if you do really love colors. Anyway, here are my top 6 autumn colors that you can love year after year and that can easily pimp up a more monochromatic wardrobe (like mine).
…
Der er 6 farver og afarter af netop disse farver, som jeg har tendens til, at blive forelsket i igen hver eneste efterår. For mig er denne type farver også enormt tidløse. Nu har jeg arbejdet nogle år i modebranchen, mest som designer af det mere kommercielle tøj – og mange af de steder jeg har arbejdet, har fremgangsmåden i arbejdet med farver været den samme. At man ganske enkelt tager udgangspunkt i farvekort fra tidligere kollektioner, og laver små justeringer på disse "grundfarver". Måske smider man en enkelt spritny trendfarve ind, for at holde det hele lidt mere frisk. Men selve grundfarverne er ofte meget lig hinanden i udtrykket, blot justeret en smule i den ene eller anden retning, sådan at kollektionen også harmonerer flot som helhed. Så jo; der er helt bestemte farver som går igen hvert eneste år og som bare fungerer bedre til nogle sæsoner end andre (mest fordi de matcher farverne vi ser i naturen omkring os), og som du i princippet roligt kan investere i uden at føle, at de er "gået af mode" året efter. Har du brug for at finde ud af hvilke farver der egentlig klæder dig og din hudtone kan jeg varmt anbefale jer at tjekke en fellow capsule wardrobe blogger; Daria ud – hun er super sej og hun har nemlig helt tjek på den slags! Jeg har personligt en lidt mere "løs" tilgang til farver, både fordi jeg generelt ikke går i ret mange farver, men også fordi jeg mere går i det jeg synes er pænt og som jeg føler mig tilpas i, uden at følge for mange regler. Men derfor kan det selvfølgelig være rart at få lidt baggrundsviden, hvis man starter lidt mere fra scratch. Her er ihvertfald mit bud på 6 smukke efterårsfarver, som du kan elske år efter år, og som nemt kan peppe en mere monokrom garderobe (som min) op.
Beige
Beige is such a beautiful, light color which I know definitely works more as an all year basic.The reason why I wanted to mention it though, is because I think it's stunning with other autumn colors too. My beige trench coat for example looks great with the jumper I'm wearing in these pictures. Items I love in this color is often heavier items such as knitwear, wool coats and blazers.
Beige er en smuk, lys farve som egentlig fungerer hele året rundt. Grunden til jeg ville nævne den her er dog også, fordi jeg synes den er skøn sammen med andre efterårsfarver, da den jo næsten er en basisfarve. Min beige trench coat er fx virkelig smuk med den strik jeg har på her. Items jeg især synes er smukke med denne farve er ofte de lidt tungere ting som strik, uldfrakker og blazere.
*click images below to be redirected. Be aware that these are adlinks (advertisements). Read more here.
Brown
Again, brown is the epitome of autumn and in all tints too! From the very deep almost black brown colors to the more warm, almost rusty browns. Brown is simply beautiful! Again the heavier items I mentioned before are amazing in this color but accessories like knitted beanies or mittens, bags and boots are cool in brown colors. 
Brun er igen indbegrebet af efterår, og i alle afskygninger! Fra de helt mørke, næsten sorte brune nuancer til de lidt mere varme, næsten rustfarvede. Brun er bare smukt! Igen tager de førnævnte items sig godt ud i denne farve, men bestemt også accessories som strikhuer- og handsker, tasker og støvler er smukke i den brune farve.
(Adlinks)
Khaki/army green
Here's another color that is actually great all through the year: army green. Again, I do also think that especially this time of year it looks great because it sort of matches the golden leaves on the trees.
Her er en anden farve, som jeg faktisk synes man kan iføre sig hele året: army grøn. Igen synes jeg dog også, at den i samspil med de gyldne blade på træerne tager sig rigtig godt ud om efteråret.
(Adlinks)
Bottle green
Bottle green is not something I have in my own wardrobe, but nontheless it's such a great color for autumn. Not only when speaking fashion but also interior wise. I'm especially thinking about materials like velvet, which are stunning with this deep green color. Not just like a velvet couch, but a velvet suit is actually quite cool and timeless too, especially when we reach the festive christmas season. It can of course be worn separate too, styled with jeans and basic tees, for a cool every day look.
Flaskegrøn er egentlig ikke noget jeg har ret meget af i min egen garderobe, min ikke desto mindre er det så fin en efterårsfarve. Ikke blot når det kommer til beklædning, men faktisk også til hjemmet. Her er det især i materialer som velour, der er smukke med den dybe, grønne farve. Og jeg tænker ikke kun på en velour sofa – men et velour jakkesæt er også super flot og tidløst, især når vi kommer hen til julesæsonen og alle dens festligheder. Sådan et suit kan selvfølgelig også bæres hver for sig, og ser super cool ud med både jeans og en basic t-shirt til hverdag.
(Adlinks)
Burgundy
Another great color for velvet is burgundy. A beautiful, deep red color which is just perfect for autumn (and again also winter and christmas!). This color is great for clothing and accessories, but also beauty like nail polish and lipsticks are amazing in this deep color.
En anden farve, som tager sig godt ud på velour er bordeaux. En smuk, dyb rød farve som er perfekt til efteråret (og også vinter og juletid!). Igen ser jeg både denne farve som egnet til enkelte beklædningsgenstande og accessories, men også til beauty som neglelak og læbestifter er smukke i denne farve.
(Adlinks)
Mustard
Mustard is again something I haven't been playing around with all that much myself, but it still is one of those autumn colors that return year after year – and that many of us fall in love with again, like it was the first time we ever saw it. It's a bit more daring I would say (maybe that's just me), but still really pretty.
Sennepsgul er igen en farve jeg ikke har leget ret meget med selv, men igen er det én af de der farver som vender tilbage år efter år – og som vi alle forelsker os i igen og igen, som var det første gang vi så den. Den er lidt mere vovet vil jeg sige (måske er det bare mig), men ikke desto mindre også super flot.
(Adlinks)
I have around 37 items in total in my autumn capsule I have 7 items throughout, that hare in some sort of autumn color (one of these is my leopard bomber which is more a print, but it's also a mix of the other colors). Again I like working with colors like this, because then I get to throw in some seasonal colors but without feeling that it takes completely over and makes it a hassle to get dressed in the morning. This way of doing it also respects the fact that I just love timeless designs in monochrome colors. But like I mentioned before, if you were to take a color course of some sort I recommend Daria's Wonder Wardrobe course, because that way you will learn to go all-in on colors too, but still making sure everything can be combined all together. It all comes down to personal taste I think!
Are there any colors you guys have a tendency to fall in love with every autumn?
…
Ud af de i alt ca. 37 items som jeg har i min efterårs capsule, så er der 7 items der er i én af disse farver (hvoraf ét af disse items er min leopard bomber, som jo lidt er et miks af efterårs farver kan man sige). Igen så kan jeg godt lide at arbejde med farver på den her måde, for så får jeg smidt lidt sæsonfarve ind men uden det tager fuldstændig over og gør det svært, at klæde sig på om morgenen. Samtidig er det en fremgangsmåde der respekterer det faktum, at jeg elsker tidløse designs i monokrome farver. Men igen; tager du Darias kursus i farvesammensætning, så kan du altså sagtens gå all-in på farver på en måde, hvor du samtidig sikrer dig at alting passer sammen på kryds og tværs. Det er smag og behag!
Er der nogle farver som I har tendens til, at blive forelsket i igen og igen på denne tid af året?