Find my Shooting Star hoops HERE (also available in silver)


The summer holidays are near and it's needed! Even though I love my job, my brain needs a break and I'm gonna give it just that the following weeks. I'm not sure how much content I'll be uploading, but I'm sure I'll miss it too much and spend some time writing a blogpost or two during our vacation anyway. Next week we'll be in South France (near Grenoble) and we're going there by car with another couple and their two girls. I think I'll probably spend a little time putting a vlog together, just for a couple days. But I'll go along with the flow, because like I said my brain needs a little time away from everything to recharge as well. Otherwise do make sure you follow me on Instagram where I'll still be uploading stories and outfits daily, or maybe if you feel like it go back and have a look at some of my older posts and videos.
I've been packing for a couple days already (light as per usual), and that's what today's post is all about. If you could use some tips on how to organize your suitcase or pack light in general do make sure to check out my guide right HERE. I don't think you should pack light just for the sake of it, but still it works wonders to practise the art of limitation. That's how I feel in any case. That way I'm sure I'll be using everything I take with me (and without any fuss), all while not overpacking. The ladder especially comes in handy when you're sharing your suitcase with your husband, haha!
…
Sommerferien banker på døren og den er tiltrængt! Selvom jeg elsker mit arbejde, så har min hjerne virkelig brug for en lille pause og det har jeg i sinde at give den de kommende uger. Jeg ved ikke hvor meget content jeg kommer til at lave, men lur mig om jeg ikke kommer til at sidde og hygge mig med at skrive et enkelt blogindlæg eller 2 alligevel. Næste uge skal tilbringes i Sydfrankrig (tæt på Grenoble) på kør-selv ferie med et vennepar og deres to små piger. Jeg regner med at bruge et par dage på, at filme en lille ferie-vlog mens vi er der. Men jeg tager det lidt som det kommer, for som sagt har min hjerne også bare brug for et lille pusterum. Ellers så husk at følg med ovre på Instagram, eller måske kan I gå tilbage og samle op på ældre videoer og indlæg henover sommeren.
Jeg har været i fuld gang med at pakke (let som sædvanligt), og det vil jeg dele med jer i dagens indlæg. Har du brug for tips til at organisere din egen kuffert eller øve dig i begrænsningens kunst, så kan du evt. tjekke min allround pakkeguide HER. Jeg mener ikke man skal pakke let bare for at gøre det, men alligevel fungerer det ofte ret godt at begrænse sig lidt. Sådan har jeg det hvertfald. Så er jeg sikker på jeg får brugt dét jeg vælger at tage med (uden nogen former for tøjkrise), samtidig med jeg ikke overfylder min kuffert. Praktisk når man deler kuffert med sin mand, haha!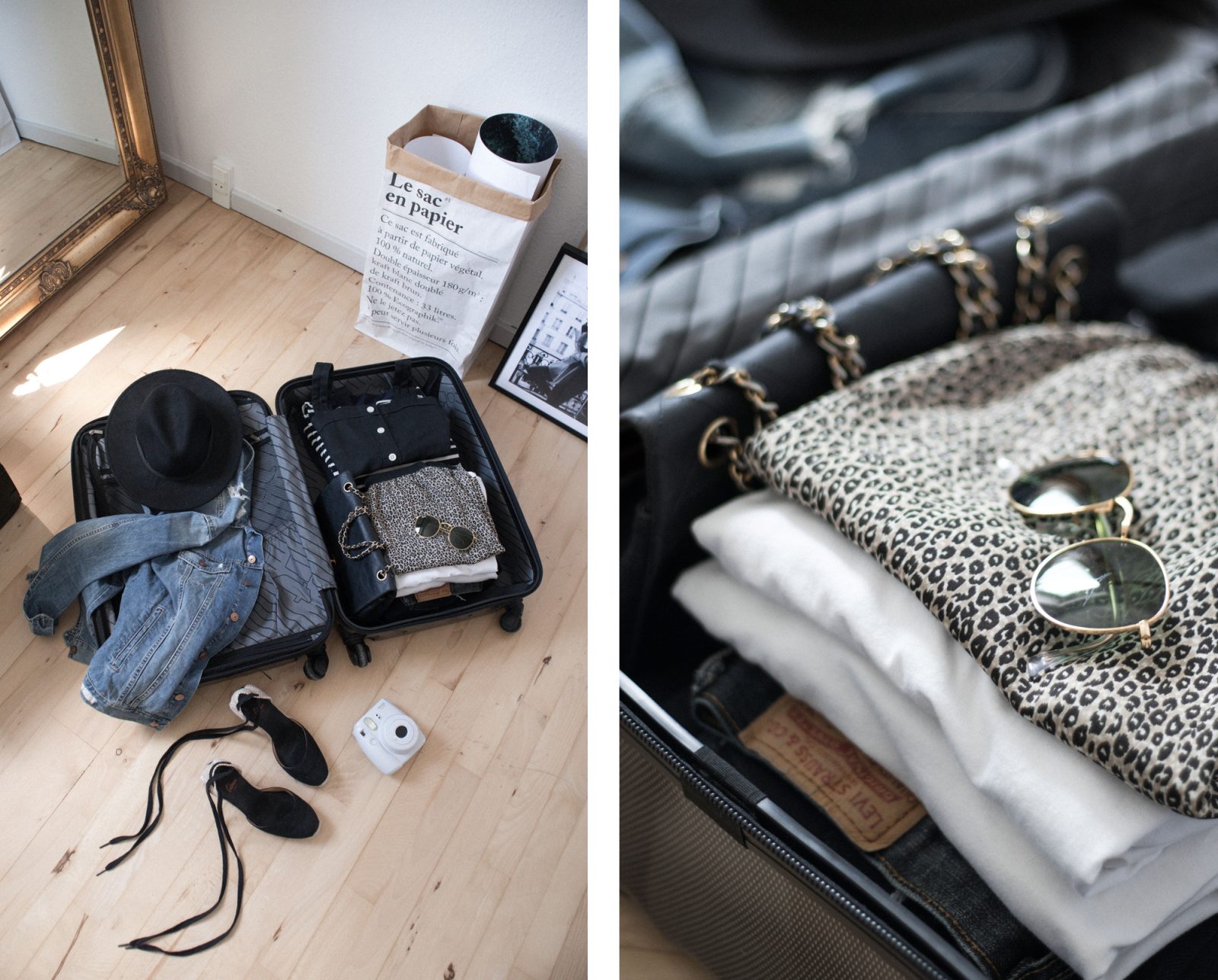 10 items
I've tried limiting myself to 10 items this time around, including shoes. Besides that I'll of course bring some accessories, my bikini and my travel-outfit. My travel outfit needs to be soft and comfy since we have a 15 hour drive ahead of us, and of course I can use some of the items from this outfit during the vacation as well (the sweater and the denim jacket in particular), if it gets chilly at night in France. Right now the weather forecast looks rather stabile with 25-30 degrees and sunshine most days. During the evenings the temperature will drop to 19 degrees some days, and there will also be a little rain every once in a while which will of course also lower the temperature ever so slightly. So it's going to be a mixed weather situation where layers will definitely come in handy.
I'm also going to bring a set of workout clothing and shoes, just so I have the opportunity of keeping up with workouts while we're away. Not because I think I HAVE to, but simply because it always has positive impact on my mood – especially during a slow holiday where we'll spend a lot of time relaxing by the pool. It's a nice way to start the day with a quick exercise. It gives me a bit of head space, new energy and it makes the blood flow. When we were in Italy last year I brought my resistance band, and I'm going to do the same this year. It takes up no space in the suitcase yet it allows you to work your entire body (I like THIS workout for example). I like to start the exercise with a quick 10-15 minute run followed by the before mentioned workout routine. It's quick but effective, and perfect for a holiday.
…
Denne gang har jeg forsøgt at begrænse mig til 10 items, inklusiv sko. Hertil kommer selvfølgelig ting som accessories, min bikini og mit rejse-outfit. Sidstnævnte skal helst bare være blødt og behageligt da vi har en 15 timer lang køretur foran os, men jeg kan selvfølgelig også bruge nogle af elementerne (trøjen og denim jakken især), hvis det bliver køligt om aftenen nede i Frankrig. P.t. ser vejrudsigten primært varm og stabil ud, med 25-30 grader og sol de fleste dage. Om aftenen bliver det ned til 19 grader og der kommer også et par enkelte regnskyl nogle af dagene, hvor temperaturerne også vil falde lidt. Så det bliver en lidt blandet landhandel, hvor lag-på-lag kan blive nødvendigt.
Jeg tager også et sæt træningstøj og -sko med, så jeg har mulighed for at holde min træning ved lige mens vi er afsted. Ikke fordi jeg synes jeg skal, men fordi det booster mit humør – især på en daseferie, som det nok også bliver meget af tiden. Så er det rart at starte dagen med, at få rørt sig lidt. Det giver afløb for tankerne, frisk energi og sætter gang i blodomløbet. Da vi var i Italien sidste år havde jeg en elastik med, som jeg også regner med at tage med i år. Den fylder ingenting i kufferten, og alligevel kan man lave et program (som DETTE) hvor man træner hele kroppen. Jeg kan godt lide at starte med en kort løbetur på 10-15 minutter efterfulgt af det førnævnte program. Det er kort men effektivt, og i min optik perfekt til ferien.
Day & night
As illustrated above I've put together some outfits that are suitable both for day and night. I haven't had the chance to really use my homemade leopard skirt yet, so I knew I wanted to bring it with me! With the high temperatures awaiting us in France I think it's perfectly light and airy. The dresses are several years old and I bring them out almost every summer. I've actually thought about dedicating an entire post to these two very dresses, because I've been using them so much the past 4-5 years. They are great in each their own way and they can both be used during the day by the pool, or during the evening with a pair of fancy shoes and some accessories. I feel rather confident with the outfit options I've laid out for myself with these items, and again they are all suitable for relaxing by the pool, sightseeing or fancy dinners. 
I'm showing you all the combos live in the video below, if you guys are interested in just that. Otherwise I'd like to take the opportunity to wish you all a wonderful summer! Be kind to yourselves, take a break and maybe go offline for a little while. I'm gonna bring a few books and magazines myself, and I'm also considering bringing my guitar. Not to perform but just for the practise. I've played the piano and guitar for many years, but I've taken a long, unintentional break from it and I've just missed it so bad. I've been practising on my guitar every night for at least 20 minutes the past 3 weeks, and I'm gonna do my best to keep it up! It feels amazing to do something like that just before bedtime, instead of scrolling on my phone for example. Music has always been a huge part of me, and I've just realized lately how much I've missed it.
…
Som illustreret ovenfor så har jeg sammensat en række outfits, som både kan bruges om dagen og om aftenen. Jeg har ikke fået brugt min hjemmelavede leopard nederdel så meget endnu, så jeg vidste at den skulle med mig! Med de høje temperaturer vi kan se frem til er den jo helt perfekt, fordi den er så let og luftig. Kjolerne er flere år gamle, og jeg hiver dem efterhånden frem hver sommer. Faktisk har jeg tænkt på at dedikere et helt indlæg til lige netop denne type kjoler, netop fordi jeg har brugt disse to hver sommer de sidste 4-5 år. De er gode på hver deres måde og kan bruges både om dagen ved poolen, eller om aftenen med et par fine sko og nogle accessories. Jeg føler mig ret overbevist om, at jeg har fået skabt en række outfits her som egner sig perfekt til de dage vi gerne bare vil dase hjemme ved poolen, men som også er praktiske og behagelige nok til lidt sightseeing. Skal vi ud og have et glas vin eller spise et eller andet fint sted, så er der også mulighed for, at dresse disse outfits op.
Jeg viser alle kombinationerne live i videoen nedenfor hvis det skulle have interesse. Ellers vil jeg bare ønske jer allesammen en rigtig dejlig sommer! Husk at vær ekstra gode ved jer selv, tag en pause og gå offline for en stund. Jeg tager selv et par bøger og blade med, og jeg har faktisk også tænkt på at tage min guitar med. Ikke så meget for at underholde, men for at holde min træning ved lige. Jeg har spillet både klaver og guitar i mange år, men har holdt en lang pause. Nu har jeg så øvet guitar minimum 20 minutter hver aften de sidste 3 uger, og det har jeg tænkt mig at blive ved med! Det er skønt at bruge tid på noget som jeg elsker lige inden sengetid, fremfor at sidde og scrolle på min telefon. Musikken har altid fyldt meget for mig, og det er bare gået op for mig hvor meget jeg har savnet det.