It's been quite a while since I last invited you guys in for a peek into my wardrobe, and this is actually a question I get a lot from you guys; how I structure my wardrobe especially since following the capsule wardrobe system. Of course it's an individual matter because it depends on what kind of closet you have. But maybe this post can provide you with some inspiration regardless.
We've got a huge walk-through closet (is that even a term?), my husband's closet is in the left side and mine in the right. The closets were already here when we moved into our house, and they are just incredible with the large doors and mirrors. If you're wondering where they're from, I'm pretty sure the brand is called Aubo.
…
Det er længe siden jeg har haft jer inviteret med indenfor til et kig i min garderobe, og noget af det jeg oftest bliver spurgt om er faktisk, hvordan jeg opdeler min garderobe når nu jeg følger capsule wardrobe systemet. Det er selvfølgelig individuelt, for det afhænger jo helt klart af, hvilke skabe du har til rådighed. Men måske dette indlæg (med tilhørende video i bunden) kan give dig lidt inspiration alligevel.
Vi har et dejligt stort walk-through closet (kan man vel kalde det?), min mands er i venstre side og mit skab er i højre side. Skabene var her i forvejen da vi flyttede ind, og de er rigtig skønne med de store spejle og skydedørene. Hvis det har interesse så er jeg ret sikker på de er fra mærket Aubo.
I have most of my clothes hanging on hangers in my wardrobe, both because I think it gives a better overview (nothing is forgotten or left in a bottom of some pile) and it's also easier to keep things tidy like this, I think. Whenever I do my laundry I hang the wet clothes directly on to the hangers, which will not only smoothen out the clothes while drying but it's also easy peasy to hang it back into my closet once it is dry. Of course I don't hang heavier items like knitwear, these should always be laid out flat when drying and also be folded once you put it into your wardrobe. I don't wash my jumpers very often though, so I'm fine with having to fold those 😉 If you're not so keen on the metal hangers I have, then go for a more sturdy wooden hangers. Then you're sure there wont be marks left at the shoulders from the hanger. I've just had my metal hangers since forever, and I guess I've been too lazy to replace them. I might some day though. Maybe. They don't bother me that much to be honest.
On the image above you can see what my current spring capsule looks like (except jumpers that are on a shelf below). From the left and all the way up until the beige biker is my all-year basic wardrobe. The rest from there are my seasonals – what I in reality call my spring capsule, that I use to spice up the life of my basics. My seasonals are always placed right after my black leather skirt, so I always know where it parts between those and my basics. But to be honest I know my wardrobe so well by now that everything could be mixed up and I'd still be able to part everything, haha.
…
Jeg har en del af mit tøj hængende på bøjler i mit skab, både fordi jeg synes det giver et bedre overblik (ingenting bliver glemt eller krøllet i bunden af en bunke), og det er også nemmere at holde orden i skabet, synes jeg. Når jeg vasker tøj så hænger jeg faktisk tøjet direkte på bøjler, for det gør både at tøjet tørrer i sin "naturlige" retning og bliver glattet ud og så er det jo bare super nemt at hænge tilbage i skabet når det så er tørt. Der er selvfølgelig undtagelser – strik (og tunge jersey sweatre) skal altid lægge fladt når det tørrer og har heller ikke godt af at hænge på en bøjle, så det har jeg foldet sammen på en hylde. Men jeg vasker heller ikke mine striktrøjer ret ofte, så det klarer jeg. 😉 Hvis du ikke er til de tynde metal bøjler, så gå efter en tykkere træ bøjle. Så er du også sikker på der ikke efterlades mærker i skuldrene på dit tøj. Jeg har haft mine metal bøjler i hundrede år, og har bare været for doven til, at skifte dem ud. Men en dag gør jeg det nok. Måske. De giver mig ikke rigtig problemer, faktisk.
På billedet ovenfor kan i se hvordan min nuværende forårs capsule hænger (pånær strik der ligger på en hylde nedenunder). Fra venstre og helt frem til den beige bikerjakke er min helårs-basis garderobe. Det resterende er så mine sæson baserede items – det som jeg reelt set kalder min forårs capsule, som jeg bruger til at peppe min basis garderobe op med. Mine sæson items hænger altid lige efter min sorte nederdel, så jeg kan se hvor det skiller. Men jeg kender efterhånden min garderobe så godt, at det kunne hænge blandet og så ville jeg stadig kunne sortere det, haha.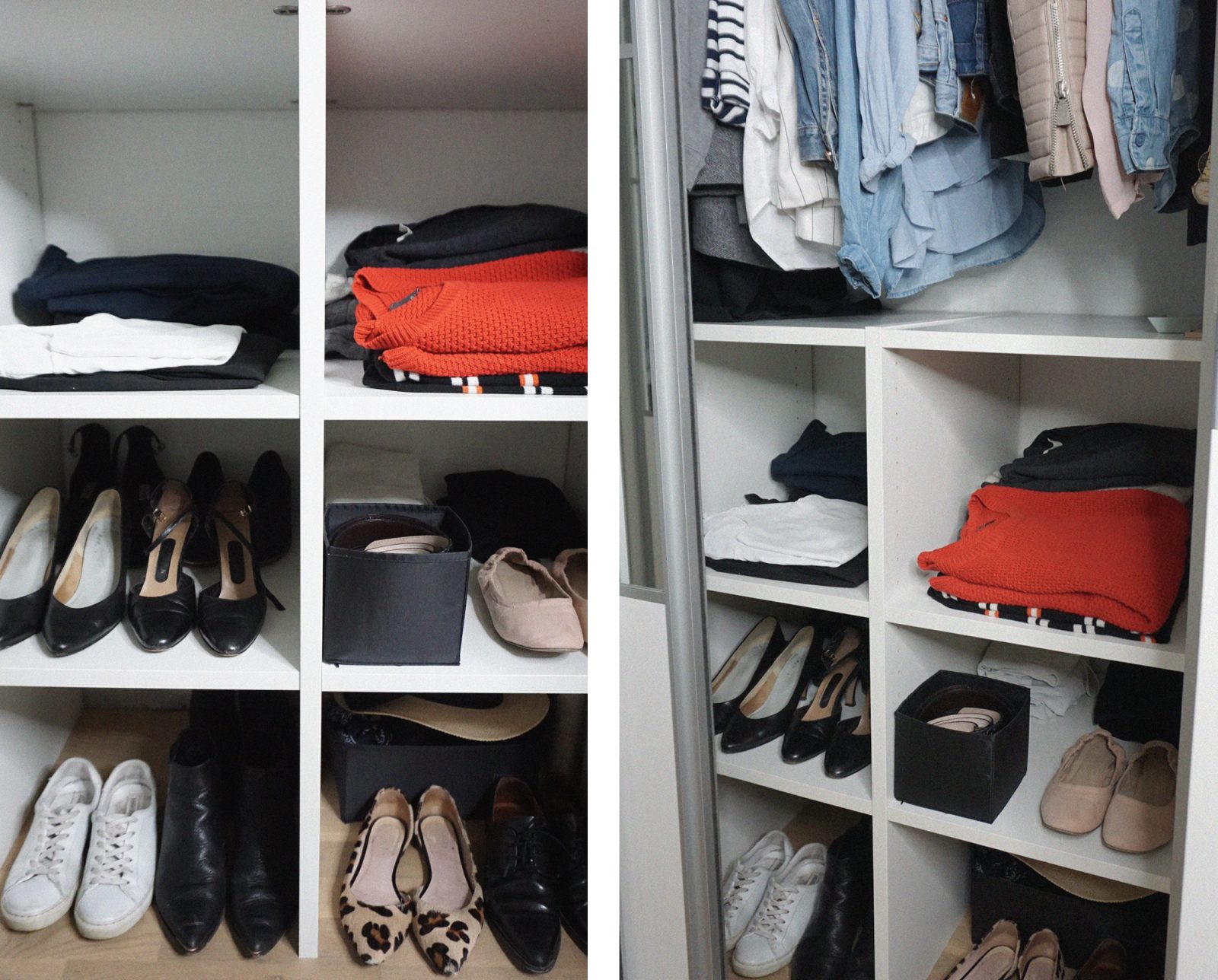 So let's continue the tour further down below everything that is hanging. If you look at the left image above, and also the left part of that image I have my mini-capsule of occasion wear and shoes on the two tops shelves. Just like my everyday capsule I go through these shelves every once in a while, and replace a few things with some of those I have in my storage or I might even add a new thing or two. So even though it's pretty much the same all through the year, it's never static (just as life isn't either) and I'm allowed to mic things up if I feel like it. The important thing is that it works for you, right? On the floor on the left side are some of my everyday shoes, but I usually keep most of these in the hallway because that's where I need them when I'm heading out the door.
In the right side I've got my basic jumpers on the first shelf, and then in front of those I have my seasonal jumpers. On the shelf below those I have all of my basic tank tops (great underneath knitted jumpers and thin blouses), and then I've got a tiny box with my belts. On the floor is again a couple of shoes (the leopard flats and the blush flats are seasonals), and in the very back on the floor is a box with accessories. Here I've got a couple hats, smaller scarves and a few clutches and wallets. The boxes are from IKEA by the way.
…
Hvis vi fortsætter turen nedad i mit skab, så er der nogle hylder under det tøj der hænger på bøjler. Lad os tage udgangspunkt i billedet til venstre ovenfor, og også i venstre side: På de to øverste hylder har jeg min mini-capsule med tøj og tilhørende samling af sko til specielle lejligheder. Ligesom med min hverdags capsule så gennemgår jeg somme tider denne hylde, går i gemmerne og bytter nogle ting ud eller køber en enkelt ny ting hvis jeg synes. Så selvom den er ret ensformig hele året, så betyder det ikke, at jeg ikke må justere den. Livet er jo ikke statisk, så man har lov til, at ændre lidt i tingene hen ad vejen. Det vigtigste er jo, at det du har i dit skab fungerer, ikke? På gulvet i venstre side står der nogle hverdagssko, men jeg har som regel de fleste af mine sko i entréen.
I højre side har jeg basis strik på den første hylde bagerest, og sæson strik ligger foran på samme hylde. På hylden nedenunder ligger alle mine basis tank tops (gode indenunder striktrøjer og meget tynde bluser), og så har jeg en lille kasse med mine bælter. Nede på gulvet i denne side står der igen lidt sko (de leopard printede og de rosa er sæson), og inde bagved står der en kasse med accessories. Her har jeg mine hatte, lidt tørklæder og et par små clutches. Kasserne er iøvrigt fra en IKEA kommode vi engang havde, jeg tror stadig man kan købe dem bare sådan.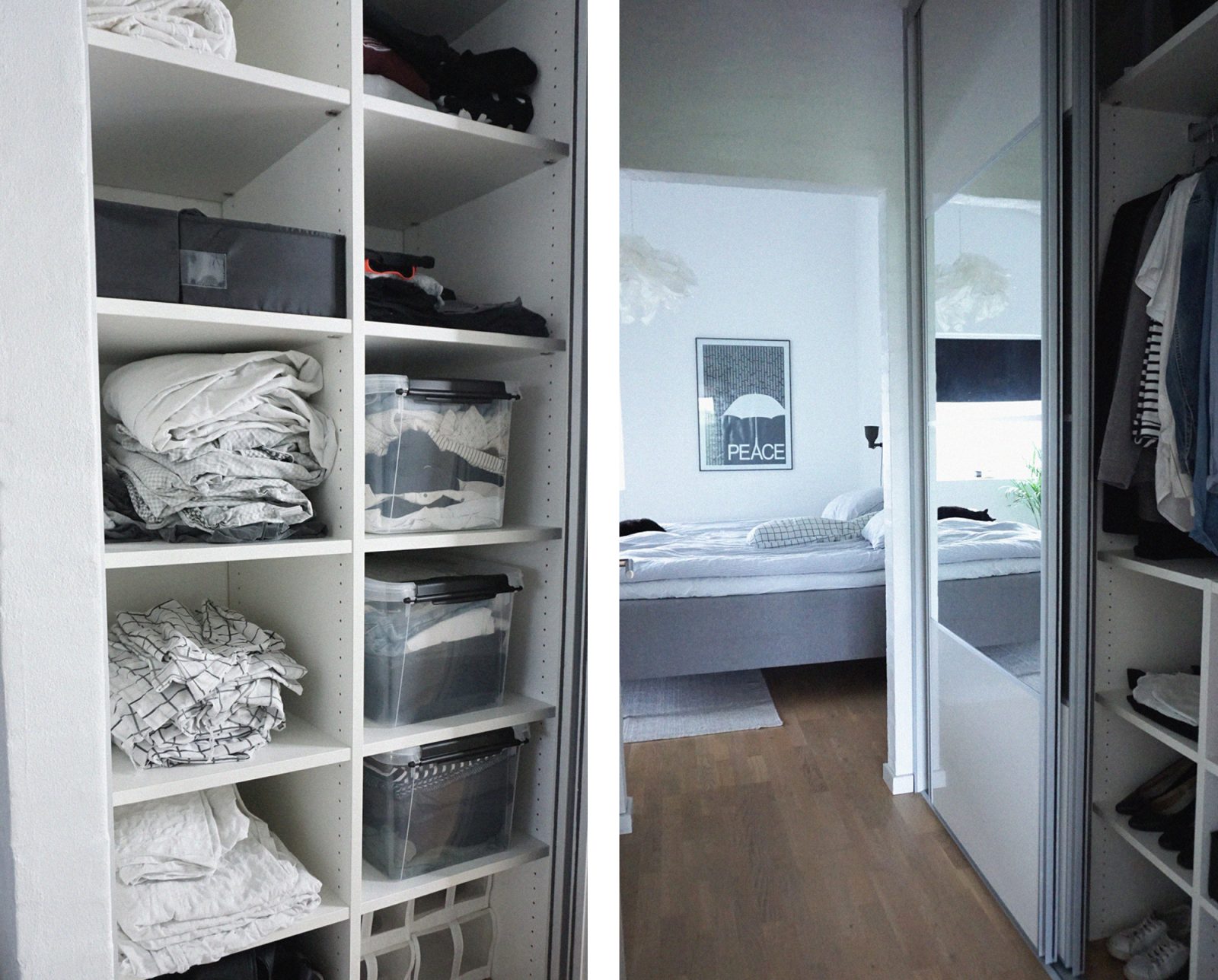 Behind door number 2 is a bunch of differen things like bedding and luggage, but this is also where I keep my storage of clothing and shoes from previous seasons. When I'm about to build my upcoming summer capsule I'm definitely gonna go through these properly, and maybe sell or donate some of it. I'm also gonna fold it more properly – maybe by using the Konmari method this time around? All the clothes I have stored away right now are in the clear plastic boxes, and I like that it's still within my reach and not in the attic or similar. Sometimes you can't count on the weather or what you've picked out for a certain capsule just doesn't work, so it's nice to be able to easily go through your storage again if you need to. Above the boxes I have my sportswear and my loungewear.
Besides our walk-through closets we've also got a smaller closet with drawers for underwear, nightwear and socks. My bags and coats are in the hallway, because like I said with the extra shoes; this is where I need these things whenever I'm heading out, so that just makes most sense to me. If you'd like to read my guide on how to give your wardrobe a good spring cleaning at the end/beginning of a season, you can read it right HERE.
…
Inde bag skydedør nummer to gemmer der sig lidt forskelligt (sengetøj, rejsetasker og kufferter), men det er også her jeg har alt mit opbevaring af tøj og sko (de står i de små hvide kasser nederst) fra forrige sæsoner. Når jeg skal til at bygge min sommer capsule, så skal jeg helt klart have set det hele ordentligt igennem, og måske have solgt eller doneret noget af det, og jeg skal også have det lagt ordentligt sammen igen. Måske efter Konmari metoden denne gang, så det ikke bliver så krøllet? Alt det tøj jeg har opbevaret er det, som I kan se i plastik kasserne. Jeg kan godt lide ikke at pakke dem alt for langt væk, for somme tider så svigter vejret eller man ombestemmer sig med hensyn til sin capsule, og så er det altså rart at have det indenfor rækkevide. Ovenover kasserne har jeg mit træningstøj og øverst mit hyggetøj.
Udover vores store walk-through skabe så har vi et lille hjørneskab med indbyggede skuffer, hvor vi har nattøj og undertøj. Mine tasker og jakker/frakker har jeg i entréen, for det er ligesom dér jeg ifører mig disse ting når jeg skal ud af døren, så det giver bare bedst mening for mig, at have tingene opdelt på denne måde. Hvis du kunne tænke dig en lille guide til, at give din garderobe en god forårsrengøring, så kan du læse min guide om lige netop dette lige HER.