So far, I've encountered some things where I think "is this really possible to achieve for a "normal" person with a full time job?
/ I've been reading the book above the last few weeks: Zero Waste Home by Bea Johnson. First of all, I am a slow reader when it comes to books of this kind. Both because it is in English and therefore not my mother tongue, and the content of it is (as you might well figure out) quite heavy and sometimes hard to figure out. And then I'm the type of person who usually listens to audiobooks because I often fall asleep when I've got my nose in a physical book, haha! Nevertheless, I get the essence of the book and it is really exciting. But I have to say also a little bit out there, if you don't mind me saying so. I have only read about 1/4 of the book, so I dont want to come up with a full review yet, but so far, I've encountered some things where I think "is this really possible to achieve for a "normal" person with a full time job (and maybe children)?! ". But let's just agree on one thing here; what's really far out is our overconsumption of especially plastic materials, and that's why I am eager to change my own habits. We make food plans every week and I dont dare to think about where to get all the locally produced goods that are not wrapped in all sorts of plastic foil! I dont know if there is a place near us where you can buy bulk products only and the idea of having to drive around to maybe 5 different stores in order to meet the requirement for no packaging is actually stressing me out. The author herself emphasize the same skepticism that she is often met with, so I hope I will be less skeptic and more convinced as I continue to read the rest of the book.
Jeg har de sidste par uger været ved at læse i ovenstående bog: Zero Waste Home af Bea Johnson. Først og fremmest er jeg en langsom læser, når det kommer til bøger af denne slags. Både fordi den er på engelsk og indholdet af den er (som I måske godt kan regne ud) ret tungt, og til tider liiiidt svært at hitte ud af. Og så er jeg typen der normalt hører lydbøger, fordi jeg ofte falder i søvn når jeg sidder med næsen i en fysisk bog, haha! Ikke desto mindre får jeg essensen af bogen med, og den er virkelig spændende. Men umiddelbart også en lille smule far out, hvis jeg kan tillade mig at sige det. Jeg har kun læst ca. 1/4 af bogen, så jeg vil ikke komme med et fuldt review endnu, men altså indtil videre er jeg godt nok stødt på en del ting, hvor jeg tænker "det dér kan et "normalt" menneske med fuldtidsjob (og børn!) da aldrig nogensinde implementere i praksis?!". Vores ugentlige storindkøb om søndagen fx. Vi laver madplan hver uge, og jeg tør slet ikke tænke på, hvor jeg skal få fat i alle de lokalt-producerede varer, som ikke er pakket ind i alverdens plastfolie! Men lad os lige blive enige om én ting; vores overforbrug af ikke-nedbrydelige produkter er i virkeligheden dét der er far out. Og det er derfor, jeg gerne vil ændre mine egne vaner. Jeg aner ikke om der findes et sted i nærheden af os, hvor man udelukkende kan købe bulk produkter, og tanken om, at skulle køre rundt til måske 5 forskellige butikker når vi skal handle ind for at kunne opfylde kravet om minus indpakning giver mig mildest talt sved på panden. Forfatteren fremhæver dog selv samme skepsis (som min) som hun ofte bliver mødt med, så jeg håber jeg får vendt denne tankegang, som det skrider frem med at læse resten af bogen.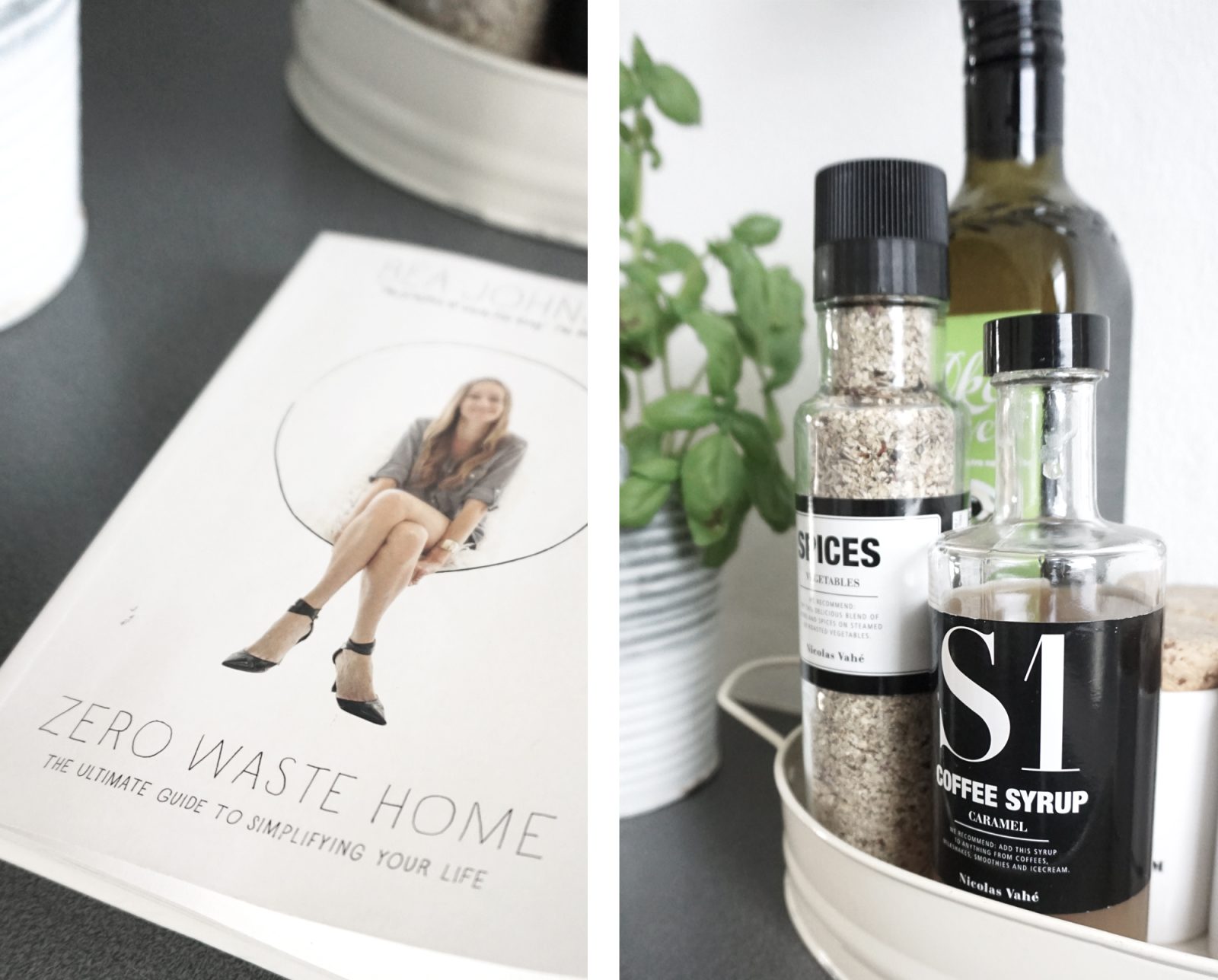 / I am very open minded when it comes to sustainability and I am very eager to learn new things, make mistakes and improve myself. But at the same time, I dont try to be the "perfect consumer", which I think is quite important in order not to be stressed out. Of course you have to push yourself in order to get rid of old habits, but there should be some form of balance. There are really many things associated with wanting to reduce consumption – both socially and politically. Saying 'no' to presents or directly despising them because you have a lifestyle that offers you not to throw things away or bring things into your home which basically does not give you any benefit is somehow admirable, and something we all could learn from in the consumer based society we live in today. But it is also something that can shield us from the rest of society – something that can become socially challenging. I am learning a lot from this book, and I think I will be able to implement a lot of things from it in my own life. I dont know if I would ever be able to achieve a Zero Waste home, but at the very least I would really like to achieve a Less Waste home. And I think that's a really crucial place to start for many of us who has no experience with zero waste what so ever.
Now I dont hope it sounds like I've completely written off the book and its content, because I absolutely haven't! But I think it's important to be critical and adjust this lifestyle so that it suits you and your life the best possible way. Of course, I'm going to make my own "less waste" tips when I finish the book so hopefully you'll also be inspired to consume less! Simple things like cotton pads, wrapping paper and plastic freezer bags for example – there must be ways to avoid these disposable products, and instead invest in products that can be used over and over again. Much more about that when I finish the book!
Jeg er meget åbensindet når det kommer til bæredygtighed, og jeg er meget ivrig efter, at lære nye ting, begå fejl og forbedre mig. Men jeg prøver samtidig ikke på, at være den "perfekte forbruger" hvilket jeg tror er ret vigtigt, så man ikke ender med at blive mere stresset end glad. Selvfølgelig skal man presse sig selv – især når man vil ændre på gamle vaner, men der skal også være en vis form for balance. Der er rigtig mange ting forbundet med, at ville nedsætte sit forbrug – både socialt og politisk. At sige nej til gaver eller direkte frabede sig dem, fordi man har en livsstil der byder én ikke at smide ting ud eller bringe ting ind i sit hjem, der i bund og grund ikke giver gavner dig f.eks. Det er på samme tid beundringsværdigt at man vil gå så langt for miljøet (og selvfølgelig sig selv og sin livsstil) og det er jo din egen ret at sige nej! Det er noget vi alle kunne lære noget af i det forbrugssamfund vi lever i i dag. Men det er også noget der kan afskærme os fra resten af befolkningen – noget der kan gøre, at vi får udfordringer socialt. Jeg lærer super meget af denne bog, og jeg tror at jeg vil kunne implementere rigtig mange af de ting der står i den i mit eget liv. Jeg ved ikke om jeg ville opnå et Zero Waste hjem, men til at starte med vil jeg ihvertfald rigtig gerne opnå et Less Waste hjem. Og det tror jeg er et rigtigt afgørende sted at starte for mange af os der ikke har nogen som helst erfaring med zero waste.
Nu håber jeg ikke det lyder som om, at jeg har afskrevet bogen og dens indhold fuldstændig, for det har jeg tværtimod! Men jeg tror det er vigtigt at forholde sig kritisk, og indrette sig så det passer bedst muligt til dig og din livsstil. Jeg vil naturligvis stykke mine egne tiltage imod en "mindre spild" livsstil sammen når jeg er færdig med bogen, så I derude forhåbentlig også bliver inspireret til, at forbruge mindre! Jeg tænker f.eks. helt simple ting som vatrondeller, sølvpapir og fryseposer – der må være måder hvorpå vi kan undgå de her éngangsprodukter, og i stedet investere i nogle man kan bruge igen og igen. Meget mere om det når jeg er færdig med bogen!