Within the last couple months we've attended two weddings among our nearest friends. My husband and I still haven't had our wedding party after our little Vegas escpae back in May 17 so we still owe that one to our friends and family. It's gonna come but we're not in a rush. We've got our focus elsewhere right now with selling our house and moving back to our hometown. But hopefully we'll be able to throw the party together within the next 1,5 years or so.
I think we're gonna do things a bit differently when our time comes (heck, we've already done that by getting married in Las Vegas just us two), and where the traditional wedding day and party is the big dream for some people, a more low-key and informal type of party is more the dream for us. We're all different you know! That does not mean that I don't enjoy attending more traditional weddings myself though – I love these types of weddings and the ones we've attended have been so amazing. I feel like you all become a little closer than before, maybe because you get to meet family members you never had the chance to meet or simply because you see new and more vulnerable sides of each other, which will only strengthen your friendships.
…
Inden for de sidste par måneder har jeg været til to bryllupper i vores nærmeste vennekreds. Min mand og jeg har stadig ikke holdt vores fest efter vores lille escape til Vegas i maj 2017, så den har vores venner og familie stadig til gode. Den kommer, men vi har ikke travlt. Nu er vi jo ved at sælge vores hus, og flytte tilbage til byen. Men forhåbentligt får vi festen stablet på benene inden for det næste 1,5 års tid.
Jeg tror vi sammensætter en anden type fest når den tid kommer (vi har allerede gjort tingene lidt anderledes i og med vi er gift i Las Vegas bare os to), og hvor den traditionelle fest er nogen menneskers drøm, så er den lidt mere nede på jorden type fest vores. Sådan er vi jo forskellige allesammen! Dermed SLET ikke sagt, at jeg ikke bryder mig om at være gæst til det traditionelle bryllup – jeg elsker bryllupper og de fester vi har været til har været så skønne. Det er bare som om man kommer lidt tættere på de mennesker hvis bryllup man er til, måske fordi man også introduceres til familie man ikke har mødt før, men bestemt også fordi man ser nogle helt andre sider og sårbarheder af hinanden, hvilket i min optik kun er med til at styrke det bånd man allerede har til hinanden.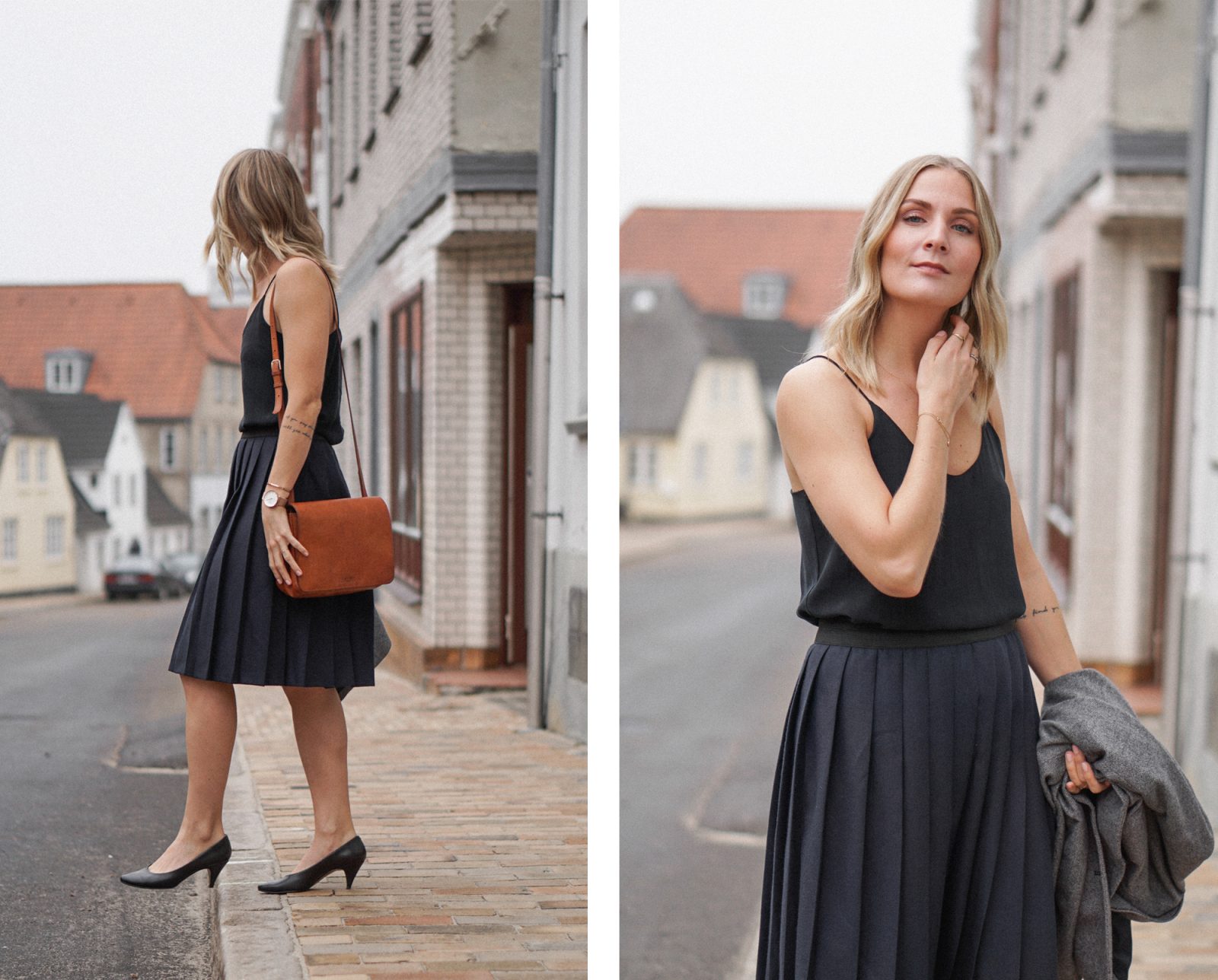 blazer+top – Everlane / skirt – vintage / heels – vintage / bag – O My Bag / watch – Nordgreen
Most of you probably remember THIS outfit that I wore at my best friend's wedding last month, and then last weekend when I was about to decide what to wear for the wedding we were attending on Saturday – well, I just decided to wear the exact same outfit. Honestly, no one there would be able to remember what I wore last time, and besides there was gonna be a whole new crowd there. So why not?
My vintage skirt is bought on Asos Marketplace back in spring, and I bought it solely with the purpose of being able to wear it more than once for all the special occasions this year, including weddings. I love 2-piece outfits more than dresses in general, because you have more freedom to mix and match. If I put on another top and a different jacket (that I already have), I'd have  whole new look going on without actually buying something new. I've added the elastic band in the waist myself, and then I've open up the pleats completely. They used to be closed about 10 cms from the waist down which looked a little old-fashioned for my taste. My beautiful silk top is from Everlane's new sustainable "clean silk" (adlink) range and have quickly become a special occasion favourite of mine.
…
De fleste af jer husker måske DETTE outfit jeg havde på til min bedste venindes bryllup sidste måned, og da jeg så sidste weekend stod og skulle beslutte mig for hvilket outfit jeg skulle tage på til det bryllup vi her skulle til – ja, så besluttede jeg mig ganske enkelt for, at iføre mig præcist samme outfit. Helt ærligt, der er jo alligevel ingen der kan huske hvad jeg havde på til det sidste bryllup, og det var iøvrigt slet ikke de samme mennesker der kom til det andet bryllup. Så hvorfor ikke?
Min vintage nederdel købte jeg på Asos Marketplace tilbage i foråret, netop med det i tankerne, at jeg skulle kunne bruge den til mange af de kommende særlige begivenheder der ville komme i år, som netop bryllupper. Jeg elsker to-delte sæt frem for kjoler, da man har større frihed til, at skabe et nyt look ved fx bare at tage en anden top og en anden jakke på til. Ting som jeg allerede har i garderoben, og derfor betyder det, at jeg får et helt nyt look uden rent faktisk at købe noget nyt. Jeg har selv sat en bred elastikkant i taljen på nederdelen, og har desuden åbnet læggene helt op. Før var de nemlig syet sammen ca. 10 fra taljen og ned, men det gav nederdelen et lidt for gammeldags look til min smag. Min fine silke top er fra Everlane's nye, bæredygtige "clean silk" collection (adlink) og er helt klart en favorit, især til specielle lejligheder.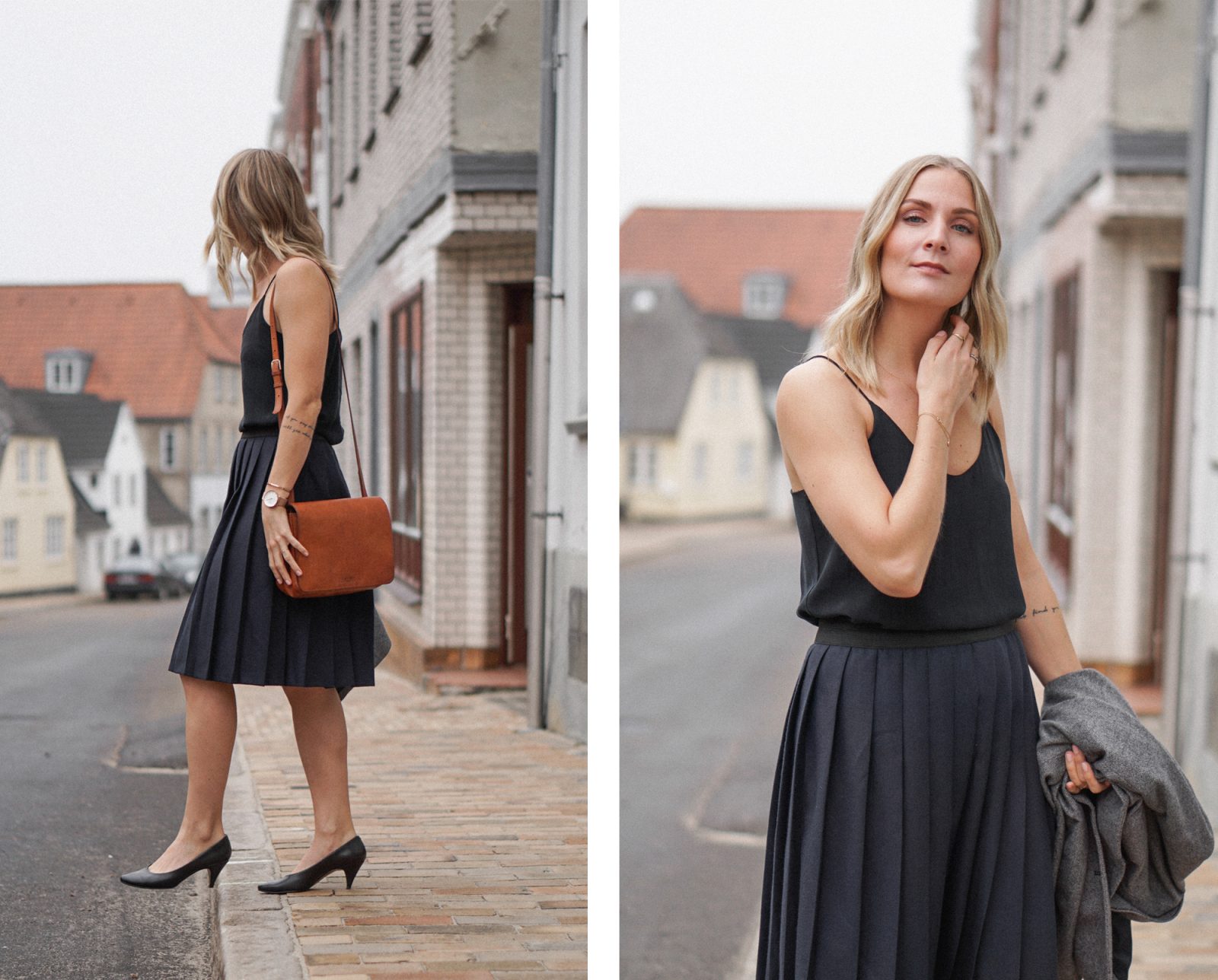 At both weddings I felt amazing in this outfit, and it made me realize how much (especially women) have a tendency to obsess about a new dress every time we have a special occasion to attend, solely with the purpose of only wearing that dress 1-2 times. Of course if you swap with a friend, buy something pre-loved an sell your own special occasion wear to someone else who will enjoy it after you, so that the consumption gets more circular I'm all in. Each to their own, right? I just personally don't see why I need to look different every single time. If a man can use the same suit at special occasions for more than a decade (which is the case with my husband), why can't a woman do the same thing?
I'm also really happy that in general when you attend a wedding in Denmark, there's no old-fashioned written rules about that "you can't wear black at a wedding". That's has not been the case with any of the weddings I've attended anyway, and they've been rather traditional besides that. I've got a classic little black dress hanging in my wardrobe that I've had for years, and it never fails when I'm not in the mood for over-thinking my outfit – and I'm sure many other women have that same go-to dress in their wardrobes too. So why not just enjoy and use it?
…
Til begge bryllupper har jeg følt mig super godt tilpas i dette sæt, og det fik mig bare til at tænke endnu mere over det her med, hvordan (især vi kvinder) har en tendens til, at gå ud og købe ny kjole stort set hver gang vi har en speciel lejlighed vi skal til, for blot at iføre os den 1-2 gange. Selvfølgelig hvis man bytter, eller køber brugt og sælger videre, sådan at forbruget bliver mere cirkulært, så synes jeg faktisk det er ganske ok. Jeg synes bare ikke der er nogen grund til, at købe et spritnyt skrud hver gang. Hvis en mand kan bruge det samme jakkesæt til særlige lejligheder i over 10 år (hvilket i øvrigt er tilfældet med min mand og hans jakkesæt), hvorfor kan en kvinde så ikke også have det samme sæt tøj på flere gange?
Desuden er jeg glad for, at man generelt til Danske bryllupper ikke følger gammeldags, uskrevne regler som at "man ikke må have sort på til et bryllup". Det har ihvertfald ikke været tilfælder til nogen af de bryllupper jeg har været til, og de har nu ellers været ganske traditionelle. Jeg har en sort kjole i mit skab som jeg har haft i mange år efterhånden, og den redder mig hver gang jeg ikke ellers lige er i humør til andet – og jeg er sikker på mange andre kvinder også har lige netop denne type kjole i sit skab. Så hvorfor ikke bare bruge den?