If it's my recent participation in the all 90's festival that tour around Denmark right now or if it's the fact that I'm a 90's kid I'm not sure, but the cami on top of tee look still works for me. Especially during summer. Even though it was something you'd probably wear non-stop in that era, I have found myself being quite obsessed with the look the past couple years and we still see it a lot in street wear as well. One of the things I find particularly challenging when it comes to summer styling is layering (or the absence of it).That is something I love about autumn for example. But if you are creative, you can actually work with a few thin layers during summer too.
…
Om det er fordi jeg for nyligt var til "Vi elsker 90'erne" i Århus eller det bare er fordi jeg er 90'er barn ved jeg ikke, men strop-top ovenpå t-shirt looket holder stadig for mig. Især her om sommeren. Selvom det var noget man virkelig praktiserede i førnævnte årti, så har det forankret sig i mig og det er da også noget vi stadig ser i gadebilledet – en del faktisk. Noget af det jeg synes er sværest ved sommer styling er netop det her med, at man ofte ikke kan lege med så mange lag. Det er fx noget af det jeg elsker ved sensommeren og efteråret. Men man kan alligevel godt lege med de tyndere lag, selv når det er varmt udenfor.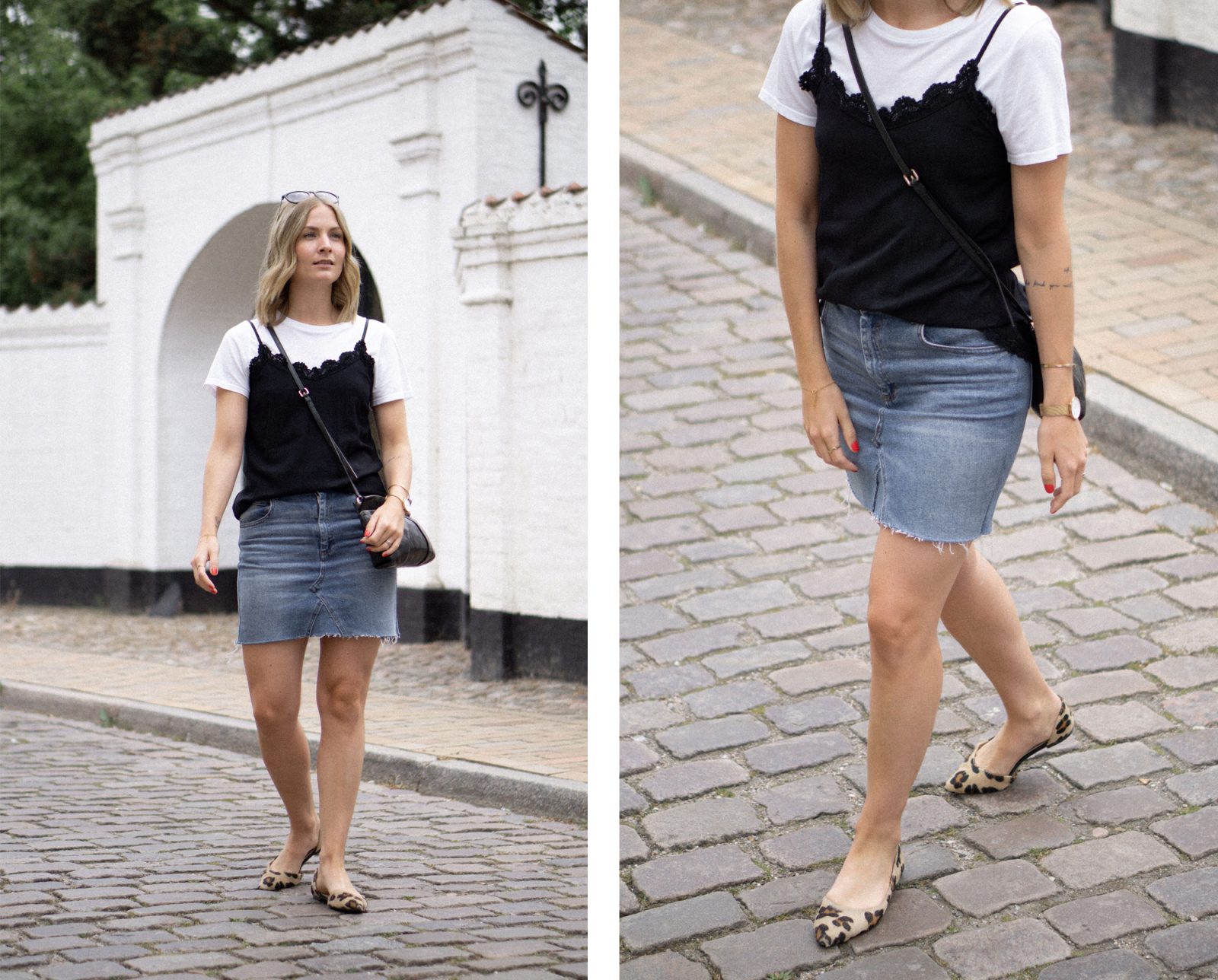 top/ Cream (old) / tee – Everlane / Skirt – DIY (see how here) / bag – Marc Jacobs (old) / shoes – Zign
Another way to get that layered look is to wear an open shirt as a jakke – instead of an actual jacket. An open denimshirt with a breton striped tee and a pair of black shorts or jeans is one of my personal ways of doing this. If it gets too hot for the shirt, you can even tie it around your waist to keep the illusion of playful layering. Again, there's some references to the 90's going on here, but it just works.
…
En anden måde at praktisere lag-på-lag om sommeren, er ved at bruge en åbenstående skjorte som jakke – i stedet for en decideret jakke. En åbenstående denimskjorte med en stribet t-shirt inden under og et par sorte shorts eller jeans er også et look, som jeg er ret glad for. Hvis det bliver for varmt kan du binde selvsamme skjorte om hoften i stedet, for at bevare illusionen om flere lag. Igen med stærke referencer til 90'erne, men det fungerer bare.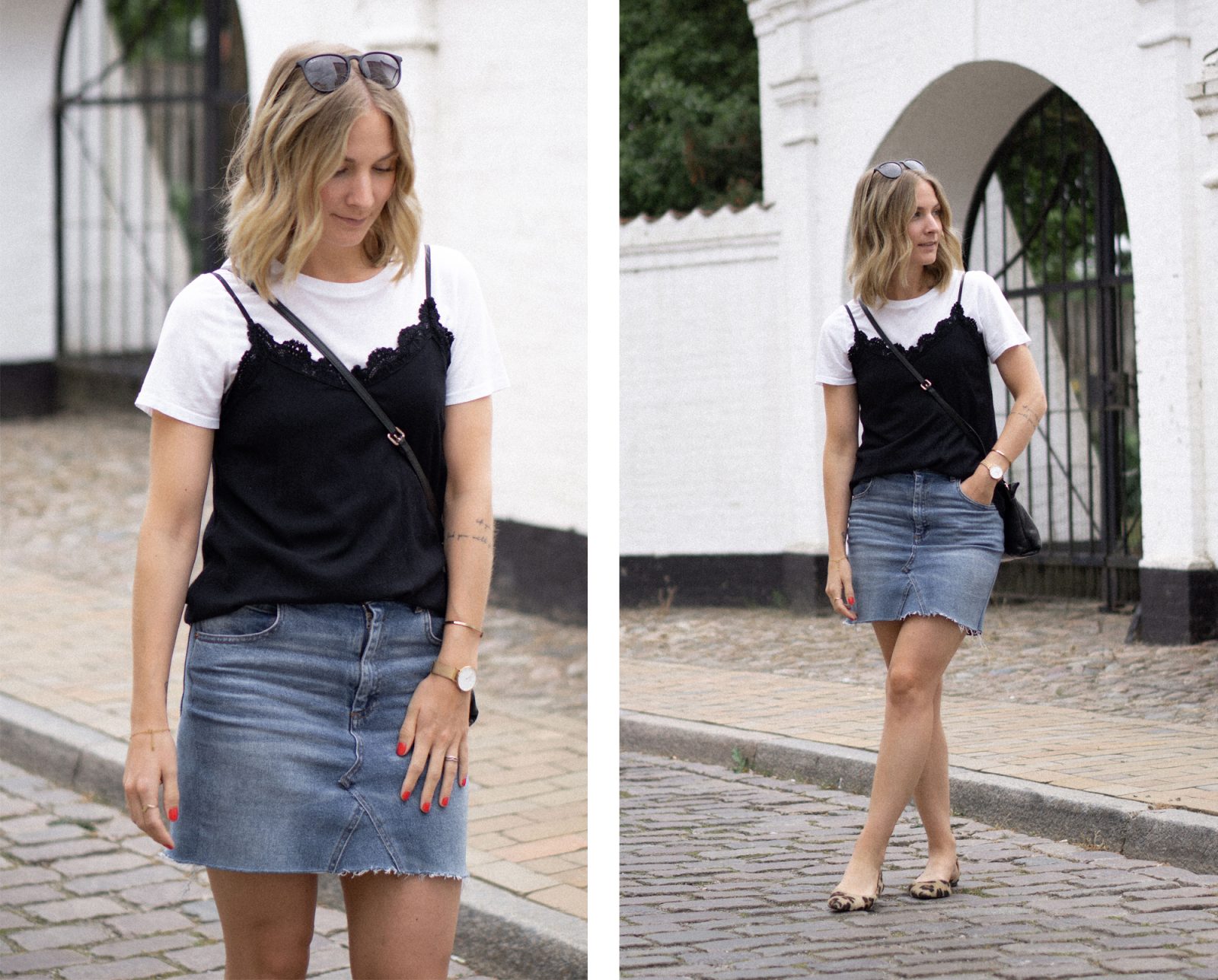 The hot summer weather is on hold in Denmark right now, and it's actually okay. I'm quite fond of being reunited with long jeans and pants for a while. I've already been wearing my DIY skirt so much this summer, I even prefer it over my denim shorts. I didn't see that coming, I must say! I'm also reaching for my leo flats like a mad person, and I like the way they add a fun and edgy twist to all my basic outfits. Just like this exact outfit I wore last weekend when we were out for brunch. I forgot how nice it is, to be able to sit outside and enjoy a meal like that. We even brought our puppy and it was just such a beautiful day I didn't want to end. I think we ought to repeat that whole thing again very soon.
…
Nu er sommeren sat lidt på pause her i Danmark, og det er egentlig ganske okay, at kunne gå i lange bukser for en stund. Men jeg har allerede skam-brugt min hjemmelavede nederdel og foretrækker den faktisk frem for mine denim shorts denne sommer. Dén havde jeg måske ikke lige set komme! Jeg får også brugt mine leo ballerinaer flittig. De pifter hvert et basic outfit op, som det ovenstående jeg havde på, da vi var ude og spise brunch sidste weekend. Jeg havde glemt hvor skønt det er, at kunne sidde udenfor og spise – vi havde hunden med og det var bare en skøn dag, som jeg ikke havde lyst til, skulle ende. Det skal vi vidst snart gentage, tror jeg.