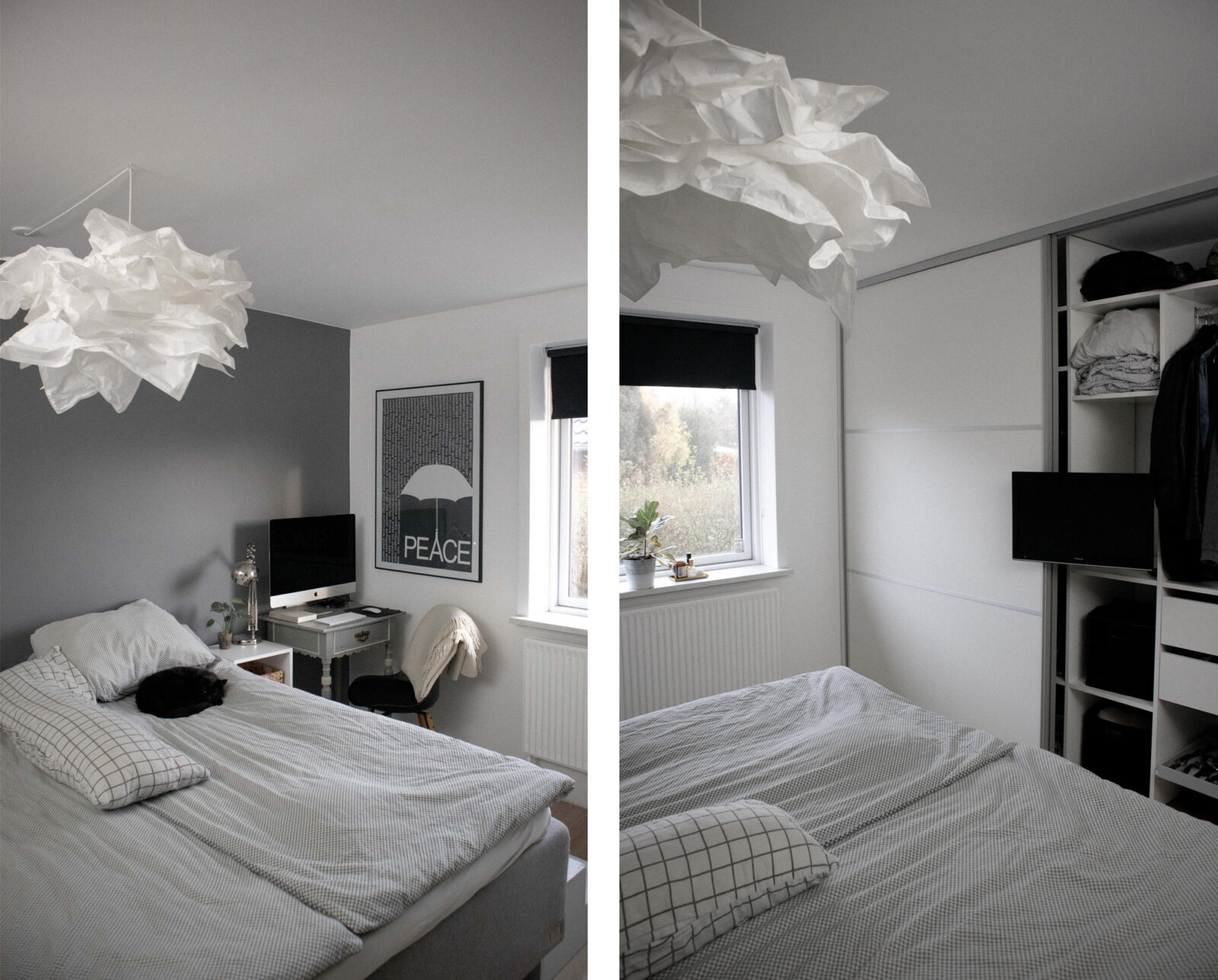 In October 2019 we bought the loveliest 1960's house in South Denmark.
My husband and I are currently giving it a good round of TLC, and we do most of the renovations ourselves.
Follow the process, and read more about the house and our overall plans HERE.
It's been about 3,5 months since we got the keys to our new house, and I've been super excited to share the first episode of my home makeover series with you all. I'll be going through the house room by room like this, and typically for the rooms where there is a big difference from before we stared renovating; and the bedroom ticks all those boxes! Don't forget you can also follow the process on a more day-to-day basis on my Instagram highlight called "house" and on my TikTok profile as well. 
The first 2 months were definitely the hardest, because since we had to be out of our apartment 1,5 months after getting the keys to the house we had to at least get the bedroom and bathroom done first. Just so we had somewhere to sleep and somewhere to take a shower! We managed to get done in time, but it was quite tough in the beginning. We worked in the house every single night and weekend until we moved in. We've slowed down radically now though, and we primarily work on the house during weekends and only on week nights if we feel like it. Besides that we've also decided to make more room for social activities again, because even though we can't wait for the rest of the house to be done we don't want to get overwhelmed and stressed out. And it was pretty close to that those first few months, let me tell you… We're hoping we'll be done on the inside og the house by summertime, so we can continue in the garden when the weather gets warmer. Until then we're trying to balance the mess with everyday life and room for hygge as best we can, and it's actually going really well.
…
Det er nu ca. 3,5 måned siden vi overtog vores hus, og jeg har glædet mig rigtig meget til at dele første "afsnit" i min home makeover serie med jer. Jeg kommer til at gå gennem huset rum for rum på denne måde, typisk de rum hvor der er sket den største forandring; og der må soveværelset siges, at opfylde dét krav! Husk du også kan følge processen sådan lidt mere umiddelbart og dag-til-dag både på TikTok og på min Instagram highligt kaldet "house".
De første 2 måneder arbejdede vi på højtryk for, at stå klar med soveværelse og badeværelse – vi skulle nemlig flytte ud af vores daværende lejlighed senest 1,5 måned efter overtagelse af huset, og vi tænkte at vi i det mindste skulle have et sted vi kunne sove og gå i bad. Vi holdt tidsplanen, men det var også hårdt lige der i starten! Vi arbejdede i huset hver eneste aften og weekend, indtil vi flyttede ind. Men vi nåede også det vi havde sat os for. Nu har vi dog sænket farten gevaldigt og arbejder primært på huset i løbet af weekenderne, og altså kun på hverdagsaftner hvis vi har overskud til det. Udover det forsøger vi også at gøre plads til andre sociale ting, for selvom vi glæder os til at være færdige vil vi ikke risikere, at køre helt surt i det. Og det var lige oppe over de første par måneder vil jeg sige… Vi håber at være færdige med det indvendige til sommer, sådan at vi kan rykke ud i haven og fortsætte derude når vejret bliver varmere. Indtil da prøver vi at balancere byggerod og hygge på bedst mulige vis, og det går faktisk rigtig fint.
What we've done
Let me start off with a little description of the bedroom from before we started, because since we started tearing it apart so quickly we don't have a lot of images from what it looked like before we even touched it: it was a typical (Danish) 60's style bedroom with a tiny build-in wardrobe, sawdust wallpaper (with visible edges because they were so old), old white painted wooden ceilings, a grey carpet and pink curtains. Absolutely not uninhabitable but also not the modern and timeless style we both like so much.
We started taring down the old wallpapers and then we knocked down the wall that enclosed the build-in wardrobe. That way the bedroom would get a little bigger, so we would have more room for one bigger wardrobe for both of us. That of course also meant that the room next to the master bedroom got a little bit smaller, but that's alright. You can read more about the new wardrobe we picked out right HERE. When we were done building up the new wall we started putting up plaster ceilings (which we will put up all through the house, so that the overall style and vibe will get a more cohesive look). After that we started the long, tiring process of plastering and sanding both the walls and the ceiling. We applied the plaster on the walls with paint rollers (a special kind of plaster is needed for that), to make them smooth again after tearing down all that old wallpaper. I've found out that plastering and sanding is NOT my favourite activity in this whole thing haha! It's just such a tiring process, it's dirty, it's hard, you get dust everywhere… but nonetheless it's super important for the final result to do this properly, to make sure both the walls and the ceiling gets nice and smooth again. Plaster, sanding, plaster, sanding, plaster, sanding… as I said it's a long repetitive process to shine up those old walls! Use a dust mask and close any doors to rooms that you don't want the dust to find its way into. Because trust me, it gets dirty…
We then choose to put up glass tissue on the walls, which is another thing we'll be doing all through the house – both because it gives a nice structure to the walls, even though you can actually paint directly on to plastered walls, it just gives a more shiny outcome. But the glass tissue also adds a bit of strength to the wall. We choose the smooth kind of glass tissue, since we didn't want to go with one that was too similar to the old wallpaper. We like the more smooth and clean look of plain glass tissue. After that we painted the ceiling and the walls, and then we laid down a new wooden floor. Of course there are many other smaller things we've done too; the doors have been painted, we've put up new floor moldings, the electric installations have been adjusted and so much more. It's a HUGE work load but the end result makes it all worth it!
…
Lad mig starte med en lille beskrivelse af soveværelset, da jeg desværre ikke har så mange billeder af selve rummet inden vi gik igang med at rive tapet osv. ned: et typisk 60'er soveværelse med et lillebitte indbygningsskab, sagsmuldstapet på væggene (hvor samlingerne var virkelig synlige efterhånden), gamle (dog hvidmalede) træ lofter, gråt gulvtæppe og lyserøde gardiner. Absolut ikke ubeboeligt, men bestemt heller ikke den moderne og tidsløse stil som vi begge holder meget af.
Vi startede med, at rive det gamle tapet ned, og vælte den væg der omsluttede det lille indbygningsskab. Så kunne vi nemlig få plads til ét stort fælles garderobe skab. Det betød selvfølgelig også at værelset ved siden af er blevet lidt mindre, men det gør ikke så meget. Skabet samt indretning af dette kan du læse mere om lige HER. Da vi var færdige med, at bygge den nye væg gik vi igang med, at sætte gipsloft op (som iøvrigt kommer op i hele huset, sådan at stilen er ens og har en gennemgående rød tråd). Efterfølgende gik vi igang med den lange, og udmattende proces med at spartle både vægge og loft. Vi rullespartlede væggene, sådan at de blev ensformige og glatte igen. Jeg har fundet ud af, at det her med at spartle bestemt ikke er min favorit aktivitet haha! Det er simpelthen sådan en lang proces, det sviner, det er hårdt og ja… ikke desto mindre er det virkelig vigtigt for slutresultatet, at få spartlet og slebet ordentligt, så alle overflader bliver pænt glatte og ensformige. Spartle, slibe, spartle, slibe, spartle, slibe… som sagt, det er en lang proces at få gamle vægge pæne og glatte igen! Brug en støvmaske og dæk de rum af der ikke må blive støvede til, så godt som muligt. For tro mig, det sviner helt frygteligt…
Vi valgte efterfølgende at sætte glasfilt på væggene, og det er en anden ting vi kommer til at gøre i hele huset – både fordi det giver en pæn struktur til væggene selvom man sagtens kan male direkte på sleben spartel, det giver bare et mere skinnende og glat udtryk, men det forstærker også overfladen lidt med glasfilten. Vi valgte den type glasfilt som er mere eller mindre glat, altså ikke den dér som er struktureret som små bitte "firkanter". Vi kan godt lide det lidt mere rene udtryk en glat glasfilt har. Efterfølgende malede vi loft og vægge, og så lagde vi nyt trægulv i stedet for at gå med gulvtæppe som de tidligere ejere. Der er selvfølgelig mange andre småting der også er blevet gjort; dørene og karmene er blevet malet, el-installationen er blevet gået efter og justeret, der er kommet nye gulvlister op og lignende. Det er et KÆMPE arbejde, men slutresultatet er blevet SÅ godt, og det gør alt besværet værd!
Products & sustainability
Let me just start by recognizing the absolute PRIVILEGE it is that we've even been able to buy this house. We're more than grateful for this! There's no doubt that it's hard to avoid waste completely when you're rebuilding a home like this. We choose to look at it in a way where we are improving something that was already available to us, so that it can last for many years again. We considered building a brand new house for a while, but quickly ditched that idea again. There are so many nice, older homes out there already just waiting to get a bit of tlc. It's hard work and it's not something you just jump into. And then I of course also know that there's a huge difference (at least according to Danish law and the constructions of new homes) between how much energy it takes to keep up with an older home versus a newer one. A newer one generally require less energy in the daily household, but you can definitely improve this for an older home too. So it's about doing what makes sense. But there is so much soul and warmth in an older house, I think. We've tried living in both a newer house (our old house was only 10 years old when we bought it), so we have something to compare with.
Along the way we've been to the recycling station quite a lot, and we've recycled the house reno waste as good as we possible could. We've handed in quite a lot of wood to be recycled for example. But we also try to constantly think about any possibilities of repurposing materials within the house. We're tearing down some white planks in the living room, which we want to reuse when building a little bench in the corner of the kitchen. Besides that we've done our best to go for eco-certified products or any products with the Nordic Swanlabel, which ensures that this product is made with the highest respect for humans and nature. We've had to buy some tools along the way, but we've also done our best to borrow tools where possible if we didn't already have them. When speaking furniture we pretty much already have what we need from our old house, but if we do buy new we try to go for sustainably made items (like our wardrobe) or secondhand furniture. So our overall impact is something we constantly think about, but it's important to underline that we are not perfect; we do what we can. You can get more tips on low impact home improvement HERE (I've also linked a Danish version in the Danish text below, but that one is from another website). Here's a list of some of the products we've used. Bare in mind these are bought in Denmark (in Davidsen) and might not be available where you live, but maybe you have something similar.
Walls: Dyrup eco-labelled wall paint (colour 800 white, shine 10). The grey colour is "Dover grey" also eco-labelled from Dyrup (shine 10/mat). It's relatively mat, but it contains enough shine for you to be able to wipe off stains etc.
Protective/masking paper is made from recycled paper.
Ceiling: Dyrup eco-labelled ceiling paint (shine 2).
Plaster: we've used bazooka/roll-on plaster for the walls. For the ceiling (and for smaller imperfections and holes) we've used regular plaster – both carry the Nordic Swanlabel and are from Danalim.
Floor is laminate flooring from Wallmann in the colour "sommer eg" (summer oak). Not too yellow but not too grey/cold either.
The wardrobe is made-to-order and produced in Denmark, from sustainable materials. It's from a brand called Organized that they carry in Davidsen.
…
Lad mig lige starte med at anerkende, at det er et KÆMPE privilegie, at vi overhovedet har kunnet købe et hus. Det er vi simpelthen så taknemmelige for! Der er ingen tvivl om, at det er svært at undgå spild når man renoverer og bygger om. I denne forbindelse er det også vigtigt at se på tingene på den måde, at man forbedrer noget som allerede er til rådighed, så det kan holde i mange år fremadrettet. Vi overvejede et kort øjeblik at bygge et nyt hus, men gik hurtigt væk fra tanken igen. Der er så mange fine, ældre huse derude som bare venter på at få en kærlig hånd. Det er selvfølgelig hårdt arbejde, det tager lang tid og er bestemt ikke noget man bare lige gør. Og så ved jeg godt, at der selvfølgelig også er forskel i energi-mærkning på nyere og ældre huse, så man kan ikke sige at det 1:1 er bedre at købe gammelt frem for nyt. Så selvfølgelig skal man gøre hvad der giver mening. Men der er så meget charme og sjæl i et hus der har så mange år på bagen, synes jeg. Vi har jo prøvet begge dele nu, eftersom vores gamle hus i Vojens kun var 10 år gammelt da vi købte det.
Vi har henad vejen været på genbrugsstationen mange gange, og har sorteret diverse affald så godt vi kunne. Der er en del træ der er blevet afleveret til genanvendelse for eksempel. Men vi prøver også hele tiden at tænke over, om der er noget af det vi river ned som vi kan bruge andre stedet i huset. Blandt andet river vi noget hvidt træbeklædning ned i stuen, som vi vil genanvende til en slagbænk vi bygger i hjørnet af køkkenet. Udover det er vi så vidt muligt gået efter eco-certificeret eller svanemærket maling, lim, spartel mv., og udover det også miljøvenlig afdækningspapir. Vi har måttet købe nogle redskaber og værktøj henad vejen, men vi har også lånt os til en del. Når det kommer til møbler mv. så har vi jo det meste af hvad vi skal bruge i forvejen, men forsøger så vidt muligt ellers, at gå efter bæredygtigt fremstillede møbler (som vores garderobe skab) eller genbrug. Så miljøbelastning ligger hele tiden i baghovedet, dog er det vigtigt at understrege at vi ikke er perfekte; men vi gør hvad vi kan. Du kan få flere tips til miljøvenlig renovering af din bolig lige HER. Her kommer en liste med nogle af de produkter vi har brugt (det meste køber vi iøvrigt hos Davidsen):
Vægge: Dyrup eco-certificeret vægmaling (800 hvid, glans 10). Den grå farve er "Dover grey" ligeledes fra eco-certificeret fra Dyrup (glans 10/mat. Den er forholdsvis mat, men kan stadig tørres af for pletter).
Afdækningspapir er genanvendt papir, købt i Davidsen.
Loft: Dyrup eco-certificeret loftmaling (glans 2).
Spartel: på væggene har vi brugt bazooka/rullespartel. På loftet (og til diverse ujævnheder) har vi brugt almindelig grå spartel – begge svanemærkede og fra Danalim.
Gulv er laminat fra Wallmann og farven er "Sommer eg". Ikke for gul og heller ikke for grå/kold, synes jeg.
Skab er produceret i Danmark, lavet af bæredygtige materialer og er fra Organized. Købt hos Davidsen.
The overall style & inspiration
Some time ago I made THIS video, where I share our interior and decor plans for our new home so check it out if you'd like to know more about that. Otherwise do make sure to follow me on Pinterest as well, because I update my boards in there almost on a daily basis. As mentioned several times before, the most important thing for us is to pick up on those improvements that the former owners didn't manage to carry out – fix up the ceilings and walls so they all become the same to mention one big thing. That in itself will give the house a much more clean, modern and timeless feel instead of having them be in 10 different variations and from several different decades. According to the style in the bedroom we were really hooked on painting one of the walls in a contrasting "colour". And when I say colour, I of course mean some sort of a neutral. You know me… 😉 A cozy vibe mixed with something clean and airy has always been my fave way of decorating, also when it comes to fashion. And I think the bedroom turned out great!
We've put up our Peace Poster again (which we also had in our bedroom in the old house) and the cute Ikea lamp is also in place again. It adds some softness to the otherwise very clean look. A vintage chair and a vintage secretary desk is placed in each their corner of the bedroom, and they also add some of that soft, cozy vibe to the room while still fitting into this modern and clean look. The computer wont stay there, but until my "real" home office is done this will be it for me on the days where I'm not at my office down town. I'm highly considering hanging up some more pictures, on the grey wall in particular because it looks amazing with light wooden frames. Just have a look at THIS picture for reference. So nice! We've already got some posters with wooden frames like that. Again, the wood kinda softens the whole vibe. But right now I can't bring myself to drill any holes in that beautiful grey wall, that we've spend so many hours perfecting haha….
…
For noget tid siden lavede jeg DENNE video, hvor jeg fortæller lidt om planerne med huset sådan rent indretningsmæssigt, så hvis I vil vide mere kan I evt. tjekke den ud. Ellers kan I altid tjekke min Pinterest, den bliver hyppigt opdateret med masser af lækker inspiration. Som nævnt flere gange er det vigtigste for os, at få samlet op på resten af de ting er ikke er blevet renoveret i huset – gøre vægge og lofter ens, for at nævne én stor ting. Det vil give huset et meget mere frisk, rent og moderne udseende, fremfor at det stikker i alle mulige retninger (og generelt bare trænger til en kærlig hånd). Med hensyn til soveværelset var vi super tændt på, at male én af væggene en eller anden farve. Og når jeg siger "farve" mener jeg selvfølgelig én, som er neutral. I kender mig… 😉 En hyggelig stemning blandet med et rent og ryddeligt udtryk har alle dage været min favoritstil, både når det kommer til tøj og indretning. Og jeg synes vi er kommet super godt i mål med soveværelset!
Vi har hængt vores Peace poster op igen (som vi også havde i soveværelset i vores gamle hus) og den fine Ikea lampe er også kommet op igen. Den tilføjer den der lidt bløde kant til det ellers meget stilrene look. En vintage stol og et vintage bord pryder lige nu hvert hjørne af rummet og bløder det ligeledes op, men samtidig er det holdt i en stil der passer til det neutrale, moderne univers. Computeren bliver ikke stående der på sigt, men lige nu er det altså mit hjemmekontor de dage jeg ikke er på mit kontor ude i byen – indtil det "rigtige" hjemmekontor engang er færdigrenoveret. Jeg går og overvejer, at hænge nogle billeder op på den grå væg, da jeg er helt vild med denne mørke farve sammen med lyst, ubehandlet træ. Se DETTE billede for reference. Så lækkert! Vi har nogle billeder med trærammer i denne farve allerede, og det ser kanon ud sammen. Igen, det lyse træ bløder det meget rene udtryk lidt op. Men lige nu kan jeg ikke rigtig få mig selv til, at bore huller i vores smukke, grå og glatte væg, som vi har brugt så mange timer på at bygge op igen haha…
Next up
Our best home reno tip so far would be: take one step at a time! In the beginning we were allover the place, because we were kind of in a hurry getting some things ready before moving out of our apartment and eager to get started. Besides that there are things I can't do because I don't have the skills, but I'm very lucky to be married to such a handyman! We do also get a bit of help from family and friends sometimes. So you can part the tasks between you as you go. I manage all of the paint work for example, and then there are other (ahem, many other…) things Morten take care of, and third things we are able to do together. But finish up what you start with in any case, before moving on to the next big task. Right now we're finishing up all those little details in both bathrooms, the kitchen, hallway and bedroom – like putting up the last floor moldings, painting them, putting up the last power outlets and so on. We've agreed on finishing up all these things, before moving on to the livingroom. We've made a list with all things that need to be done, so we can tick them off as we go. That way it doesn't take up space in our minds either and we make sure we wont forget about these things (because life happens), nor will we be stressed out because we try to carry out too many tasks at once. 
Right now we're finished with around 1/3 of the house on the inside, and we're hoping to get cracking with the livingroom by the start of february. I can't explain how excited I am for that! It's going to be so nice to sit in front of the fireplace in the living room one day….
…
Vores allerbedste renoverings tip so far er: tag én ting af gangen! I starten var vi allover the place, vi havde lidt mere travlt fordi vi skulle ud af lejligheden, og var også bare ivrige for at komme igang. Udover det er der jo nogle ting jeg ikke kan lave fordi jeg ikke har de skills, men heldigvis har jeg en fantastisk mand der har hænderne godt skruet på til dén slags – og vi får også hjælp af venner og familie indimellem. Så man kan jo godt dele opgaverne ud mellem sig. For eksempel står jeg for alt malerarbejdet og så er der andre (ahem, mange andre…) ting Morten klarer, og nogle tredje ting vi ordner sammen. Men gør ihvertfald de ting færdige du har gang i, inden du breder dig over for mange opgaver. Lige nu er vi ved at lægge hånd på de sidste småting i begge badeværelser, køkken, entre og soveværelse – som at sætte de sidste lister op hist og her, male hoveddør, tilføje de sidste stikkontakter, pakke flyttekasser ud der hvor der bliver plads osv. Vi er blevet enige om at gøre det færdigt altsammen, inden vi rykker ind og går igang med stuen. Faktisk har vi skrevet en liste over de ting vi mangler, så vi har det ude af hovedet og løbende kan krydse de ting af, som vi får ordnet. Så er vi sikre på vi ikke ender med, at glemme de her små ting (fordi, life happens) og ligeledes ikke bliver stressede over, at vi har gang i for mange ting på én gang.
Lige nu er vi færdige med ca. 1/3 af huset indvendigt, og vi håber at gå igang med stuen i start februar. Kan slet ikke beskrive hvor meget jeg glæder mig! Det bliver simpelthen så hyggeligt, at kunne sidde foran brændeovnen i TV stuen engang…