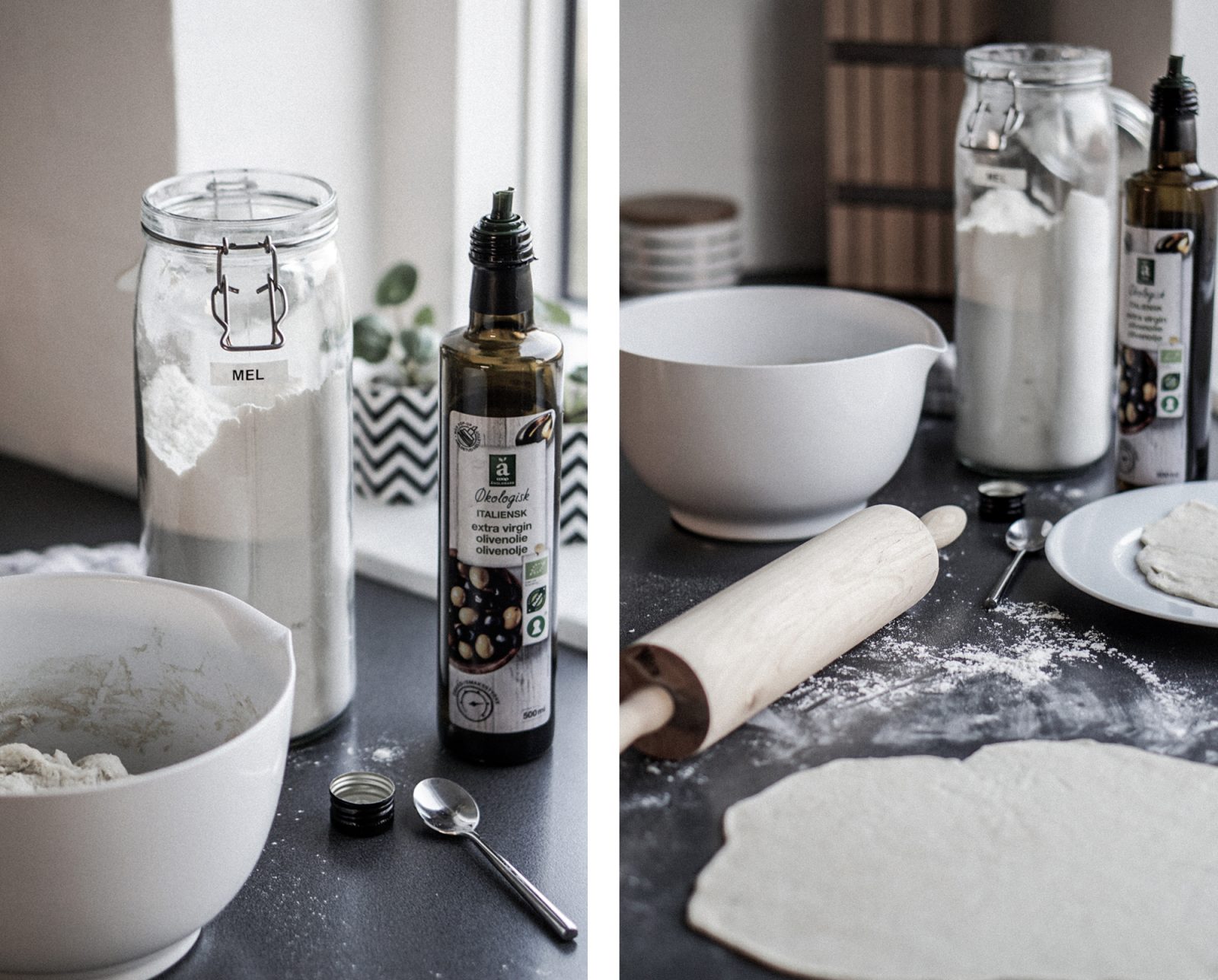 I'm sitting at my desk this glorious Monday afternoon drinking my 2-o'clock-pic-me-up cup of coffee, and I thought I wanted to check in and share this recipe with you. I made these delicious, homemade tortilla wraps not so long ago, and we've actually made them quite a few times before. Sometimes we do just buy a pack of those already-done tortillas at the supermarket I'm not gonna lie, but the homemade kind is just amazing, they don't take nearly as long to make as you might think and I bet you already have all of the ingredients in your kitchen cupboard. So If you've got some leftover veggies in the fridge by the end of the week or you need some sort of bread for your lunch veggies, this tortilla wrap recipe might be what you're looking for. 
…
Sidder her mandag morgen og drikker min 2-o'clock-pick-me-up kop kaffe, og tænkte jeg ville dele denne opskrift med jer, som jeg har haft i gemmerne i en uges tid. Jeg lavede disse lækre, hjemmelavede tortillas for nyligt og vi har lavet dem en håndfuld gange efterhånden. Somme tider køber vi bare de der færdige tortillas man kan få, men den hjemmelavede slags er altså mega lækre, de tager mindre tid at lave end man tror og så vil jeg vædde med, at du allerede har ingredienserne til dem i dit skab. Så hvis du har nogle leftover grøntssager tilbage sidst på ugen eller mangler en form for brød til frokost, så kan du med fordel smække en hurtig tortilla sammen, som du kan rulle dine grøntssager ind i.

You need 
8 dl of flour (you can replace a bit of it with whole grain flour if you like)
1-2 teaspoons of salt
0,5 teaspoon of baking powder
0,5 dl oil (we use olive oil)
3 dl luke warm water
(Seriously, that's it!)
Mix all of the ingredients together – I usually mix all the dry ingredients first, and then I put in the oil and then water. Part the dough in roughly 8 parts and roll each of the parts to thin pancakes. Be careful not to stack the pancakes before they are cooked, because they might stick together. Fry them on a dry frying pan at high heat for 1 minute on each side.
…
Det skal du bruge

8 dl mel (noget af det kan måske erstattes med lidt groft mel)
1-2 tsk salt
0,5 tsk bagepulver
0,5 dl olie (vi bruger oliven olie)
3 dl lunkent vand
(seriøst, andet skal der ikke i!)
Alle ingredienserne røres sammen (jeg blander altid de tørre sammen først og hælder dernæst de våde ingredienser i). Hvis du har en røremaskine kan du smide hele molevitten deri, men ellers kan god, gammeldags knofedt nu også gøre det. Del dejen i ca. 8 stykker og rul hvert stykke til en tynd pandekage. Pas på med, at lægge pandekagerne oven på hinanden da de godt kan klistre sammen inden de er bagt. Jeg plejer at stege dem på en pande ved høj varme, ca. 1 minut på begge sider og uden nogen form for olie på panden.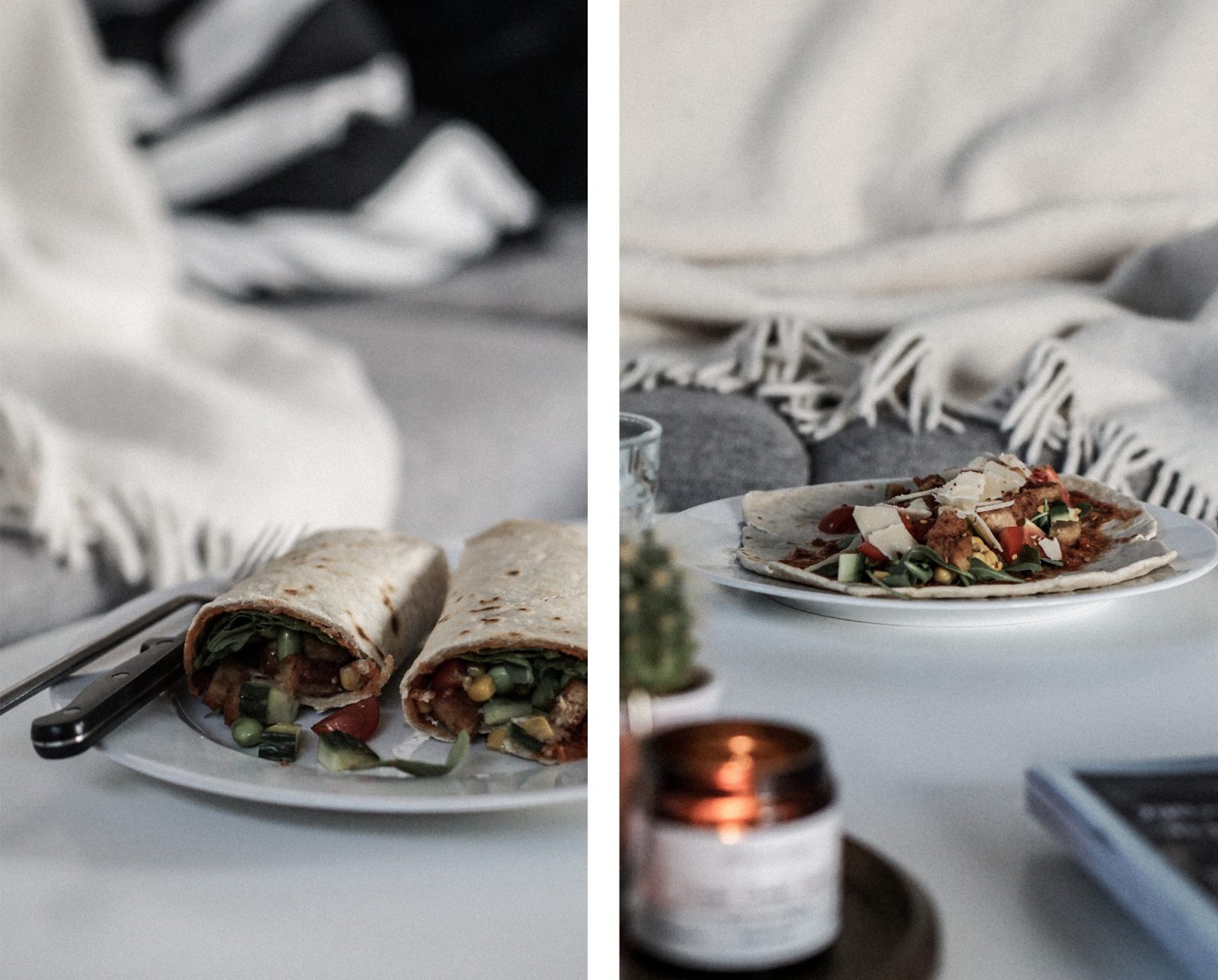 Regarding stuffing for the wraps use your imagination! As mentioned this is a great go-to if you have any sorts of leftover veggies in the fridge, but usually we put things like cucumber, tomatoes, rocket salad, edamame beans, veggie nuggets or falafels in our wraps and if we have any leftover grated cheese like parmesan we will throw in some of that too. In these particular pancakes I put on a thin spread of tomato pesto too. It was so good! Sometimes we also fry up some onions and garlic in a bit of olive oil, and then pour over a can of chopped tomatoes and some kidney beans. This is a great kind of meat-free sauce for the wraps.
…
Med hensyn til fyld er det nærmest kun fantasien der sætter grænser! Som sagt er pandekagerne en god go-to hvis man har nogle rester af forskellige grøntssager i køleskabet, men ellers plejer vi at putte fx agurk, tomat, rucola, edamame bønner, veggie nuggets (kan købes på frost) eller falafler i, og hvis vi har en rest revet parmesanost eller lignende kommer vi også det i. I lige netop pandekagerne på disse billeder havde jeg også smurt et tyndt lag tomat pesto på. Det smagte så skønt! Somme tider laver vi en slags sauce hvor vi først steger nogle løg og lidt hvidløg på panden i lidt olie, og så kommer vi en dåse hakkede tomater og en dåse kidney bønner på sammen med. Det er et lækkert, kød-frit alternativ til den hakkede oksekød og så bliver pandekagerne dejligt snaskede.