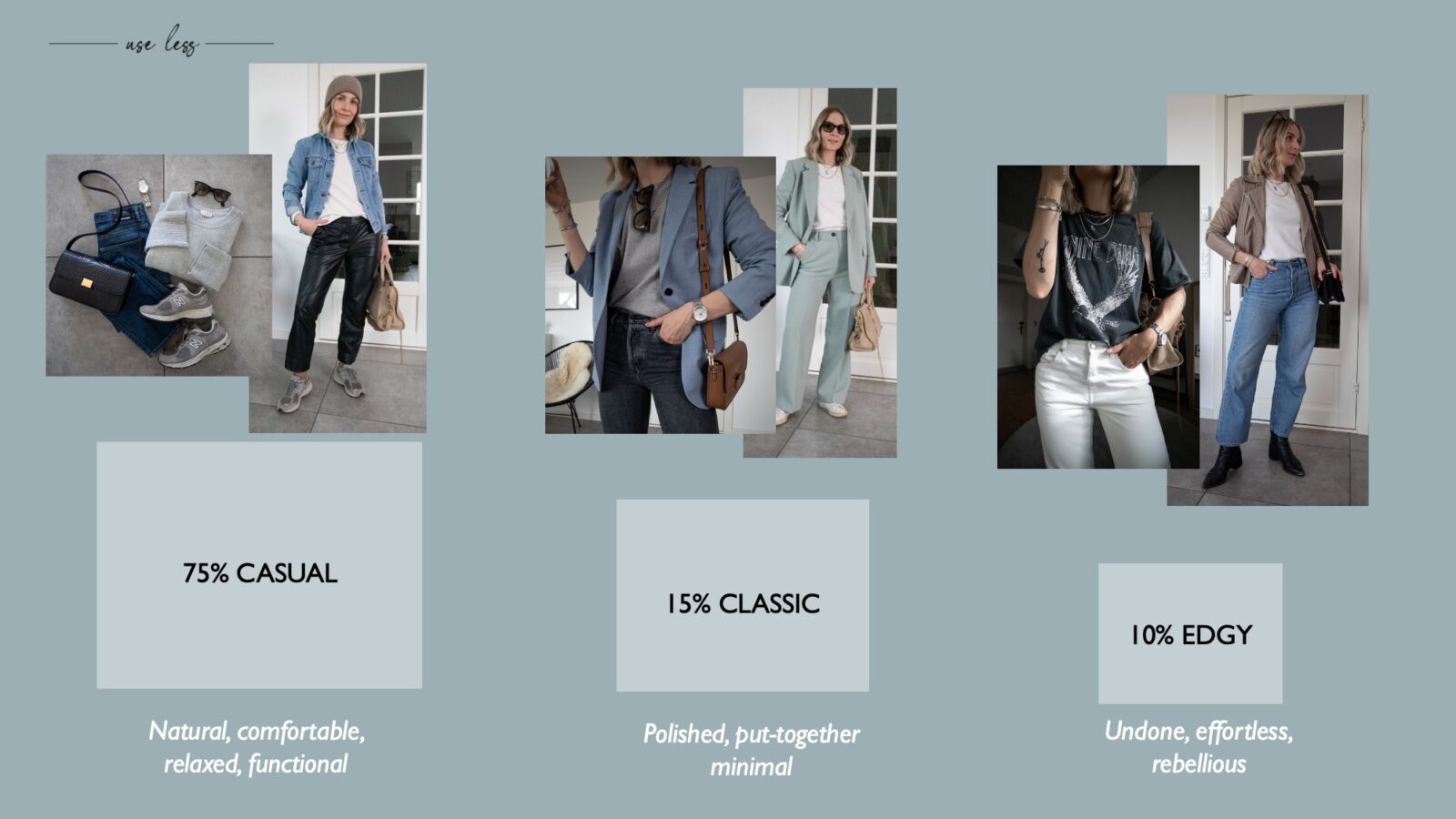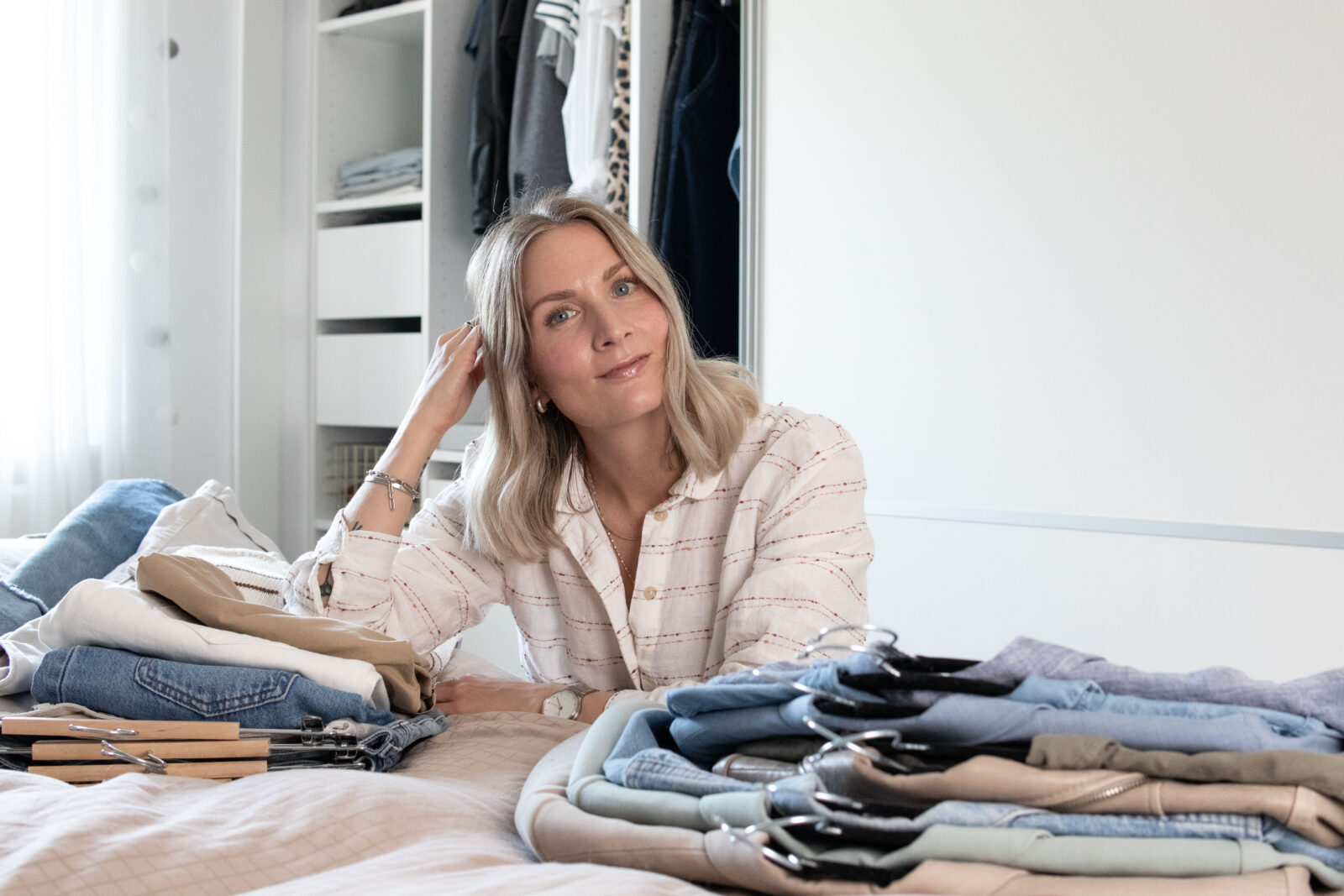 (Scroll down for Danish)
Have you ever thought about what style adjectives your personal style might be connected to? For example, relaxed, functional, smart or creative? Words are powerful, and so figuring out which are the best to describe yourself and your unique style can be a huge game-changer for you. 
When working with personal style and trying to figure out what your personal style actually is, it can be approached two-sided: style can be looked at as both inner and outer work. We can't part ourselves from what we wear on the outside, because it's deeply connected to our inner self. When there's a mismatch, you might discover that it feels almost like you're wearing a custome. That's often how I feel when I wear an overly romantic outfit for example, it's just not connected to my style adjectives or "style words".
So when you know what style keywords or adjectives to look for in order to truly dress for YOU, that's when the magic happens. That's where you'll find peace and a bigger sense of ease when getting dressed; it might even extend into feeling like selfcare. And that's where it becomes connected to slow fashion, because in time it will likely teach you to stick to what works for you, thus develop less wasteful shopping habits.
DK: Har du nogensinde tænkt over, hvilke tillægsord din personlige stil kan være forbundet med? For eksempel afslappet, funktionel, smart eller kreativ? Ord er magtfulde og derfor kan det være afgørende for dig at finde ud af, hvilke ord der bedst beskriver dig og din unikke stil.
Når du arbejder med personlig stil og prøver at finde ud af, hvad din personlige stil faktisk er, kan det tilgås to-sidet: stil bør nemlig betragtes som både indre og ydre arbejde. Vi kan ikke skille os selv fra det vi bærer udenpå, fordi det er dybt forbundet med vores indre jeg. Når der er en uoverensstemmelse vil du måske opdage, at det føles næsten som om du har et kostume på. Det er ofte sådan jeg føler når jeg er iført meget romantiske outfits, fordi dette ord er så lille en del af mine generelle stil-adjektiver.
Så når du ved hvilke tillægsord du skal lede efter for at klæde dig i overensstemmelse med dig selv, sker der noget magisk. Det er her du finder fred og en større følelse af lethed, når du klæder dig på; det kan endda udvikle sig til at føles som en form for selvpleje. Og det er her metodem bliver forbundet med slow fashion, fordi det med tiden sandsynligvis vil lære dig at holde fast i hvad der fungerer for dig, og dermed købe mindre og bedre.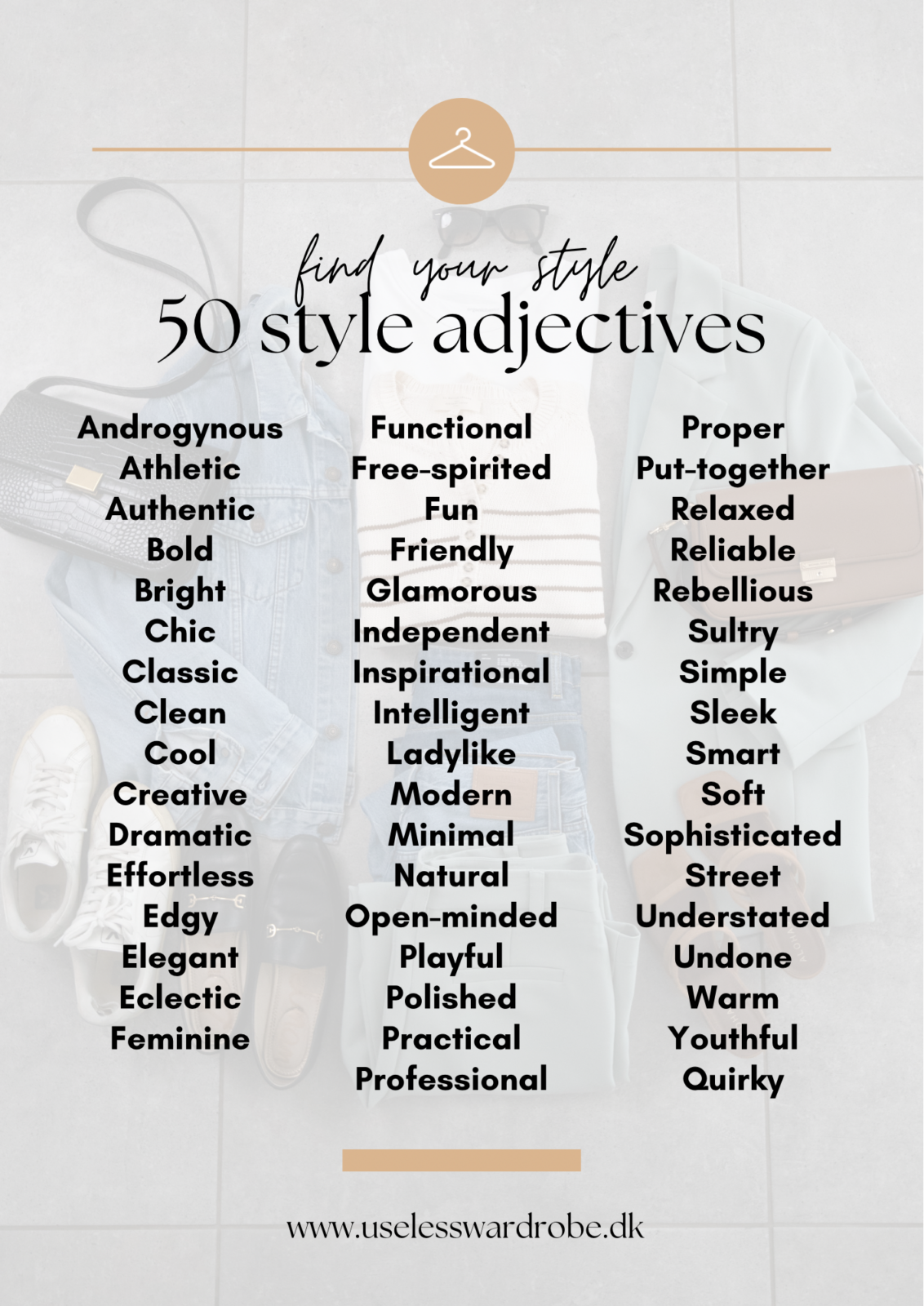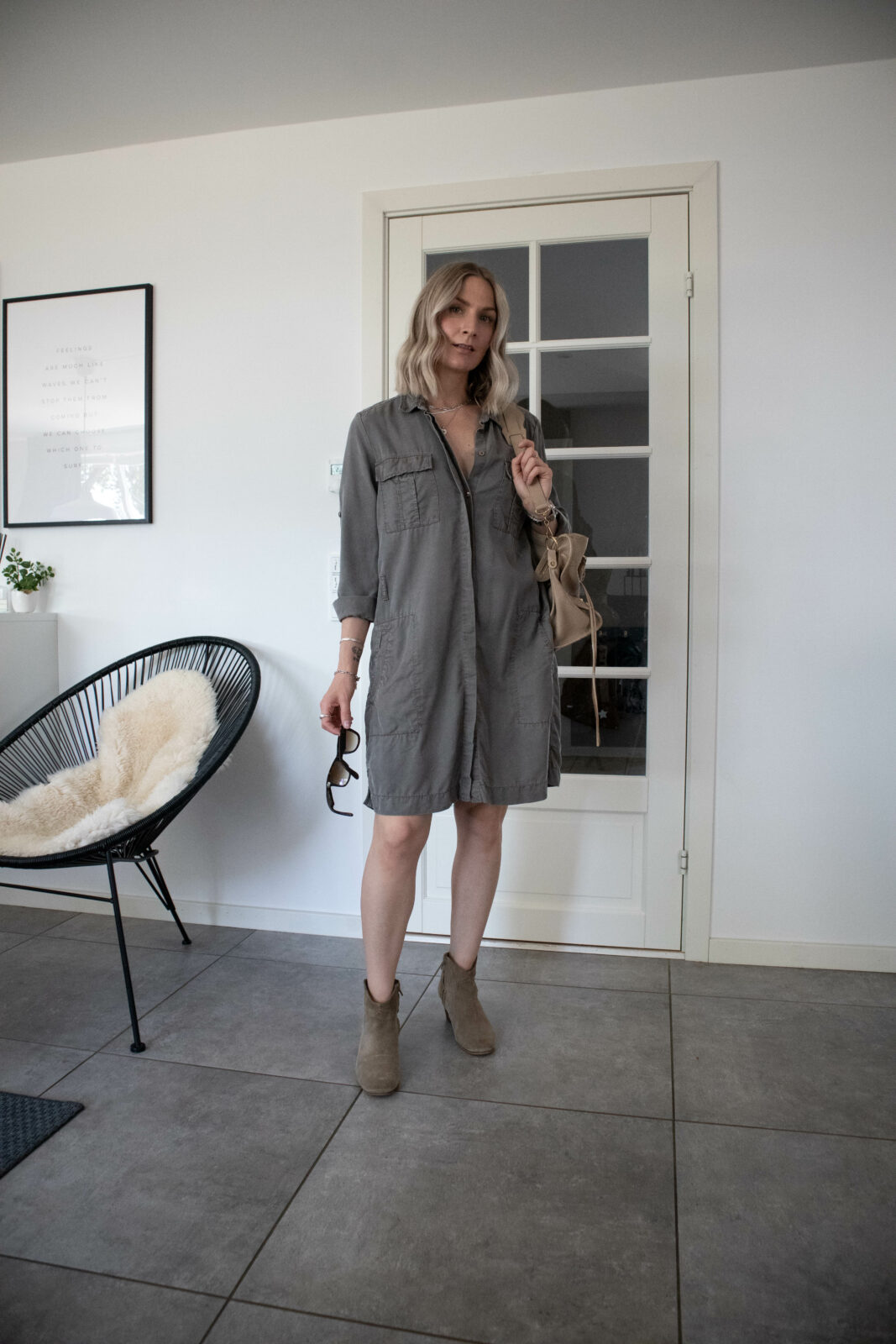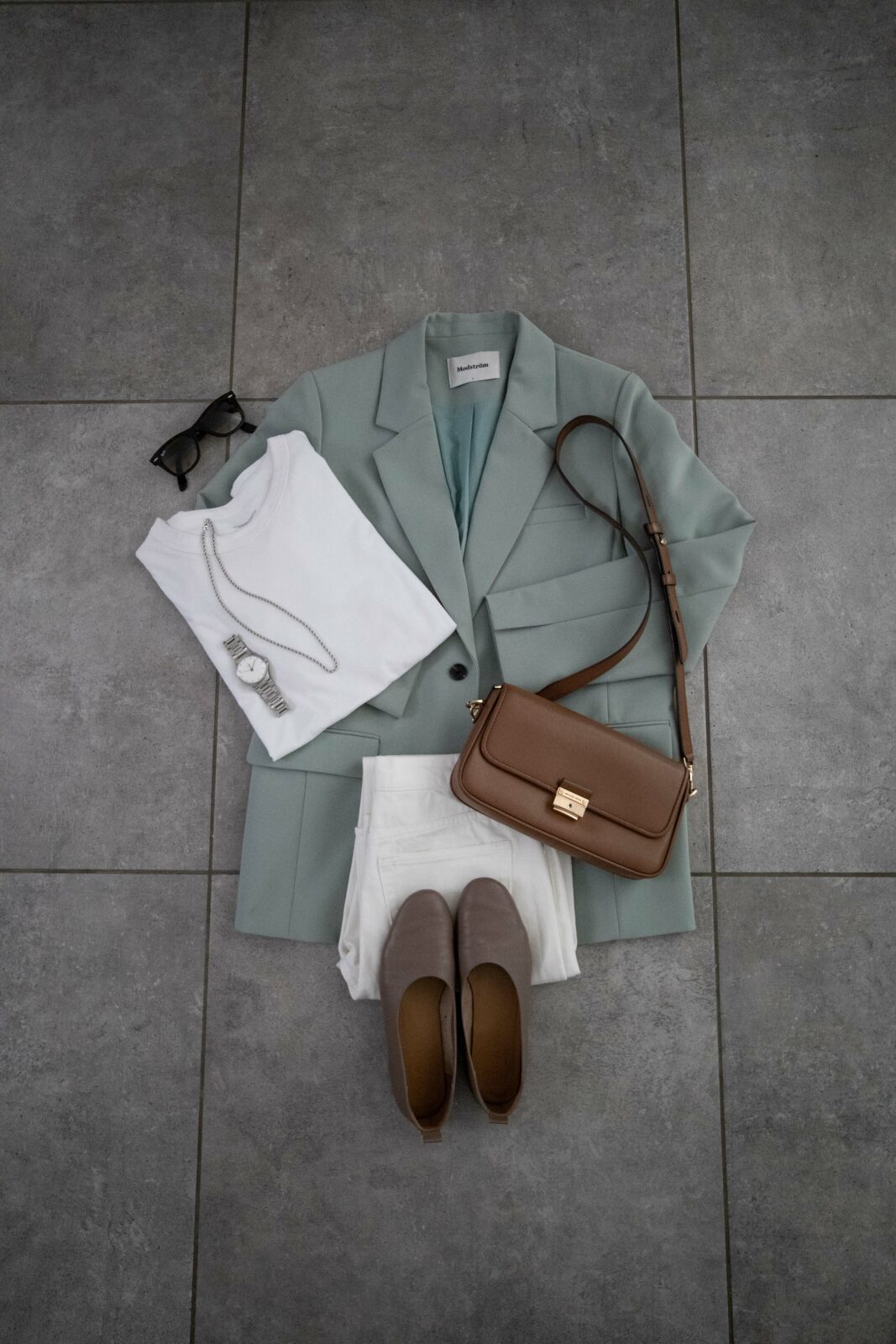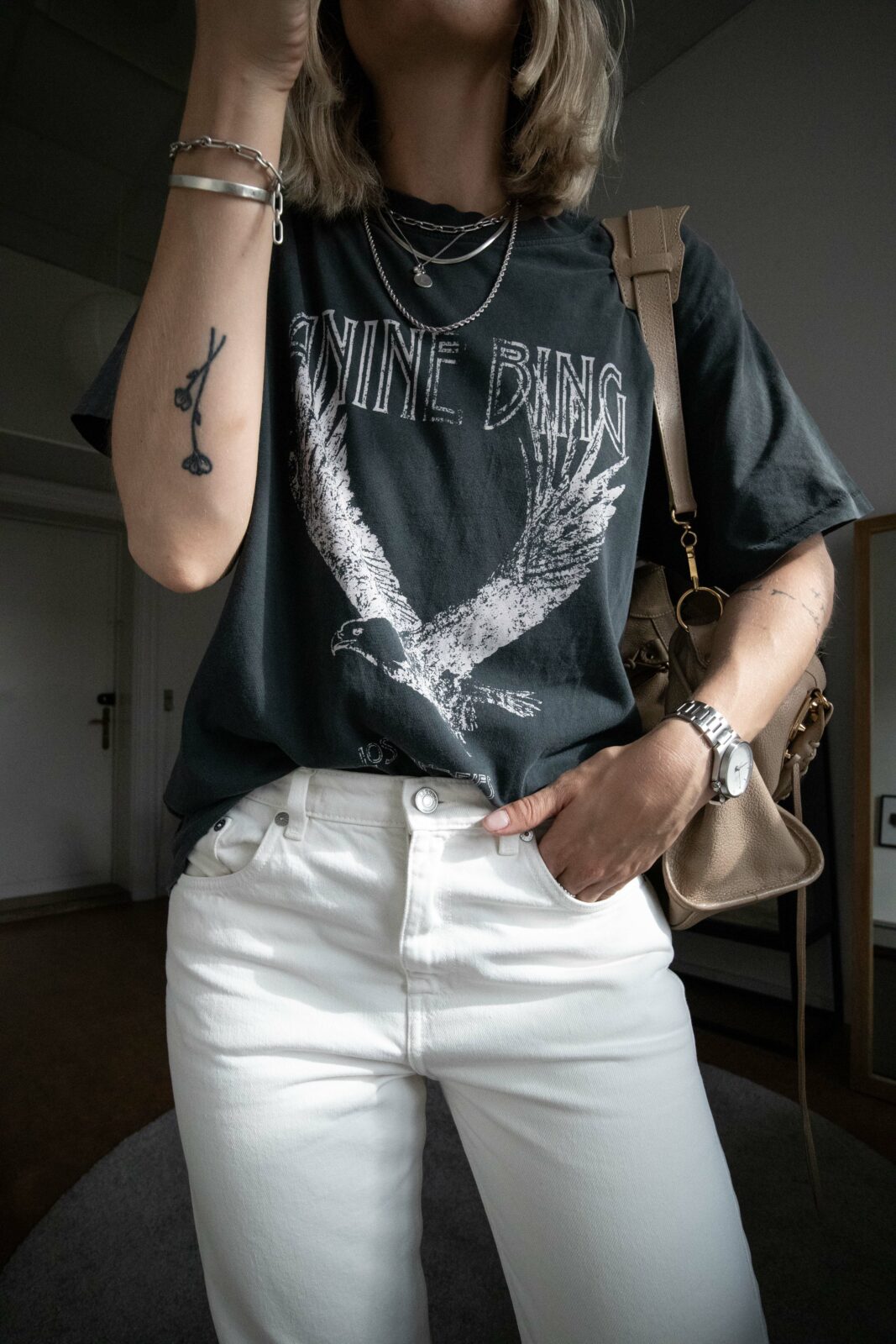 My top 3 words: casual, smart, effortless
The 3-word-method
Stylist Allison Bornstein is one of the frontrunners of this method, where the goal is to connect what you wear on the outside with who you are on the inside. The idea is that you find 3 adjectives to connect to your personal style, and this way you know what is important to you both when you're creating outfits from your existing wardrobe but also when you shop for new clothes. Of course, you don't have to limit yourself to just 3 (which I personally don't); and it's totally up to you how much or how little space each of thee should take up within your wardrobe or everyday looks even. As long as the approach makes you feel like you that's when you know it's working.
So my approach is to connect the outer AND inner adjectives. Because personal style is NOT just about the aestehtcis. We need to ensure we find ways to UNFOLD you, not just cover you up in a custome. This is where style adjectives and seeking out inner feelings becomes interesting, because now we can start connecting those to the aesthetics to make sure you're heading in the right direction.
DK: Stylist Allison Bornstein er én af frontløberne for denne metode, hvor målet er at forbinde det, du har på udenpå, med den, du er indeni. Ideen er at du finder 3 tillægsord der passer til din personlige stil, og på den måde ved du hvad der er vigtigt for dig både når du sammensætter outfits fra din eksisterende garderobe og når du shopper efter nyt tøj. Selvfølgelig behøver du ikke begrænse dig til kun 3 ord (det gør jeg personligt ikke), og det er helt op til dig hvor meget eller hvor lidt hver af dem skal fylde i din garderobe eller dine daglige looks. Så længe tilgangen får dig til at føle dig som dig selv, så ved du at det virker.
Min tilgang er, at koble de ydre og indre tillægsord sammen. Fordi personlig stil handler IKKE kun om æstetikken. Vi skal sikre os at vi finder måder at folde dig ud på, ikke bare dække dig til i trendy tøj. Og det er generelt her de ekstra tillægsord er nyttige, for nu kan vi begynde at forbinde dem med den æstetik du føler dig draget af for at sikre, at du bevæger dig i den rigtige retning.
Connecting outer and inner keywords
My style identity is about 75% casual/ 15% classic/10% edgy on the outside and the adjectives that make me feel connected to that from the inside would be words like relaxed, functional, smart, edgy and effortless. The occasional romantic top or skirt is something I'll often wear for a bit more of a special occasions; but I'll always style it casually to still feel connected to my core.
So my top 3 inner style adjectives would be:
Casual. This is because I want my clothes to be comfortable, functional and have a relaxed look; because I see myself as a rather relaxed person)
Smart. This is to ensure I don't feel underdressed or even sloppy; I like the slightly more classic style, as long as it's not dominating my wardrobe or outfits. The masculine touch of blazers and loafers for example is something I feel very connected to. This is also connected to the way I do my hair and makeup; I feel best when I've made an effort, but at the same time it's key that it's not too "done".
Effortless. Finally this is where the word "edgy" comes into play. Rooted within me I do have this sort of rock'n'roll chic person hidden, I have a few tattoos and I do appreciate especially old-school rock music so I think this side of me really shows there. I like keeping it as just a subtle touch to my style to give a further "undone" and cool feel to my outfits. Especially during summer where I love adding a pair of cool boots to a dress.
DK: Min stilidentitet er ca. 75% afslappet, 15% klassisk og 10% rå når vi snakker æstetik, og de tillægsord der forbinder mig med disse ville være ord som afslappet, funktionel, smart og ubesværet. Den lejlighedsvise romantiske top eller nederdel er noget jeg ofte vil have på til lidt mere specielle lejligheder; men jeg vil altid style disse stykker tøj afslappet for stadig at føle mig forbundet til min kerne.
Mine top 3 stil-tillægsord er:
Afslappet. Mit tøj skal være behageligt, funktionelt og have et afslappet look; fordi jeg ser mig selv som en ret afslappet person.
Smart. Dette er for at sikre, at jeg ikke føler mig for underspillet eller endda sjusket; jeg kan lide den lidt mere klassiske stil så længe den ikke dominerer min garderobe eller mine outfits. Det maskuline touch af blazere og loafers er for eksempel noget, jeg føler mig meget forbundet til. Dette er også forbundet med måden jeg sætter mit hår og lægger makeup på; jeg føler mig bedst tilpas når jeg har gjort en vis indsats, men samtidig er det vigtigt, at det ikke er for "perfekt".
Ubesværet. Endelig er det her, hvor ordet "rå" kommer i spil. Dybt inde i mig har jeg denne skjulte rock'n'roll-chic personlighed, jeg har et par tatoveringer, og jeg elsker forskellige typer rock musik, og det er især her den side af mig selv kommer til udtryk. Jeg holder det ret subtilt og bruger mest dette ord som en måde at tilføje noget rebelskhed til mine outfits engang imellem. Især om sommeren, hvor jeg f.eks. gerne ifører mig en kjole og et par støvler.
Connecting the dots
Using a set of style adjectives is a helpful way to keep a connection between your inner AND outer self at all times; both for the single items but also the way you arrange and style them in your outfits to make sure they are in balance with who you are. It really connects the dots.
For example, if there are too many classic items in an outfit I often end up feeling over-dressed, too "smart", because it's only a 15% part of me. On the other hand, if I only wear casual, undone items; I end up feeling under-dressed because I do appreciate those slightly more classic items to polish off my undone, effortless looks. So balance is key all the time.
Limiting yourself to 3 keywords is of course also just a guideline; it's a way to practise the art of limitation, to make sure you don't spread yourself too thin – but as with anything, this approach might not work for everyone. Some people might have more keywords, other might even have less (you can see I like including several words that are familiar in my example). You can use the keywords down to your choice of jewelry, hairstyle and even the way you do your makeup too.
If you're dreaming about finding your own, unique style identity, join my masterclass HERE or book a 1:1 style analysis (worldwide bookings) with me HERE.
DK: brugen af stil-adjektiver hjælper dig med, at opretholde forbindelsen mellem dit indre og ydre selv til enhver tid; både for de enkelte stykker tøj, men også den måde du arrangerer og styler dem i dine outfits for at sikre, at de er i balance med, hvem du er.
For eksempel, hvis der er for mange klassiske elementer i et outfit, ender jeg ofte med at føle mig "pyntet" (eller for "smart"), fordi det kun udgør 15% af min stilkerne. På den anden side, hvis jeg udelukkende er iført afslappet tøj ender jeg ofte med at føle mig lidt for underspillet. Jeg kan bedst lide at der er nogle klassiske elementer, der løfter det og giver et mere nydeligt udtryk uden det bliver for meget. Så balance er afgørende hele tiden.
At begrænse sig selv til 3 nøgleord er selvfølgelig kun ment som retningslinje; det er en måde at øve sig i begrænsningens kunst, for at sikre at du ikke spreder dig over for mange stilarter på én gang – men som med alt andet er det ikke sikkert denne tilgang virker for lige netop dig. Nogle mennesker kan have flere nøgleord, andre kan endda have færre (du kan se jeg inddrager flere forskellige, som minder om hinanden i mit eksempel). Du kan bruge nøgleordene ned til dit valg af smykker, frisure og endda den måde, du lægger din makeup på.
Hvis du også drømmer om at finde lige netop din stilkerne kan du deltage i min masterclass HER eller booke en individuel stilanalyse med mig HER.