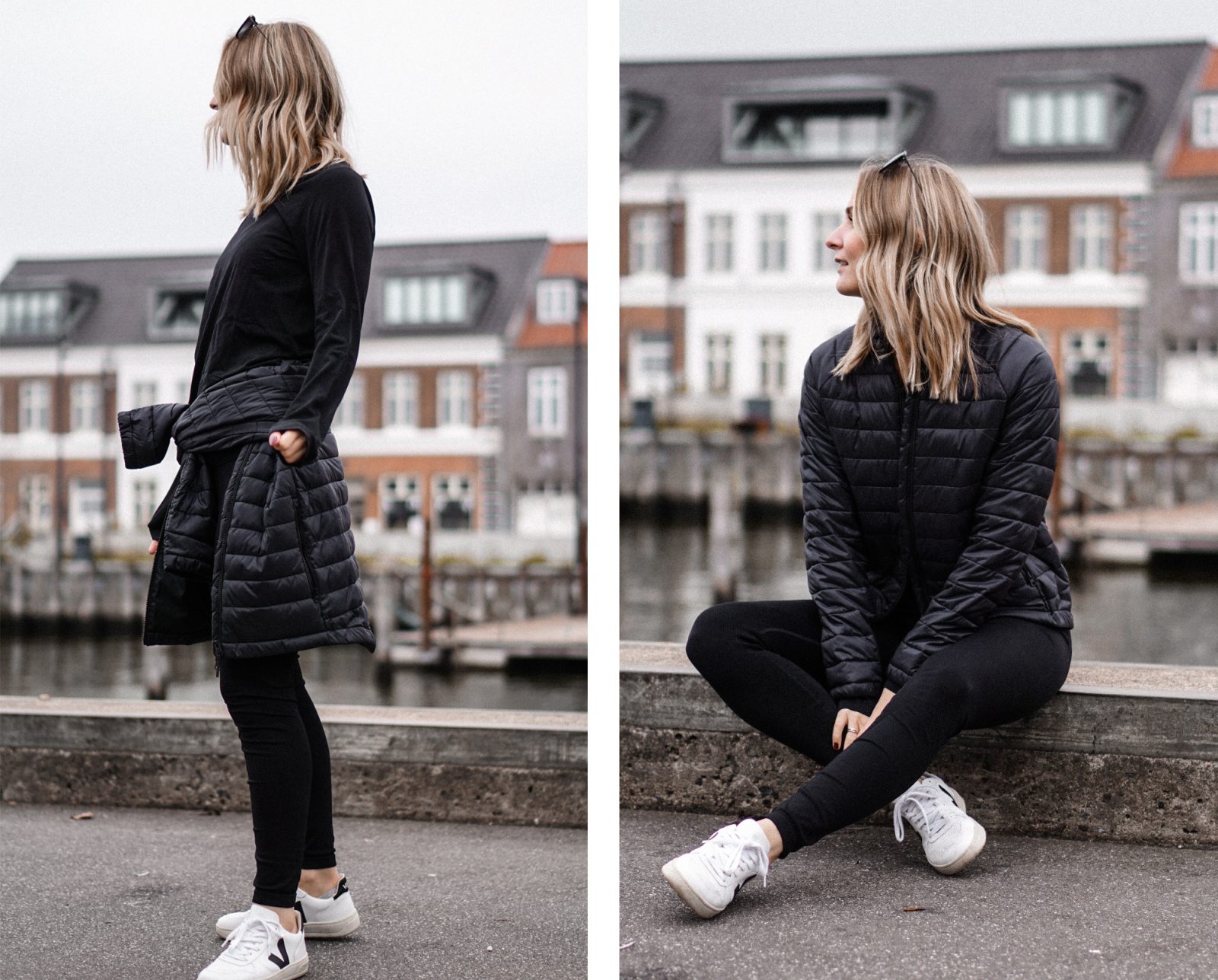 The base layer
Denmark is in no way the coldest place on earth. Still I do believe I have some rather qualified suggestions on how to combine style and practicality – and that is exactly what today's post (and video in the bottom) is about! With these simple (and some kinda hidden) tricks you'll be able to use your autumn favourites way into winter, but stay warm at the same time when the temperatures really start to drop. I've parted the different winter layers in 3 to make everything a bit more manageable: the base layer, the mid layer and the outerwear layer.
When I say 'the base layer', I'm talking about something as unsexy as thermal underwear! It is nonetheless a really clever way to stay warm, and not only for the holiday skiing in the alps; it can be worn underneath your everyday wear too. Noone will notice it, and it's way more fun being able to loose a layer if you get to hot, than to freeze off your butt. The set I'm wearing above is actually a sportswear set from Organic Basics, that they send me as a gift to test. It's from their new Silvertech Active series and I choose to go with the long sleeve blouse and leggings, so that I was gonna be able to use it for more than one purpose. So both as thermal underwear, as comfy loungewear and as sportswear. The cool thing about the silvertech collection is, that it stays fresh for longer so you don't have to wash it nearly as often as you're used to. The day the pictures above were taken, I wore it as lounge wear, and it's so comfortable. I've also been working out in it 3 times in a row without washing it, and I have to say I'm pretty convinced about this silvertech-thing. I think I'm gonna take a few more times in the gym before washing it, just to see how far I can go before washing it. I'll keep you guys posted on how it goes 😉
Before jumping to the mid-layer, I know my ankles are bare on these pictures because I'm wearing my trusty little ankle socks. This is definitely a no-go when it's starts to get REALLY cold though, and my answer when people ask me what I do with all my beloved cropped jeans at that point is simply: black socks. I think it looks quite alright, especially if you wear your ankle boots too to keep your ankles extra warm, even though I do love when my ankles are peeking through. It's just not an option when it gets too cold, so the black socks will do, even with a pair of sneakers.
…
Danmark er på ingen måde det koldeste land i verden. Alligevel synes jeg, at jeg har nogle ret så kvalificerede bud på hvordan man kan kombinere stil med praktiske elementer – og det er derfor lige netop, hvad dagens indlæg (og video i bunden) skal handle om! Med disse simple (og lidt skjulte) tricks kan du bruge dine favoritter fra efterårs garderoben langt ind i vinteren, men samtidig holde dig varm når temperaturerne for alvor falder. Jeg har delt de forskellige lag op i 3 for at gøre det lidt mere overskueligt: the base layer, the mid layer og the outerwear layer.
Lad os starte med basen. Her taler jeg selvfølgelig om noget så usexet som ski-undertøj! Ikke desto mindre er det dødsmart, og ikke kun til skiferien; også under dit hverdagstøj. Der er ingen der kan se du har det på, og det er altså federe at have muligheden for, at tage et lag af hvis man alligevel får det får varmt, end at fryse. Ovenstående sæt er faktisk et sports sæt fra Organic Basics, som jeg har fået tilsendt i gave. Det er fra deres nye Silvertech Active serie, og jeg valgte lige netop dette sæt med lange ærmer, fordi jeg gerne vil kunne bruge det netop som en form for ski-undertøj også, udover selvfølgelig at bruge det til træning. Det fede ved Silvertech linjen er, at det holder sig renere og friskere i længere tid. Den dag billederne ovenfor blev taget havde jeg det bare på som hygge-tøj hele dagen, og det er noget så behageligt. Jeg har også trænet i det 3 gange i streg, og må sige jeg er ret imponeret over, hvor godt det der Silvertech-halløj faktisk virker. Jeg tror jeg vil prøve og se hvor mange dage jeg kan træne i det endnu, før det når til et stadie hvor det skal vaskes. Bare for at se hvor længe man egentlig reelt set kan skubbe tøjvasken. Jeg skal nok holde jer opdateret 😉
Inden vi lige springer det det midterste lag, så ved jeg godt jeg har bare ankler på disse billeder, og det har jeg absolut ikke om vinteren når temperaturerne når ned under frysepunktet. Der er en klassisk, sort strømpe det mit valg falder på, når jeg har nogle af mine cropped jeans og bukser på. Mere er der ikke i det! Faktisk syns jeg stadig det ser stilet ud (især i kombination med et par ankelstøvler, for så ser du dem nærmest ikke og så holder du anklerne ekstra varme), selvom jeg jo til enhver tid foretrækker et lille kig til anklerne. Men om vinteren er det som regel et no-go.
*This post contains gifted items and adlinks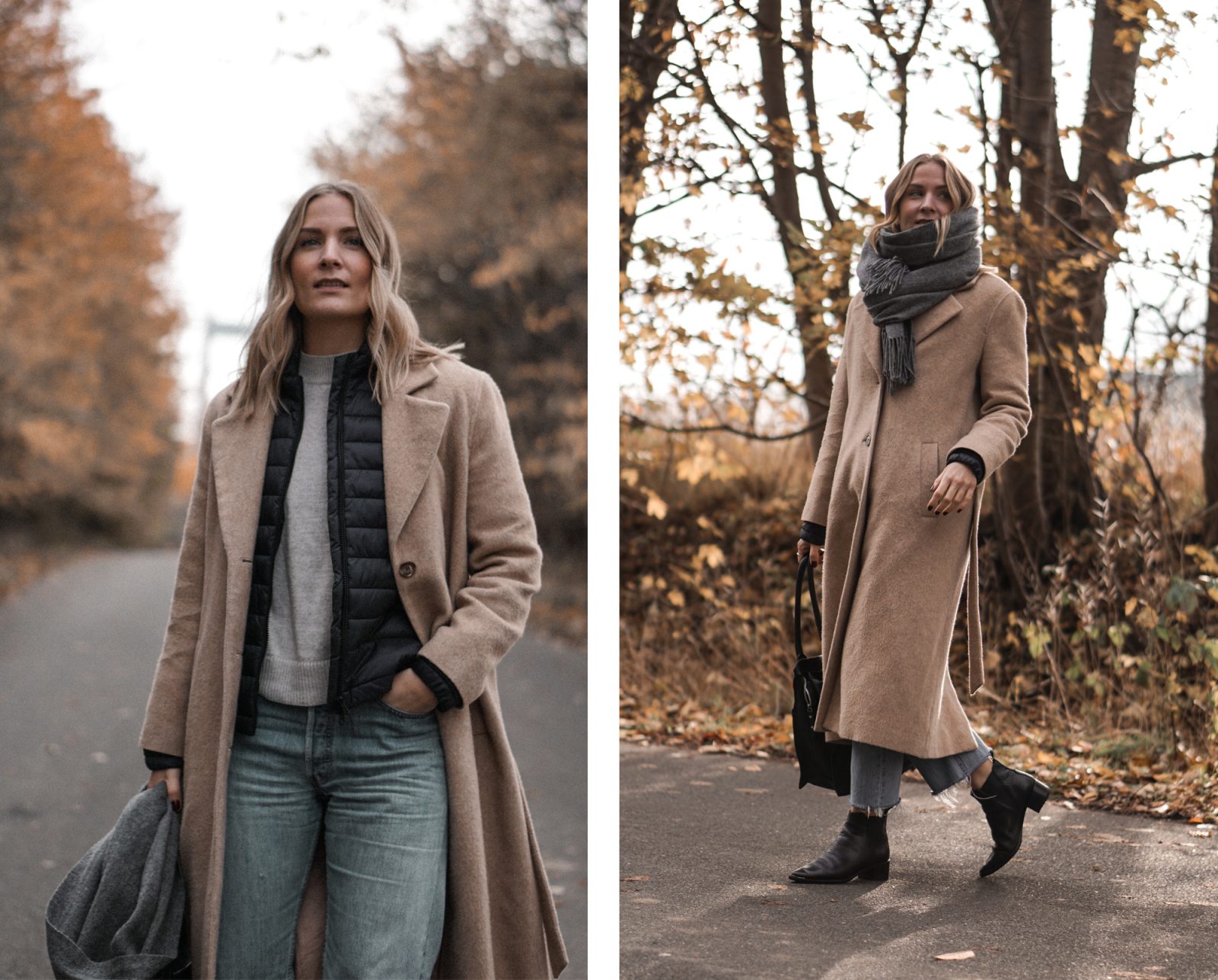 The mid-layer
When you've got the base layer covered, you'll obviously put on your favourite everyday outfit on top. This time of year jumpers are what I like to reach for most of the time. When it comes to sustainable brands that make great jumpers my faves are Arket (especially their recycled wool range), Armed Angels, People Tree and French brand Les Sublimes which is a brand I only recently stumbled upon. They make the most amazing cashmere jumpers, and I was so lucky to have this one send to me from them and it is the softest thing I have ever felt! If you're interested they've made a discount code for you guys which will give you 10% off your next order from the brand. The code is USELESS10 and it is valid until the 31st of December. In general I've been hooked on this brand all through the summer, when I fell in love with their espadrilles. I'm still dreaming about those. Oh well, maybe next summer…
Besides that I do have another little trick that I wanted to share with you all. The thing is, I'm much more of a wool coat kinda girl, than a puffer jacket kinda girl. The only problem is, wool coats are just not always the warmest option when the temperatures really start to freeze. In this case a light puffer jacket, waistcoat or maybe a fleece jacket is a great, discrete extra layer underneath your favourite wool coats! The puffer jacket I'm wearing above is from Everlane's ReNew range, which is their new collection made from recycled plastic. It's a simple jacket, that I'd even be able to wear as it is for an active day out (I'm wearing it on the first pictures in this post too). If the temperatures allow it, it does look pretty cool with a denim jacket as that extra layer underneath your wool coat too, like I'm wearing down below. Not as warm as the puffer-combo but still a great option.
…
Når du har styr på basen, så hopper du i dit favorit sæt fra hverdagsgarderoben. Her er striktrøjer selvfølgelig noget jeg satser på om vinteren. Af bæredygtige mærker kan jeg rigtig godt lide Arket (især deres recycled wool produkter), Armed Angels, People Tree og Franske Les Sublimes som er et mærke jeg for nyligt lærte at kende. De laver de lækreste kashmir trøjer – de har sendt mig denne i gave, og jeg siger jer den er blød!! Hvis I er interesserede, så har jeg fået lov til, at give jer 10% rabat hos dem med koden USELESS10 indtil d. 31/12. Det er generelt et mærke jeg har haft et godt øje til hele sommeren, da jeg forelskede mig i deres smukke espadriller. Dem sukker jeg stadig efter. Måske de skal blive mine næste sommer…
Men udover det er der faktisk et andet trick, som jeg også gerne vil dele med jer. Det er nemlig sådan, at de frakker jeg elsker allermest i min garderobe, det er mine uldfrakker. Problemet er bare, at de ikke altid er helt varme nok når temperaturerne virkelig når ned under frysepunktet. Men her kan en let dunjakke, vest eller en fleece jakke virkelig gøre underværker som et ekstra, diskret lag under din uldfrakke! Jakken jeg har på ovenfor er fra Everlane's nye ReNew kollektion, som er fremstillet af genbrugsplast. Det er en helt simpel jakke, som man naturligvis også kan bruge for sig selv på en lidt mere aktiv dag (det er også den jeg har på, på de første billeder i indlægget). Hvis temperaturerne tillader det, så ser det dog også super sejt ud med en denimjakke som ekstra lag under din uldfrakke, som nedenfor. Ikke helt så varmt som den lette dunjakke, men stadig ret cool.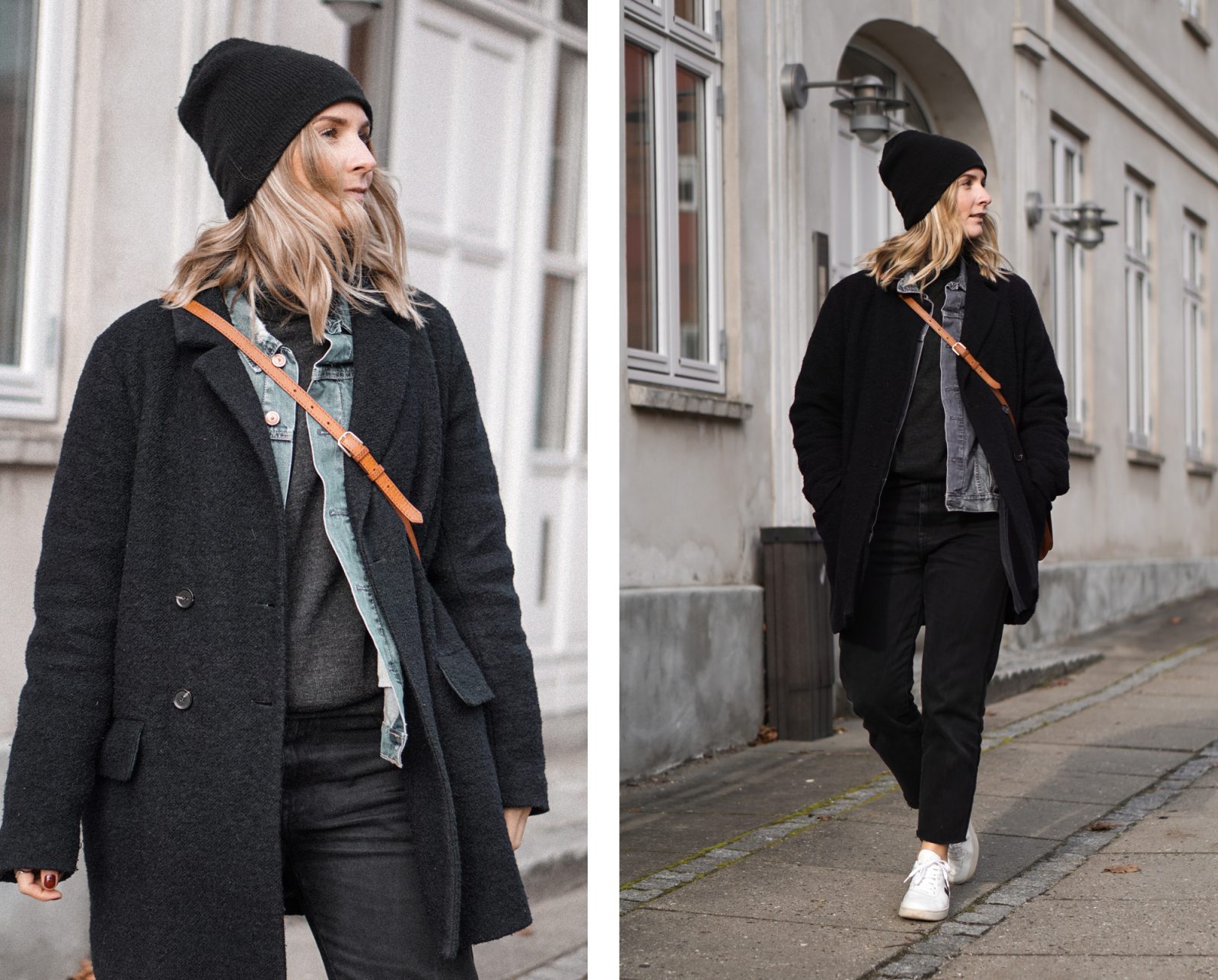 The outerlayer
Speaking of coats, a wool coat is obviously not very practical if it's pouring down outside – unless of course you remember to ring your umbrella. If it's both rainy and windy though, a water repellent parka or puffer is a better and more practical solution. I already have a winter parka that I've had for I think the last 5 years, and I still love it. If you're looking for a new one though, the before mentioned ReNew range from Everlane is a good, sustainable way to go. Especially their "long puffer" is so cool! If I didn't already have a jacket that fulfils my more practical winter needs, this was definitely the coat I'd go for. 
Besides the outer layer, accessories make a huge difference too. A nice and soft scarf, a pair of gloves and a cool beanie (maybe a red one!) can make a huge impact too, and will make your winter look just a little bit cooler.
…
Og nu vi taler om frakker, så er uldfrakken selvfølgelig ikke særlig praktisk hvis det står ned i stænger – medmindre selvfølgelig, du husker din paraply. Hvis det så både regner og blæser, så er en vand- og vindafvisende parka et bedre og mere praktisk bud. Jeg har allerede en vinter parka som jeg har haft de sidste 5 sæsoner, og som jeg stadig er super glad for. Er du på udkig efter en ny, så er den førnævnte ReNew range fra Everlane måske et rigtig godt bud på en varm og bæredygtigt én af slagsen. Især deres "long puffer" er jo bare mega sej! Hvis ikke jeg allerede havde en frakke der opfylder disse behov, så var det helt klart dén, jeg skulle have fingrene i.
Udover det ydre lag, så kan accessories altså også gøre rigtig meget. Et lækkert, blødt uldtørklæde, et par fine handsker og en sej beanie (måske i rød!) gør en kæmpe forskel, og er med til at gøre dit vinter look lige lidt coolere.