It's been a while since publishing my guide on how to shop sustainably on a budget (the video is in the bottom of this post), and because I know many shops are having huge summer sales at the moment I thought it was about time with a little bit of a refresh on the topic. Nordstrom* just launched their huge Anniversary sale for example, and so for especially my US followers I wanted to give you some tips on how to handle a sale like that accordingly and in the most sustainable way possible. There are actually lots of sustainable items to be found even on a shop like Nordstrom, that doesn't brand themselves as a sustainable webshop. But even if you're not shopping on Nordstrom the tips I'll be sharing in today's post will probably be helpfult to you anyway, because they can pretty much be applied to any webshop and I'll make sure to mention alternative sites and brands throughout the post. 
Let's linger at the whole 'finding sustainable items on conventional webshops' for a minute, because what I'm hoping today's post will help you wit is exactly this: to find the better, more sustainable items even on the conventional shops that might not even have a whole category labelled "sustainable" yet. In time I guess most shops will implement something like that but until then I hope my tips will make your life a little bit easier.
…
Det er ved at være noget tid siden jeg lavede en guide til, hvordan man kan shoppe mere bæredygtigt hvis man har et stramt budget (se videoen nederst i indlægget), og da rigtig mange shops holder sommerudsalg lige nu, så tænkte jeg det var fint med en lille opsamling. Nordstrom* er USA's svar på Europæiske webshops som Zalando og Asos*, og jeg ved de holder et kæmpe Anniversary udsalg disse dage. Hvis man bor uden for USA og man shopper på Nordstrom, så bliver alle udgifter (som told, skat, moms osv.) lagt sammen i den endelige pris ved checkout. Så man kan altså godt shoppe derinde selvom man bor udenfor USA, men som udgangspunkt vil jeg nu stadig anbefale at man støtter lokale forretninger eller webshops inden for EU/som har en eller anden form for EU politik, da selve forsendelsen er lang, ofte dyrere og måske kan blive lidt besværlig hvis den skal retur til USA igen. Det kan du læse mere om lige HER. In any case ville jeg blot nævne Nordstroms Anniversary Sale for især mine internationale følgere i dagens indlæg, da man kan finde rigtig mange fine, bæredygtige ting derinde – sikkert flere end mange måske er klar over. Skulle du ikke have mod på Nordstrom, så er jeg sikker på du sagtens kan få gavn af mine tips i dette indlæg alligevel, og jeg skal nok nævne alternative favorit shops og brands gennem indlægget.
For lige at vende tilbage til det der med at gå efter de bæredygtige alternativer på denne typer af webshops, så er meningen med dagens indlæg netop at hjælpe dig som forbruger med, at vælge de bæredygtige alternativer – selv på de konventionelle webshops, der endnu ikke har dedikeret en kategori til lige netop denne typer produkter og brands. Det kommer nok med tiden, men indtil da håber jeg mine tips kan gøre det lidt lettere for dig.
Jewelry – my own designs HERE 
Sustainable brands and shops
I've mentioned my favourite sustainable brands many times, but let's just have a look at them one more time. Everlane* makes classic, timeless items in great quality and that's why this brand has been on my radar for so long. I have items from there that I've loved and used repeatedly over the years, and that is in itself super important to me when it comes to a lasting wardrobe filled with favourites, that I just want to wear again and again. People Tree* makes quirky, colourful collections but they do also  master great basics as well. Many of their items might even be slightly too feminine and colourful for my taste, but sometimes I do stumble upon items that just fit my taste and that are able to give my wardrobe a twist of something else. Besides these I love Organic Basics* that make the BEST tees and wireless bras, and German Armed Angels* have also become a strong fave of mine over the years. I think I love that brand as much as Everlane these days. I especially love their organic cotton jeans. What all these brands have in common is the fact that sustainability and ethical production is part of their overall brand ethos, and therefore not just a tiny part of their existing business model. To me as a consumer it doesn't get more convincing than that, and I wish more conventional brands would work faster to follow this way of creating fashion.
To me it's simply not enough that a brand launches a small handful of "sustainable" items in organic cotton or recycled polyester, while still producing fast fashion in sweatshops on a large scale on the side. If the quality and the prices are still super low even on the so-called "sustainable" items, I'm just not that keen or convinced. Having said that I do still believe that it's better to choose the items labelled sustainable, even from the conventional brands – especially if you have a tight budget. But it's a balance that can be hard to master. In any case it's worthwhile practising the art of filtering items when you shop, so that you actively choose to look for sustainable alternatives and use your voice as a consumer that way.
…
Jeg har i mange sammenhænge efterhånden nævnt mine bæredygtige favoritbrands, men her kommer de alligevel igen. Everlane* laver klassisk, tidløst tøj i god kvalitet og det er den største grund til dette mærke er blandt mine favoritter. Jeg har items derfra som jeg har brugt og elsket i flere år efterhånden, og dét i sig selv er vigtigt for mig når det kommer til en holdbar garderobe fuld af favoritter, som jeg har lyst til at iføre mig igen og igen. People Tree* laver fine, farverige kollektioner men er også god udi basis items. Mange af deres items er måske endda en tand for feminine og farverige til min smag, men indimellem falder jeg alligevel over designs som passer min stil, og som kan give mine capsule wardrobes et lille twist. Udover disse favoritter er der Organic Basics* der laver de LÆKRESTE tees og BH'er, og tyske Armed Angels* er også blevet en favorit over årene, som er nået op på højde med Everlane for mig. Jeg synes især deres jeans i økologisk bomuld er helt fantastiske. Fælles for disse brands er også, at bæredygtighed er grundværdien og ikke blot en lille bitte del af deres eksisterende forretningsmodel. Det er overbevisende for mig som forbruger, og jeg ville ønske flere af de konventionelle brands ville arbejde hurtigere på at følge trop.
For mig er det som udgangspunkt ikke nok, at et brand lancerer en række "bæredygtige" items i økologisk bomuld eller genanvendt polyester, selvom de stadig producerer størstedelen af deres tøj i sweatshops og med en fast fashion tankegang. Hvis priserne og kvaliteten stadig er i bund selv på disse såkaldte bæredygtige styles, så er jeg ganske enkelt ikke overbevist. Når det er sagt så er jeg samtidig også af den overbevisning, at det er bedre at gå efter de items der er mærket "bæredygtig" – selv fra de mere konventionelle brands, især hvis man har et lidt stramt budget. Men det er en balancegang der kan være lidt svær at mestre. Ihvertfald så kan du øve dig i at filtrere dine yndlingswebshops, så du får serveret de bæredygtige alternativer og på dén måde gøre det bare lidt nemmere for dig selv, at tage et bedre valg og bruge din stemme på den måde.
Search for keywords
A way you can filter items when you shop online as I mentioned before – whether you're shopping on Asos, Zalando, Nordstrom or other webshops that might have lots of different brands and products represented – is by using some of the following keywords in the searchbar:
Organic
Recycled
Sustainable
Ethical
Eco
Vegan
… maybe you have even more keywords you like to use, to filter the better alternatives from the conventional ones? If so feel free to write them in the comment section below. I often use keywords like these when I'm looking for similar items to link to whatever outfit I might show you guys here on my blog, on Instagram or on Youtube.
…
En måde du, som jeg nævnte lige før, kan finde frem til de bæredygtige alternativer – hvadenten det er på Asos, Zalando, Nordstrom eller andre webshops der har en lang række af forskellige mærker repræsenteret – er ved at bruge nogle af de følgende keywords i deres søgefunktion:
Økologisk (organic)
Genanvendt (recycled)
Bæredygtig (sustainable)
Ethical
Eco
Vegan
… måske har du ideer til flere ord, der kan hjælpe dig med at filtrere de bedre alternativer fra? I så fald er du velkommen til, at skrive dem i kommentarfeltet nedenfor. Jeg gør jævnligt brug af disse søgeord, især når jeg leder efter bæredygtige alternativer på diverse webshops til de items jeg måske viser frem her på bloggen, på Youtube eller ovre på Instagram.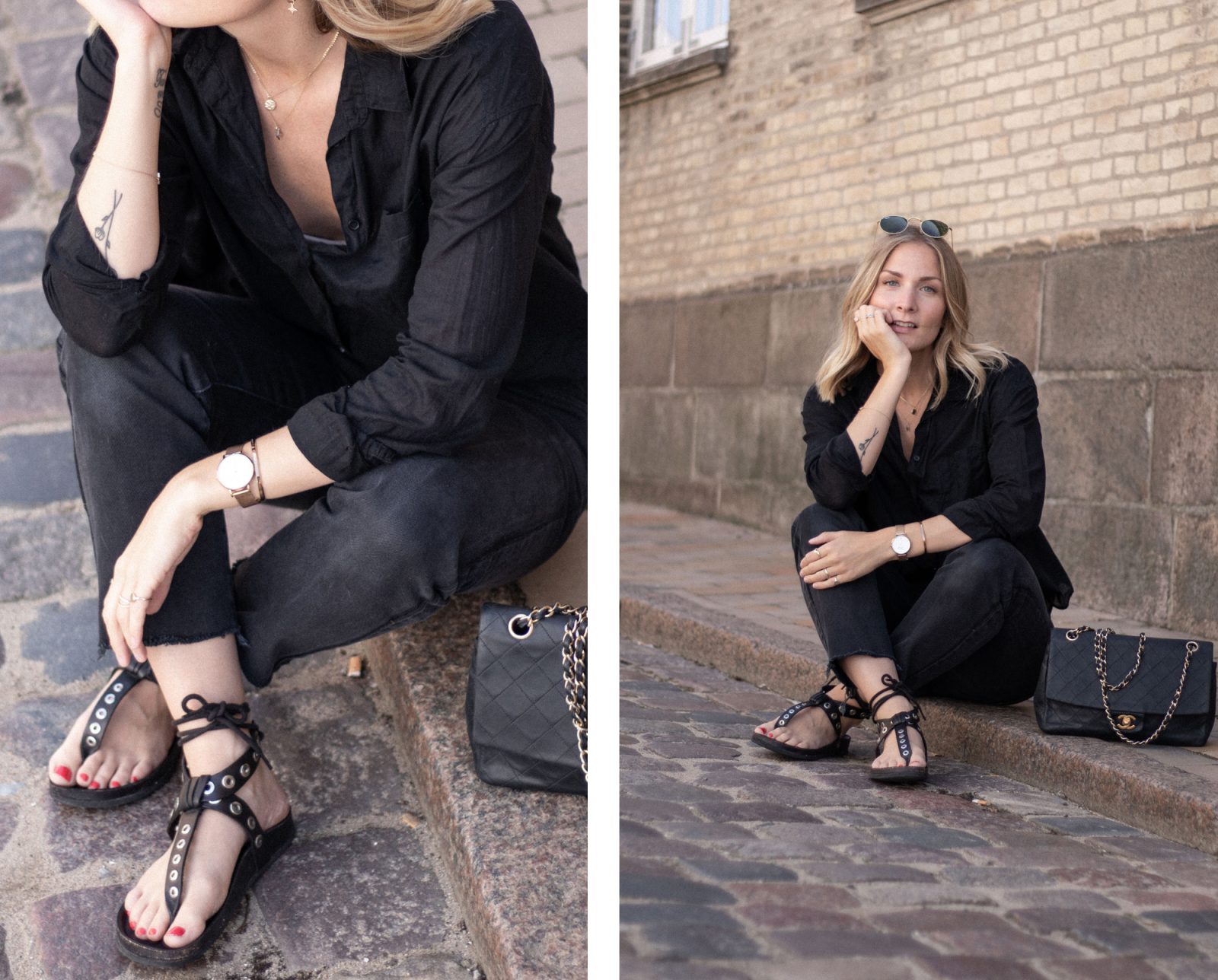 Double check the brand
So sometimes when I use the before mentioned keywords, I might stumble upon brands I don't know – or maybe a brand I do know will show up, and then I'm not really sure how sustainable or ethical that brand really is. An easy way to double check on a brand is by using for example the Goodonyou app. It's a free app that rates fashion brands on their overall sustainability, ethical practises and production. You can't find all brands in the world in there (yet), but with Emma Watson as their front-figure of marketing I'd be surprised if they don't keep adding new brands to their library over time. Everlane is actually rated "not good enough" in the app, mainly because of the fact that they use real leather and they don't seem to use enough organic fibres with less chemicals used. This is something I've mentioned before myself (I've even asked them directly when they'll be looking into this), and I truly wish they would look into the possibility of using recycled leather and use more organic or recycled fibres. This rating is really sad, and because of it Everlane is not always my first priority though I do still love their designs very much. I'd like to mention again that buying less but better (which is something Everlane has really taught me) is also a way to be sustainable. The app rates H&M as "it's a start" which is better than Everlane's rating, and personally I don't think this gives a realistic image of these two brands compared (especially when speaking quality and longevity). So be critical still – even with apps like this, I'd say. Sustainability is not black & white like that. Or what do you guys think??
No matter what I often check up on brands in the app, just to get a better image of their practises and again to make sure, that I make better choices and use my voice as a consumer in a way I find suitable and fair. 
…
Somme tider når jeg gør brug af de førnævnte keywords så falder jeg over mærker jeg ikke kender, eller måske kommer der produkter frem fra et mærke jeg rent faktisk allerede kender, men som jeg ikke er 100% sikker på, om overhovedet er bæredygtigt eller bruger etiske fremstillingsmetoder på nogen måde. En nem måde at dobbelttjekke netop dette på, er ved at bruge fx Goodonyou app'en. Det er en gratis app, der rater brands i forhold til deres bæredygtighed, etik og produktion. Man kan langt fra finde alle brands derinde (endnu), men med Emma Watson som én af frontfigurerne i deres markedsføring skulle det undre mig, hvis ikke det kommer med tiden. Faktisk bliver Everlane rated som "not good enough" bl.a. på baggrund af deres brug af læder og det faktum at de ikke anvender økologiske fibre, hvilket jeg også ville ønske de ville arbejde mere målrettet på (og iøvrigt noget jeg har påpeget til dem direkte). Måske arbejde hen mod at bruge genanvendt skind i stedet for nyt, og også lancere flere items i netop økologiske eller genanvendte materialer. Denne rating er super ærgerligt, og det har faktisk gjort at de ikke altid er min førsteprioritet selvom jeg holder meget af deres designs. Dog vil jeg igen sige, at hvis man sørger for at købe lidt men godt (hvilket er noget især mærker som Everlane har lært mig), så er man allerede godt på vej i forhold til en mere bæredygtig garderobe. App'en rater H&M som "It's a start" hvilket er bedre end Everlane's rating, og det synes jeg personligt ikke er helt fair eller giver et realistisk billede af disse to brands sat op mod hinanden (slet ikke når det kommer til kvalitet og holdbarhed). Så man skal stadig have lidt naturlig skepsis, selv over for apps some denne, synes jeg. Bæredygtighed er ikke sort/hvid på den måde. Eller hvad tænker du??
Uanset hvad så slår jeg ofte brands op i app'en, for at dobbelttjekke hvor bæredygtige de er – igen for at sikre, at jeg i det mindste tager bedre valg og bruger min stemme som forbruger dér, hvor jeg synes det giver mening. Jeg kan godt lide de brands der bliver rated fra "it's a start" til "Great" og de brands der bliver rated som "we avoid", dem forsøger jeg også at undgå helt.
Use customer service & size charts
Another thing I find important when shopping online (and also one of the most tricky ones to master), is to make sure you order items in the right size. The fit is in itself crucial for how satisfied you are with the item in the long run, so my best tip is to use the measurement charts provided on the shop or maybe even contact the customer service to be even more sure before you buy. Make sure you read the full product description too and watch live videos of the item, so that you can see how it moves and falls on a live body. 
I like to stick with brands I know and trust and to go for models/fits I've had success with before when ordering online. I also like reading reviews of items I haven't tried before too, again just to find out how the particular item fit. I like brands that are rated from "it's a start" to "Great" and the brands that are rated as "we avoid" I try to avoid those too.
…
En anden ting der selvfølgelig er super vigtig når man handler på nettet (og samtidig også én af de ting der gør netop shopping på nettet lidt tricky), er at sørge for at købe tøjet i den rigtig størrelse. Pasformen er i sig selv afgørende for hvor tilfreds du er med den pågældende vare på lang sigt, så mit bedste tip er at gøre brug af webshoppens size charts eller måske endda kundeservice for at dobbelttjekke størrelsen inden du bestiller. Sørg for at læse hele produktbeskrivelsen og se eventuelle live videoer af produktet, så du kan se hvordan det falder og bevæger sig på en levende krop.
Jeg holder mig gerne til brands, modeller og fits jeg kender, som jeg én gang har haft succes med bestilling af på nettet. Jeg kan også godt lide at læse reviews af items jeg ikke kender før jeg bestiller, igen for at finde ud af om de pågælende item er stort, lille eller normalt i størrelsen.
Returns
Speaking of wrong sizes I can't stress enough how important it is that you return items that don't fit! Everything else would be a total waste of ressources. The first time I wanted to order a pair of jeans from Armed Angels they were slightly too big for me when they arrived. I returned them immediately and ordered them in a size smaller. The new size fit like a glove, and because of this I now know which size to go for when ordering their jeans in the future. I do still read the product text too though, because sometimes it might say that this particular fit runs small/large and therefore they recommend you to go up or down a size. When all this is said I also really want to mention how big of a sinner returns are when it comes to environmental pollution. The most ideal way to shop will probably always be to go for local, physical shops. But if you like me have a huge passion for sustainable brands and these are just not to be found in your local area, shopping online might be the better solution.
I do my best to stick with brands I know (like the whole Armed Angels scenario mentioned before), to lower the number of returns. I do like shopping 2ndhand online too though, and you can never be fully sure with items like these. But that's why it's so important to use any customer service or to correspond with the seller before you buy if you're in doubt. Its's so easy to just fill up your virtual basket and to think "I might as well, because there's free returns", but again the amount of items we return and the environmental impact of these are quite disturbing.  So there's plenty of reasons to think before you proceed to checkout – even if the shop offers free shipping and returns.
…
Og nu vi er ved det her med forkerte størrelser, så er det simpelthen så vigtigt du sender items som disse retur hvis de ikke passer! Alt andet er spild af ressourcer. Første gang jeg skulle bestille jeans fra Armed Angels, så var de for store til mig da de ankom. Jeg sendte dem retur med det samme og bestilte dem så i et nummer mindre. Den nye størrelse passede mig perfekt, og det har gjort at jeg nu véd med sikkerhed hvilken størrelse jeg skal gå efter når det kommer til lige netop deres jeans. Jeg følger dog stadig anvisningerne på siden (nogle gange står der fx i teksten hvis modellen er lidt lille i størrelsen og de anbefaler at gå en størrelse op), og det er super vigtigt at læse hele teksten inden man bestiller. Samtidig vil jeg dog også understrege hvor stor en synder returvarer er i bæredygtighedsbilledet! Den absolut ideelle måde at shoppe på er i virkeligheden nok at bakke op om de lokale, fysiske butikker. Men hvis du som mig har en kæmpe passion for bæredygtige mærker, og disse ikke er at finde i dit lokalområde – ja, så er shopping på nettet somme tider den bedste løsning.
Jeg forsøger så vidt muligt at holde mig til mærker jeg kender (som eksemplet med Armed Angels før), for at mindske antallet af returforsendelser. Jeg vil dog sige, at jeg også godt kan lide at shoppe 2ndhand varer på nettet, og med disse kan man aldrig vide sig 100% sikker. Men der er det igen vigtigt, at man korresponderer med sælgeren hvis man er det mindste i tvivl inden man bestiller. Det er så let at smide en masse varer i kurven og måske tænke "jeg kan jo sende det retur gratis", men igen så er de ressourcer der bliver brugt på lige netop returvarer altså en kæmpe synder når vi snakker forurening af vores miljø. Så der er altså grund til, at tænke sig godt om inden man bestiller – også selvom der er gratis fragt og retur.

Sales
Last but not least I know what it's like to get seduced by sales and discounts (watch my video "From shopaholic to minimalist" right HERE). Back in the day I used to be the girl who would filter items on webshops based upon the price or what was on sale, and buy new clothing based solely upon that instead of what I really wanted to invest in in the long run. Such a waste of time, money and ressources and I never felt satisfied with my wardrobe.
The secret behind mastering sales (like the Nordstrom Anniversary sale I mentioned in the beginning) is to go for items you already have on your wishlist. In my opinion there's nothing wrong with saving a bit of cash on something you wanted to buy anyway. Besides sales and discounts might be a great way for you to dive into the sustainable brands, if they are a little outside your budget. The webshop plugin Shoptagr (which I mention in my video "Sustainable style on a budget" below) can help you with just that. Everytime you save an item in the Shoptagr plugin and it gets reduced in price, you'll get notified via email, and you can even use it on sustainable shops like Everlane or People Tree.
…
Sidst men ikke mindst så ved jeg om nogen hvordan det er, at lade sig forføre af udsalg og gode tilbud (se min video "Fra shopaholic til minimalist" HER). I tidernes morgen var jeg selv hende, der altid filtrerede ting efter pris eller efter hvad der var på udsalg og valgte hvad der skulle i kurven på baggrund af dette, fremfor på baggrund af hvad jeg rent faktisk gerne ville investere i på lang sigt. Spild af tid, penge og ressourcer og jeg følte mig aldrig tilfreds med min garderobe.
Hemmeligheden bag at mestre udsalg (som Nordstrom's Anniversary udsalg jeg nævnte i starten) er at gå efter de items, du i forvejen har på din ønskeliste. I min optik er der intet i vejen med, at spare lidt penge på noget du i forvejen ønsker dig. Desuden er udsalg eller rabatter jo en god måde, at spare penge på de bæredygtige mærker hvis de ligger lidt uden for dit budget. Det kan webshop plugin'et Shoptagr (som jeg fortæller mere om i min "Sustainable style on a budget" video nedenfor) blandt andet hjælpe dig med. Hver gang et item du har gemt i Shoptagr plugin'et bliver sat ned i pris, så får du en notifikation via email, og du kan bruge den på webshops som fx People Tree og Everlane.