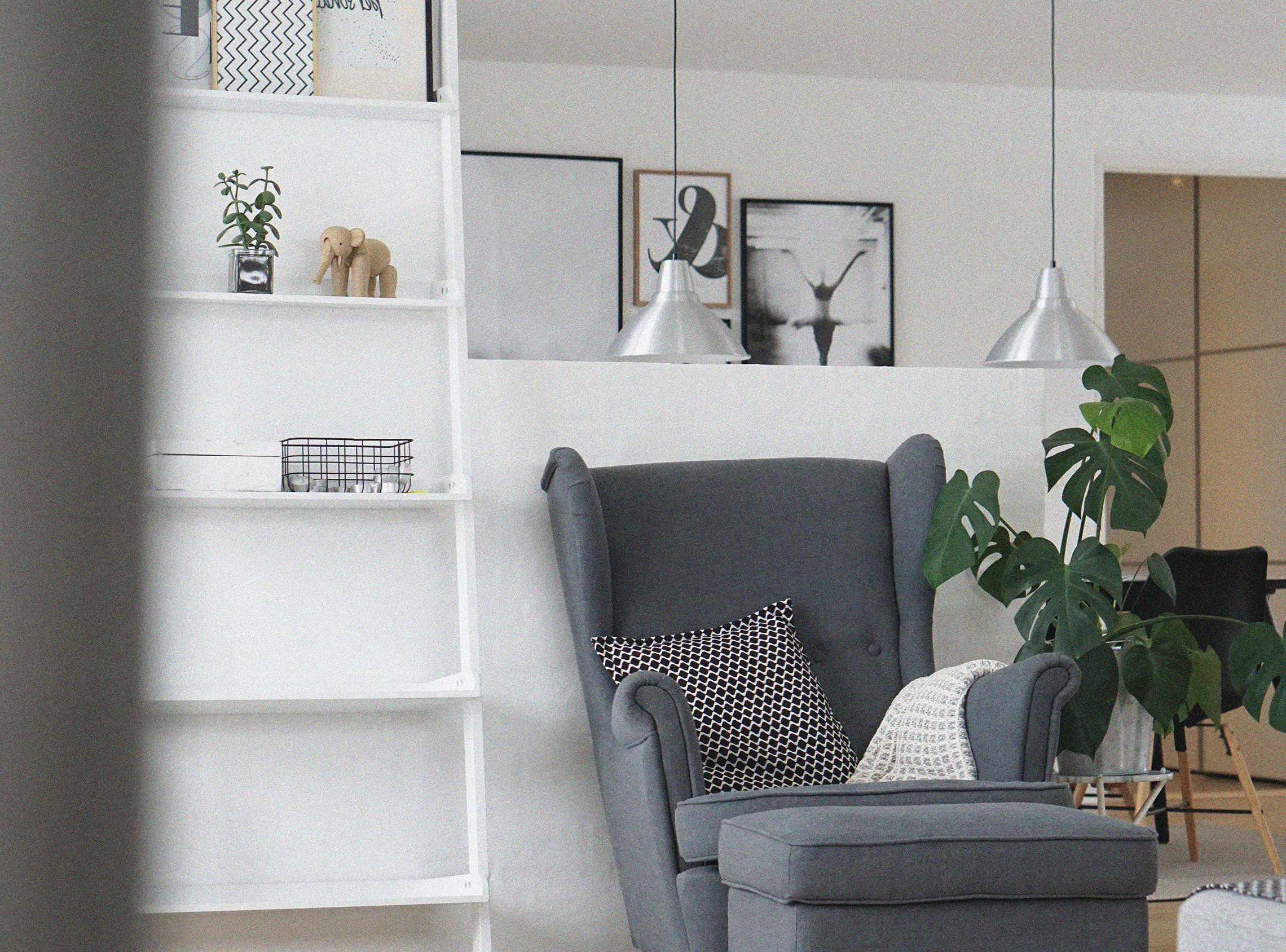 Those of you who have followed me at least the past year may remember, that my husband and I went thorough a massive declutter throughout the house exactly one year ago. It was because I had read the book "The life-changing magic of tidying up" by Marie Kondo. After reading that book, we started the process using the Konmari method. You can read much more about that in my blogpost (including a video guide of the process) right here. In short, the Konmari method is about going through everything you have in your home (and life in general), disregarding the things that no longer add real value to your life (spark joy, to use Marie Kondo's own term) and reorganise everything that remains. It is in many ways the first bite of the apple in terms of living a more sustainable and balanced life. So because it's exactly one year ago we went through this, I thought it would be interesting to have a look back at how things have been going since. Has it been easier to pursue the dream of a simpler lifestyle with more joy, how is living more sustainably going for us and not least; do we still manage to keep our home organised and clutter free?
–
De af jer som har fulgt mig ihvertfald det sidste år, kan måske huske at min mand og jeg lavede en grundig oprydning i hele huset. Det kom sig af, at jeg havde læst bogen "The life-changing magic of tidying up" af Marie Kondo. Således greb vi altså oprydningen an ved hjælp af Konmari metoden. Det kan du læse meget mere om i mit indlæg (med tilhørende video-guide) lige HER. Kort fortalt handler det om, at man gennemgår og endevender hele sit hus (og liv generelt), skiller sig af med de ting der ikke tilfører en reel værdi til dit liv og altså sætter det resterende i system. Det er på mange måder første spadestik til et mere bæredygtigt og balanceret liv. Jeg tænkte derfor det ville være passende med et tilbageblik på, hvordan det er gået for os siden. Har det været nemmere at forfølge drømmen om en simplere livsstil med mere livskvalitet efterfølgende, hvordan går det med at leve mere bæredygtigt og ikke mindst; formår vi stadig, at holde orden i vores hjem?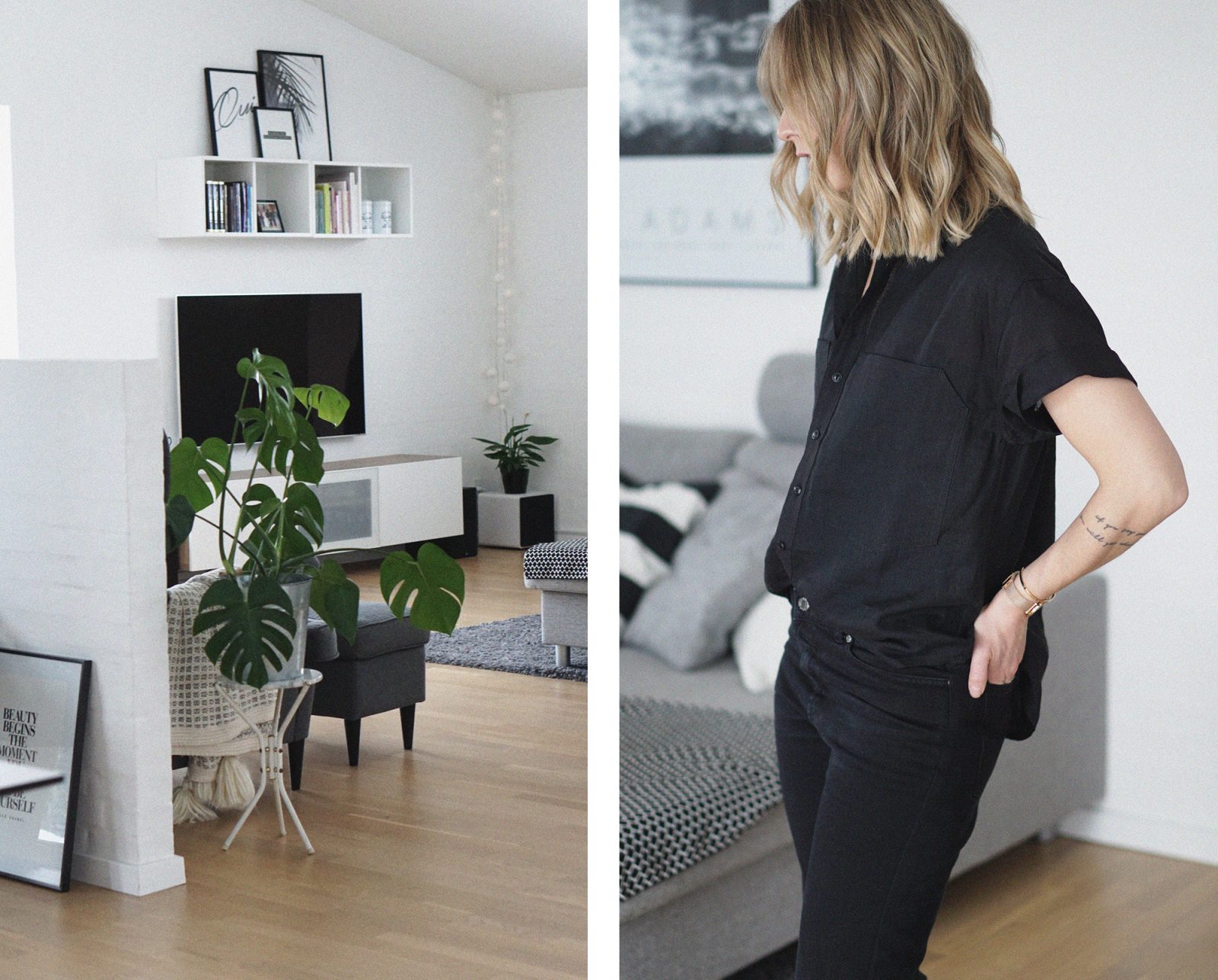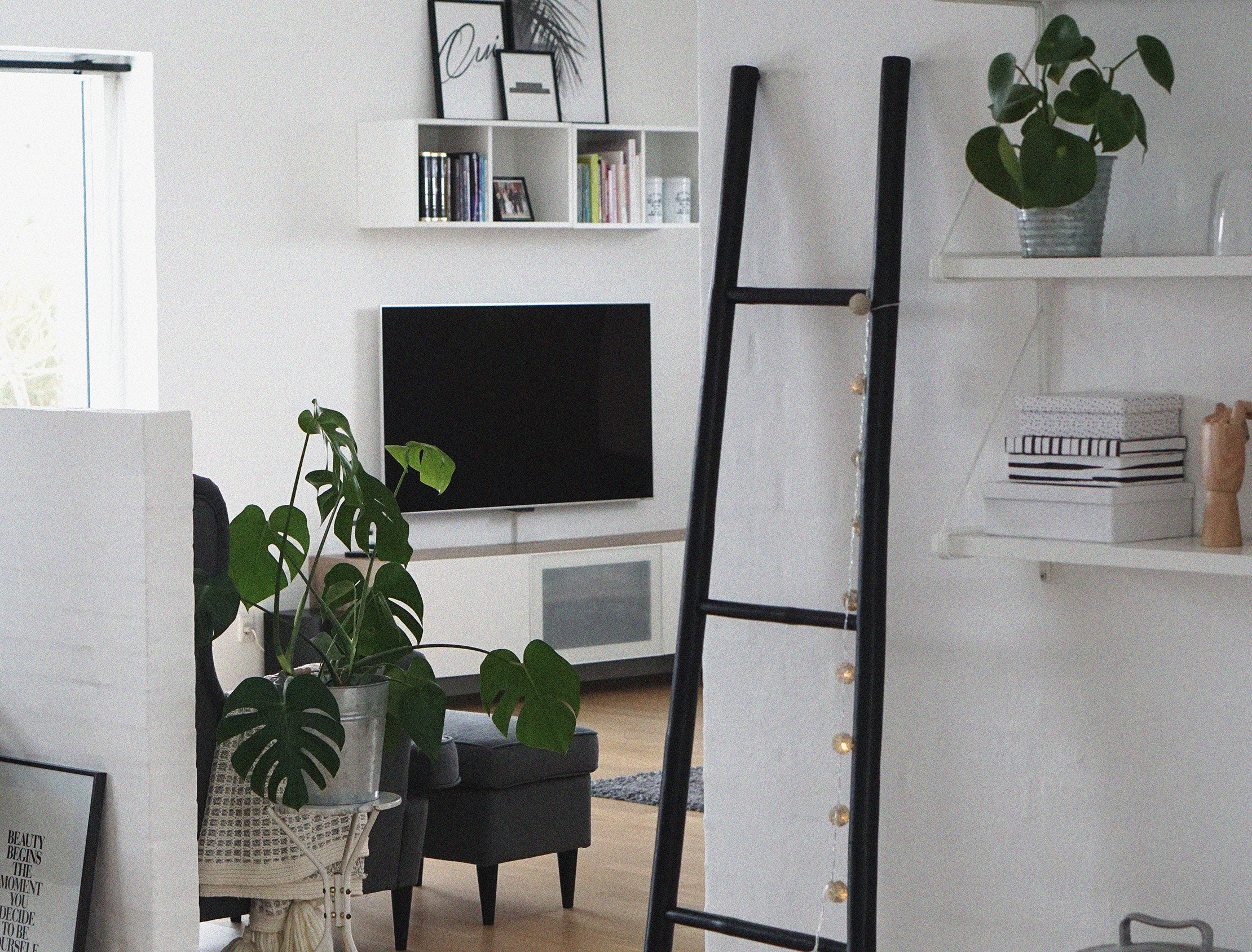 I like to divide the word clutter into two: we can surround ourselves with physical clutter and, in particular, there can be relationships, jobs, habits and other more unmanageable factors that in one way or another takes up too much space in our lives. Let's take a look at the physical clutter first, since it was here we started. I have been running the capsule wardrobe system for several years, but this limits me to my interest in fashion and style. So even though I fel like I was succeeding in ​​area, I still wanted to start fresh in the rest of the house too. And for that, the Konmari method was a very helpful tool. My husband and I did this together because we both had an interest in starting this new lifestyle with a clean slate. I think it's important that you do this together; not to force your personal values ​upon the other (there must be room for both of you!) but because you learn so much in the process and it's just a good way to start the new lifestyle. Besides, it is quite important that both parties subsequently know in which cabinets and drawers your newly organized stuff can be found, to make sure that the order will remain even after finishing the process. And then it's important that you just look at the method as a tool. It will never be a checklist for what to keep and what to discard, because we are all different. For example, I'm not a fan of the way Marie Kondo recommends folding clothes, simply because I don't want to spend that much time folding my clothes. Instead, I hang my clothes on hangers because it works better for me in a busy day to day life. That way, I can manage to keep my wardrobe looking tidy and inspiring. In addition, something may have a high value for me personally, but means nothing for others. So again use the method as a tool but customize it to suit your own life and preferences.
So are we still in control of our clutter? To that I can only say yes – we certainly are. However, our pantry needs a proper decluttering soon, and also it's not like everything is placed perfectly within our cabinets and drawers either! In a busy daily life there will always be some things that need to be put back in their right place regularly. But the systems that we created remains, and most importantly, we want to keep it that way and overall not bring new things into our home that we don't really need or value. That is probably the most important thing we have learned in this process: quitting the impulse purchases. One of the things I missed in Mare Kondo's book was a greater focus on the sustainable aspect of cleaning up your life in this way. The main focus is discarding excess clutter that doesn't bring real value to your life, but I remember thinking to myself when I read the book, that it is certainly not the main goal of this process. That's the first step yes; but it's not the goal to discard as much as possible, nor is it a competition on who can go through life with least possible possessions. The goal is indeed to preserve this new, sustainable lifestyle in the long run too. A bit like dieting, they are initially a kind of quick fix that will give you a boost in the right direction. But they don't work in the long run unless you completely change your lifestyle. It's kinda the same scenario when you decide to live a more simple and sustainable life – it's not enough just to rearrange or organize your clutter, but In fact, say goodbye to what's not valuable to you anymore. It's not about depriving yourself the pleasures. On the contrary, it's about getting more contact with the pleasures that actually mean something to you. And it's not easy. But the things worth something in life never come without a fight, right? Face the scenarios you find uncomfortable with an open mind, because that is exactly where you have the biggest change of growing.
–
Jeg kan godt lide at dele ordet "clutter" (altså rod) op i to: vi kan omgive os med fysisk rod, og ikke mindst kan der være relationer, jobs, vaner og andre mere uhåndtérbare faktorer, der på én eller anden måde "roder" i vores liv. Lad os tage et kig på det fysiske rod først, eftersom det var hér vi selv startede. Jeg har kørt med capsule wardrobe systemet i flere år, men dette afgrænser sig jo til min interesse for mode og stil. Så selvom jeg længe syntes at jeg havde godt styr på dén del, så havde jeg alligevel lyst til, at starte på en frisk i resten af husets skabe og skuffer også. Og til det var Konmari metoden et rigtig godt værktøj. Min mand og jeg gjorde det her sammen, fordi vi begge havde en interesse i at starte på en frisk. Jeg tror det er vigtigt, at man gør det her sammen; ikke at man skal presse sine personlige værdier ned over hovedet på den anden (der skal være plads til jer begge!), men fordi man lærer så meget i processen, og det er bare en god måde, at starte den nye livstil på sammen. Udover det er det jo ret vigtigt at begge parter efterfølgende ved, i hvilke skabe og skuffer man kan finde hvad fremadrettet, også så man er sikker på der bliver ved med at være orden i sagerne. Og så er det vigtigt, at man blot ser på metoden som et værktøj. Den vil aldrig kunne blive en tjekliste for hvad du skal gemme og hvad du skal smide ud, for vi er allesammen forskellige. Jeg er fx ikke fan af den måde Marie Kondo anbefaler at folde tøj på, simpelthen fordi jeg ikke gider bruge så meget tid på at folde mit tøj. I stedet hænger jeg mit tøj på bøjler, fordi det fungerer bedre for mig i en travl hverdag. På den måde kan jeg holden orden i mit skab og det inspirerer mig hver eneste gang jeg åbner skabslågen. Desuden kan noget have en høj værdi for mig, men intet betyde for andre. Så igen, brug metoden som værktøj men tilpas den, så den passer til dit eget liv.
Så er der stadig styr på de ting vi har i hjemmet? Til det må jeg bare sige ja – det synes jeg der er. Vores spisekammer trænger dog til en ordentlig overhaling, og det er heller ikke sådan, at alting ligger snorlige i vores skabe! I en travl hverdag vil der altid være nogle ting der med jævne mellemrum skal sættes lidt i orden igen. Men systemerne er der stadig, og vigtigst af alt så har vi lyst til, at bevare det og ikke bringe nye ting ind i vores hjem, som vi ikke har brug for. Det er nok det vigtigste vi har lært i den her proces: at droppe impulskøbene. Én af de ting jeg savnede i Mare Kondo's bog var nok netop det her med større fokus på det bæredygtige aspekt ved, at rydde op i sit liv på denne måde. Der er et enormt stort fokus på, at man skal skille sig af med de ting der ikke bringer en reel værdi til dit liv, men jeg kan huske jeg tænkte, at målet jo ikke i sig selv alene er, at smide ting ud. Det er det første skridt ja; men det er ikke målet at smide så meget ud som muligt, og det er heller ikke en konkurrence om, hvem der kan gå igennem livet med mindst mulige ejendele. Målet er, også at bevare denne nye, bæredygtige livsstil i det lange løb. Lidt ligesom med slankekure, så er de i første omgang et form for quick fix der skal give dig et skub i den rigtige retning. Men de virker ikke i det lange løb, medmindre du lægger din livsstil helt om. Det er lidt det samme scenarie, når du beslutter dig for, at leve et mere simpelt og bæredygtigt liv – det nytter ikke, at omarrangere eller sætte det rod du er i besiddelse af (på den ene eller den anden måde) i system, men rent faktisk at sige farvel til det, der ikke er værdifuldt for dig. Det handler ikke om, at frarøve dig selv "livets små glæder". Tværtimod handler det om, at du får større kontakt til de glæder, der rent faktisk betyder noget for dig. Og det er ikke nemt. Men de ting der er noget værd her i livet kommer jo heller ikke uden man arbejder for det, vel? Man skal se de scenarier man måske finder ubehagelige i øjnene, for det er lige dér man vokser allermest.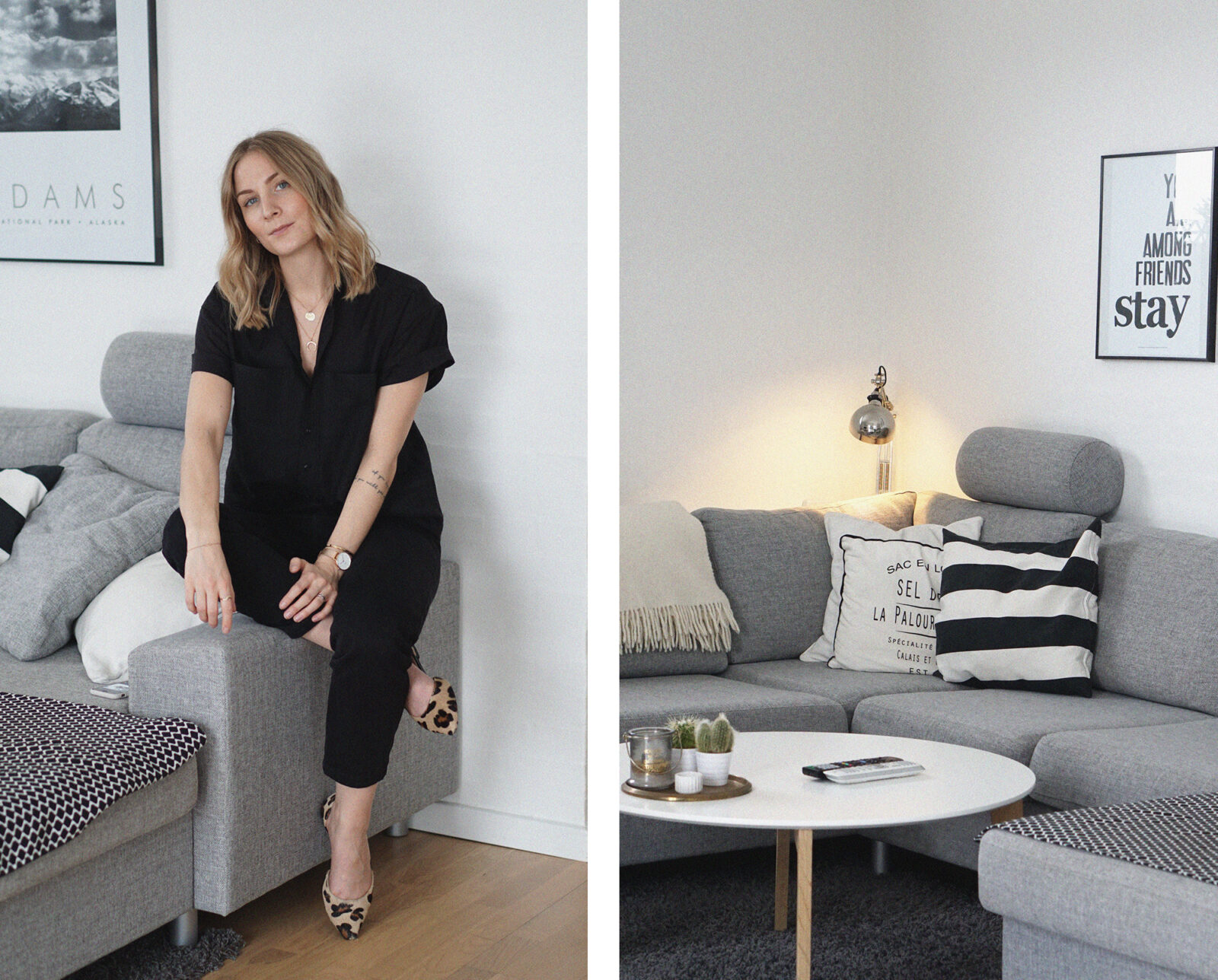 The process has made me even more interested in minimalism and sustainability, and I have since explored several documentaries, books, apps, influencers and not least The Minimalist Podcast, which I have just listened to recently. So the Konmari method was a good way to kickstart this new lifestyle, at least it was to me. If we look at the slightly more elusive "clutter", a lot of things have happened the past year. You can for example read a little more about why I chose to leave the design profession right here. In short, it just didn't make me happy to do what I did everyday anymore, and it probably came after I began to question everything that I surround myself with every day – both physically and mentally. It was not that I suddenly woke up one day and got a revelation telling me to quit my job. Not at all. It was months of having this dialogue with myself and my family for a long time before I made the decision to finally quit my job. And as I said, don't look at this process as a quick fix, where discarding clutter becomes the goal. That wont solve your problems. We all have relationships and responsibilities that we can't just (and certainly shouldn't!) run away from. Relationships and situations where we just need to try harder to make things work. Life is not static, and you are not as a person either. I am soon 28 and have a set of different values ​​today, but they may look different in 5-10 years. So it's about constantly questioning and maintaining these values while you get older and wiser.
If we look at how our journey towards living more sustainably has been going, it's been quite a success. We are both open minded and curious about alternative methods, products, etc. as long as it makes sense especially economically. You can read more about what we do differently now compared to a year ago right HERE, but again I would like to point out that life is not static. You constantly encounter new information that may make you reconsider some things and what initially seems to be the obvious choice can later prove to be completely wrong for you. For example, in the fall of last year, I started making my own facial oil and a couple of months later, my sensitive skin started bursting with that kind of acne I've been fighting for for so many years (and that had more or less finally disappeared) so I had to reconsider whether it was clever to continue with that oil or not. It's sometimes a bit of a trial and error process, but I think it's part of the equation when choosing to pursue a lifestyle that doesn't necessarily fall within the norm.
–
Processen har gjort mig endnu mere interesseret i minimalisme og bæredygtighed, og jeg har siden udforsket adskillige dokumentarer, bøger, apps, influencers og ikke mindst The Minimalists Podcast, som jeg først for nyligt er begyndt at lytte til. Så dét med, at Konmari metoden var en god måde at kickstarte denne nye livsstil på, har ihvertfald for mig vist sig, at være rigtigt. Hvis vi kigger på det lidt mere uhåndgribelige "rod", så er der også sket meget for mig her det sidste år. Du kan bl.a. læse lidt mere om, hvorfor jeg valgte at forlade designfaget lige her. Kort fortalt, så gik det bare op for mig, at det ikke gjorde mig glad længere og det er nok kommet i kølvandet af, at jeg begyndte at sætte spørgsmålstegn ved alt det, som jeg hver dag omgiver mig med – både fysisk og psykisk. Det var ikke sådan, at jeg pludselig vågnede en dag og fik en åbenbaring om, at jeg skulle sige mit job op. Slet ikke. Det var noget jeg gik og havde en dialog med mig selv og mine nærmeste om i lang tid før jeg tog beslutningen. Og som sagt så skal man ikke se på denne proces som et quick fix, hvor selve det at "smide ud" bliver målet. At hvis bare man når derhen så løser det alle éns problemer. Det gør det ikke. Vi har alle sammen nogle relationer og ansvar, vi ikke bare kan (og som vi bestemt ikke skal!) løbe fra, hvor man må arbejde hårdt på at pleje eller forbedre den relation fremadrettet. Livet er ikke statisk, og det er du som person heller ikke. Jeg er snart 28 og har nogle bestemte værdier i dag, men de ser måske anderledes ud om 5-10 år. Så det handler om konstant at holde disse værdier i skak, samtidig med man bliver ældre og klogere på nogle ting.
I forhold til det der med aktivt at tage flere bæredygtige valg, så går det rigtig godt. Vi er begge åbne og nysgerrige overfor alternative metoder, produkter osv. så længe det giver mening især økonomisk. Du kan læse mere om, hvad vi gør anderledes nu end for et år siden lige HER, men igen vil jeg gerne påpege at livet jo ikke er statisk. Man støder konstant på ny info der måske får én til, at genoverveje nogle ting og hvad der i første omgang virker til at være den oplagte idé, kan senere vise sig at være helt forkert. Jeg begyndte fx i efteråret sidste år, at lave min egen ansigtsolie hvilket et par måneder efter, fik min sarte hud til at slå helt vildt ud og sætte skub i den akne jeg har kæmpet med i så mange år (og som ellers mere eller mindre var gået væk), så det er jeg gået lidt væk fra igen. Det er nogle gange lidt sådan en "trial and error" proces, men jeg tror det hører med i ligningen, når man vælger at forfølge en livsstil der ikke nødvendigvis ligger inden for normen.