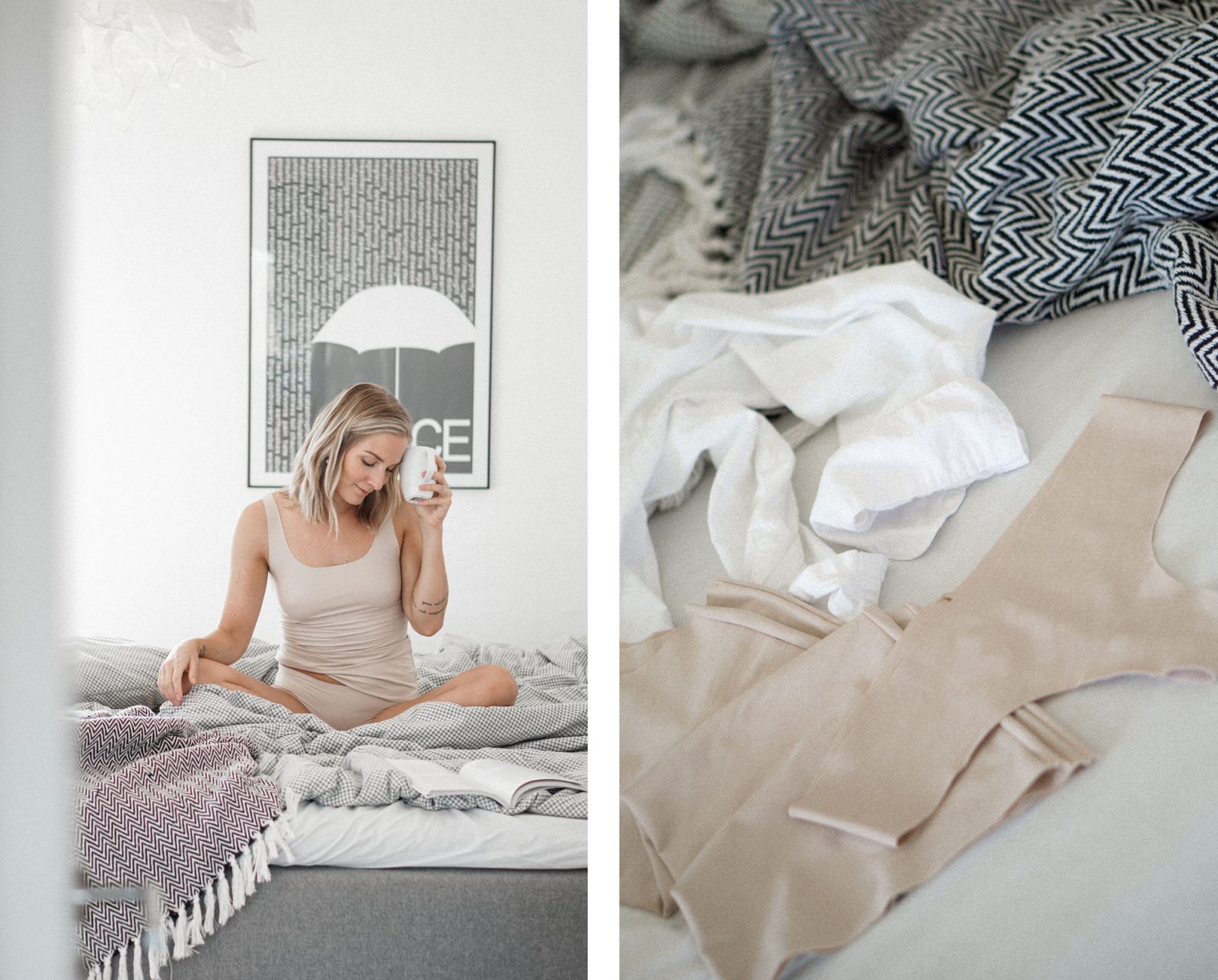 Invisible undies from Organic basics HERE (adlink)
ADVERTISEMENT | For quite some time I've been eyeing the brand Organic basics, and like I mentioned in my last video I've actually been asked to become a brand ambassador for them which I am quite happy to have said yes to. I've been loving their tees and soft wireless bras for a while (I even went and bought a few tees for my husband for his birthday too), and at the moment I testing out their new invisible collection. As a woman who can't live without white tees, shirts or white pants for that matter, I've been rather into nudes undies as well. Most of my underwear is black though because I feel that it's easier to maintain in the long run, but the new collection of invisible underwear is available in black too. I gotta admit I never really prioritised sustainable underwear, but in a way it's a rather misunderstood concept that we tend to buy the cheapest of what we consume the most of. Financially I get the point (and I'm guilty too) but if we look at the ressources we tare on whenever we make a new piece of garment, doesn't it make more sense that what we use more of is also what has the least impact on our environment?
…
REKLAME | I noget tid har jeg haft et særligt øje til Organic Basics, og som jeg også nævnte i min sidste video så er jeg så heldig, at jeg faktisk fremover kommer til, at arbejde mere med mærket fordi de har spurgt mig, om jeg ville være brand ambassadør for dem. Det har jeg selvfølgelig takket ja til – jeg har længe været svært glad for både deres tees og bløde BH'er uden wirer (jeg købte også en stak af deres t-shirts i fødselsdagsgave til min mand), og lige nu er jeg ved at afprøve deres nye invisible collection. Som en kvinde der ikke kan leve uden hverken hvide tees, skjorter eller bukser for den sags skyld, så har nude længe været en farve undertøj, som jeg ikke kan undvære. Størstedelen af mit undertøj er dog sort, for jeg synes helt klart det er mere praktisk og nemmere at holde ved lige i længden, men den nye kollektion fås heldigvis også i sort. Jeg må indrømme jeg aldrig rigtig har prioriteret at købe bæredygtigt undertøj, men egentlig er det lidt et misforstået koncept, at vi som forbrugere tænker, at det vi bruger mest af skal være det billigste. Jeg forstår udemærket godt logikken rent økonomisk (jeg er jo også selv skyldig heri), men hvis man ser på de ressourcer der bruges på at fremstille et stykke tøj, så giver det jo egentlig mest mening, at de ting vi konsumerer mest af også er dem der fremstilles med mindst mulig påvirkning af miljøet?
* This post contains adlinks
When it comes to underwear comfort always wins to me. There's nothing I hate more than tight panties! Seriously it can ruin the day for me. So I like to go for panties that has a slightly wider piece at the hip, which ultimately wont dig into my hip. I've been buying those cheap 3-pack thongs from H&M for years – you know those with the wide lace part at the waist, but I must say I'm really excited about slowly making the more sustainable switch by going for the "cheeky thong" from Organic Basics instead, because they are just a delight to wear. I know there are no frills like lace or butterflies on this type of underwear, but when you feel good you look good and that usually does the trick too, right?
…
Når det kommer til undertøj, så er det helt klart komforten der vinder for mig. Der er simpelthen ikke noget jeg hader mere, end et par trusser der kravler op eller strammer alle de forkerte steder, haha! Seriøst, det kan ødelægge en hel dag. Jeg går gerne efter trusser der har en bred kant på hoften, og som ikke borer sig ind i huden. Som regel har jeg købt de der 3-pak g-streng fra H&M med den brede blondekant, men er nu svært begejstret for den mere bæredygtige udgave "cheeky thong" fra Organic Basics, for de er simpelthen så behagelige at have på. Jeg ved godt der ikke er hverken blonder eller sløjfer på dette undertøj, men når noget får dig til at føle dig godt tilpas, så plejer det jo at være et ret godt look i sig selv, ikke?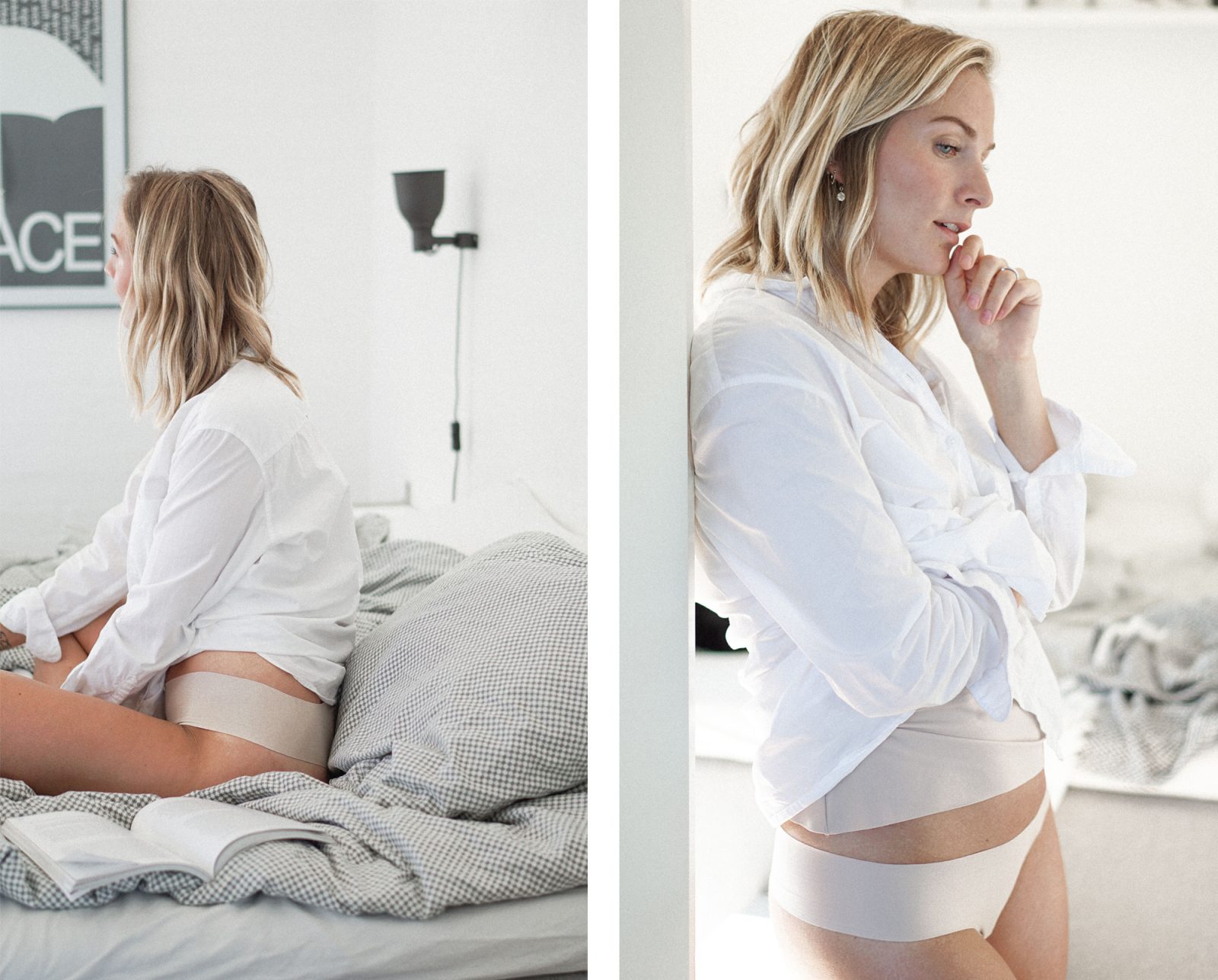 Basic fitted tanktops are also something I have a thing for, and I have several of them in my wardrobe. I like to use these under shirts, sweatshirts and knitted jumpers but also just on a casual braless day at home. They keep "things" in place, but at the same time you just feel more free and relaxed like that. The nude tanktop is great underneath any slightly see-through top. Anyway, I'm so happy that I'm able to share a discount code with you guys today, which you can use on your an order made at Organic Basic's webshop. It has no time limit but it can only be used once. All you need to do is write uselessxOB15 in the coupon field at checkout, then you'll get a 15% discount on your order. Just a little tip if you've been wanting to test out some of their innovative and sustainable items for a while!
…
Basic tætsiddende tanktoppe er også noget jeg har en hel stak af i min garderobe. Jeg bruger dem typisk under skjorter, sweatshirts og striktrøjer men de er altså også uundværlige til en afslappet, BH-fri dag herhjemme. De holder ligesom "tingene" på plads, men alligevel føler man sig bare mere fri og afslappet sådan. Den nude tanktop er rigtig god inden under let gennemsigtige toppe og skjorter. Anyway, jeg har fået lov at dele en rabatkode med jer – den har ingen tidsbegrænsing, men kan kun bruges én gang. Så hvis du blot skriver uselessxOB15 i feltet ved checkout, så får du 15% rabat på din ordre. Bare et lille tip, hvis du har gået og tænkt på at teste nogle af deres innovative og bæredygtige basics ud!