Even though the sky is grey and it's such a miserable rainy day today, I'm done building my spring capsule wardrobe for this year. I'm always a bit early you know, but it's only because I hope my process will inspire yours once you're at it too. This week spring does feel a bit far away though I must admit. Especially if you look at the weather forecasts. Oh well, at least spring has arrived in my wardrobe now and it's making my quite happy.
(AD) Find the pyjama style shirt HERE
…
Selvom himlen udenfor er grå og det regner super meget i dag, så er jeg ikke desto mindre færdig med min forårsgarderobe. Jeg er altid lidt tidligt på den véd I nok, men det er kun fordi jeg jo håber det vil inspirere jeres egen beslutningsproces når I selv for alvor går igang. Denne uge må jeg indrømme, at der er lidt lange udsigter til, at det for alvor bliver forår. Ihvertfald når man ser på vejrudsigten. Oh well, i det mindste er det blevet forår i min garderobe og det gør mig ret glad i låget.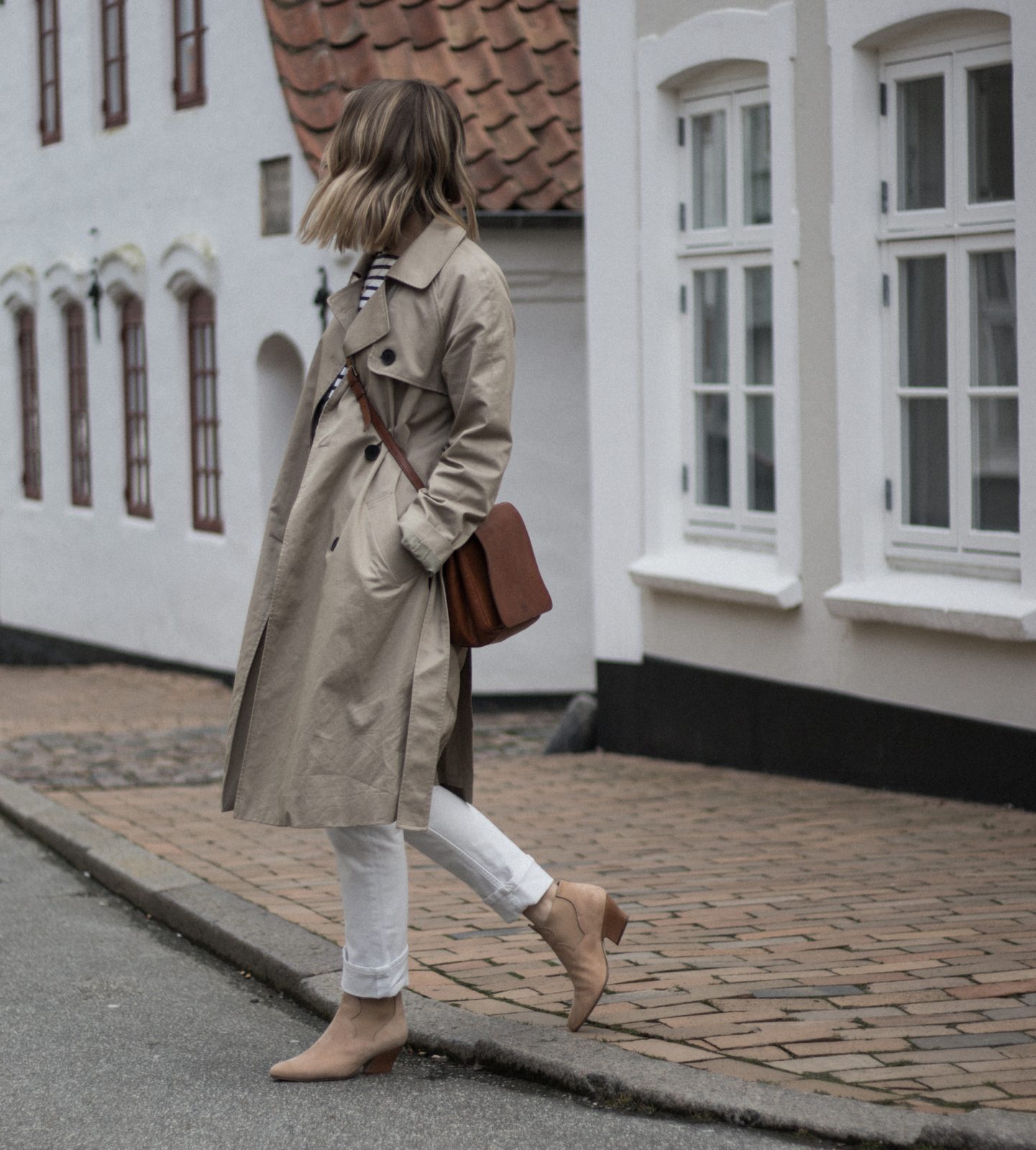 Shopping my own wardrobe
I've picked out no less than 5 older items from storage, to add to my spring capsule. You've seen some of them lots of times before – especially the leopard flats have become a spring basic for me. I've packed away almost all of my heavy knits except for the beige jumper from my winter capsule (and I of course still have a few jumpers among my all-year basics too), because it doesn't only fit my colour mood perfectly this season but let's face it; it's also still bloody cold outside. I'm sure I'll be able to stay warm through the last bits of winter even though I've packed lots of the heavier knitwear away.
…
Hele 5 items har jeg plukket fra mine gemte favoritter denne gang. Nogle af dem har I endda set mange gange før efterhånden – især leopard ballerinaerne er blevet en fast forårsfavorit. Jeg har pakket stort set alle mine ekstra strik trøjer fra vinteren væk, men har valgt at holde fast i den beige strik lidt endnu (foruden selvfølgelig basis striktrøjerne der altid er en fast del af min garderobe), for den passer ikke blot rigtig fint ind i mit farvetema denne sæson, men let's face it; det er sgu også stadig ret koldt udenfor. Udover det er jeg nu ikke i tvivl om, at jeg nok skal komme til at holde varmen gennem de sidste krampetrækninger af vinteren.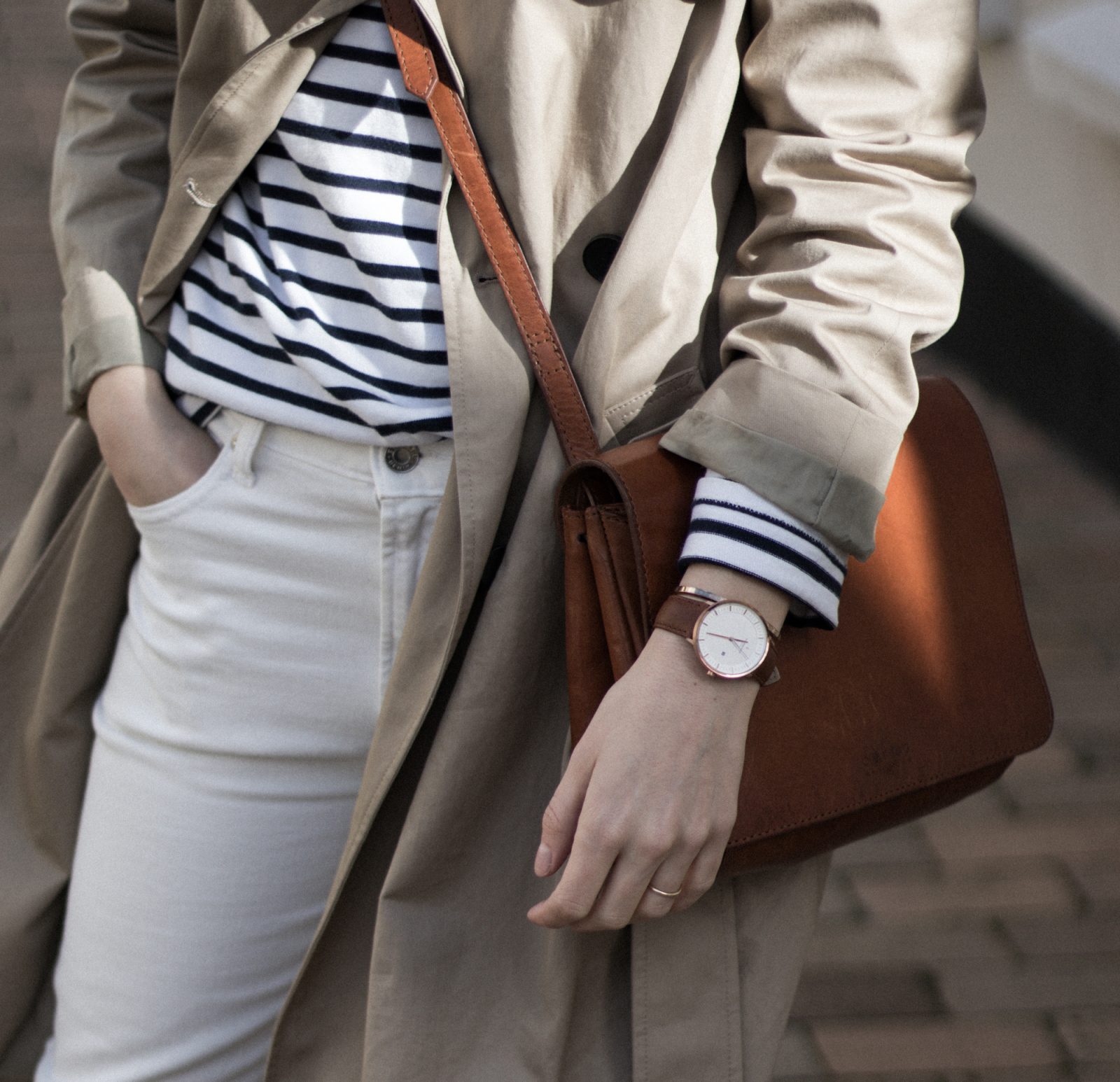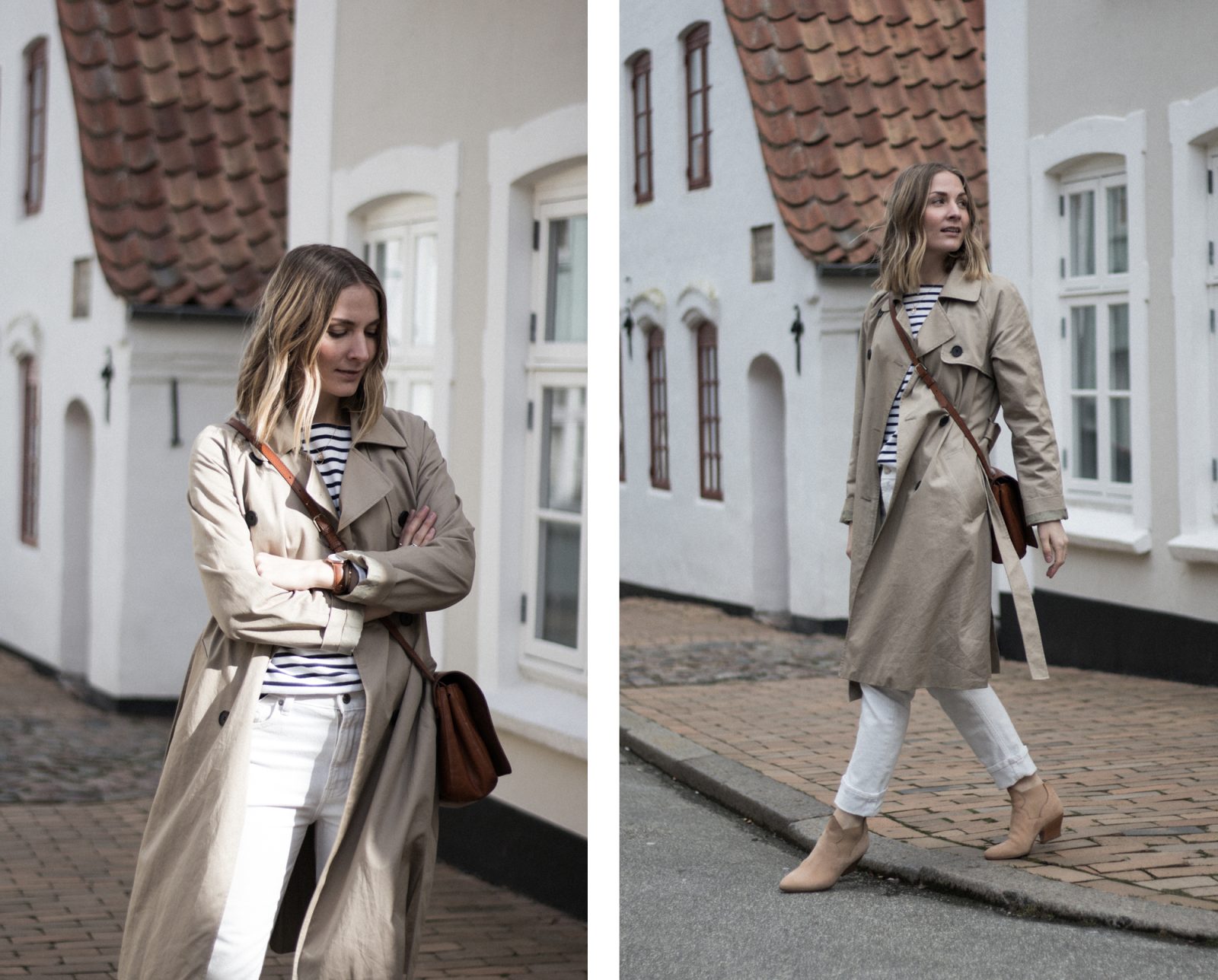 The new additions
Some seasons I buy nothing new at all, and other seasons a buy a nice little handful of "new" items for my wardrobe which is also the case this time. I've bought no less than 3 secondhand items (#secondhandfirst, you know) through Vestiaire Collective – a secondhand shop I've used quite a few times now, and which I'm so satisfied with. Their service and the fact that all items get validated and checked to make sure it lives up to the price and description is just perfect. I always feel perfectly safe when I shop there. Both blazer, biker jacket and nude boots are from VC. None of this content is sponsored by them by the way, I just genuinely love this shop. I have – knock on wood – never had a bad experience with any of the items I've bought there so it's just a little tip especially for my European followers. I also don't use this shop purely for luxury secondhand finds. I often filter my search more after a certain style than a brand. So for example I was looking for a brown blazer, and I ended up finding the one I've bought for my spring capsule like that. You can also find lots of highstreet brands in there, so really there's something for all types of budgets.
Some of you might remember me buying THIS beige biker last spring, in a secondhand shop in London but I've chosen to replace it with another one (also secondhand). I've had to realize that it's just a tad too small for me, which is such a shame. That's how it is sometimes especially in the secondhand shopping game, where you generally have a little more of an open mind and you compromise a little sometimes. You have to, when you buy someone else's old clothes. But the fit is so important, and I just didn't feel great in the old one so I'm letting it go. My new biker is from Maje and it's perfect! I can't wait for the weather to get a little warmer so I can wear it all the time.
Anyway, watch the video below if you want to know more about each item I've added to my spring capsule, and also to get some more styling inspiration. Otherwise do make sure to follow me over on Instagram for daily outfit updates and ideas!
…
Nogle sæsoner køber jeg ingenting, og andre gange køber jeg en lille håndfuld "nye" ting, hvilket må siges at være tilfældet denne gang. Jeg har købt intet mindre end 3 fine items brugte (#secondhandfirst, I ved) gennem Vestiaire Collective – en secondhand webshop jeg har handlet på en del gange efterhånden, som jeg er umådeligt glad for. Deres service og det faktum at deres team validerer hvert eneste køb, for at sikre at varen er i den stand den er opgivet til (og naturligvis også ting som ægthed når vi snakker luksus varer) gør, at jeg altid føler mig i sikre hænder når jeg handler der. Både blazer, bikerjakke og de fine nude sko fra Acne har jeg købt der. Intet af dette indhold er sponsoreret af VC forresten, jeg ville bare gerne dele de her gode oplevelser med jer. Jeg har nemlig før talt med nogle af mine kvindelige bekendtskaber om netop Vestiaire, og indimellem har er jeg stødt på bekymringer for, at handle der. For hvad nu hvis man bliver snydt eller lignende. Men i min optik er der altså ingen grund til bekymring overhovedet! 7-9-13 har jeg aldrig haft en dårlig oplevelse, så bare et lille tip især til mine Europæiske følgere. Jeg shopper desuden ikke kun luksusvarer der, og jeg filtrerer for det meste altid min søgning mere efter en bestemt stil end et mærke. Så fx søgte jeg efter brune blazere og fandt så dén, som jeg endte med at tilføje til min forårsgarderobe på den måde. De har iøvrigt også mange andre fine varer end luksusmærker, så der er noget for alle typer af budget, synes jeg.
I kan måske huske, at jeg sidste forår købte DENNE beige bikerjakke i en genbrug i London, men jeg har valgt at sælge den videre, da jeg simpelthen har måtte erkende, at den er et nummer for lille til mig. Sådan er det nogle gange. Især når man køber secondhand, eller har det som princip at det er dét man helst vil, så går man indimellem lidt på kompromis. Det skal man også til en vis grænse – man er nødt til at have et lidt mere åbent sind når man køber en anden persons aflagte tøj. Men det skal jo stadig sidde godt og man skal føle sig tilpas i det uanset hvad, og det var bare ikke tilfældet her. Min nye secondhand biker er fra Maje og den er helt perfekt! Glæder mig sådan til det bliver varmt nok til, at jeg for alvor kan komme igang med at bruge den.
Anyway, I kan jo se videoen nedenfor hvis I ønsker flere tanker bag og stylingtips til de enkelte items. Og ellers så husk at følge mig på Instagram for daglige outfit updates og idéer!