Find the Shooting Star hoops HERE (launching June 9th 2019)

The weather is still not entirely there (as per usual), but the calendar says summer and so does my wardrobe. I like being a bit early with this kind of content, just because I like providing you with lots of inspiration, so you feel ready to start your own capsule. That way you'll have plenty of time to plan and consider everything. But I'd like to highlight that of course it makes more sense to wait, until the weather is appropriate for making the switch, so that you get maximum wear out of your wardrobe. As mentioned in part 1 of my summer capsule series, I'm all about that "edgy chic" vibe this season, and I think I've nailed it perfectly!
You'll probably notice that I do have a rather large section of seasonals thrown into the mix this time around, and I have to admit I don't remember last time this happened. The reason for this is actually quite simply the fact, that I find summer styling tough to nail. I often run out of ideas for outfits and I get bored pretty quickly, when the weather is hot. Last year I even noted in my capsule wardrobe planner, that it would be great to consider having more items to choose from in my summer wardrobe next year (which is now). Another thing is that my all-year basics are perfect for that Scandinavian, cool and ever-changing weather – which is the kind of weather we have most days here in Denmark. But when summer finally decides to turn up (which we can all agree that it certainly did last year), my possibilities and creativity lacks. So in my opinion it actually makes a lot of sense, to include a larger section of seasonals when we're talking summer. And then of course there will be items from my all-year basic wardrobe I won't end up really using over the summer, which can then get a well-deserved break. I still don't see a reason to pack those items away though because, well, you just never know with Danish summer.
…
Vejret er stadig ikke helt med os (som sædvanligt), men kalenderen siger sommer og det samme gør min garderobe. Jeg plejer gerne at være lidt tidligt ude, for jeg kan godt lide tanken om, at I kan hente inspiration her hos mig før I evt. selv går igang med jeres egen sommer capsule. Så er der god tid til, at planlægge og overveje. Men som udgangspunkt anbefaler jeg altid, at man indretter sin garderobe så den følger den vejrmæssige udfording, så man får maksimalt glæde ud af den. Som nævnt i del 1 af denne sommer capsule serie, så går jeg all-in på "edgy chic" denne gang, og jeg synes virkelig jeg har ramt lige præcis dette super godt!
Den opmærksomme læser vil måske undre sig over mængden af sæson-baserede items denne gang, og jeg må da også indrømme at det er længe siden denne del har fyldt så meget på mit tøj stativ. Grunden til dette er ganske enkelt, at jeg synes sommer styling er svært. Jeg synes ofte jeg løber hurtigere tør for idéer og kommer til at kede mig, når det er meget varmt udenfor. Sidste år noterede jeg endda i min lille capsule planner, at det var værd at overveje muligheden for lidt flere kombinationer og items næste år (hvilket jo så er nu). En anden ting er, at min helårs garderobe er helt perfekt til Skandinavisk, omskifteligt og køligt vejr – hvilket det som bekendt er rigtig meget af tiden her i lille Danmark. Men når sommeren virkelig banker på (som den i dén grad gjorde sidste år), så slipper mine muligheder og kreativitet hurtigt op. Så i min optik giver det faktisk ganske god mening, at have en lidt større samling sæson items med, når vi taler sommer. Og så er der selvfølgelig lidt flere items fra min basisgarderobe, som jeg ikke får brugt sommeren over der kan få sig en velfortjent pause. Men som jeg alligevel ikke ser nogen grund til at pakke helt væk, fordi well, I véd hvordan den danske sommer kan være.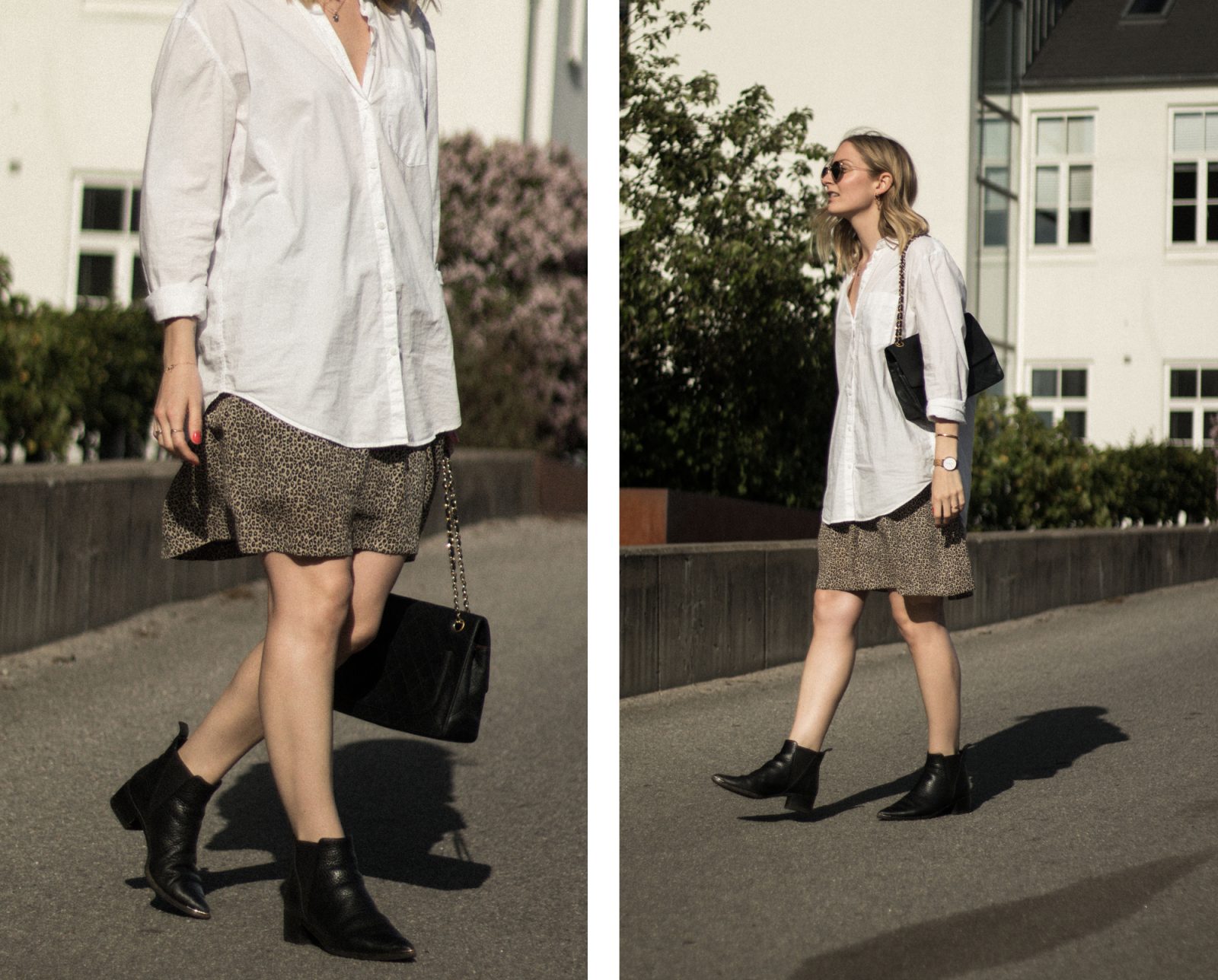 Shopping my own wardrobe: old faves
As I've also tried to highlight in the video below, most of the items I've included in my summer capsule are items from storage. And lots of these items are actually up to 4-7 years old! The printed silk blouse (white with little printed rudders) is one that I bought while I had my very first job as a designassistent, during a sample sale the company hosted. It's been a while since I've worn it, but this year it just spoke to me and I needed to be reunited with it. You've probably already seen the dresses a lot the past couple years if you've been around for some time, and even though being rather old news I still love them all to bits. They are perfect in each their own way, and they are easy to style up with a biker jacket and a pair of boots too. The linen shirts (the black short sleeved one and the blue long sleeved) are from last year, and they are great for summer because linen is nice and airy against your skin when it's hot outside. I had the beige biker jacket in my spring capsule was well, and I've decided to keep it in my wardrobe through summer too instead of packing it away. Again, I'm so inspired by this more edgy type of summer styling this year, so a couple great biker jackets are a must, right? The very same thing goes for my leopard flats which I've had for years too, and then I've also pulled out my lace up sandals; another good, old fave. I think they are perfect for the edgy vibes both with the laces and the eyelet details. I think that is as rock'n'roll as it gets for a pair of sandals, haha!
I've also been working my sewing machine quite a bit this time around, and I've giving new life to a couple items I already had in storage and also a few I've found in thrift stores. The dark blue denim shorts used to be a pair of jeans I had in storage, and the skirt used to be a pair of vintage jeans as well. You can learn how I do the ladder right HERE. DIY's like these is something I've always enjoyed doing. I love getting crafty, it makes me calm and it helps me collect my thoughts for a little while. Something you can be in desperate need of, when you're self-employed 😉 Besides, it's a great sustainable way to get yourself a "new" piece of clothing. If you know how to sew, that is.
…
Som jeg også har forsøgt at fremhæve i videoen nedenfor, så er størstedelen af de items jeg har i min sommer capsule taget frem fra gemmerne. Og mange af disse items er faktisk helt op mod 4-7 år gamle! Den fine silke bluse (hvid med mørkeblå prikker i form af små ror) er én som jeg købte til et prøvesalg, dengang jeg fik mit allerførste job som designassistent. Det er længe siden jeg har haft den fundet frem, men i år havde jeg sådan en trang til, at blive genforenet med den. Kjolerne har nogle af jer nok set før de sidste par år, og det er virkelig 3 gode, gamle favoritter som jeg stadig elsker. De kan lidt forskelligt alle sammen, og de er også nemme at pifte op med en læderjakke og et par støvler til hvis det er dét man vil. Hør skjorterne (den sorte kortærmede og den blå langærmede) er fra sidste år og er også virkelig lækre om sommeren, fordi hør er dejlig luftigt mod huden. Og så har jeg faktisk valgt at føre den beige biker jakke fra min forårs capsule med videre ind i sommeren – igen, fordi jeg er super inspireret af denne her lidt mere rå form for sommer styling i år. Og til dét kan man jo ikke undvære et par gode biker jakker, vel? Dette gælder også mine fine leopard ballerinaer som jeg har haft i flere år nu, og så har jeg taget mine gode, gamle snøre sandaler frem også. De er også flere år gamle. Jeg synes bare de passer så fint ind i det rå univers, både med snørerne og fordi de har de her nitte detaljer. Mere rock'n'roll bliver det vidst ikke for et par sandaler, haha!
Jeg har også været godt igang med symaskinen denne gang, og har fået opdateret både et par fine fund fra genbrugen samt nogle items jeg havde i forvejen. De mørkeblå denimshorts var oprindeligt et par jeans jeg havde liggende, og nederdelen er også et par vintage jeans der har fået sig en tur. Det kan du lære præcist hvordan jeg gør lige HER. Gør-det-selv projekter som dette er noget jeg altid har holdt super meget af. Jeg elsker at være kreativ på denne måde, og det får mig til at slappe af og samle tankerne for en stund. Noget der i høj grad kan være brug for når man er selvstændig 😉 Og så er det jo en bæredygtig måde, at få et "nyt" stykke tøj på. Hvis man kan finde ud af det, that is.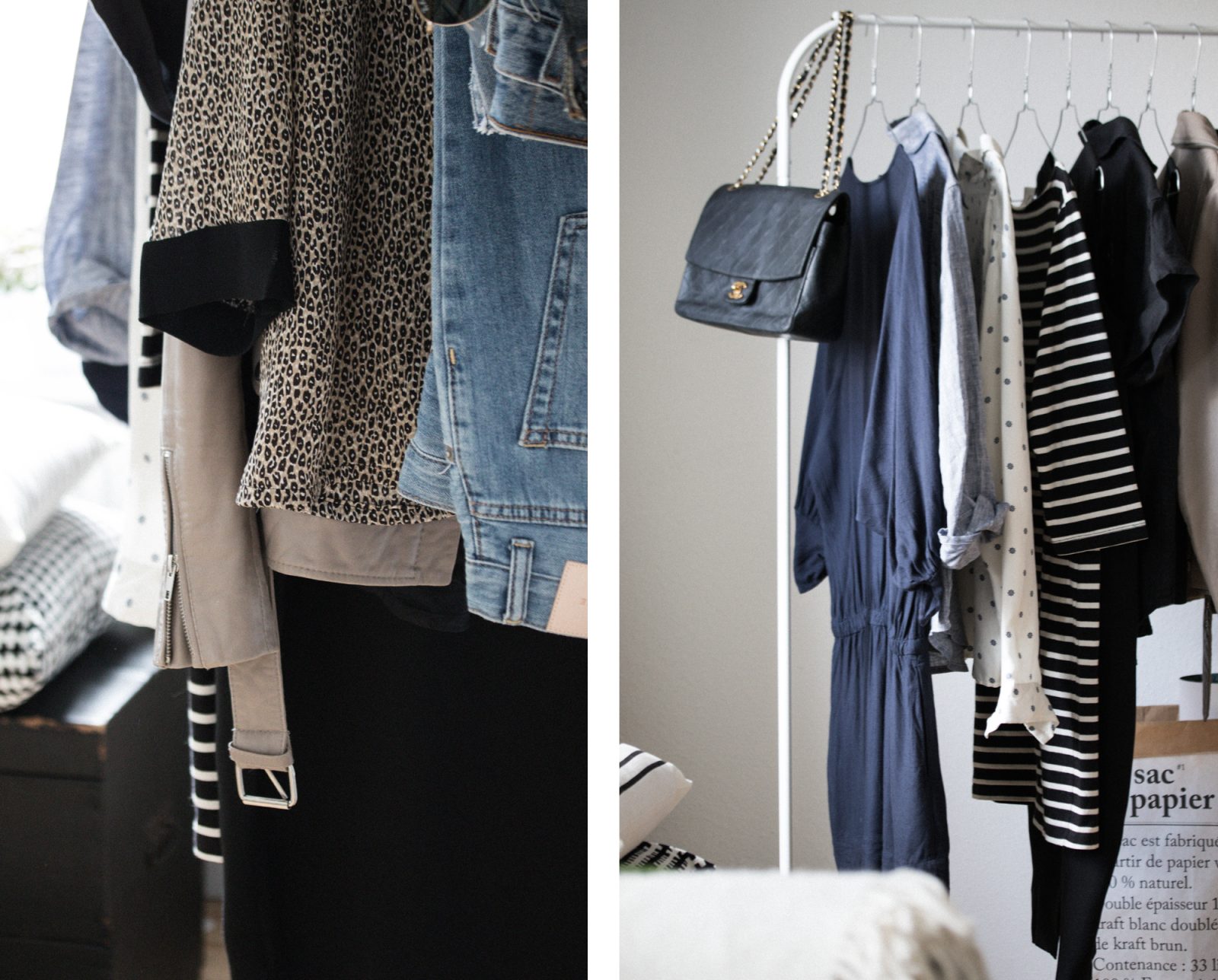 The new additions
In a video a while back I mentioned the possibility of taking a little shopping-break. Something I seriously considered doing for some time. But then, I changed my mind; not because I have no control over myself, but because I'd still love to help sustainable brands spread their message (which will be hard if I can't test out or link to their products myself), and also because I'd like to be part of leading the ways to alternative and sustainable ways of shopping. I've actually made a guide on how to shop more sustainably (even if you have a tight budget) right HERE. Some of the reactions I often get from others is either "but you buy new clothes often, how is that sustainable" or "I can't stop shopping". My short answer to both these reactions is secondhand, swapping services or to support sustainable brands. I still go for secondhand items first, when I want to add something new to my wardrobe. And it's always secondhand shopping I like to mention as a great way of working around being a hardcore fashionista, who love shopping too much, and who can't be bothered with a static, minimalistic wardrobe. I won't be the judge of how often you "should" or "should not" add new items to your wardrobe, because we're all different. I know what works for me (80% static basic wardrobe, 20% playful seasonals), but this isn't for everyone. But I'd still like to help out and inspire those people who don't share the same style as me! I relate to this need of a bit of news-value myself a lot along the way too, even though I feel best when the biggest part of my wardrobe remains classic and minimal all through the year. I still believe we use to many things in general, but I also believe that it's possible to maintain a balance that makes sense to you through a more circular way of consuming.
As mentioned before I did a couple DIY's recently, and the leopard shirt and matching skirt is one of the results of just that. These items were originally a vintage dress, I picked up in London recently. I think they've turned out so well: both each on their own but also styled together as a matching set. Leopard is a classic when it comes to edgy styling. The black linen top with buttons and the summer jeans are gifted from Everlane. In fact styling these together with my new espadrilles (found preloved on Vestiaire Collective) is Jane Birkin all the way to me. Something that looked epic back in the 70s, and still works today. Perfect example of timeless summer styling! Last but not least I've chosen to keep a pair of leather slides for myself, but originally I had put them for sale on my secondhand shop. I had a very similar pair in storage already, that I bought years ago. Sadly the quality of them was bad from the beginning, and even though I have used them for several years there was still so much excess colour in the leather, that they would make my feet black and impossible to clean for days after wearing them… time to say goodbye to those, I guess.
I'm so happy with how my wardrobe turned out! I don't think I've ever felt this excited about a summer capsule before, and I can't wait to start sharing lots of outfits with you over on Instagram!
…
I en video for noget tid siden nævnte jeg, om det mon var på tide med en shoppe-pause. Noget jeg virkelig gik og overvejede, at kaste mig ud i længe. Men så ombestemte jeg mig; ikke fordi jeg ikke kan styre mig, men ligeså meget fordi jeg jo stadig gerne vil være med til, at hjælpe de bæredygtige brands med at nå ud til masserne (hvilket bliver svært hvis ikke man tester  eller linker til deres produkter), og også fordi jeg gerne vil gå forrest og vise, at der er mange måder man kan være fashionista og shoppe på; og stadig være en bæredygtig forbruger (har faktisk lavet en guide til lige netop dette HER). Nogle af de reaktioner jeg oftest får er enten "jamen du køber da selv tit nyt tøj, hvordan er det bæredygtigt" eller "jeg har svært ved at lade være med at shoppe". Svaret til begge disse reaktioner er simpelthen genbrug, tøj-bytte markeder eller at støtte de bæredygtige brands. Jeg køber stadig oftest secondhand når jeg tilføjer nyt til min garderobe, og det er også altid secondhand jeg fremhæver, når folk hentyder til at de har en ret stor shoppetrang, eller bare elsker at lege mere med deres stil. Jeg skal ikke gøre mig til herre over hvor ofte folk skifter ud i garderoben, for vi er allesammen forskellige. Jeg véd hvad der fungerer for mig (en capsule wardrobe med 80% statisk basisgarderobe og 20% sæson), men det er ikke alle der har det som mig. Og dem vil jeg da gerne inspirere også! Desuden kan jeg jo stadig godt relatere lidt til denne trang til nyhedsværdi langt hen ad vejen, selvom jeg har det bedst med, at størstedelen af min garderobe forbliver klassisk og minimalistisk. Jeg er også stadig af den opfattelse at vi forbruger alt for mange ting generelt, men man kan lære at opretholde en god balance gennem et mere cirkulært forbrug.
Som nævnt før så kastede jeg mig ud i et par gør-det-selv projekter for nyligt, og leopard skjorten samt den matchende nederdel ovenfor var faktisk oprindeligt en vintage kjole, som jeg fandt i London for noget tid siden. Jeg synes begge items er blevet så fine; både stylet hver for sig men også sammen! Leopard er unægteligt en klassiker, når det kommer til lidt mere rå stil. Den sorte hør-top med knapper og de lyse boyfriend jeans er noget, som jeg har modtaget i gave til at teste fra Everlane. Igen er hør super lækkert til sommer sæsonen, og jeg synes simpelthen denne top er så fin. Faktisk er toppen og bukserne sammen med mine nye (secondhand, købt på Vestiaire Collective) espadriller ren Jane Birkin, hvis I spørger mig. Noget der så lækkert ud i 70'erne men bestemt også fungerer i dag. Et perfekt svar på tidløs sommer stil! Sidst men ikke mindst har jeg valgt at beholde de sorte læderslippers til mig selv, som jeg ellers havde sat til salg på min secondhand shop. Jeg havde et par i forvejen som mindede meget om dem, som jeg købte for flere år siden. Desværre har de aldrig været i særlig god kvalitet, og trods utallige sæsoners brug smittede de simpelthen så meget af på mine fødder med overskudsfarve, og det var svært at skrubbe af igen… tid til at vinke farvel til dem.
Ihvertfald er jeg simpelthen SÅ tilfreds med min garderobe! Faktisk tror jeg det er længe siden jeg har været SÅ tilfreds med en sommer garderobe, og jeg glæder mig super meget til, at dele en masse forskellige outfits med jer ovre på Instagram!